"I want to feel sunlight on my face…where the streets have no name." Bono's words never rang so true as I made the hour and a half drive from Fukuoka city to the Waita Onsen area of northern Kumamoto. Memories of the crushing trains full of zombie office workers back in Tokyo were far behind me. The sun was bright in the crisp blue sky as I wound my way through the rolling mountain roads, intent on relaxation.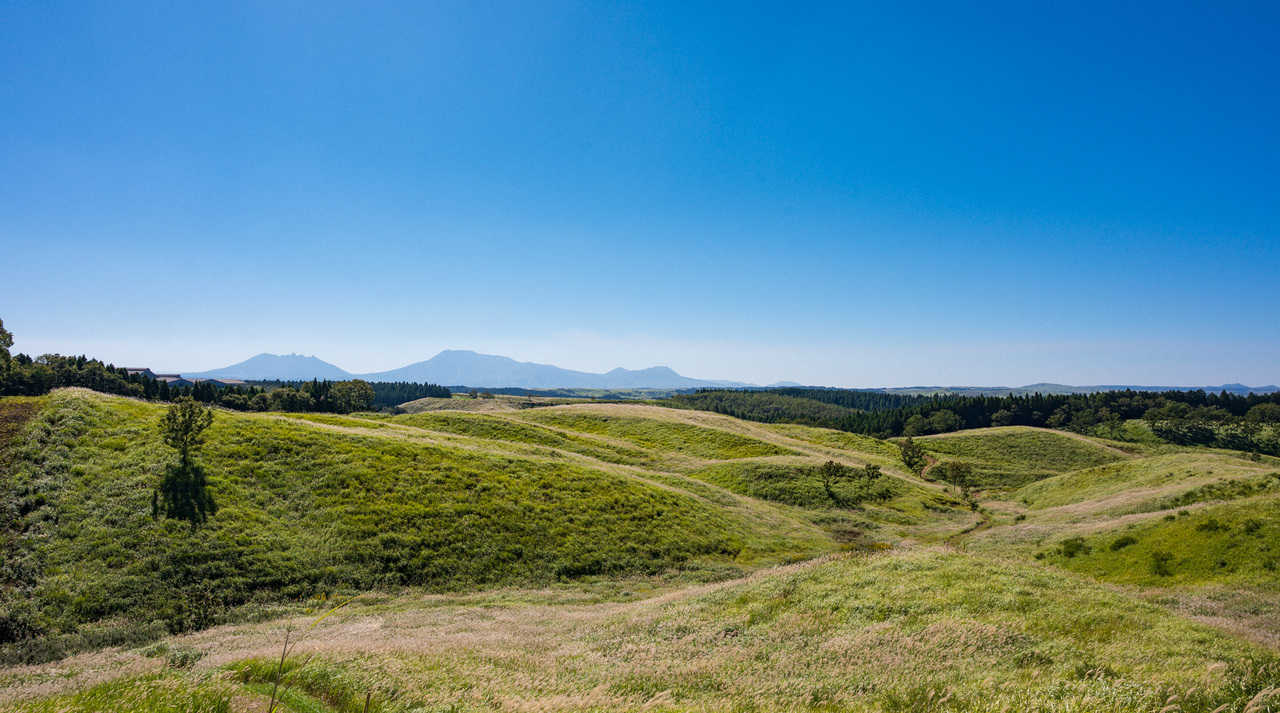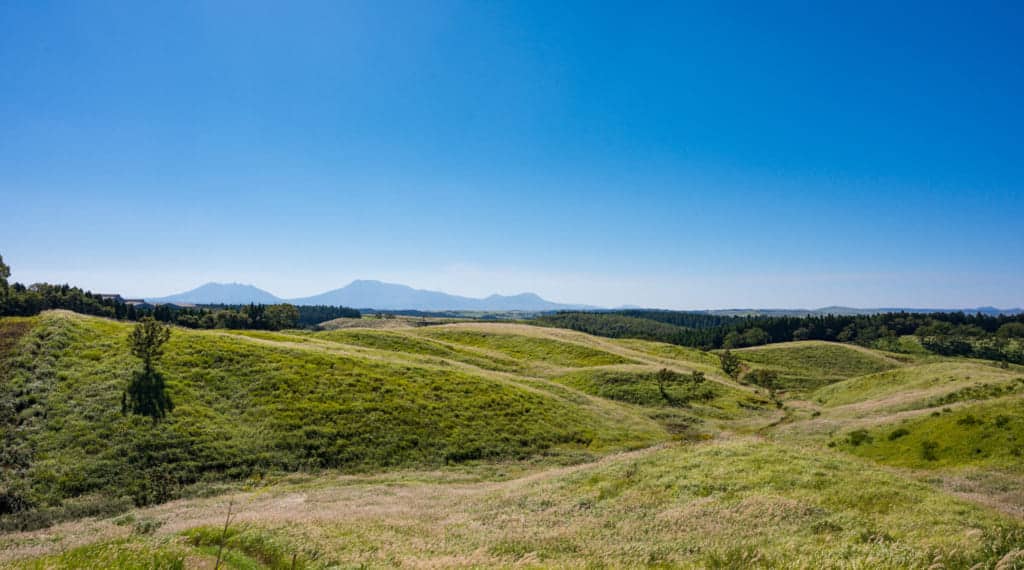 Spa Day. That would be my official nickname for this day. I would be relaxing in the private baths of two onsen (hot springs) interrupted only by sumptuous meals and scenery that has inspired poets and artists for centuries. And tonight, I would retire to a secluded ryokan to enjoy yet another fantastic meal and a room with another private bath.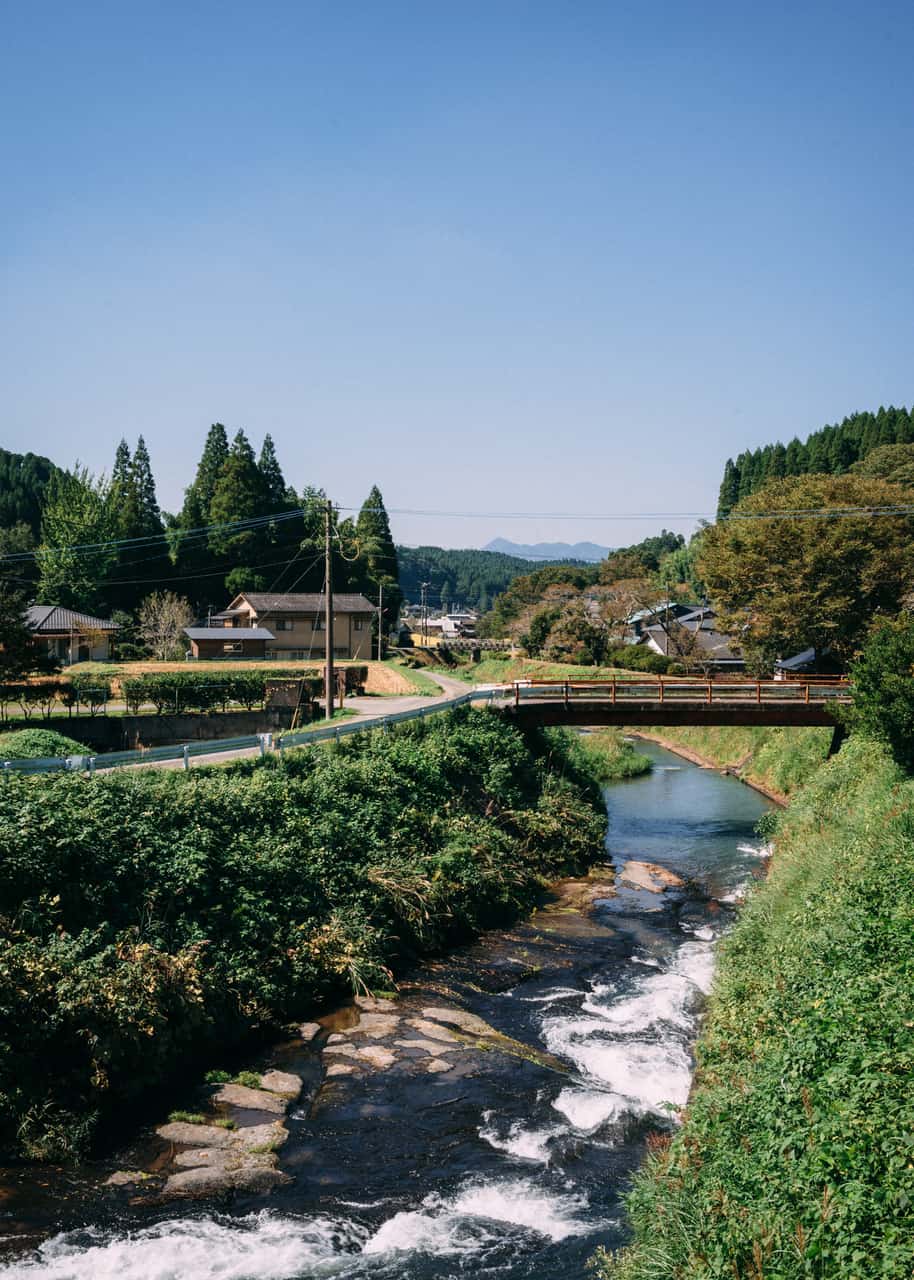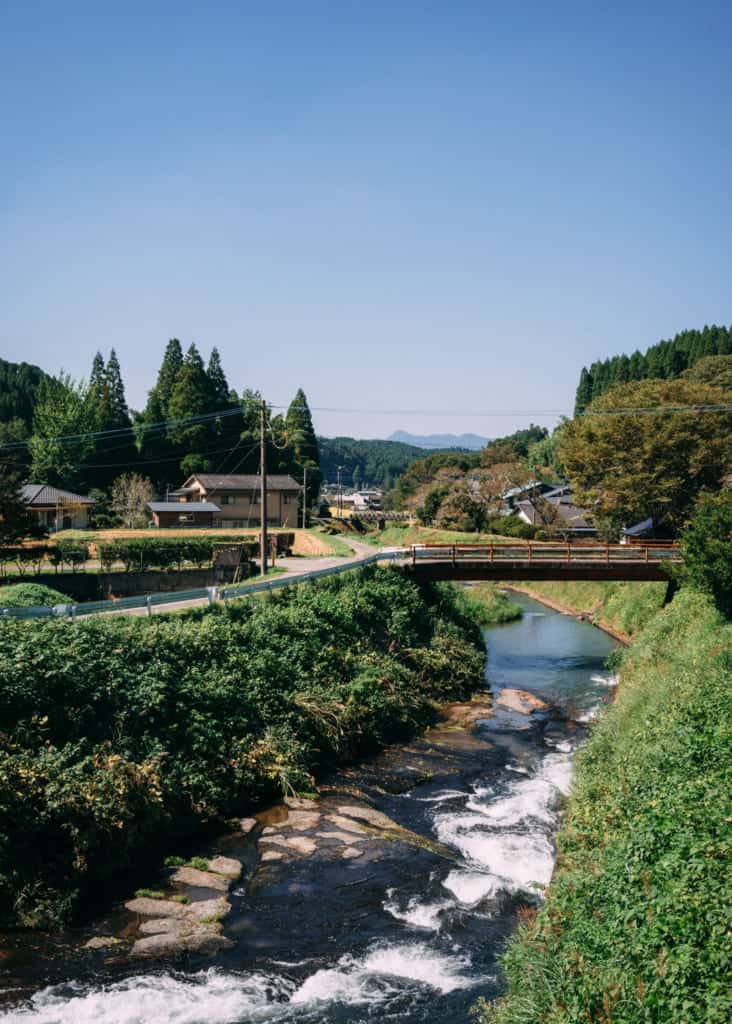 This is why people come to northern Kumamoto Prefecture, most famous for the Aso caldera, a breathtaking natural landscape created by still active Mt. Aso. The enormous caldera is 25 kilometers in diameter, and the active volcanic nature of the region is ever-present in the form of jagged peaks, periodic geothermic bursts of steam, and of course, the plentiful onsen towns. Relaxation is the name of the game here, the antithesis of big cities like Tokyo.
Private Onsen With a View at Horei-no-Yu
Just a few minutes off of National Route 387, at the base of Mt. Waita, I pulled in to Horei-no-Yu, the first onsen on my itinerary. Hirose-san, the owner of Horei-no-Yu, came out to the parking lot to greet me. For over 25 years, he has owned and run this resort in a friendly, laid-back manner. Having lived in China for a few years, Hirose-san can converse in both Mandarin and English, though he modestly denies fluency in either tongue.
After exchanging 1,500 yen into three 500 yen coins, he showed me to my private onsen. Outside the door, insert the coins into a machine, which then releases a tubful of milky-blue water, which you are free to enjoy for the next hour. There are five rooms, partitioned off for privacy, each with an outstanding view of Mt. Waita from the comfort of the bath.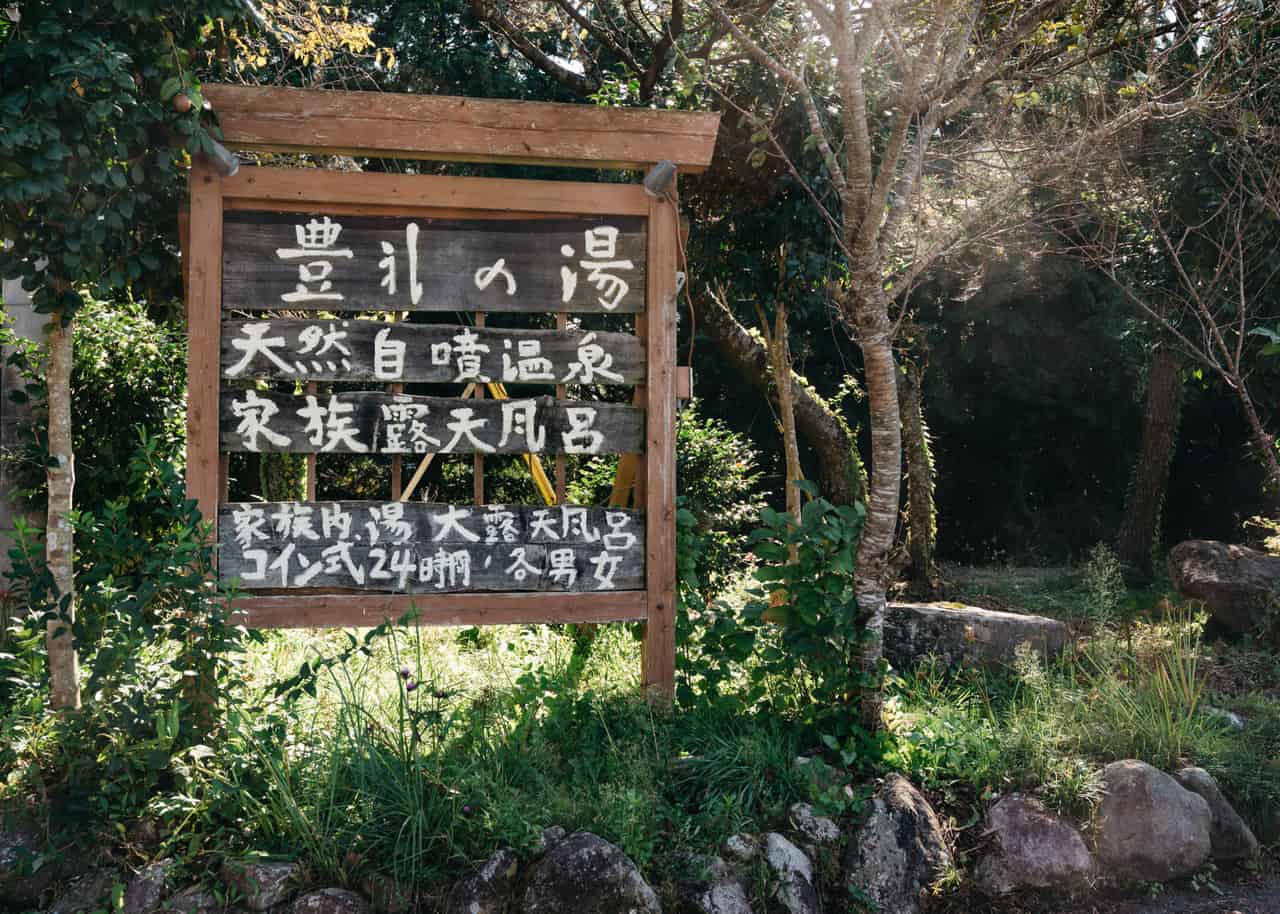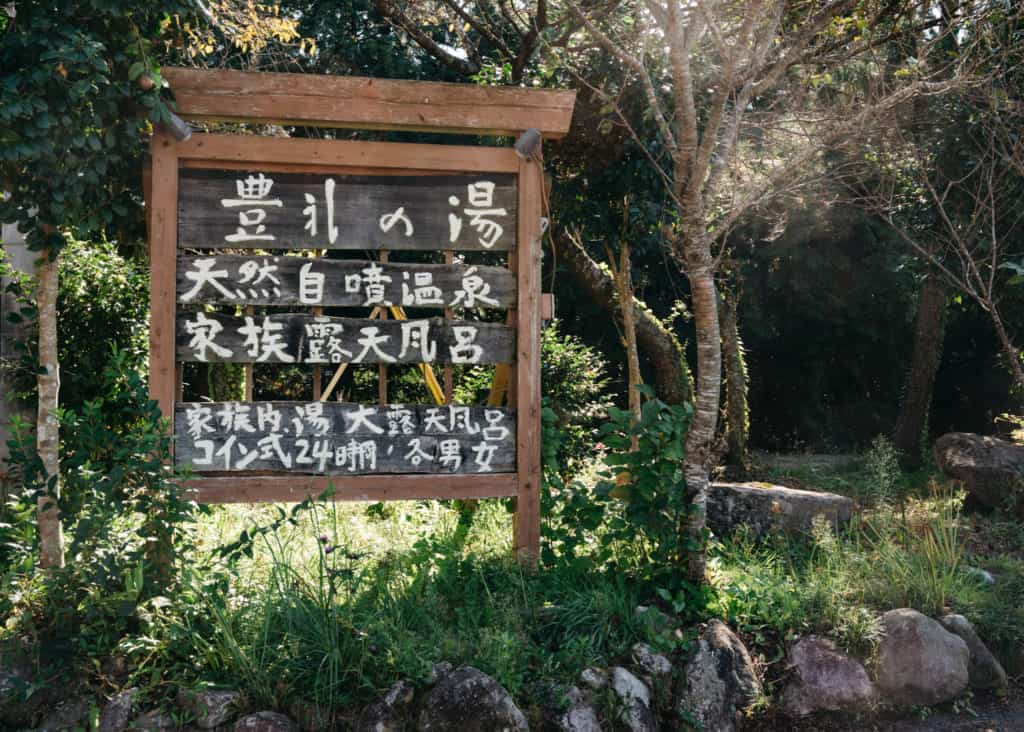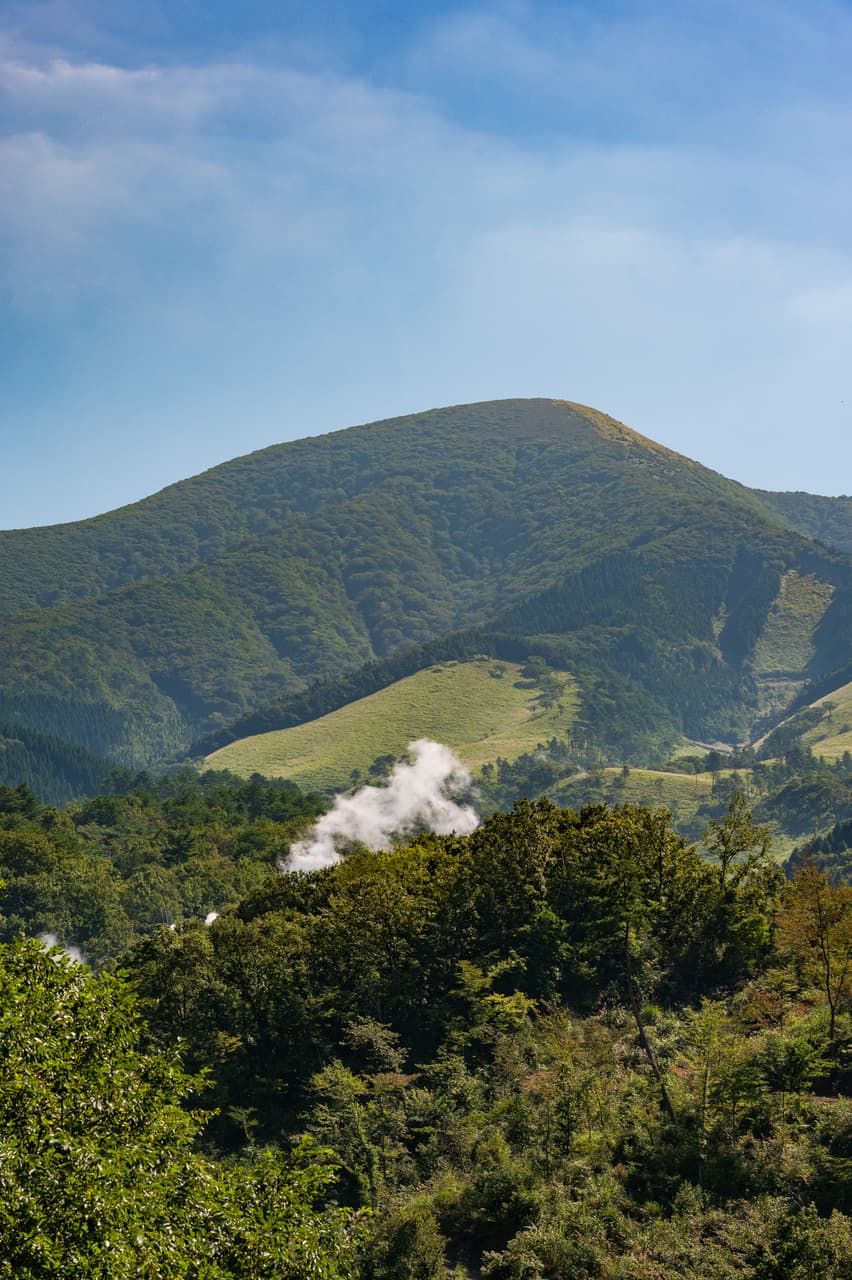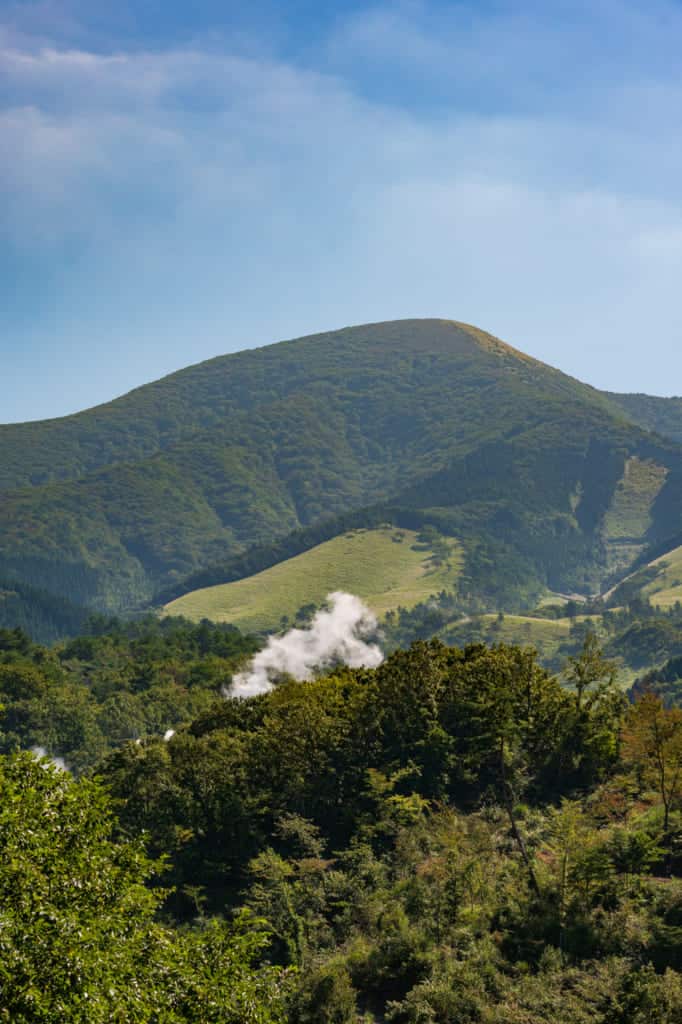 Over a nearby ridge, a plume of white steam occasionally rose, a reminder of the vast geothermic activity going on, sight unseen. Later, Hirose-san would show me around the property, pointing out some equipment that would soon be used to harness the geothermic power generated at Horei-no-Yu to sell to the government.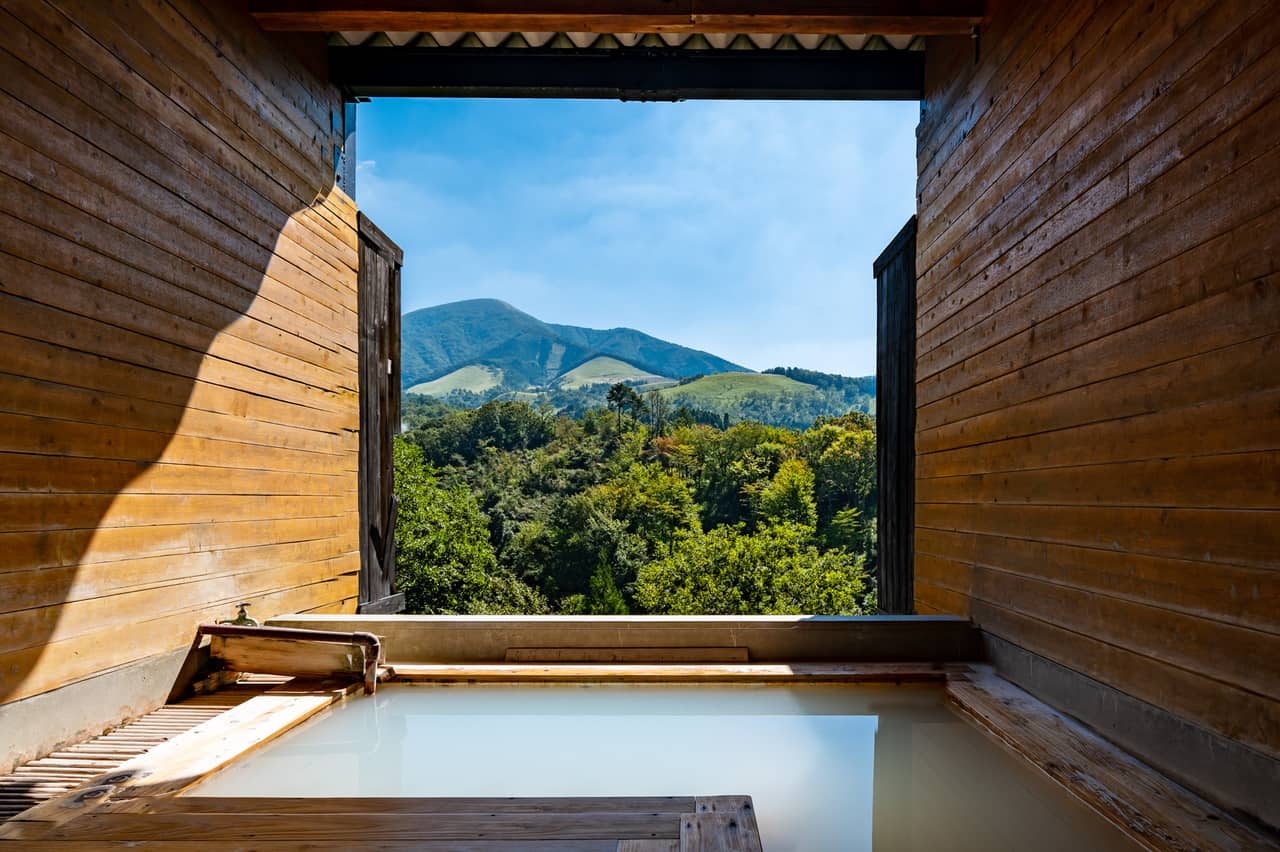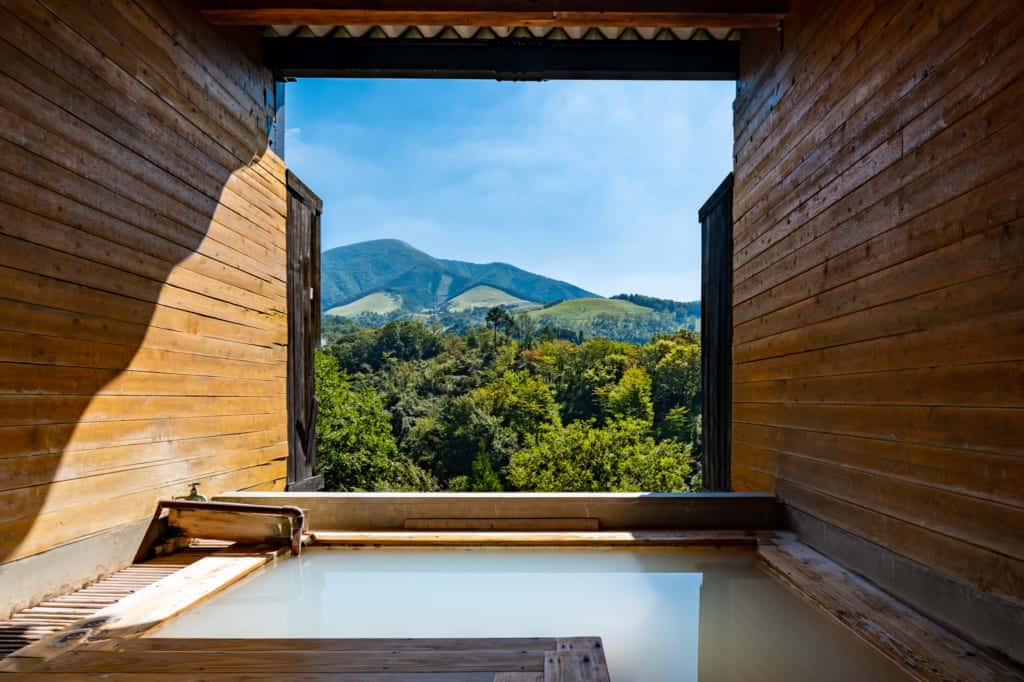 A word of warning: the hot springs of Horei-no-Yu is HOT. Imagine the feeling in your mouth while slurping a bowl of steaming soup. But this time, you are IN the soup. There is a cold water source that can be turned on to cool the bath. However, Hirose-san reminded me that this dilutes the healing properties of the pure hot spring water, so use it sparingly, if you can stand it. After a few minutes of somewhat painful acclimatization, I finally lay back and enjoyed the bath with a phenomenal view.
If you don't need a private bath, Horei-no-Yu also has gender-segregated baths (500 yen) with a similarly lovely view of the surrounding landscape, containing the same mysteriously milky blue-tinged water to soak away your troubles.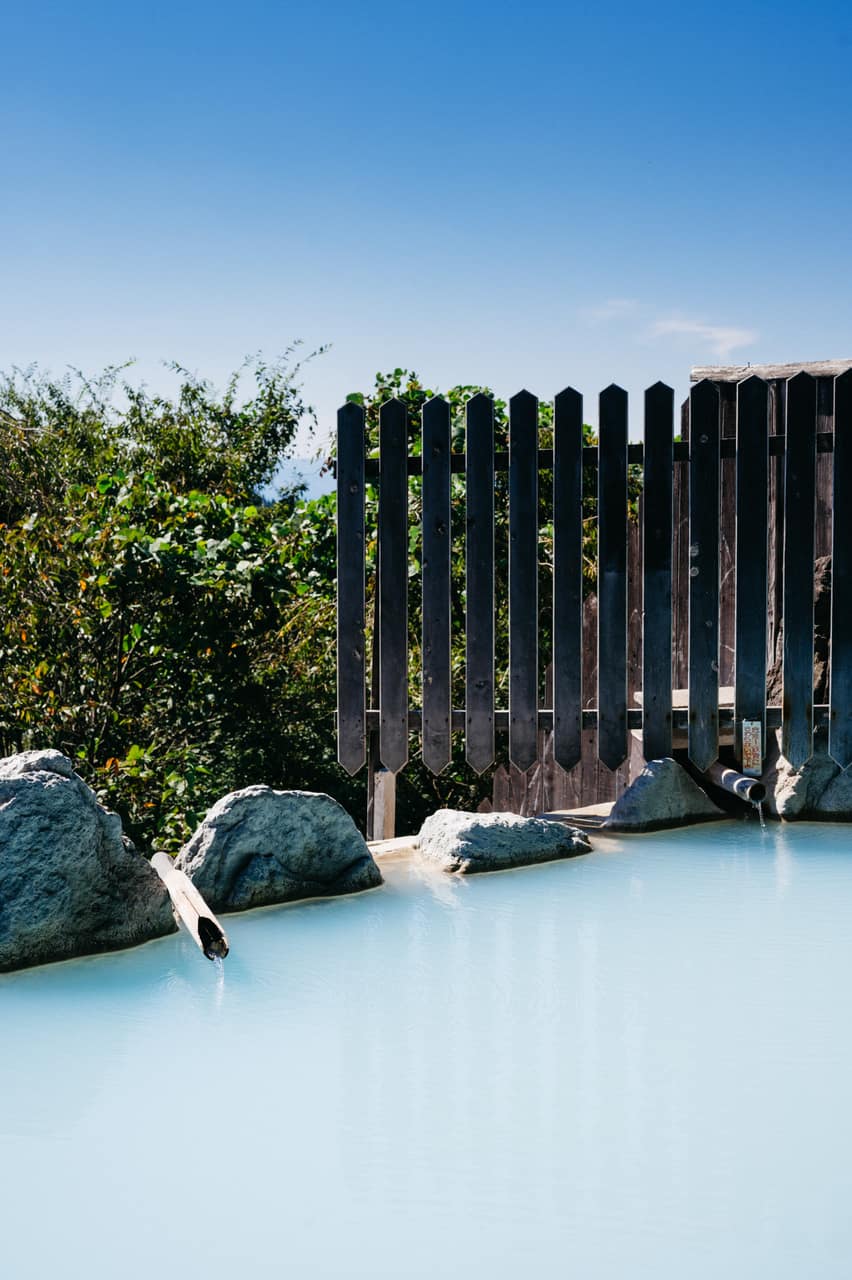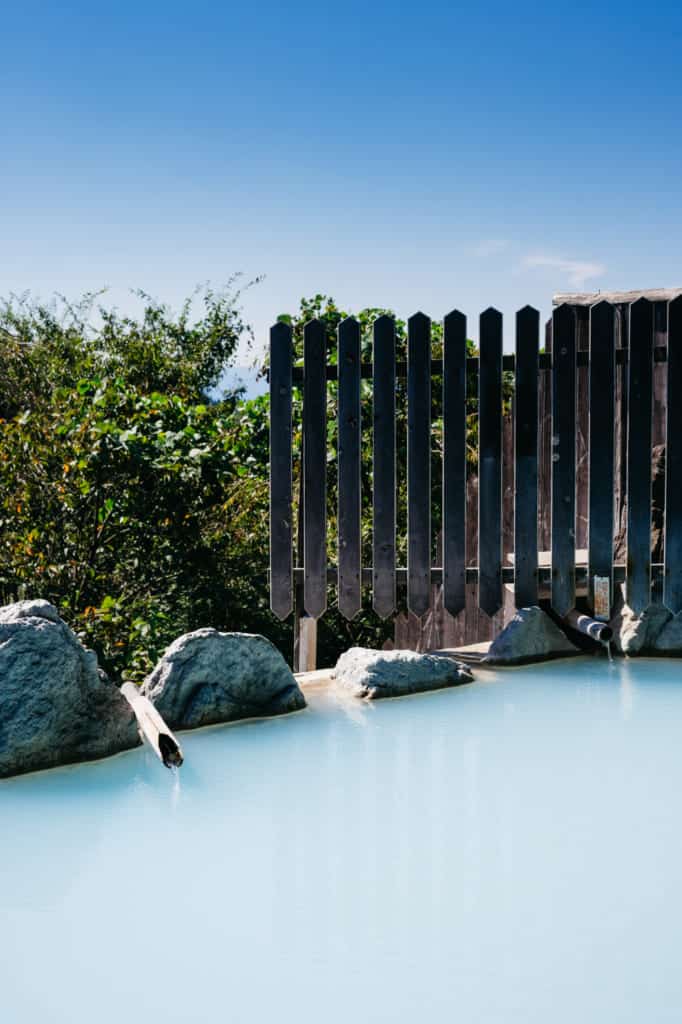 After my hour of bliss, I emerged from the room refreshed and a little hungry. Horei-no-Yu also has facilities to steam your food using the power of the land itself. Though many people bring their foods (Hirose-san told me seafood like oysters and crab are popular), you can purchase simple, delicious foods onsite as well. Hirose-san was kind enough to prepare a basket of goodies for me that cooked while I bathed. After my bath, I sat down at a picnic table to enjoy a feast of steamed chicken, a pork bun, sausage, sweet potato, and hard-boiled eggs.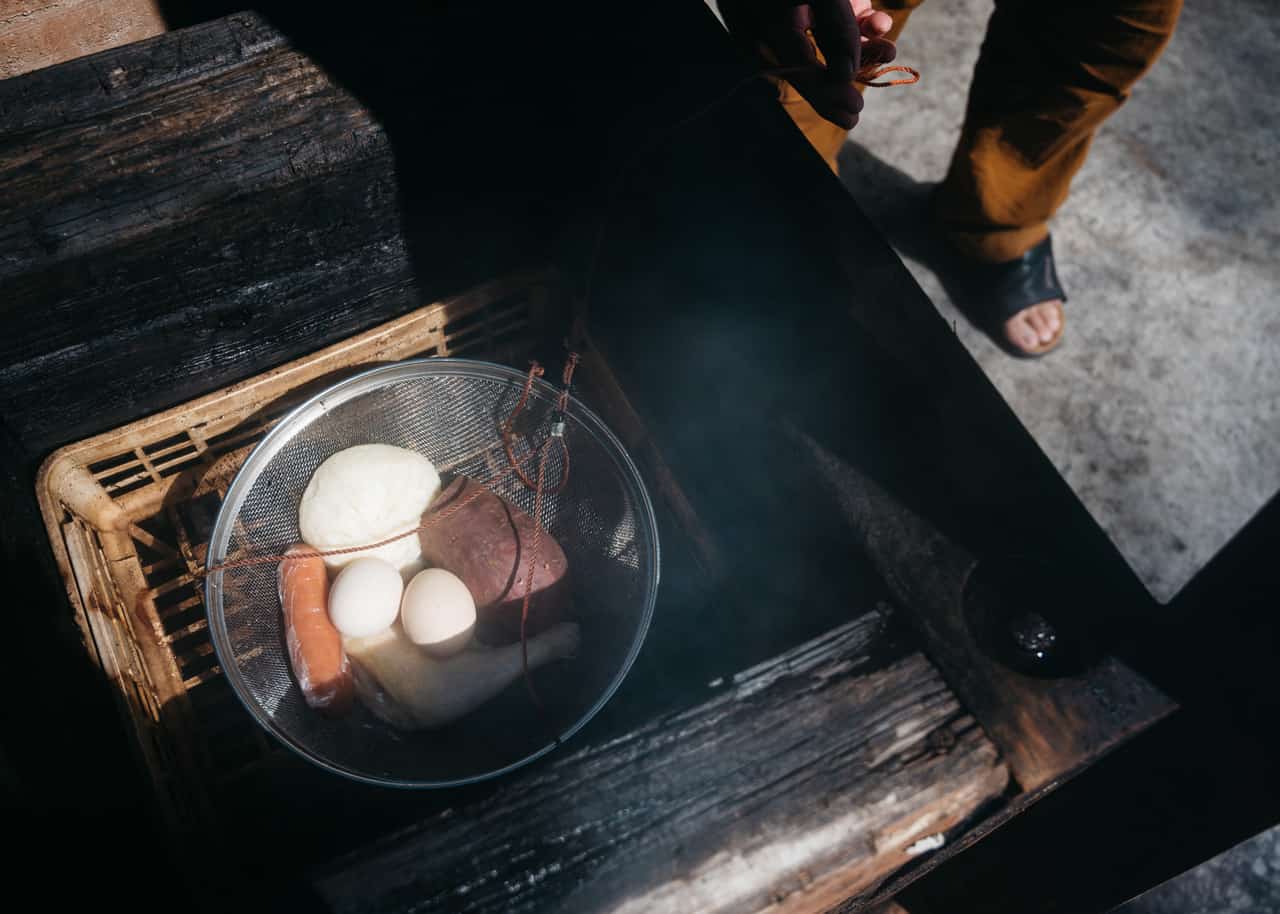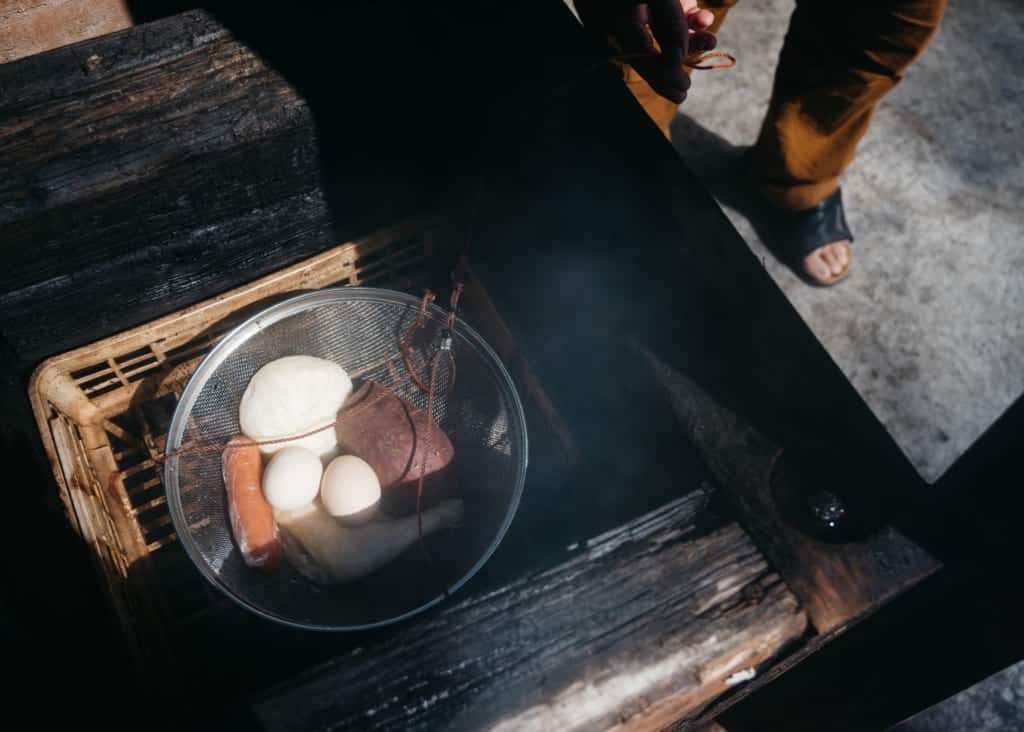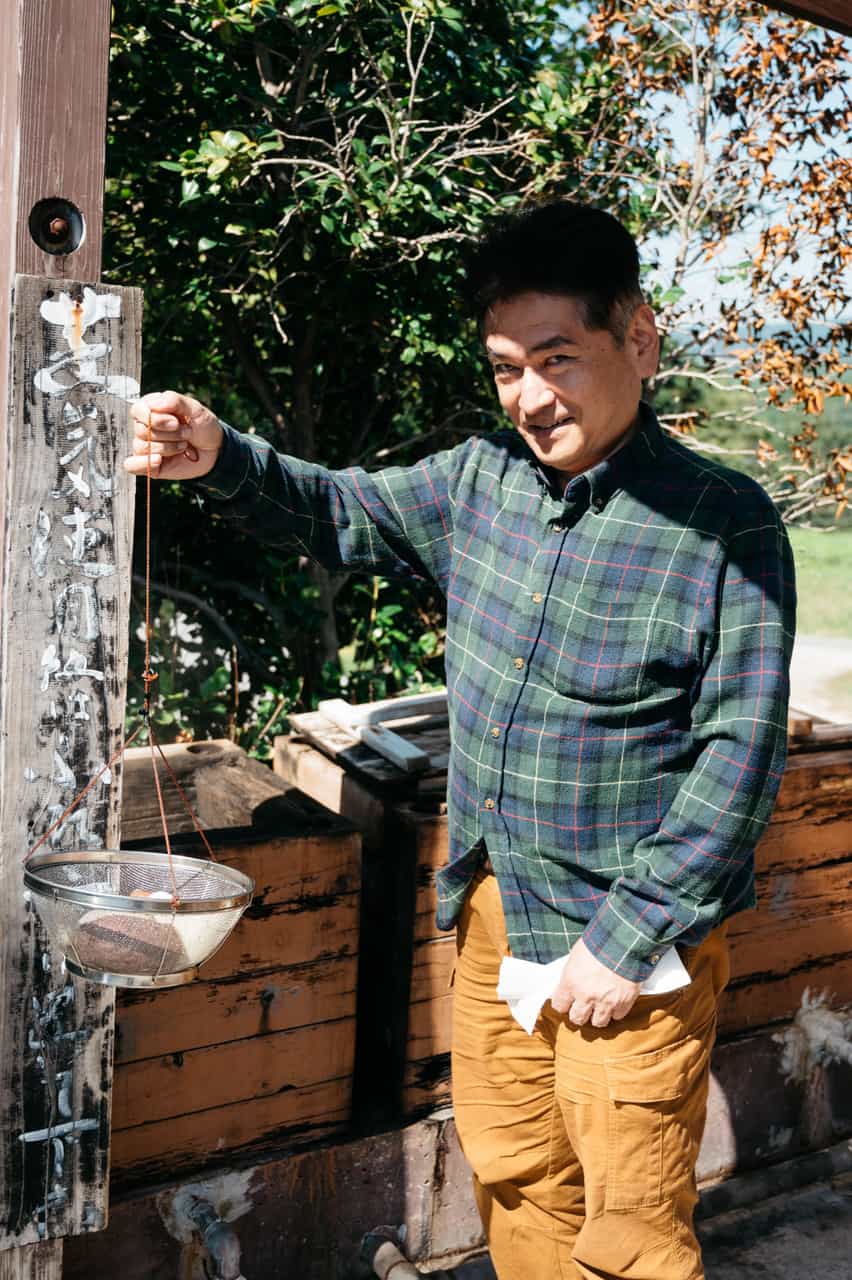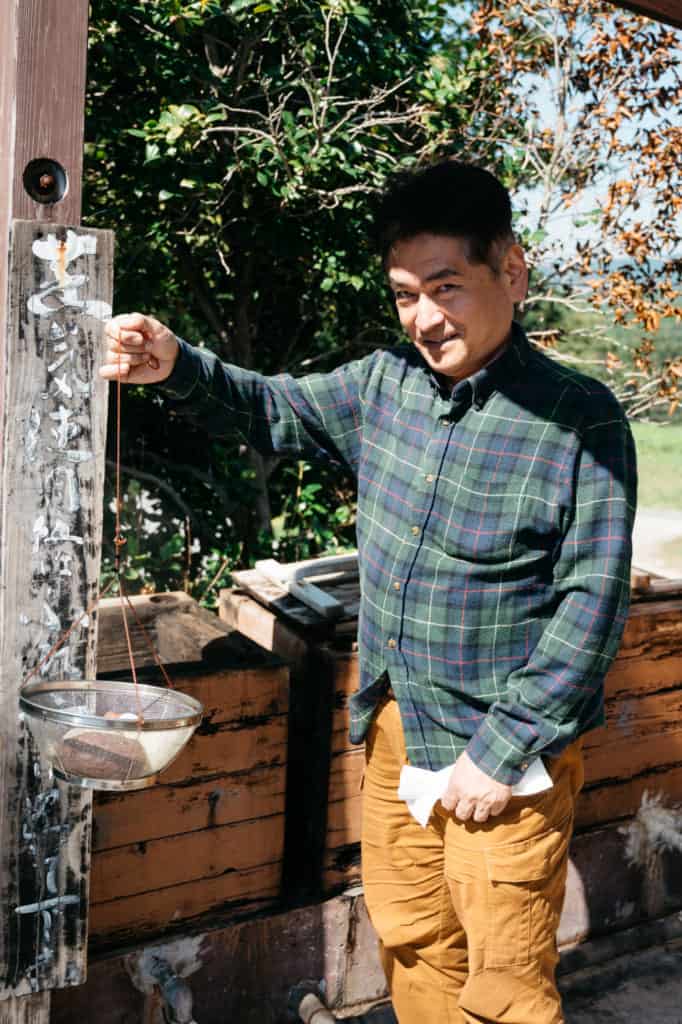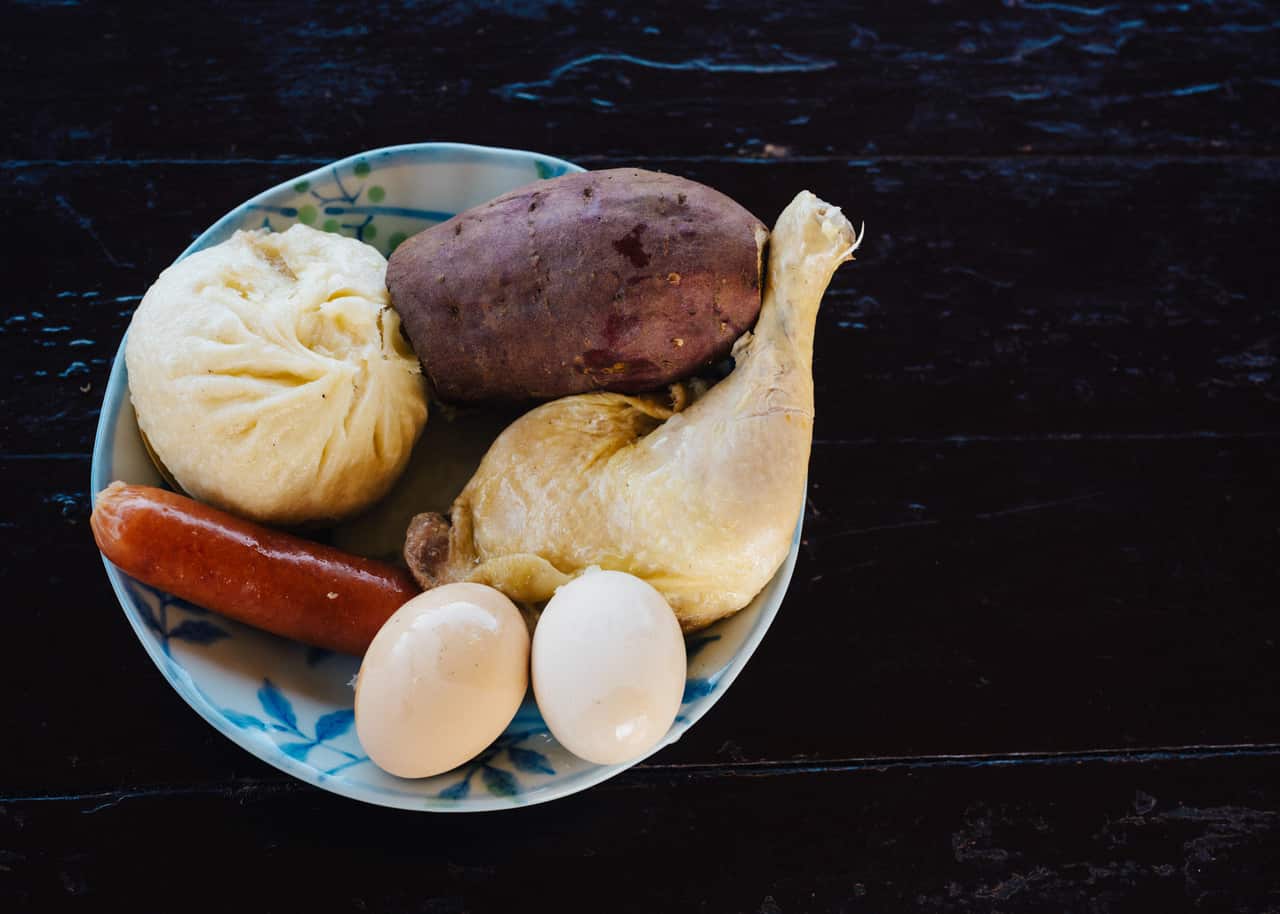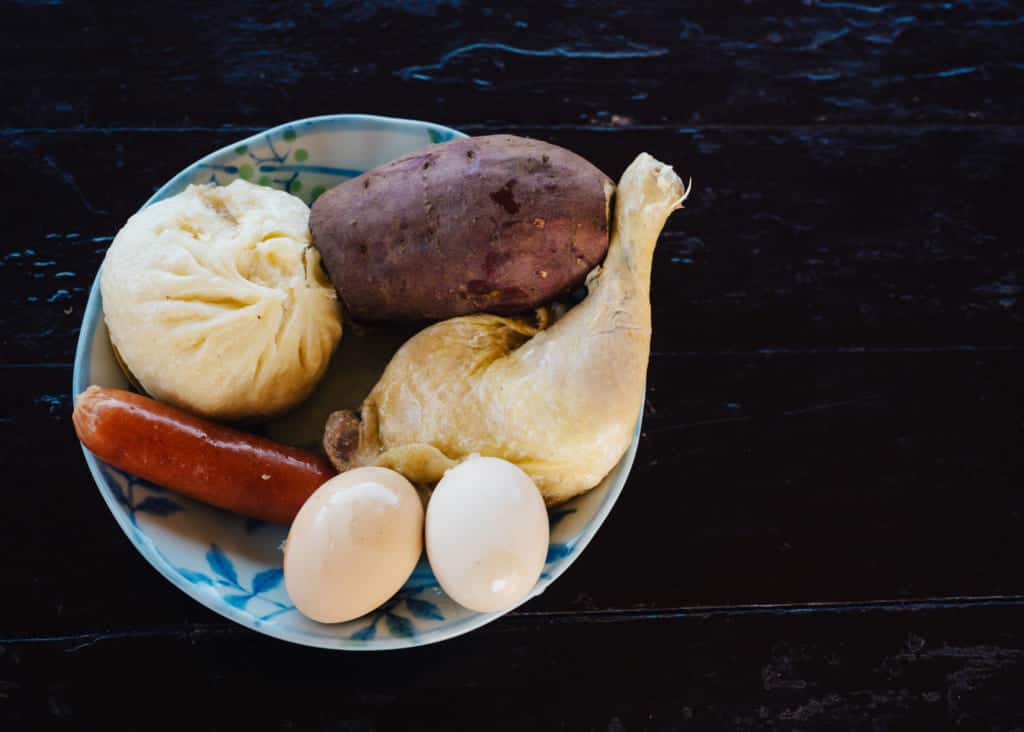 If you are wondering, the sulfur in the steam doesn't affect the taste of the food in any discernible way, so it is merely an eco-friendly method of cooking food in a slow style, fitting the northern Kumamoto lifestyle.
Saying goodbye to Horei-no-Yu, I drove about 30 minutes to the village of Minami-Oguni, one of northern Kumamoto's many picturesque villages. October is grain harvesting season in Japan. Strolling through the narrow lanes of the village, I surveyed the lovely rice paddies and grain fields in various stages of the harvest; the golden fields shimmered under the impossibly blue sky.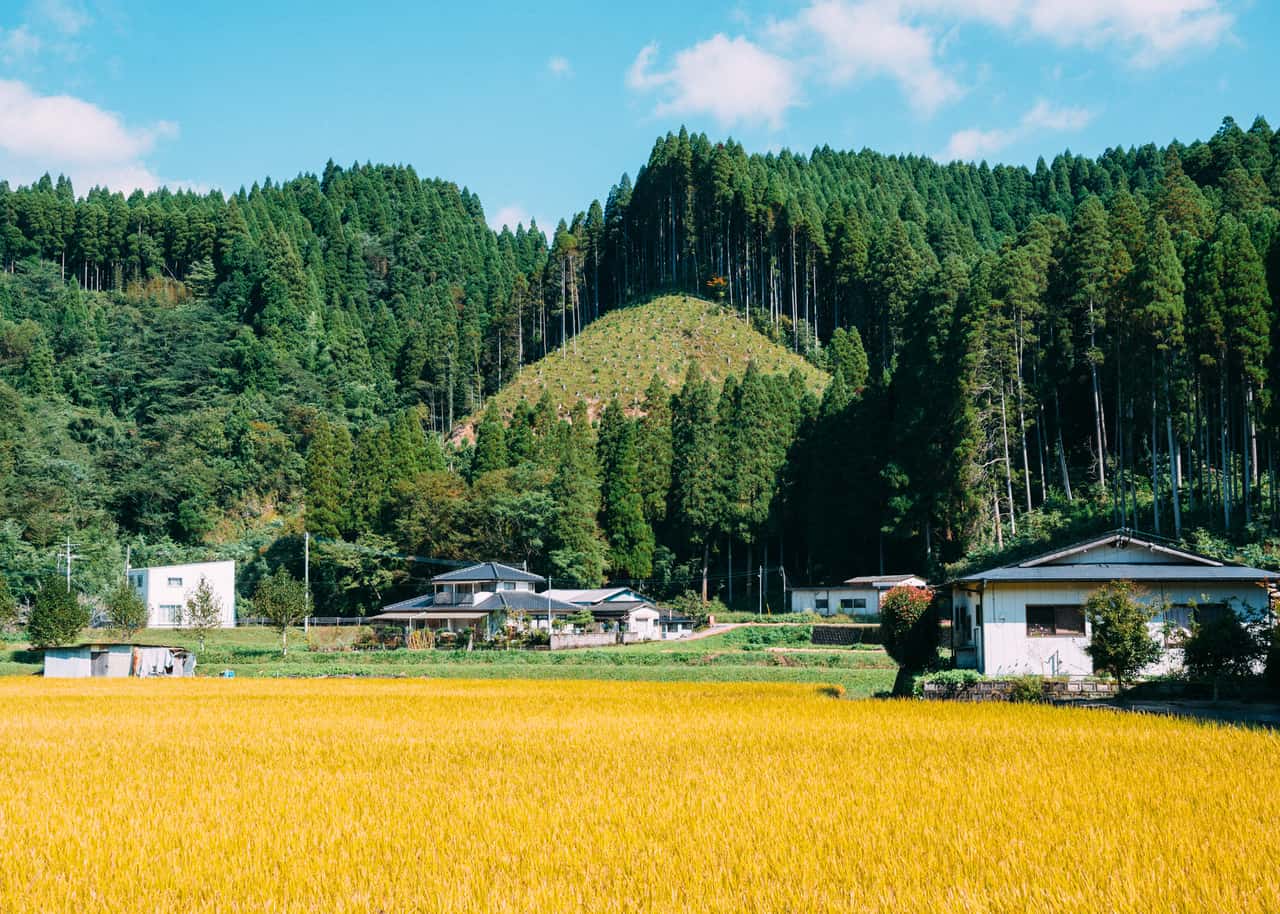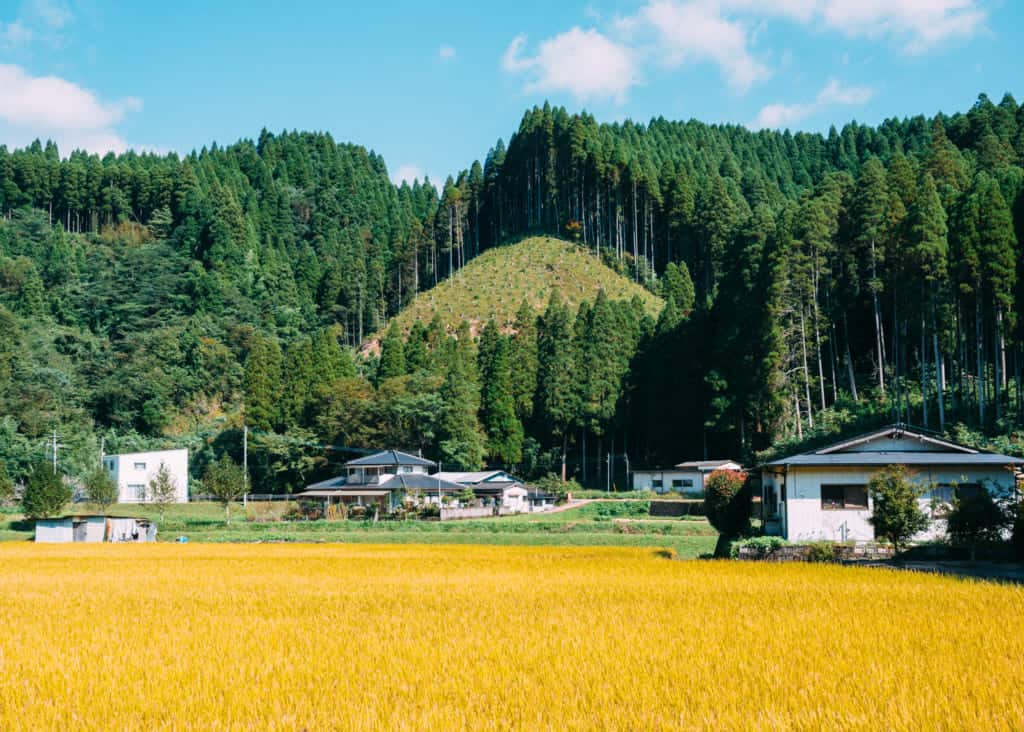 The Famous Food of Minami-Oguni
A small poster proclaimed Minami-Oguni to be one of Japan's most beautiful villages. Everywhere you travel in Japan is claiming to be one of "the best" something in Japan, but there is no arguing that it is genuinely a lovely village. The signs of fall, from the grain harvest to the autumn flowers and ripening kaki (persimmons), made interesting subjects to photograph as I slowly worked up an appetite for the village's most famous food: soba (buckwheat noodles).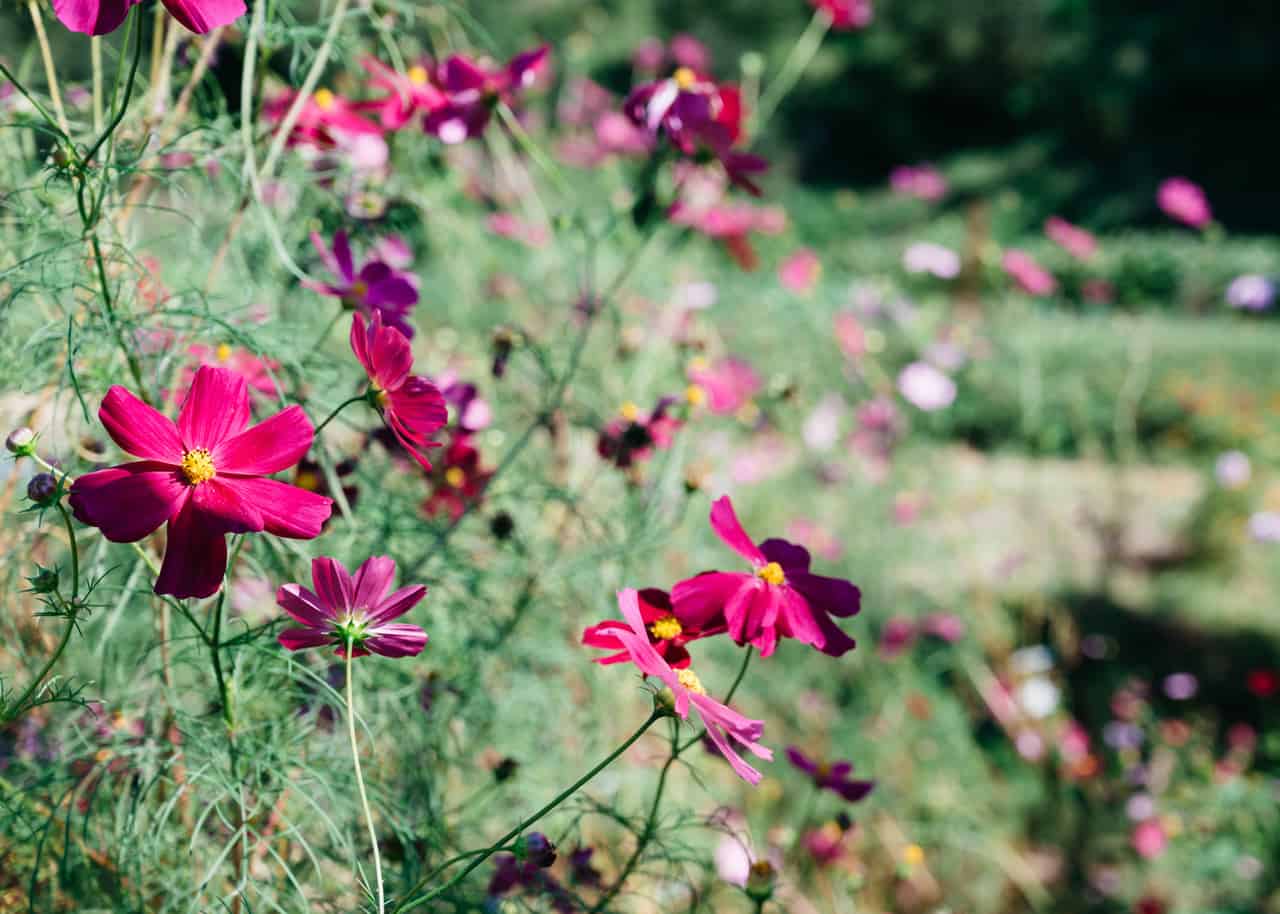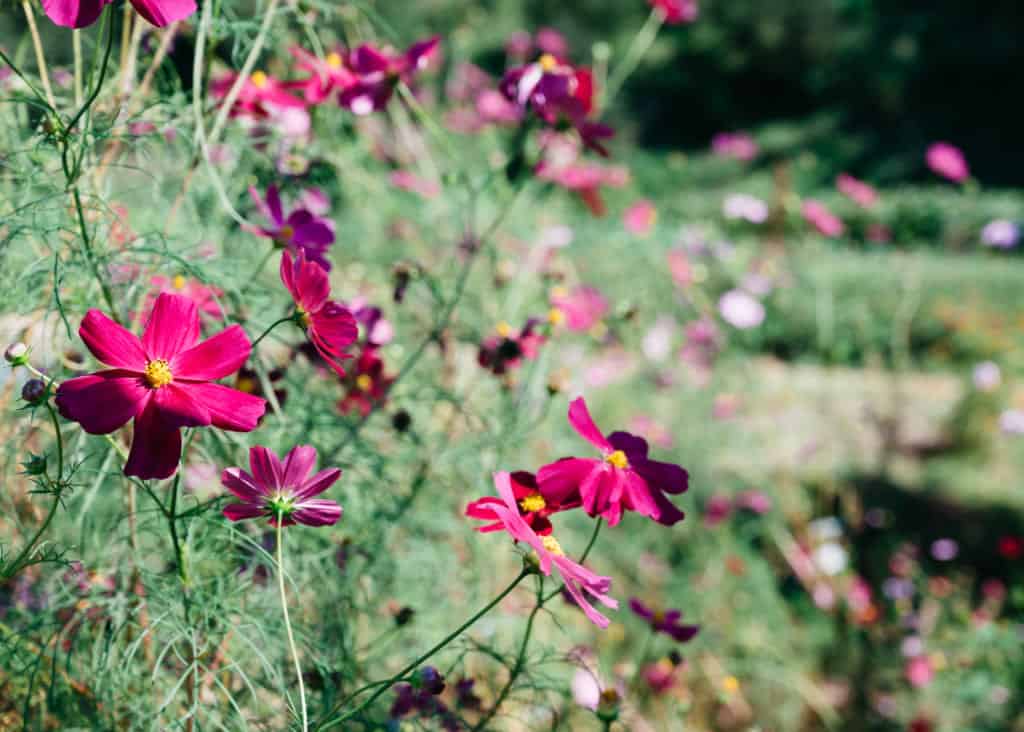 Soba shops are plentiful on the main road of Minami-Oguni, and there is no better season to enjoy soba here than the fall. Handwritten signs outside of restaurants alert travelers to the presence of shin-soba, new soba, made from the most recently harvested buckwheat crop. The spring water that nourishes the produce grown in this area ensures the purest of flavors.
You might think soba is a peasant's meal, but in truth, soba appears on the menu of the most exclusive washoku (Japanese cuisine) restaurants in Japan as well as hole-in-the-wall soba shops frequented by college students and salarymen.
Waremokou represents the in-between, a rustic, barrier-free shop where people travel from quite a distance to eat soba the way it was meant to be eaten: simple, local and fresh. There is no pretense here; find a seat you like, thumb through the simple menu (with pictures), and order whatever suits you. I sat at the corner of an irori (traditional Japanese hearth), which I imagine must be a lovely spot to thaw out on a cold winter's day.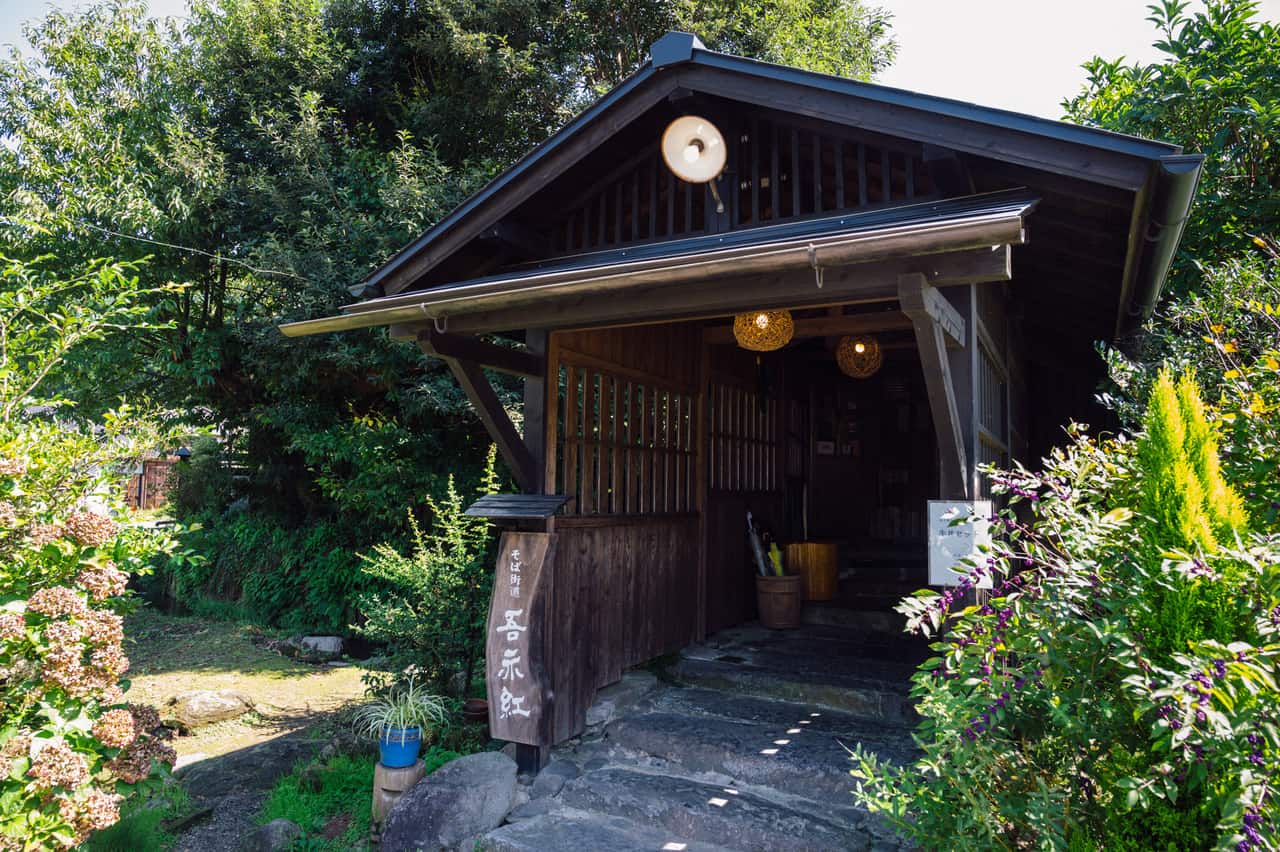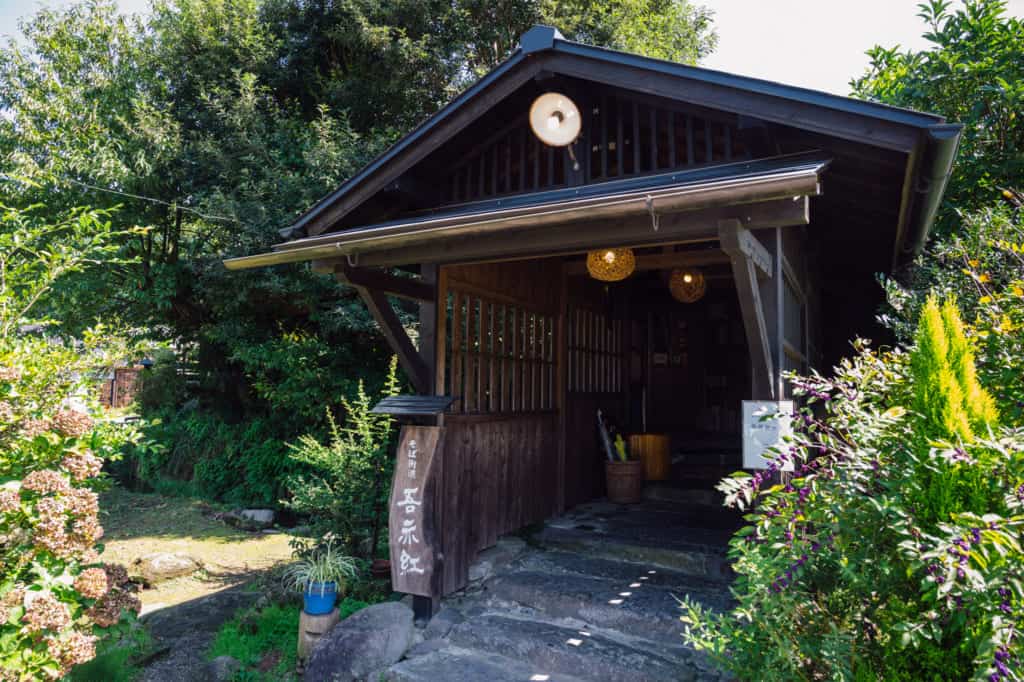 I chose the Waremokou set meal, which consisted of soba prepared hot or cold in whatever your favorite style is (in this case, shin-soba because of the time of year), tsukemono (pickled vegetables), a small seasonal side dish, and a thickened tofu topped with a sweet miso paste.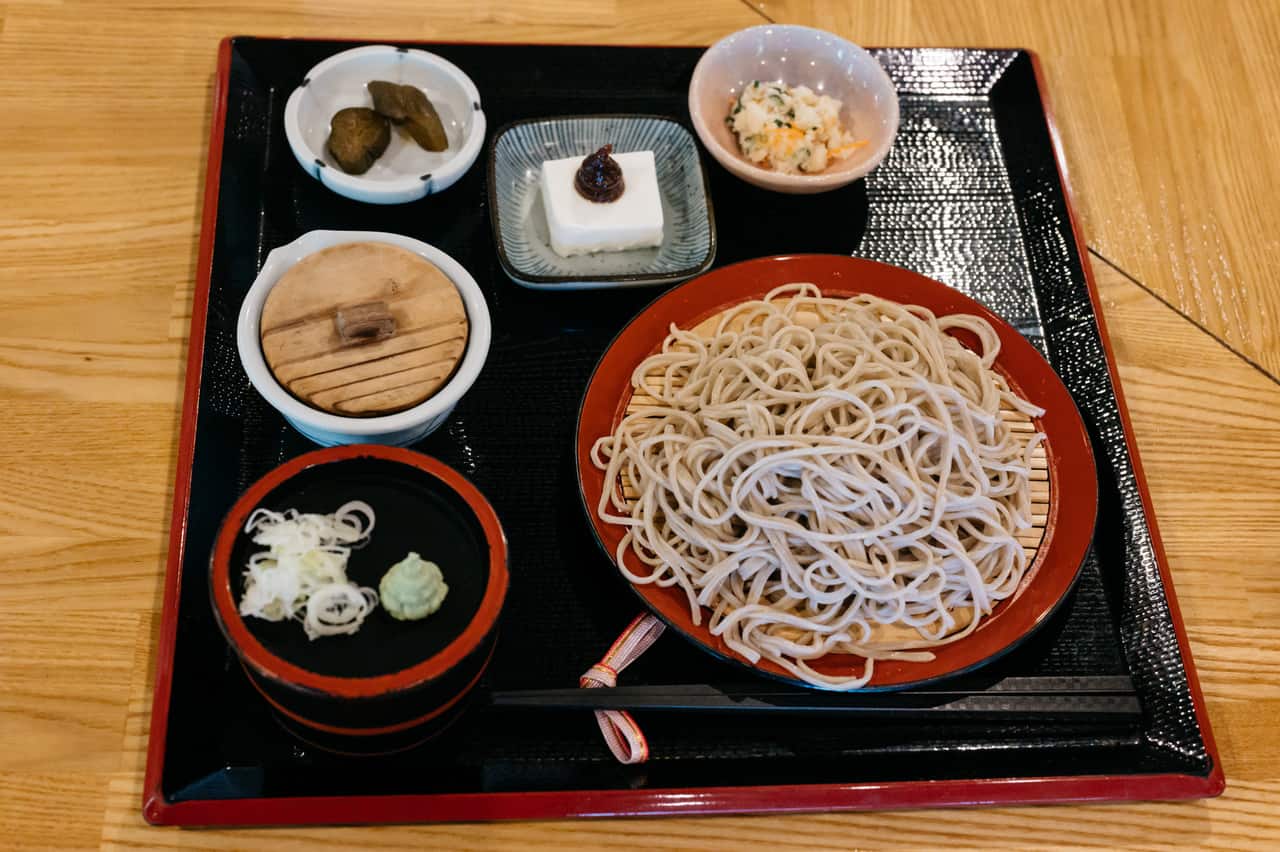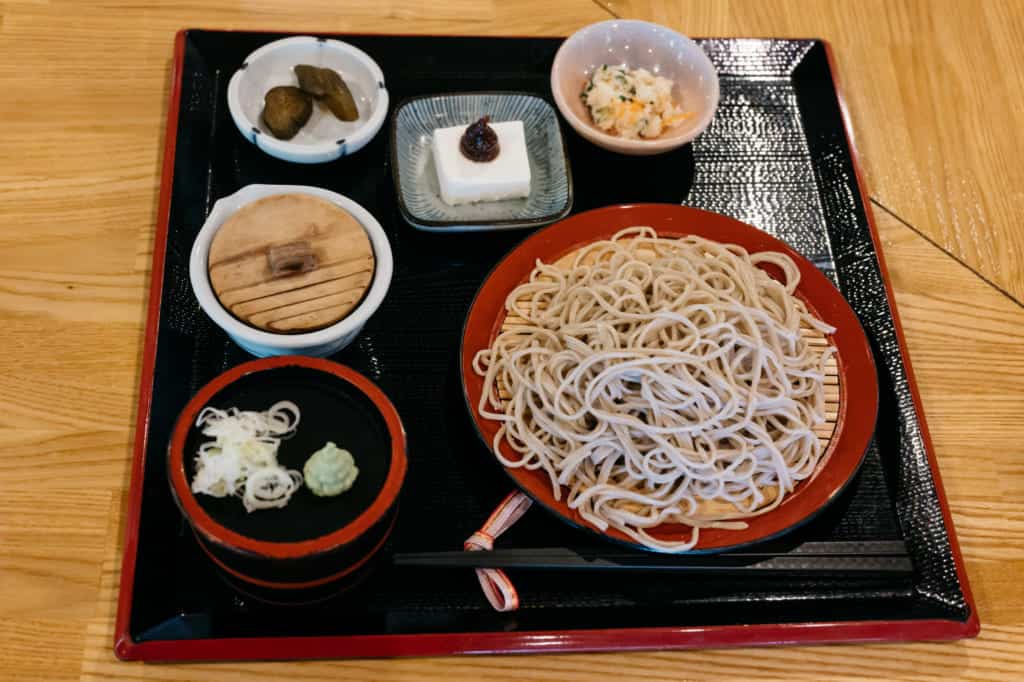 I want to say that I could taste the freshness of the shin-soba, but honestly, I don't eat soba often enough to be able to tell the difference between shin-soba and normal soba. I ordered zarusoba, which is served cold and dipped in tsuyu, a light dashi broth, in which you can mix in spring onion and wasabi to your taste. The noodles were firm and springy, which is a great texture and a hallmark of well-crafted handmade soba.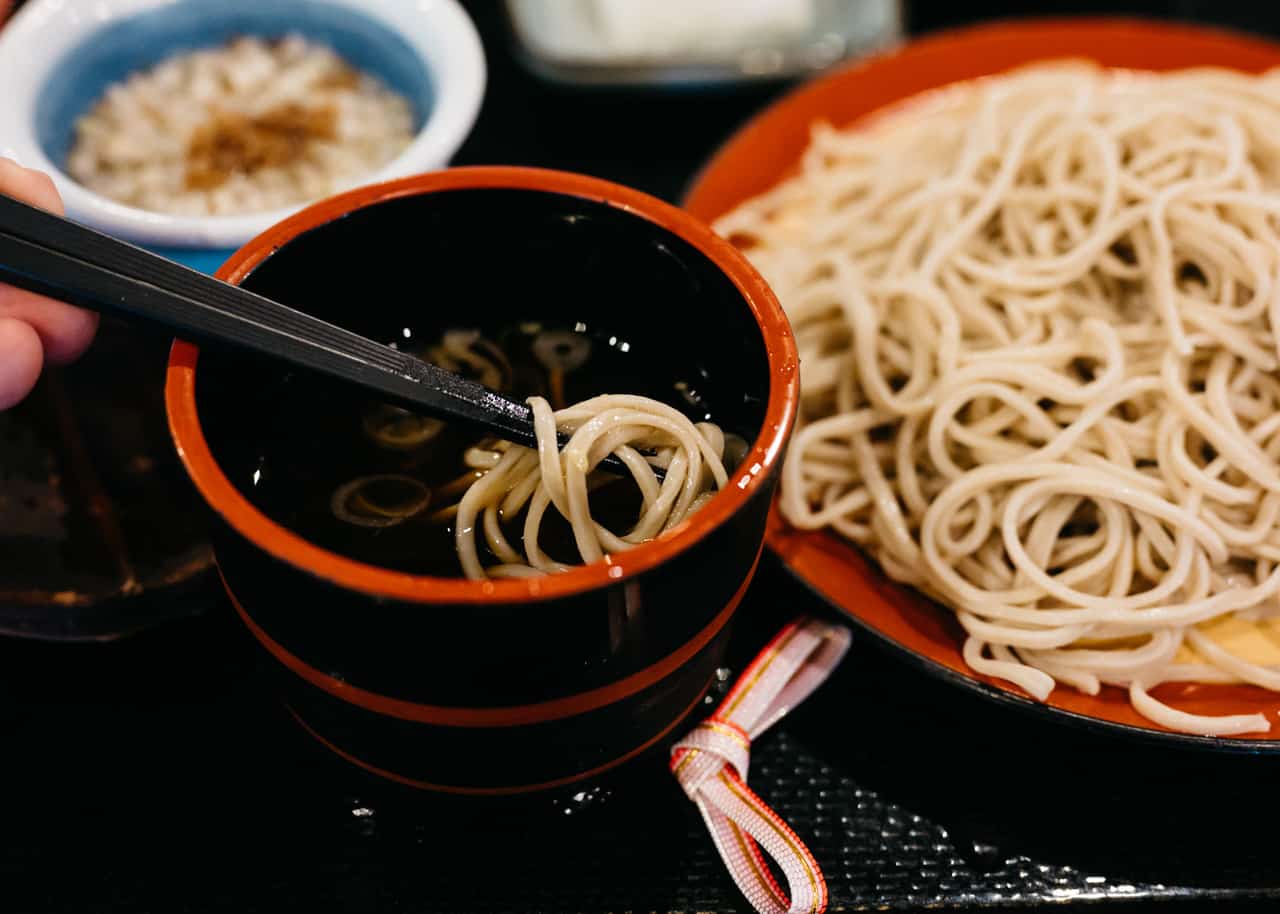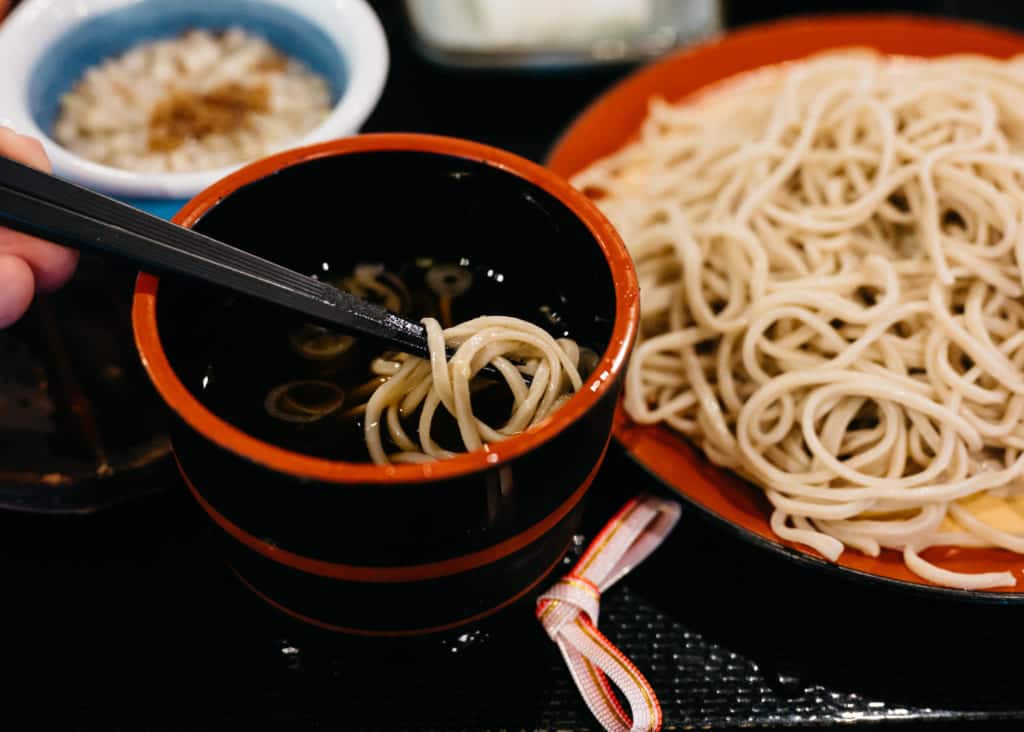 I did, however, love the tofu. It was incredibly silky, thickened with kuzu (arrowroot starch), and the dab of sweet miso on top added a zing, like a thick savory pudding. Inside the covered bowl, I found some steamed grains sprinkled with shaved bonito, with the aroma of smoked fish but only a light flavoring.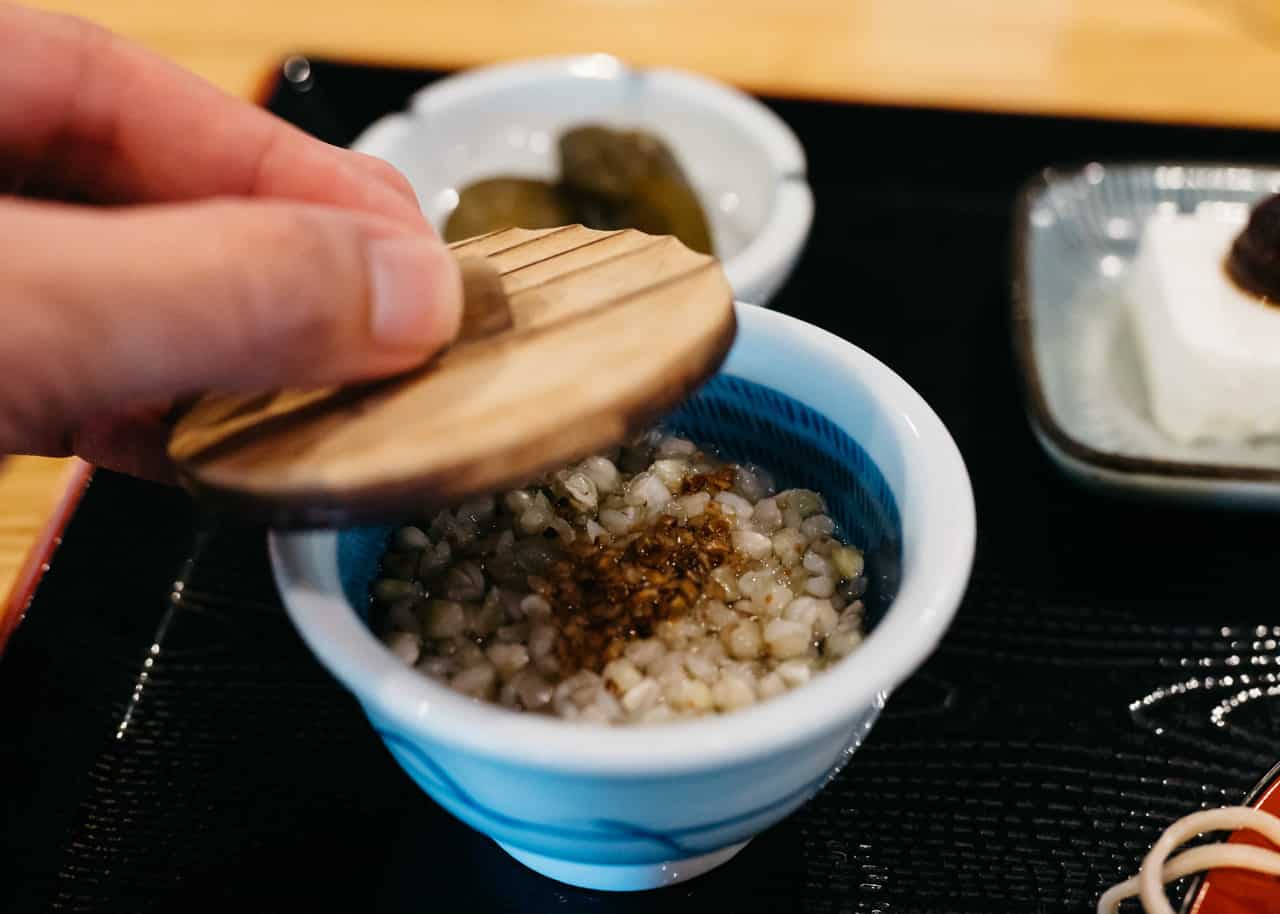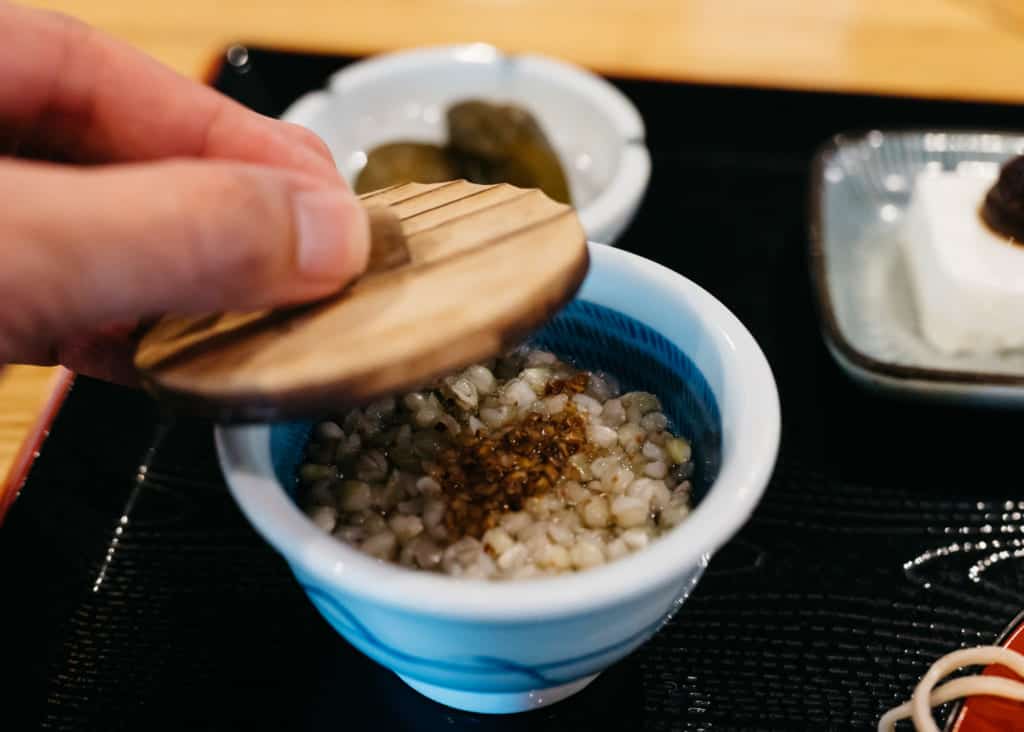 Having eaten two full meals in a matter of a few hours and in danger of falling into a food coma, I made a decision any sane person would make: soak off that food in another onsen.
Yuka: The Private Onsen Among the Trees
Up the road from Horei-no-Yu, Takenoyu Jigokudani Onsen Yuka (or just Yuka for short) is mostly obscured by the forest and other than the parking lot and two modest buildings, you might not even notice it driving by. I didn't, and ended up making a U-turn farther up the road. Ishimatsu-san, the owner of the property, met me in the lobby with a cold local cider, and we sat out front for a while, chatting in my broken Japanese. It turns out my camera had caught his eye; Ishimatsu-san is quite a photographer in his own right. Handing me his brochure, he explained that he had taken all of the photographs himself. My favorite was a spread of 4 images depicting the onsen in each of the 4 seasons. Here was a man after my own heart.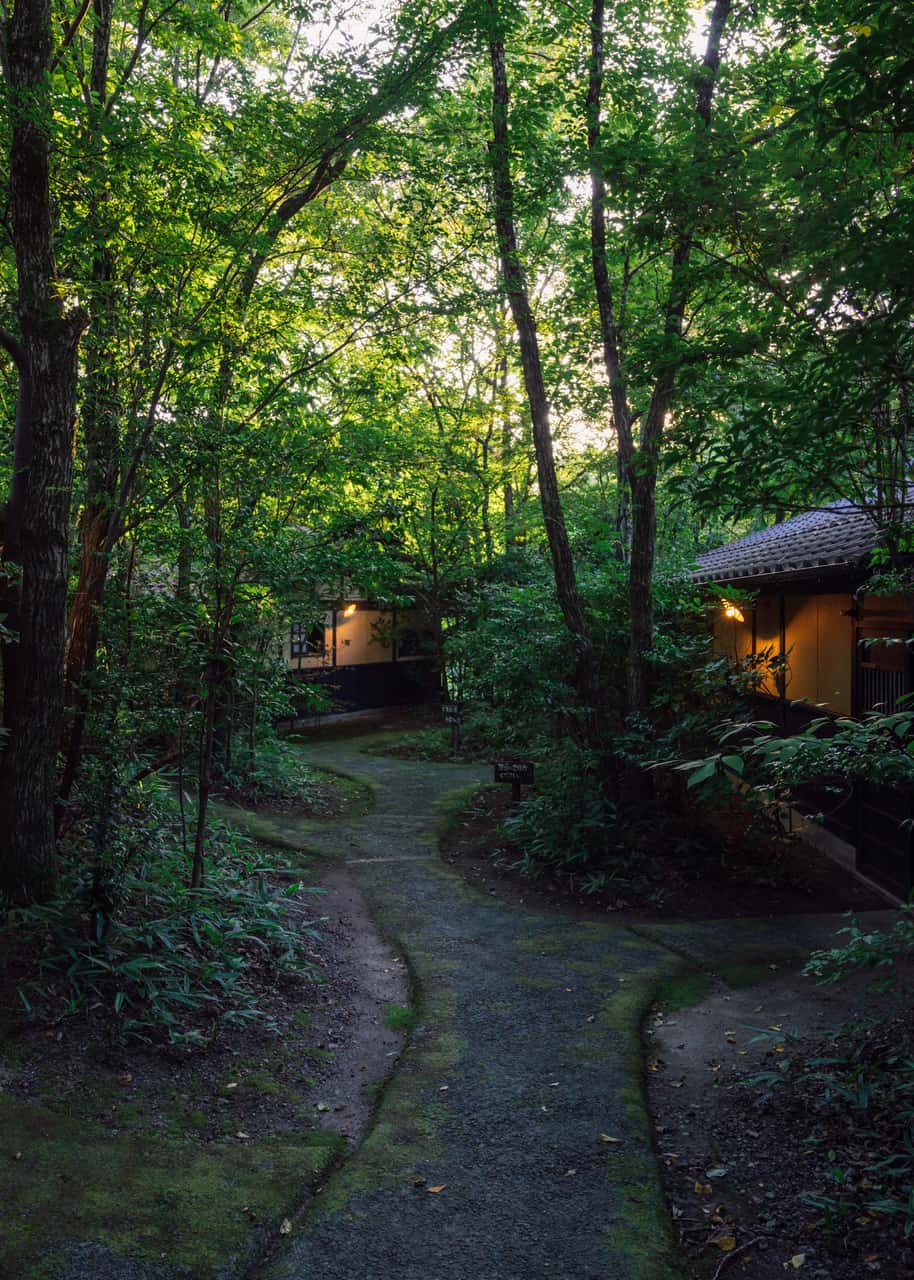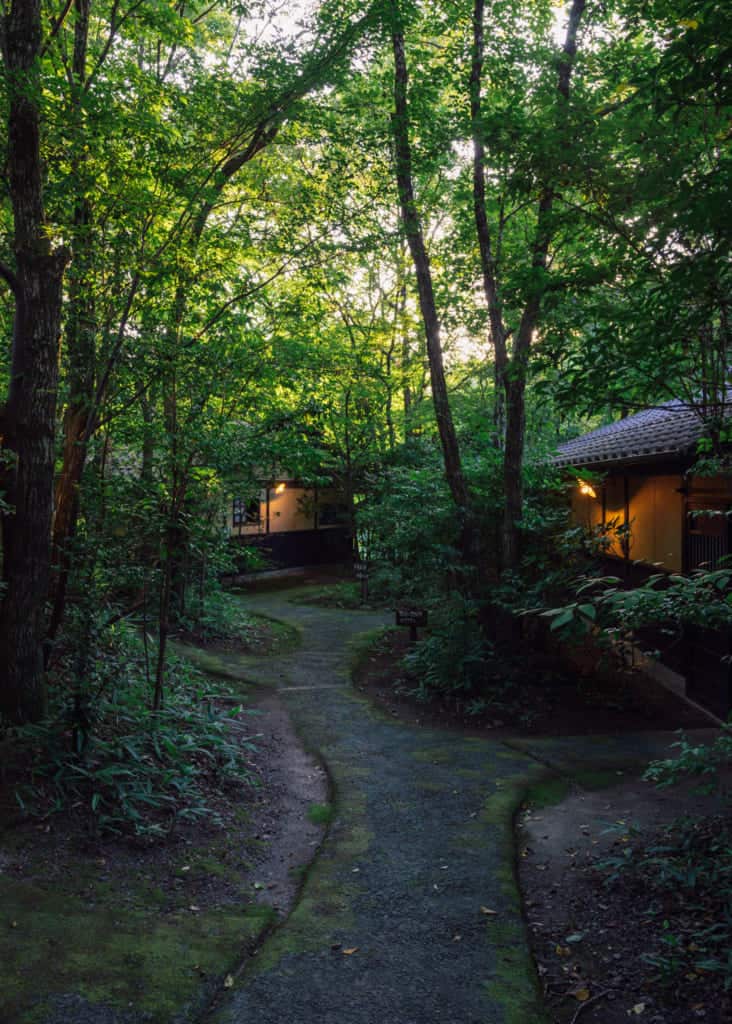 The onsen itself consists of gender-segregated baths (600 yen), 7 private baths for up to 4 people (from 1,300 to 2,000 yen), and 2 premium private baths that rival the quality of high-class ryokan (2,500 and 3,300 yen). The normal baths and 7 private baths are available 24 hours a day (the private baths are filled using coin-operated machines), while the premium baths are available between 8:00 and 22:00 from the reception desk.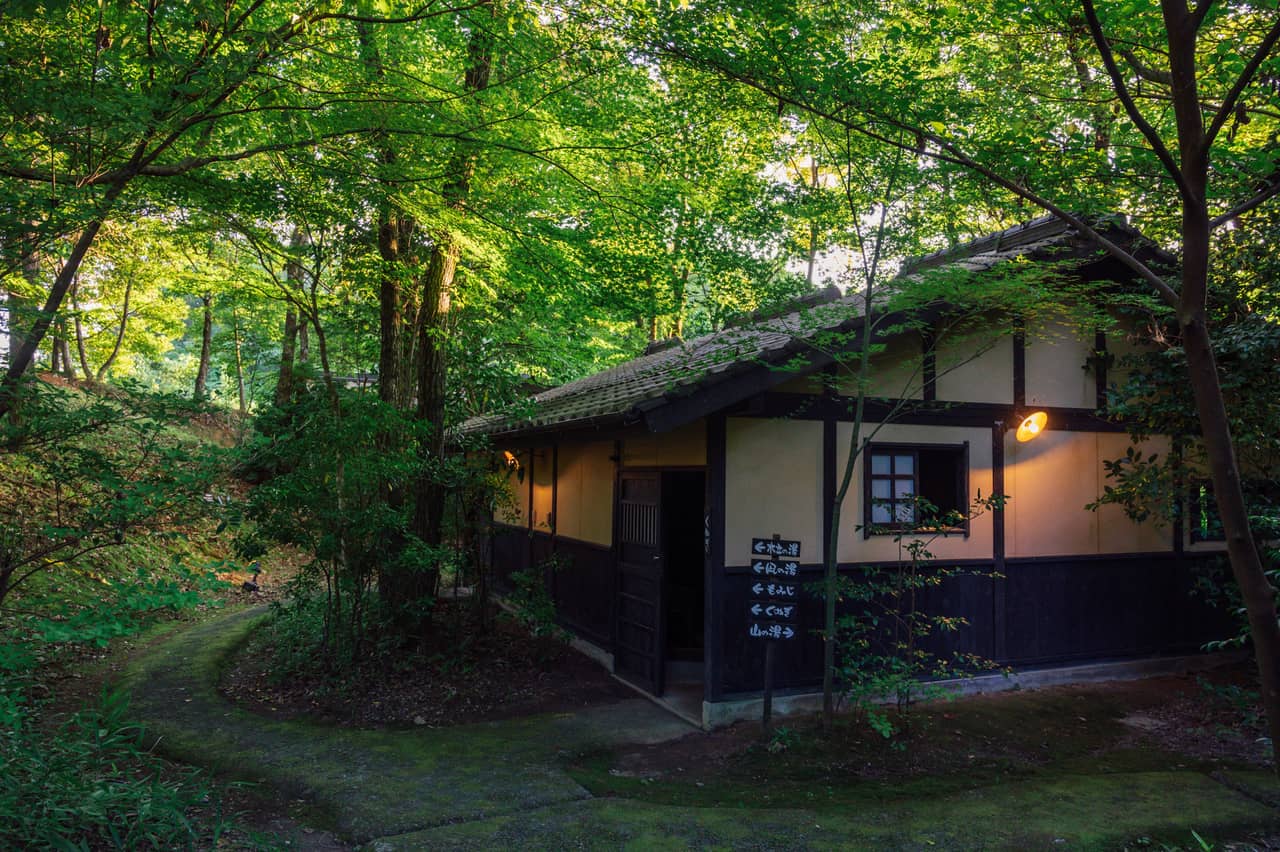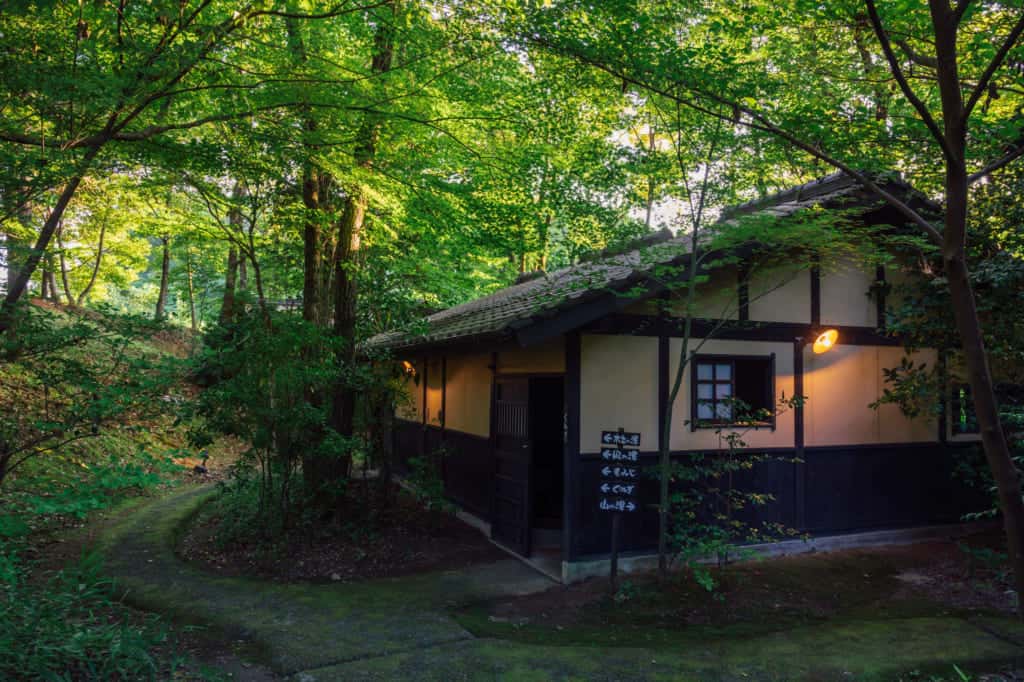 Intrigued by the concept of a premium onsen experience, I booked the most expensive premium onsen (3,300 yen), which, with 2 separate baths, is overkill for a solo traveler. But I did it for you, dear readers, that you might live vicariously through my experience!
The premium onsen had a large tatami room suitable for relaxing if, for some reason, you didn't want to jump right into the bath. It also had a sink, dressing area, and hairdryer, as well as the standard amenities of soap and shampoo. Towels can be purchased at the reception desk if you don't have one. But here's a tip: when you come to onsen country, bring a towel.
The water has a high level of metasilicic acid which turns cloudy when exposed to air for a period of time. However, the water is being replaced continuously for hygienic reasons, so it appears crystal clear. This acid is said to have healing properties for conditions such as cuts, bruises, skin conditions, and muscle and joint pain.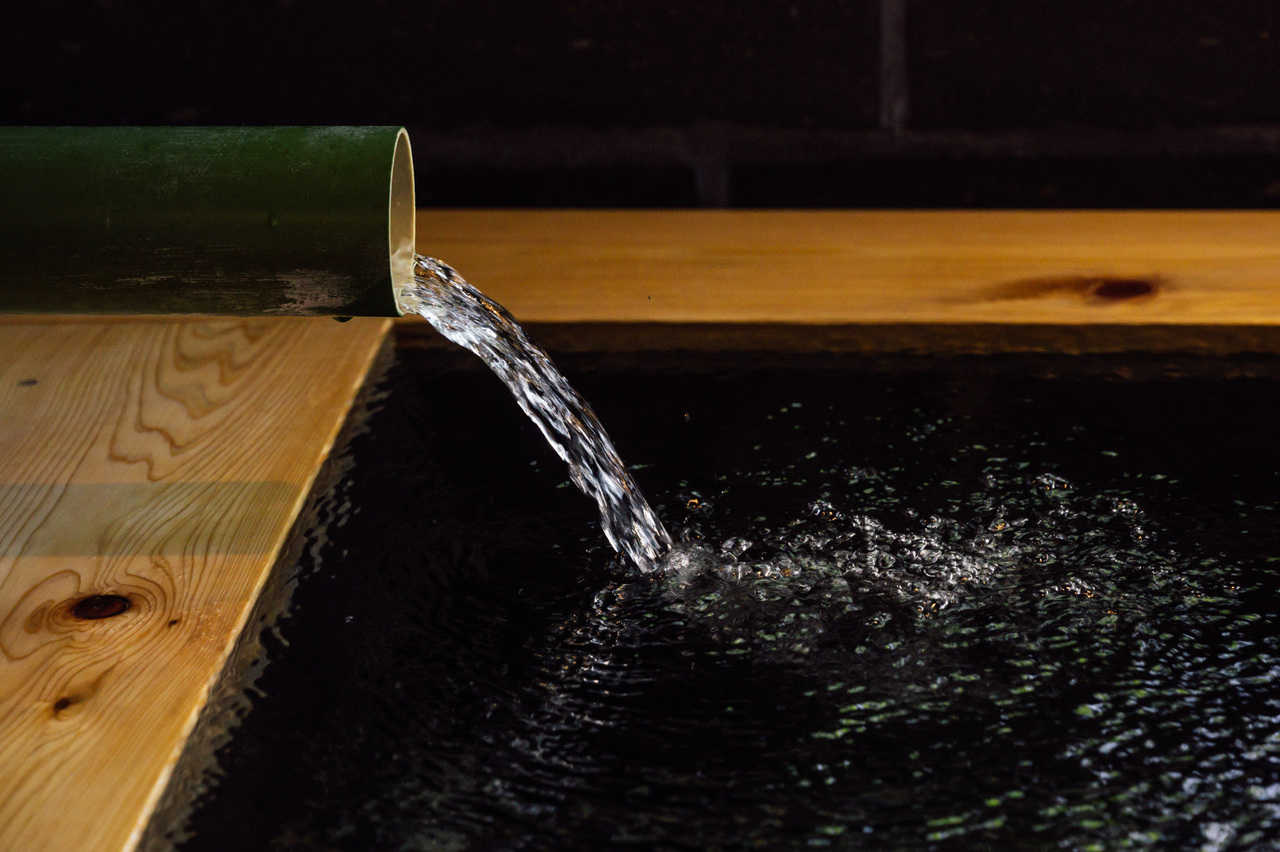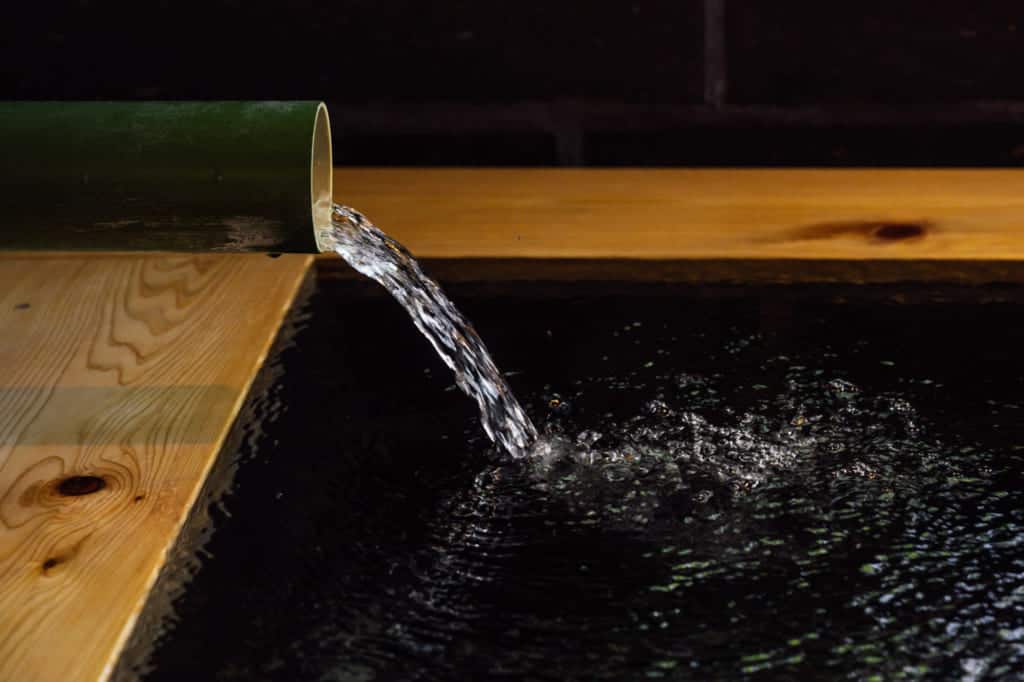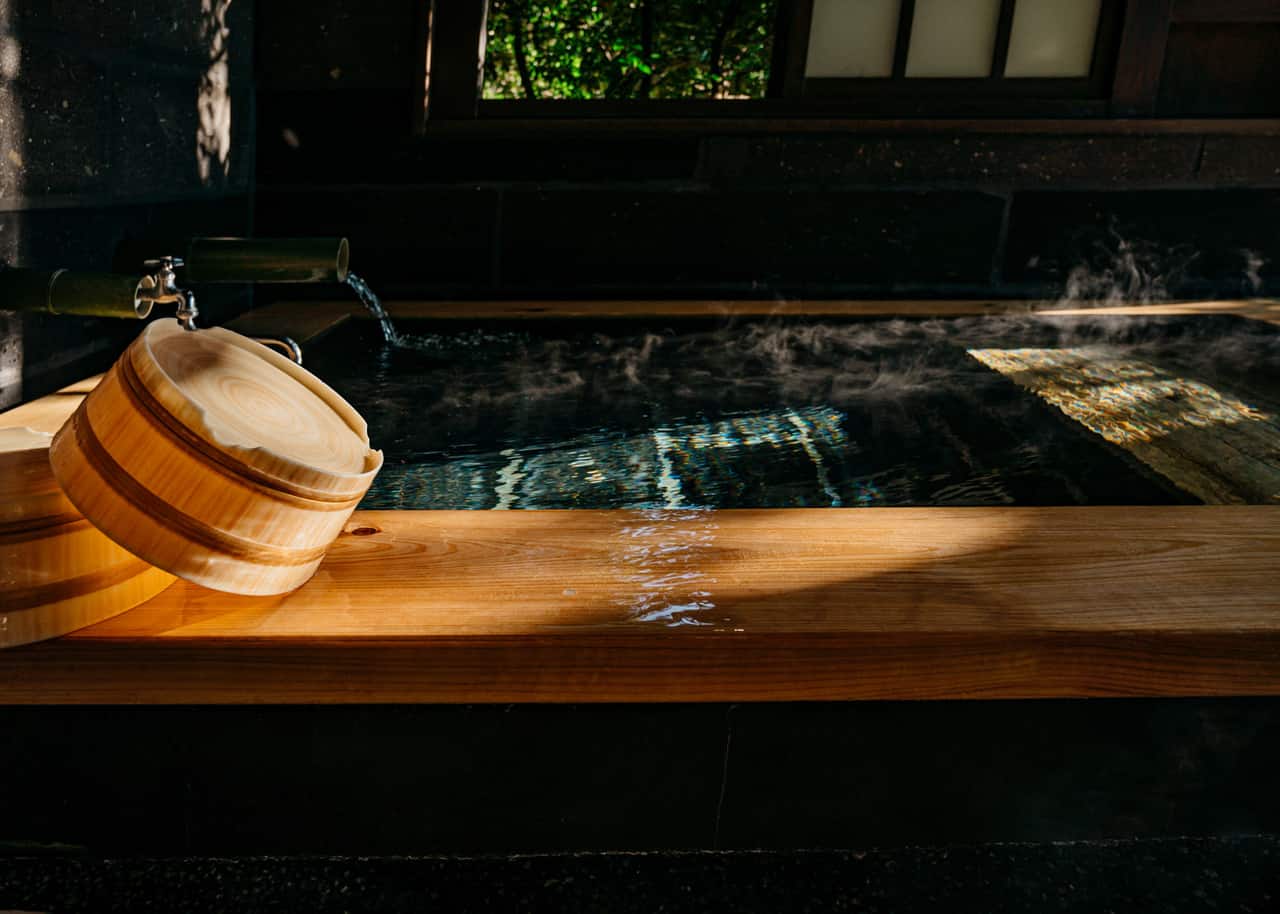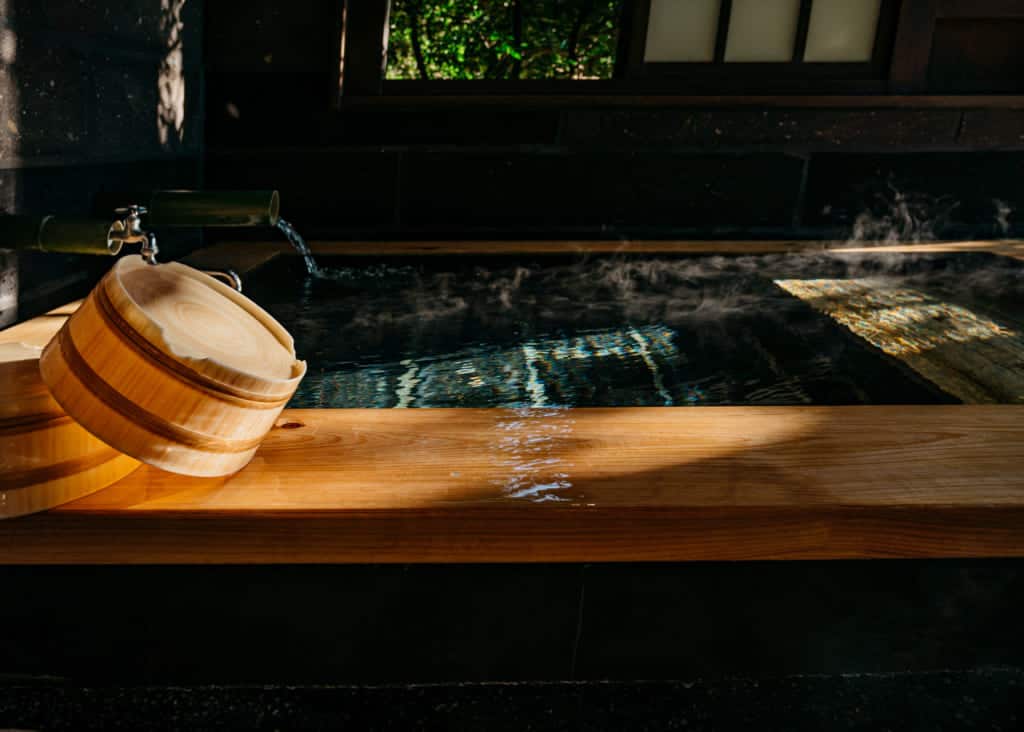 Frankly, I rarely concern myself with the chemical content of the water. I am more concerned about proper temperature, and the water at Yuka was just about perfect for me. I spent the rest of my hour moving between the two tubs, watching the shadows grow longer and listening to the rustling leaves. Ah, Spa Day! Where did you go? Emerging from the bath, I take solace in the fact that tomorrow is another day in Waita Onsen, where life moves at a slower pace.
How To Get To Waita Onsen
The Waita Onsen area is surprisingly easy to access from major cities in Kyushu (and therefore easy to access by Shinkansen or domestic flights from other parts of Japan). I realized there are places I have driven to from Tokyo which take longer to reach than the short flight to Fukuoka or Kumamoto airports and the drive to northern Kumamoto. The greater appeal of this area is the unique scenery created by volcanic activity and the abundance of onsen resorts and towns.
A car is essential to the enjoyment of northern Kumamoto, where activities, restaurants and accommodations can be spread over a wide area. Driving is easy in these parts, with little traffic and gentle, winding roads inviting you to roll down the windows and take a breath of fresh air. Rental cars are available in any major city, airport and near many major train stations with an international driver's license.
Hourei-no-Yu is the slight exception to the rule as Hirose-san will pick you parties of 2 or more guests from either Michi no Eki Yu Station or Kurokawa Onsen bus stop, but you must be a guest of the inn and reserve a ride in advance.
Horei-no-Yu (Hot Springs)
Nishizato, Oguni, Aso District, Kumamoto 869-2504
Hours: 8:00 – 19:00, some private baths available 24 hours
Fees: 500 to 1,500 yen
Website: http://houreinoyuyado.com/en
Waremokou Soba Shop
3220ー5 Akababa, Minamioguni, Aso District, Kumamoto 869-2401
Hours: 10:30 – 17:30
Website: http://www.aso-sobakaidou.jp/english/index.html
Takenoyu Jigokudani Onsen Yuka
〒869-2505 Kumamoto, Aso District, 阿蘇郡Kitazato, 小国町大字北里1800−33
Hours: 8:00 – 21:00, some private baths available 24 hours
Access to Waita Onsen From Other Areas
From Fukuoka Airport: about an hour and 40 minutes by car
From Oita Airport: about an hour and 20 minutes by car
From Kumamoto Airport: about an hour and 20 minutes by car