Sponsored by Yonezawa City
While you may be able to find familiar staples of Japanese cuisine, such as ramen or tempura, no matter where you are in Japan, each area also has its own particular specialties and delicacies. Over the centuries, different seaside towns, mountain villages and rural farmlands have adapted to their local ingredients and resources to create dishes completely unique to their region. Known in Japanese as kyodo ryori (local cuisine), they are an integral part of Japanese food culture.
While traveling through parts of Japan outside the urban hubs of Tokyo and Osaka, make sure to take advantage of kyodo ryori. It's a chance to become familiar with local culture and an opportunity to try foods that use the best ingredients the region has on offer.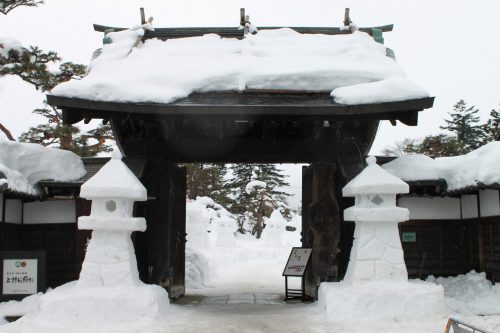 Yonezawa City's Local Food Culture

Yonezawa is no exception when it comes to kyodo ryori. The city in southeastern Yamagata Prefecture, towards the Fukushima Prefecture border, has developed its own unique food culture. One of the prime locations to experience the city's authentic local cuisine is at Uesugi Hakushakutei.

Established in 1896, the restaurant is housed in a traditional Japanese building, the over 16,000 square meter former residence of Uesugi Mochinori. He was a samurai and the last feudal lord of the Yonezawa area in his day and the ornate home is filled with beautiful dark wood beams and tatami flooring.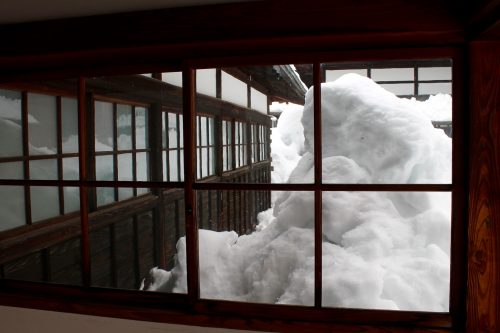 The Uesugi Hakushakutei grounds include a beautiful Japanese garden during warmer months, before deep snowfall envelops the Yonezawa area. However, if you are coming in early February, the restaurant is located right next to the Yonezawa Castle Ruins, site of the famous Uesugi Snow Lantern Festival.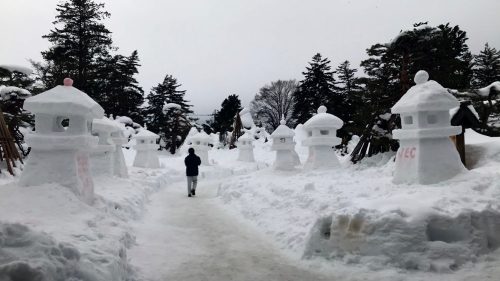 When I arrived at the restaurant at the peak of the festival, the entrance and pathway to the restaurant were guarded by several of these beautiful snow sculptures. They created eye-catching winter scene as I walked through the grounds and into the residence for my meal.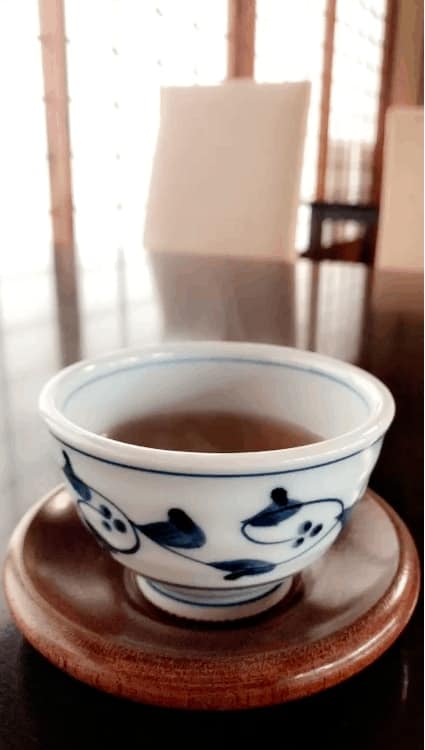 During the meal, I was treated to warm tea and an elaborate kenzen ryori (healthy cuisine) lunch set. The meal included an ikura (fish roe) topped rice bowl, assorted vegetables with vinegar, and root vegetables with miso and sesame. Some of Yonezawa's unique interpretations of standard Japanese fare included hardy miso soup with potatoes, onions and carrot, as well as salmon topped with sakura (cherry blossom) rice and a pickled sakura leaf. I also had the local delicacy of carp in sashimi form over raw green onions. I was immediately struck by the freshness of the produce. Undoubtedly produce was sourced from the Yamagata area and it was a true showcase of the best ingredients in the region.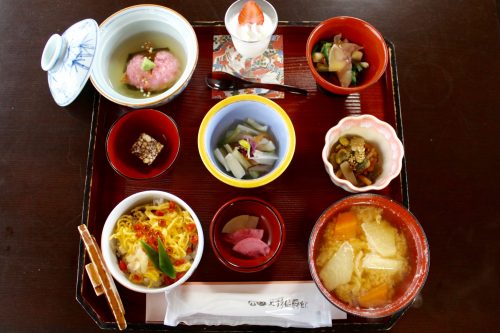 Yamagata's Famous Soba
While Uesugi Hakushakutei's offerings fall on the elegant side of kyodo rouri, local cuisine can take on a far more casual ambiance. One of the best examples of this is soba. Standing soba (buckwheat noodle) restaurants are commonplace throughout Japan as affordable and quick lunch or dinner option for salarymen or other workers on the go. Since they cater to commuters, you can often find them in or near train stations. For example, Yonezawa Station, a major transportation hub in the area and a stop along the Yamagata Shinkansen.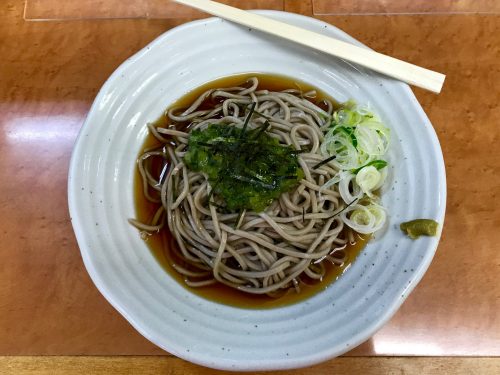 While I was waiting for my Shinkansen I stopped at the Yonezawa Station's own standing soba shop, Taka. The two nice women in charge of the soba counter, walked me through the ticket process. I ordered cold dashi soba, a specialty of Yamagata and Taka. Unlike most dashi soba's, the Yamagata variation is topped with chopped vegetables (including cucumbers, eggplant and okra), Japanese myoga ginger and shiso leaves. Even in the cold, it was hard to deny the refreshing taste of the buckwheat noodles with wasabi and green onions, placed on a plate filled with dashi, a sweet and savory broth. Not to mention that the meal was only 440 yen and could be prepared and consumed in just a few minutes before my train's departure.
Yamagata's dashi soba was the perfect meal to end my trip, and another fine example of the kyodo ryouri cuisine that the prefecture has to offer. If you travel to Yamagata, or any other rural prefecture, make sure to take advantage of the local cuisines and experience the full breadth of Japanese food culture.
Need more information? You can find up to date information about Yonezawa's history, sightseeing locations, accommodations, food, and search for some experiences here.