"Canceled?" I asked, looking out to the blue skies across our coast-side hotel breakfast. It seemed unlikely, but our boat — along with others that day — was indeed cancelled. I feigned disappointment as the high tides were blamed, and my mind immediately wandered to the possibility of more hiking. Two hours later, I was perched atop a cliffside viewpoint, surrounded by the sea and secretly hoping the boats would never return. Rebun (礼文島, Rebuntō) was far from a deserted island, but I couldn't think of a better place to play castaway for an extra day.
Japan's northernmost remote island of Hokkaido, Rebun, is known as the floating flower island and takes its name from the indigenous Ainu of 'repun-sir' which means offshore island. Thanks to the cold westerly winds and long separation from the mainland, it has cultivated a unique grassland and alpine flowers ecosystem. Using the seven protected walking trails, visitors can explore on foot — rewarded with breath-taking views of rocky coastlines, rolling hills, and distant islands. Home to a vibrant community, the island is by no means empty. From ramen in a busy local restaurant to towering sundaes in contemporary cafes, you'll be surprised at what the island has in wait at the end of the walking trails.
Cape Sukoton: Hiking Along Rebun Island's Most Northernmost Point
The day before, and yet to learn of our impending cancellation crisis, we were enjoying a leisurely day of exploring the island's northernmost point, Cape Sukoton (スコトン岬). Stretching out on the west arm of the island's pincer-like tip, the cape looks out across the uninhabited Todo Island, with seals sunbathing on its shores in the warmer months. The long-embattled island of Sakhalin can be spotted in the distance on a clear day, although I struggle to spot it among the clouds. Now belonging to Russia, it's a surprising reminder of just how close the two countries are.
Aqua-Blue Island Scenery from Cape Sukai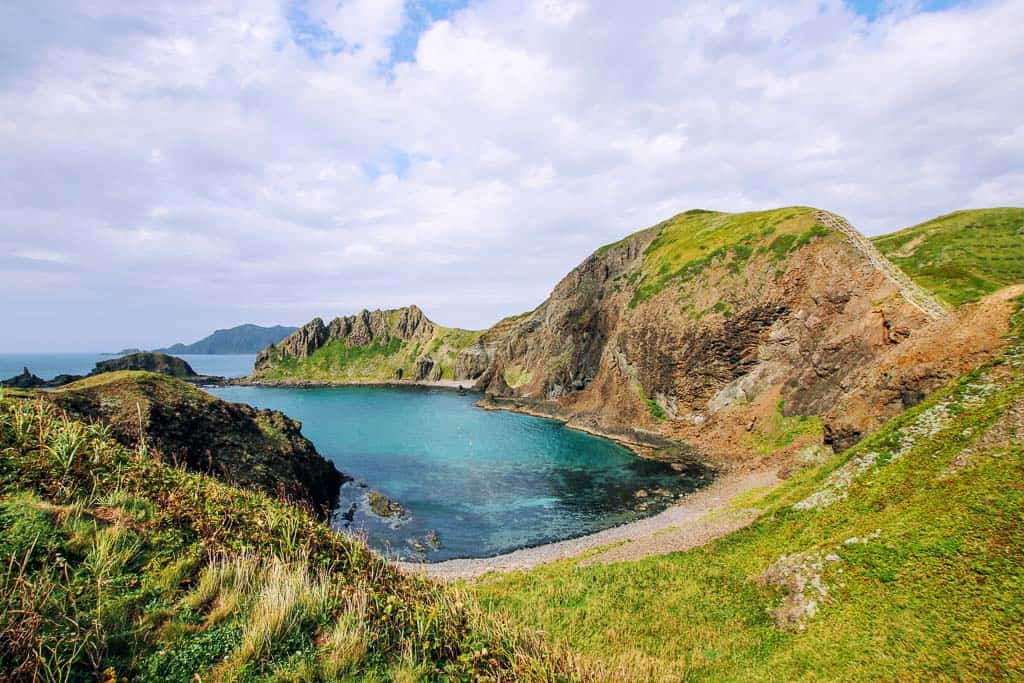 After a short drive along the west coast, we arrived at Cape Sukai (澄海岬), which is said to have the most beautiful views on the island. Following a newly-installed walkway, I prepared for a decent view but am greeted with an almost tropical cove. Aquamarine waters lap beneath the grass-covered cliff, creating a picturesque clash of colours that defeat the cloudy skies with their vibrance. Called the Rebun Blue Sea, the waters are similar to Ishigaki's distant islands, although I'm assured — much, much colder.
Soba Noodle Lunch Break at Futaba Shokudo
Hoping the clouds would clear, we headed to the small town of Funadomari on the eastern arm of the island for a nourishing bowl of noodles at Futaba Shokudo. Already busy with local workers, we grabbed the last table and used the time to consider our hiking route options. The island has seven to choose from, ranging from a few hours to full days and from heady climbs to flat plains. As we poured over the maps, bowls of steaming noodles arrived — the local favourite of shio-ramen and my tempura-topped soba. Running for over 60 years, Futaba Shokudo has their recipes down to perfection, and we fall silent as the food claims our attention.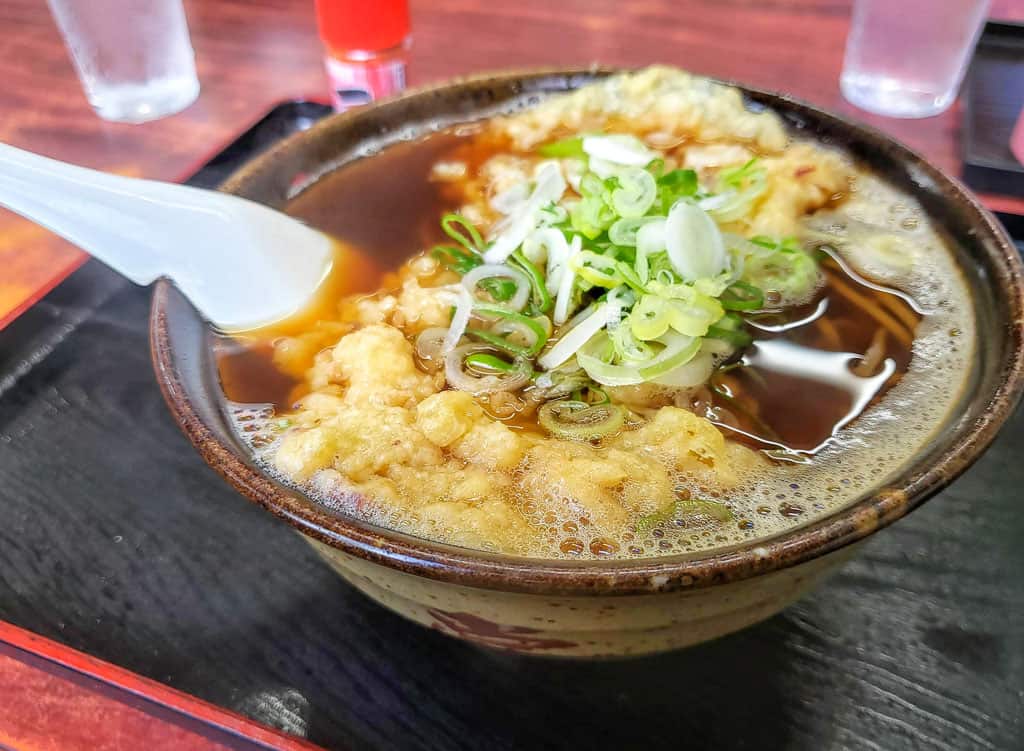 Sitting back entirely replete, we decide on our routes, clinking our glass coke bottles and lingering in the retro-feel of the ramen joint before heading out. We are greeted by promisingly-clear skies and make our way east to attempt a section of the Cape Tour Route.
Cape Gorota Hiking Trail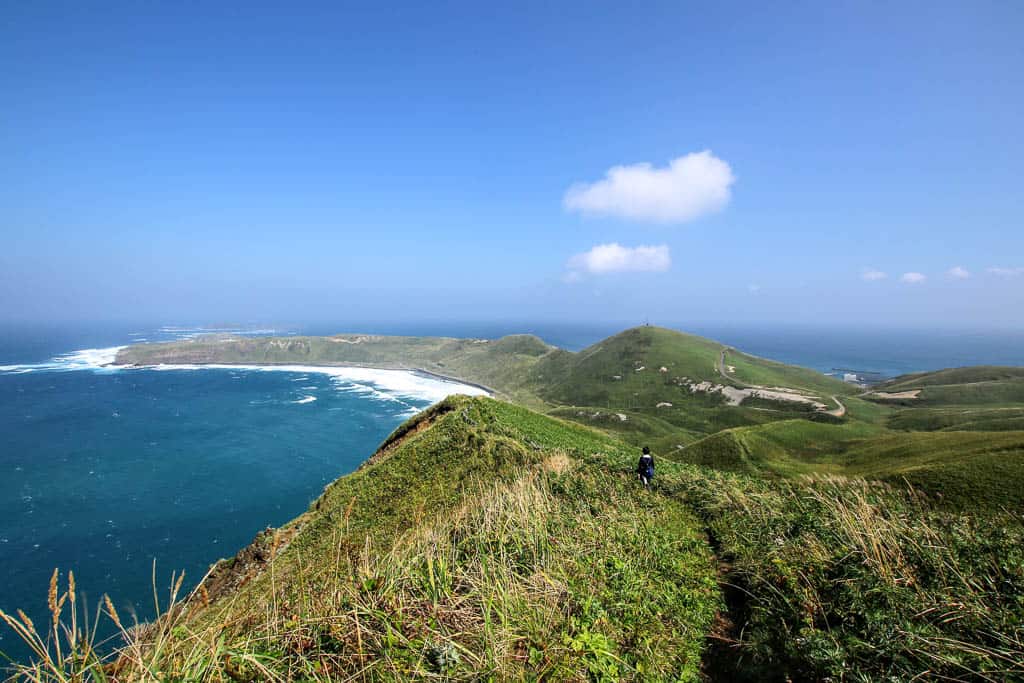 Stretching from Hamanaka to the tip of Cape Sukoton, the full Cape Tour route is just over 12km, but a shorter return trip to Cape Gorota (ゴロタ岬) can be made. As we crossed hills and traversed meadows, we eventually reached the Gorota viewpoint, with turquoise waters stretching beside the coves on either side. You can continue along to Sukoton if you have the time, or stop by the protected Rebun Lady's Slipper Orchid garden if you're in time for its season. The island's famous flowers bloom from April to September, with handy guides included on trail maps along the routes.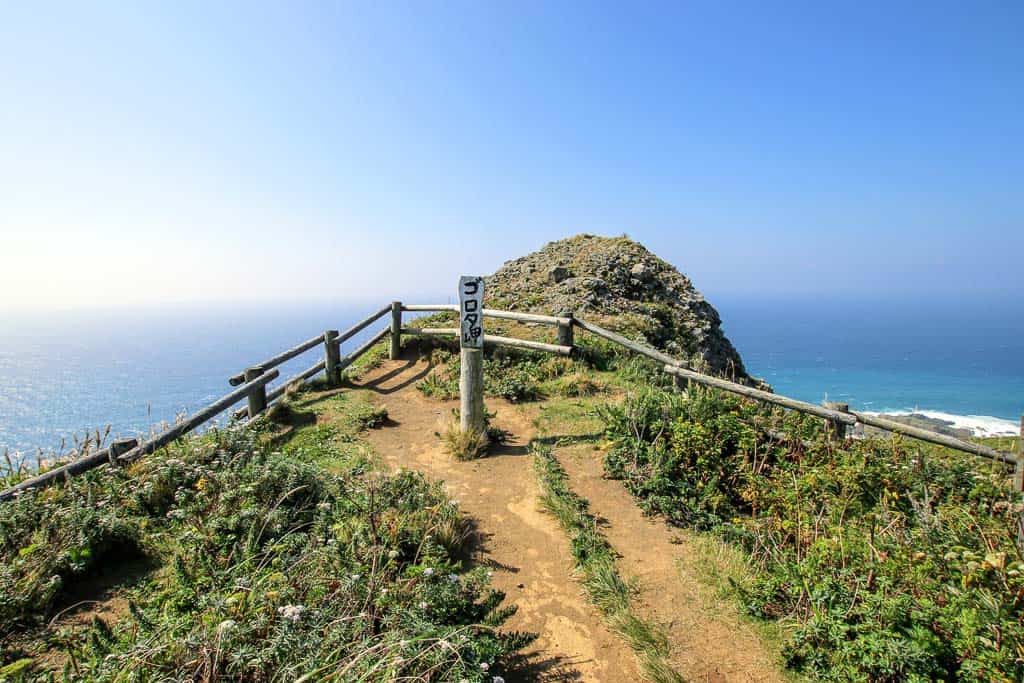 A Dinner of Hokkaido's Best Seafood
Having walked off our ramen and then some, we turned back, not wishing to tempt the weather with a longer foray. That night, I was hoping to catch the starry sky, and we headed down to Rebun for dinner at the port's popular restaurant, Takechan Sushi (武ちゃん寿司) in the Rebun Port Building. Laden with platters of sushi, bowls of sea urchin, and sizzling dishes of miso-coated hoke (local mackerel), the meal showcased the best of Rebun's seafood.
As soon as we were able, we made our way across the island to the Momoiwa Observatory, greeted with ink-black skies and oceans of stars.
Life seemed pretty much perfect as I spent what I thought was my final night in Rebun beneath the stars, full of seafood and tired-out from hikes. As the clouds drew in, we headed back, just in time for a soak in the local hot spring. As I stepped into the almost too-hot outdoor bath and allowed the sea breeze to cool me down, I wished I could stay longer. Little did I know my wish would come true.
Awoken to news of the cancellation, our fate was quickly accepted, and hikes were excitedly chosen. While the tides were too high for boats — a risk taken when visiting islands — the skies were blue and perfect for an expedition.
The Hiking Trails of Momoiwa Observatory Course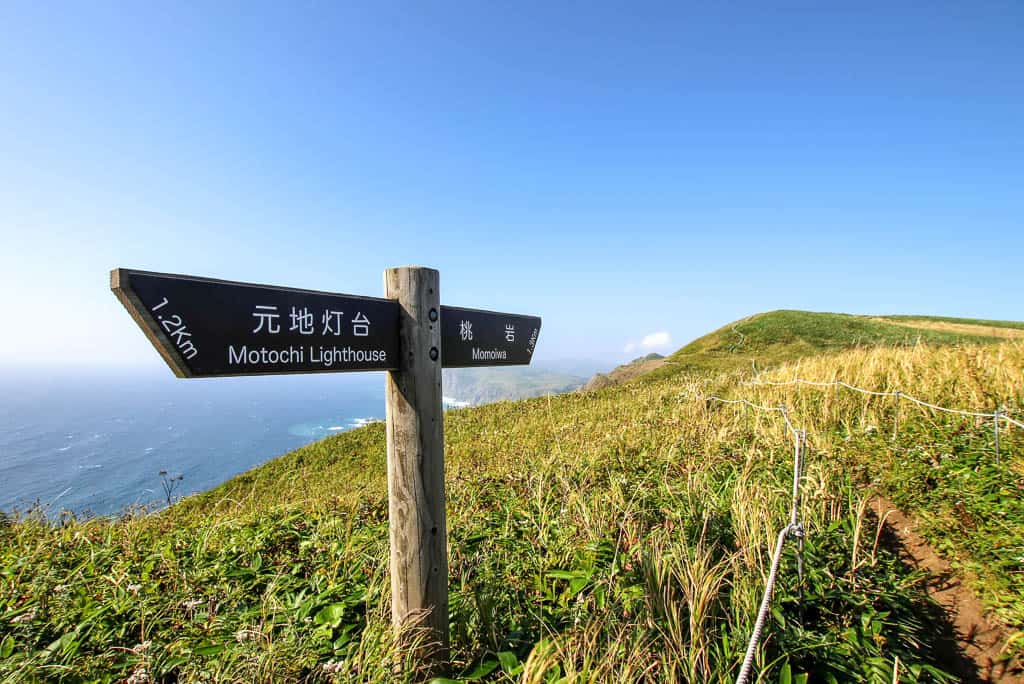 Having decided to explore the island's southern trails, we embarked upon the Momoiwa Observatory Course. At 7.1km, it takes around 3.5 hours, and although there are some slopes, it wasn't too difficult and didn't require special footwear beyond trainers. The route is particularly famous for the alpine flowers, with some sections that use wooden decks to protect the habitats. From windswept cliff edge-views to rolling green hills, the hike was simply an endless sequence of beautiful views. At some of the highest points, you are surrounded by sea views on both sides. The feeling of being perched on an island ridge was truly invigorating. I had dabbled in hiking, but this was the experience I needed to convince me it was a hobby worth pursuing.
Along the route is the Momoiwa Observatory, one of the island's most popular spots thanks to its unusual rock formations. Formed by a more recent volcanic activity era, the peach-like rock is surrounded by one of the island's most diverse flower fields. However, along the water was a rock more up my alley — known as Nekoiwa, it's shaped like a cat, complete with arched back and pointy ears. The views across the curved bay were striking, with the now-familiar shapes adding a unique touch.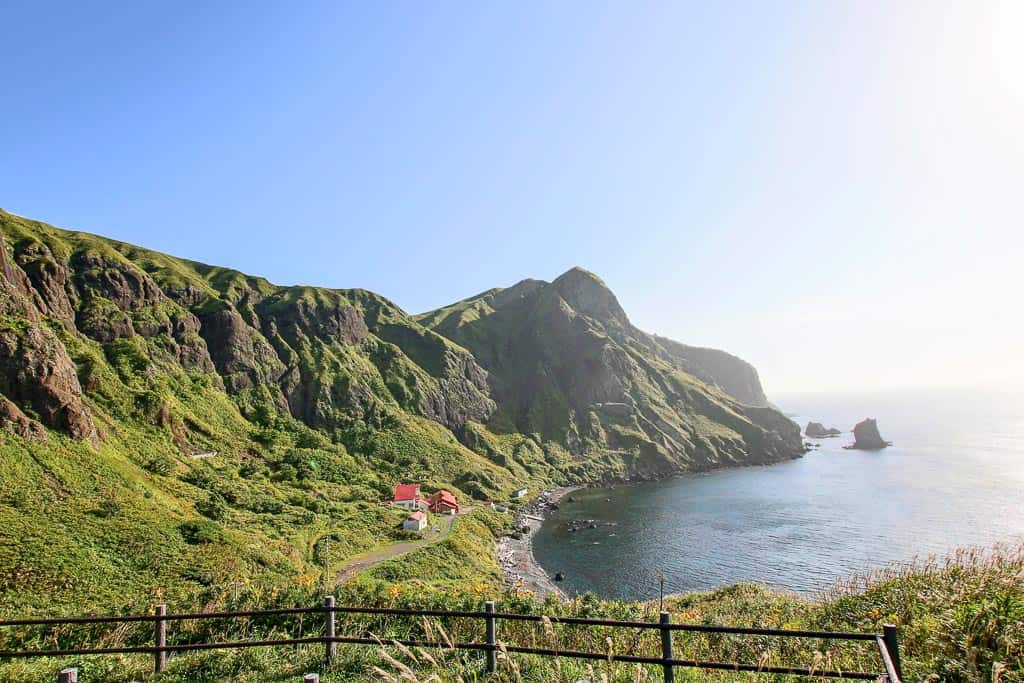 With a slow descent into the wooded grounds, we returned from the hilltops' isolation to the scattered houses of the town. We passed the small bus stop and made our way towards an unusual school building, easily spotted with its red roof.
Spectacular Island Views from Kita no Canary Park and Cafe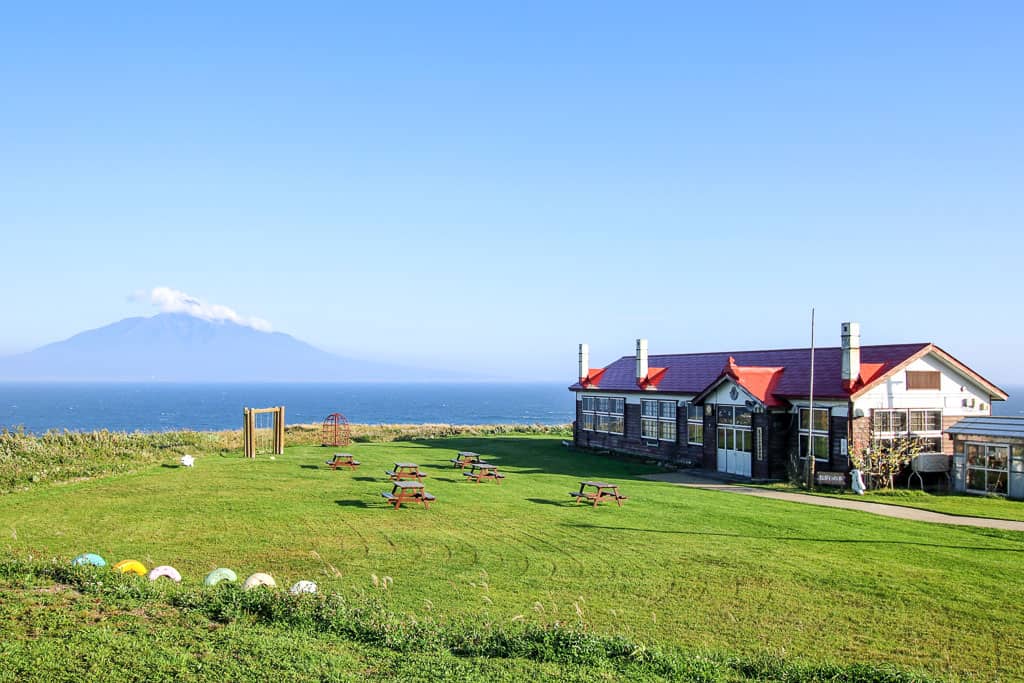 Perched on the hilltop overlooking the sea, this simple wooden school building isn't quite what it seems, but as it turns out, that's perfectly fitting. Kitano no Canary is a film set for the movie 'Kitano Kanariyatachi' (A Chorus of Angels), and the building has been maintained with classrooms and displays about the filming process. A tale of mystery and dark intrigue, the movie was a hit in Japan, largely thanks to famous actress Sayuri Yoshinaga who played a returning teacher seeking answers and forgiveness. While I hadn't seen the movie, I was soon keen to — the clips and posters balanced with the friendly classrooms had me desperate to learn of the movie's story.
As well as adding to your movie watch-list, the spot has incredible views of Rishiri and a lovely cafe to relax in. Feeling thoroughly deserving of a treat after our hike, we grabbed a seat in front of the view and ordered sundaes, scones, and some much-needed coffee. As we pictured the snow-filled yard from the film scenes, it was a fascinating opportunity to see the seasonal changes the island endures each year. I was simply glad not to be battling through the snow that day.
Getting Around Rebun Island
A rental car is the simplest option for exploring. However, there are also rental bicycles, local bus service, and a sightseeing bus that runs during the summer months. Bikes are available from local hotels, and the information office at the port can update on availability and provide bus timetables when you arrive. There is a one-day bus pass available for 2,000 yen (adults) and half-price for children, with unlimited rides on Soya services.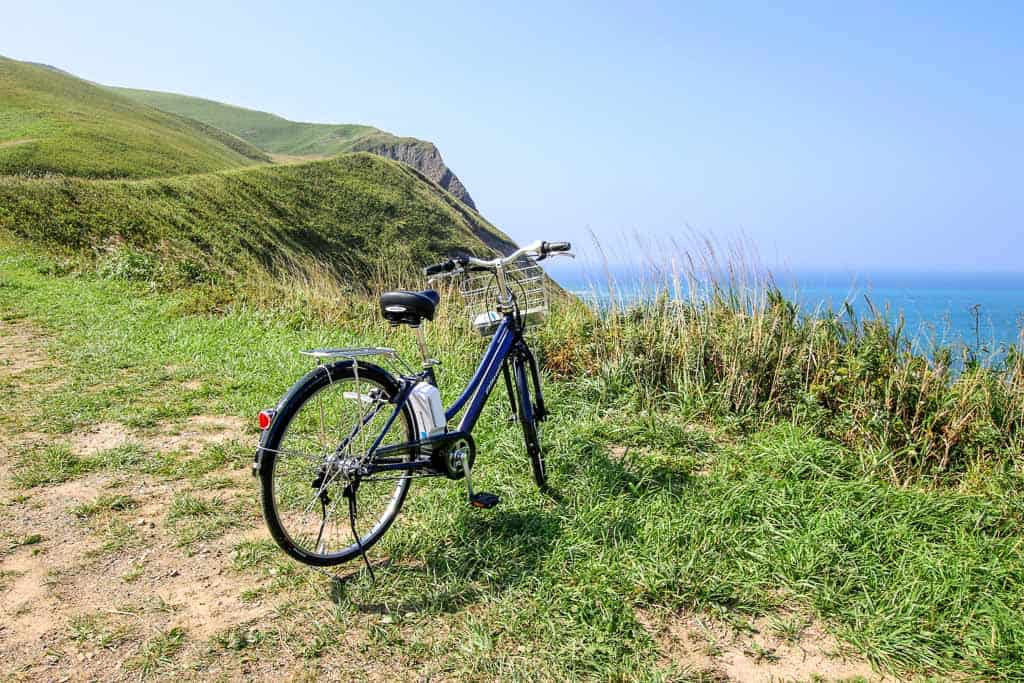 Getting to Rebun Island
Rebun Island is only accessible by ferry, with services running from neighbouring Rishiri Island and Wakkanai's mainland hub to Kafuka Port on the south-east coast. Heartland Ferry has one daily return service to Rishiri and two to three services a day (season dependent) to Wakkanai. The inter-island journey takes just 45 minutes, and tickets range from 950 yen to 1,960 yen. The journey to/from the mainland takes around 2 hours, and tickets range from 2,850 yen to 5,730 yen, depending on your seating class. For more information about Rebun Island, visit their official tourist association website.
Wakkanai can be reached by train from Hokkaido (5 hours, approximately 10,000 yen) or by plane (1 hour, prices varying) by seasonal direct flights from Haneda airport to Wakkanai airport.
Contemplating a quiet evening and another soak in the hot springs, I thanked the waves for disrupting our plans. Rebun had been the outdoor adventure I didn't know I needed and hadn't planned to have, but it had been even more of a joy because of it. I silently vowed to dedicate more time to explore on my travels, to turn island-hopping into island-stopping, and to appreciate the slower-explorations whenever I could.
This article is supported by the Japan Tourism Agency's 'Tourism Promotion Program for Foreign Visitors to Japan'.