SPONSORED by KYUSHU SANKO BUS
Between eruptions and earthquakes, tourism in Mount Aso has faced its share of disruptions over the past year. Thankfully, seismic and volcanic activities have now come to an end, and in spite of this turbulence, beautiful scenery and tourist activities remain abundant within the Aso region.
First and foremost, travellers looking to visit Aso should be cautioned that as of August 2016, JR rail access to the Aso region from Kumamoto is still heavily limited due to the earthquake's influence. Kyushu Sanko Bus is the most affordable and direct option to access Aso station. This bus runs from Kumamoto's City, to Aso 1220-1280 yen, depending on boarding point.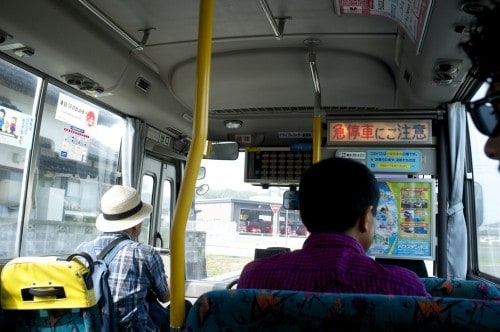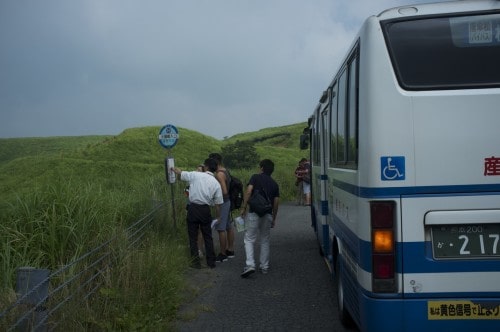 Although central destinations such as the crater and Kusa Senri remain closed due to highway damages, tourists can still enjoy some breathtaking sights, such as Daikanbo Peak. This viewpoint offers visitors an impressive panoramic view from the centre of some of Aso's most gorgeous valleys.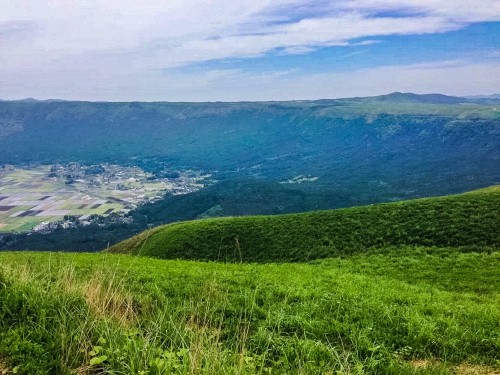 Daikanbo is accessible via Aso Station, by the Tsuetate (杖立 ) local bus bound to Daikanbo Iriguchi, for a fare of 550 yen each way. The Daikanbo lookout point is about another 1.5km from the bus stop, following the "Aso Milk Road" . Travellers can enjoy a hike, while meeting some of the bovine producers of Aso's famed dairy products, such as jersey milk and ice cream. Upon reaching Daikanbo, there is a small market, where these products can be bought, as well as  other food and souvenirs.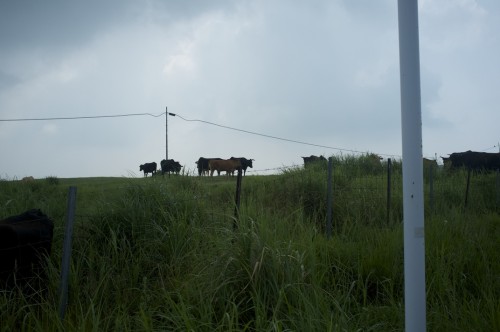 Travellers visiting Daikanbo at the right time may bare witness to a phenomenon known as the "sea of clouds" – a sprawling body of low-hanging clouds, mountaintops peaking out from above the obscured flatlands bellow and valleys. The general consensus among locals is that it's best to go as early as possible to witness this, however the view is undeniably impressive at all hours of the day,. Unfortunately the cloud cover was a little bit too dense on the day we visited, however this added a certain mystique in and of itself.
Returning to the Aso station, the town proper is located another 15 minute bus ride, via Uchinomaki local bus route to Aso Jinja Mae. Aso Shrine is, unfortunately, still quite crippled by the influence of the earthquake. Nonetheless, the shrine continues its operations as usual, selling omikuji (fortune-picking), and other souvenirs and charms out of stalls, while hosting ceremonies out of the a makeshift shrine. Although the sight of the collapsed shrine is somewhat heartbreaking, a visit is worthwhile to see Kumamoto's resilience embodied by those who keep the shrine operational, even in its current state. The shrine is currently fundraising for its reconstruction, and could use the patronage now more than ever.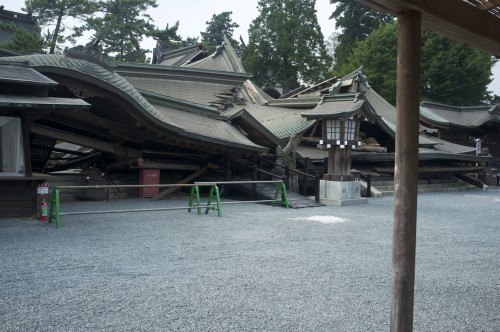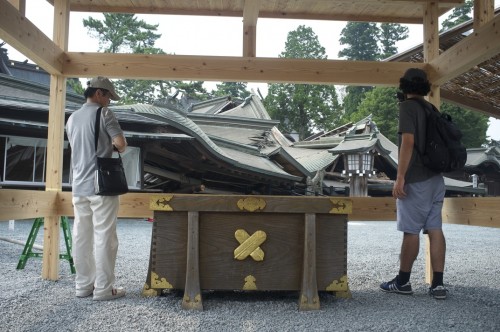 Continuing from the shrine, the central street is host to several unique restaurants, cafes, and artisan shops. Here you can find delicious coffees, ice-creams, locally made arts, crafts, and clothing. The area surrounding Aso shrine is also famous for it's abundance of natural spring water, featuring several ever-flowing fountains among the town. The tourist centre adjacent to Aso shrine offers maps of Mizuki Meguri or "Fountain Hopping", which guides tourists to 32 decorative fountains where the town's spring water may be sampled. Fountain Hopping also serves as a fantastic walking tour of the small town, as following the route will cover the entire town centre, and introduce you to some colourful storefronts in the process.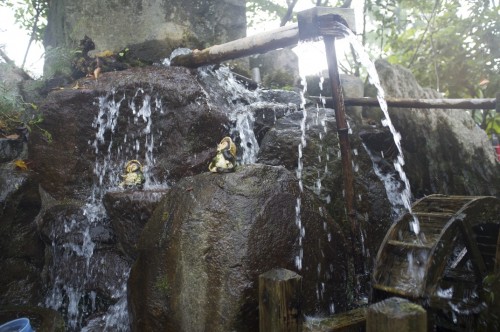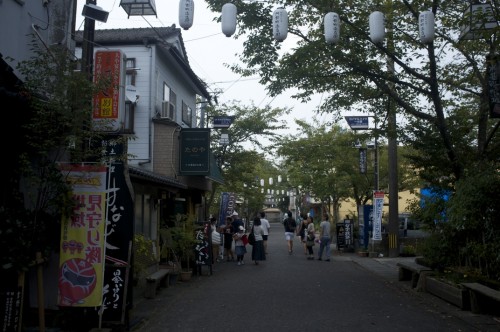 Returning to the Aso Station area, there are several restaurants and smalls hot springs that are ideal for wrapping up your day, before heading back into town, or else settling at one of the many hotels or hostels in the area. If possible, staying overnight is advisable. Dusk and dawn are some of the most beautiful times to see Aso, and the city features a number of unique and friendly accommodations.