Sponsored by Wakasa Takahama Tourism Association
Did you know that there are only two Blue Flag beaches in Asia? And that both of them are in Japan? No!? Well neither did I until I heard about Asia's first Blue Flag Beach – Wakasa Wada Beach, in Wakasa Takahama!
Wakasa Takahama? Where is that? Okinawa?"
No! It's near Kyoto, less than two hours away!"
Introducing Wakasa Wada Beach: Asia's First Blue Flag Beach!
Along the Sea of Japan and north of Kyoto in Fukui Prefecture (Hokuriku Region) is Wakasa Wada beach. A stunning beach with turquoise water, mountain views and one of Japan's Top 100 sunsets.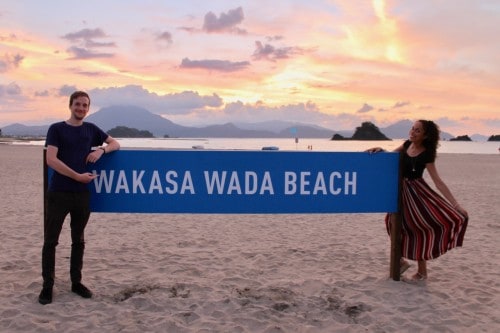 As well as offering lavender-coloured sunsets and turquoise shores, this beach offers plenty of things to do too. Including BBQ areas, scenic cycling routes and various water sport activities!
What is a "Blue Flag" Beach?
The Blue Flag beach award is commonly considered to be the highest standard for any beach to achieve. Although, contrary to popular belief, this award isn't granted to beaches just for fantastic water quality alone. Oh, no, no, no! In fact, there are are 33 target criteria within four topics that beaches are rated on:
Environmental Education and Information
Water Quality
Environmental Management
Safety and Services
This means, that the Wakasa Wada area is not only beautiful. It's safe. It's accessible for all shapes, ages and sizes. It's easy to navigate. And it's well looked-after – not just for visitors – for the the wildlife and vegetation that calls it home!
The other beach that achieves this level in Japan is Kamakura beach (south of Tokyo), but, having been to both Okinawa and Kamakura, there is something about Wakasa Wada, along with its neighbouring beaches (yes there are more!) that really sets it apart…
Beaches of Waksasa Takahama
There are eight beaches in the Wakasa Takahama area: Wadahama (aka "Wakasa Wada"), Shirahama, Toriihama, Shiroyama, Wakamiya, Hamanasu Park, Ebisuhama and Nabae.
In this post I will be reviewing the four most popular ones, which are Wakasa Wada, Shirahama, Toriihama and Shoriyama, all of which are connected via a cycling/walking route spanning around 4 km.
Shiroyama Beach
Shiroyama Beach is the most-westerly beach. A popular area for BBQs and camping; it's a great place for families with young children to play, thanks to the perfectly trimmed grass which covers the area between the cave and the beach.
Toriihama Beach and Shirahama Beach
Toriihama and Shirahama Beach seem to merge together effortlessly. Although these beaches are not designated as Blue Flags, they are still gorgeous places to hang out! Further back from the shore there are beach huts selling reasonably-priced food and drinks, and also plenty of restrooms. Around this area you will probably see paddle boarders and kayakers, as there are designated courses run around here.
Wakasa Wada Beach
Perhaps unsurprisingly, Wakasa Wada Beach seemed to the the most popular of these beaches. As I understand more about the standards for Blue Flag beaches now, this was probably not just because of the gorgeous scenery or the incredible water quality, but also due to the many convenient facilities that are available along the beach stretch.
How to Enjoy the Beach in Japan
Enjoying the beach in Japan is similar to enjoying the beach in any other country but of course – there are some twists! Here is the lowdown on how to enjoy the beach in Japan, and even more specifically, Wakasa Takahama.
Beach Huts: Showers, Lockers, Food and Drink
Scattered along the beach from east-to-west are numerous beach huts. Within these, not only will you find food, drinks and the Japanese summer favourite – shaved ice, but also restrooms, lockers and showers. With Wakasa Takahama being such a hidden gem, some of the signage may only be in Japanese so here are some useful words for you!
Women:女 (onna) Men: 男 (otoko)
Shaved ice: かき氷 (kakigori), popular flavours are matcha tea: 抹茶 (matcha), pineapple: パイン(pine), mango: マンゴ and strawberry: いちご (ichigo).
Shower: シャワー (shawa)
Toilet: トイレ(toire)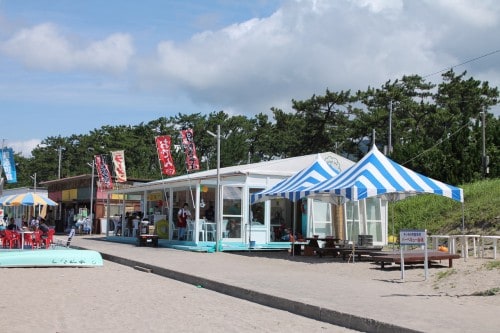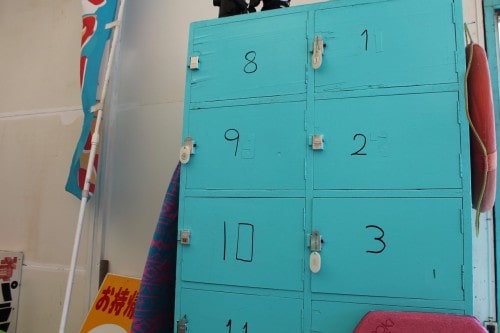 Beach Equipment
To make your stay even more enjoyable You can rent parasols, a BBQ and various beach equipment for full or half days! If you've forgotten your beach wear, then there are stores around the town which stock anything you may need, from inflatable dolphins to bikinis. Even some of the convenience stores (e.g. Yamazaki) sell clothes!
What to Bring
Swimwear e.g. swimming costume, bikini, shorts etc. You may notice that some people prefer to avoid the sun so they cover up, but it's totally up to you!
Towels
Sun block
Sunglasses/sun hat
Change of clothes
Hair conditioner and skin moisturiser. The sea and sun can take its toll on your body. Most places will have shampoo/body soap but no conditioner/moisturiser
Need More Information?
Located inside the train station to the right (just after the ticket counter) is the Wakasa Takahama Tourist Association. From there you can collect a rental bicycle, book water sports or just say hello! The friendly staff can also help you to find accommodation at a local ryokan or minshuku (types of Japanese inns), or give you more information about any of Wakasa Takahama's eight beaches. Please contact info@wakasa-takahama.jp or visit the website www.wakasa-takahama.jp.
Access
I've done another post all about how to get to Wakasa Takahama from Kyoto, Osaka, Kanazawa and Tokyo, for full info, please check that out! If you are a foreign visitor to Japan, it may be worth getting a JR Pass (Japan Rail Pass) for your Japanese expedition! If you are planning to travel from Tokyo, then a JR Pass would cover your cost to and from Wakasa Takahama, and then some!
Access from Kyoto
By Train
From Kyoto Station, take the JR Maizuru Line to Higashi-Maizuru, then the JR Obama Line to Wakasa Takahama. Duration: approx. 2 hours, cost: approx. 4,400 yen.
By Car
Rental cars are available from Kyoto Station from around 6,000 yen per day.
Take the Kyoto-jukan Expressway to Ayabe Junction and then the Maizuru-wakasa Expressway to Wakasa Takahama. Duration: approx. 2 hours, distance: approx. 110 km. Please note that this route has tolls!
Access from Kanazawa
By Train
From Kanazawa Station, take the JR Thunderbird or Shirasagi Limited Express train to Tsuruga, then the JR Obama Line to Wakasa Takahama. Duration: approx. 3 hours, cost: approx. 6,200 yen.
By Car
Rental cars are available in Kanazawa from around 6,000 yen per day.
Take the Hokuriku Expressway to Tsuruga Junction and then the Maizuru-wakasa Expressway to Wakasa Takahama. Duration: approx. 2h 30 minutes, distance: approx. 200 km. Please note that this route has tolls!
Access from Tokyo
By Train
From Tokyo Station, take the Shinkansen (bullet train) to Maibara then the Limited Express Shirasagi to Tsuruga and finally the Obama Line to Wakasa Takahama. Duration: approx. 5 hours, cost: approx. 15,000 yen.
By Car
Rental cars
are available across
Tokyo,
but the best deals for foreign visitors are usually found at either
Haneda
or
Narita
Airport
. Prices start at around 5,000 yen per day for the smallest class. Take the
Tomei Expressway
to
Maibara Junction,
then the
Hokuriku
Expressway
to
Tsuruga
Junction
and then the
Maizuru-wakasa Expressway
to
Wakasa Takahama.
then take
Wakasa Takahama.
Duration: approx. 7 hour, distance: approx. 600 km. Please note that most routes from Tokyo will have tolls!
[cft format=0]