Sponsored by Koshimizu Tourism Association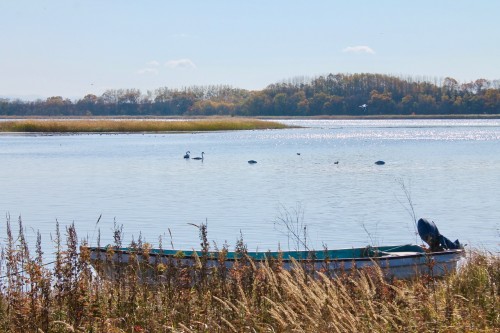 Lake Tofutsu, with an area of 900 hectares and a circumference of over 27 km, is designated as a Ramsar Site (a wetland of international importance). Every year, towards the end of October when I visited, thousands of migratory birds use it as a resting point as they undertake journeys between Japan's main island of Honshu and northland such as Russia, over the Sea of Okhotsk. The Lake is part of the Abashiri Quasi-National Park in eastern Hokkaido. It's less than 10 km away from the small town of Koshimizu-cho, and approximately 100 km west of Shiretoko National Park; one of Japan's most famous, undisturbed, national parks.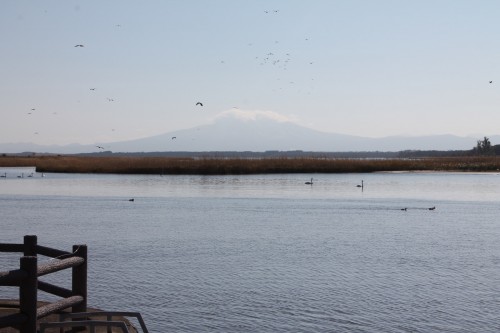 Recently, I was able to enjoy an autumnal bird-watching tour, where experienced guides took us to one of the popular, bird hang-out spots around Lake Tofutsu. Now, I must state that even though I am a complete novice bird-watcher, and only have camera lenses between 18 mm and 70 mm, it didn't matter. My guides tailored the tour to suit me and brought their own equipment. I used to live in South Africa, and have been on numerous self-drive safaris before, but this was my first nature-watching experience with a guide. It really made a difference to have someone explain everything to me!
Which Birds Can We Spot at Lake Tofutsu?
Like much of Hokkaido, Lake Tofutsu and its surrounding area falls within the same climate as in the Sea of Okhotsk. Hence, it observes cool summers and cold, icy winters. Lake Tofutsu enjoys an array of bird species all year, even during the harsh winter months when the lake can freeze. Each season brings a new delight!
Spring: Birds flying north, such as Eagles, Bean Geese, Whooper Swans and Wading Birds, start to arrive.
Summer: As the temperature rises, song birds like the Siberian Rubythroat, Stonechat and Reed Bunting flock, come to the lake to breed.
Autumn: This is the season that I visited Lake Tofutsu. The decreasing temperature indicates to the summer birds that it's time to leave. Meanwhile, the swans, geese and gulls that left after spring, start to return. At this time, I observed heron, scaup, cormorant, black kites and even the rare Red-Crowned Cranes!
Winter: New guests such as the Steller's Sea Eagle, Short-eared Owl and Goosander start to arrive. You can find some of the more permanent residents like the White-tailed Sea Eagle easier to spot now than in the other seasons.
The Bird-watching Tour
The bird-watching tour was conducted by the Koshimizu Tourism Association and lasted for around three hours. The exact locations used during the tours may vary with the will of the birds, so we must willingly follow! The starting point was at the Tofutsu-ko Waterfowl and Wetland Centre, which offered views across the lake from a wooden observation deck. There was also a wealth of information available there on the biodiversity of the area and the importance of sustaining it.
Bird-Watching Point: The Wetlands Centre
We spent the best part of an hour at the main observation point watching the numerous Whooper Swans, Bean Geese and Black-Headed Gulls frolicking around the lake. My guides answered all of my (sometimes ridiculous) questions and didn't even laugh once! For example, did you know that adult black-headed gulls actually have white heads in winter? Or, that greater scaup can dive up to three metres and stay underwater for 60 seconds?  Or, that there are more than 1,000 Red-Crowned Cranes existing in the wild today? And yes, swans really are the "romance bird"!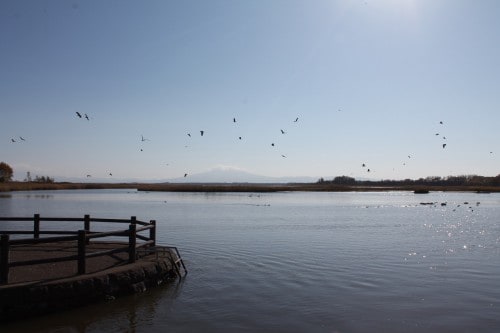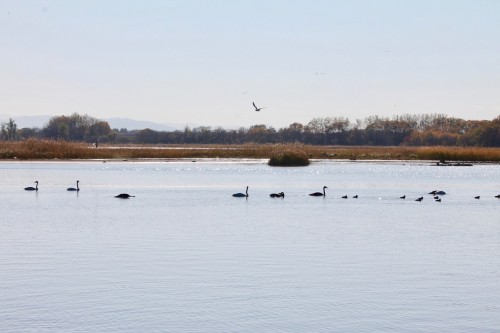 Bird-Watching Point: On the Heiwa Bridge
The Heiwa Bridge intersects the eastern side of Lake Tofutsu, allowing you to access  the lake from different angles. At this point, we saw mainly bean geese and greater scaups, but ducks are particularly anxious of humans, so they did their best to hide from us! We spotted some roosting sites in the harvested field which we watched through the binoculars (my camera lens wasn't quite up to the job though)!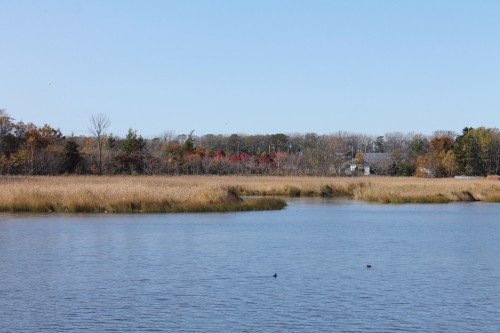 And then, just as we were about to leave, my guides spotted a pair of Red-Crowned Cranes flying overhead, so we followed them. We found the cranes (also called the Red-Crowned Crane) in a nearby field!
We had actually seen the cranes flying overhead before this but I was far too slow to get a picture! We were extremely lucky to see them more than once that day because there are only three pairs here!
This may be cheating slightly, but I managed to get a closer picture of  a pair the following day:
Bird-Watching Point: Sunset at the Lake
Our last (albeit unofficial) stop of the day was to watch the sunset across the lake. The temperature had really started to drop off by this point so the birds were returning to their roosting sites for the evening.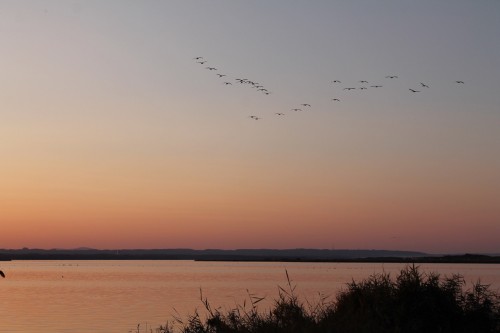 In the trees alongside the lake, many Tobi (トビ), or in English, Black Kites, were settling down for the night.
What to Bring
Stay warm in the winter and cool in the summer by checking the temperature before you travel. After all, you don't want your hands to be too cold to hold your binoculars! Daytime in Hokkaido tends to be substantially warmer than in the evening, but Hokkaido is still Japan's coolest region so bring hats, scarves and all of your winter warmers if you're coming here between autumn and spring.
For the tour, you just need to bring yourself, something to keep you hydrated and, unlike me, ideally a camera with a zoom lens!  The guides can provide binoculars and all of the information you need.
Useful Information
If you're looking for accommodation, Koshimizu-cho town is just around the corner from Lake Tofutsu. If you need help finding somewhere to stay, check out our other article "Where to Stay in Koshimizu-cho". We also have a guide "Where to Eat in Koshimizu-cho" to make sure you stay well fed!
Bookings/Enquiries
To ensure that you get the most from your birdy experience, the tours are usually conducted in groups of up to five people. The tours can be conducted in Japanese or English. Please contact the Koshimizu Tourism Association(in Japanese only) for more details.
Access
By Car
From Memanbetsu Airport,  take Route 39 north, and then jump onto Route 246 until Koshimizu-cho. Duration: 45 minutes. Distance: 35 km.
By Public Transport
The average journey time between Memanbetsu Airport and Lake Tofutsu is approximately two hours including connections. The nearest stations are Kitahama (北浜) and Hama-Koshimizu (浜小清水), both on the JR Semmo Line. There isn't a rail connection from Memanbetsu so you will need to take the Airport Limousine Bus to Abashiri City (網走市) and then take the train from there.
From Memanbetsu, take the Airport Limousine Bus to Abashiri City. Alight at Abashiriekimae (網走駅前). Duration: 35 minutes Cost: ¥910.
From Abashiriekimae,take the JR Semmo Line to Kitahama or Hama-Koshimizu. Cost: approx. ¥450. Duration: approx. 30 minutes.
Or, there is a direct bus to go to Koshimizu from Abashiri station. I think it might be easier to get there.
Airport transfer information can be found here.
Train information can be found here.
Map