Sponsored by Northern Kumamoto Administrative Headquarters
The koi, or Japanese carp, is one of two fish that best represents the Japanese appreciation of elegant decorative fish. While koi may be found in any respectable Japanese garden, the humble kingyo, goldfish, is the creature that stirs the hearts of most Japanese people. The simple silhouette of this fish can evoke nostalgic memories of summer in even the most cynical Japanese person.
Nagasu's History with the Kingyo
Nagasu town, Kumamoto Prefecture is well-known in Japan as a goldfish producing town. The town has a long history with the kingyo, as far as 360 years ago when a Nagasu resident brought home a lovely kingyo from one of his journeys. From that time, Nagasu became a town where goldfish breeding was developed. At the time, kingyo were a rarity in Japan, a pet for the rich and privileged class, which made the town's new industry both profitable and unique. Today, there are still about 14 goldfish breeding businesses located in Nagasu.
Entering the Kingdom of the Kingyo
Two huge goldfish statues greet you on arrival at Nagasu Station, establishing the fact this is indeed Kyushu's goldfish kingdom.
From the station we arrived at Kingyo no Yakata, Nagasu's Goldfish Center. The entrance gate reminded me of entering a theme park, and by the giddiness I felt in my stomach, I knew it was going to be just as exciting.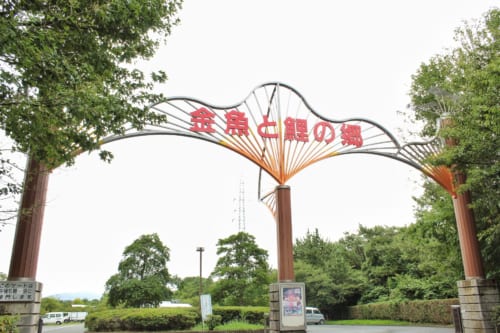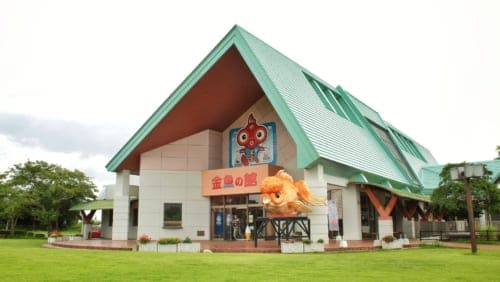 The main building stands in the center of a well-kept meadow with a number of ponds surrounding it. Facing the building, you'll also find a park on its right side; its shaded paths pass ponds full of lively goldfish and carp.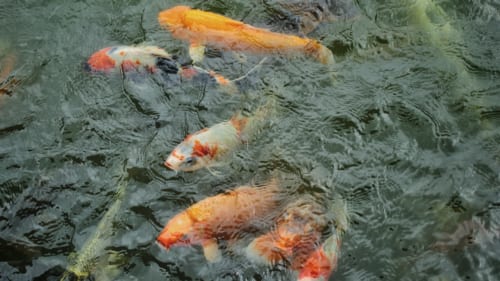 Inside the Goldfish Center, a number of wood-enclosed tanks hold many types of goldfish. Though I was anxious to look at them all, we first decided to enjoy the 4D-cinema experience which consists of 3 unique short films.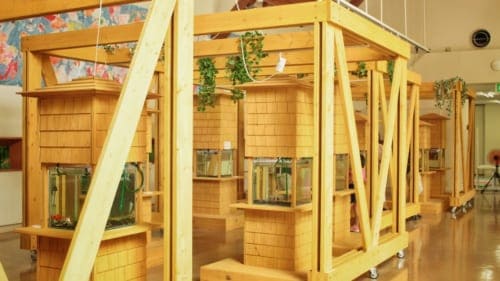 The room not only offers a 4D movie experience, the screen also wraps 360° around. In a situation like this, I wish I had eyes on the sides of my head like goldfish, so I could enjoy the entire screen at once! The 3 films made great use of this 360° format for an immersive experience. One of the films was produced by the creators of Pokémon, so you will definitely want to enjoy this attraction. After this unique presentation, I was more than ready to return to the tanks to see the goldfish in person.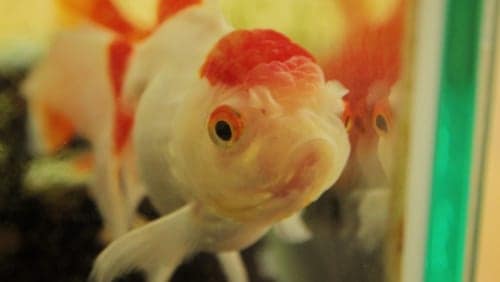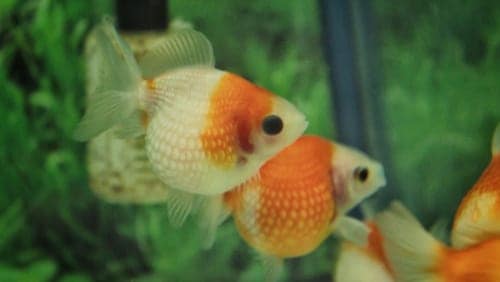 To say I was surprised by the enormous variety of goldfish is an understatement. Wandering through the tanks, each new breed of goldfish surprised me, some with their staggering beauty, others with their rather peculiar shapes. Before my visit to Nagasu Town's Goldfish Center, I wasn't aware of the astonishing biodiversity within the goldfish breed. This practical learning experience is reason enough to visit this incredible place!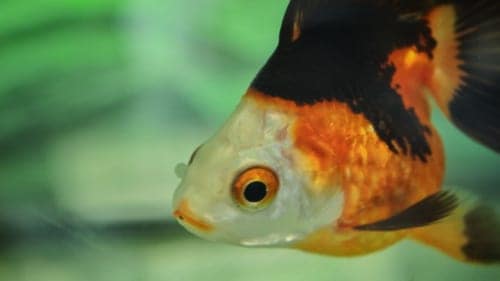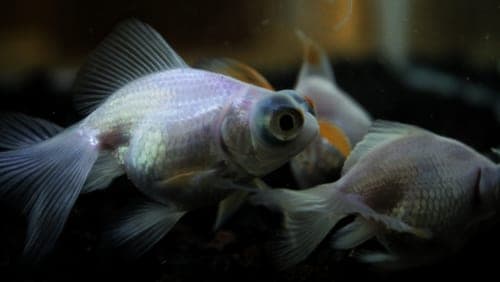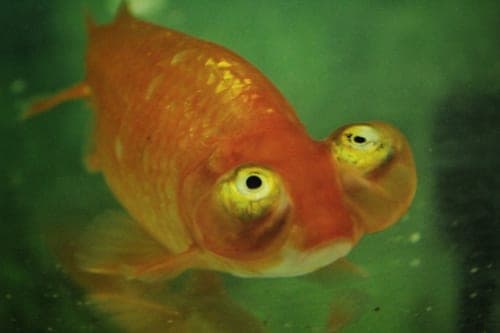 The most peculiar type of goldfish is called Choutengan, or its poetic English name, Celestial Eye, as the fish's eyes are constantly facing skyward. This is but one example of the unusual goldfish that can be seen here.
Kingyosukui – A Favorite Festival Goldfish Game
Kingyosukui  is a children's game in which you attempt to scoop goldfish out of a shallow pool using a scoop made of rice paper. It is commonly seen during summer festivals in Japan, but at Nagasu's Goldfish Center, you can engage in the fun throughout the year!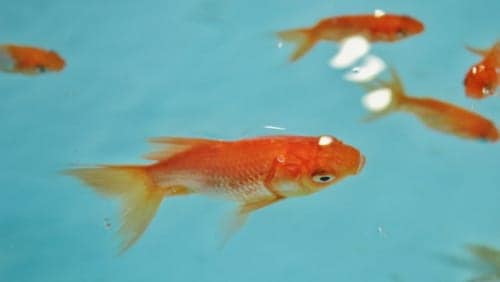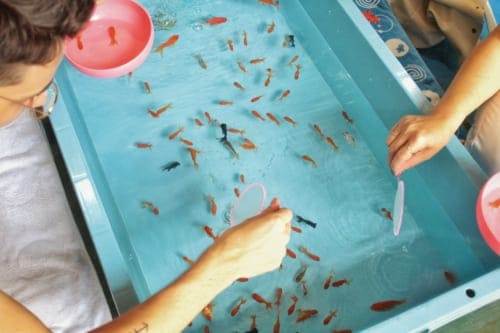 The game appears deceptively easy, but once you tear through your first paper net, you'll realize there is a secret to being successful at catching large numbers of fish.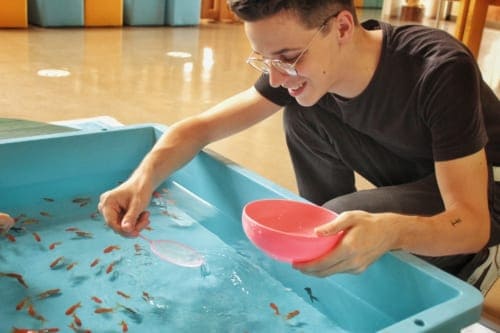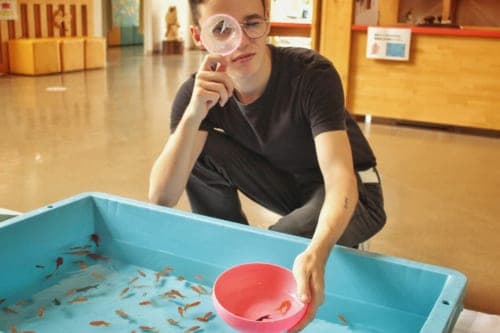 Act like a true predator of the sea and plan your moves wisely. Chasing fish with your net most likely results in shredded paper. A more effective approach is to patiently hold still and wait for your catch to swim above your net. Gently lift it with your unsuspecting prey inside (hopefully)! I learned this approach the hard, but fun way.
Access to Nagasu Town and Kingyo no Yakata by Train
You can reach Nagasu from Fukuoka or Kitakyushu by Shinkansen bullet train using Shin-Tamana station. From here, take the bus to Tamana station and transfer to the JR Line train to Nagasu, two stops away.
You can also transfer from the Shinkansen at Kurume station and take the JR line train to Nagasu without using a bus.
From Kumamoto city, there is a direct JR Line train to Nagasu station.
Upon reaching Nagasu station, the Goldfish Center is a 20 minute walk or a short taxi ride.
More information can be found on the Nagasu town website.
| | |
| --- | --- |
| Name | Kingyo no Yakata / Goldfish Center (金魚の館) |
| Category | |
| Address | 3150 Nagasu, Tamana-gun, Kumamoto 869-0123, Japan |
| Access | [map]3150 Nagasu, Tamana-gun, Kumamoto 869-0123, Japan[/map] |
| Opening Hours | 9:00 - 17:00 |
| Price Range | Entry free, 100 Yen for Kingyosukui |
| Payment options | |
Access to Nagasu town from other areas
From Fukuoka Airport: about an hour and 20minutes by car
From Oita Airport: about 2 hours and 40 minutes by car
From Kumamoto Airport: about an hour by car