If we are being completely honest, nobody in the world would consider 2020 to be a "pretty good year." On the contrary, for most of us, 2020 feels like a continuous kickboxing workout to our psyche day after day. We need some relief.
There's something about solo travel that is reflective, restorative, therapeutic – Precisely what is needed after such a brutal year.
There is perhaps a glimpse of the light at the end of the tunnel in Japan. International travel to Japan will be restarted for a handful of countries within a month of writing this article, barring any setbacks. And in choosing our destinations we seek out places with wide-open spaces and relatively few tourists — places like Ojika Island, a secluded paradise in Nagasaki Prefecture.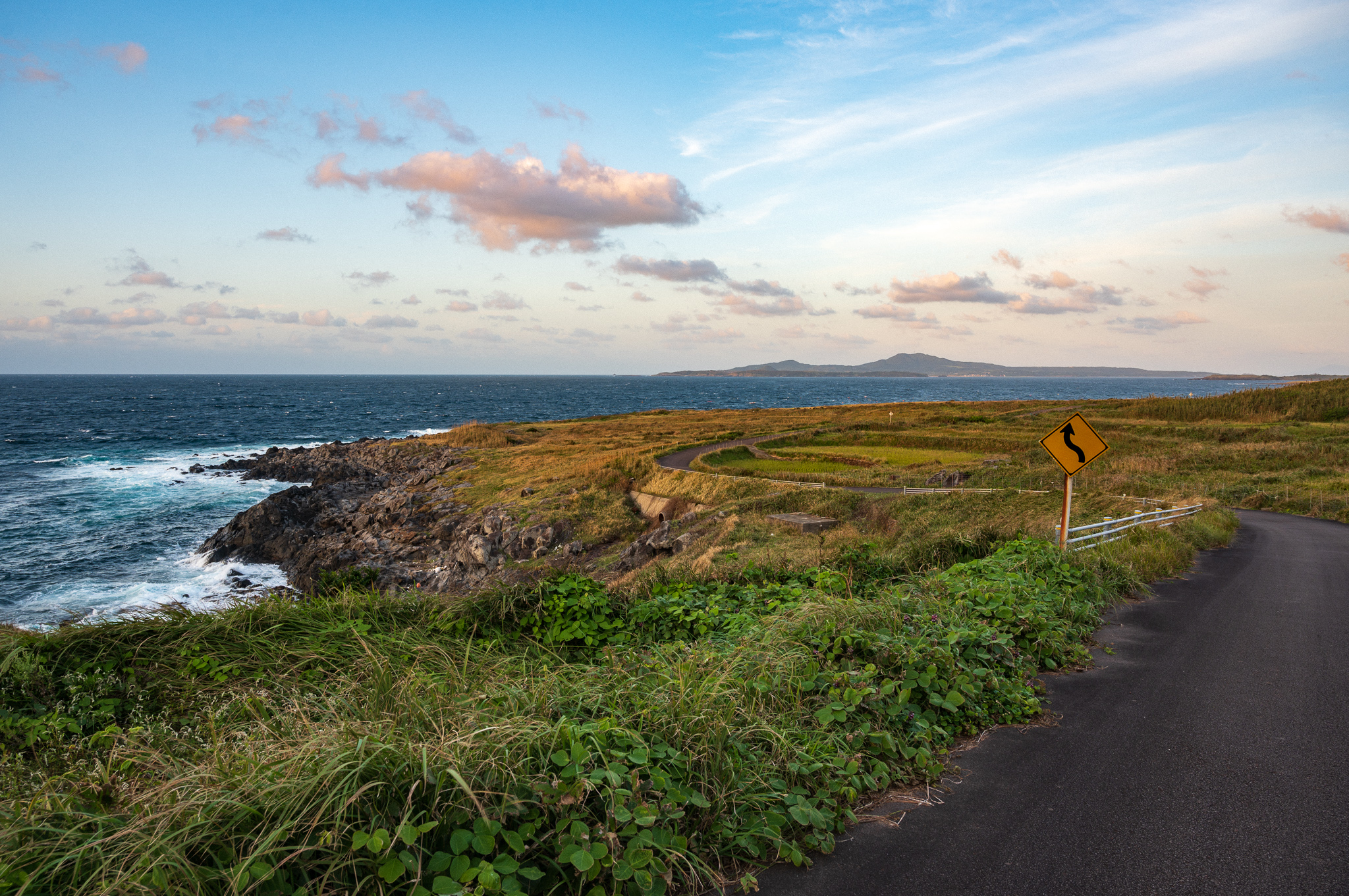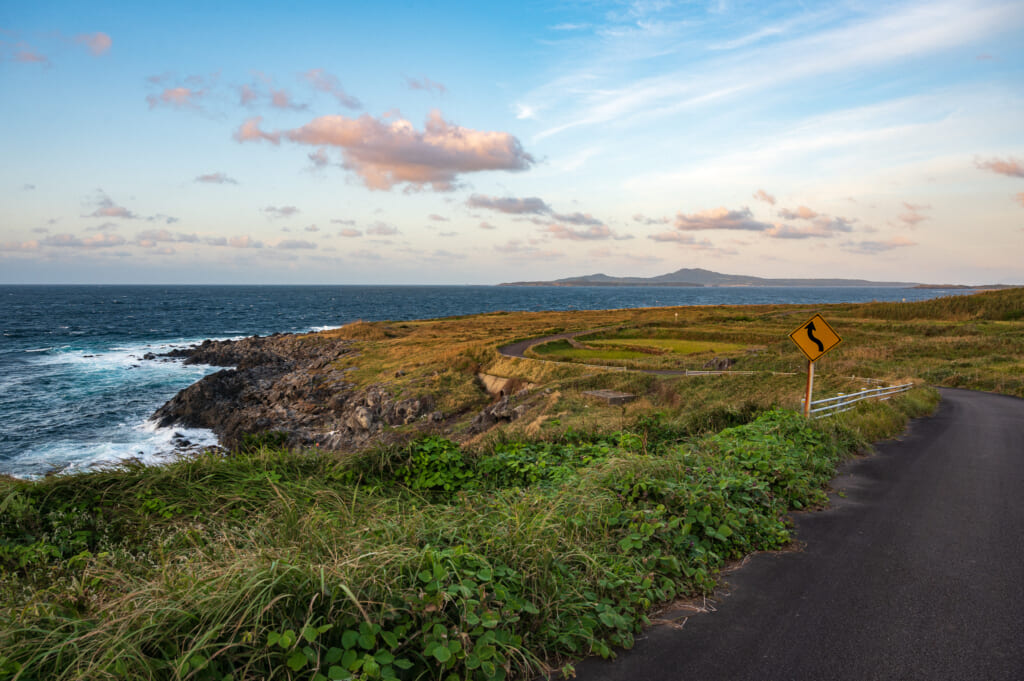 I went to Ojika on my own. It's not that I don't cherish the times I travel with my family, but there is something about solo travel that is more reflective, restorative, therapeutic – precisely what is needed after such a brutal start to a year.
Off-the-beaten-path on Ojika
Only a fraction of world travelers have ever heard of Ojika Island, so I feel like I'm letting you in on a little secret, which honestly brings a little smile to my face already. Ojika is a small island off the west coast of Kyushu in southern Japan. It belongs to Nagasaki Prefecture though many who have visited Nagasaki may not know of its existence, which is, of course, part of what makes it appealing.
Most travelers will reach Ojika by boat, as it has been for centuries. Ojika's waters are blessed with various types of seafood, some of which are unique to the waters in this area of Japan. Fishing and whaling made Ojika merchants rich long ago, and the island's unusually flat geography made it possible for Ojika to have a thriving agricultural economy.
To prepare for the island's slow pace, one of the most relaxing and affordable ways to get to Ojika is by overnight ferry. The ferry leaves Hakata Port in Fukuoka around midnight and arrives at Ojika early the next morning. There are common sleeping areas, or, for a reasonable upgrade, you can have a private or semi-private room. You'll arrive refreshed and ready for a leisurely day taking in the natural and historical beauty of Ojika Town. Of course, faster boats leave from Sasebo Port that can get you to the island in an hour and a half and depart during the daylight hours if it fits more conveniently with your schedule.
As soon as you arrive, you'll want to go inside the Ojika Island Ferry Terminal to visit the Ojika Island Tourism Office. The office opens at 6:30 am daily to welcome visitors who arrive by overnight ferry. The office's friendly staff can provide all the information and assistance you need for your stay on the island, from helping you find accommodations, booking tours to recommending places to eat and sightsee.
The office offers daily bicycle rentals, which is the most convenient way to get around the island at your own pace. Most people will want to take the eBicycle option with electric motor assistance for the island's hilly terrain. Though Ojika is relatively flat compared to its neighboring islands, it can still be challenging to ride on an ordinary bicycle. For those staying at local folk houses, there is a special 2 or 3-day discount rate on eBicycles.
Breakfast, Lunch and Dinner on Ojika Island
Once you're on the road, you might find yourself working up an appetite from your Ojika exploration. In the morning, stop by Kojikoji Pan, a healthy local bakery that doesn't use eggs, milk, or butter in their dough! How do they do it, you ask? They use local sweet potatoes instead! Using many of the local ingredients from the island, this bakery opens relatively early and is a great breakfast stop on your way to your first destination on Ojika.
For lunch, there are a couple of distinctly different options to satisfy your tummy. Flourjams is a bright yellow food truck that can be found in various locations around the island. You can check with the tourism office to find out where the truck will be on a specific day. Flourjams serve food with an international flavor, such as Cuban sandwiches and Okinawan taco rice, a dish invented for the homesick American military that approximates the Tex-Mex favorite. I grabbed a plate of Cuban rice and ate it on the beach at Kakinohama.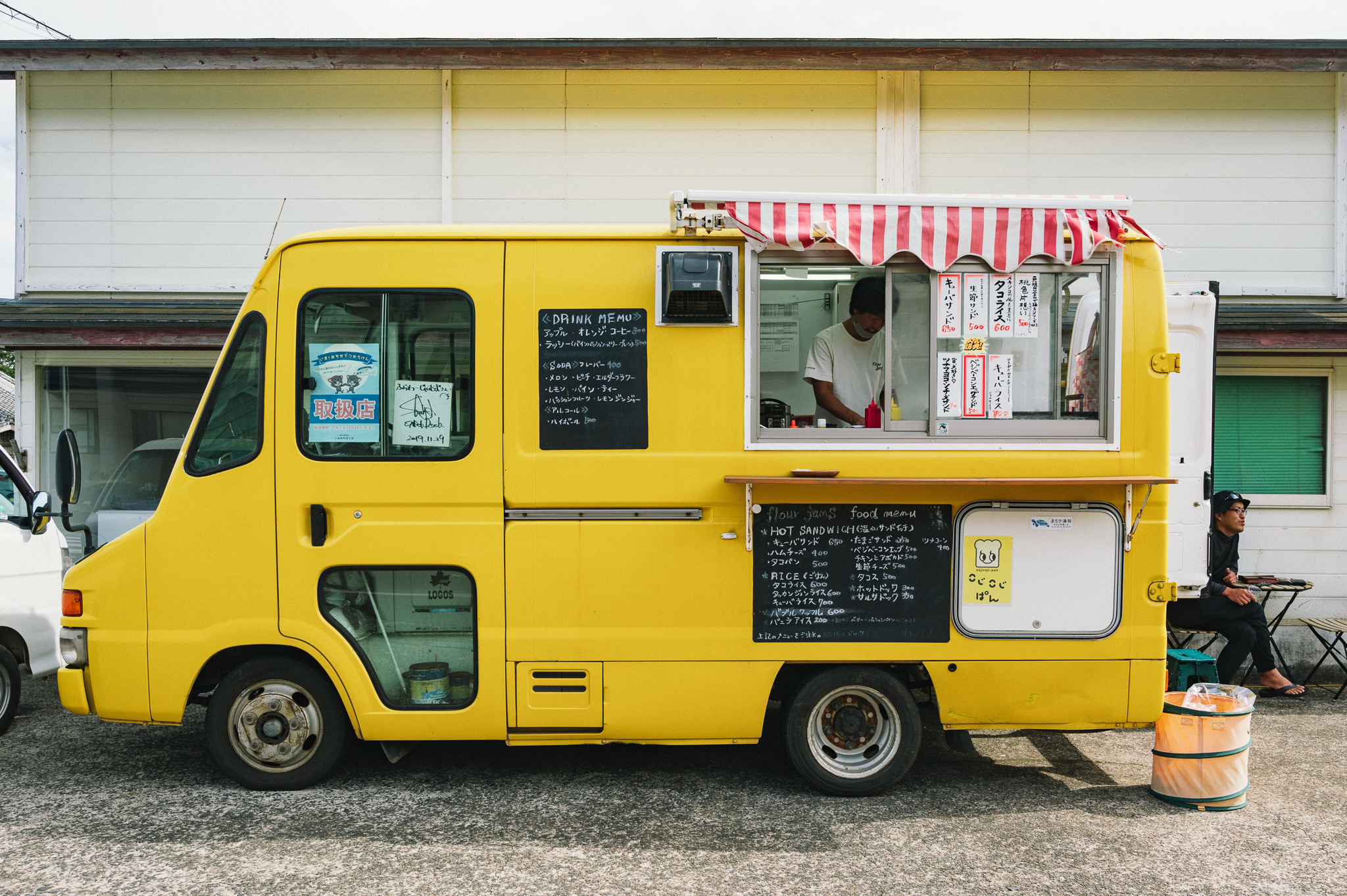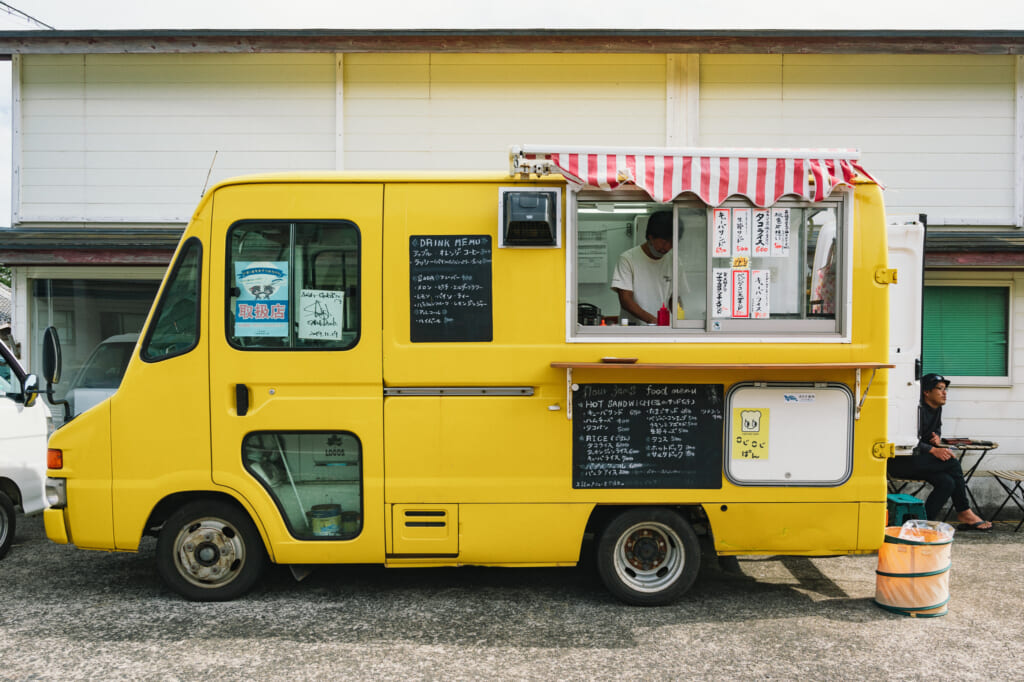 If you'd prefer something a little more local and a little less cooked, Sushi Heiroku is the island's beloved sushi restaurant. How fresh is the sushi at Heiroku? The fishing co-op where all the local fishermen sell their morning catch is right across the street. Enough said.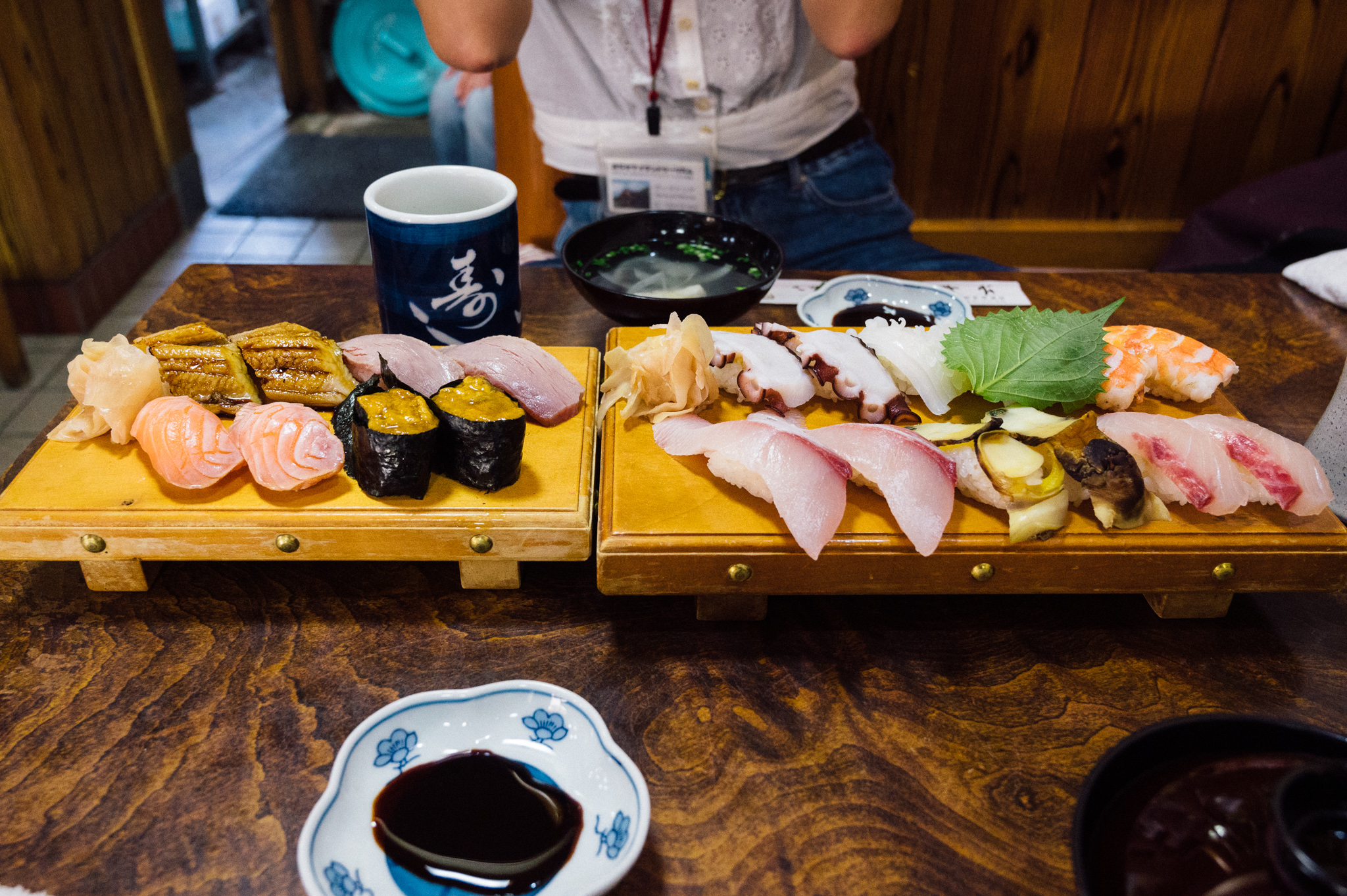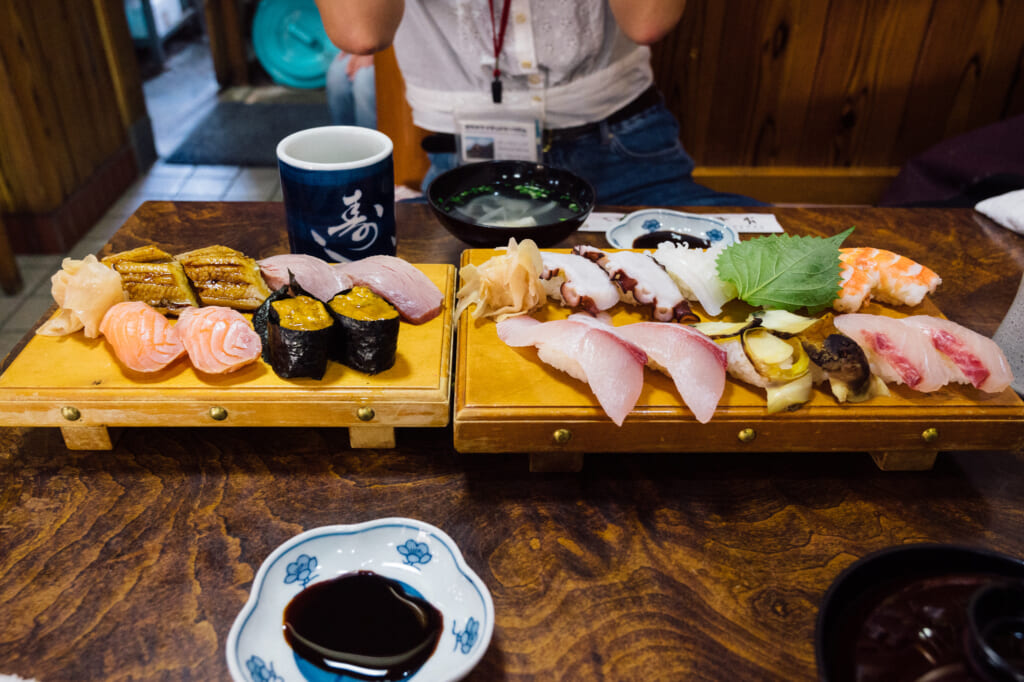 For dinner, enjoy a special evening meal at the Michelin recognized Fujimatsu. This exquisite restaurant resides in a renovated kominka (traditional Japanese house), the first on the island renovated by noted kominka conservationist and author Alex Kerr. Kerr's personal touches can be seen in the large calligraphy piece on display on the second floor, which used to be a working cafe.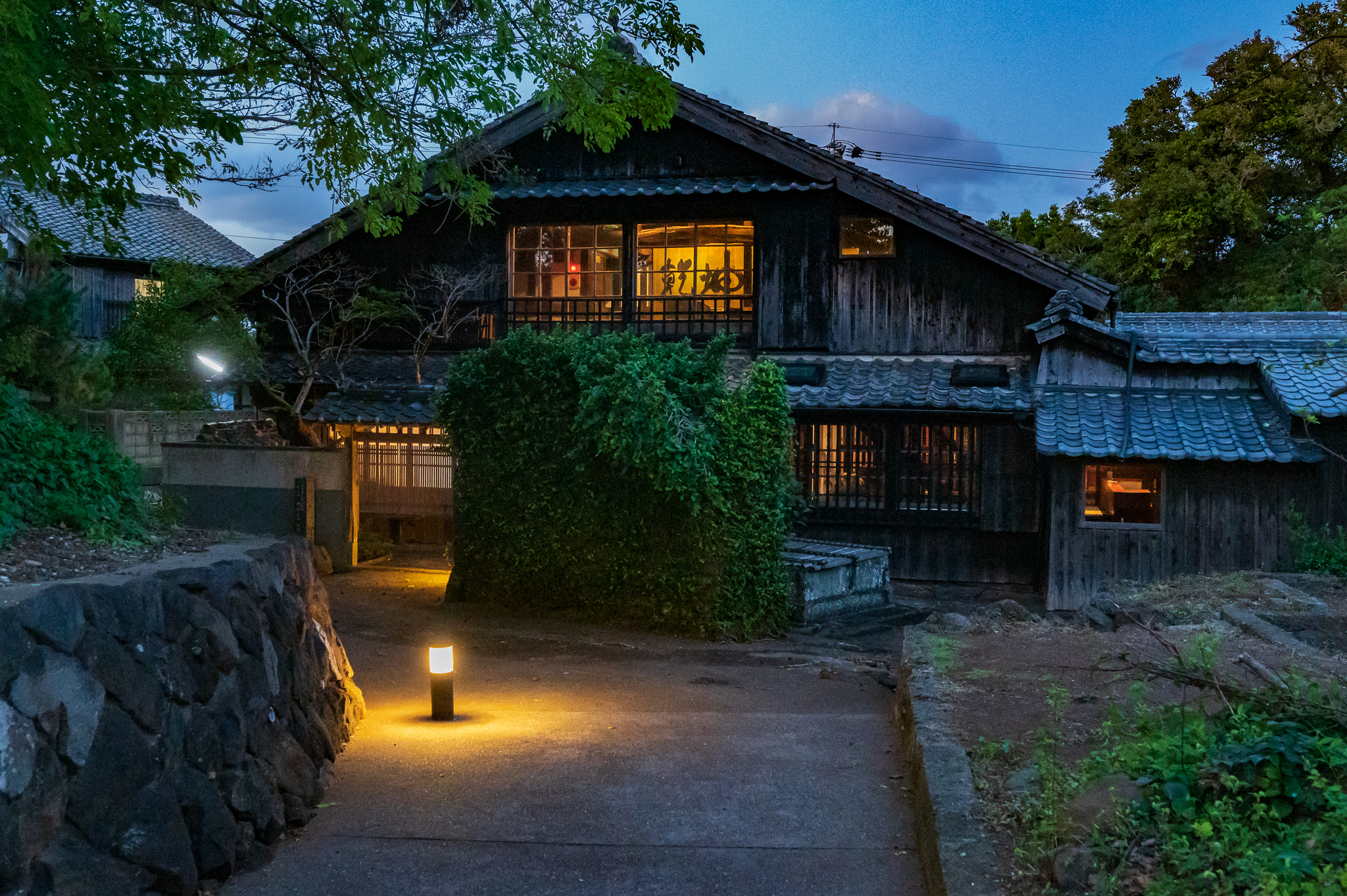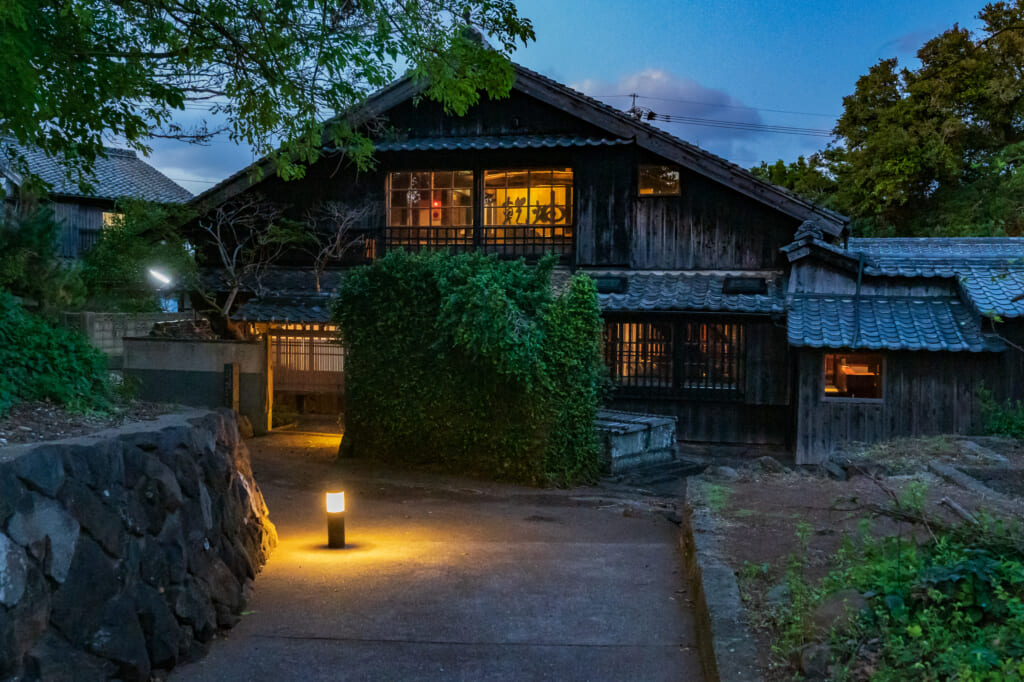 The Fujimatsu family was one of the island's wealthy merchant families, and their former home still retains the stateliness of the family's social position. Some dining rooms overlook a private garden, and a stroll outside reveals the private dock from which the family received visitors and special deliveries of seafood directly to their kitchen.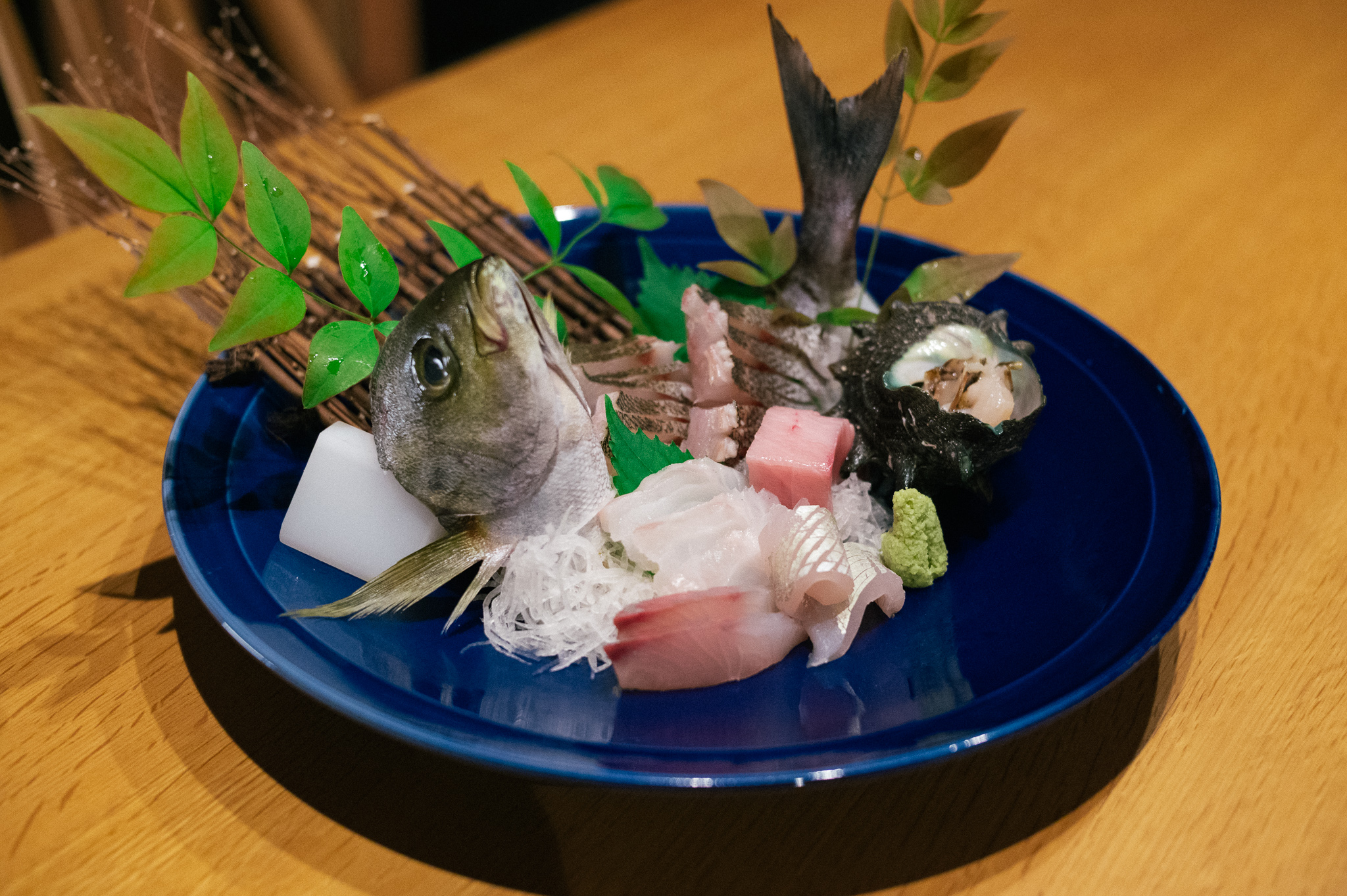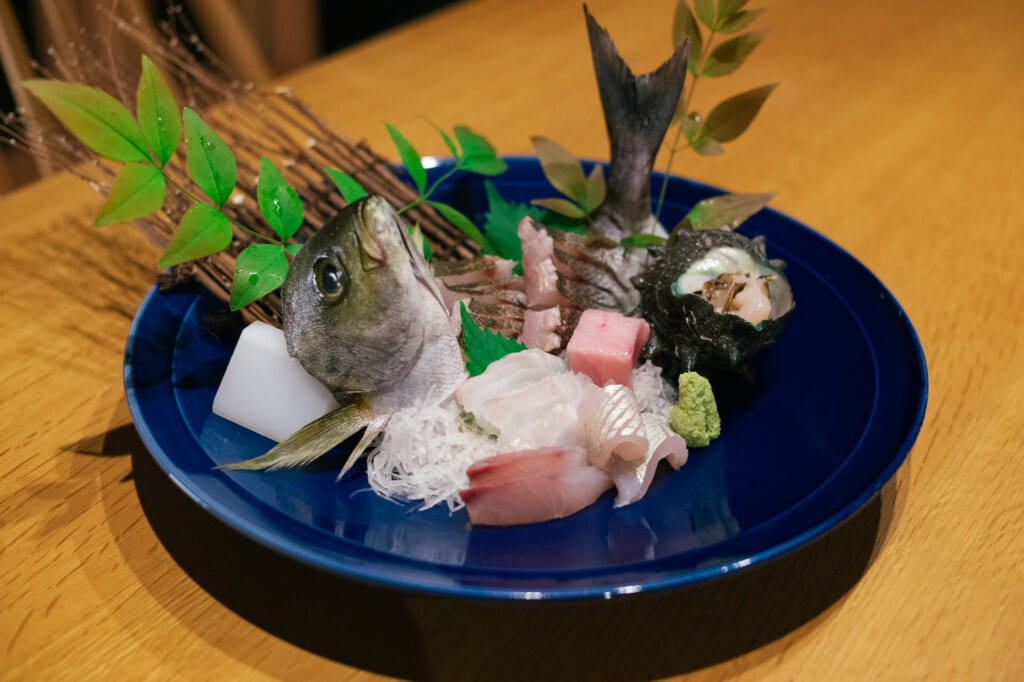 A meal at Fujimatsu is extravagant, and eating here was really the only time I regretted traveling solo, for this is a meal that is meant to be shared. Each dish is made from local products carefully selected by the chef himself. The centerpiece is perhaps the huge plate of sashimi featuring delicately flavored slices of the local fish, isaki.
Reach the Beach on Ojika
The beaches of Ojika are breathtaking any season of the year. In the warm, milder months, the sea can be as tranquil and warm as a turquoise colored bath, perfect for snorkeling or SUP (stand up paddleboarding). Other times of the year, the surf can be fierce and wild, better appreciated from a safe distance.
Kakinohama Beach is the favorite beach on the island for locals and tourists alike. Its geography creates a natural breakwater, and its gentle shore makes it a safe place to swim even for children. Kakinohama is known for its translucent blue waters and the coral that grows a reasonable distance from its shores.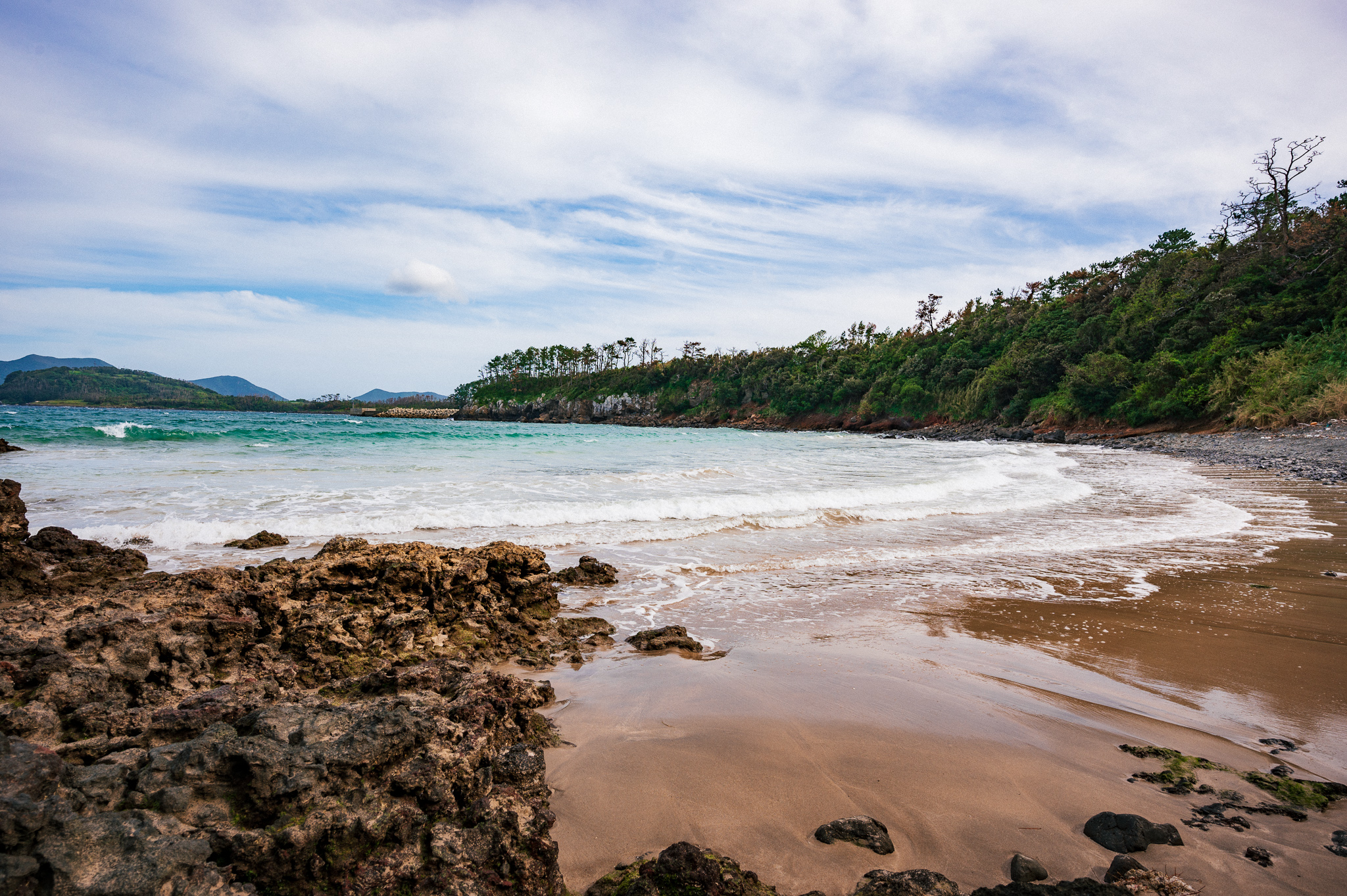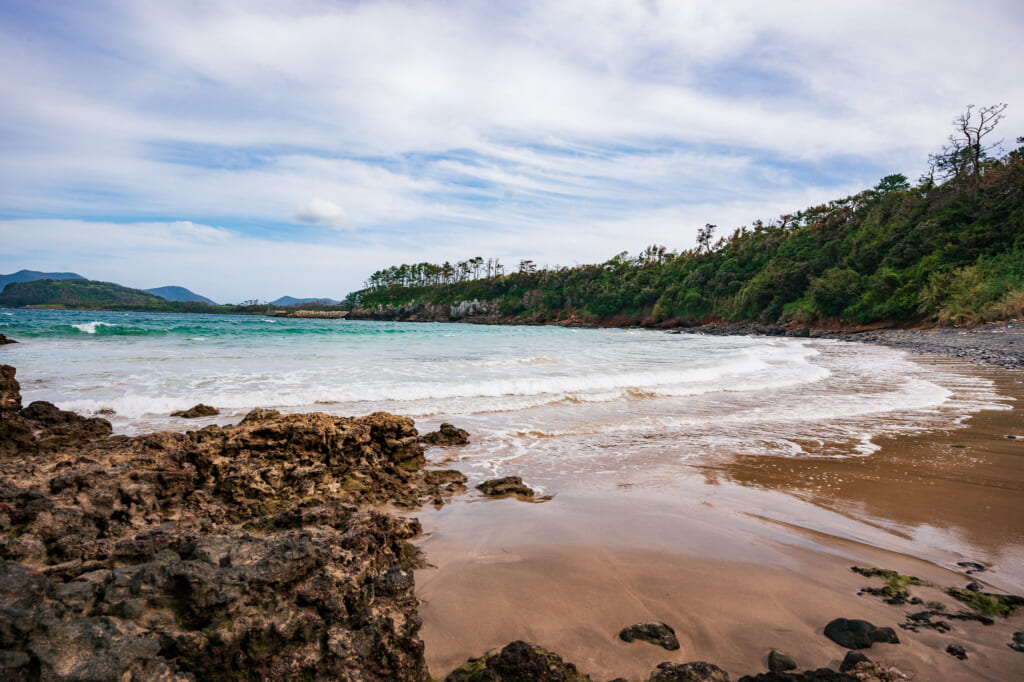 Don't be discouraged about Kakinohama's status as the favorite Ojika beach. The island is not heavily populated, so even in high season, it is rarely crowded. The high season for swimming at the beach in Japan is usually only the month of August anyway. It is very likely you'll have the place mostly to yourself for the rest of the year. Facilities with bathrooms and showers are on-site and wooden platforms where you can sit or hang up a rental hammock (available from the tourism office).
Nearby Goryo Cliffs is a dramatic landscape sharing the same gorgeous blue waters as Kakinohama. However, the beach at Goryo is more affected by the tide and other weather-related factors, so it is a bit less reliable that you'll find a place to relax here. Nonetheless, it's a beautiful area to explore and photograph or take a dip in the ocean if the conditions allow.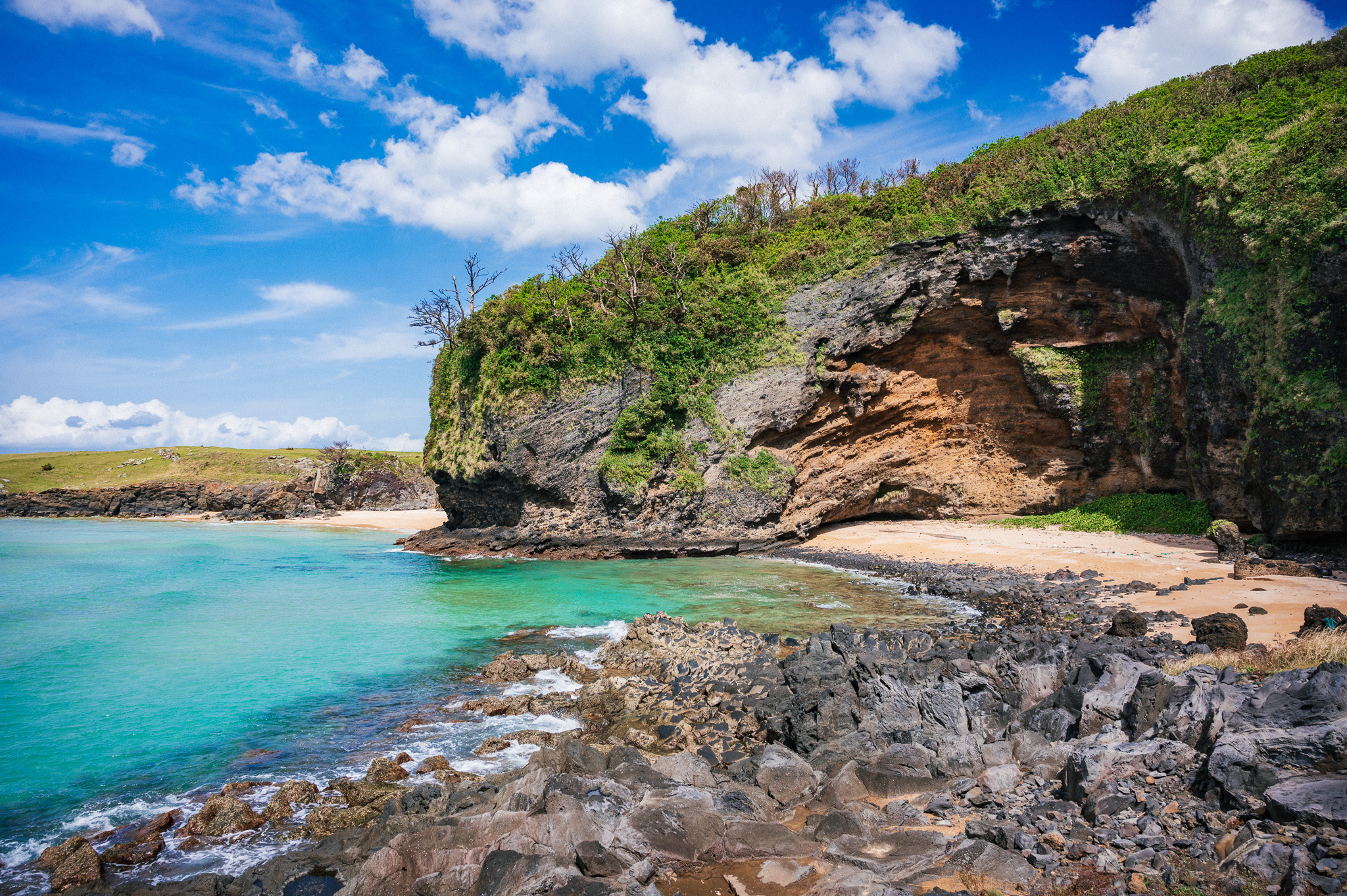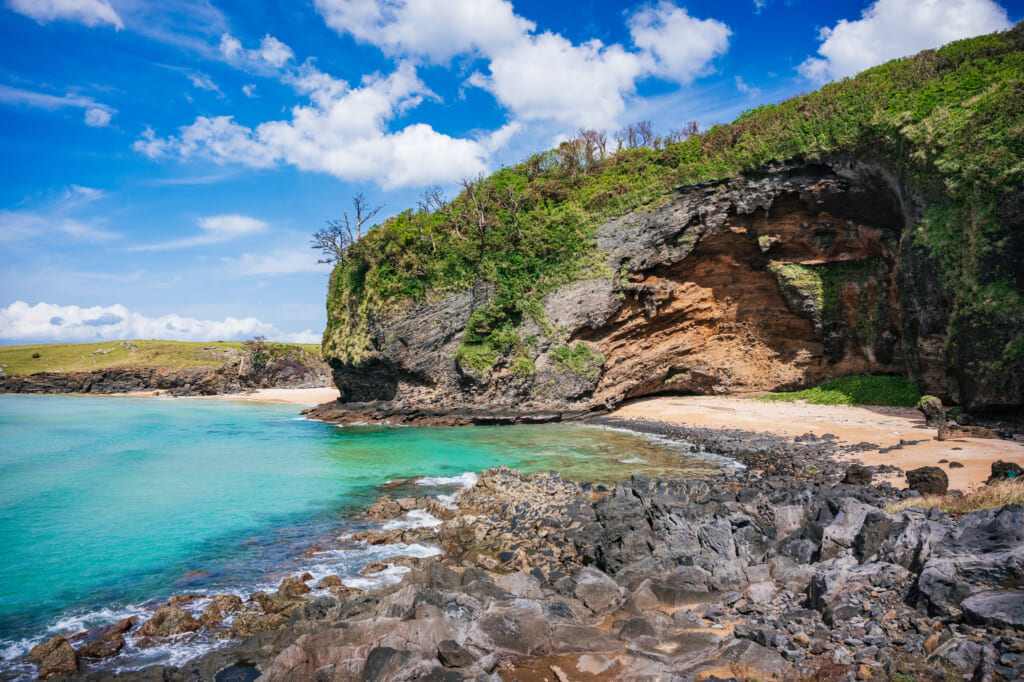 On the opposite shore of the island, you'll find Akahama Beach. Made up of coarse red lava rock created in an eruption long ago, this beach can be strikingly beautiful at times and quite unattractive at others. Ojika is a small island, so it's worth taking your chances to visit this beach, perhaps closer to sunrise or sunset, to get the best photograph. Swimming here is not advised, and you'll find that locals do not swim at this beach at all. There are also no facilities on the beach, though you'll find bathrooms at nearby Akahamakaigan Park.
Perhaps there is no better way to renew your spirit than to witness the beauty of an island sunset. Ojika sunsets are incredible, provided you know where to watch them from. The general answer is on Madara Island, a small island West of Ojika connected by a bridge. You can try your luck on your own, but a safer bet would be to book a sunset tour with the Ojika Island Tourism office.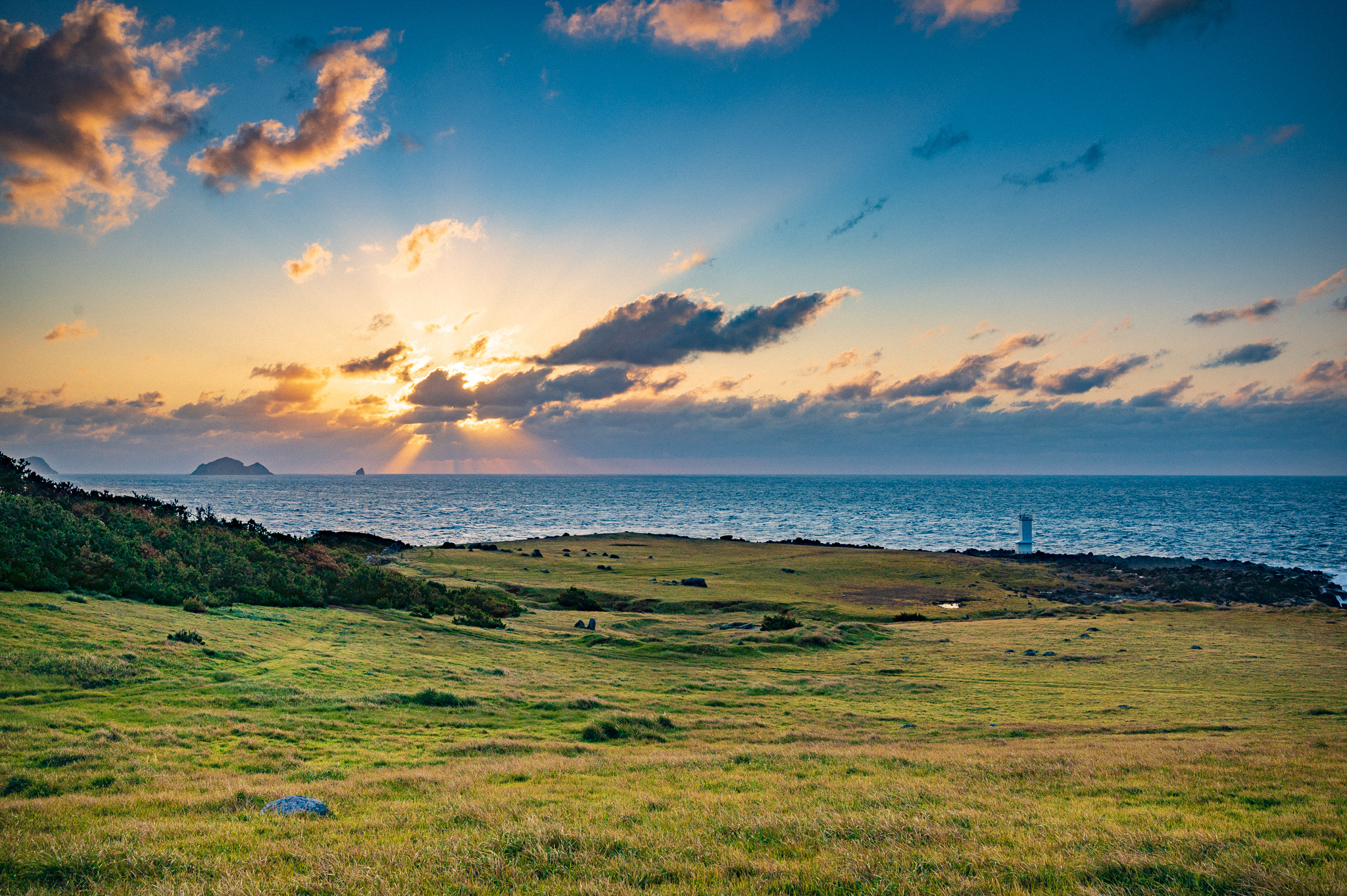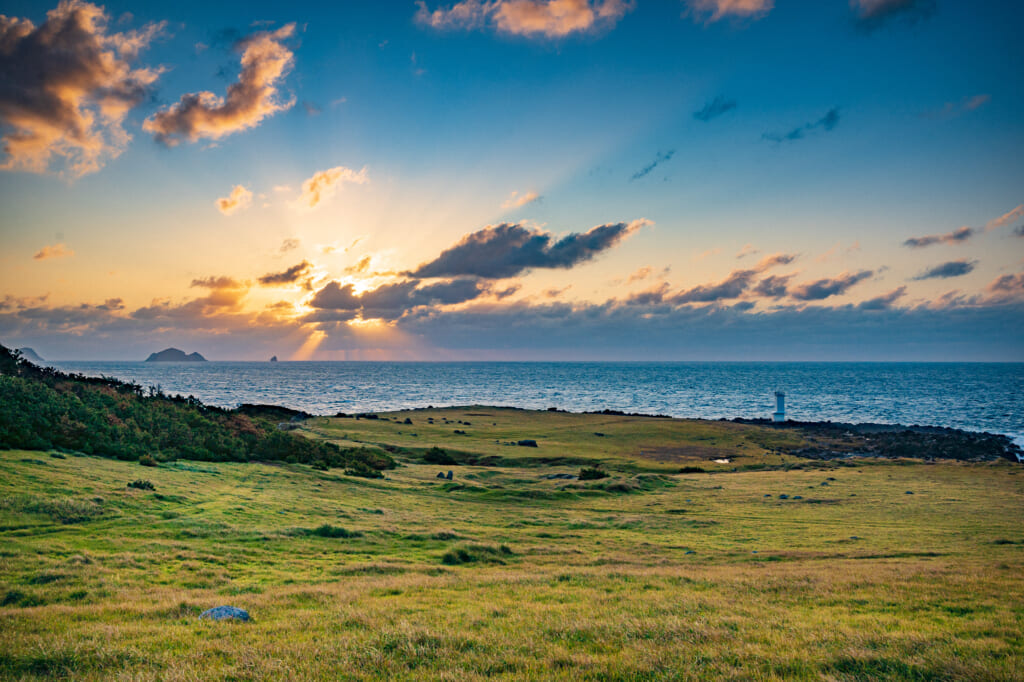 A staff member from the office will take you by car to some of the best-known locations for excellent sunset viewing on the island. My guide, Victoria, took me into a cow pasture that is not even well known by locals. It created the perfect foreground for the evening's dramatic sunset, complete with "God rays." Because we were able to start the tour well before sunset, she also took me to see the ancient white torii gate near the "Pothole" and a few scenic spots along the winding road that encircles Madara Island.
Abandoned Nozaki Island – The Ultimate Solo Traveler Experience
Traveling by yourself to a destination is one thing, but what if you had the whole location to yourself, if only for a day? Nearby Nozaki Island offers that possibility to the adventurous traveler, and it isn't as hard as it sounds.
Nozaki Island was an inhabited neighboring island to Ojika until 2001, when the last of the residents made the bittersweet decision to leave the island. Today, there is but a single registered resident of the island, an employee of Ojika Island Tourism who takes care of the incoming visitors. A local boat ferries visitors to and from the island to enjoy its wild landscape and explore the remnants of the community that once thrived there. The island is fully protected as a UNESCO World Heritage site representing Japan's "hidden Christian" history.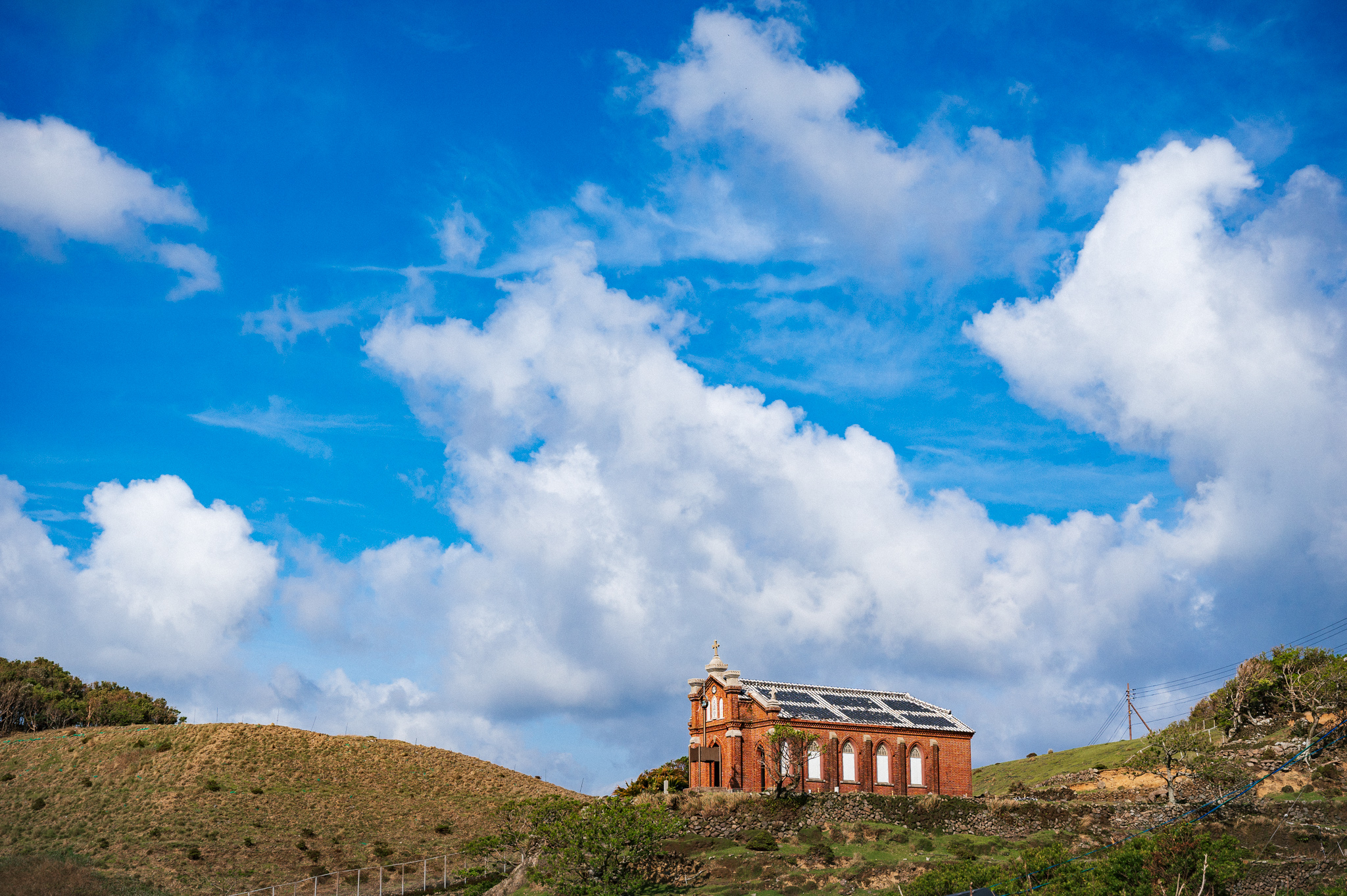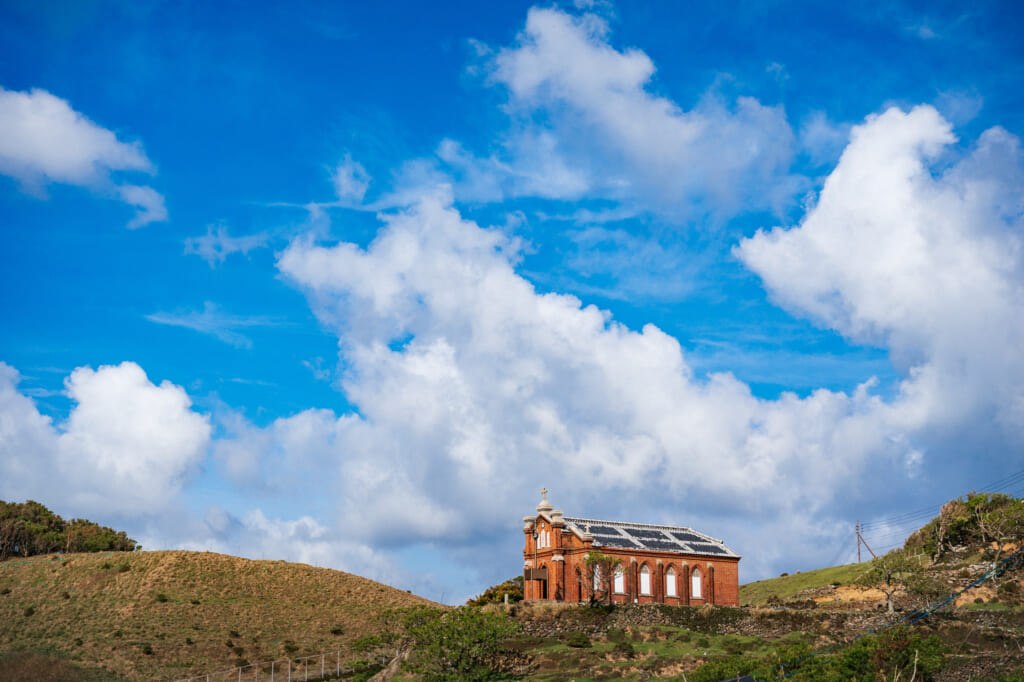 The centerpiece of Nozaki Island is the Former Nokubi Church, a Christian church commissioned by the local Christian community in 1908 after the ban on Christianity in Japan had been lifted. This stately brick church stands proudly on a hill, no longer serving as a church to the community, but as a monument to their longtime faith.
The long stretch of beach you will see below you as you walk from the port to the church is Nokubi Beach. Its turquoise-hued waters are renowned in these parts, and you may be tempted to swim, although keep in mind that facilities like showers and changing rooms are limited on the island.
Near the port are the remains of the Nozaki Village. The families who left the island in the 1960s and 70s left behind many non-essential belongings, now found scattered in their former homes' decaying ruins. Only one house remains intact, the home of the former priest of Okinokojima Shrine, the large shrine in a remote mountainous part of the island. (You can visit the shrine, but it is recommended you go with a local guide as the path is not well maintained and sometimes dangerous.) This house is maintained for historical purposes, and you can go inside to see some relics of the island's history.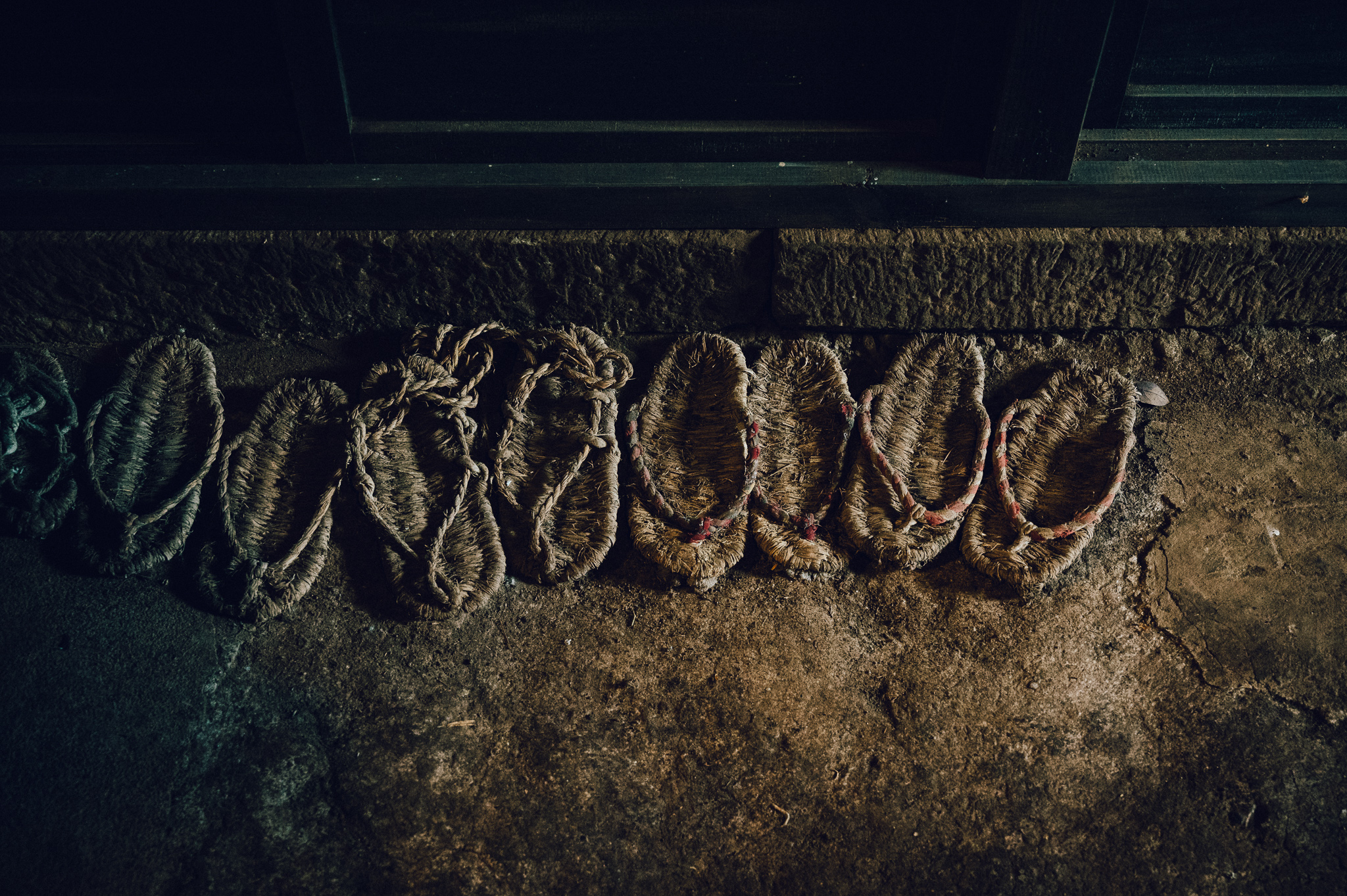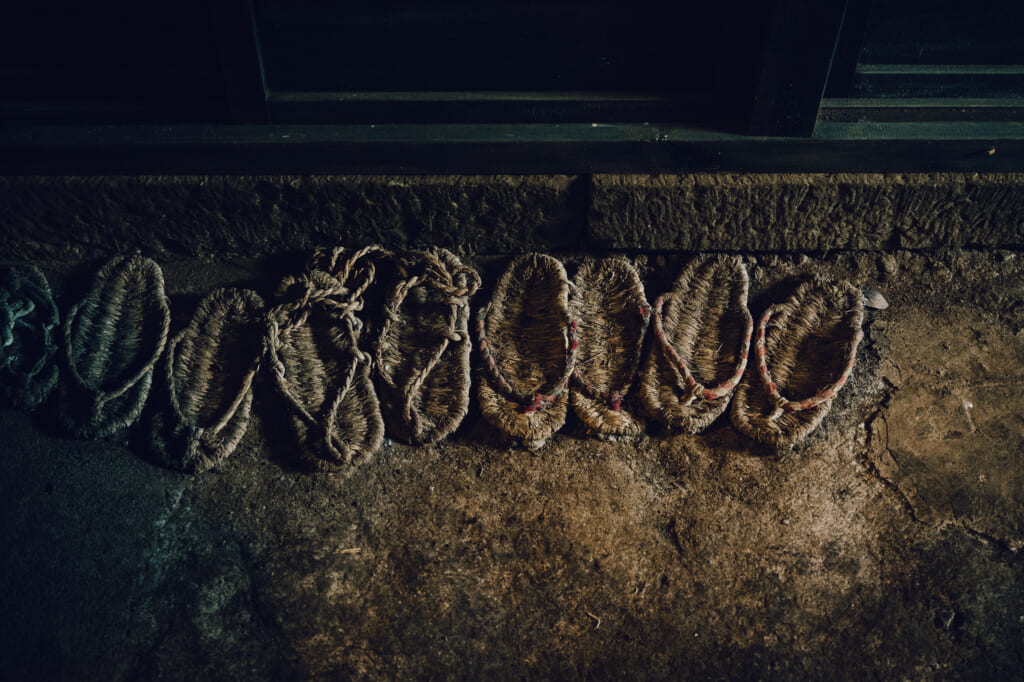 It is inaccurate to say the village is no longer inhabited. You will find numerous wild deer resting in the shadows of the old buildings, watching you with cautious curiosity. The nearby "savanna", which looks very much like it was airlifted in from Africa to the island, provides the deer plenty of space to graze, rest, and run.
Most visitors arrive on the morning boat, walk around the island for a few hours, and catch the afternoon boat back to Ojika. However, it is possible to make reservations to spend the night on the island in the camping facilities built specifically for that purpose. Next to the Former Nokubi Church is a space containing the former schoolhouse, which has been renovated for overnight accommodations. You can rent a room in the schoolhouse or a tent to sleep in (in July and August), though you must bring your own food and water and cook for yourself in the provided kitchen facility. Eco-friendly soaps and shampoo are available for your use during your stay.
Though I did not stay overnight on the island, I can imagine the exhilaration of being alone in such a beautiful deserted place and waking early to see the sunrise over the abandoned village and savanna in complete solitude.
Solo Accomodations in Ojika
As it turned out, I did have a night of solitude in a more luxurious setting. Ichie-an is a restored kominka, one of several on Ojika restored by the previously-mentioned Japanologist and author Alex Kerr. Kerr, who grew up the son of a military family stationed near Yokohama, is an influential figure in preserving kominka and the traditional techniques required to build and restore them. He identified several kominka on Ojika worth renovating, most of which are now available to tourists as rental accommodations.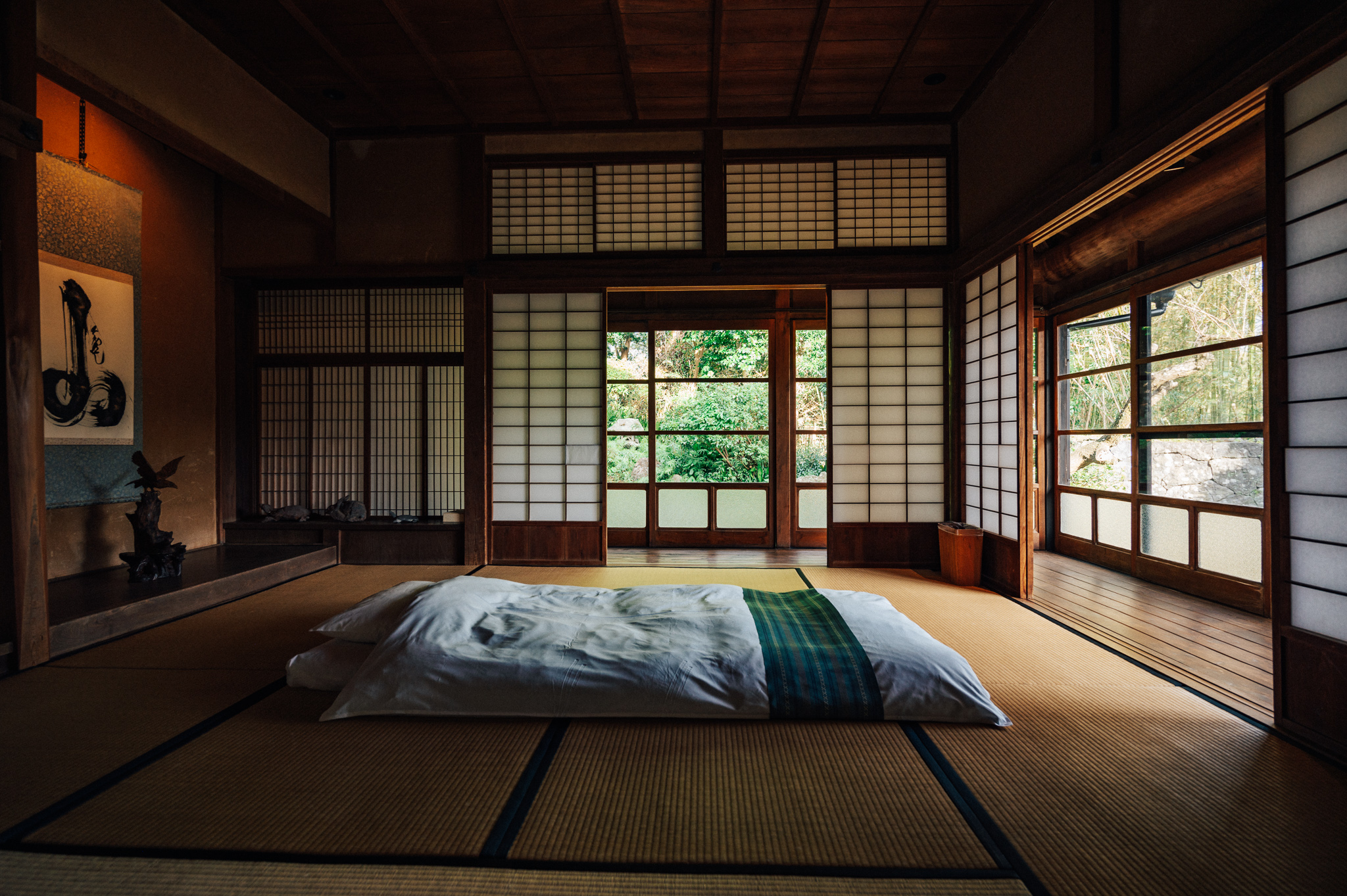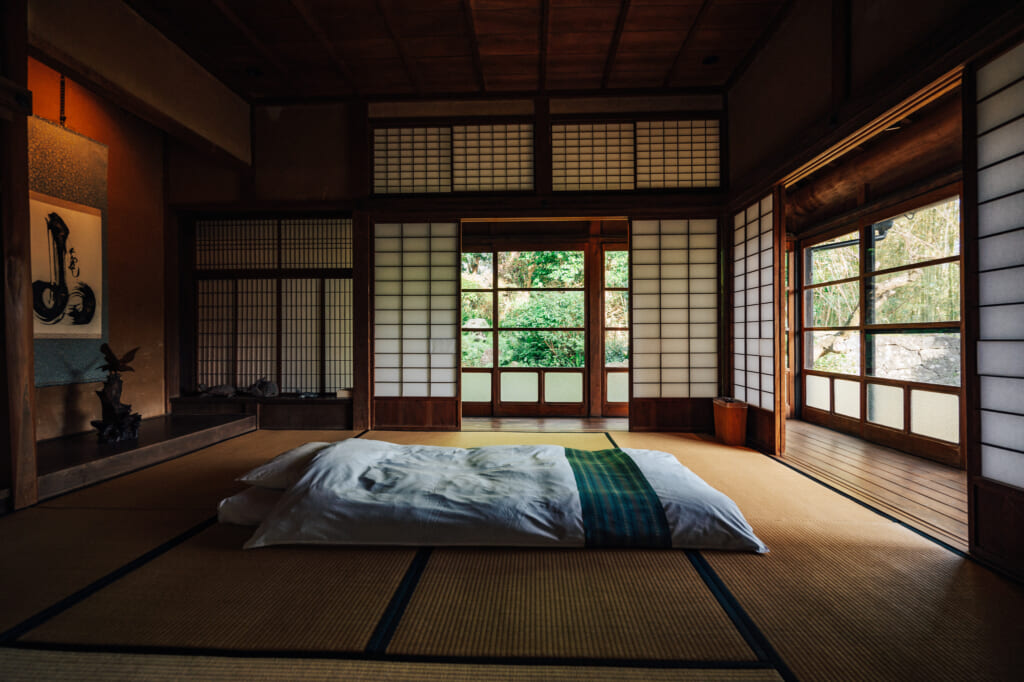 There are 6 options for kominka rentals available through the Ojika Island Tourism office, the largest of which can accommodate up to 6 people. Ichie-an is suitable for up to 3 people, with a spacious main room with a small kitchen, dining table, and living area. A fully renovated bath and restroom round out the comforts of this lovely and highly Instagrammable home.
Spending a night alone is nice, but spending an evening making new friends can be even better. Just a minute or two down the road is Yanoya, another restored kominka. Yanoya is a guesthouse and the residence of a young couple who made Ojika their home in 2017. Guestrooms are available for up to 3 people (though restrictions are currently in place to prevent the spread of coronavirus), and guests can prepare a meal and eat together and participate in other host-led activities like fishing.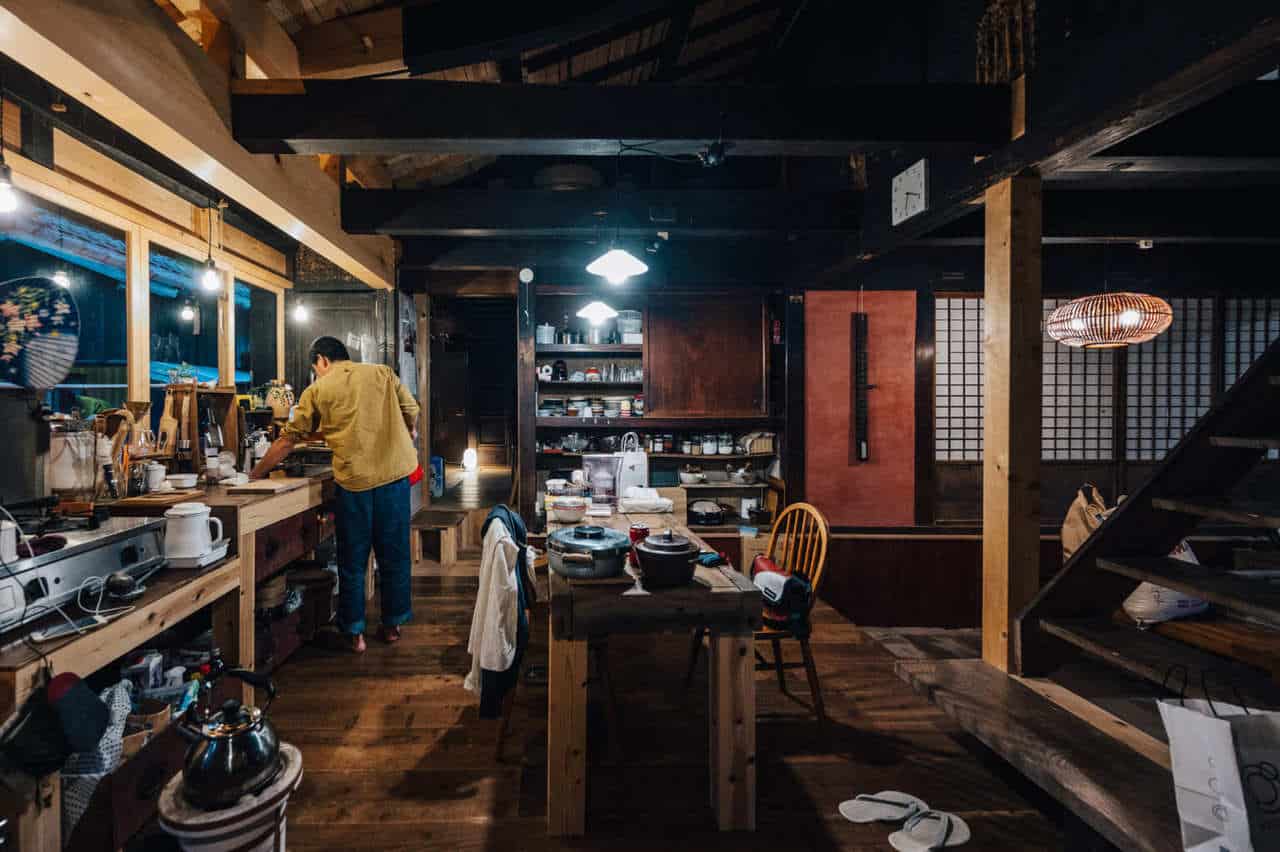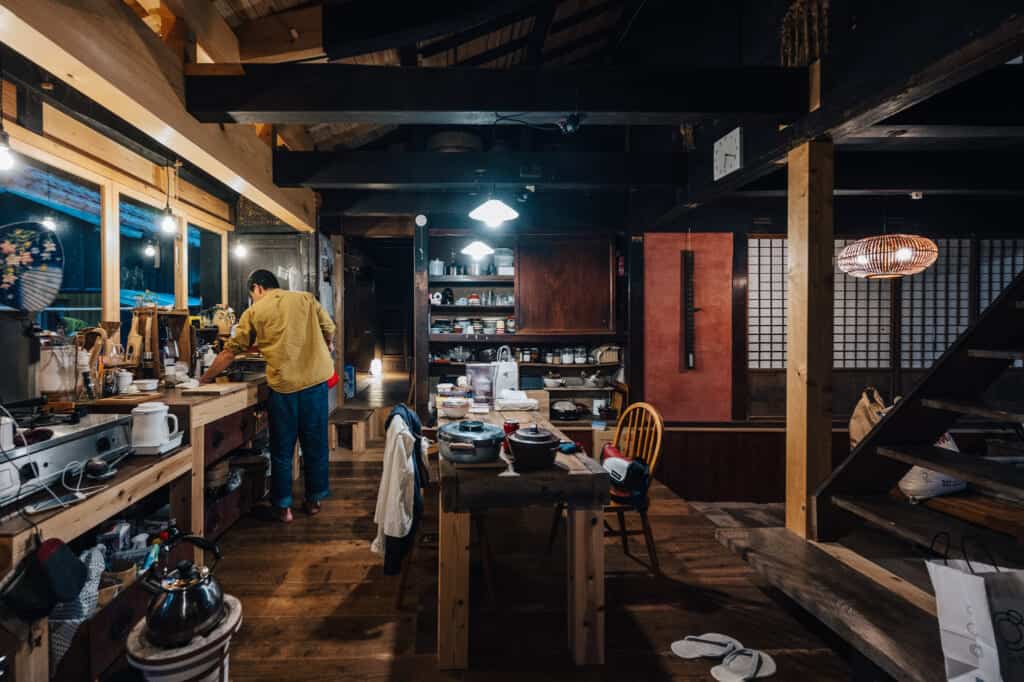 Kakinohama Beach and Goryo Cliffs are both within walking or biking distance of either Ichie-an or Yanoya, so a view of the sunrise or sunset from a peaceful, isolated beach is just minutes away. Alternatively, you can bike back toward the port and pass through Hime-no-Matsubara, a grove of ancient, twisted pine trees that line the road and glow warmly in the morning light. Honestly, nothing in Ojika seems very far away as long as you have a bicycle, so it is a worthwhile investment during your stay on the island.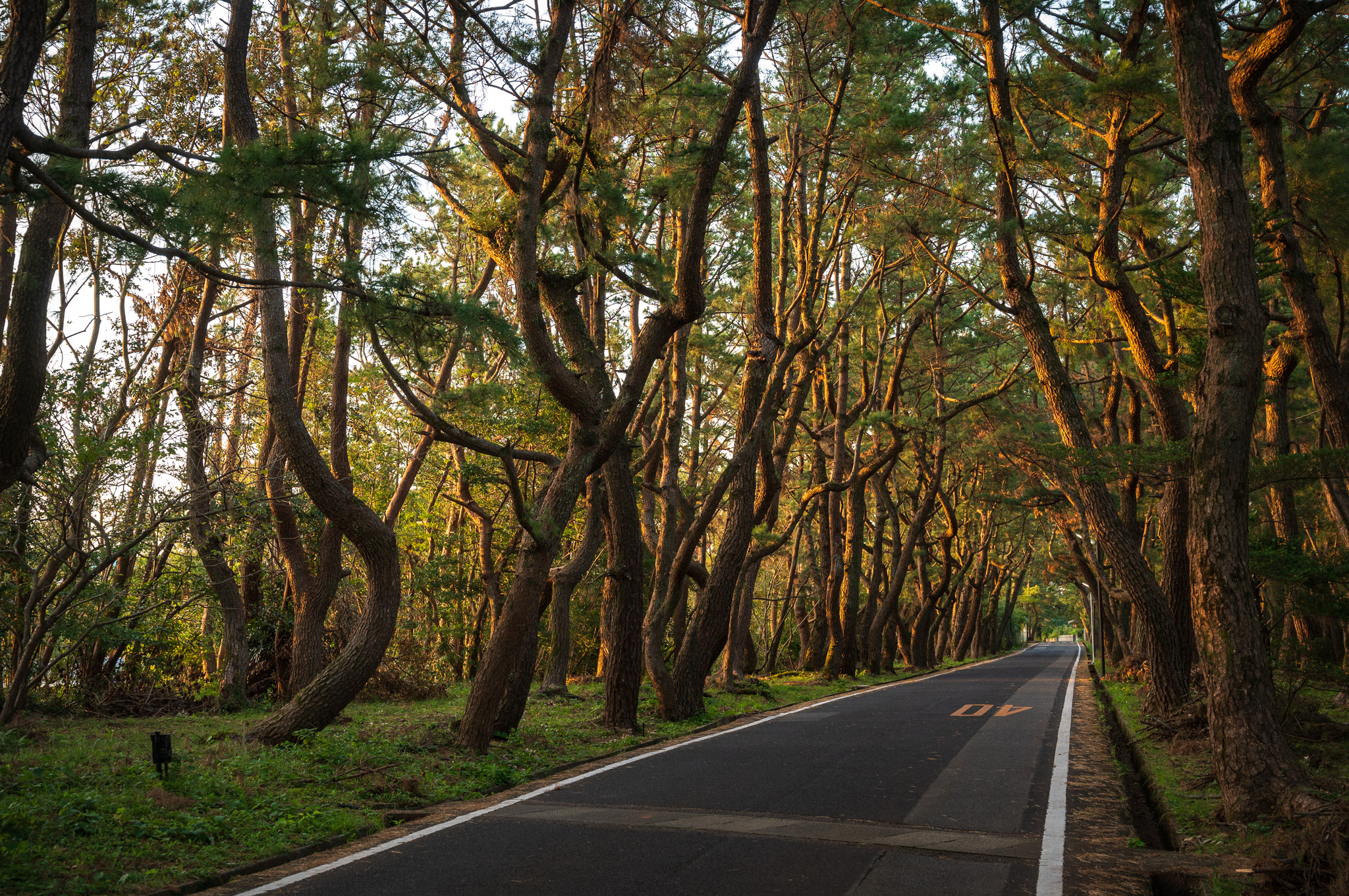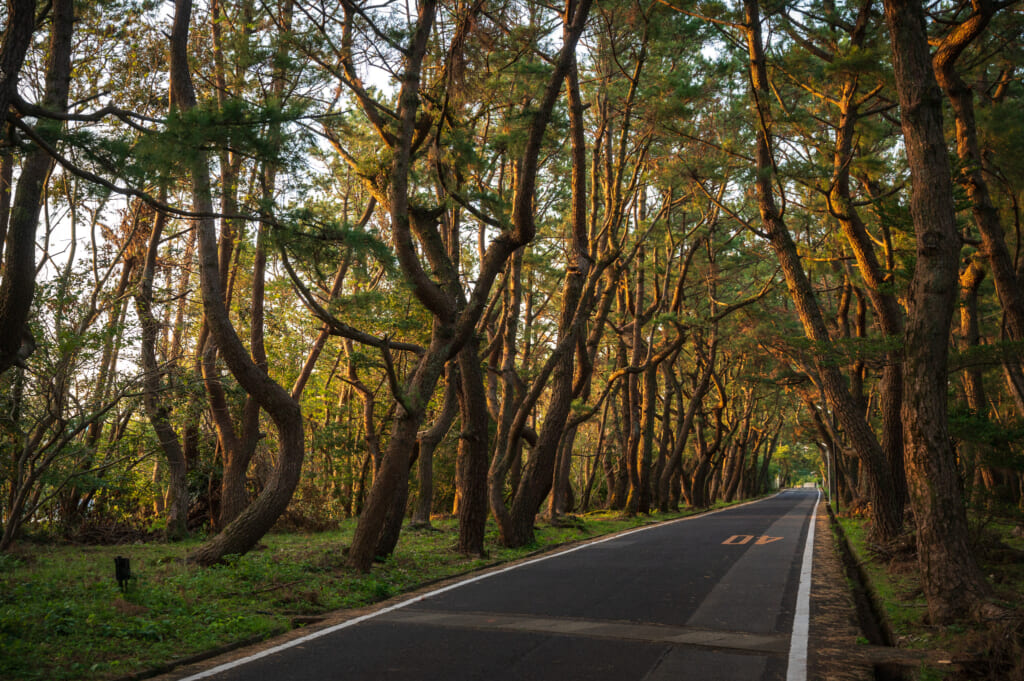 As I watched the sunrise over Nozaki Island from Kakinohama Beach, I felt a sense of peacefulness. The constant though unconscious pressure from having to take precautions against COVID-19 was absent at that moment. I took a deep breath without a protective mask between my lungs and the air. There was no need to glance about to make sure there was no one within 2 meters of me; no one was within 200 meters of me.
In times like these, we all need to have moments to remember what it was like to be carefree and unafraid.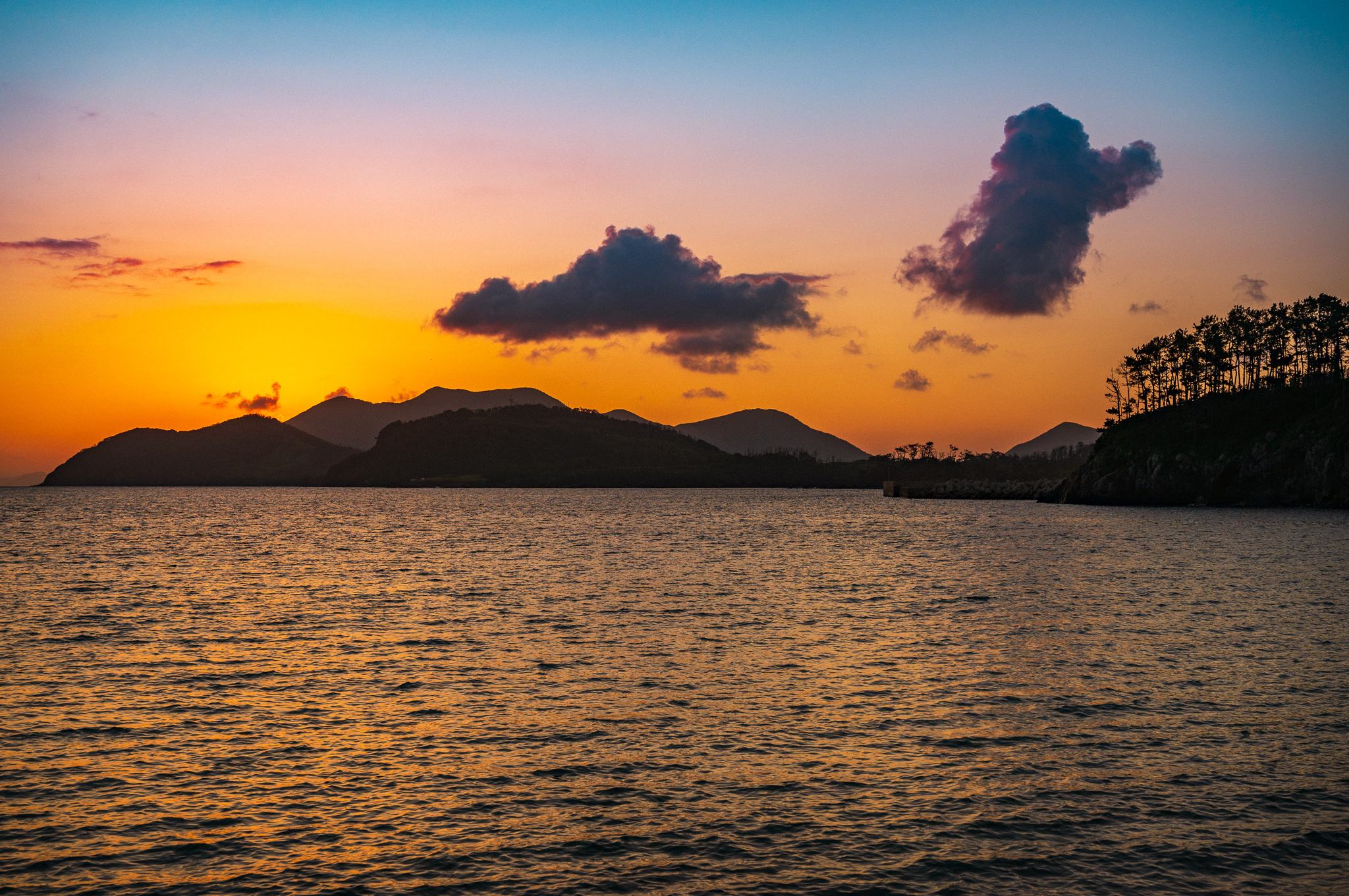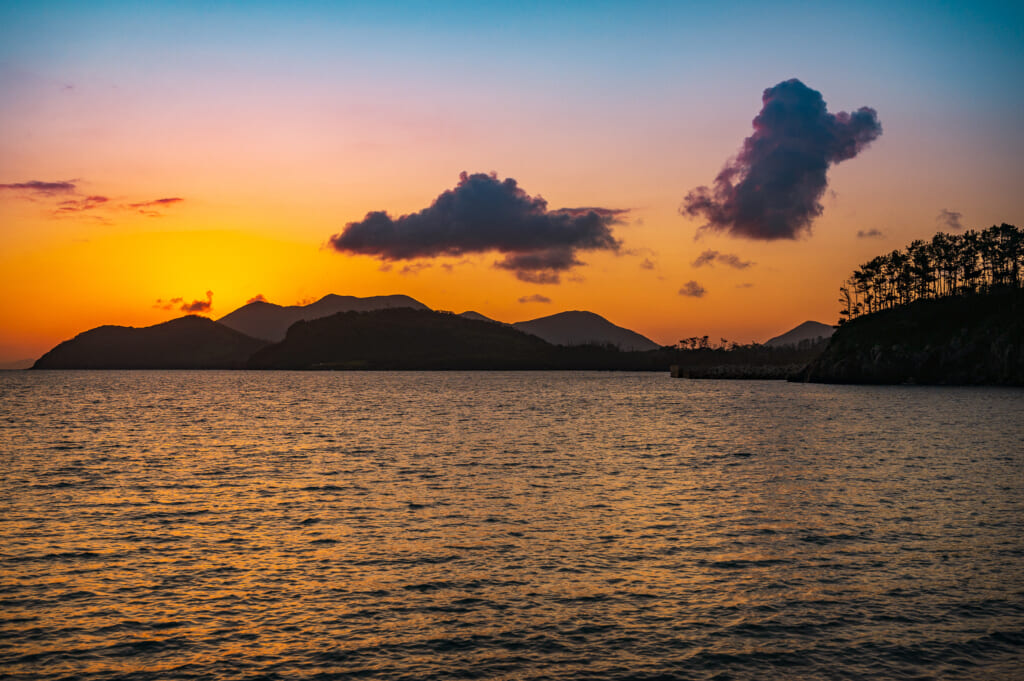 When friends and loved ones inquire about what I did with my time on Ojika, I could unironically answer "Nothing." and leave it at that, with only a slight smile hinting at something deeper. But it was precisely that "nothing" that left room for a cleansing of my soul and mind from the era of coronavirus, a sanctuary of peace in a tumultuous world.
Sponsored by Ojika Town