[The 2020 Mino Flower Mikoshi Festival was cancelled due to coronavirus.]
Travellers in Japan all too often miss out on one of the key things that makes the country so unique: its rural areas and countryside. Though famous for its giant metropolis of Tokyo and other major cities like Osaka and Kyoto, there is plenty more to see in less conspicuous places. Now that spring has come, people come in droves to the parks and gardens to look at the cherry blossoms, or "Sakura," in full bloom. Now more than ever is a great time to get away from the crowds and clutter and enjoy "Hanami," or flower-viewing, in a more natural setting.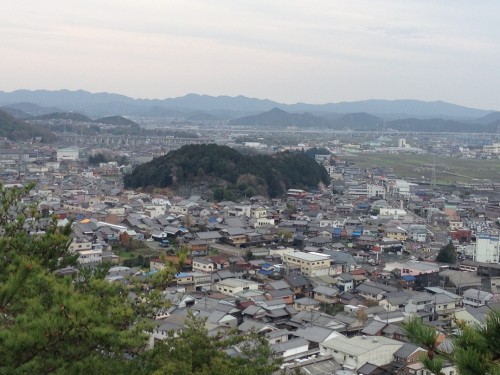 The Town of Paper Flowers, Mino!
The town of Mino is in Gifu prefecture, a part of the Chubu region of central Japan. Mino is located between Tokyo and Kyoto, and relatively close to famous destinations like Takayama or Shirakawa-go, but my spirits were immediately lifted before getting on my last train at Minoota, when I met the station-master.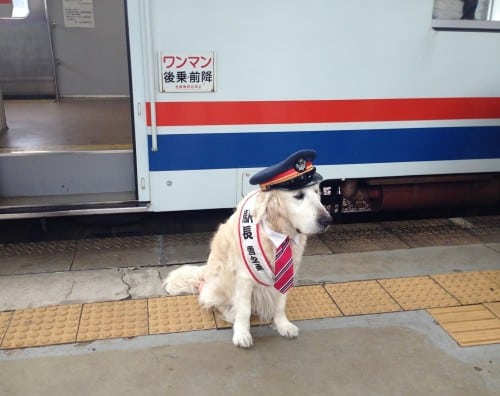 Wan-man! Get it?
The Flower Mikoshi Festival is the main local festival that goes on for two days on the second weekend of April, and in 2017 it was held during 8th – 9th April. The main attraction is Flower Mikoshi(Hanamikoshi), or small shrines adorned in paper flowers. The flowers are made with Mino Washi Paper, which is known all over Japan and abroad as this traditional craft was designated an Intangible Cultural Heritage by UNESCO. Around the town food stalls and games were set up, adding to the festive atmosphere. The people of Mino and surrounding areas were out in droves, and the town center was mostly restricted to pedestrian traffic. As I followed the crowds, I began to hear drums and horns sounding, until finally I was seeing pink!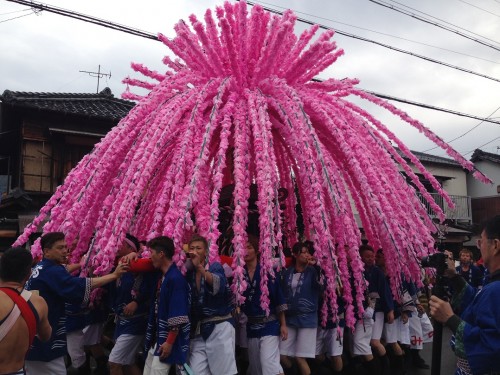 These shrines are carried by the people of the town and paraded around the streets. There must have been at least thirty of them, all in different shapes and sizes. The atmosphere was quite friendly and relaxing, with people passing out free drinks and rice balls.
Though there were not many foreign tourists here in Mino that day, the locals are really hoping this will change. While talking to some of the organizers, they asked me to come back next year- as a participant! It was really great to be welcomed in such a way despite only having just gotten there. The town is attempting to become more foreigner friendly in other ways as well: many of the signs to places of interest are in English, and there were also helpful announcements about the Hanamikoshi in English and Chinese. After each shrine came out in turn, they gathered together, then split up to perform around the town.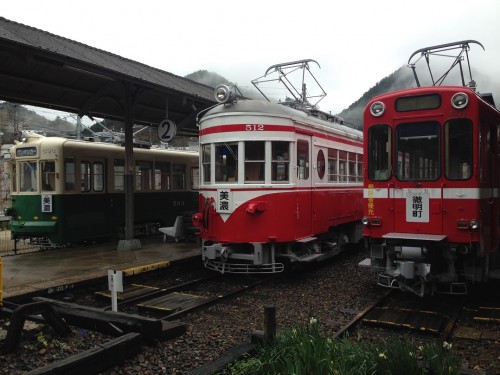 A Tour of the Mino Town
There is a lot to see in Mino. Because it is not such a big place, everything is close together and convenient to get to. First, let's go to Meitetsu Mino station. Originally, the town had two train stations, but while Meitetsu Mino shut down in the 1990s, it is now being preserved as it was for train fanatics all over Japan. There is also plenty of train memorabilia for sale there. The station master's office has been turned into a record shop, featuring the work of 70s Jpop heartthrob Goro Noguchi, who is from Mino.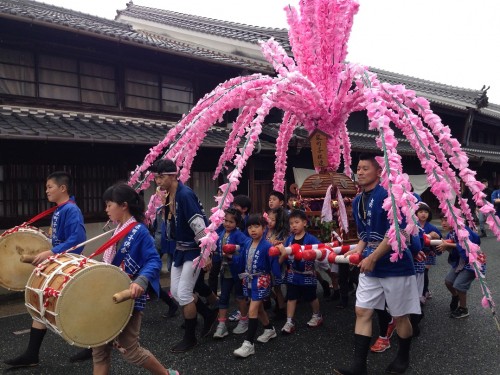 Though Mino has a certain old-world charm, there are certain parts of the city that look really old. This is Mino's historic Udatsu district, which preserves architecture dating from the Edo period. Udatsu specifically refers to the curled designs on the slanted roofs, which signified houses of prosperous merchants.
One such shop, Kosaka Sake Brewery, still exists to this day. Their prize-winning sake is very sought after in Japan. The business, which has been passed down from generation to generation, also has plans to expand abroad, with an English –language website due to open later this year.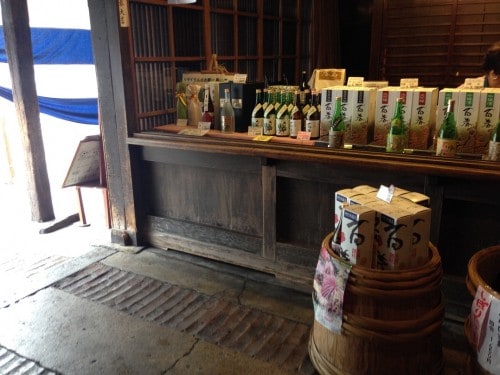 You can follow the Flower Mikoshi all over down and enjoy various sights. Later in the day the Flower Mikoshi was also accompanied by impromptu Taiko drum performances.
A Comedy Special Straight out of the 18th Century!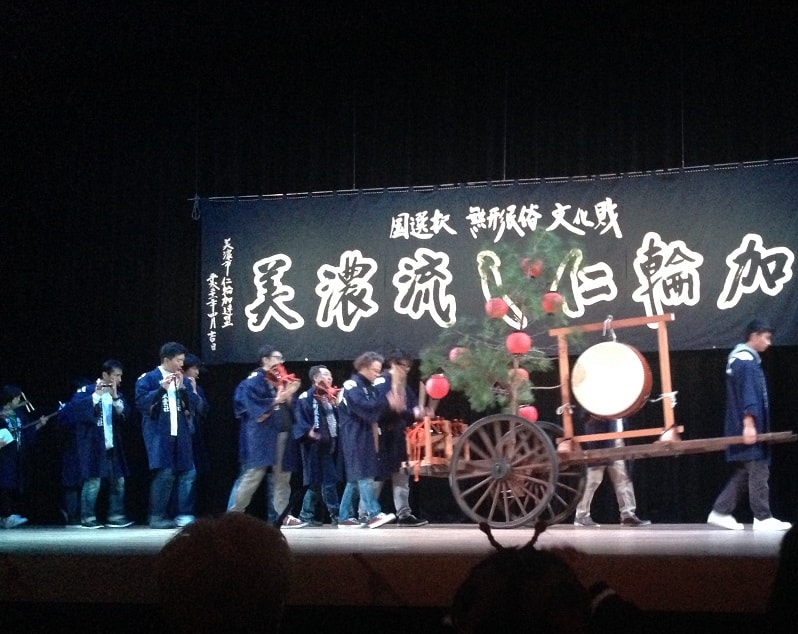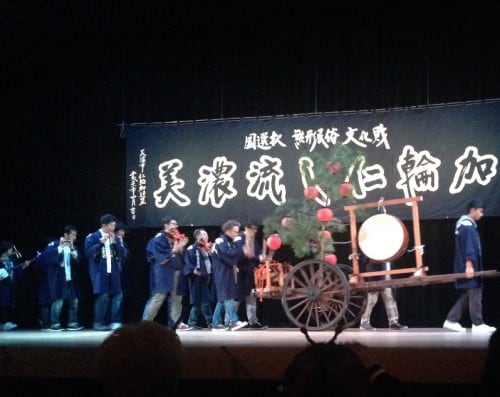 There is another important performance on the night of the festival. It is called "Nagashi Niwaka," once a popular form of entertainment during the Edo and Meiji period, but a bit more obscure nowadays. It involves impromptu performances of people in costume. Normally, they will also do this around Mino, but due to the rain it was moved to the local culture center. The place was packed tight, with about 650 people seated and more standing by the entrance waiting for a seat. The Nagashi Niwaka performance was as follows: there were 12 teams, each from a different neighborhood in town, who would wheel their own cart on the stage while playing traditional Japanese instruments. Then, two or three of the members would give a skit on some current event, in the local Mino-ben dialect. This included subjects as diverse as Hayao Miyazaki, talking animals, and Donald Trump! It is a surprising blend of Mino's past and present; however, non-Japanese speakers might not be interested in the whole performance, as much of the comedy involves complex wordplay.
The Mino Festival's Grand Finale
Let's fast-forward a bit to the end of the festival. On the second day is another hallmark of the Mino festival, known as dashi. Again going back to the Edo period, dashi are giant carts with parade floats on top.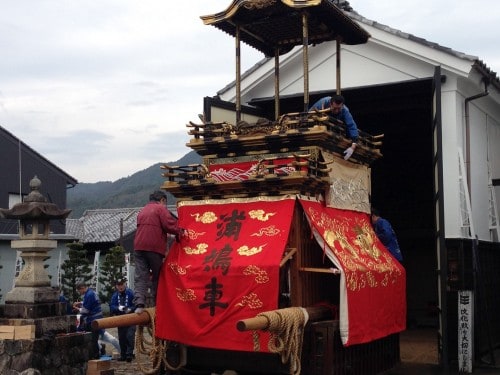 I saw people preparing these all day, so it was great to finally see the dashi in action! People crowded near the Hachiman Shrine, where there was a small performance by some local children. Gradually, in the distance I could see a line of floats heading toward me.
This was no easy task, however, as the roads were quite narrow and the carts very heavy. Multiple people both inside and outside the cart had to take turns pushing and pulling. It's quite a sight to see! The whole process does take some time however, so take it easy and relax!
The rural countryside of Japan has plenty of charms, and local festivals like the Hanamikoshi of Mino are not to be missed!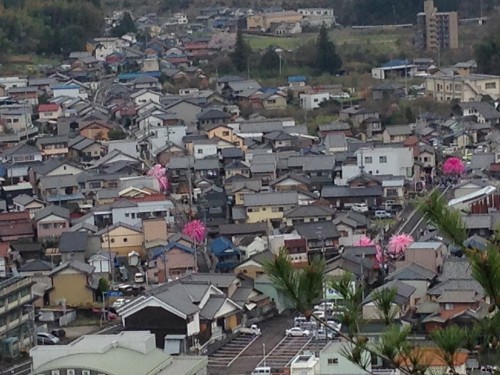 Access
The town can be reached from Minoshi station, via Minoota station on the Takayama Main Line. This line crosses with the Tokaido Line at Gifu, where express trains to Nagoya are available. Taking a bullet train (shinkansen) to and from Nagoya is advised. It is also possible to get direct trains to Nagoya from Minoota, but you will be charged an extra seat fare.
(Minoshi to Nagoya, About 110 Minutes, 1700 yen)
Sponsored by Mino City