Sponsored by Fukushima City Tourism and Convention Association
Standing proudly with an elevation around 1700m is Azuma-kofuji (吾妻小富士), in Fukushima Prefecture. You may have already guessed from the name that this volcanic crater is a namesake to Mount Fuji, with 'ko' meaning little or child in Japanese, Azuma-kofuji is a baby Fuji!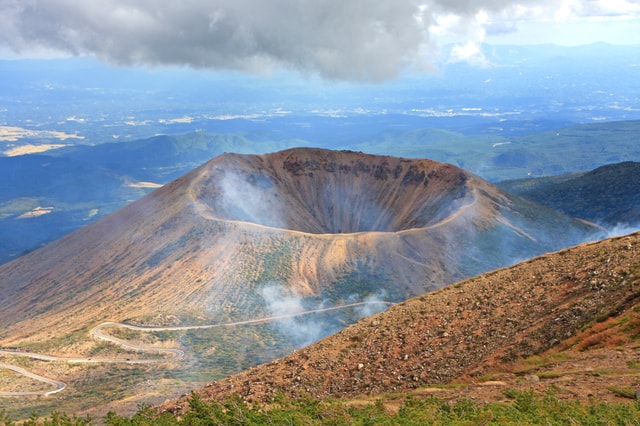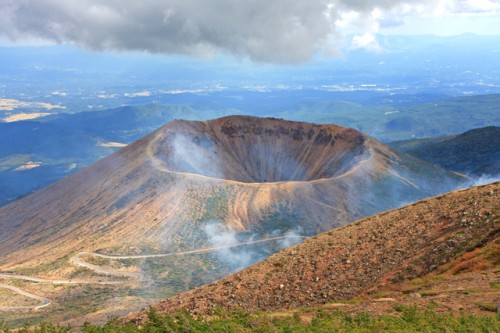 Little Fuji's home, north of Mount Bandai, in the Azuma Mountain Range separates Fukushima and Yamagata – two of the six prefectures in the Tohoku region. Although Kofuji may pay some homage to the legendary Mount Fuji, scaling Azuma-kofuji is probably much easier! You can reach the base of the crater by bus or car, then climb to the top of the crater within ten minutes. Once you have climbed to the top, you are able to circle the crater within one hour, enjoying the panoramic views along the way.
The Ascent to Little Fuji's Peak
Unless you're fortunate enough to arrive by helicopter, you will probably reach Jododaira – the base of Azuma-kofuji – by ascending up the Bandai-Azuma sight-seeing road. Personally I would prefer to arrive at Jododaira by car because the drive to the top is fun and the views are incredible!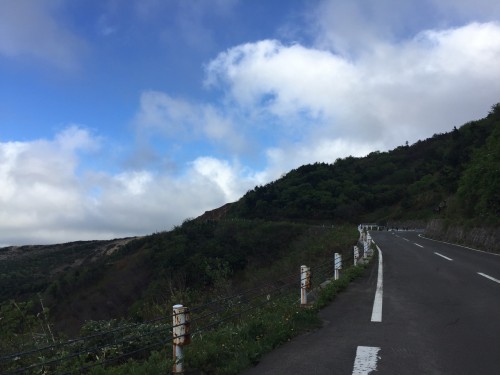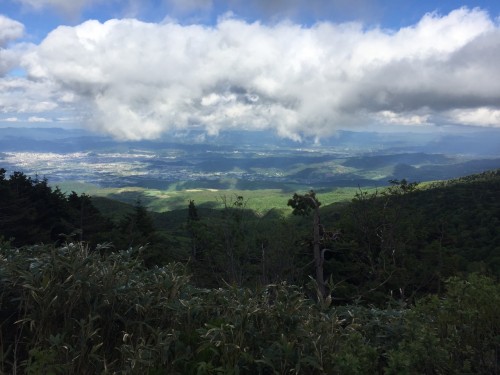 Although you can access Jododaira by bus, one of the major benefits of driving is that you can stop as frequently as you  like to revel in the scenery. This low-traffic winding road has plenty of lay-bys which easily allow you to pull over.

 Once you reach Jododaira Rest House, you only need to look to your right to see zig-zagging, short-but-steep trail which leads to the top of the crater. I found that the top of the crater was incredibly windy, so if you have warm clothes with you, or a windbreaker, I recommend that you take them with you! I started my ascent with only two other people ahead of me, I watched them triumphantly battle the wind with a picnic blanket as they scaled the stairs.
The logged stair-way is uneven so be careful as you climb up! I couldn't help myself from turning round every minute or so to enjoy the view.
The Crater
As soon as I reached the top of the crater, the wind crashed into my already flushed face, reminding me how high up I was. Covered in various shades of brown gravel and rocks, the conical shaped crater was unlike anything I had seen before. Paired with the heaviness of the wind, I felt somehow humbled by the immenseness of this natural spectacle before me.

As I attempted to circumnavigate the crater the weather altered at every angle. Walking clockwise, I was able to peer coyly into the crater. All the while, I was tentatively monitoring the wind which relentlessly hurtled into my back, propelling me forwards.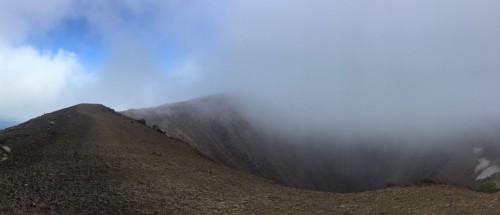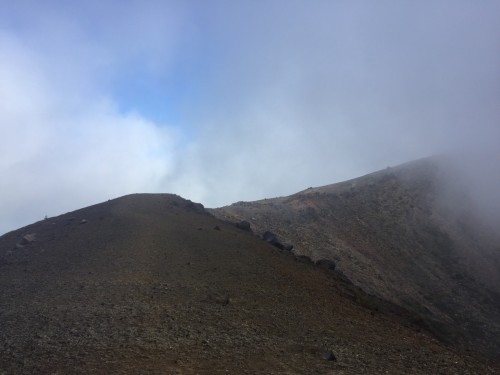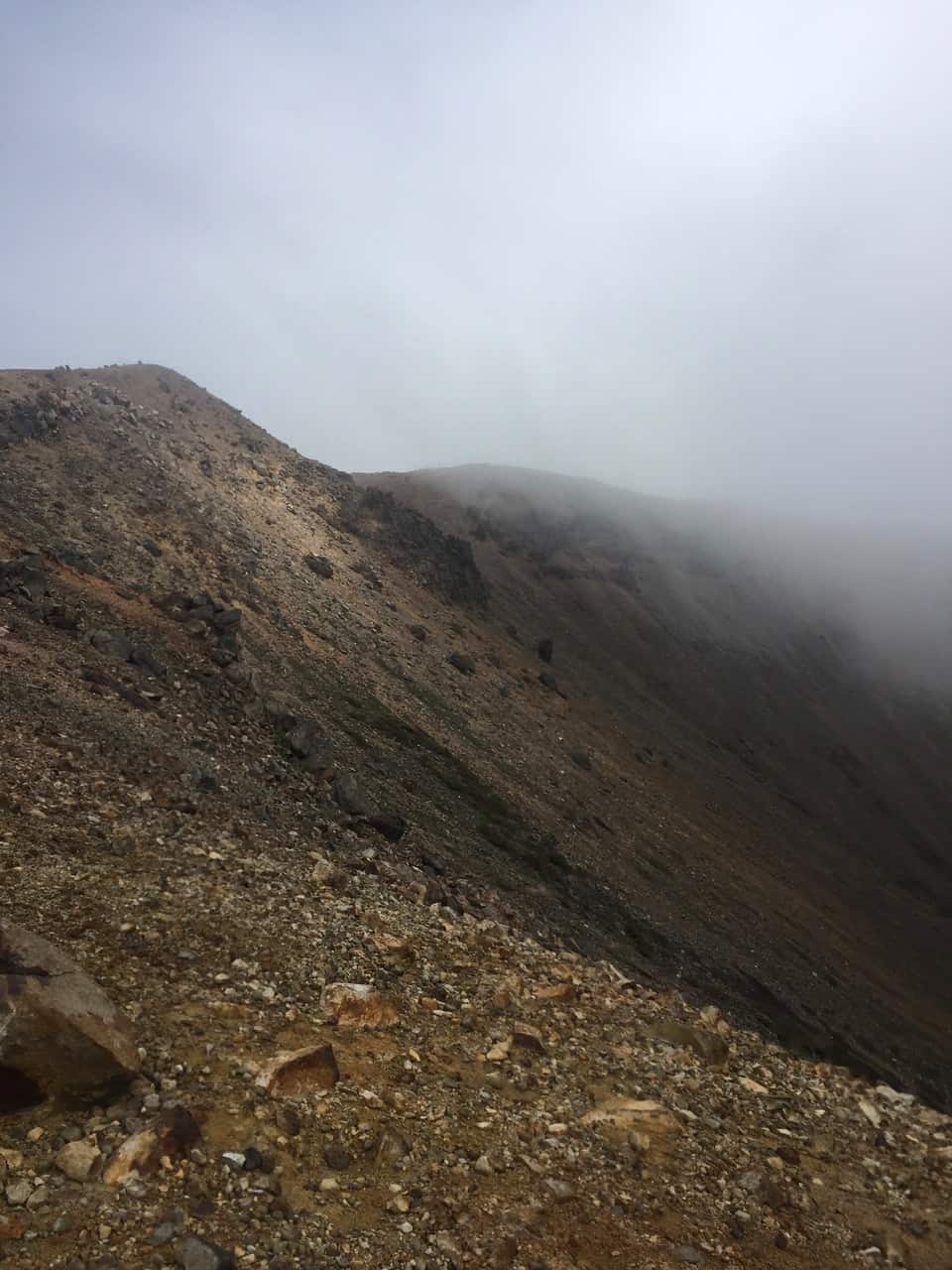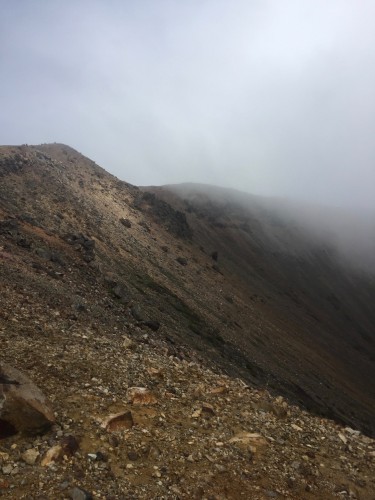 Looking away from the crater, I could see the Skyline Road winding up towards the rest house but a heavy fog concealed the majority of the view, leaving it to my imagination.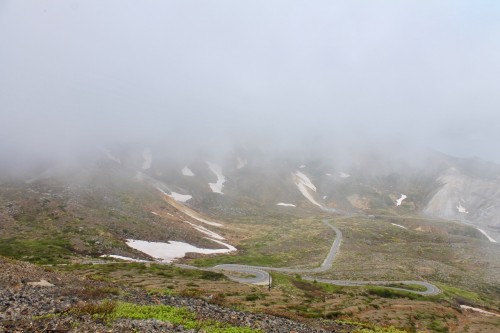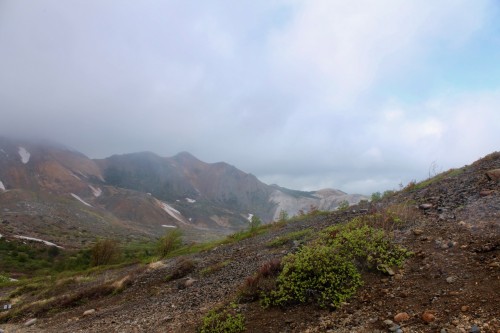 Attempting to turn back on myself, I was confronted with the incessant wind. But it was no longer propelling me forward. Instead it was freezing my face as it repelled me away. The sky dissipated and the horizon became infinitely grey. It was apparent to me that the couple who were ahead of me had disappeared, leaving me alone at the crater with the mini-pagodas.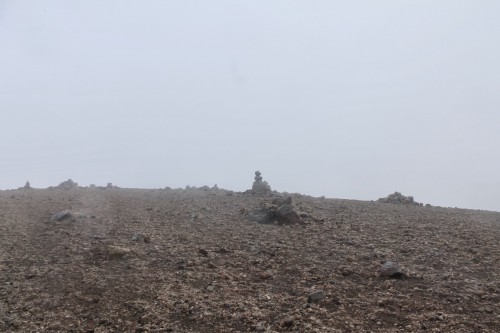 In and Around Jododaira Resthouse
In addition to acting as a base for exploring Azuma-kofuji, Jododaira is a rest stop for the numerous hikers seeking to explore the nearby mountains, wetlands and lakes.  You can grab a quick bite from the fast food area on the first floor, or if you prefer something more substantial there are a few restaurants on the second floor. There is also a range of edible and non-edible souveigners for you to take home with you!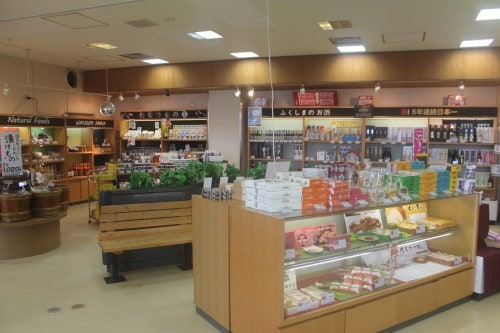 For more information about hiking around the Azuma Mountain Range visit the Bandai-Asahi National Park's website here.
Access
By Bus: Fukushima to Jododaira
In 2017 the Kotsu bus runs: only on weekends and national holidays 3rd May to 30th September, every day from from 1st October to 5th November
The bus from JR Fukushima Station to Jododaira runs twice a day, takes around 1.5 hours and costs 1810 yen.
– Departure from Fukushima West Exit (Platform No.3): 09:50 and 12:50,
– Departure from Fukushima East Exist (Platform No.11): 10:00 and 13:00
The return bus from Jododaira to Fukushima Station runs twice a day, takes around 1.25 hours and costs 1330 yen. 
– Departures from Jododaira at 12:45 and 15:40.
By Train: Fukushima from Tokyo
To reach Fukushima from Tokyo, take the Shinkansen Yamabiko from JR Tokyo Station. Departures are from platforms 20-22. Duration – approx. 90 minutes. Cost – unreserved seat 8450 yen one-way, reserved seat 8950 yen one-way.
By Car: Fukushima to Jododaira
From Fukushima central, follow Route 126 and then Route 70 eastbound. Duration: approx. 60 minutes, Distance approx. 30 km. You can park at Jododaira Rest House (浄土平レストハウス)for 500 yen.
| | |
| --- | --- |
| Name | Jododaira Resthouse |
| Category | Hiking, Walking and Trekking |
| Address | Jododaira, Fukushima, Fukushima Prefecture, Japan |
| Access | [map]Jododaira, Fukushima, Fukushima Prefecture, Japan[/map] |
| Opening Hours | 09:30-16:30, Early April to Mid-Novem |
| Price Range | 500 yen for parking |
| Payment options | Cash |