Sponsored by Seibu Holdings Inc. 
Located just 45 minutes from Seibu Shinjuku Station, Kawagoe (川 越) is nicknamed "Little Edo" – or "Koedo" (小江戸) in Japanese. We understand very quickly the reason why, while walking along charming streets to see traditional houses as well as shops and restaurants. Kawagoe is an ideal destination for a getaway from Tokyo, for anyone wishing to glimpse Japan from the past.
Kawagoe, Architectural Styles Rub Shoulders
According to its nickname "Little Edo," I was expecting to see an old city having the appearance preserved since the Edo Period (1603-1868). But if the buildings recalling this time are present, the city is not a fixed eco-museum but a real city, more living and diverse. The architectural styles of different periods come together, creating an impression of anachronism that adds to its charm. There are traditional Japanese styled buildings dating from the Meiji Period (1868-1912) , but also ones with Western influences. Others are typical of the Taisho (1912-1926) or Showa (1926-1989) eras as well as very modern buildings, often using traditional materials such as wood. A visit to Kawagoe is therefore a walk in time more than a leap into the past.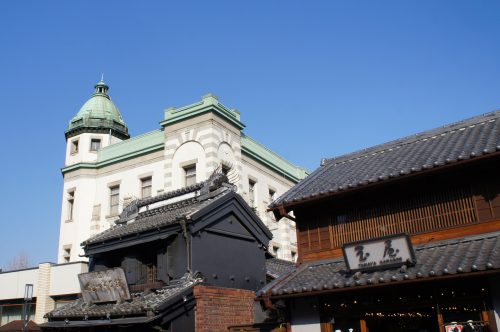 In this photo, behind the buildings of Kura no Machi (the "Kura Street", these old warehouses that are famous for Kawagoe), we see a Western styled bank, dating from 1918.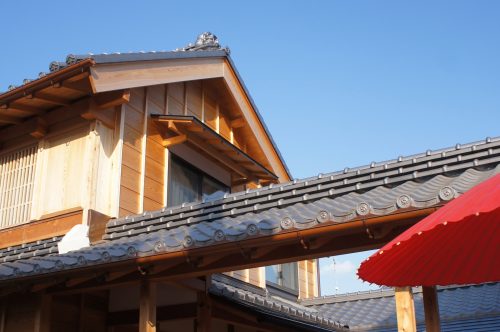 Kawagoe's Emblem: Toki no Kane Clock Tower
Toki no Kane (時 の 鐘), literally "the bell of time", is like a "Clock Tower." The 16 meter wooden building has stood in the historic district since the beginning of the Edo Period (the current building was rebuilt in 1893 due to a great fire). The three bells still ring every day at 6:00 A.M., at noon, 3:00 P.M and 6 P.M.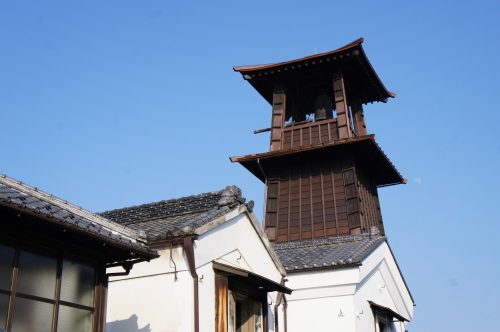 It is located in a nice street, lined up with many shops and food stalls. The most popular, which you will not have trouble finding because of the crowd, where you can see some shops selling large sweet potato chips that visitors hold up while strolling.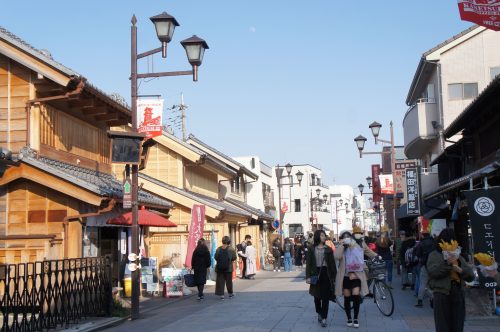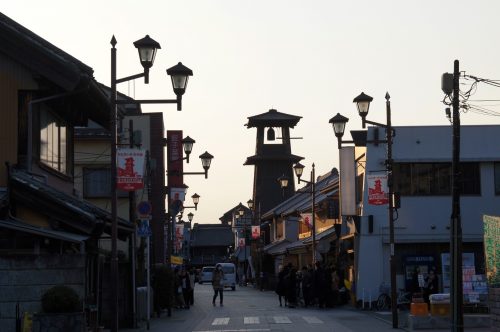 Kashiya Yokocho, The Candy Shop Street
The other place not to be missed while visiting Kawagoe is Kashiya Yokocho (菓子屋 横丁), which literally means "street of candy shops." The alley, forming an elbow, is lined with traditional houses where candies and other traditional sweets have been sold for about 150 years. There are many sweets made with sweet potatoes, Kawagoe's specialty.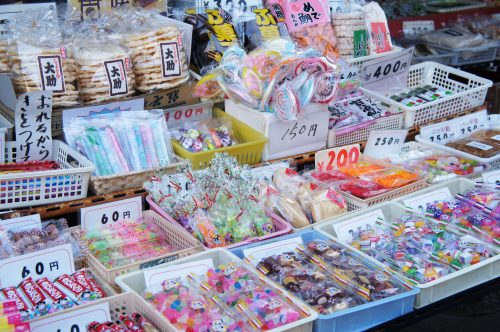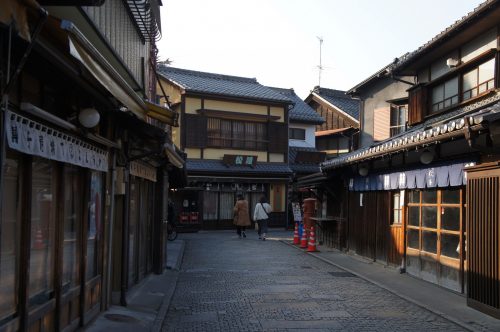 To enjoy the atmosphere at its best, do not go too late in the day. During my visit around 3pm, some shops were already starting to close the curtain, but others stay open later so you can find the place very charming at any time.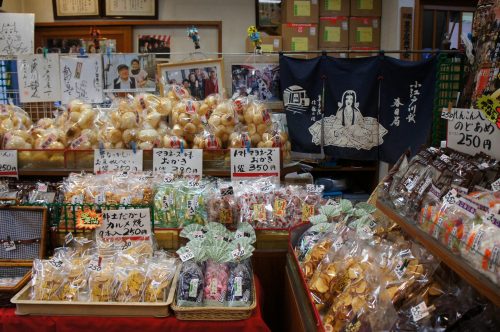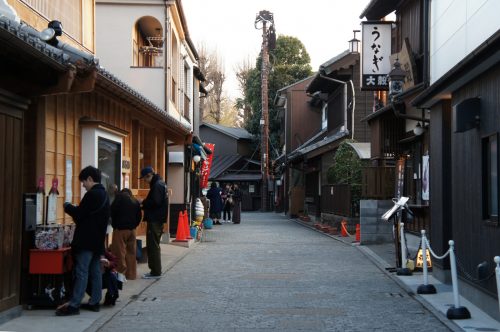 Hikawa-jinja Shrine
I really enjoyed this shrine, located a little behind the central district where Toki no Kane Tower and Kashiya Yokocho Street are located. It is not very big, but the buildings are charming, and there is even a small Noh theater scene.
As it is said that a kami (deity) of marriage is enshrined, you may have a chance to see a couple in traditional dress celebrating their wedding ceremony.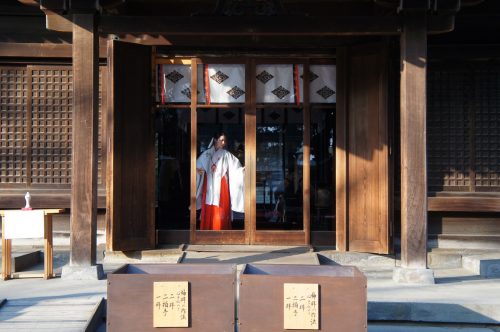 To the left of the main building is an impressive ema tunnel, these votive plaques found in Shinto shrines. In addition to being incredibly numerous, those of Hikawa-jinja Shrine (氷川神社) are decorated with adorable drawings, very cute, representing faces of children, fruit trees, animals, etc.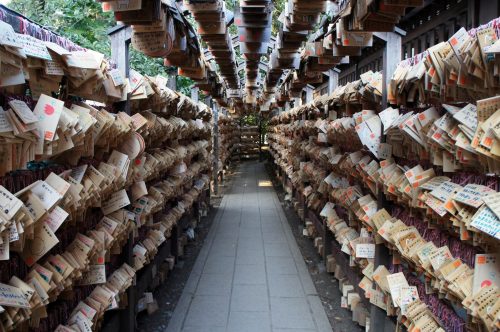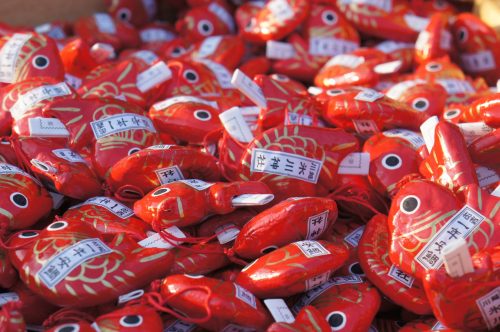 Kawagoe's famous Kita-in Temple
Unfortunately, I did not have time to visit the Kita-in Temple(喜多院) , which is a famous place of great religious and historical importance. Some of its buildings come from the Edo Castle (former name of Tokyo) and can be seen, as well as about 500 Rakan stone statues, representing Buddha disciples. It certainly deserves to be listed at the top of the list of places to visit in Kawagoe.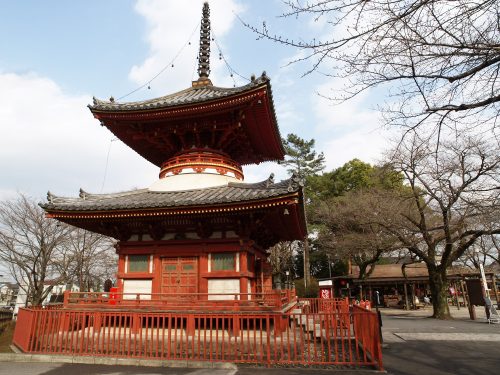 Useful Information
You will find all the information you need to prepare your trip on the website of Koedo Kawagoe Tourist Office. I advise you to download this brochure in pdf format (which is a useful information source, including a detailed map, information on transport, places to visit, culinary specialties, etc.)
It can be a half day trip to visit Kawagoe, but I advise you to spend the whole day (or more) because there are interesting things on every corner, and it's worth taking the time to walk behind the busiest streets.
How to Get There ?
Red Arrow Limited Express trains run directly from Seibu Shinkjuku Station to Hon Kawagoe Station in just 45 minutes. All the necessary information on these trains is on the Seibu Railway website.
This site explains how to take the train (buy a ticket, find the platform, find its seat, etc.).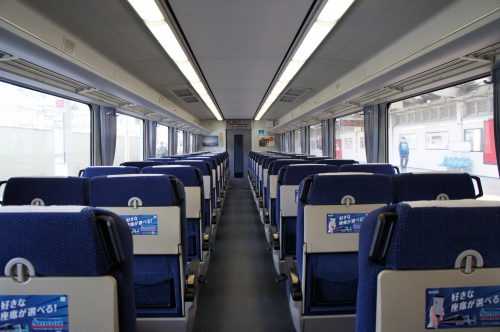 Seibu Railways offer you a day passes to visit Kawagoe from Tokyo, check out all information here.
Original article by Clémentine Cintré