Sponsored by Fukushima City Tourism and Convention Association
Situated in the Tohoku region, Tsuchiyu Onsen, (土湯温泉) is a quaint town in the western part of Fukushima. Amongst other things, Tohoku is renowned for producing traditional Japanese dolls (kokeshi), and showcasing alluring hot springs (onsen). It's just as well then, that Tsuchiyu Onsen is a fantastic fusion of these two national symbols.
 Beautifully intersected by the Arakawa River, and sitting at the base of Mt. Azuma, Tsuchiyu Onsen is blessed with the peacefulness that often comes with a mountain-town. In fact, it was the calming sound of the billowing river and the illustriously green backdrop that caught my attention first. Away from the bustle of the city, the warm atmosphere of this town is enhanced by the friendly locals who greet you without hesitation – and a big smile.
 As you would expect of a small town, the area is best explored by foot. This is especially convenient because there are several free foot baths that you can relax at along the way.
Tsuchiyu Onsen's Unique Kokeshi
From flaring nostrils and beaming grins, to button noses and dainty smiles, kokeshi (こけし) come in all shapes, styles and sizes. More importantly though, their traditional form is characterised by an enlarged head with a narrow limbless body.
The exact date of kokeshi's creation is still unclear. Some stories place them as far back as the 1500's, whereas others only claim their existence in the 19th century. One thing is for sure though, kokeshi originated in the Tohoku region. To this day, this is still the only region in Japan which produce them in their traditional form.
In recent years, a more creative style of kokeshi has emerged. These are are usually plumper, and have additional detailing and features. Interestingly though, these are created in the Gunma prefecture.
Tsuchiyu Onsen's preferred kokeshi style comprises of:
A long cylindrical body, of which the base is slightly larger.
A smaller head with black circles around the crown.
Stripes adorning the body, typically in black and red.
Red ribbons on each side of the face.
Can You Design Your Own Kokeshi?
Yes! It takes less than 30 minutes, and only 900 yen, to paint your very own kokeshi at Matsuya Bussan (まつや物産), a kokeshi store in the heart of Tsuchiyu Onsen.
At Matsuya Bussan, the incredibly welcoming owner competently guides you through every step of the painting process. Fortunately for the creative and less-creative types alike, you can personalise your doll as much as you do, or don't, wish.
Firstly, you will design the face of your doll using the paintbrushes and a small piece of paper. If you're somewhat heavy handed (like me) then this also allows you to practice your paintbrush technique. Looking around the store, you may see how fine the lines are on the faces of the kokeshi… If you're up for the challenge, you can try to replicate them!
After designing the face on paper, your cultured-hands will be unleashed onto the real thing! No need to worry though, as the your host will happily guide you as little or as much as you need. Once you're satisfied with your kokeshi's face – or like in my case,  you don't want to ruin it any further – the kokeshi is placed into a lathe to paint the 'Tsuchiyu typical' stripes around the body and head.
 And voila, just like that, you have finished your kokeshi! If you're looking for gifts but worried that your kokeshi may offend someone, then Matsuya has a variety of souvenirs to choose from.
Kokeshi Collections in Tsuchiyu
Along with the foot baths, mountains and rivers, there are a few kokeshi collections on display which are open to the general public. Scattered around the rooms of Tsuchiyu Kenbunrokuka (土湯見聞録館) and Tsuchiyu Denshokan (土湯伝承館), are a plethora of these adorable dolls.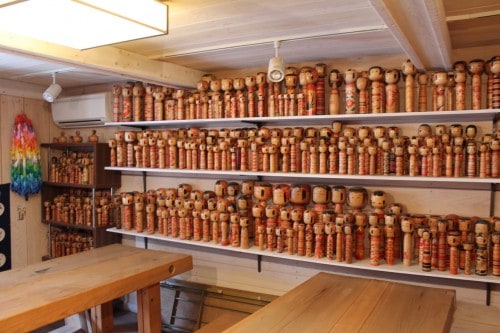 Ranging from 'typical-Tsuchiyu' through to contemporary amateur, there are a variety of styles to explore and examine. What impressed me the most though, was the grouping of the dolls. Most of them are placed alongside dolls with similar expressions and designs. It must have taken a phenomenal amount of time to sort and arrange them all perfectly along the wooden shelves!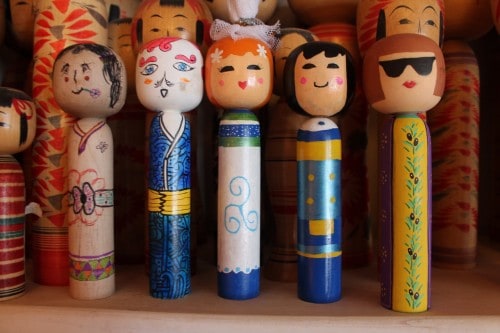 The 9-ft Tall Kokeshi Kyodai (Siblings)
There probably isn't a more appropriate place to have a 9-ft doll than in Tsuchiyu Onsen. And luckily for us, this town is blessed with two of them. The kyoudai (兄弟), which literally means 'siblings' in Japanese, are two of the town's icons. Don't forget to say "hello" to them when you arrive, and "farewell" when you leave!
Access
Bus: From platform 7 of JR Fukushima Station East Exit, take the bus bound for Tsuchiyu Onsen (土湯温泉 ) and disembark at the final stop. Duration – 40 mins. Cost – 840 yen one-way.
Car: 15 mins via Route 115 from JR Fukushima Station.
To reach Fukushima from Tokyo, take the Shinkansen Yamabiko from JR Tokyo Station. Departures are from platforms 20-22. Duration – approx. 90 minutes. Cost – unreserved seat 8450 yen one-way, reserved seat 8950 yen one-way
For more information about Tsuchiyu Onsen, visit the website here.
[cft format=0]