Sponsored by Northern Kumamoto Administrative Headquarters
Ryokan, or Japanese inns, have been providing heart-warming hospitality in stunning landscapes for centuries. Konomama Ryokan is one of the hidden gems of the Aso Caldera; nestled within lush fern trees, it is the perfect combination of refined natural beauty with a luxury stay. With several major sporting events coming up, the region has a range of accommodation types for visitors to choose from while they explore nearby Mt Aso. My mother and I had the pleasure of experiencing this premium accommodation and learning how local hotels are catering to the luxury market.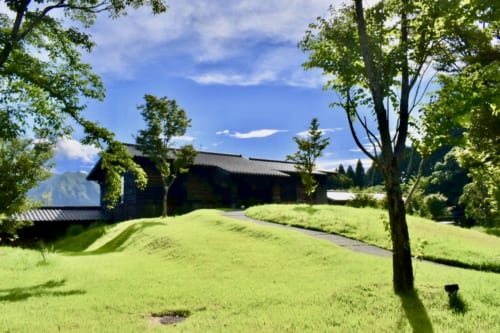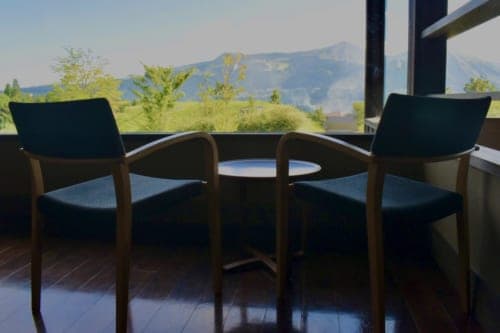 Luxurious Accommodation in a Natural Setting
This 5-year-old ryokan benefits from its close proximity to Kugino onsen, a natural spring that pumps hot water from deep within the earth. Its colorless water is said to treat a range of dermatological and muscular conditions whilst leaving skin feeling smooth. Spring water is supplied to each of the ryokan's 10 guest rooms and used in their private baths.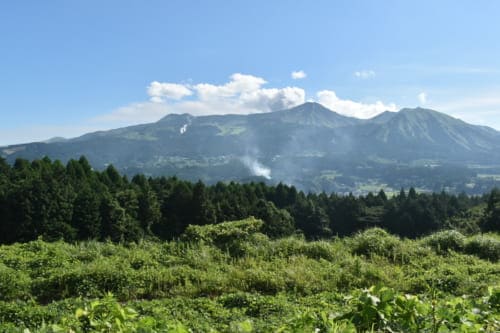 The ryokan was situated just off route 28 and the short driveway through the woodland made it feel very private. There's plenty of parking and the guest accommodation subtly blends into the natural surroundings. A stunning view of the 5 peaks of Mt. Aso can be seen from the ryokan grounds. We received a warm greeting from the ryokan's manager while another employee kindly carried our luggage.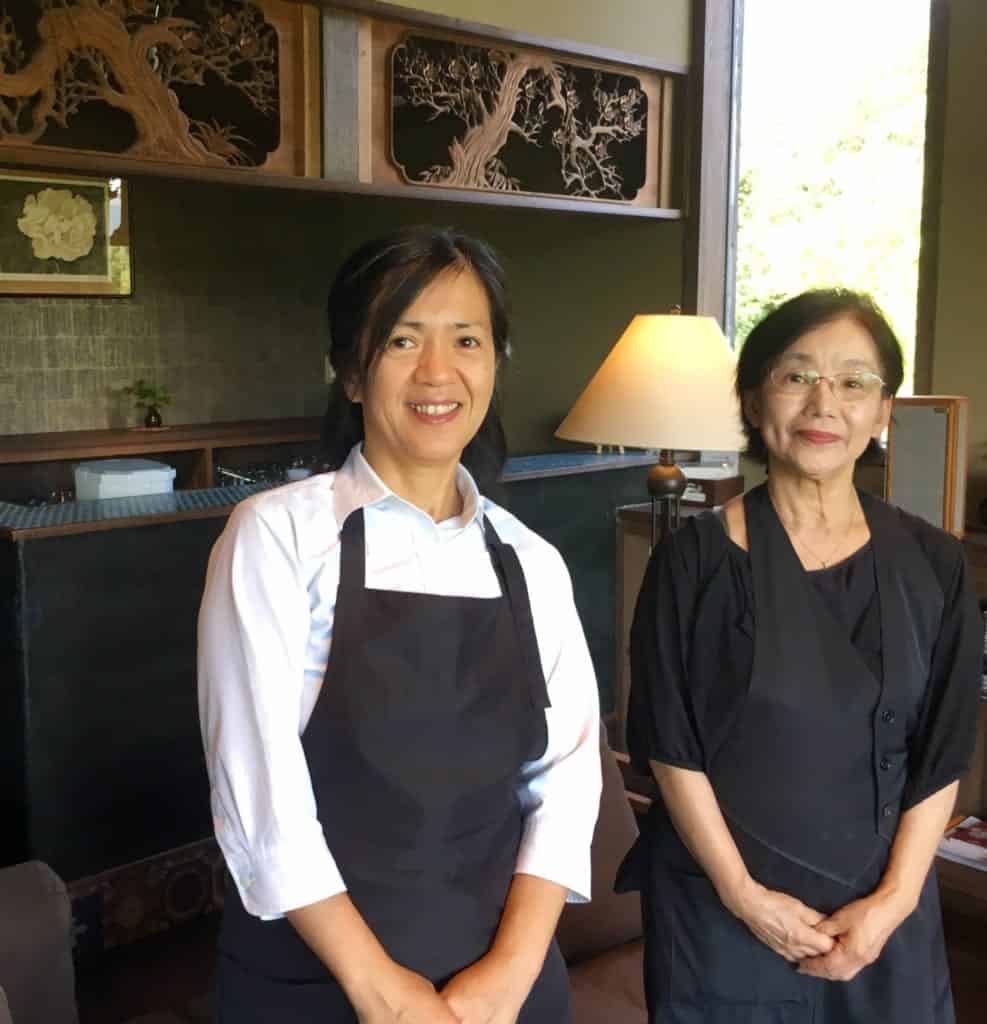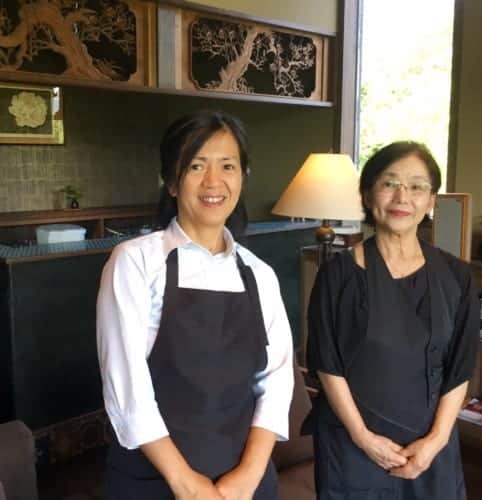 The reception area was sophisticated with relaxing music playing softly in the background as we sipped sparkling apple juice on dark leather sofas. An enormous window provided an unobstructed view across the surrounding landscape and caldera looked beautiful against the bright blue sky. The welcome was very professional and seamless with English-speaking staff, and we were soon being escorted to our room through the gardens.
Guest Rooms
Guests have the option to reserve either Western or Japanese-style beds when they make their booking. There are also 2 maisonettes which are suitable for larger parties and come with both an indoor and outdoor bath. The complex is set among lush greenery and all the rooms look out on to private gardens.
The use of natural colours, dark wood and volcanic tuff allows it to blend into the natural landscape. A path leads from the main reception building to a lookout point at the end of the garden with stunning views across the caldera.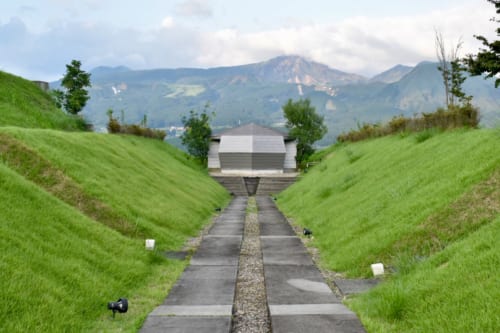 We stayed in a Western style room with an authentic tatami floor, an iconic feature of Japanese ryokan. Each guest room was self-contained and had its own private entrance.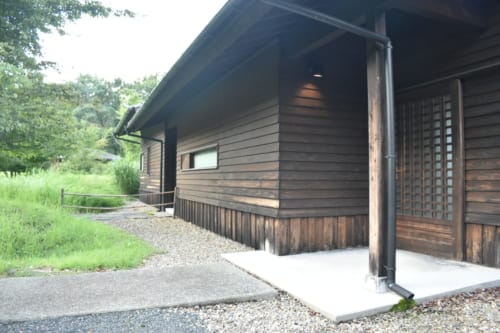 Our accommodation was comprised of a large twin bedroom and living area, a separate sink with a large mirror and stool, a separate toilet and private hot spring bath with windows that opened out on to the garden.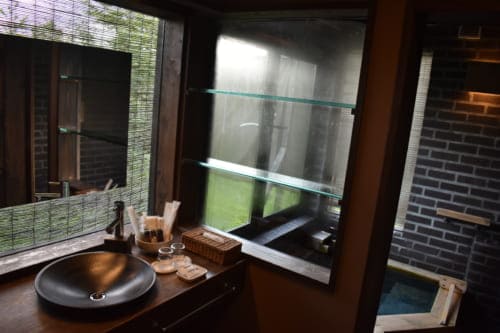 There was plenty of spare bedding, including a selection of futons. In the main room, two double beds were raised up on a slight step and a pair of soft pyjamas placed on each bed.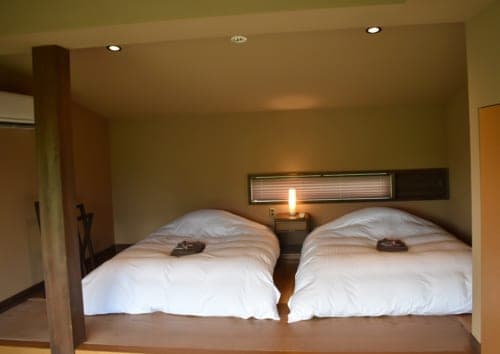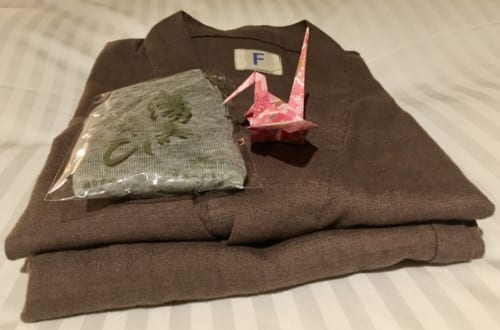 A large, floor-to-ceiling window filled the apartment with light and looked out on to our private lawn. The mountainous caldera provided the perfect backdrop and created the feeling of being secluded in nature. There was a beautiful white shoji, a paper screen that has become an iconic image of Japan, which extended the length of the window to make the room darker.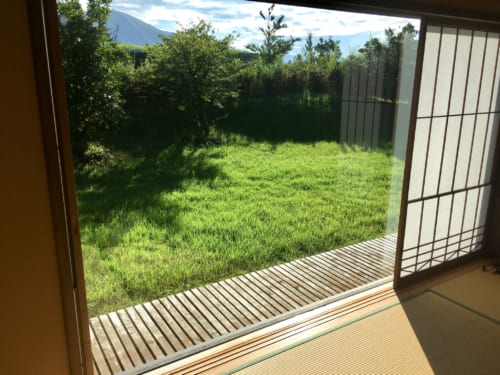 The room featured all the amenities that you would expect in this type of accommodation, such as tea/coffee making facilities, a selection of toiletries and a safety deposit box which, given the rural location, wasn't something that we felt we needed but it was a thoughtful feature nevertheless.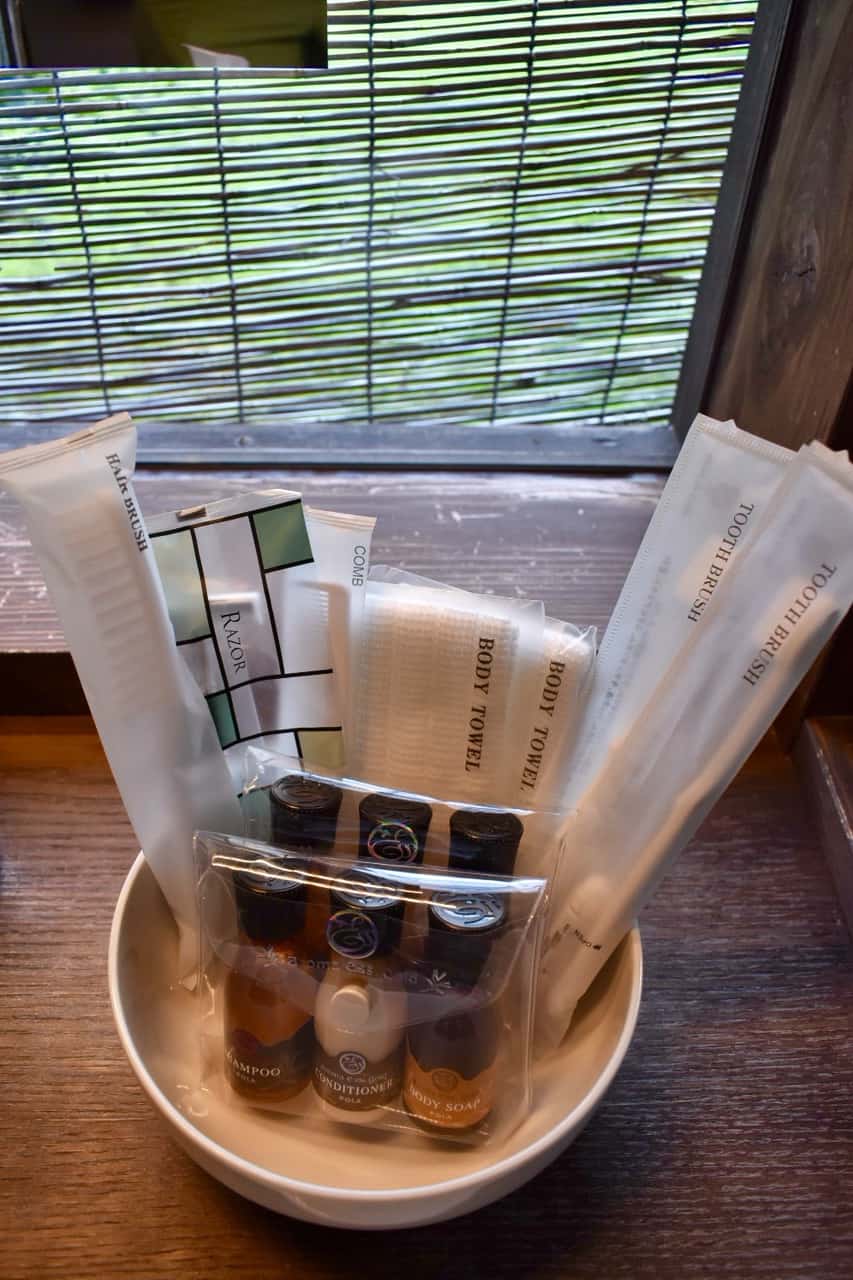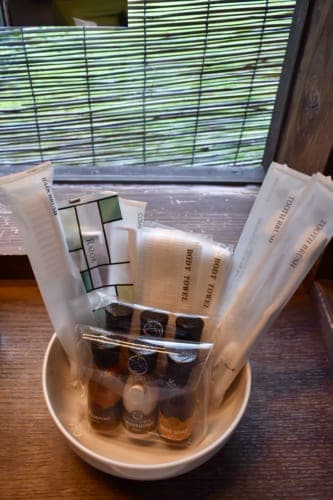 A traditional dining table with two comfortable seats was in the middle of the tatami room where we could enjoy a cup of hot green tea while looking out over the caldera.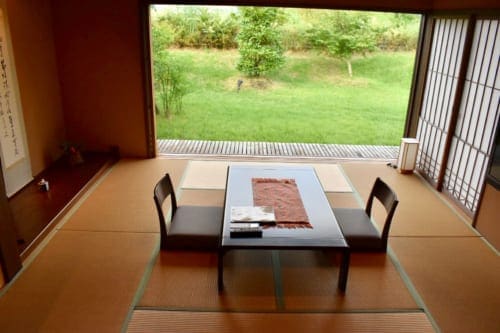 The private onsen, with steaming hot water from the local spring, was certainly a highlight of the room. The bath was the ideal size to submerge yourself and the 41 degree temperature was perfect for a long relaxing soak. There was a small shower, complete with a wooden stool and pail, where you traditionally clean yourself before entering the bath. Lying in the silky, steaming water while staring out towards the mountains was something that I will never forget.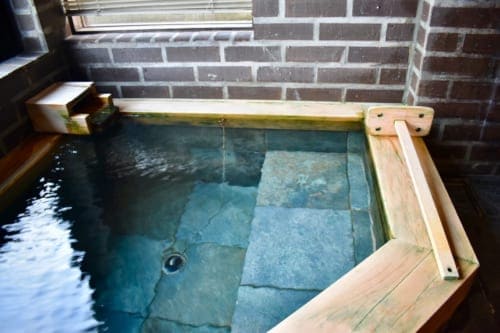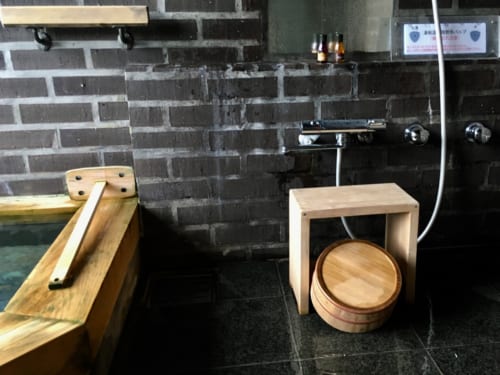 An Incredible Dining Experience
Our luxury stay included dinner and breakfast but they also offer room only and one meal packages. The individual dining rooms were in the adjacent building and each room had stone steps leading down to it. Once inside, there was light music playing and soft lighting with views of the gardens and caldera in the background.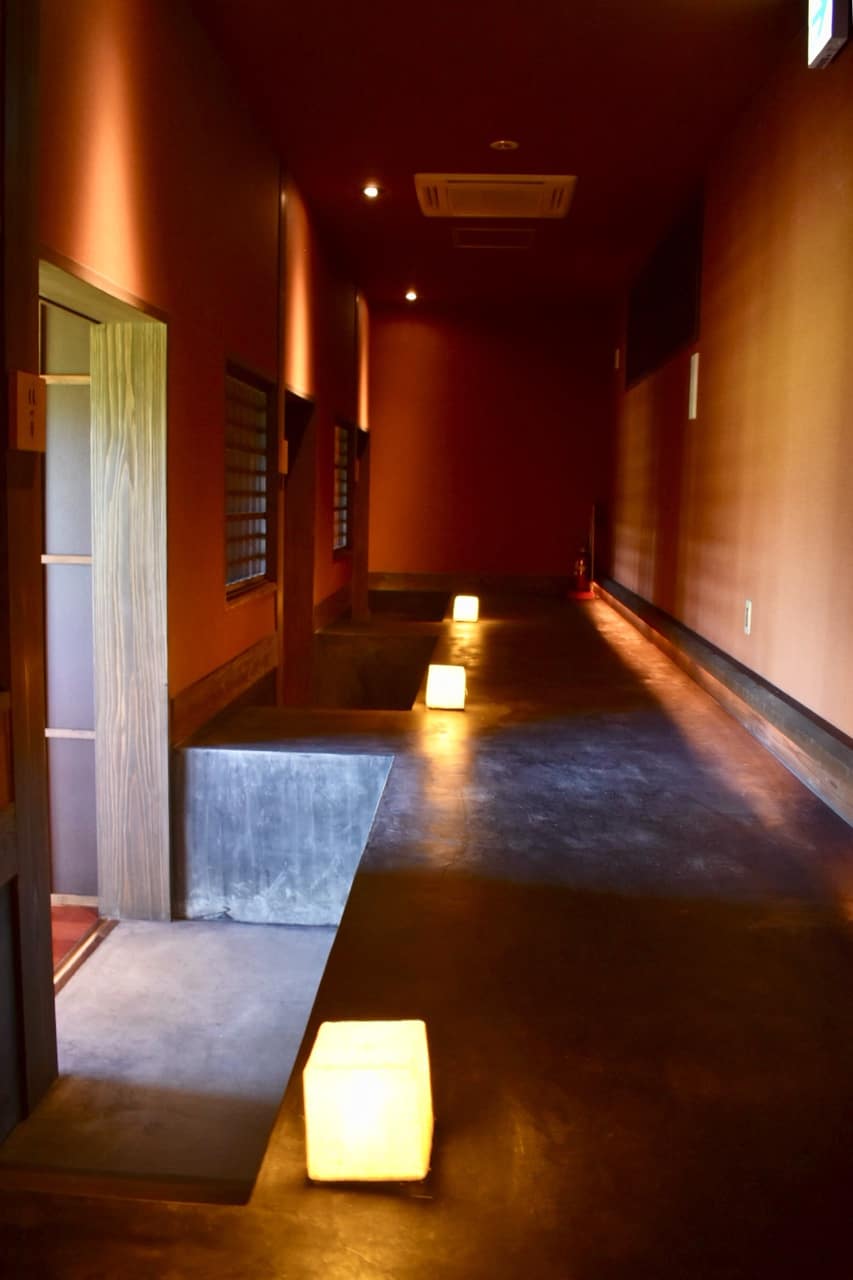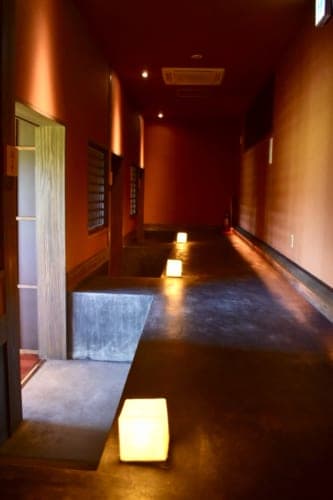 Dinner was an elaborate 8 course, Italian-inspired menu that was as stunning in flavour as it was in presentation. The dishes began with a stuzzichino, or appetizer, and progressed through the various courses of antipasti, cold meats, soup, pasta, fish, steak and finally a sweet dish. All the ingredients were supplied by local farmers and grown on the caldera's fertile land so they tasted very fresh. The meal was delicious and the sophisticated flavors worked perfectly together. Each course was beautifully presented and the ingredients were healthy, light and satisfying. We were served chilled spring water with the meal which allowed our paletes to fully experience the food. Even though other guests were staying at the ryokan, we felt like it was just us so had an unparalleled level of relaxation.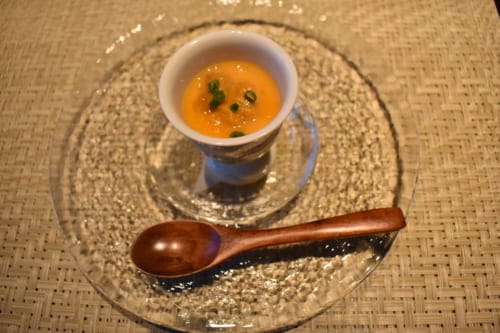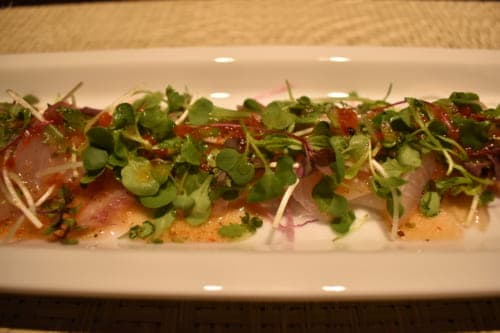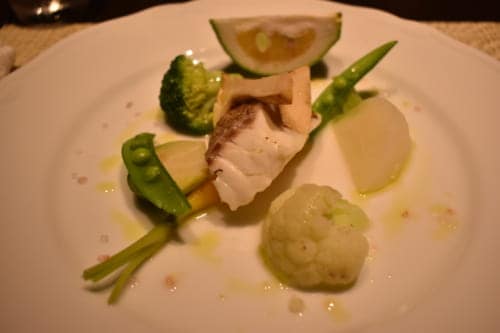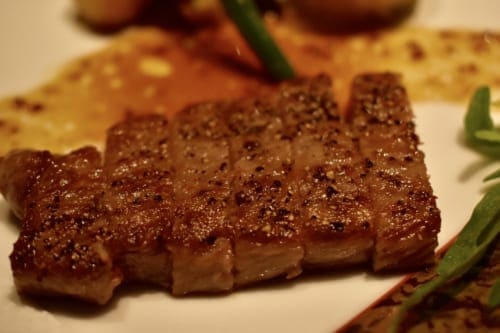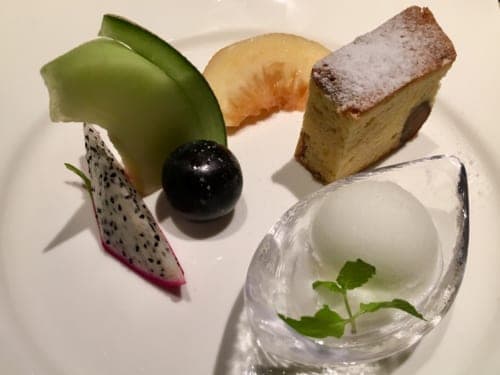 After dinner, we went for a walk to the viewpoint at the end of the garden and sat watching the stars. The area has very little light pollution so we could see them clearly twinkling among the peaks of the caldera which was a magical experience.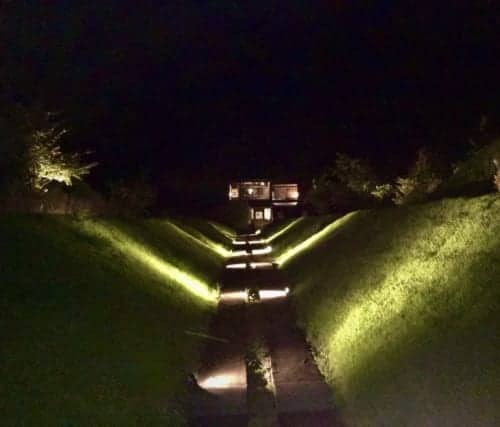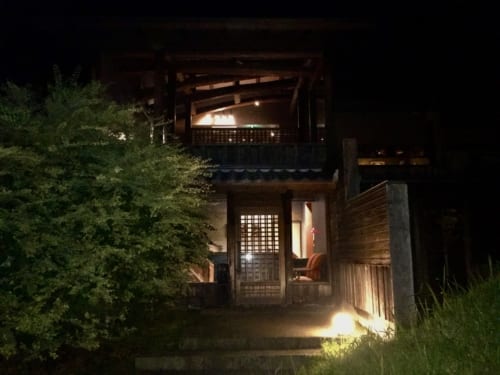 We had an excellent night's sleep and the combination of tranquility, good food and hot natural spring water left us feeling revitalized. Breakfast was served in the same private dining room, just a short walk from our room.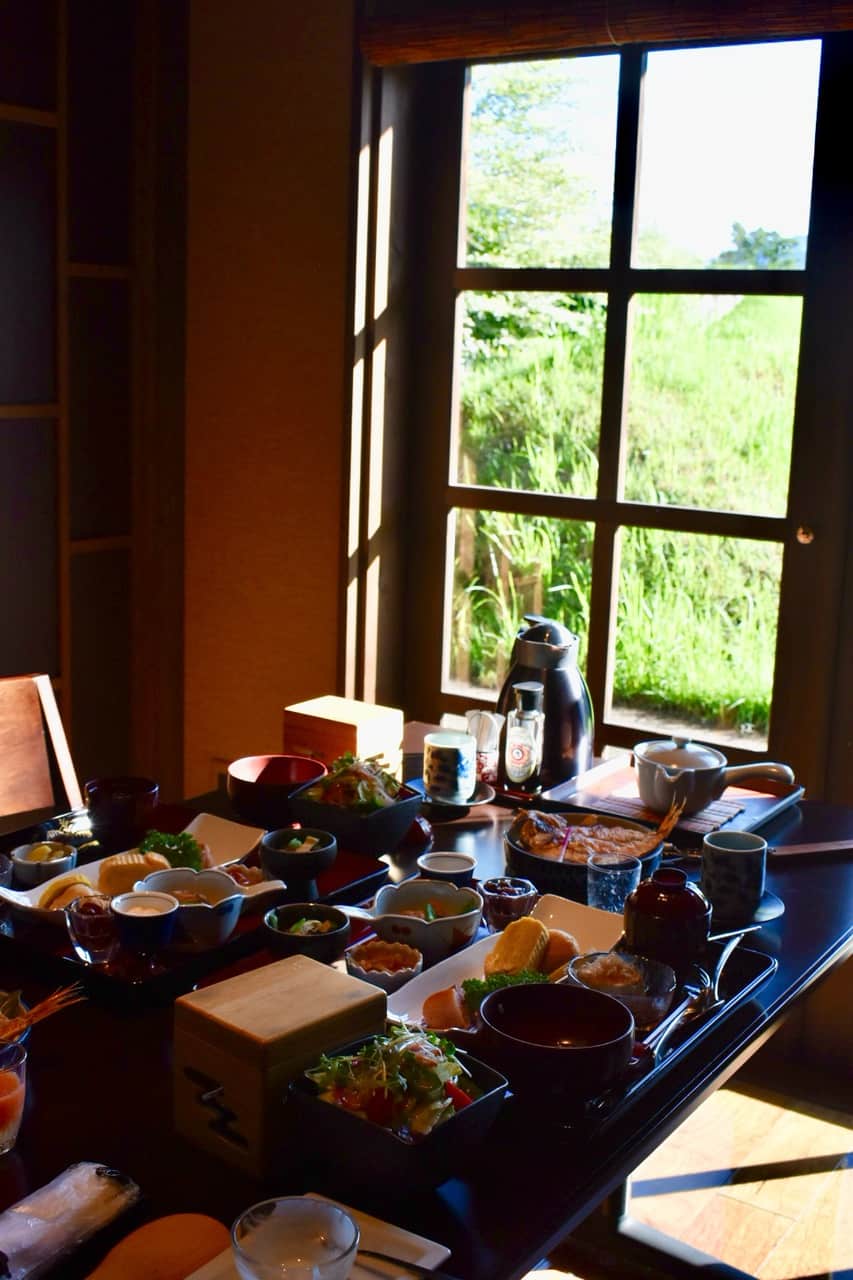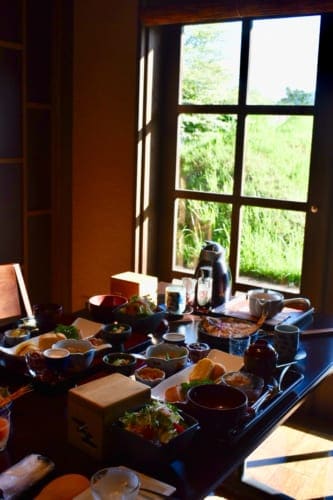 Sunlight beamed through the wicker blinds as we sipped freshly-squeezed orange and grapefruit juice. Breakfast was an extremely colorful array of traditional Japanese dishes, including a rolled egg omelette, miso soup, a selection of local pickles, grilled mackerel, cod roe and steamed rice.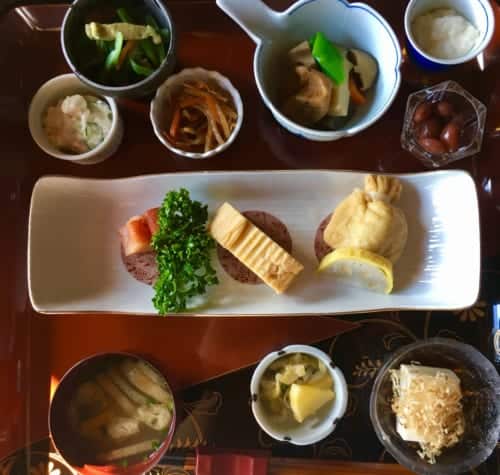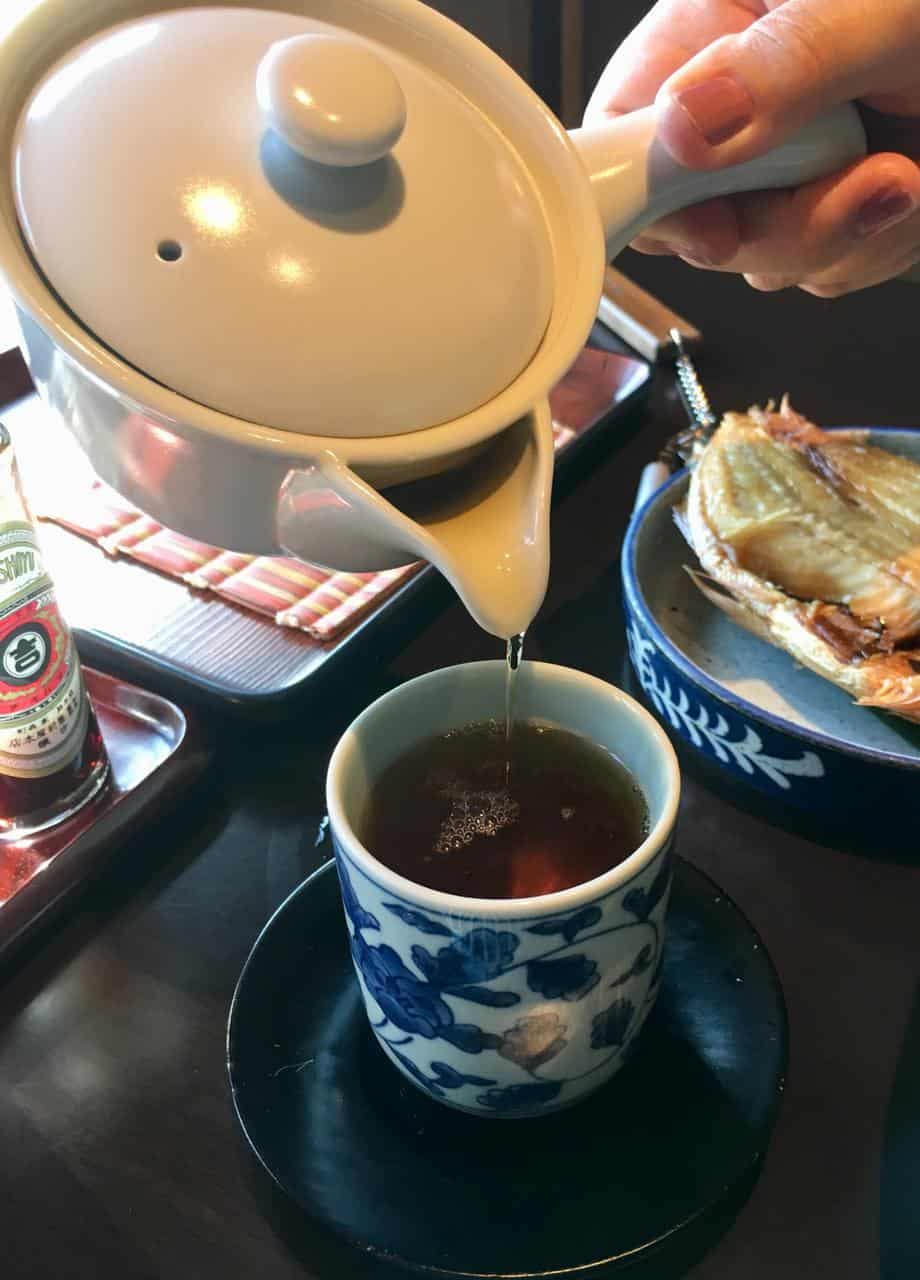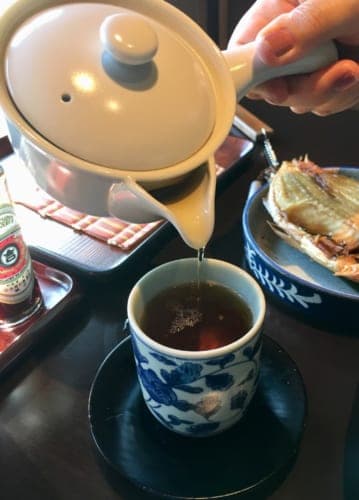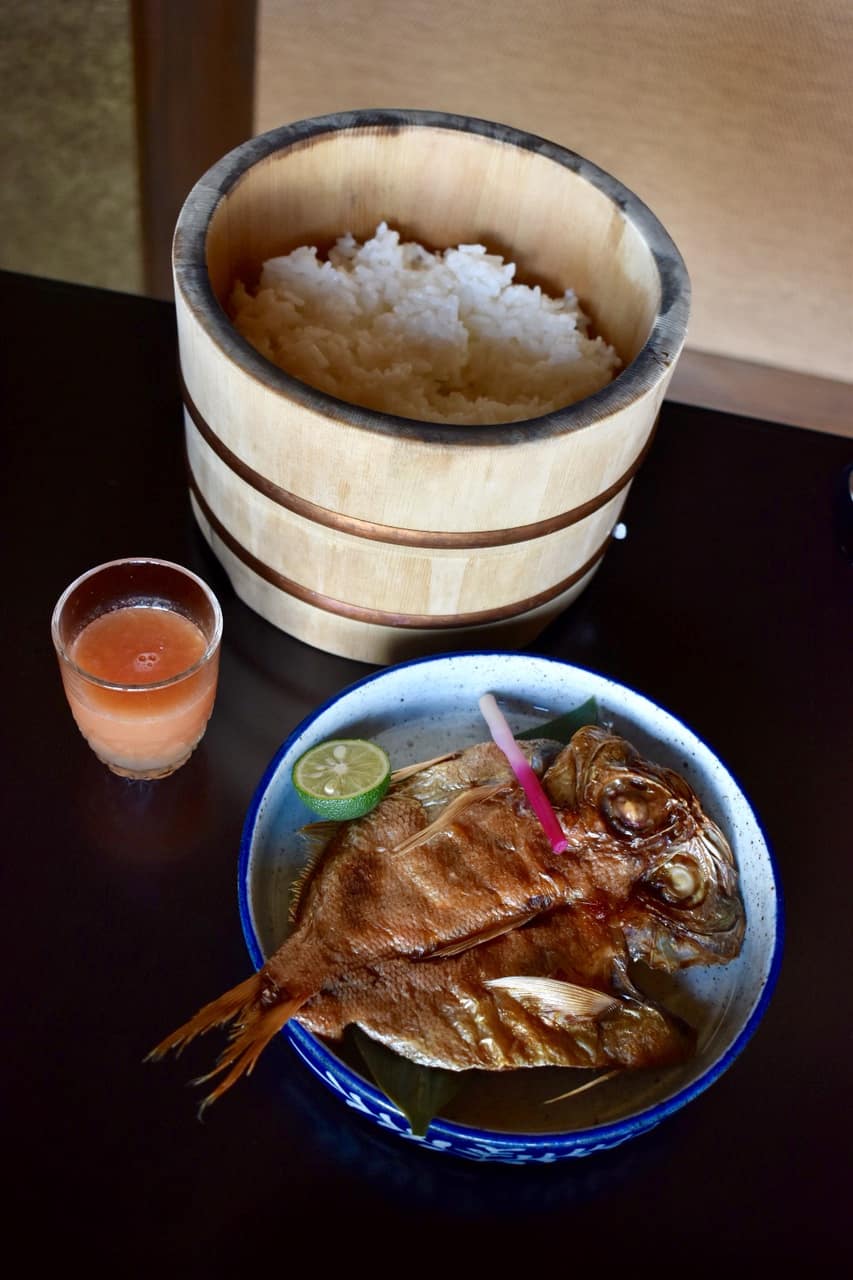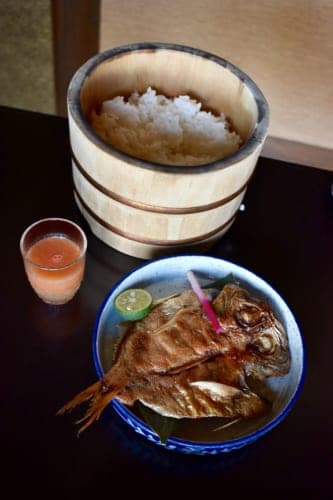 It was a real culinary tour of Japanese cuisine and brought together many different tastes and textures. As it was my mother's first time in Japan, she was not as used to the combination of flavors as I was, but there was an excellent selection of fresh breads which she enjoyed.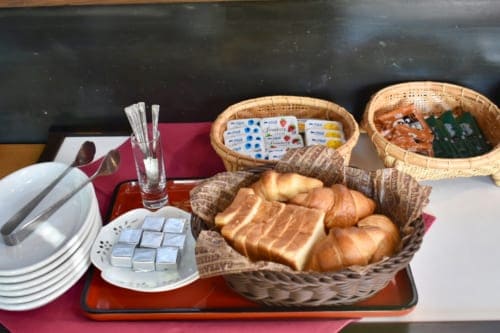 Before check out, we had time to admire the magnificent scenery from the viewpoint in daylight. The friendly staff at Konomama Ryokan made us each an iced coffee for our journey which was a kind gesture.
A stay at Konomama Ryokan was very special. The location felt secluded but was in fact very accessible and close to the heart of Minamiaso. The accommodation is extremely comfortable and has thoughtful touches such as complimentary pajamas which make it all the more relaxing. The delicious food is beautifully presented and the unique dining experience sets it apart from other types of accommodation. It's the perfect choice for those who want to splurge and experience refined luxury in a beautiful setting.
More information can be found on the Konomama website (in Japanese only).
Access
In 2019, Kumamoto takes to the world stage when it hosts the 24th Women's World Handball Championships from November 30th to December 15th, where 24 countries will play 96 matches at 5 venues across the prefecture. It is also one of the host venues of the Rugby World Cup and two international matches will be played at EGAO Kenko Stadium. Fukuoka, Kyushu's main city, is just 40 minutes from Kumamoto by bullet train and about an hour and a half by car on the Kyushu Expressway. Both Fukuoka and Kumamoto have airports with flights across Japan as well as some international destinations. We used a rental car to tour the area which gives you the freedom to go where you please and explore in more detail. During the journey, we enjoyed stopping off to take photographs and the roads are generally quieter than other places in Japan so it a very pleasant experience.
| | |
| --- | --- |
| Name | Konomama Ryokan |
| Category | Accommodation |
| Address | 5304 Kain, Minamiaso, Aso-gun, Kumamoto 869-1411 |
| Access | [map]5304 Kain, Minamiaso, Aso-gun, Kumamoto 869-1411[/map] |
| Opening Hours | Check-in until 19:00 |
| Price Range | Various |
| Payment options | Both |
Access to Konomama from other areas
From Fukuoka Airport: about an hour and 45 minutes by car
From Oita Airport: about 2 hours and 20 minutes by car
From Kumamoto Airport: about 25 minutes by car