Sponsored by Kumamoto Prefecture Tourism Federation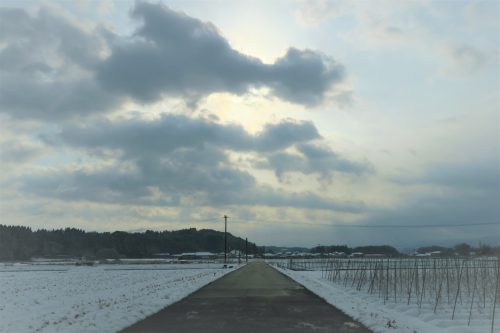 Before I get into the delights that befell us in this adorable and comfortable Farmer's stay, I first have to try to describe to you the atmosphere that greeted us as we were transported from the highways and convenience stores, to farmland, winding roads, and a deep, beautiful sunset behind the distant mountains. We cruised through roads in the middle of rice fields, down gravel paths, and finally, after getting lost as one traditionally does when in the countryside, we asked an elderly Japanese lady who was standing in the road for directions, who turned out to be our gracious host. She must have been waiting for us!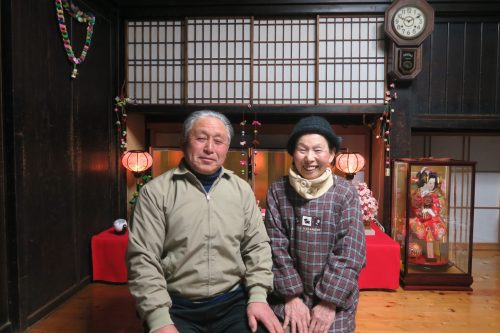 The House:
The house itself was absolutely exquisite. The interior was laden with rich, dark wood, doors that slid out in all directions, and even a set of golden armor in the corner of our room. The splendor of this house is not surprising given its 200-year-old history but it is perhaps one of the most overly traditional Japanese Minshuku I've ever stayed in, making for a real, authentic experience for anyone interested in Japanese culture.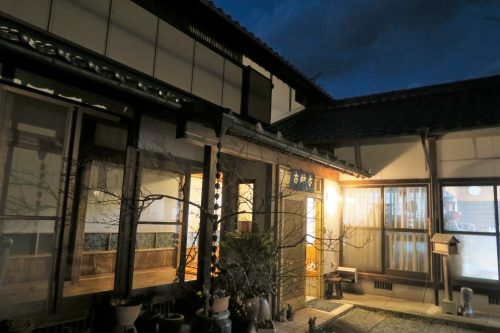 Aside from the array of interesting trinkets, pictures and objects I found around the house, it also featured a captivating, maze-like layout. The center of the house held two large rooms, which were where we stayed. One large room contained a traditional kotatsu (low Japanese table) complete with floor seats, a TV, and, on further exploration, a large piece of fruit I had never seen before. Out neighboring room housed an incredible and much-needed aircon system as well as our comfortable futons, which were already made up for us when we got back from the Onsen, and complete with a hot water bottle nestled inside! Needless to say, wrapping up in all of those soft, marshmallowy layers made for an exceedingly comfortable stay.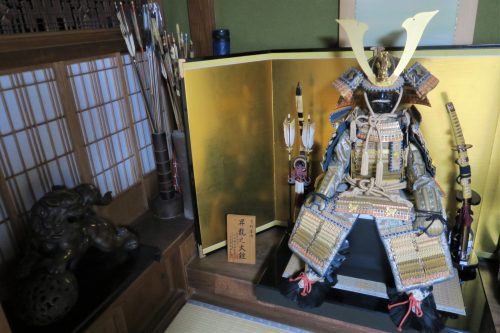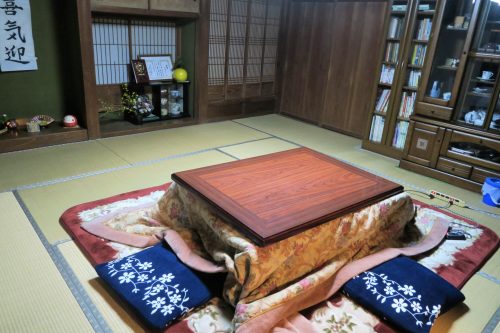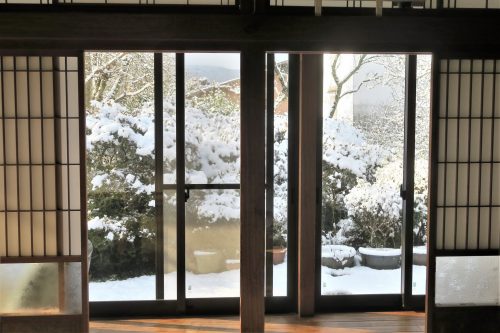 A Traditional Stay Means Tea and Snacks!
Something I love about staying in a Ryokan is the hot green tea and snack you get upon arrival and this place was no different. Our host settled us down for tea as soon as we arrived and it came complete with a square of green tea cake and two heart chocolates, since it was almost valentine's day. This is always a nice chance to get to know your hosts and was well appreciated given the cold winter climate outside.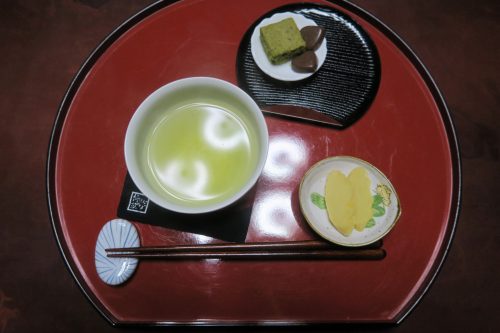 A Traditional Stay Means a Delightful Onsen!
It's traditional in the countryside to visit an onsen before having dinner and luckily for us, there was a simple onsen area just a short 3 minutes drive from the house that we could visit for free. Our hosts set us up with everything we needed, including a large and smaller towel, shampoo, conditioner, and body wash, and we set off to our simple onsen, complete with a shower area and one bath. The bath was rejuvenating but, considering I like a steaming hot Onsen, it wasn't really hot enough for me, but it was nice nonetheless.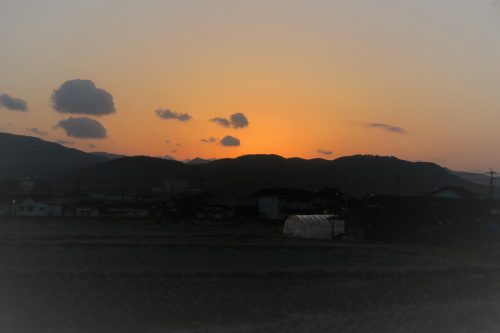 Meals: Dinner with a Lot of Homemade Sake
By the time we got back from the Onsen, dinner was ready and already set up on the table. There were a few simple delights, including sumptuously silky sashimi caught from the nearby river and some homegrown and locally sourced vegetables. The meal looked small upon arrival, however, considering I have stayed in a few countryside Ryokan in my time, I knew this meal was far from over.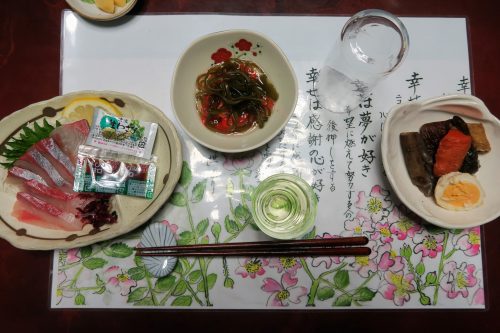 We were joined at the table by our second host; a grandfather figure with a kindly face and jolly personality. He entertained us non-stop with stories, questions and little jokes, creating a comfortable and relaxed atmosphere. It was like sharing a meal with a grandmother and father you didn't see very often, and we both felt considerably well looked after.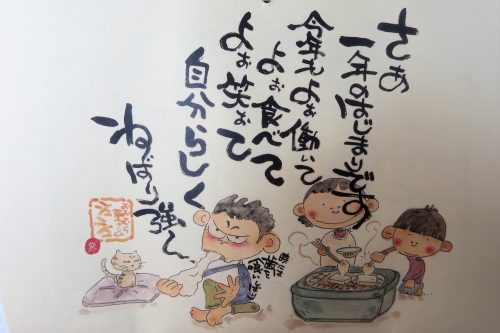 During our time at the table, more small bowls of locally sourced food began to emerge, including some more delightfully prepared fish, comforting miso soup filled to the brim with potato, vegetables and meat to resemble more of a stew, rice of various kinds, a whole small salted fish, noodles and a final large pot of seaweed that if I had eaten, I would have exploded. This feast was completed with beer and a wealth of alcoholic beverages that the family had made at home, including plum wine and an array of sake. Tasting all of their incredible concoctions was an incredible experience alone, but what made it more enjoyable was watching my partner have his glass topped up time and time again by a cheeky Oji-chan (Japanese grandpa). The merriment continued for hours until it was finally time for bed.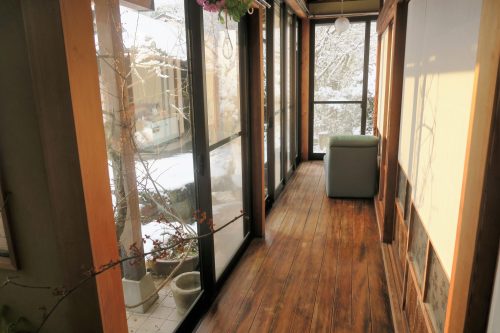 Meals: Breakfast in a Snowy Wonderland
To our disbelief, we woke up to find the house completely covered in snow! In some respects, I felt we were quite lucky to see the house transformed by this beautiful coating, but in others, I feared for not having the proper tires on our car. None-the-less, a quiet breakfast was served in the morning and we got to see a lot more of our grandmother host, since her husband had to go and run some errands.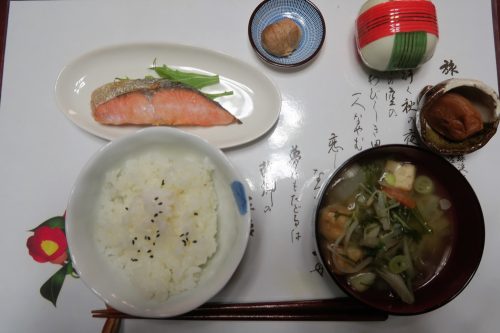 The breakfast consisted of salmon, rice, miso soup, some interesting black beans and black garlic, which, if you have never tried, is sweet, rich and date-like, and goes quite well with rice. Naturally, we were offered more food, including some delightful yogurt with chocolate sauce, the likes of which usually goes on ice cream. You might think this is a weird combination, but it was actually surprisingly satisfying.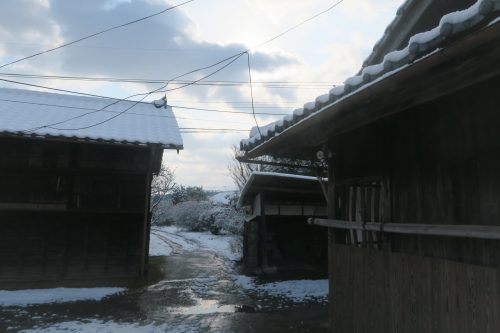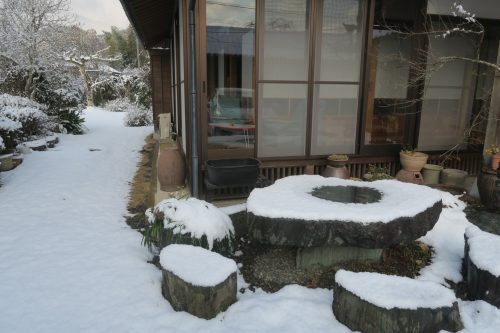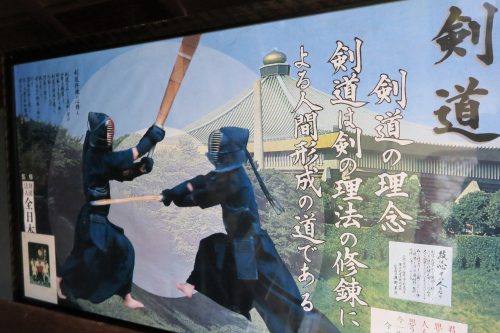 The Experience
Farm stay Kotoka may be difficult to find but the charm of both the house and its owners will make your stay comfortable, enjoyable and completely unforgettable. The house, its story and its interesting trinkets are definitely worth coming to see but it is the hosts that will make your stay one to remember.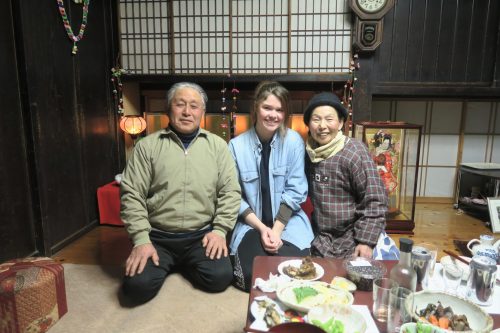 | | |
| --- | --- |
| Name | Farm stay Kotoka |
| Category | Minshuku |
| Address | Japan, 〒868-0086 Kumamoto Prefecture, Hitoyoshi, Shimoharadamachi, Sagari−1439−2 |
| Access | [map]Japan, 〒868-0086 Kumamoto Prefecture, Hitoyoshi, Shimoharadamachi, Sagari−1439−2[/map] |
| Opening Hours | check in 16:00 / check out 11:00 |
| Price Range | ¥8000 for adult/ ¥5000 for kid |
| Payment options | Cash |