Sponsored by the Minamisatsuma Tourism Board.
Though Minamisatsuma can be reached in only an hour or so by car from Kagoshima, spending at least a night there will not only allow you to spend some extra time in the beautiful natural surroundings of this area, but also to fully enjoy the incredible hospitality offered by locals. From ryokan to restaurants, here are a few of our recommendations for a successful stay.
Matsuya Ryokan
Let's start with Matsuya Ryokan, a traditional inn that first opened its doors more than 100 years ago and combines old-fashioned charm with a modern interior decor.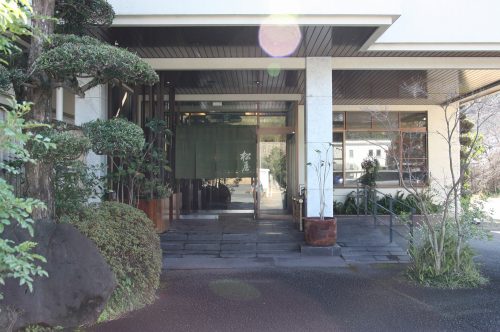 Designed as an open and barrier free space, you will be able to roam freely from reception to your room, passing through an impressive gallery of French wines and Japanese liquors.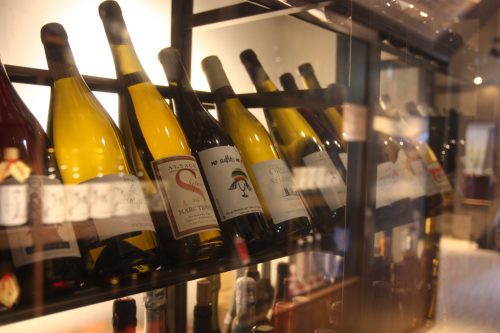 No surprise here when you learn that the owner, Mrs. Azusa Matsukida, is a sommelier (and speaks impeccable French)!
In your bedroom, you will be able to enjoy the minimalism and attention to details typical of traditional Japanese interiors: tatami covered floors, a carefully decorated alcove,  futon, yukata, and everything you need to prepare a hot cup of green tea…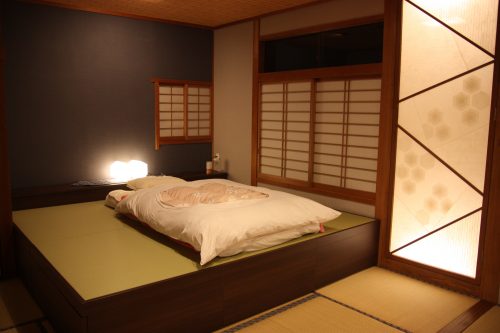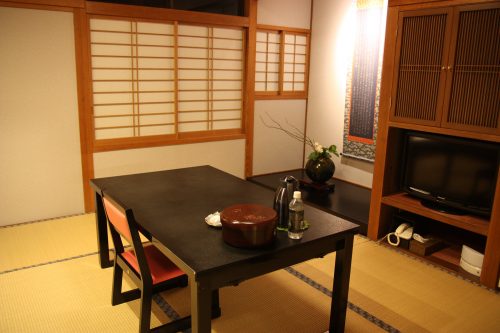 All the comforts you need to relax your body and soul after a long day of sightseeing, plus a couple of little extras: a quiet environment, soft lights and a warm fluffy blanket to curl up under. Note that the bathroom is shared with the other guests and that the breakfast – a hearty one – is Japanese style.
On the restaurant side, you will have a chance to taste the refined cuisine prepared by Azusa's husband from local ingredients.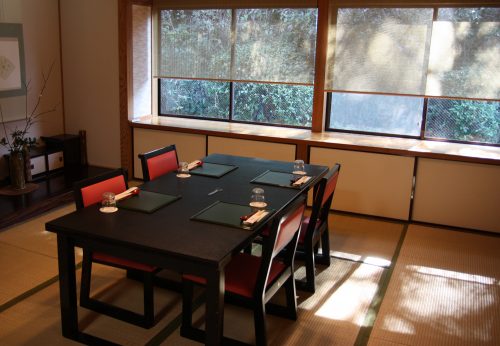 The meal is a multi course kaiseki kind of cuisine, highlighting the best flavors of each season. Among the delicious dishes I enjoyed were some scallops, melt-in-my-mouth sashimi and tempura of finely cut vegetables (kakiage).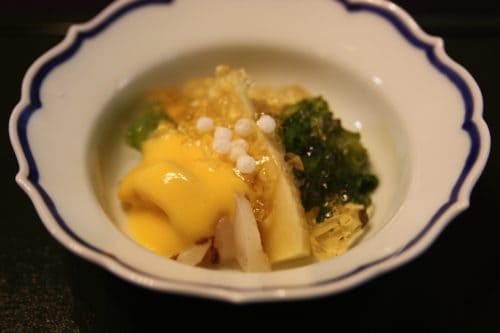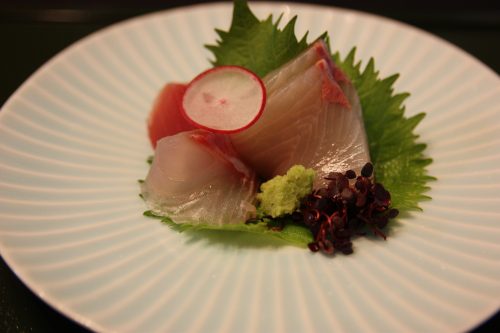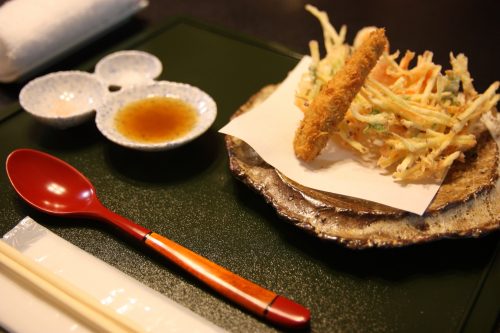 It was a gourmet feast that was completed with a traditional bowl of rice, miso soup and pickled vegetables (tsukemono), plus a sweet note thanks to a dessert prepared with fruits from the area (strawberries and kumquat). Of course, feel free to ask your hostess for the best wines to pair with your food.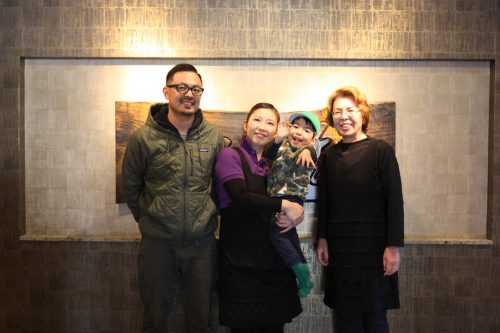 A delightful interlude to unwind in between two outdoor activities, in an elegant yet convivial atmosphere and in the company of the nicest, most caring family!
Kasasa Ebisu
If you wish to enjoy a stay by the sea, head over to Kasasa Ebisu, a modern hotel resort that was designed by Eiji Mitooka (who also designed the Kyushu Shinkansen).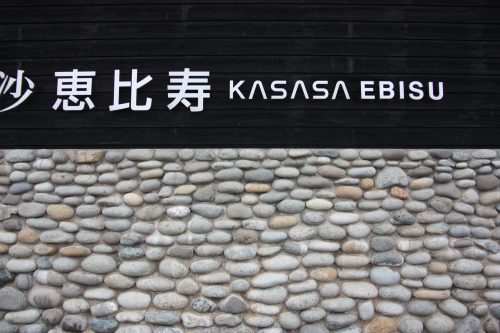 Everything here was designed for guests to enjoy the sea: bedrooms, a restaurant and onsen with a view, cruises at sunset, sea kayaking…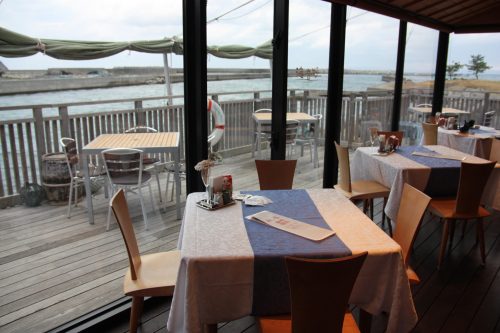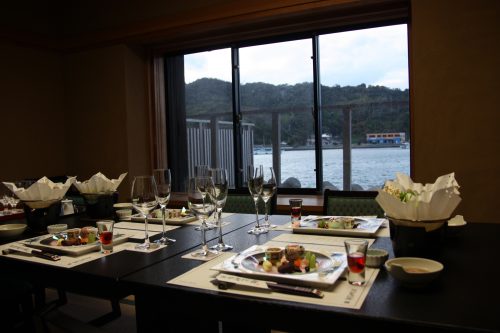 A true pleasure, but not only for the eyes as the hotel restaurant also serves some of the best seafood.
Although you can savor the breathtaking view from whatever the room you find yourself in, the multi course dinner served at the hotel restaurant will not disappoint either.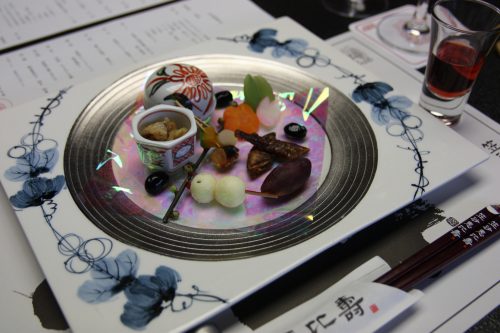 This is where I tasted some of the best sashimi I have ever had, along with a very rare local shochu (Ichi-dong).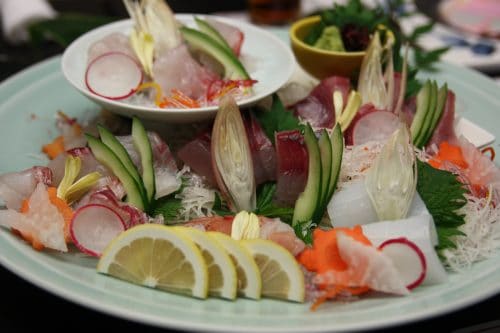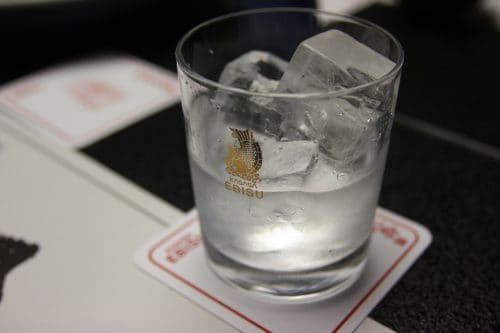 After a few delicate appetizers and the famous sashimi, dinner continued with comforting shabu shabu, a dish similar to the Chinese fondue where vegetables and pork meat are cooked together in a boiling broth right in front of you. A flavorful and refined cuisine which will be served to you by a caring yet discreet staff.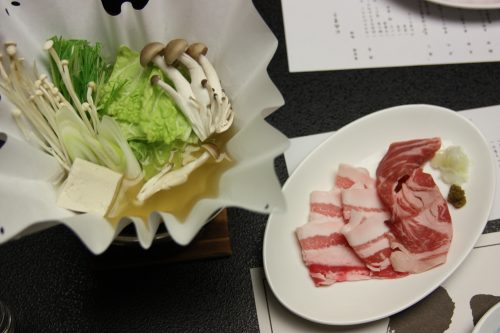 Although I didn't spend the night there, I was given a tour of the hotel bedrooms. Like a duplex studio, each room offers a lounge space with a table and pillows installed by the window with a view of the sea, and a sleeping space on the second floor.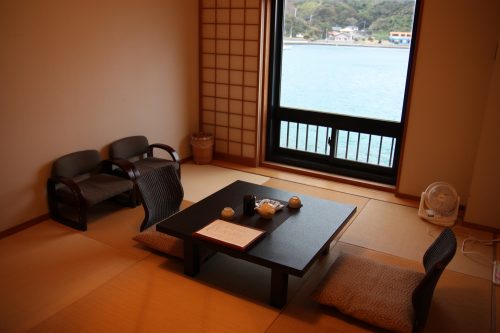 You will also find traditional Japanese decoration in this hotel, except for the futon which are replaced by western style beds.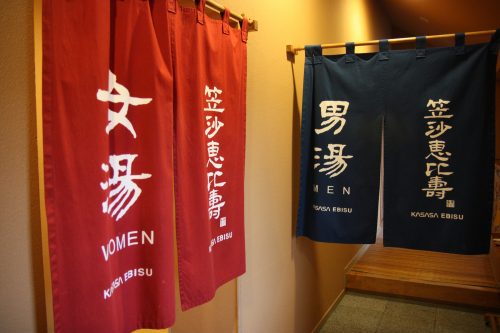 With a small museum within the resort, a gift shop and onsen to top it all off, there is something for everyone to enjoy their stay at Kasasa Ebisu.
Agri Restaurant Isoma
One last stop for those who want to enjoy a quick and healthy lunch while also being able to shop for local souvenirs: Agri Restaurant Isoma.
For only 800 yen, you can savour a bowl of soba noodles or miso soup while having access to an all-you-can-eat buffet with dishes such as vegetables tempura, tofu or salads.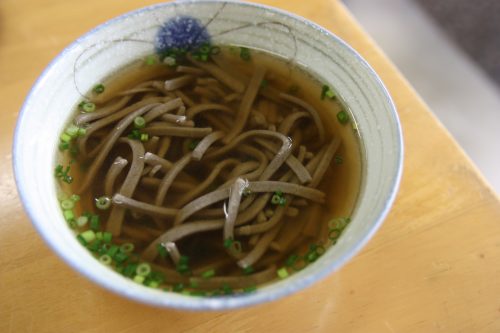 Though customers mainly come here for a quick and tasty meal that does not cost much, this is also the perfect place to immerse yourself in a very local atmosphere. Chances are you might be only visitor surrounded by regular customers living nearby…
This shop/restaurant also offers a large selection of local products available for purchase. While I was there in January, the citrus fruits from the region were the stars of the stalls: clementines, kumquats, oranges… A multitude of fresh fruits, the origins of which are indicated with a picture of the farmer who took grew them!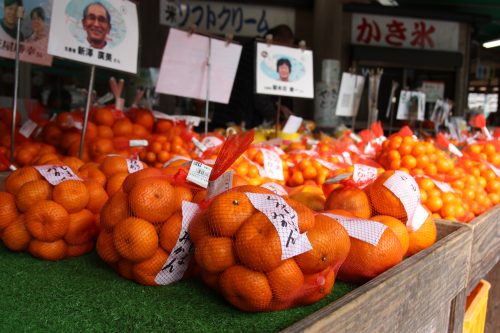 Another recommended souvenir to get would be a bag of local sea salt.
Practical information
To find out all about the prices, business hours or booking information of the three places introduced before, please check the clickable map at the end of the article. To discover more spots like these ones, you can visit Minamisatsuma's official website (in English), in the "Food souvenirs" and "Accommodations" sections.
Located only one hour by car or by bus from Kagoshima, Minamisatsuma can be more easily reached than it seems. A flight from Tokyo to Kagoshima only takes about 2 hours, and a Shinkansen ride from Fukuoka 50 minutes. Please note however that going around the area is more easily done if you rent your own car (which can be done at Kagoshima airport or station for example). Check out the following website for more information.