Sponsored by Tourism Oita
The 2019 Rugby World Cup will be hosted by 12 cities throughout Japan, over 44 days from September 20th to November the 2nd.  We are excited to watch the international matches here in the beautiful city of Oita, located on the subtropical climate Kyushu Island.
Now, we would like to present several updates regarding the Rugby World Cup 2019! Here is the Oita match schedule.
Oita Match Schedule
Oita City held a public viewing at the Galleria Takemachi Dome Square for the match schedule announcements. It turned out to be a blast, with around three hundred people showing up. The locals cheered enthusiastically every time Oita was named as a host city for a match.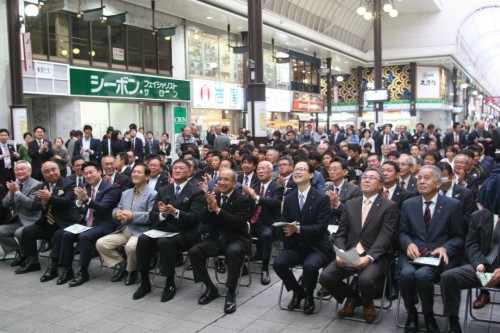 Oita will host three matches for the Rugby World Cup 2019. New Zealand (world-rank No.1 ) will tackle the repechage winners,  Australia (world-rank No.3) take on the Americas 2 aggregate winner,  as well as Wales vs Fiji in Pool B and Pool D. Finally, Oita will also host two Quarter-final matches.
Why not take the opportunity to see an international match here in Oita? As the seasons official tagline for the Rugby World Cup claims, it's "ONCE IN A LIFETIME"!
Ticketing information will be available around January 2018. Whilst visiting Oita for the Rugby World Cup 2019, please enjoy your journey in and around the city too.
Pool Match
Oct 2, 2019 – 19:15 Local time  New Zealand V Repechage winner
Oct 5, 2019  – 14:15 Local time  Australia V America 2
Oct 9, 2019 – 18:45 Local time  Wales V Fiji
Quarter-final Match
Oct 19, 2019 – 16:15 Local time  Winner Pool C   V Runner's up Pool D
Oct 20, 2019   – Winner Pool D winner V Runner'up Pool C
For more details, please check the official site here.
For the official ticketing information, please check here.
For the official travel information, please check here.