Sapporo is a beautiful city that is a must see if you make the effort to visit the island of Hokkaido. It is Japan's 5th largest city, but it doesn't feel anywhere close to being as fast paced as cities like Tokyo or Osaka. Sapporo has many different things to see and do that vary by the season and these are just some of my favorites.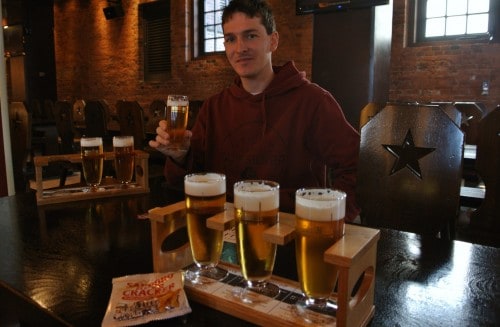 If you like beer then the Sapporo Beer Museum is a great place to see where beer was first made in Japan. The Sapporo Beer-en is just outside the main city center and can be reached on foot or by local bus from Sapporo Station. Entry to the museum is free and they offer guided tours in Japanese or self-guided tours in Japanese and English with a simple handout that explains what you are looking at as you wander through the premises. The museum itself is not very interesting, especially if you already know the process of beer making, but the building is beautiful to look at.
Once you've finished walking around the museum you'll end up in the tasting room where you can pay ¥200 for one sample or ¥500 for a flight of all three beers on offer. With each drink you also get a little snack of cheese or beer crackers to enjoy with your drink. After you are finished tasting beer, you can then explore the rest of the Sapporo Brewery Grounds where there is a variety of different Beer Garden restaurants including the famous Jingisukan (named after Genghis Khan), which is basically grilled lamb you cook yourself. All you can eat and/or drink packages are available, which can be a little bit pricey but are good for large groups of people. I visited one of these Beer Halls for a quick drink and the hall is huge and looks like it's straight out of Germany.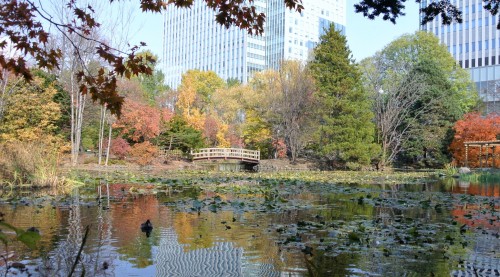 Another great historic building to visit is the former Hokkaido Government Building. This is a beautiful building surrounded by a small park that looked absolutely amazing in November with all the leaves changing color.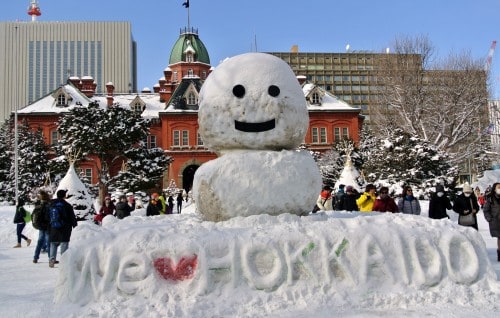 In winter you can see the park covered in snow and they even have a stand giving out free hot milk or kombu (kelp) tea. You can also enter the building for free and it has many rooms with different exhibits on a variety of topics related to Hokkaido. Unfortunately there is only limited English signage here, but there is still some interesting stuff to look at.
If you feel like escaping to a "mountain," then Mount Maruyama is the place to head. Maruyama Park is in the city limits and home to a few popular attractions including the Hokkaido Shrine and the Maruyama Zoo, which are both worth a visit. The Hokkaido Shrine is a picturesque shrine surrounded by woodland that is home to many animals. Lots of little squirrels scurry around the shrine grounds. If you are in Sapporo in early May it is also a great place for some cherry blossom viewing. If you are feeling energetic and want a great view of Sapporo then you can also head to the peak of the mountain.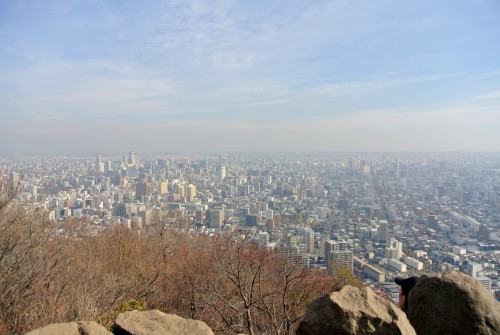 You can find the trail head at the base of the mountain on the opposite side of the road to the Hokkaido Shrine, just look for a small shrine and lots of kitted-out Japanese hikers. From here it is around a 20-30 min pilgrimage up the hill, past plenty of religious statues and meeting loads of friendly Japanese on the way. At the top you get a great but somewhat hazy view of Sapporo below.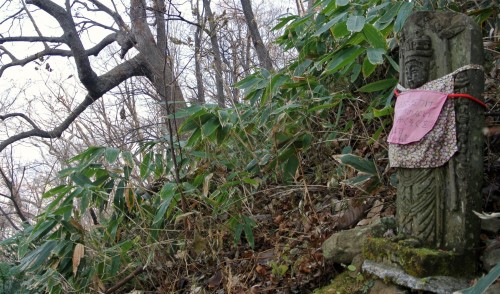 Once night time rolls around, it is a great time to visit Susukino which is Sapporo's entertainment district and home to a huge variety of restaurants, bars and clubs. This is also a big shopping area so you can find lots of great shops here from chain stores to gourmet cheese shops.
Sapporo like many cities in Japan is well known for it's regional ramen and one of the best places to enjoy ramen in Sapporo is Ramen Yokocho (Ramen Alley). Ramen Yokocho is a narrow alleyway with at least a dozen little ramen shops with only a handful of seats in each once.  I've eaten here twice, once for lunch and once for dinner, and the number of shops that are open varied each time but you will normally find at least one restaurant open anytime from 11 am-3 am. The most difficult thing is having to make the choice of where to eat but most shops have picture menus outside so you can easily see the selection on offer. One of the biggest restaurants here was featured on Anthony Bourdain's show "No Reservations," and with good reason. It's incredibly delicious. Ramen prices here start from around ¥700 for the basic ramen to ¥2000 yen for the more luxurious ones with crab and other seafood.  The specialty of Sapporo is a butter and corn miso ramen which is a delicious combination. Ramen Yokocho can be a little bit hard to find but it's along a backstreet in Susukino and if you have trouble finding it ask any local for directions. Don't forget to slurp because in Japan it's a compliment to the chef.
These are just a fraction of the things Sapporo has to offer and no matter what time of year you visit you can find something amazing to see or eat. But I think the most important thing to do is just to wander around without a plan and see what you can find, because you never know what might be around the next corner.