Sponsored by Northern Kumamoto Administrative Headquarters
For a small town atmosphere just a 40-minute drive from Kumamoto city, Tamana city is a unique little town with gorgeous seasonal scenery, a large number of onsen hot springs baths, and top-class ryokan. Spending a day and a night here affords you to opportunity to get to know the beauty and hospitality this town is known for.
A Landmark touched by the Seasons
During the day, we strolled along Takase Urakawa Brink Green Park (高瀬裏川水際緑地), which runs along the banks of the Takase Urakawa river. Above the park, rows of homes sit above the river, the fortunate owners enjoying the view of the park every day. This park is most famous for its 700 meter stretch of Japanese water irises, which create a wave of violet along the river every May. A festival is held for the iris blooming season and another in August, when a firework show lights up the summer sky in another array of color.
The Local Flavors of Arakinaoheshouten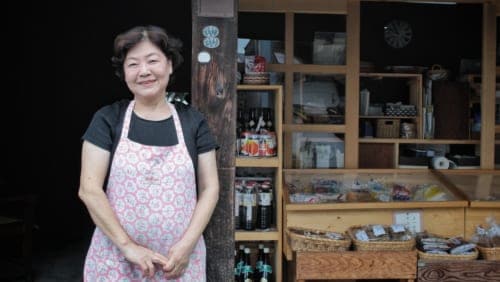 Parallel to the river and in close vicinity to Takase Urakawa Brink Green Park is a local shopping street. Here we discovered Arakinaoheshouten, where the shop owner herself proudly introduced us to her assortment of homemade fruit vinegar. Moko-chan, her little corgi dog, happily tagged along during our tour of the shop. She also showed us around the nearby premises, including a 300-year-old building acting as a guest house and space for performing traditional tea ceremony.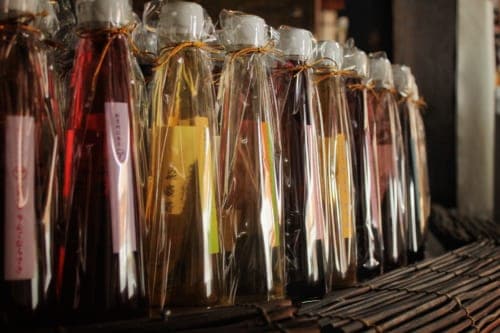 Satsuki Bessou: The Luxurious Side of Japanese Hospitality
This area, known as Tamana Onsen, has a history of approximately 1,300 years. Tamana Onsen is one of the hot spring areas representative of Kumamoto Prefecture. It is said to be a "hot springs of beauty", its waters famous for their silkiness, clarity and moisturizing effects which keep the bather feeling warm even after the bath.
After a day enjoying the sights and hospitality of Tamana, I retired to Satsuki Bessou, a delightful ryokan (Japanese traditional inn) for the evening. From the moment I arrived, the staff at Satsuki Bessou treated me extravagantly.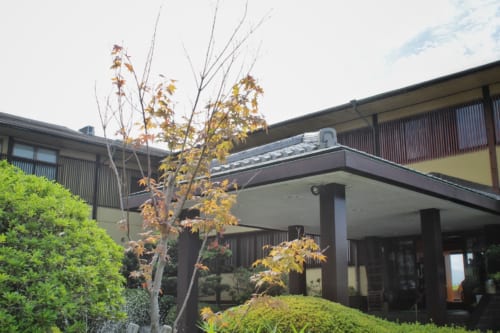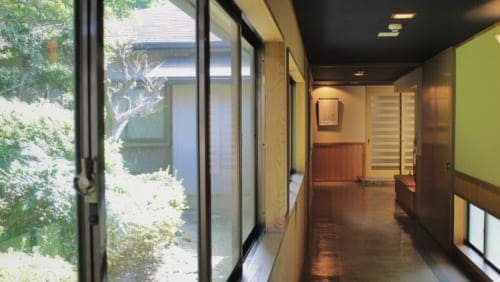 After checking in, my bags were immediately picked up and taken to my room by a friendly member of Satsuki Bessou's staff. As we passed through hallways offering a view on the gardens surrounding the ryokan, the staff member explained about my room and the features of the ryokan.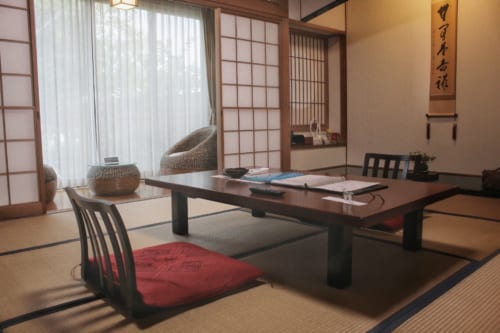 My heart leapt as I entered my room which was both elegantly styled and outfitted for my comfort. The Japanese-style room was separated by sliding shoji doors. A lounging area with two comfortable chairs and large windows offered a great view of the mountain range in the distance, while the living and sleeping room focused on comfort through minimalism with no unnecessary furniture to distract from its elegance.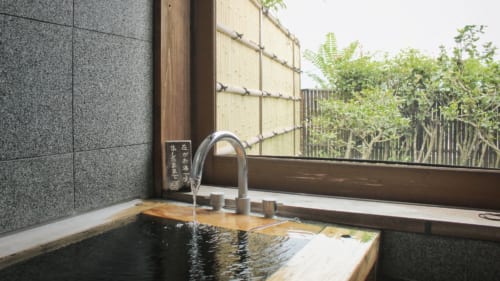 The feature I most enjoyed was the private bath, which I immediately made use of as soon as I was able. The ryokan's first-class service was on display, as the tub was filled with steaming hot water upon my arrival. My only job was to lay back, let my worries fade away like the steam rising into the air and enjoy a stunning view of the distant mountain range.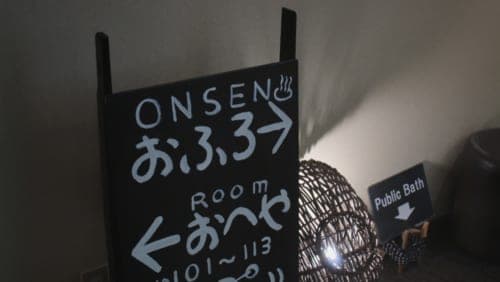 But of course, a high class ryokan offers more than just a private bath. The Ofuro (or Onsen) provides a variety of baths with different types of water, so that each guest can soak to their heart's content. The Ofuro is open from 5:00 to 23:00 o'clock, so you have plenty of time during the day to try out all of the different baths.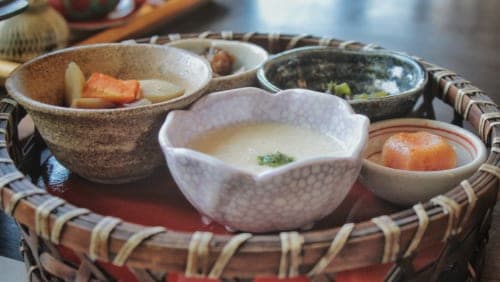 Last but not least, no ryokan experience is without an exquisite breakfast. If you've missed out on the local specialities because you never left the onsen, this is the perfect chance to try some of the region's most delicious treats. You can choose the exact time you want your breakfast to be served, of course. Your morning meal will include a selection of tsukemono (pickled vegetables), a slice of fresh watermelon, veggie salad, tofu and, of course, miso soup. Juice, coffee, tea and other treats like natto await you at the buffet.
With its professional, meticulous service, Satsuki Bessou kept my visit to Tamana in my happiest of memories. I have never experienced an accommodation as wonderful as this one, and for that I have been truly blessed.
Access to Tamana By Train
Tamana is easy to access because of the Shin-Tamana station which is on the Kyushu Shinkansen line. This makes it easy to reach whether you're starting from Fukuoka, Kitakyushu or Kumamoto.
After arriving at Shin-Tamana Station, take a local bus bound for Tamana Station (玉名駅) and get off the bus at Tamana-nakamachi  玉名中町, from which most destinations, including the ones in this article, are within walking distance.
Tamana City E-book Brochure (English)
Access to Tamana city from other areas
From Fukuoka Airport: about an hour and 10 minutes by car
From Oita Airport: about 2 hours and 30 minutes by car
From Kumamoto Airport: about 50 minutes by car
| | |
| --- | --- |
| Name | |
| Category | |
| Address | |
| Access | [map][/map] |
| Opening Hours | |
| Price Range | |
| Payment options | |