Sponsored by ODAKYU ELECTRIC RAILWAY
Japan prides itself on excellent service and hospitality, so even when you take a Japanese train, you should expect something wonderful. Trains in Japan are known for punctuality, frequency, ease of connections and on-board service comparable to a long haul flight. No wonder so many Japanese are crazy about trains and can be seen finding scenic spots to photograph them! After you experience the comfort of traveling by rail in Japan, you too may join the ranks of the train fanatics!
From Tokyo, the Odakyu railway line can take you to popular destinations in less than two hours. Hakone, Enoshima, and the Tanzawa-Oyama region are all serviced by Odakyu and are ideal destinations for day or weekend trips. Here is an overview of these convenient getaways and the best rail passes to use for your journey.
To Hakone by Limited Express Romancecar: Speed and Luxury
The hot springs resort area of Hakone is a must visit destination and most tourists choose the Limited Express Romancecar as the means to get there. With their colorful designs and trademark large windows, they are more than just a means of transportation, they are part of the pleasure of your holiday getaway.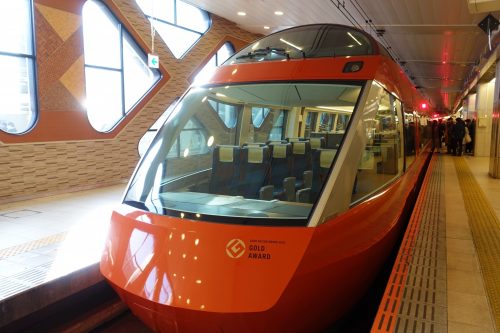 Their names "Limited Express Romancecar  70000:GSE(Graceful Super Express)" or "Limited Express Romancecar 50,000:VSE(Vault Super Express)" reflect the speed with which they serve the cities on their tracks. They are the fastest trains to get to Hakone  or Enoshima .
Aboard the train, comfort defines your experience. Rotating chairs allow you to chat with your companions when you travel as a foursome. Hostesses walk the aisles serving drinks, snacks and meals as if you were on a trans-Pacific flight. Free wi-fi is available, as are plugs to charge your electronic devices (not every train has these services).
But the detail that makes the Romancecar so unique is not what is within the train, but what is outside. For that, oversized windows allow stunning views of the surrounding scenery, which depending on the season might include red maple trees, the azure sea, or even a peak at majestic Mount Fuji. You will almost regret that the trip is so short. Book your tickets in advance at this link to get a seat in the coveted head or tail cars for the best views, coming and going.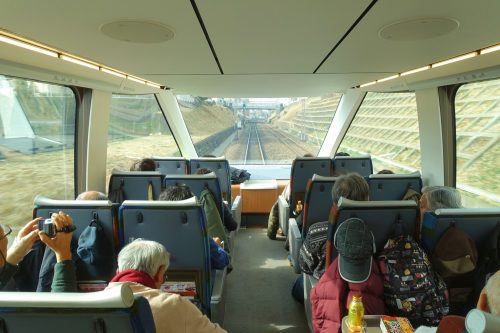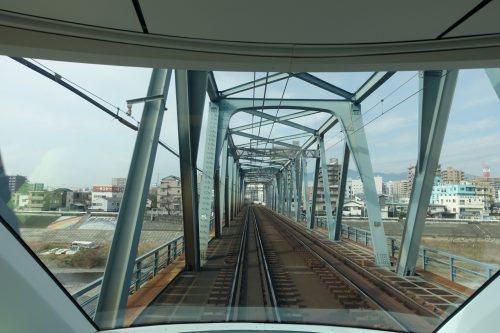 Hakone Freepass: All-In-One Ticket For Getting Around Hakone
By now, you must be ready to hop on the Romancecar and head to Hakone. But what will you do when you arrive there? The staff of Odakyu railways is ready to help. Once your seats are reserved, go directly to the counter at Odakyu Shinjuku Station.
Romancecar provides direct service to Hakone-Yumoto Station from Shinjuku, Machida and Odawara Stations. Once there, you will want to visit the volcano, cruise on the lake, and visit the many temples and museums. Traveling within mountainous Hakone is done using a variety of interesting methods: the Hakone Tozan train, cable car, a ropeway, a pirate ship, and by comfortable buses. The unique Hakone Tozan train, Japan's only mountain train, offers an extraordinary view of the forest.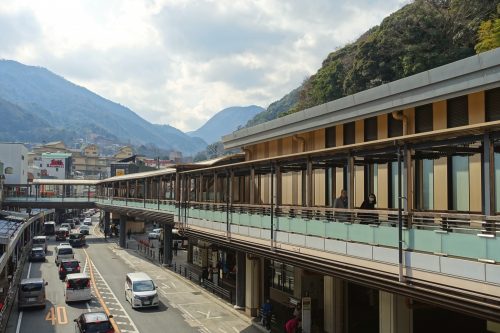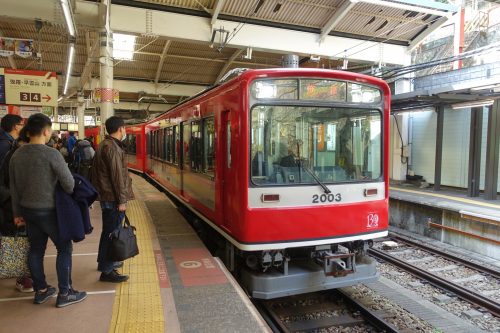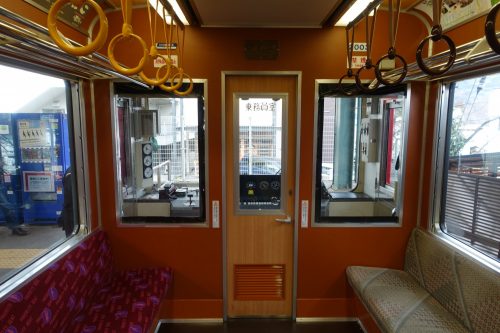 The Hakone Freepass is the best option to combine all of these means of transport into one cheap convenient ticket. Available for 2 days (5,140 yen from Shinjuku) or 3 days (5,640 yen from Shinjuku), it includes, in addition to round trip fare from Tokyo, unlimited usage of 8 transport networks (Hakone Tozan train, cable car, ropeway, sightseeing cruise, and 4 bus lines) that will take you to all the tourist sites. Additionally, the Freepass provides discounts to a number of attractions, shops and restaurants around Hakone. You will find all the information at the Odakyu Freepass webpage. If you would like learn more about the Romancecar, check out the Odaku Romancecar webpage. You may also purchase your Hakone Freepass online through Voyagin conveniently before you leave home. Exchange your e-ticket or QR code at the Odakyu counter at West Shinjuku station for your actual Hakone Freepass.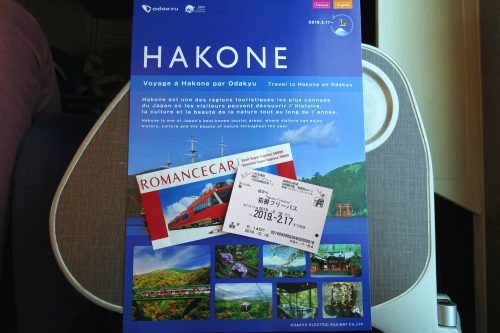 Enoshima and Kamakura : Relaxing Beaches and the Great Buddha
Summers in bustling Tokyo can be stifling hot and it is a necessity at times to escape the metropolis and get some fresh ocean air while relaxing on the beach. Locals and visitors alike enjoy a day trip to Enoshima and Kamakura, the former for its beautiful beaches and the latter for its historic and scenic temples. For amazing views of Mount Fuji or just strolling through busy historic streets eating ice cream, Enoshima is my favorite destination.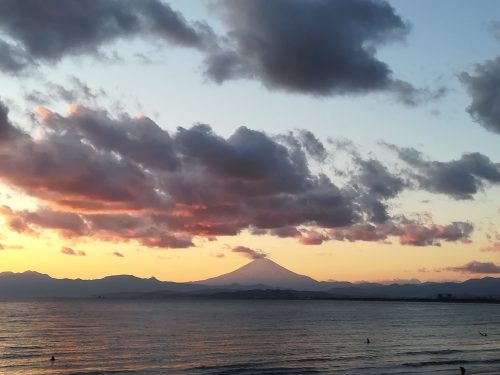 Fortunately, Odakyu Railways offers two very interesting passes to help make the most of your trips.
For a day trip to Enoshima, you can visit the Samuel Cocking Botanical Garden, which is especially beautiful in the winter when it is illuminated with thousands of tiny lights. Ascend to the observation deck of the Enoshima Lighthouse (Sea Candle) for panoramic views of the seaside and surrounding towns. Explore the Iwaya Caves, a historic spiritual training spot for Buddhist monks. Each of these attractions plus round trip train fare from Shinjuku station is included in the 1,970 yen Enoshima 1-Day Passport.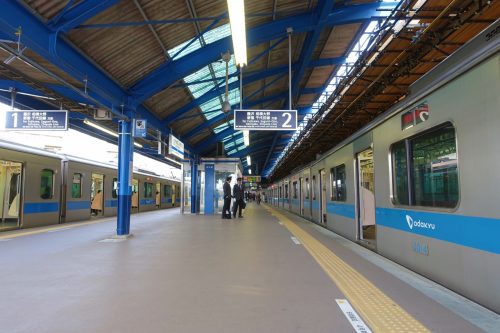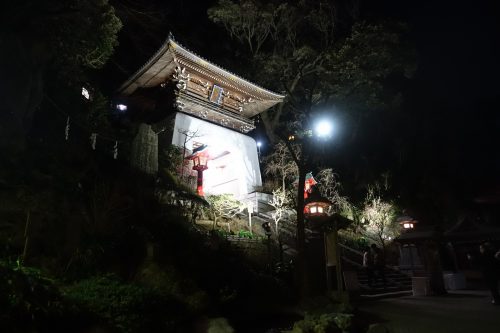 If history and spirituality peak your interest, the ancient capital, Kamakura, is only a 20 minute train ride from Enoshima. Combine both destinations perfectly using the Enoshima-Kamakura Freepass for 1,470 yen to explore dozens of historically important shrines and temples nestled within the hills, including Kotokuin Temple, home to the Great Buddha statue. Kamakura also has streets filled with unique shops and delicious restaurants, making it a fun place to spend the day.
Oyama: when hiking rhymes with spirituality just 90 minutes by train
If you really crave a spiritual getaway or maybe just a physical challenge, a visit to the Tanzawa-Oyama region may be your best choice for a day trip from Tokyo. The mountain chain that runs through this territory contains several peaks of up to 1,600 meters in height to climb, and you will encounter nature enthusiasts, casual hikers and spiritual pilgrims along the way. The natural beauty in this area is so abundant that it has been designated as a quasi-national park.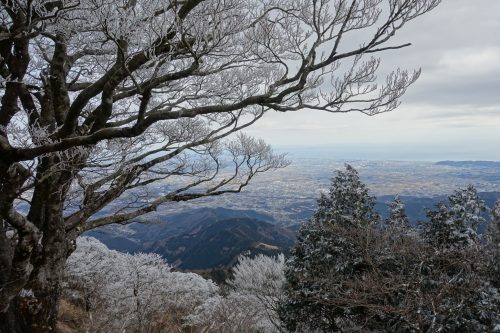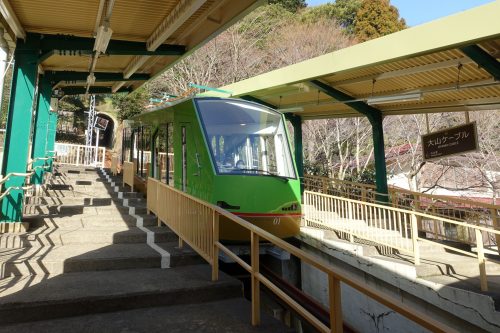 If you wish to stay overnight in the area to maximize your time, the Tanzawa Oyama Pass will cover the whole transportion network for 2,470 yen, including round trip train fare from Shinjuku, buses and a cable car (for Mt. Oyama).
To discover the other useful passes offered by Odakyu Railways, please visit this page. To prepare for your trip, check out Odakyu Railways Facebook page before your departure; it is full of useful information!