Tokyo's "Little Kyoto"
If you find yourself in Tokyo, but daydream about the picturesque shrines, temples and gardens of Kyoto, then Kagurazaka—little Kyoto in Tokyo—should be the next stop on your hit list. Tucked away in a less-frequented area of Tokyo, Kagurazaka is best known for its stylish cafés, restaurants and shops. But, and it's a big "but," there is a side of Kagurazaka which has remained somewhat under the radar—its spectacular array of outdoor spaces!
A Fusion of Traditional and Modern
Situated in Shinjuku, between a fork in the Kanda River, Kagurazaka's centre is also home to a cluster of stores selling a wide-range of modern and traditional goods. Although Kagurazaka was prominently known in the 1900's for its multiple geisha houses, it now seems to be a fantastic fusion between modern day living and historic culture.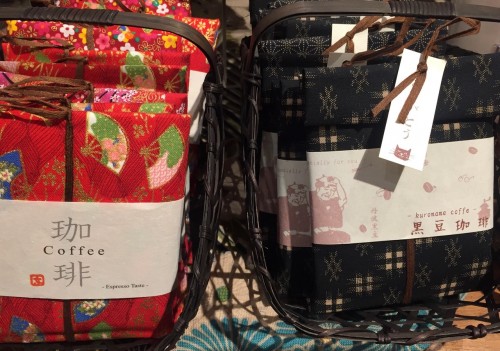 Kagurazaka is my new home, yet I had limited knowledge of the area before moving here. Prior to moving, I feared that my future neighbourhood would lack the intimacy that I had recently grown to appreciate. However, as Yoda once said, "fear is the path to the dark side," and I needn't have worried. I seem to have fallen and landed on my feet. Because, what I love about Kagurazaka is how "local" it feels, with a number of boutique stores, grocery shops and book-cafés!
Take a Walking Tour of the Neighbourhood
Always one for chasing cute scenery, this little Kyoto has quickly become my favourite hang-out spot in Tokyo. Below you'll find a walk through my favourite gardens, shrines and temples in the area— all of which are free! The walk starts at Waseda Station and ends at Iidabashi (both are accessible on the Tozai Line).
Kanda River
First on the list is the Kanda River. Personally, I like to join the river at Waseda and walk east towards Kagurazaka, visiting my favourite spots along the way. What always strikes me about this section of the river, is how it seems to resemble a mini, manicured rainforest. Especially while the sun is blazing. The river cascades like a waterfall, the towering trees encapsulate you and the resident-owned flowers seem to dance merrily in their pots.
Shouseikaku: Buddhist Temple and Japanese Garden 
This is my favourite place in the whole neighbourhood— it shouldn't be missed! Why? Because the temple and garden are a full 360 degrees of splendour. From the elegant water displays and a tea house, to the immaculately-kept garden.
The tranquility of the space makes this garden the perfect place to relax on a bench and enjoy a book. Additionally, lovers of Japanese history or fine art, may like to visit the Eisei Bunko Museum. This quiet museum is nestled away at the top of the garden.
If you're lucky, there may still be a collection of stilts and toys available for everyone to enjoy. As you can see,  I had a go myself!
Sui-jinja: Shinto Shrine
Continuing the walk towards Kagurazaka, only next door to Shouseikaku, is Sui-jinga. Like most places on this list, this petite shrine is both quaint and peaceful.
Hotel Chinzanso Tokyo: Japanese Garden and Shinto Shrine
Next, only a few minutes away from Sui-jinja is another must-see. Similar to Shouseikaku, the magnitude of this garden was totally unexpected as it sits behind a high wall and is almost invisible on Google Maps.
The twisting pathways lead up to different sections of the hotel via a multitude of different features, including a famous well, stone lanterns and a waterfall. The three-tiered pagoda is the most noteworthy of all though, taking centre stage at the top of the hill.
Throughout the garden there are signs in Japanese and English which have certainly helped me gain a greater appreciation for the history here.
Unsurprisingly, because of how incredible this place is, this hotel is a popular spot for weddings and photoshoots. Every time I have been here so far, I have seen at least one wedding! So, no doubt you will most likely see ladies in kimono, men in hakama and a plethora of happy faces!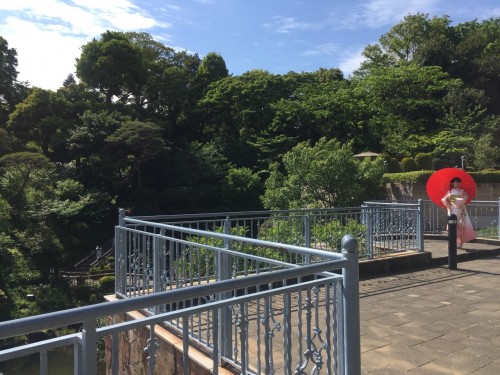 Edogawa Park
Moving further along down the river, is Edogawa Park. This park is especially fun if you have children as there are slides to slide down and swings to swing on!
While the kids play, if your legs are feeling strong, you can climb the stairs to the top of the hill!
Denkyu-ji: Buddhist Temple
Away from the river is Denkyu-ji Temple, a stop similar in size to Sui-jinja. Just behind Kagurazaka Station, this modest shrine only takes a few minutes to see. But I find it especially relaxing because it is always calm and usually empty.
Akagi-jinja: Shinto Shrine
Around the corner from Denkyu-ji, is Akagi-jinja Shrine. Just two minutes walk away from Kagurazaka's main high street, this is probably the most well-known shrine in the area. Although the shrine itself is substantially older, the buildings around the shrine were renovated in 2010 and include a modern café.
(Bishamonten) Zenkoku-ji: Buddhist Temple
Last but not least, is Zenkoku-ji. This Buddhist temple from 1595, is located on Kagurazaka's main high street and was relocated to Kagurazaka in 1792.
Bishamonten is one of the seven Japanese gods of fortune and is thought to grant wishes. If you were looking closely, you may have seen a statue of him in the gardens of Hotel Chinzanso! So then, what is your wish!?