Sponsored by Northern Kumamoto Administrative Headquarters
A roadside service station in rural Japan is probably the last place you would expect to find a Frenchman working. But Frank is one of the French guides living in Aso and has been in the area for the last couple of years working in the tourist information center. He has made the city his home and is the ideal person to help you make the most of your time.
Michi-no-Eki: Benefits for Visitors and Locals
Michi-no-Eki is a type of service station. Over the last 20 years, more than 1000 of these non-profit organizations have opened across Japan and provide free parking, restrooms, and information centers. They have a welcoming atmosphere but are also places where local people can showcase unique items, such as delicious homegrown vegetables or interesting crafts. Each morning, local farmers bring their products to be sold at Michi-no-Eki and the staff accepts produce from the Aso area which is unique to the region. As I was travelling around the area with my mother, who was visiting from the UK, it was a welcome introduction to Japanese food.
The Michi-no-Eki in Aso is situated just off Japan National Route 57, one of the main roads around Mt. Aso, and a gateway for visitors from Kumamoto or further afield from Fukuoka. It is 1-minute walk from the JR station, so it is very accessible. Near the station, you will find car rental shops and a taxi stand as well.
For those who either don't have a car or just love outdoor activities, electric-assisted bicycle rental is available from 4 locations in the Aso area (Aso Information center, Aso Volcano Museum, Daikanbo Cafe and Aso Hot Spring Inn Union) as part of the E-Share scheme.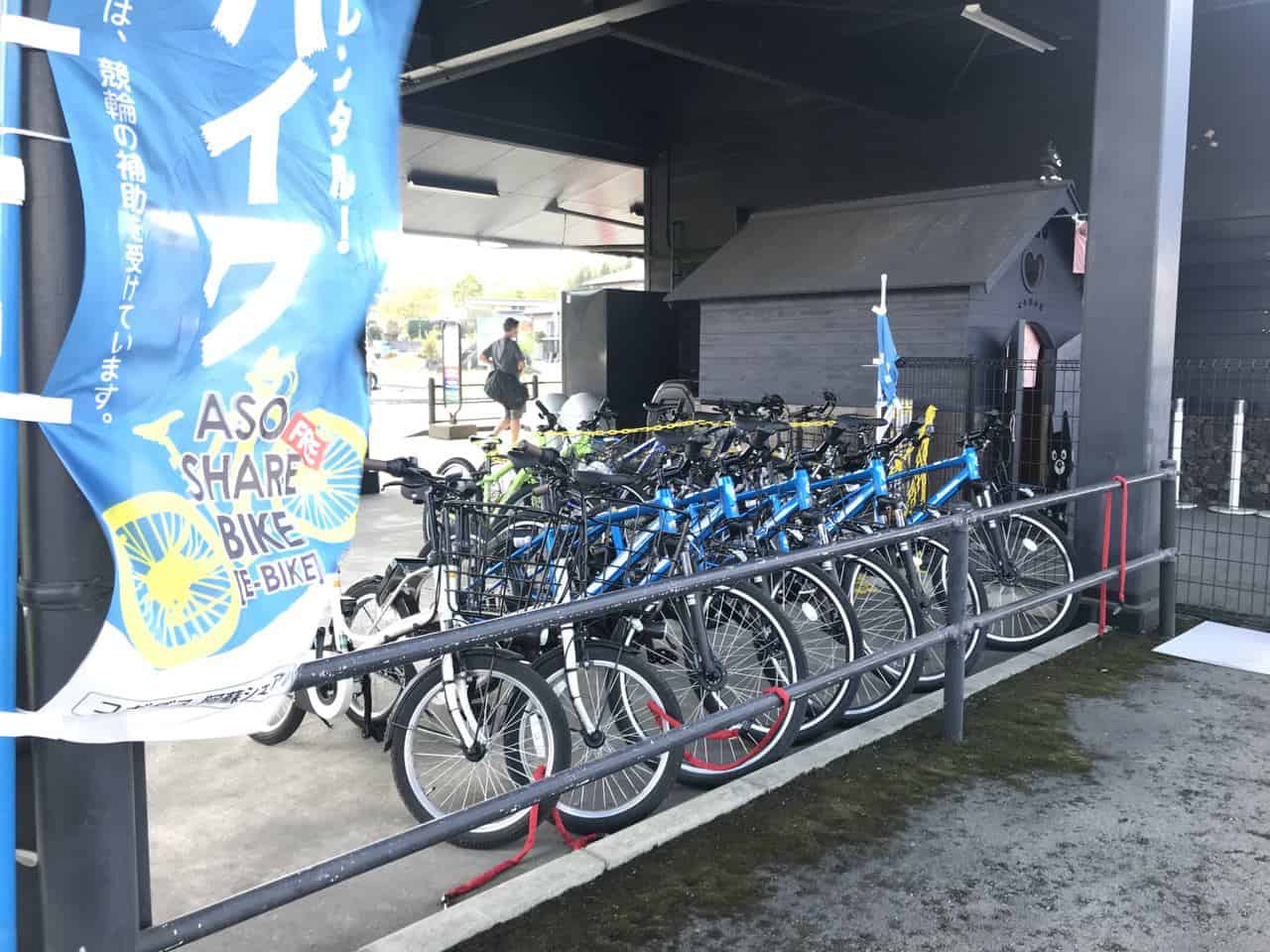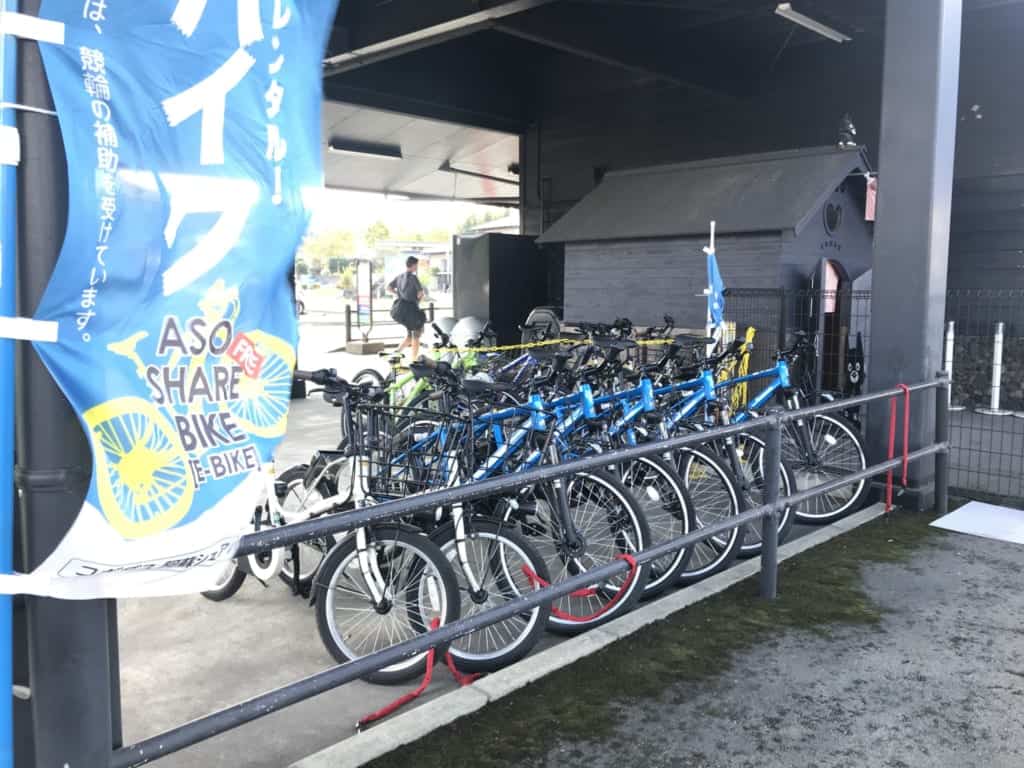 There's a range of bicycles available and they can be returned to any of the 4 locations when you are finished, which makes them perfect for sightseeing. It is likely to encourage visitors who are coming for the World Handball Championships to make the most of the beautiful weather in southern Japan and until November 24, 2019, rental is free of charge.
Taste of Aso
When you arrive at the Michi-no-Eki, you are greeted by rows of fresh vegetables, fruit, and other items that are attractively displayed at the front of the store.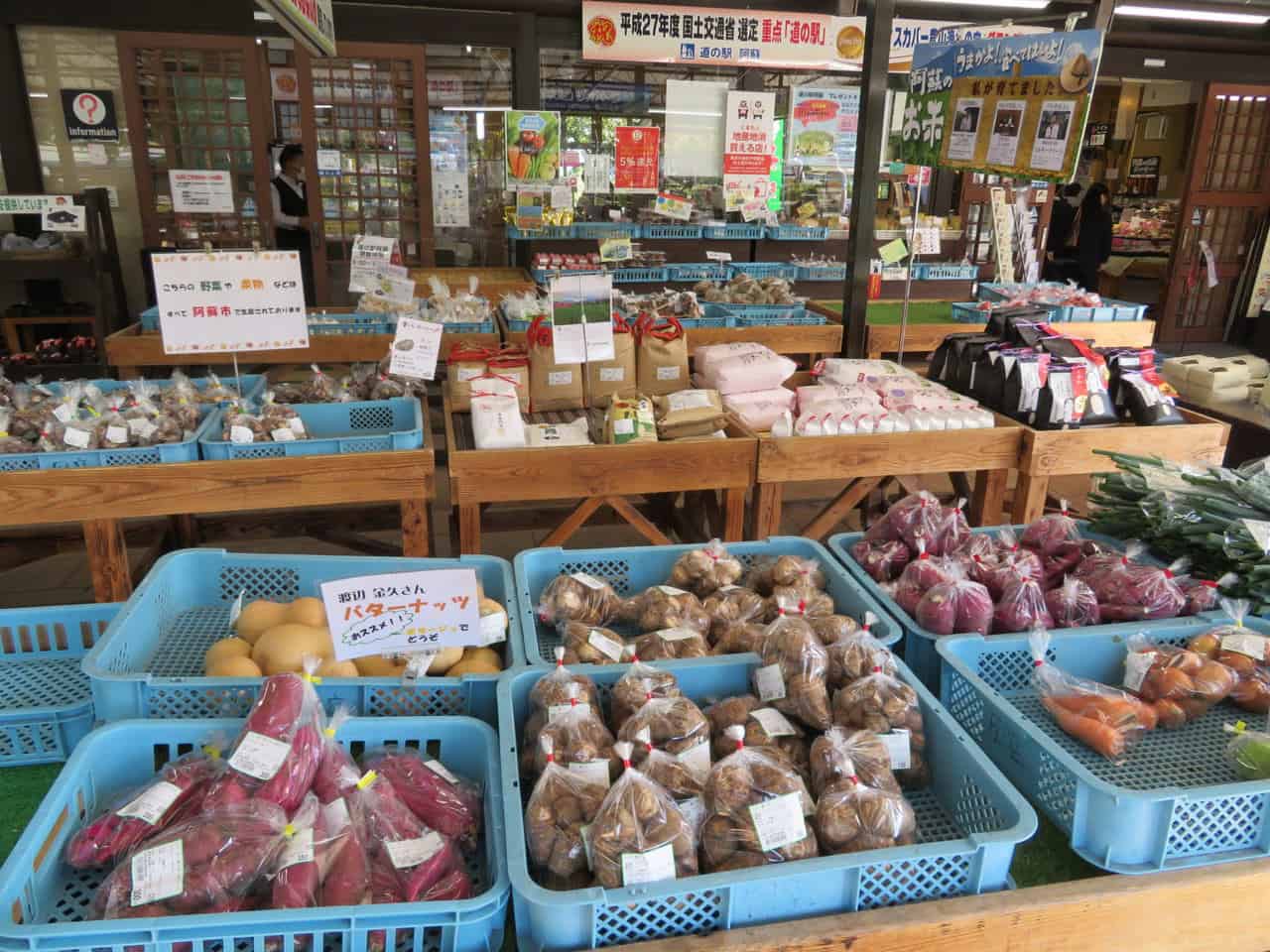 There is a large seating area and an outdoor ice cream shop with a range of local flavors to try. The store has a natural, rustic feel as the products are displayed on thick, wooden shelves. There is a souvenir section at the back where visitors can buy Kumamoto-themed gifts, many of which feature the area's iconic black bear mascot, Kumamon.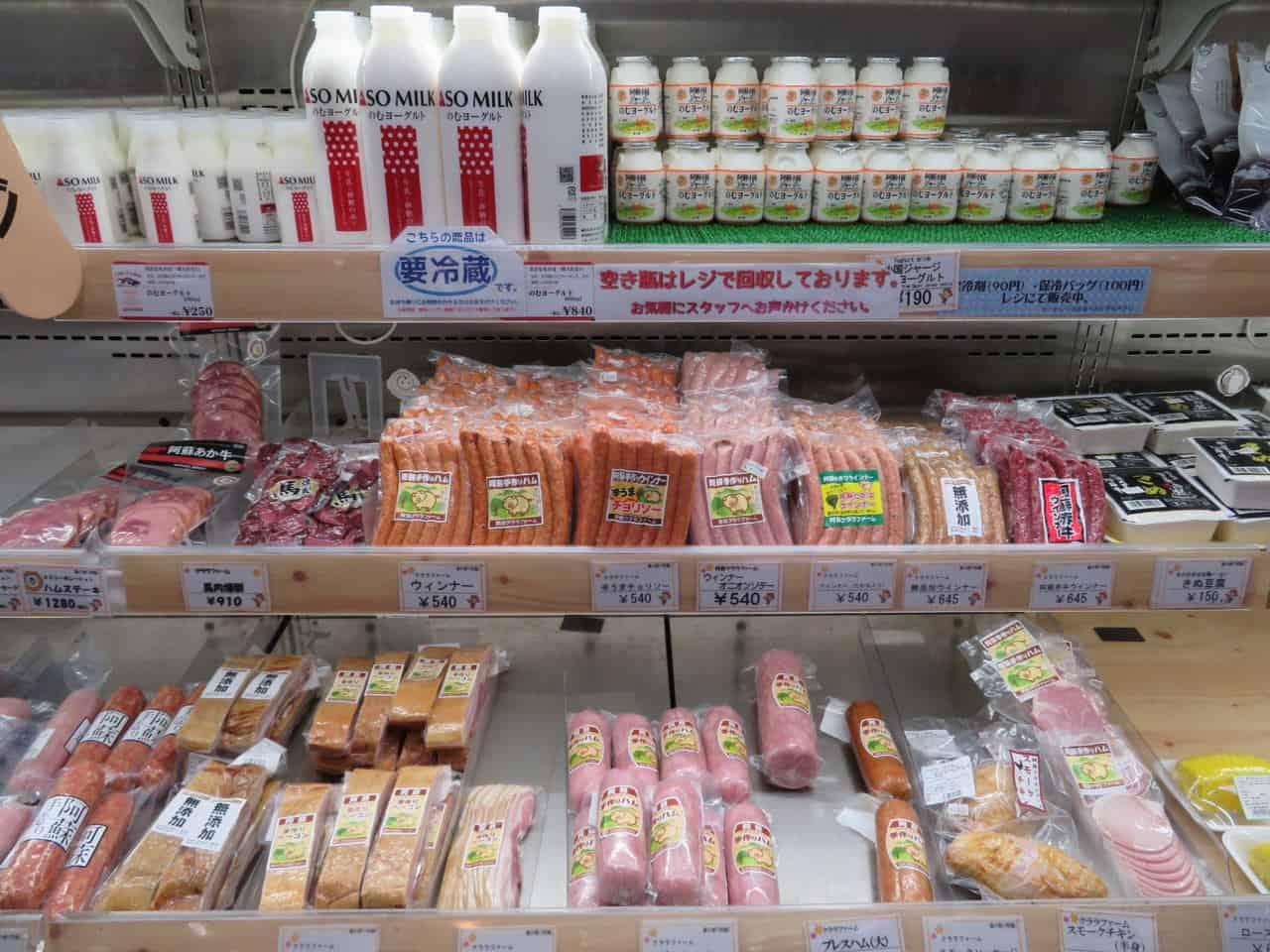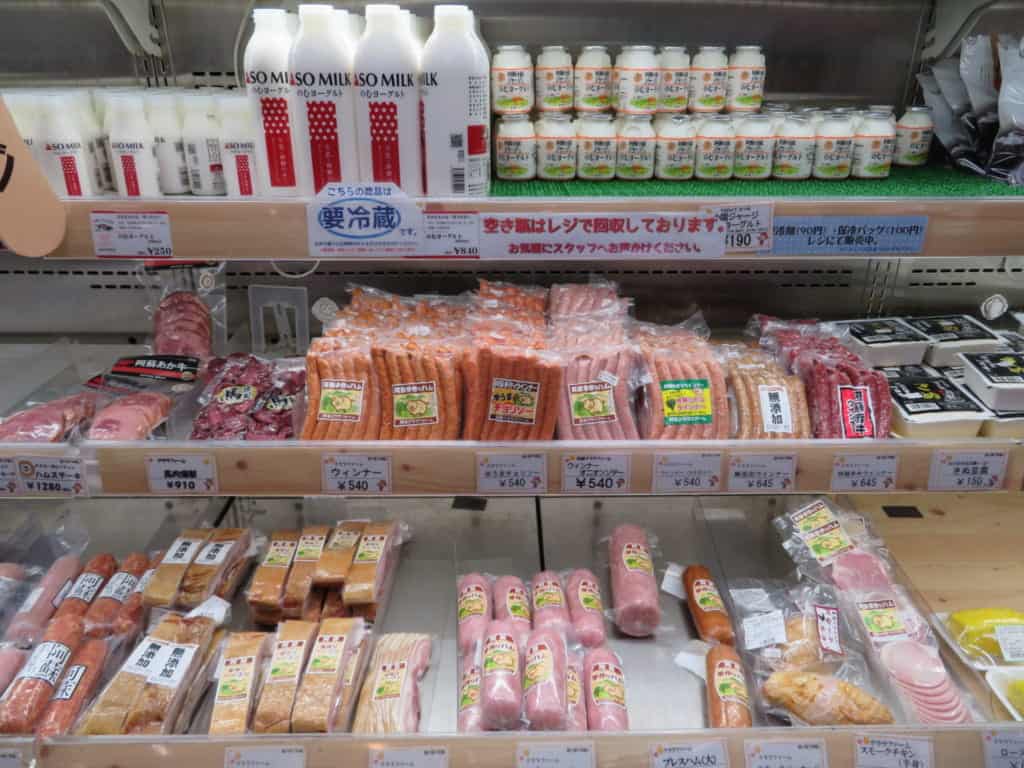 The back of the store is the refrigerated section, which is stocked with cold cider with Kumamon on the label, desserts made with creamy Aso milk, and freshly-prepared lunch boxes.
There is also an area where visitors can relax with their lunch and even watch some Japanese television. The back of the center is where the tourist information office is located and it is where we met Frank. Because he lives in the area and is familiar with what foreign tourists enjoy about Japan, Frank is able to help create custom itineraries of the Aso area for those who would like them.
The area's best attractions are dotted throughout the caldera so a car is essential for getting around. My mother and I enjoyed the freedom of a car during our trip. The scenery is magnificent so we could often stop along the way to take photos. Before meeting with Frank, we browsed the produce on sale and were impressed by the variety of items that are produced in Aso.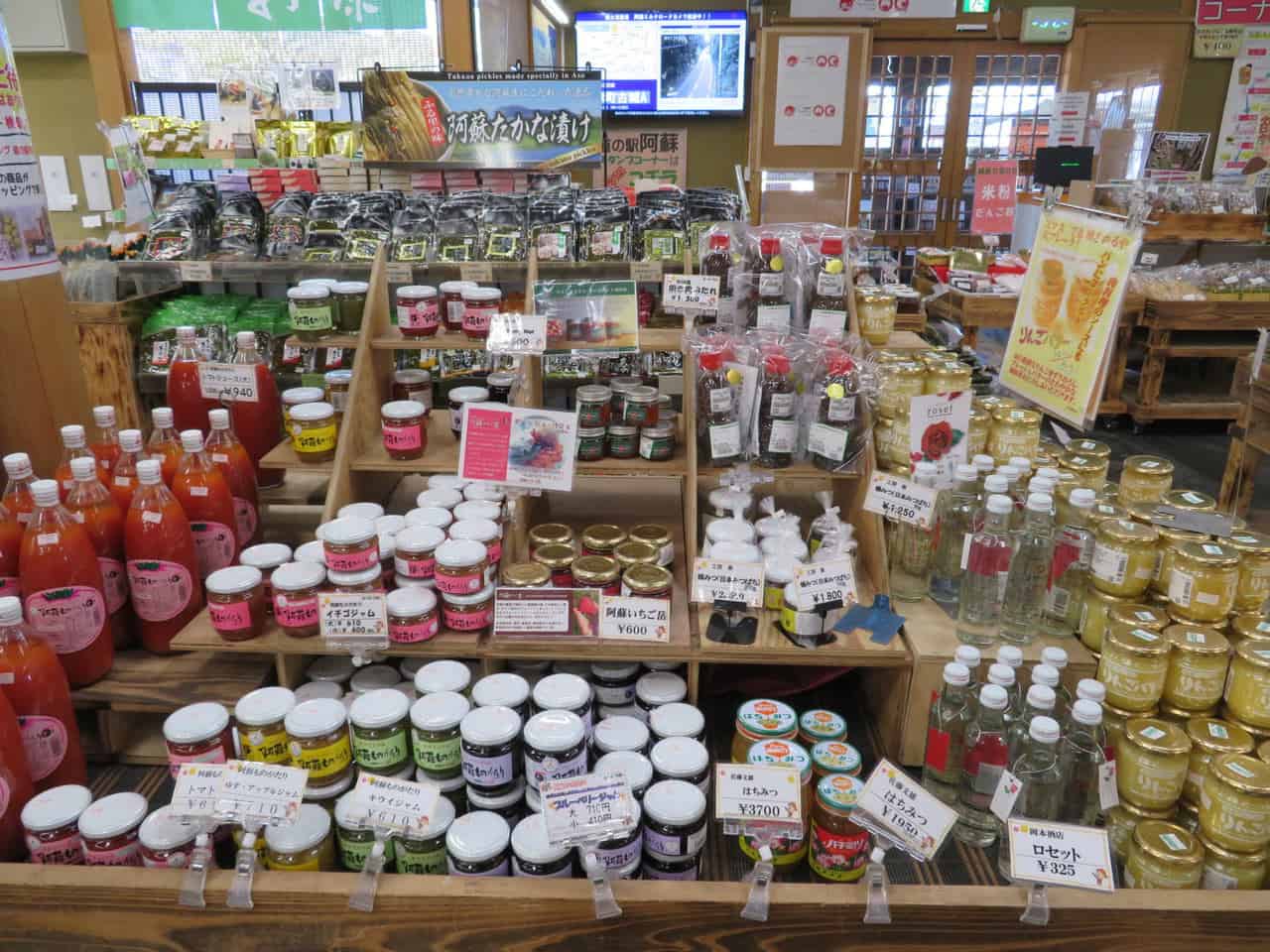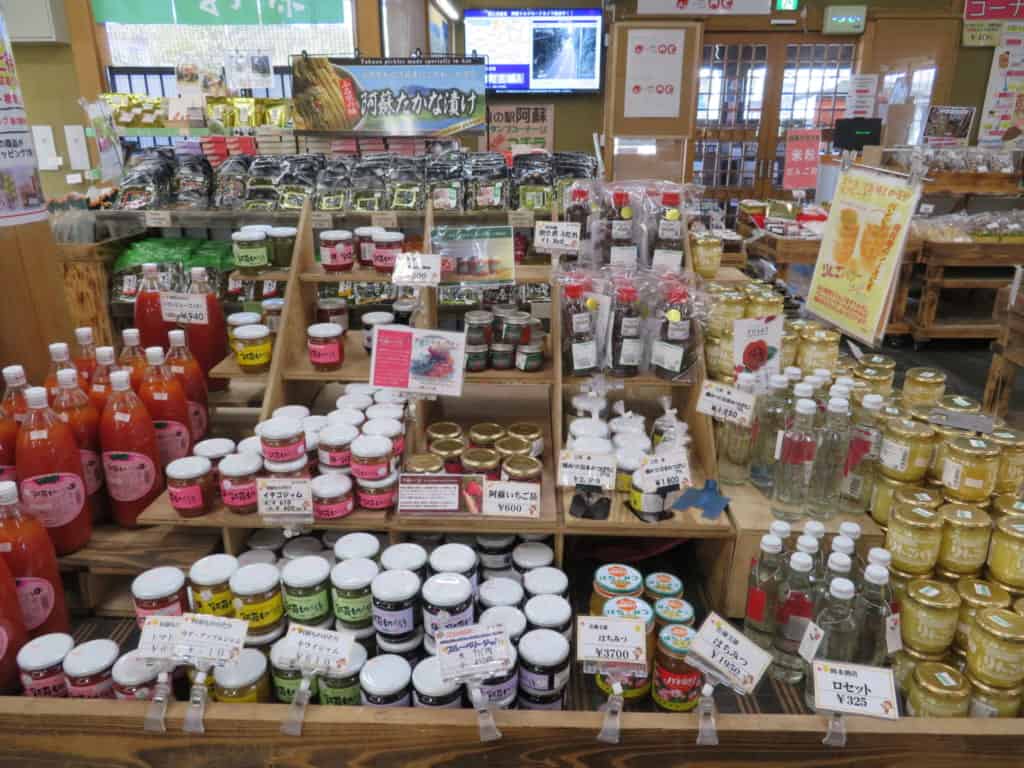 Aso Shrine – A Glimpse of Traditional Japan
We mentioned to Frank that we were interested in old Japanese architecture as well as shopping and so he recommended that we visit the site of the Aso Shrine and take a walk around the old fashioned streets.
There is a large car park adjacent to the shrine where you can see an old waterwheel that is still powered by a natural spring. Parking was ideally situated near the shrine and shopping areas. There were also restrooms and a tourist information office with many different leaflets.
The shrine is thought to date back 2,000 years to the end of the Yayoi Period and is one of only three shrines in Japan to have a two-story Romon gate.
Unfortunately, the gate and the offering hall collapsed in the earthquake of 2016 and restoration work is currently underway. You can still walk around the site and soak up the atmosphere. In Monzen-machi next to Aso Shrine, numerous shops and small restaurants provide welcome rest stops from sightseeing and you can find some unique, reasonably-priced gifts down the narrow alleys. We found a small stationery shop with a range of colorful stationery and Japanese fans.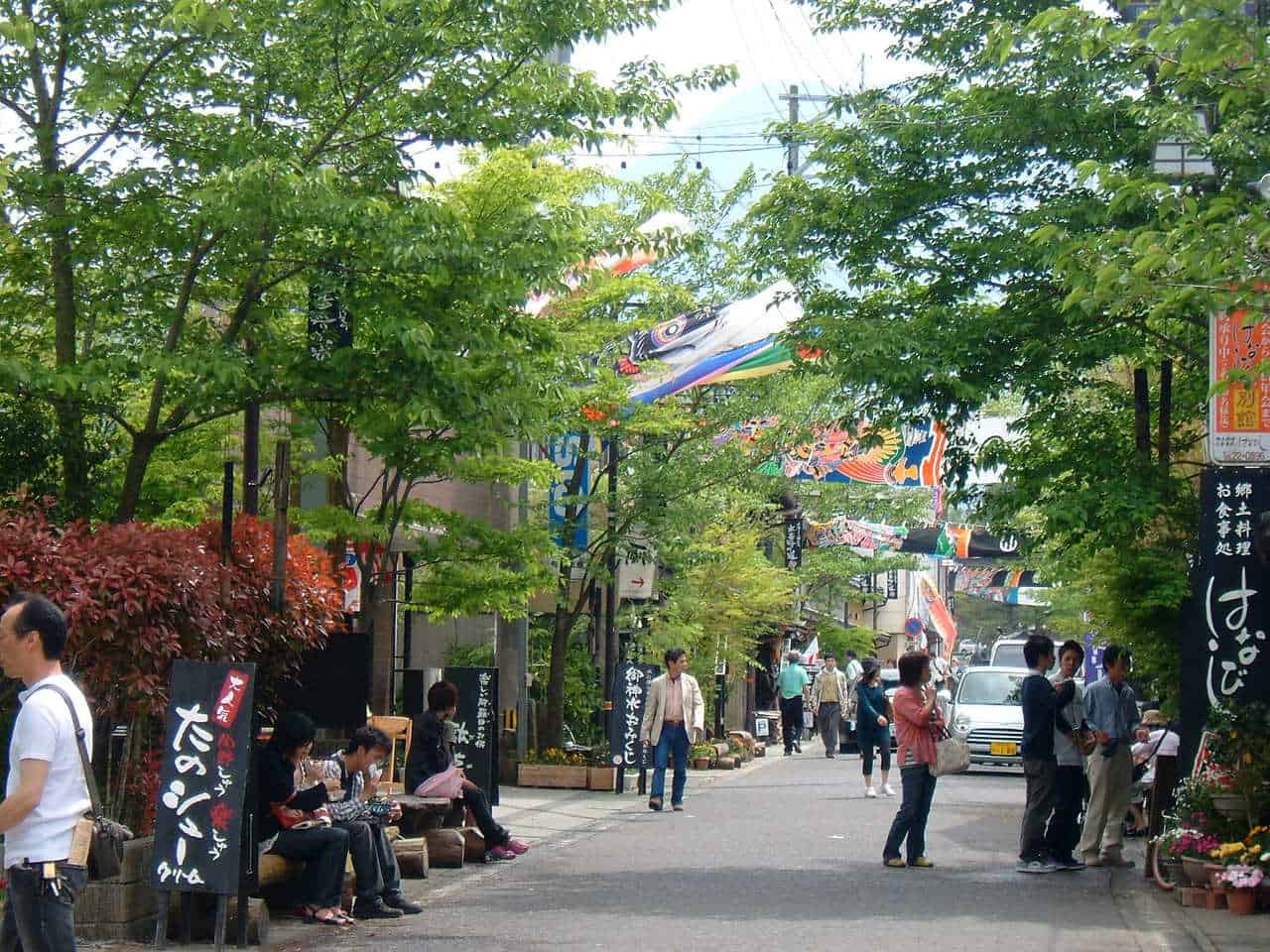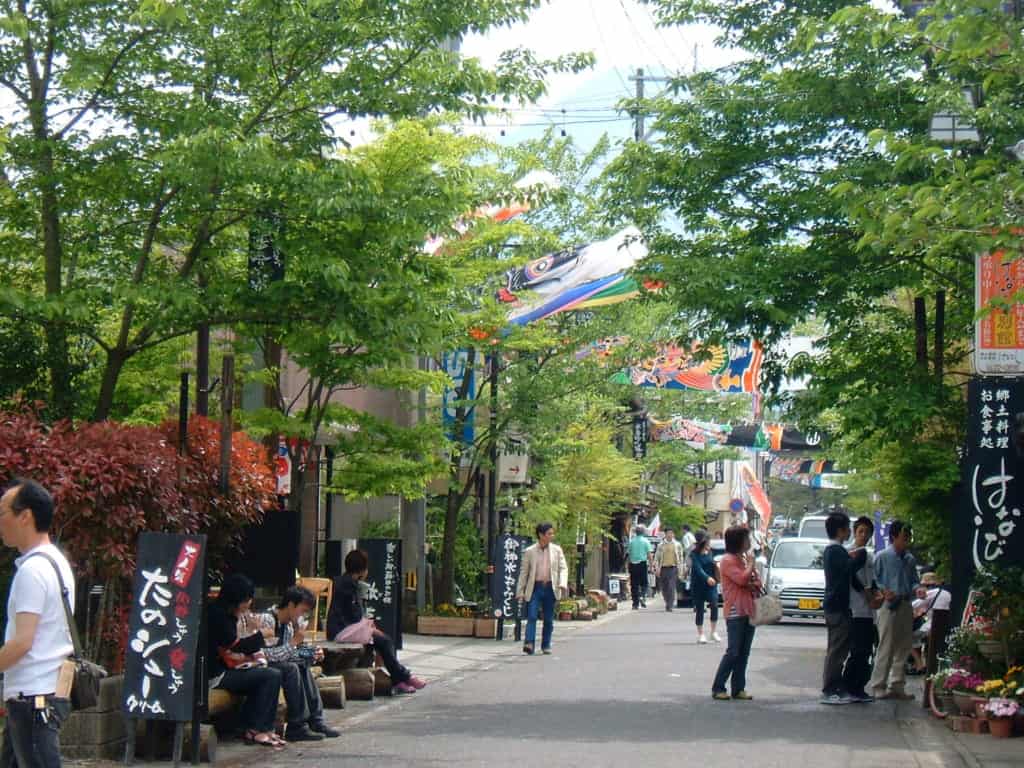 Behind the shrine, you will find many attractive residential streets which have traditional stone bridges leading up to the houses. It's a great opportunity to experience everyday Japanese life in an area that is not often frequented by tourists.
The Gokurakuji Buddhist temple is situated behind the Aso shrine, surrounded by lush rice fields where swarms of dragonflies play.
The temple is a place of sanctity where you can find your inner zen and take a moment to relax while gazing across the rice fields. Not many people realize it's there, so it's a perfect quiet escape from the streets around the Aso Shrine.
Exploring the Mountainous Landscape
No trip to Mt. Aso is not complete without seeking out the best view of the volcano and enjoying the landscape around it. On a clear day, Daikanbo viewpoint offers visitors a view of the northern half of the caldera and a chance to see all five peaks of Aso. It is also recommended to visit the Kusasenri Observatory in order to get a view of volcanic smoking Mt. Nakadate. Based on the level of volcanic activity, various locations for viewing the crater will be open to the public. You can also take a private helicopter tour over the crater. There are two departing/landing sites on the mountain and Saga Aviation offers various packages which depart from either Mt. Aso Cuddly Dominion or Aso Ski Resort (used place) for flights from 2 to 20 minutes. One of the most popular is a 10 minute flight that covers Komezuka, Kusasenri and Nakadake crater at a cost of 13,000 Yen per adult. Helicopter tours may be cancelled due to wind and smoke conditions. In general, however, tours are operated Saturdays, Sundays and public holidays. For details, check this website or contact SGC Saga Aviation at this email address. Although we had explored the landscape of Mt. Aso the previous day, it would be interesting to try one of these optional tours to get a different perspective on the landscape.
Shirakawa Fountainhead – Some of the Best Water in Japan
Frank also recommended a visit to Meisui Shirakawa Suigen Fountainhead in the afternoon. It was voted one of the best water sources in Japan and is situated Minamiaso village, located south of Mt. Aso. 60 tons of water gushes from the spring every minute so you can experience the awesome power of nature.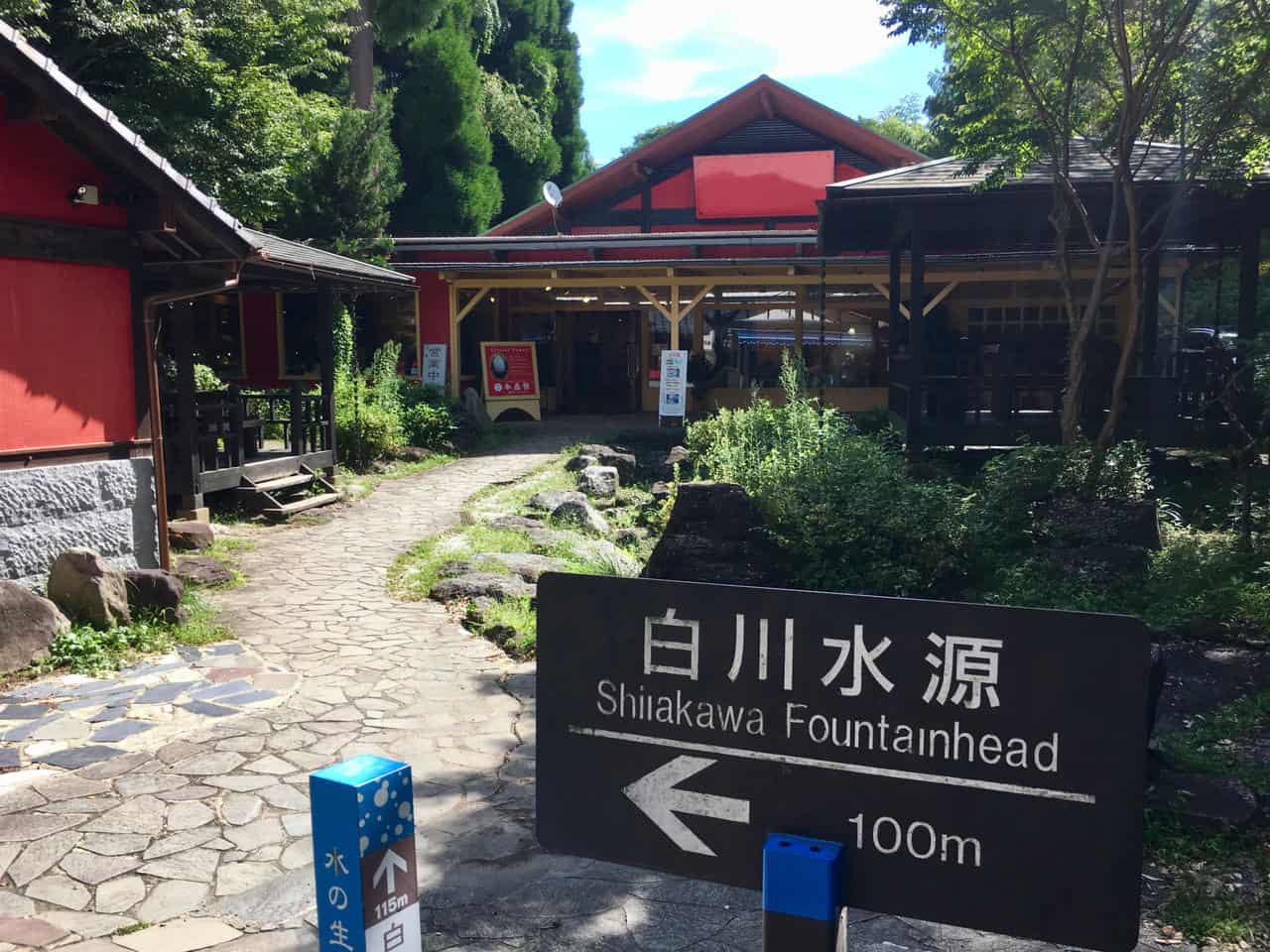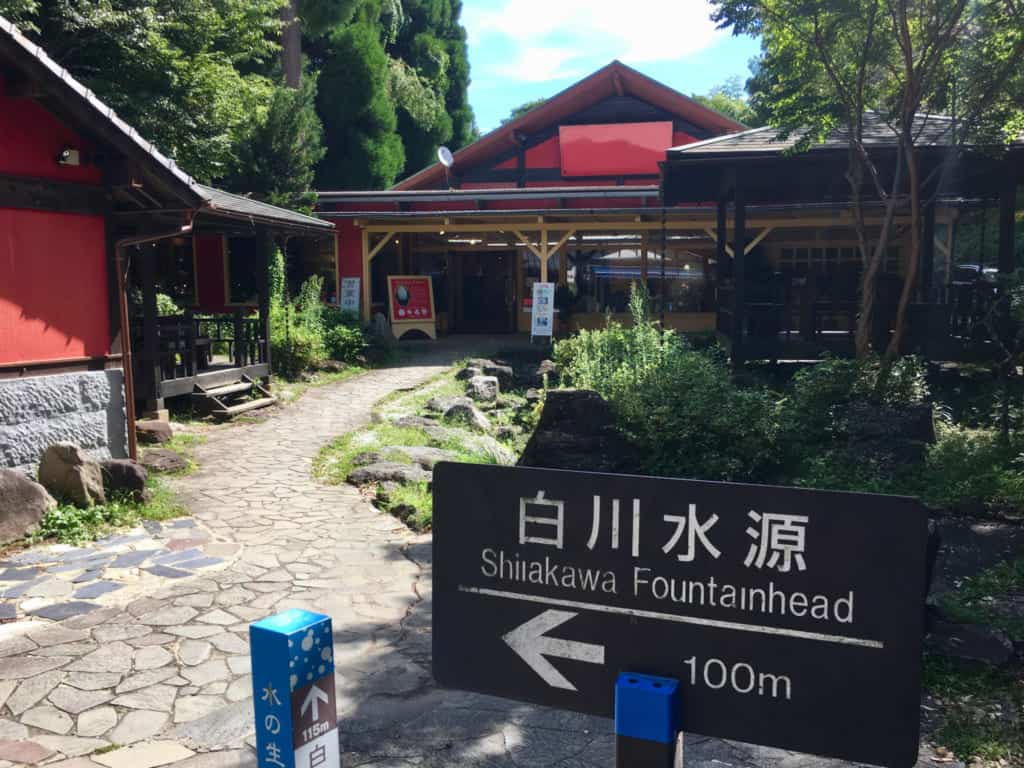 The navigation system in the car tried to direct us to the actual spring instead of the parking area so we went through several farmyards before realizing that we needed to park up and walk. My advice would be to follow the signs to the fountainhead rather than the actual navigation system in the car. It's a short walk along a paved woodland path to the site of the spring.
It costs ¥100 per person (an environmental conservation fee) to enter the complex and you can even buy plastic containers to fill with spring water. There are several small shops which sell some attractive gifts, such as jewelry and hand towels.
We gazed into the clear water at a small patch of blue sand that twirled. It was fascinating to think that this water was bubbling up from the earth. It's the perfect place to relax under the shade of the trees and enjoy the comforting sounds of water. It was yet another reminder of how the people in Aso live in harmony with nature.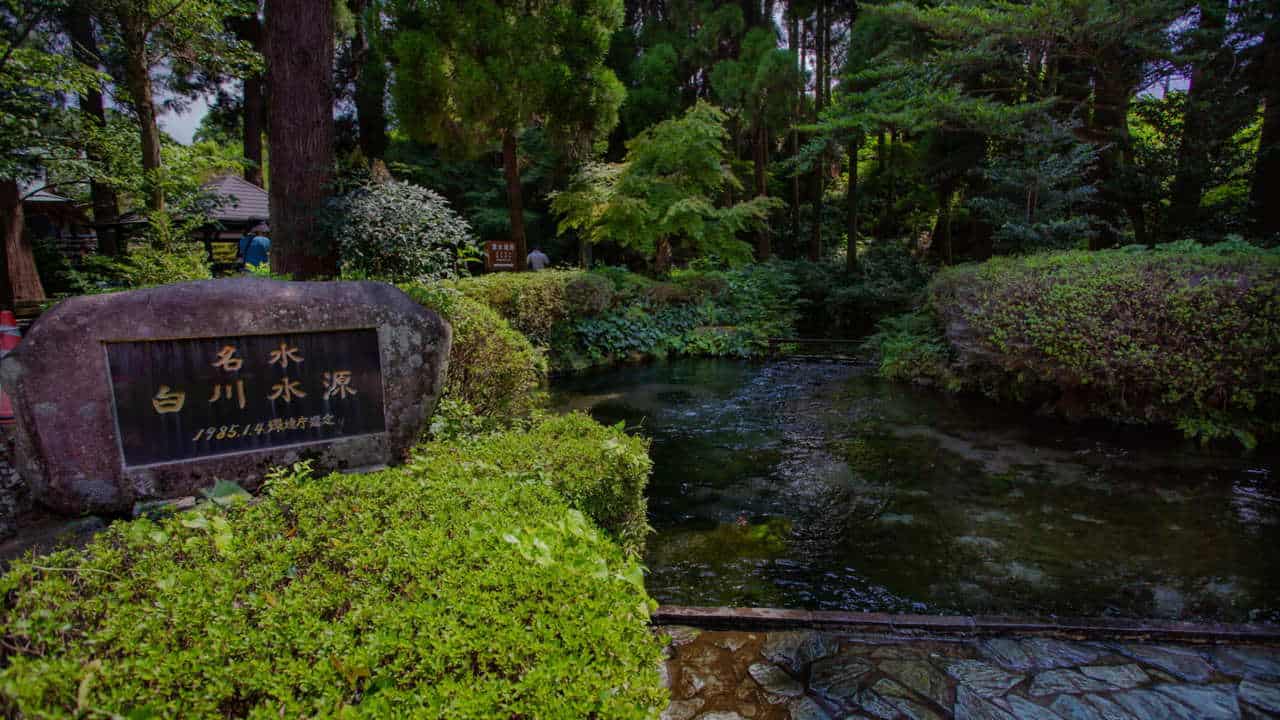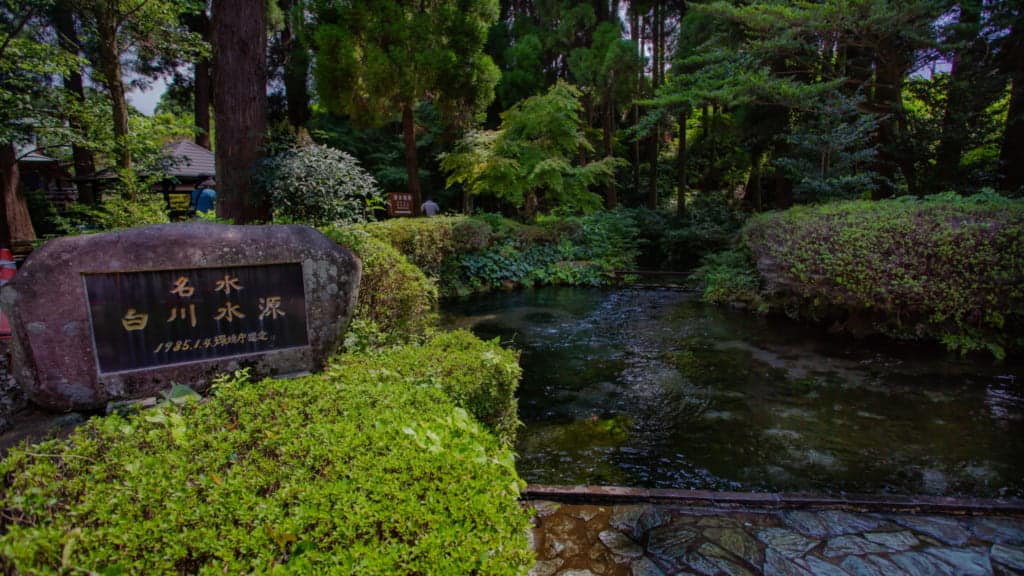 The service that Frank provides to visiting tourists is invaluable as we would not have known about many of these locations if not for his recommendations. His advice was insightful and he was able to make suggestions based on our preferences. Prior to visiting the Michi-no-Eki, I did not know about the services that they provided, but it seems like a fantastic way of promoting the natural treasures of the Aso area.
Access
In 2019, Kumamoto takes to the world stage when it hosts the 24th Women's World Handball Championships where 24 countries will play 96 matches at 5 venues across the prefecture.
Fukuoka, Kyushu's main city, is just 40 minutes from Kumamoto by bullet train and an hour and a half by car on the Kyushu Expressway so the region has never been so accessible. Both Fukuoka and Kumamoto have airports with flights across Japan as well as some international destinations.
We used a rental car to tour the area which gives you the freedom to go where you please and explore in more detail. It takes less than an hour by car from Kumamoto Airport to the foothills of Mount Aso so it's perfect for a day trip, or even a longer stay in a local guesthouse. The roads are easy to navigate and you pass through quaint villages with wooden houses and neatly-trimmed hedges, both quintessential images of Japan.
Access to Aso from other areas
From Fukuoka Airport: about 2 hours and 20 minutes by car
From Oita Airport: about 2 hours and 10 minutes by car
From Kumamoto Airport: about 50 minutes by car