Sponsored by REVOLATOR co.,ltd
I have traveled extensively in Japan, having gone as far south as Okinawa and as far north as Tohoku. However, until recently I had either flown or taken the shinkansen (bullet train) to get around. For my last trip, with which I would be spending with friends visiting from Australia, I was recommended to try renting a camping car or RV to get around and enjoy a campsite somewhere in Japan. Until then I had never considered Japan to be a camping-friendly destination, but after having successfully camped in this beautiful country, I would absolutely recommend if you are considering doing so.
My friends were visiting with the intention to have us climb as a group to the top of Mt Fuji, and prior to this we had looked into catching the bus from Tokyo. However, Japan has so many tourist-friendly destinations, especially close to the mountain, so we took the opportunity to drive there, and camp close enough to get a view of Fuji.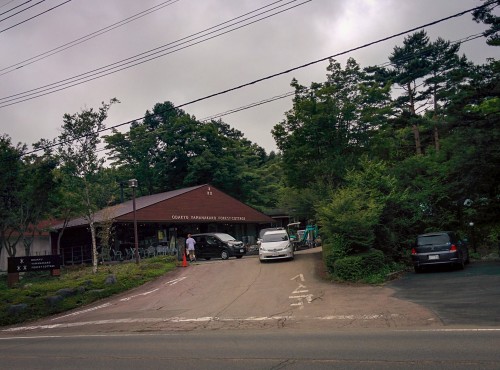 Odakyu Forest Cottage is a camping resort alongside Lake Yamanaka, one of the "five great lakes" that surround Mt Fuji. Having not camped since I was a child, I was looking for a place with good facilities that would be fairly easy for a novice such a myself to use, so that I could still really enjoy my time camping.
Facilities
Odakyu has several different types of accommodation, including both cabins and empty camping spaces. You can stay alongside Lake Yamanaka itself or up in the forest. The lobby staff are friendly and helpful, and we were lucky to meet a fellow Australian working there. If you pass through the lobby towards the back you will find bathrooms with onsen (hot spring bath) inside, which was a huge and welcome surprise. Note that the lobby (including the onsen/bathroom facilities) is open from 9:00am to 6:00pm, after which you will need to use the shared shower and bathrooms around the side of the building. Directly across from the lobby building is the trash disposal area. All they ask of guests is to separate the recyclables, which will be explained at check-in.
They also rent out equipment to guests, including BBQs and chairs, as well as selling snacks and some cooking necessities. The costs, when split between enough people, easily outweigh the costs of visiting one of the restaurants close by.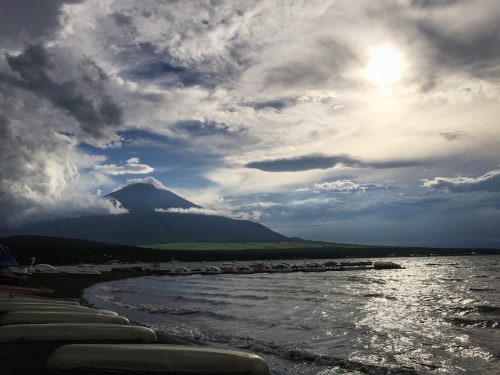 Camping
We were incredibly lucky to actually see Mt Fuji while camping, as unfortunately we timed our trip during Japan's notorious rainy season. However, the gods smiled upon us and we were treated to the majestic view pictured above. The spot we rented was around 7000 yen, which when split between the five of us was a tiny amount for accommodation with such an amazing view.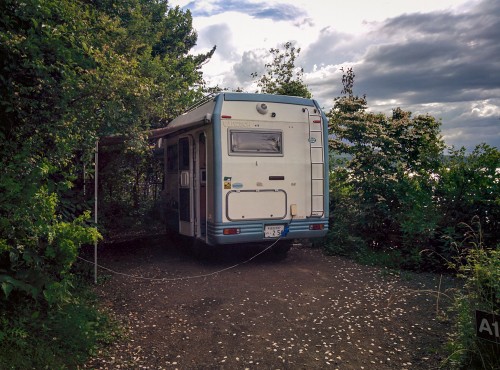 Mere metres from our camping spot was the shore of Lake Yamanaka, and with our rented equipment and supplied purchased, we set up what we had set out to do all along when planning our camping trip: the barbecue!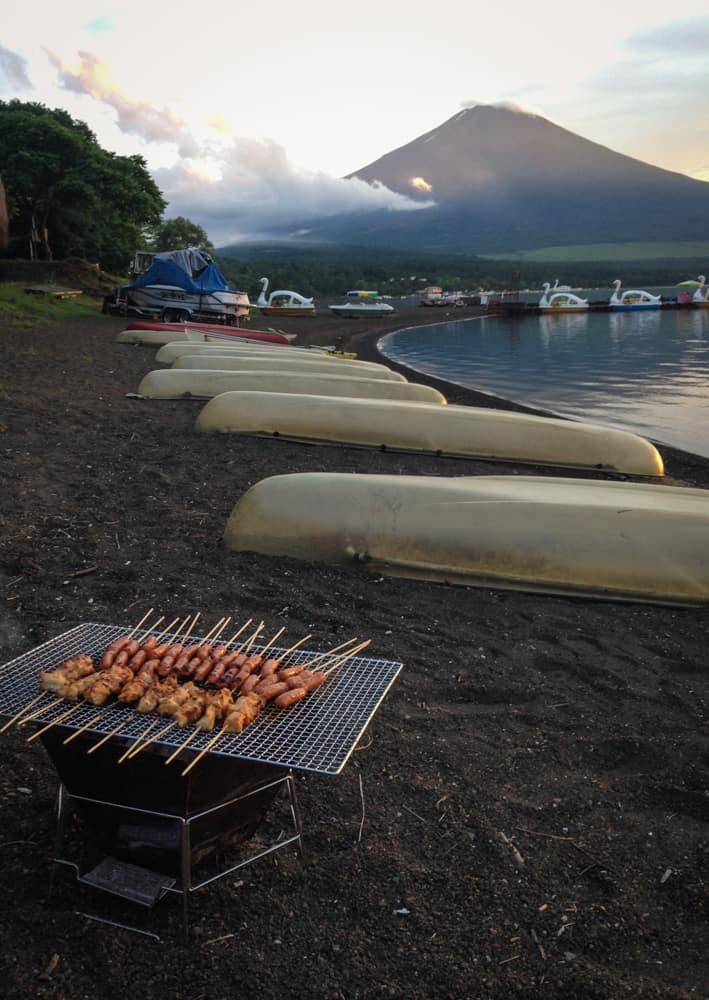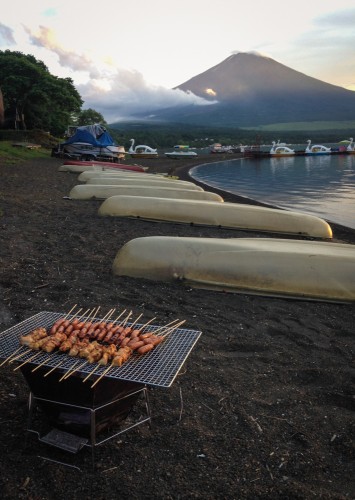 Of course, this not being Australia, we were unable to buy the same ingredients as we typically would, so we decided to go with yakitori (grilled chicken) and some sausages. All that was required was meat, skewers, yakitori sauce and charcoal to cook the food over. Soon enough we ready to eat and continue to take in the view and the fresh Shizuoka air.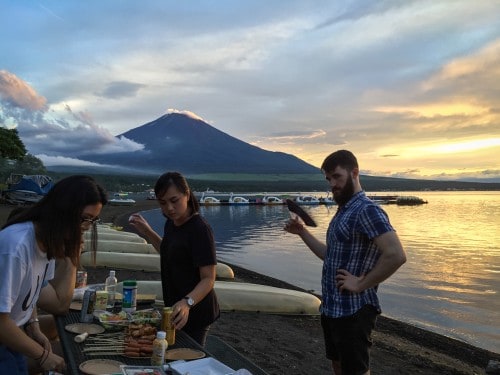 Soon enough it was time to hit the head and rest up before our Mt Fuji climb the next day. Sleeping in the camping car was easy enough, as the temperature around the lake was quite cool despite it being the middle of a sticky Japanese summer. Camping close to the water and falling asleep to the sound of the water below was incredibly relaxing.
Things to know
Visit the supermarket on the way there! If you are planning on having a barbecue, make sure to stock up on supplies prior to checking in, as the nearest supermarket was about ten minutes in the direction we had come from.
Bring plenty of trash bags. If you camp a little far away from the garbage disposal area like we did, you might be making a few trips if you do not have enough trash bags. Also, separate as you go so you can save time and effort later.
Be considerate of other guests. This one is a no-brainer. It is a peaceful getaway for a lot of people, particularly over-worked Tokyo-ites, so try not to ruin anybody's holiday!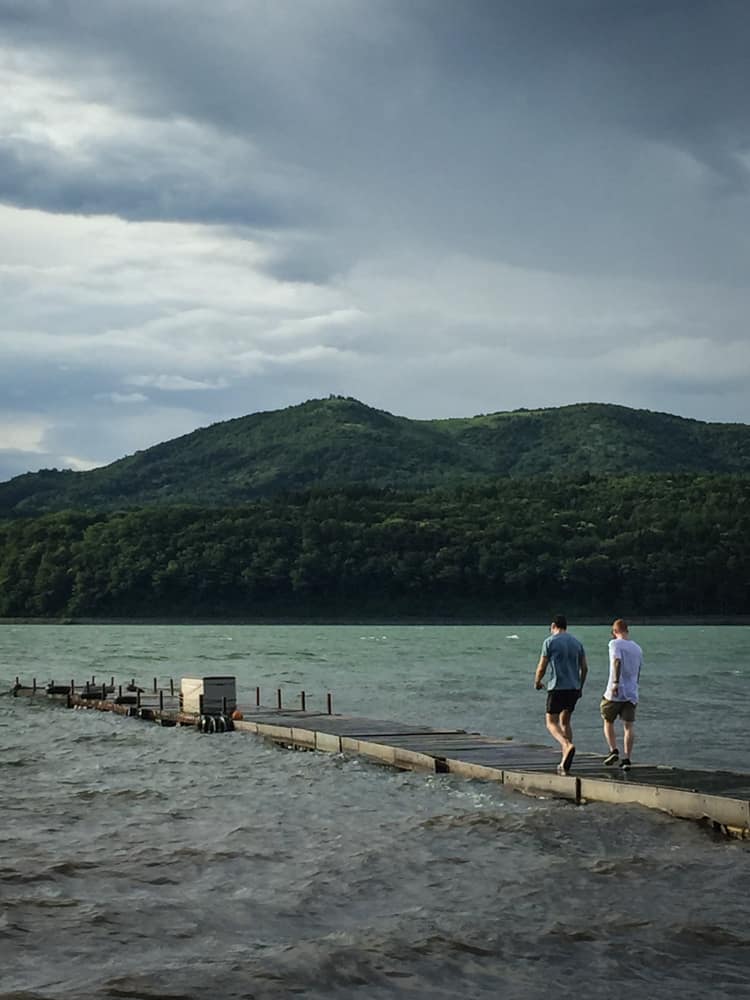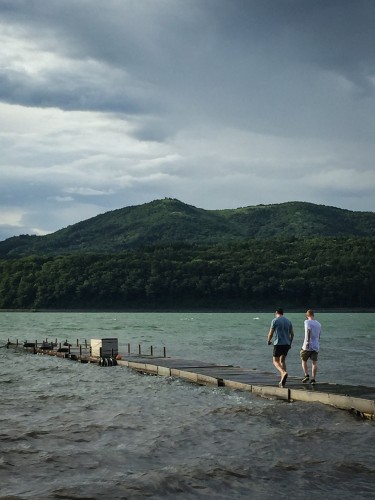 Booking
Odakyu accepts booking online or by phone. Their website is only in Japanese, but some of their staff can speak English so you can call them on the number provided on this page.
If you are considering an outside-of-the-box trip in Japan, definitely look into camping. Japan has so many beautiful places to visit, so it seems like a waste to not explore it. We had a wonderful experience camping at Odakyu Forest Cottage while taking in the view of Mt Fuji. Enjoy Lake Yamanaka!
Odakyu Forest Cottage homepage
| | |
| --- | --- |
| Name | Odakyu Forest Cottage |
| Category | Camping |
| Address | 〒401-0502 Yamanashi Prefecture, Minamitsuru District, Yamanakako, Hirano, 491 |
| Access | [map]〒401-0502 Yamanashi Prefecture, Minamitsuru District, Yamanakako, Hirano, 491[/map] |
| Opening Hours | 09:00 ~ 18:00 |
| Price Range | 5000 yen~ |
| Payment options | Cash |