Sponsored by Koshimizu Tourism Association
Tucked away along the Sea of Okhotsk in eastern Hokkaido is the perfect rural escape for outdoor enthusiasts and nature lovers. This is the small coastal town of Koshimizu-cho (小清水町), renowned as a bird-watching mecca for migratory summer and winter birds.
 You may have heard of Shiretoko National Park, commonly regarded as one of Japan's most serene national parks, but, unless you're from Hokkaido, you probably haven't heard of Koshimizu-cho before. Koshimizu-cho is only 100km away from Shiretoko National Park and, despite its outstanding seasonal beauty, it still remains an inconspicuous location; even more so for foreigners.
 So, for those of us who do make the journey to Koshimizu-cho, where on earth do we rest our heads at the end of the day!? Fret not. I've got you covered! In this article I will introduce the two accommodation types that I experienced during my two nights in Koshimizu:
1) An Airbnb accommodation called "Tida House" just five minutes drive from central Koshimizu.
2) A business hotel called the Fureai Centre (ふれあいセンター), bang in the town centre.
1) Tida House: Airbnb Accommodation
Tida House is unlike any place I have stayed before in my life. It's a handmade, old, Native American, straw-bale house, constructed with meticulous attention to detail. After spending almost a year learning how to design and build these houses, and even more time travelling the world, the owners used the best of their knowledge and travel inspiration to make Tida House with their friends.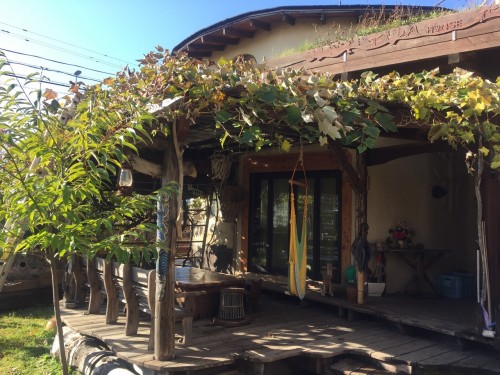 The accommodation is easy to find, has ample off-road parking and is located next to an intersection about 5 km from Koshimizu centre. It consists of two buildings: the living/sleeping area, which has some basic kitchen amenities; and the bathroom/toilet area located next door.
The owners mention in the Airbnb description that the passing traffic can be quite disruptive because of its location alongside the main road. To combat this, I would recommend sleeping early and rising early. I arrived at Tida House at around 19:00 and only experienced the noise for the first time at 06:00.  I certainly wouldn't let this put me off from staying there again because Tida House is truly a magical place. Also, in fall, the sun sets and rises early in Hokkaido (at around 16:00 and 05:30 respectively), making it easy to adjust your rhythm.
Room
The room's décor and layout make it instantly inviting.  With its log fire, wooden beams and atmospheric lighting, Tida House radiates warmth and cosiness. The sleeping area is in classic Hokkaido style, complete with futons, thick duvets and fluffy blankets.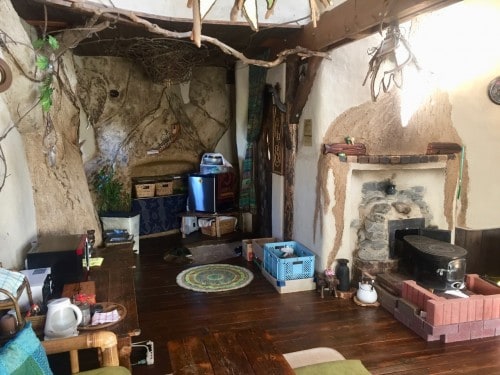 Around the room you can find all manners of trinkets and animalesque shaped things. From frog-shaped instruments, koalas hanging from decorative branches and even a hand-carved Totoro. There was some storage space available in the various drawers and baskets around the room but no wardrobes, which may prove to be challenging if you plan to stay for a longer period of time.
Food
As with most Airbnb accommodation, the room is self-catered. However, there are some basic food-making facilities available, including a toaster oven, fridge, microwave, rice cooker, plates, bowls and cutlery. The owners of Tida House also run a café next door serving a range of Asian cuisine, but that is only open during the first half of the year. Koshimizu centre is only a 7-minute drive away though. You can buy groceries there or eat out in one of the restaurants.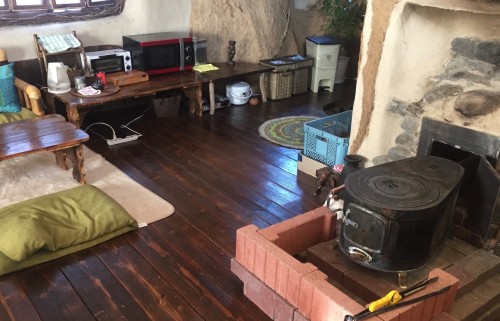 Facilities
The room doesn't have wi-fi but if you need an internet connection, you can ask the owners to assist you. There is a washing machine available to use next door if you need it. Outside the room is a seating and barbecue area. You can even pick some of their fruits if they are in season.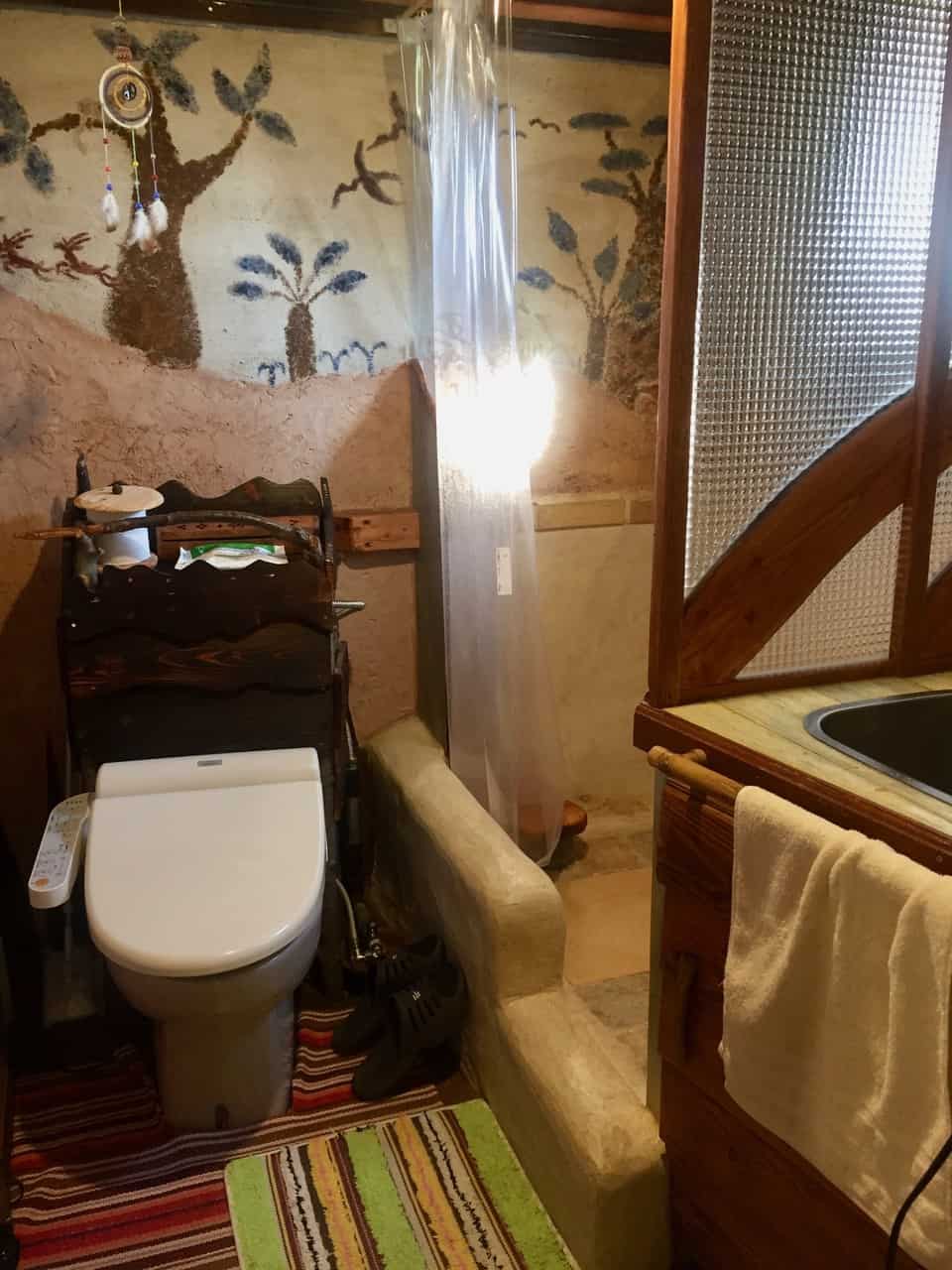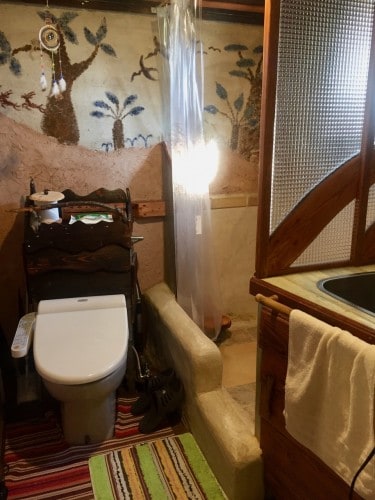 Even the bathroom received the same creative treatment as the living area. Hand-painted elephants and a unique wooden toilet cover are just a few of the interesting things to peak your curiosity.
Fureai Centre (ふれあいセンター): Hotel
The Fureai Centre lies in the heart of Koshimizu and offers a different experience to Tida House. Whilst Tida House seems more suitable for a romantic getaway or a solo country retreat, the Fureai Centre seems better suited to business professionals, or anyone looking for practicality or convenience.  I stayed in a washitsu (Japanese style) room but there were also Western style rooms available. This accommodation also has an onsen (yay), open to both day visitors and hotel guests.

Room
The guest rooms are on the second floor and can be accessed from the stairs at the back and front of the building, or via the elevator next to the front desk.
The room at the Fureai Centre was typical of a Japanese style room for this price, and had all of the ameneties to be expected. The entrance hall connected the toilet to the bedroom and the room had an area for shoes, and space to hang your clothes.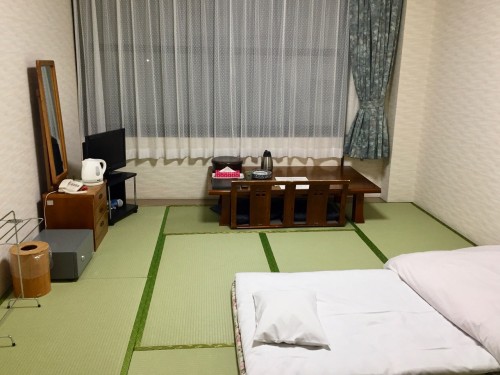 My room was completely tatami'ed and overlooked a small water feature in the centre of the building. Inside the room were tea making facilities, zaisu (legless) chairs and a large table perfect for working or reading. The room was so peaceful, I slept like a log there for nine hours straight!
Facilities
Similarly to minshuku (the Japanese style guest house) and ryokan (Japanese style hotels), the Fureai Centre had the shared onsen (hot springs). The onsen was located downstairs past the front desk, and there was a yukata (robe) available to use as you shuffle to and from your bath!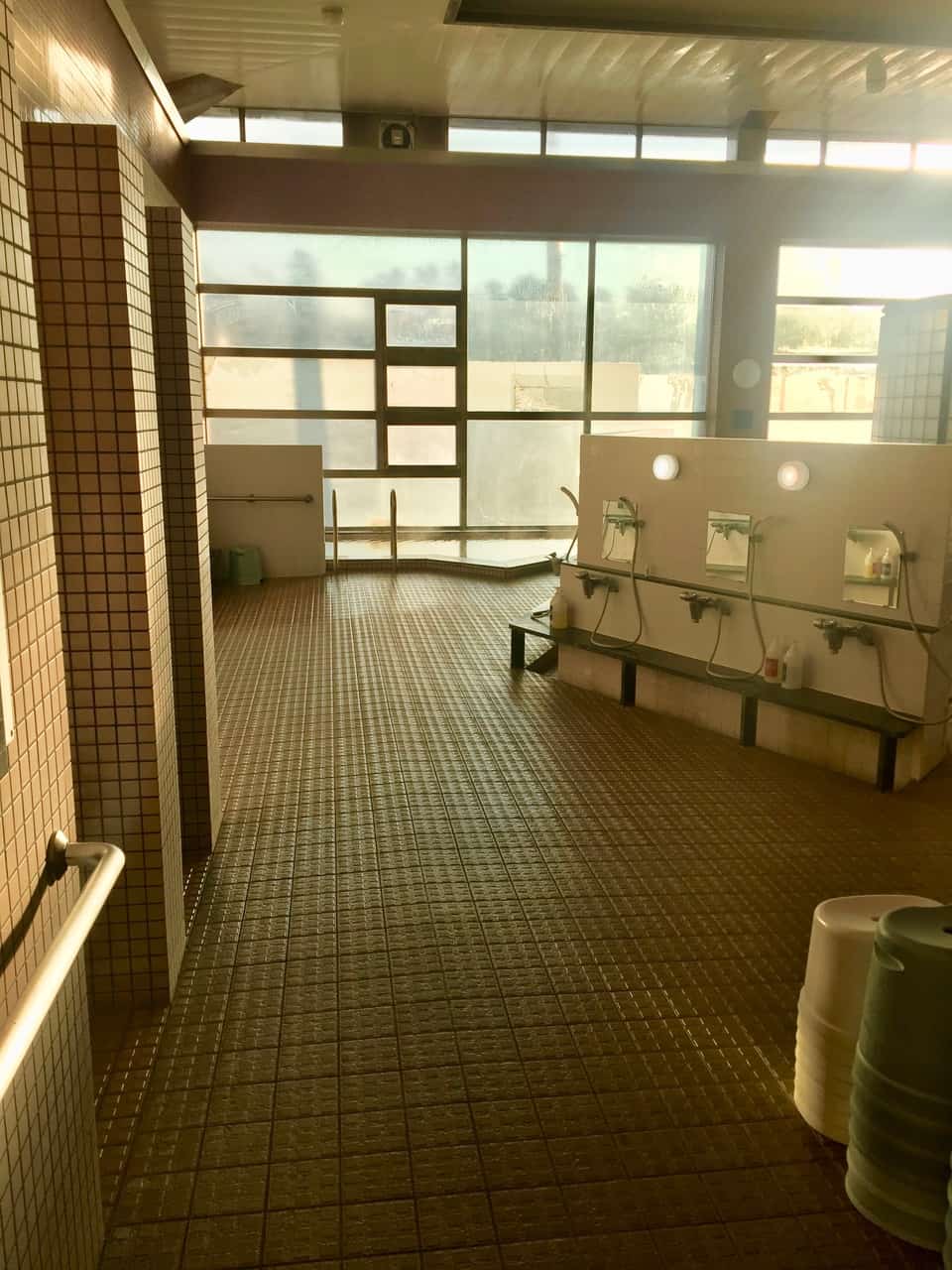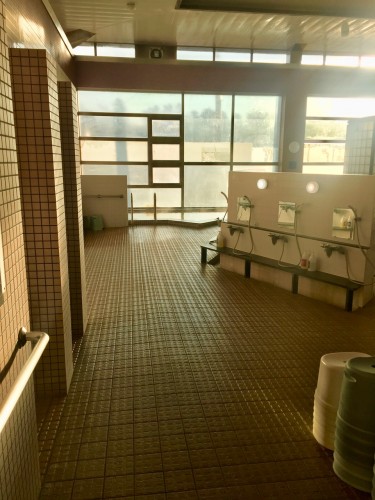 There were two different baths available to use here: a rock bath and the large, main bath. The onsen water here is simple alkaline, which is said to improve your skin's appearance and alleviate muscle pain. The onsen/bathing area is not available 24/7,  so be sure to familiarise yourself with the opening times before planning your day or evening.
On the ground floor, you will also find the restaurant and a couple of rest/common areas. The second floor has laundry and drink facilities available.
Food
A traditional Japanese breakfast and dinner are available at an additional fee in the restaurant. The breakfast included egg rolls, potato salad, miso soup, steamed vegetables, natto, boiled rice, nori and grilled fish. I would recommend having breakfast here and starting your day the right way!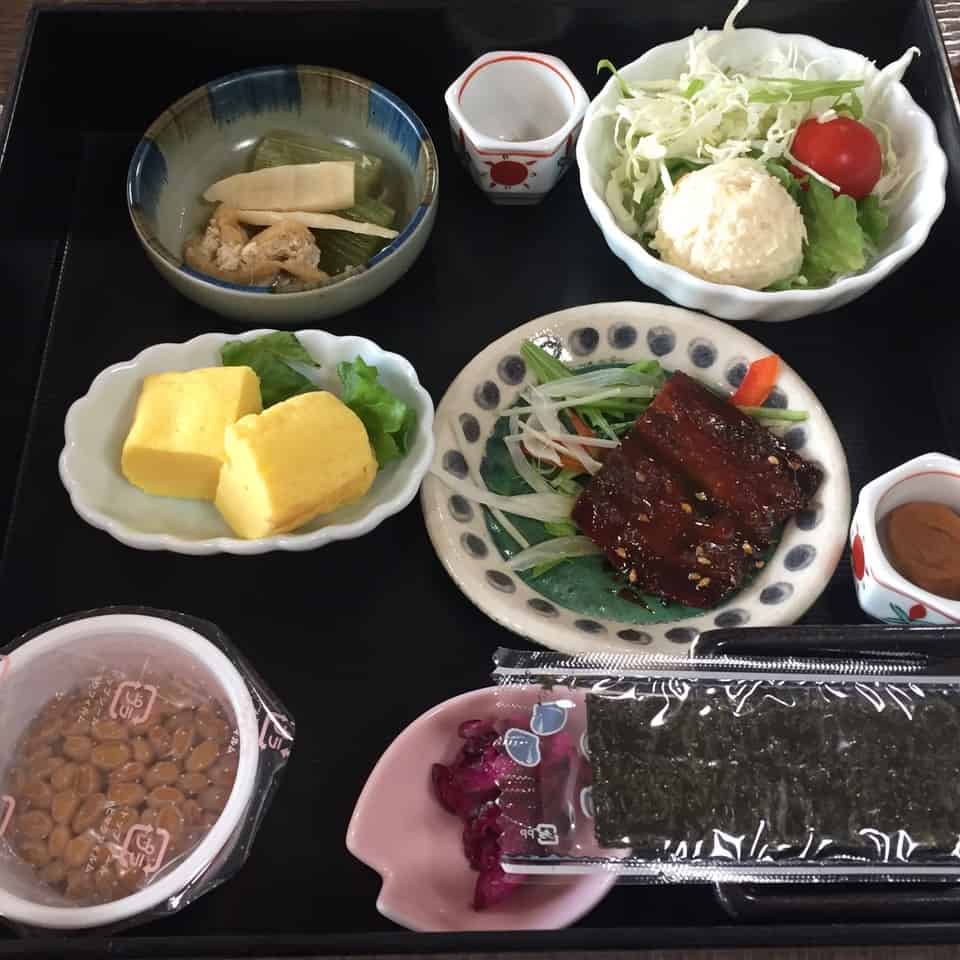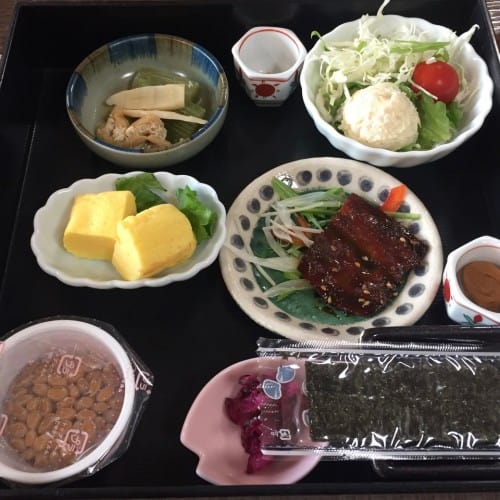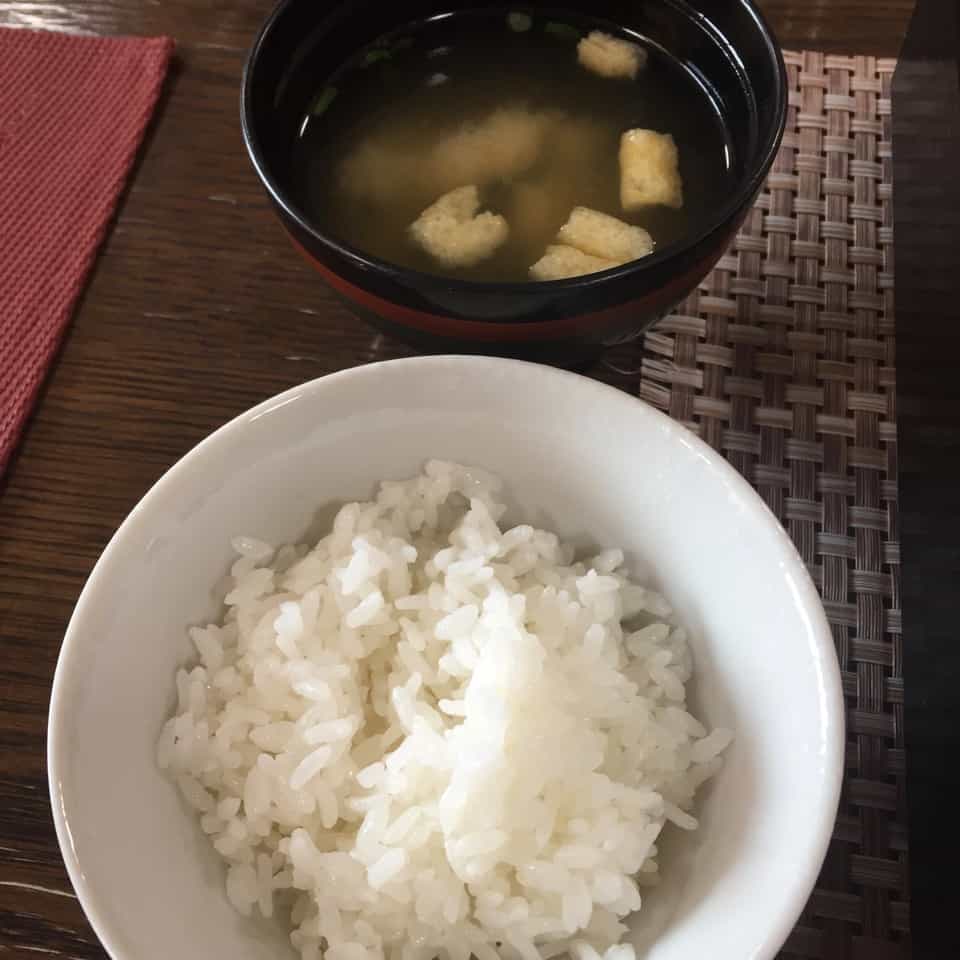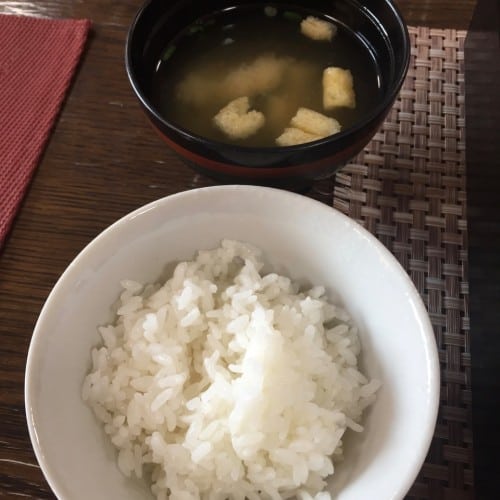 Bookings/Enquiries
To make a reservation at Tida House visit their Airbnb page. The hosts speak English, Chinese and of course, Japanese.  Prices vary throughout the year but my stay cost ¥7,500.
You can find English information available at the Fureai Centre but their website is only in Japanese. For bookings and enquiries, send an email to the Koshimizu Tourism Association.  Rooms cost from ¥5,300. Breakfast costs ¥800 for adults and ¥600 for children. Dinner is also available for ¥1,500 or ¥1200 for children.  For day visitors, the onsen costs ¥400 or ¥150 for children. The full price breakdown is available here.
To find out more about Koshimizu, please contact their Tourism Association.
Access
By Car
From Memanbetsu Airport,  take Route 39 north, and then jump onto Route 246 until Koshimizu-cho. Duration: 45 minutes. Distance: 35 km.
By Public Transport
The average journey time between Memanbetsu Airport and Koshimizu is approximately two hours including connections. The nearest train station to Koshimizu-cho is Hama-Koshimizu (浜小清水), on the JR Semmo Line. However, there isn't a rail connection from Memanbetsu, so you will need to take the Airport Limousine Bus to Abashiri City (網走市) and then take the train from there.
From Memanbetsu, take the Airport Limousine Bus to Abashiri City. Alight at Abashiriekimae (網走駅前). Duration: 35 minutes Cost: ¥910.
From Abashiriekimae, take the JR Semmo Line to Hama-Koshimizu. Cost: approx. ¥450. Duration: 30 minutes.
From Hama-Koshimizu, take the bus bound for Koshimizu (小清水行き/Koshimizu yuki/Bound for Koshimizu). Duration: 25 minutes. Cost: ¥590.
Or, there is a direct bus to Koshimizu from Abashiri station. I think it might be easier to get there.
Airport transfer information can be found here.
Train information can be found here.