Sponsored by Nakanojo tourism association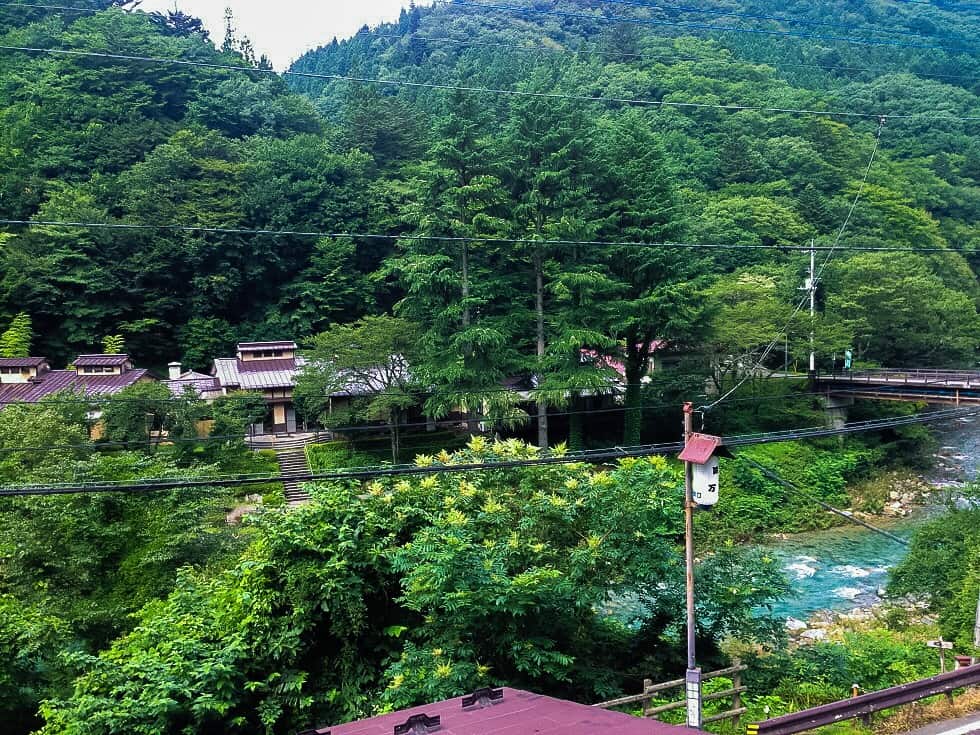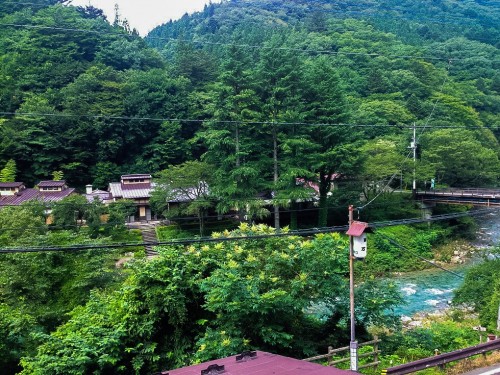 Japan is known as a country with a lot of tourism, even outside of the big metropolitan areas there are always some interesting destinations for travelers to see. While there are plenty of modern hotels, like you'd expect to see in just about any country, Japan also specializes in its own style of hotel- called ryokan. The Ryokan hotel can be daunting for first-time travelers, as the etiquette – not unlike a lot of other situations in Japan- is a little bit strict, and can be scary for those unfamiliar with what to do. Unfortunately, adding to this perception of ryokan being closed off is the fact that some are hesitant to accept foreign guests. For those looking for an English and foreigner-friendly ryokan that still feels authentically Japanese, Kashiwaya Ryokan is the perfect place.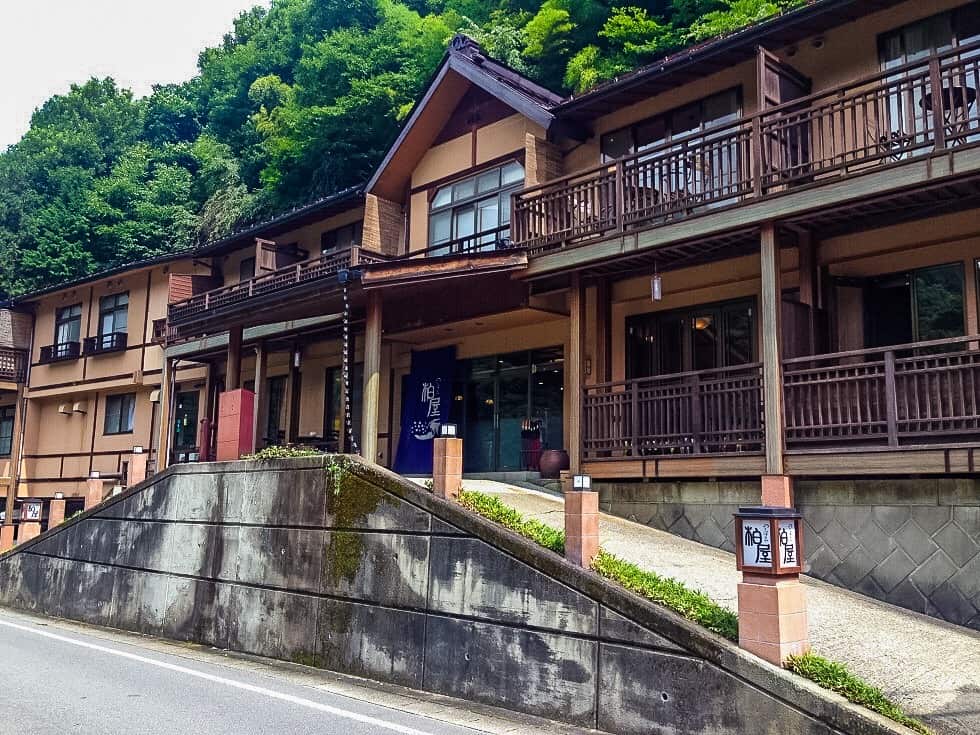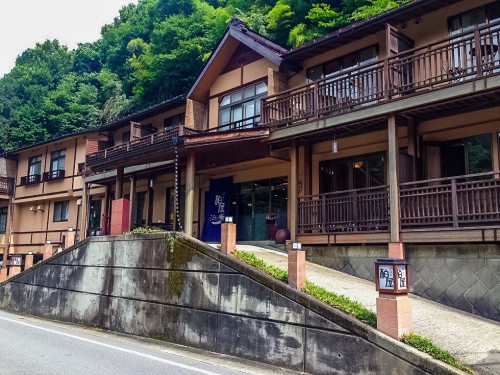 Introducing the Kashiwaya Ryokan Hotel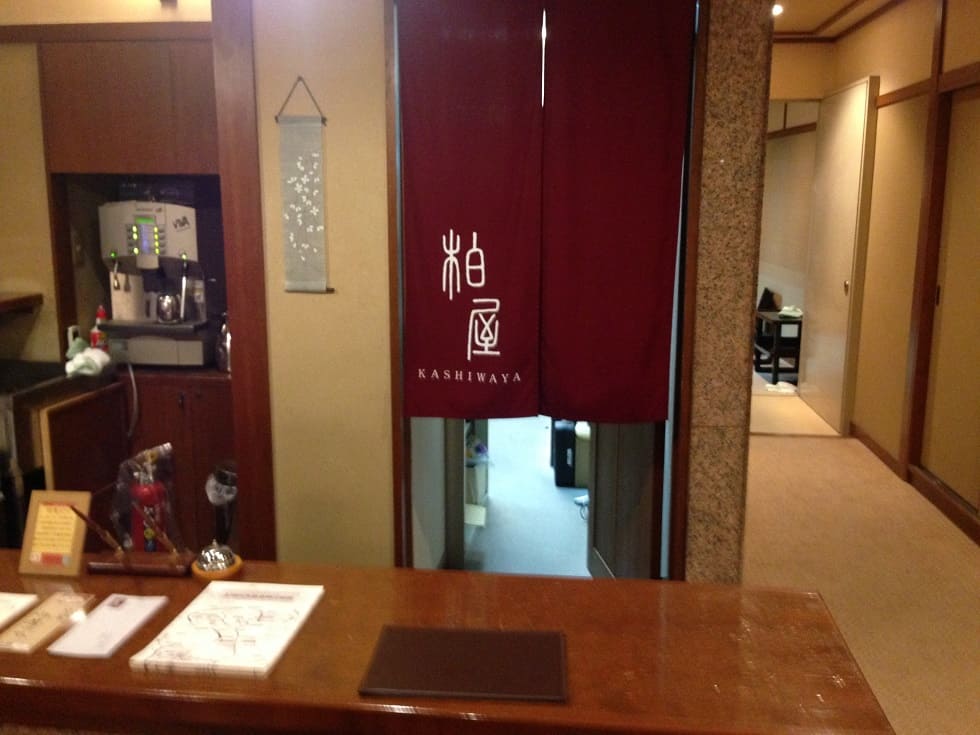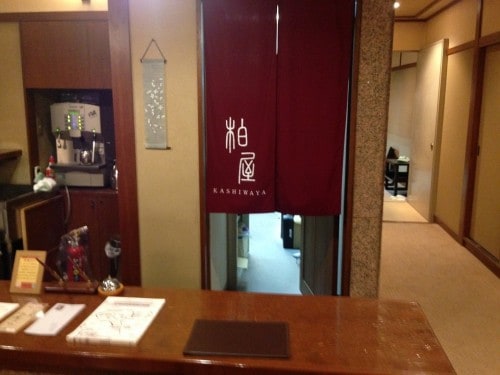 The Kashiwaya Ryokan is a very progressive establishment in more ways than one. The building, which is about 40 years old, is constantly being renovated. Everything, from the facilities, to the rooms, look very new and are in good condition. There is also a library, which is a nice relaxing little nook to enjoy some complimentary coffee. Unlike many onsen, my room had beds instead of futon, which were very comfortable, with the added bonus of not having to lay it out and put it away myself. The accommodations are a bit more comprehensive than your usual spare guest rooms. Everything from towels to toothbrushes are already provided and waiting for you. The tatami in my room was fresh and new, and it felt great to walk on. The view of the Shima River lit up at night is also breathtaking. It makes for a relaxing atmosphere, including the TV and stocked mini-bar.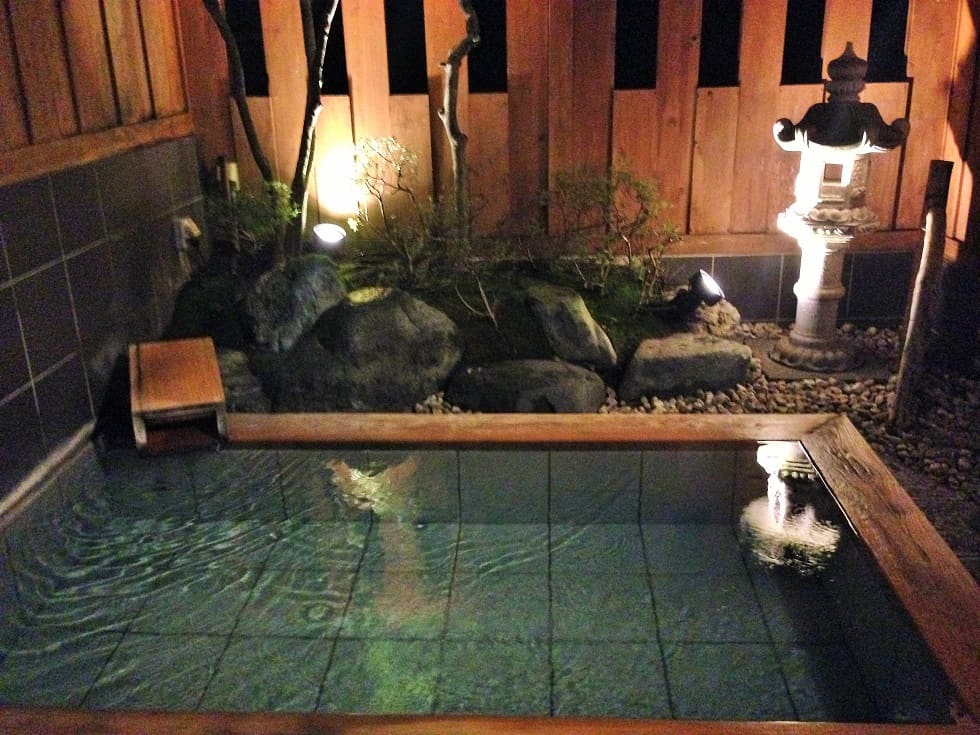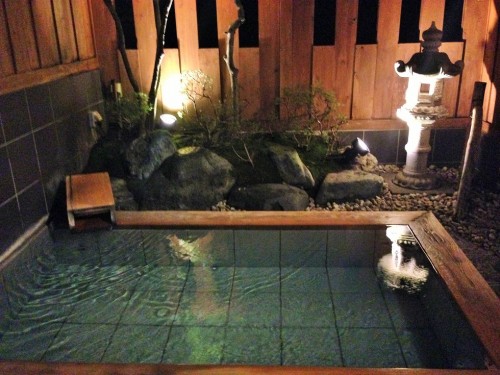 Private Onsen at Kashiwaya
Speaking of onsen, the Kashiwa Ryokan has many different choices. Some of the rooms contain their own baths, but there are public and private onsen available to all customers. On the way to the public onsen is a sign in English helpfully explaining the rules. For those who want to have a little more time to themselves or simply never used an onsen before, there are also 3 private onsen to choose from. These 3 onsen are created with a certain theme in mind: "Sakura no Yu" is perfect for looking at the cherry blossoms in the spring, "Tsuki no Yu" is ideal to see the full moon on a clear winter's night, and "Kaede no Yu" can give you a great view of the gorgeous fall colors. There is a light next to the door to show whether not not each room is occupied, and the doors can be locked from the inside. The bathing areas are fenced in, and very secure, while giving an impeccable view of the scenery. Just relax and enjoy a dip in the onsen! When you are finished, feel free to grab a yukata in your favorite color.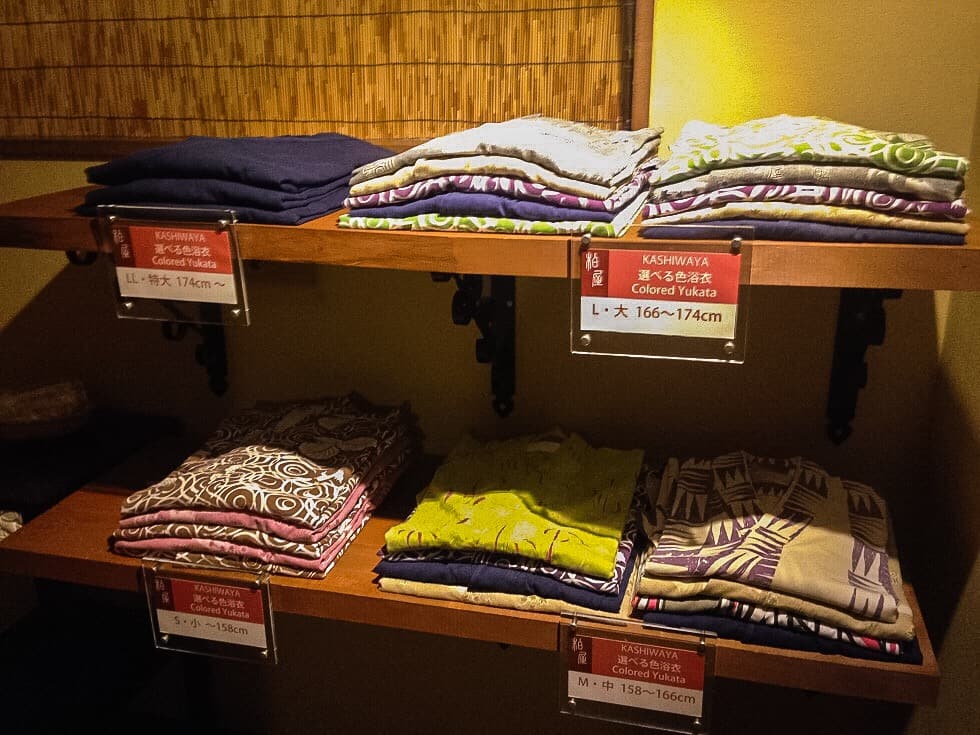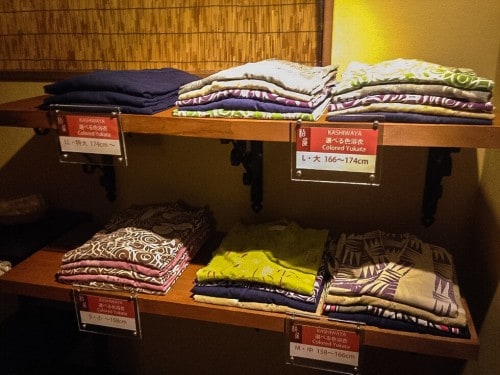 A Thoroughly Delicious Detour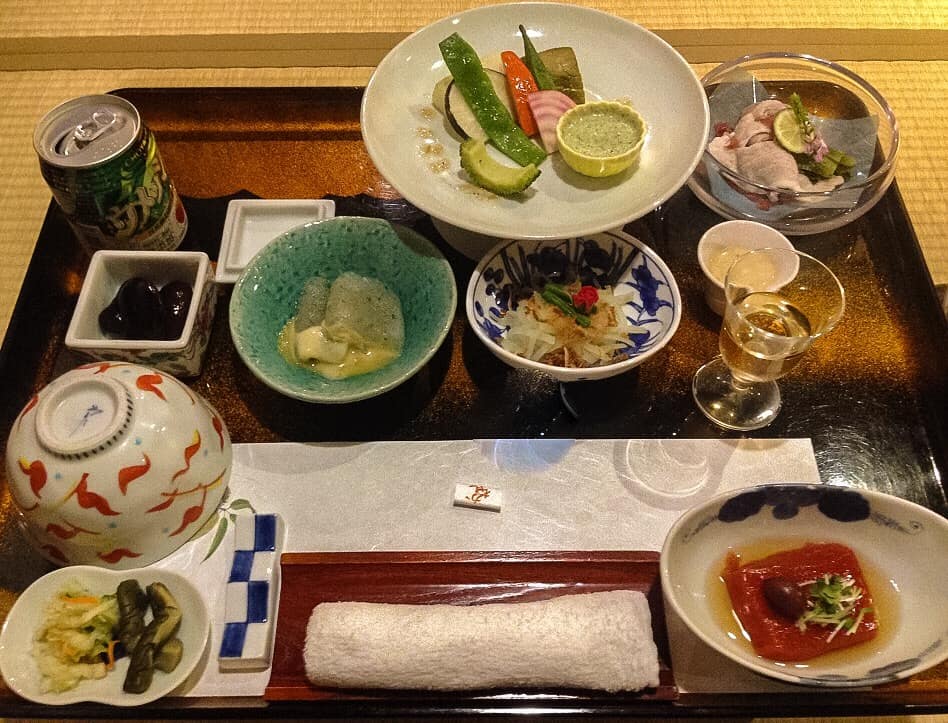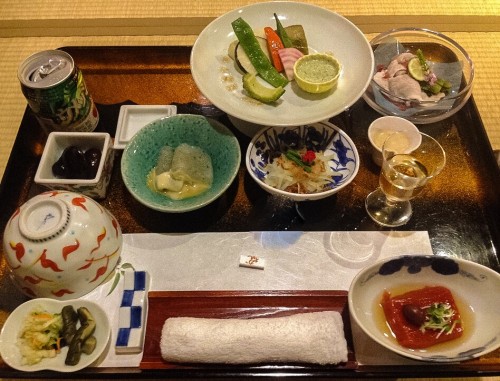 Dinner arrived straight to my room at 6:30. What I didn't realize was that this would be a multiple course affair – course after course room service of the most delicious food you could hope for. Since the specialty of Gunma Prefecture are their fresh vegetables, this factors heavily into the menu at Kashiwaya. The menu included fresh veggies with a mint dip, konyaku, and a tomato tofu which was unlike anything I'd ever tasted before. What I thought was a bowl of moyashi bean sprouts with bonito was actually papaya done Japanese style. Kashiwaya's take on Japanese cuisine is definitely unique, but the best was still to come. Being a carnivore myself, I was really excited about the Pork Shabu Shabu served with an avocado ponzu sauce. This was truly a great flavor combination; if anything I'd have been satisfied just with a big plate of the delightful boiled pork. I was also given a piece of perfectly cooked masu trout with a soy milk cheese topping served with pistachios. Rather than the whole fish or natto that typifies traditional ryokan fare, this menu was much more foreigner friendly, and plain delicious.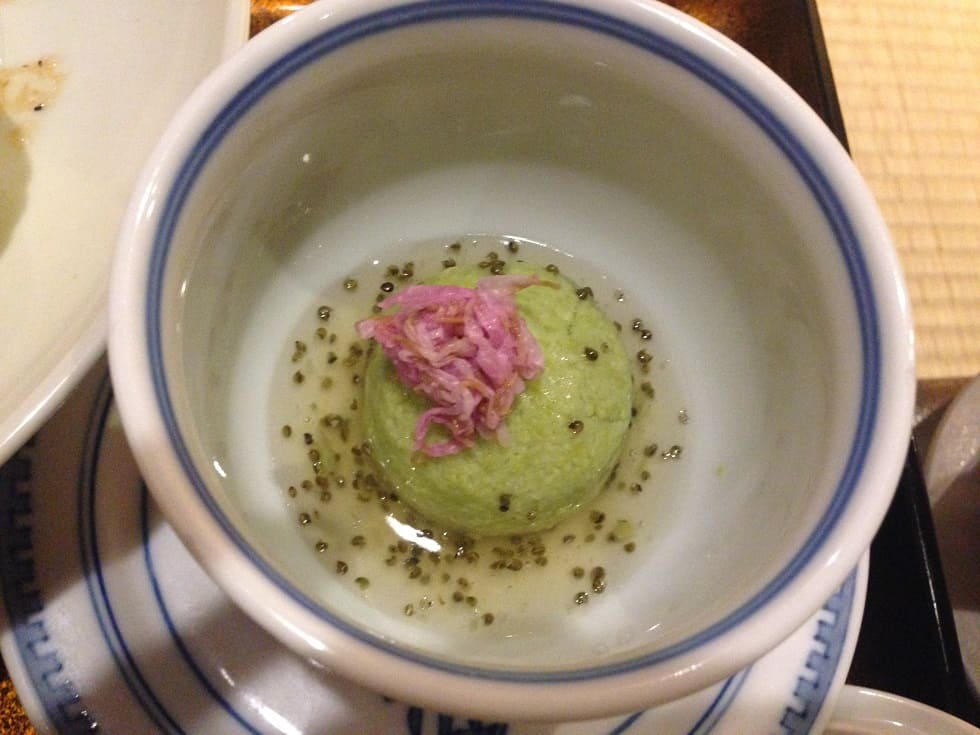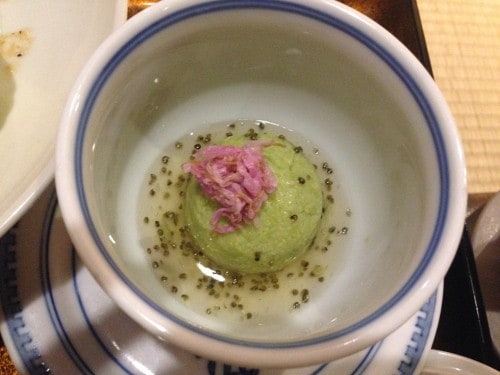 Edamame Manju
Further courses included Edamame manju, another stable of Gunma. Unlike most manju cakes, it was savory rather than sweet. The desert was a plum jelly with fresh plum slices and umeboshi. I was given some umeshu plum wine as well, which was perfect for a summer evening. You can eat in the comfort and privacy of your own room, just don't forget to call the front desk to collect your trays once you're done.  For people with special dietary requirements, there are actually four types of meals to choose from, including vegetarian and vegan options. In addition to my dinner, guests have the option of a breakfast or lunch at a nearby Kashiwaya café. If you get the munchies at any other time, there is also pretty extensive room service, including locally brewed sake and craft beers available.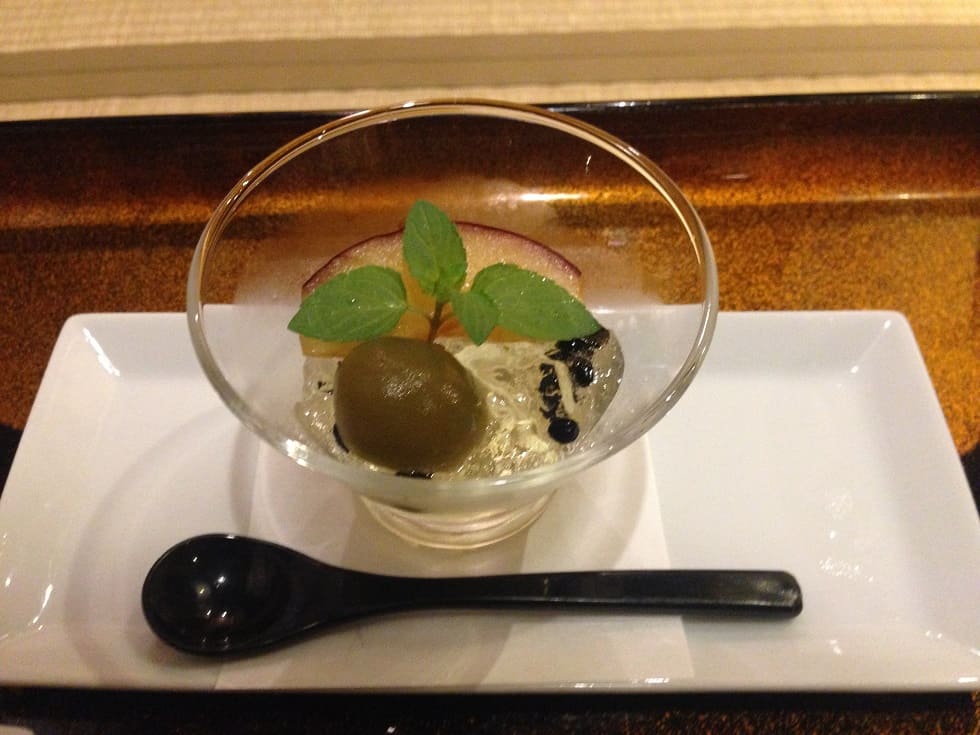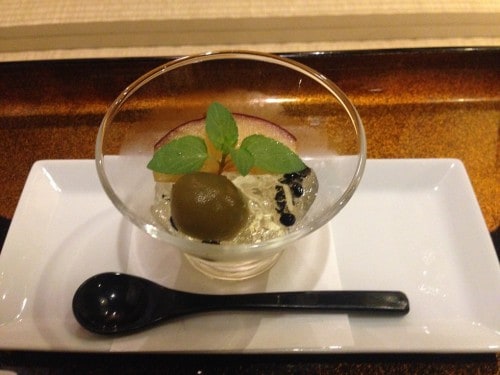 Don"t forget to leave room for desert!
The Inaka Ryokan with an International Flair
This hotel began their push to attract foreign guests about 2 years ago. Around this time, many artists were coming to town to participate in Nakanojo Biennale, and Kashiwaya offered a convenient English-friendly place to stay. You can see traces of this everywhere, and it seems like some of the art around the hotel was provided by the guests themselves. The owner of the hotel, the friendly Mr. Kashiwabara, shows me a map on the wall with dozens and dozens of red dots placed all around the world, showing where hotel guests are from. "We want to introduce a Japanese way of staying at a hotel to foreign travelers," he said. The ryokan does their best to be English friendly, with English signs and some staff with proficiency in the language. In addition to Biennale, the ryokan is popular with backpackers and outdoor enthusiasts. "People come to experience onsen, they like the quiet in Nakanojo," Kashiwabara-san said. The Shima Onsen area is also a vibrant town, and many of the ryokan in the area team up to offer interesting events to their customers.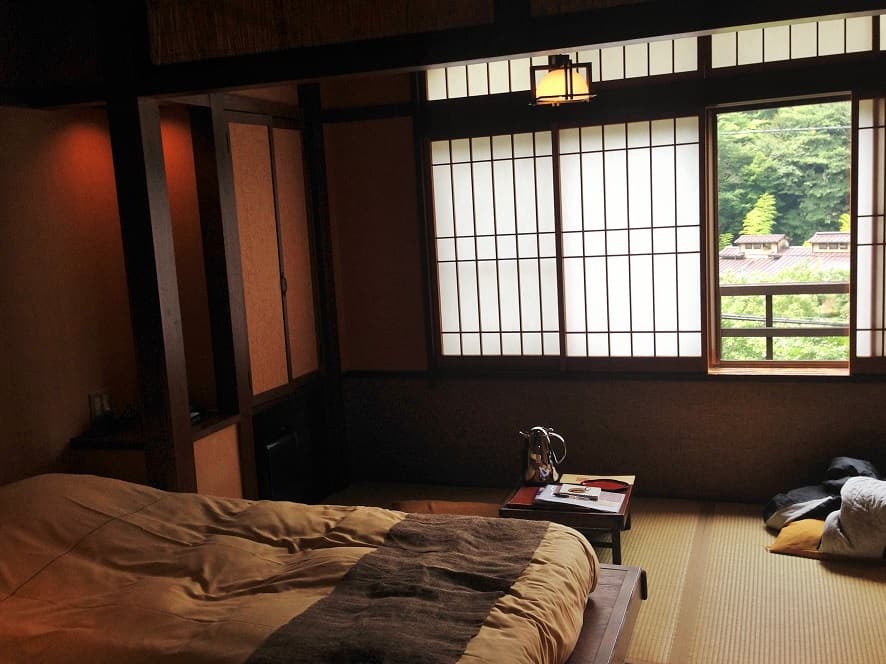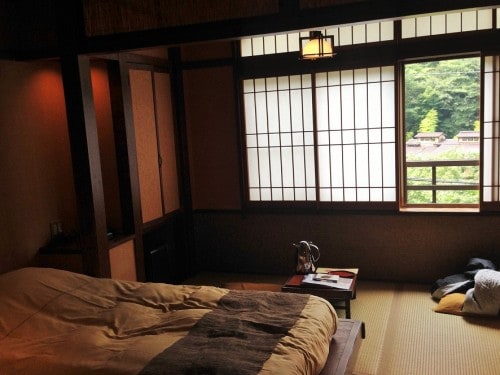 Kashiwaya Ryokan is an ideal first ryokan experience. It can be conveniently reached by a bus straight from Tokyo, as well as buses arriving from Nakanojo Station. Reservations can be done in English directly at their website. Take a look at the list of rooms and packages, and choose the one that's best for you, you definitely won't regret it!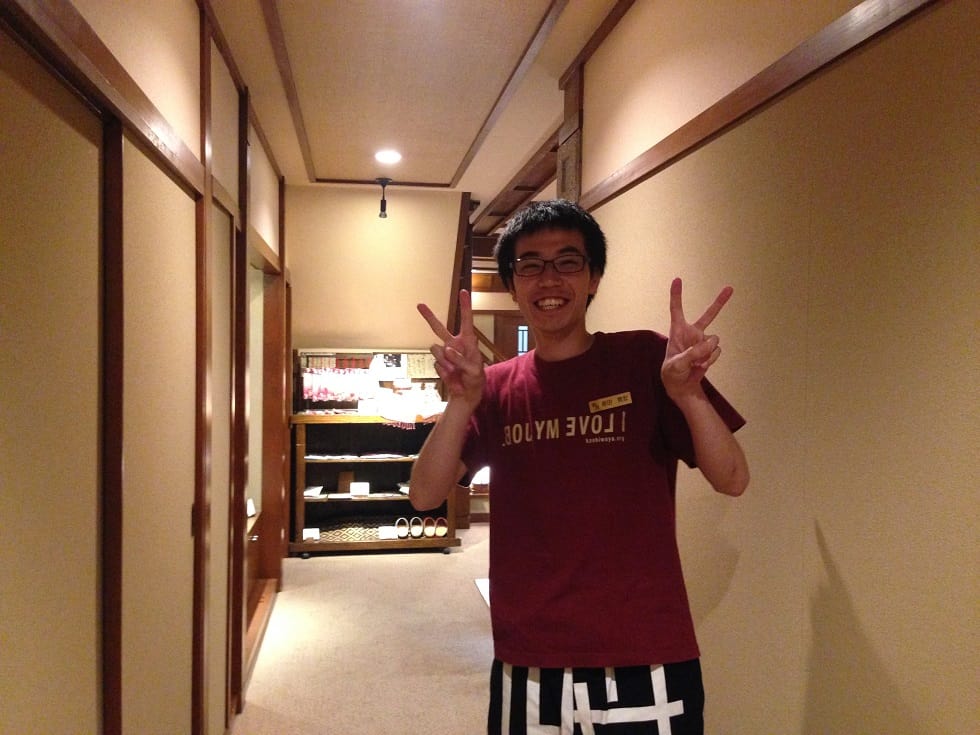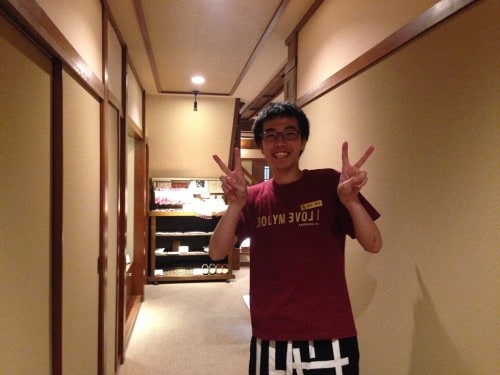 | | |
| --- | --- |
| Name | Kashiwaya Ryokan |
| Category | Hotel |
| Address | 3829 Shima, Nakanojo, Agatsuma District, Gunma Prefecture 377-0601 |
| Access | [map]3829 Shima, Nakanojo, Agatsuma District, Gunma Prefecture 377-0601[/map] |
| Opening Hours | Check in 15:00 / Check out 10:00 |
| Price Range | ¥12,300 〜 includes dinner and breakfast |
| Payment options | Both |