One of the reasons I enjoy escaping from the confines of the big city is to remind myself of the kindness and generosity of the Japanese people. Don't get me wrong — I have many good friends here in Tokyo who are kind and generous. But in the countryside, people feel no need to put on a facade, and a stranger can become a friend starting with a simple smile and "Konnichiwa!"
Here in Iiyama, where there are not enough year-round guests to support large hotels, homestyle hospitality is the norm. Many families run small accommodations catering to weekend and holiday visitors coming to enjoy the area's outdoor activities. To stay in a place like this is as close to being invited into a Japanese family's home as many visitors to Japan are likely to get. There are several types of accommodations available in the Iiyama area to suit different budgets and preferences, the most common being pension houses and yado.
What is a Japanese Pension House?
Pension houses in Japan are similar to Western-style bed-and-breakfasts, with private rooms but otherwise shared facilities. They tend to be very casual and therefore family-friendly, perhaps the best choice for those traveling with children. One such pension is the Refre Inn Fukuzawa.
Refre Inn Fukuzawa sits just below the Togari Onsen Ski Resort, a short walk for those who are enjoying the snow sports on the mountain. With a flexible check-in and check-out policy, it is possible to use your room as a place to take a break and get warm while enjoying the slopes of the resort.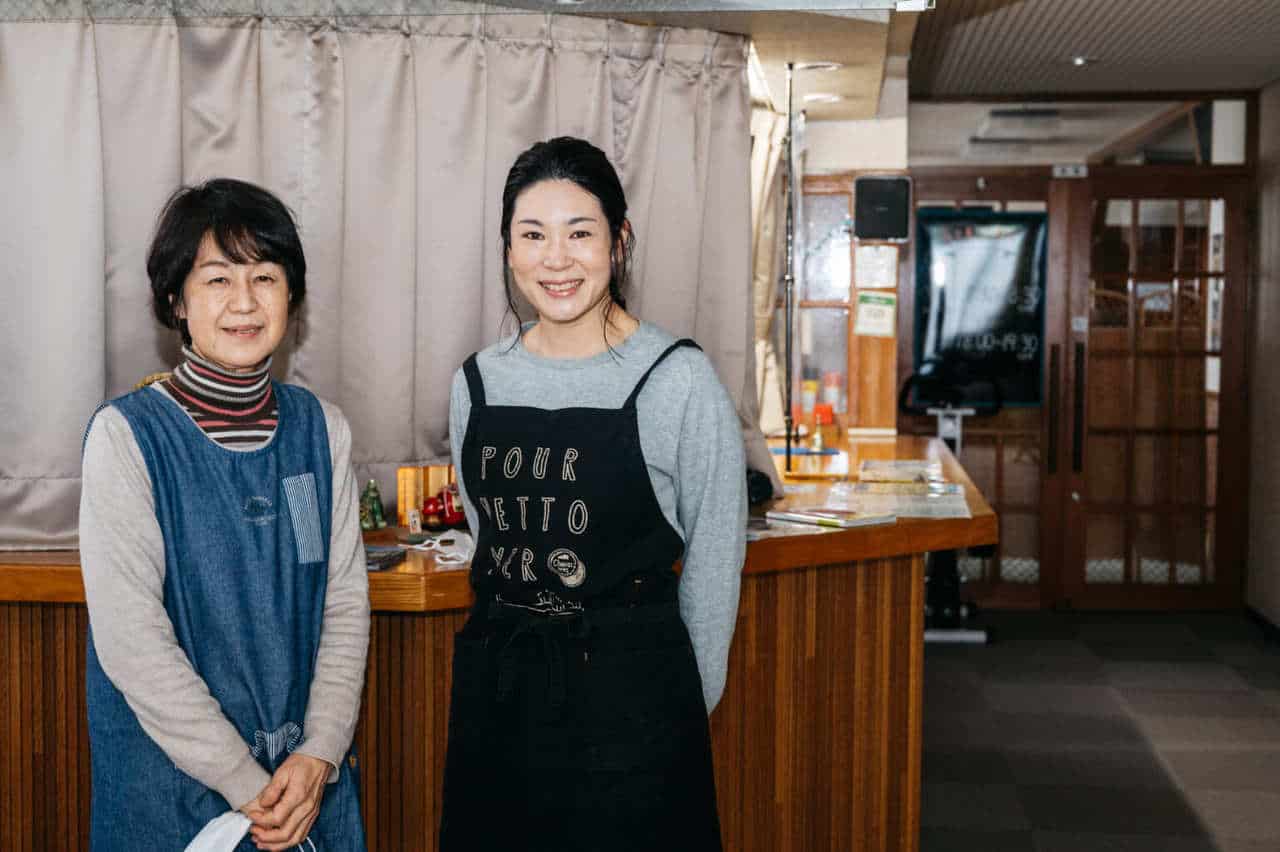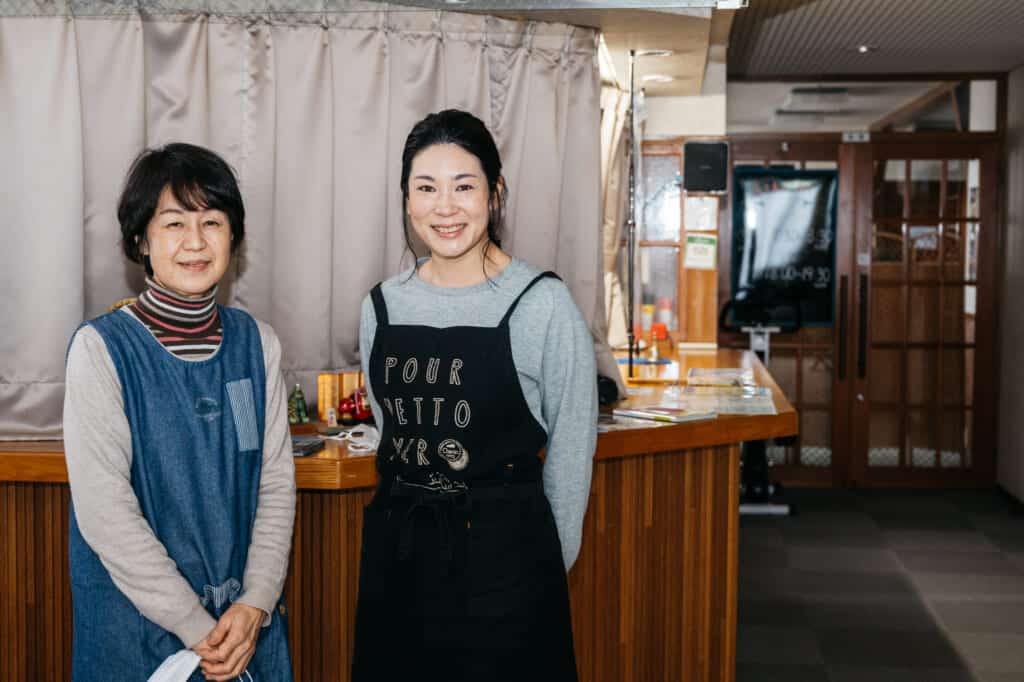 The Fukuzawa family has run the pension house here for 60 years, founded by the current proprietress's parents. They have served generations of visitors to Iiyama; in the summer, high school and university students practicing kyudo (Japanese archery) often stay at the inn and make use of the facility's private archery range. In other seasons, the inn is popular for groups of seniors and families, who come to enjoy the outdoor activities, including cycling around the valley, trekking on the Shin-etsu Trail, and, of course, snow sports in the perfect powder snow.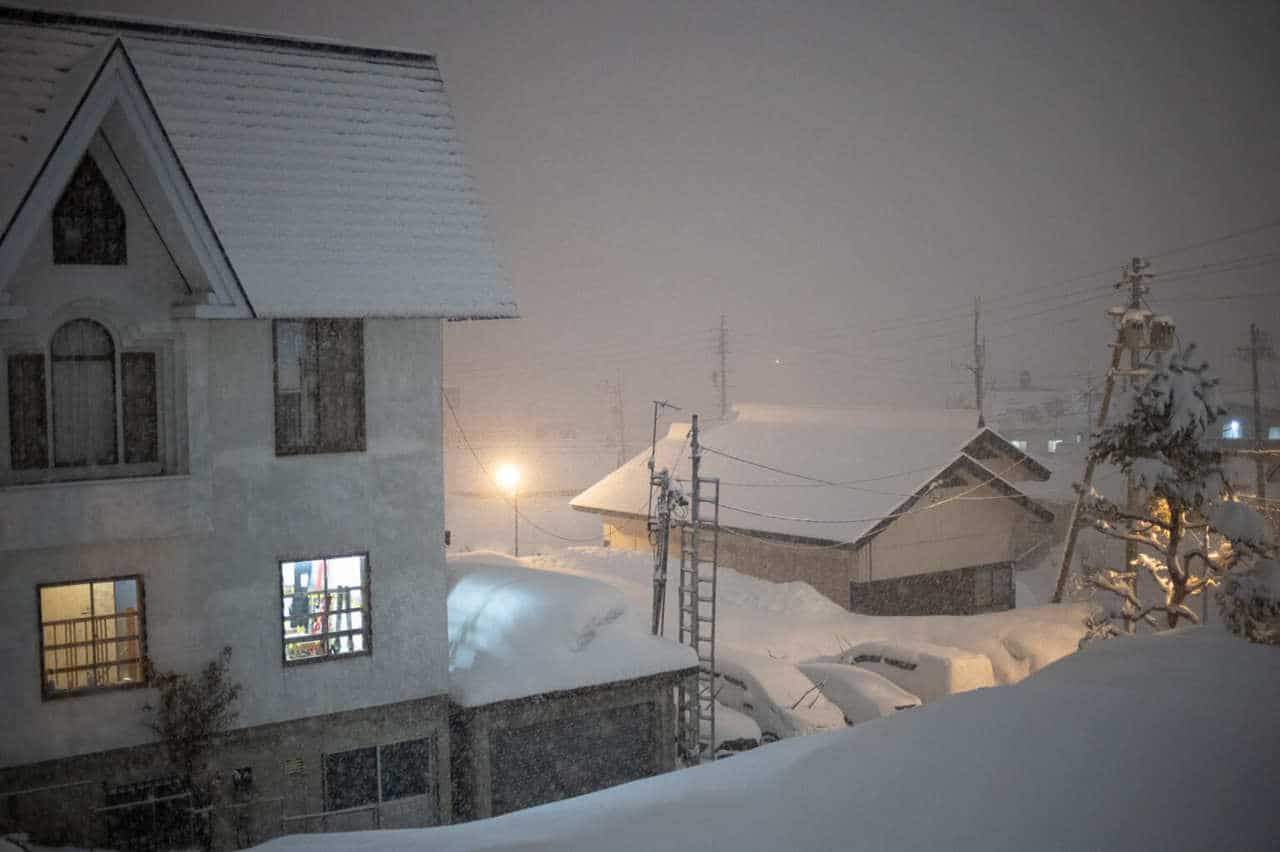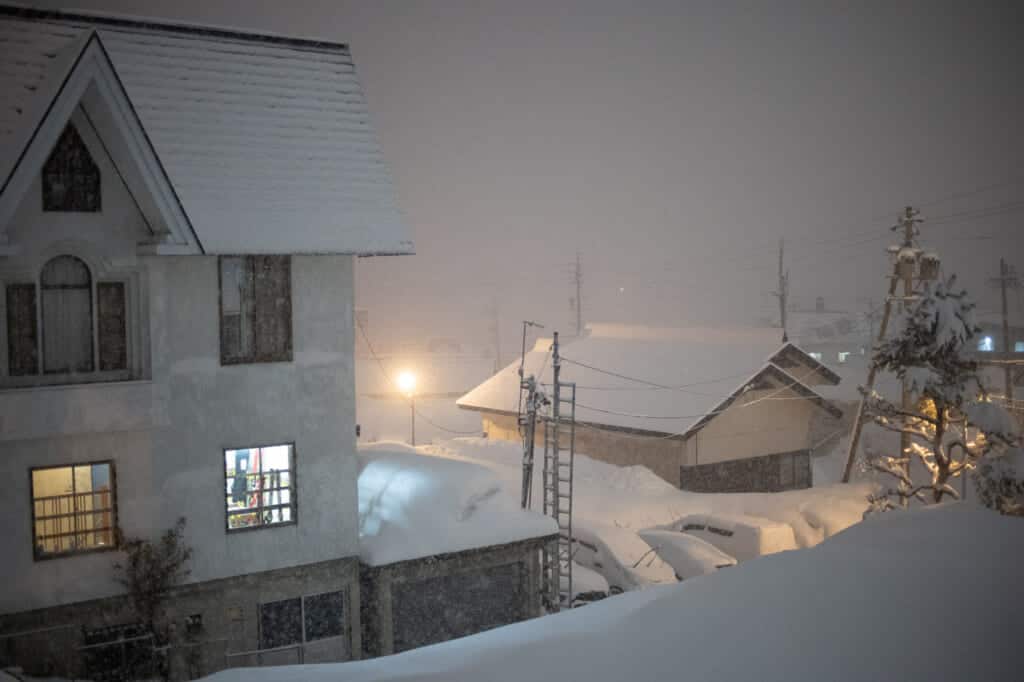 I stayed in one of the 14 rooms available at Refre Inn, a standard Japanese-style room with tatami-mat floors, a low table with zabuton (cushions used to sit on the floor), and a small television and electric kettle. In cold February, an electric heater keeps the room comfortably warm, and there is a separate air conditioning unit for the warmer season. At night, the table is pushed aside, and futon mattresses and bedding are taken from the closet and spread out on the floor for sleeping. It's all "standard operating procedure" in many Japanese homes but a bit of a novelty for overseas visitors.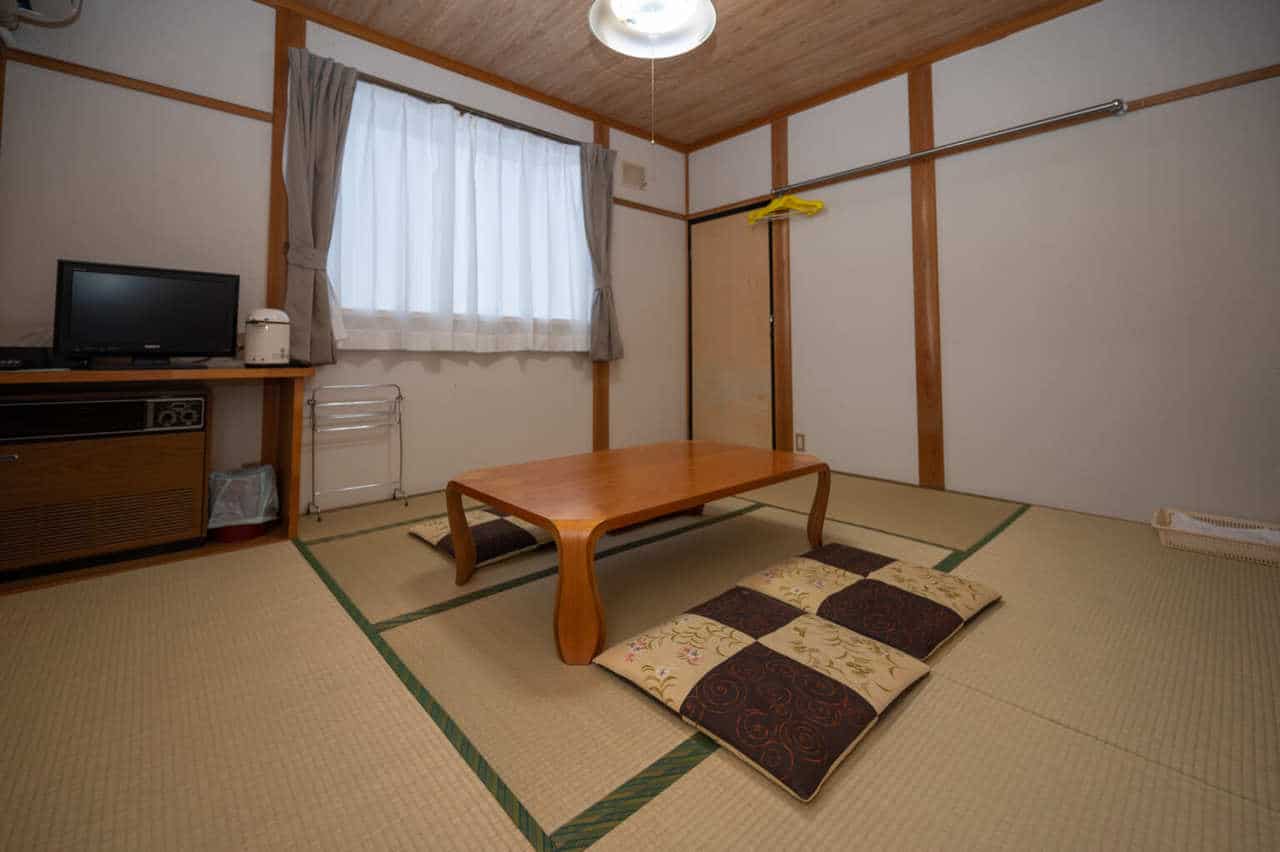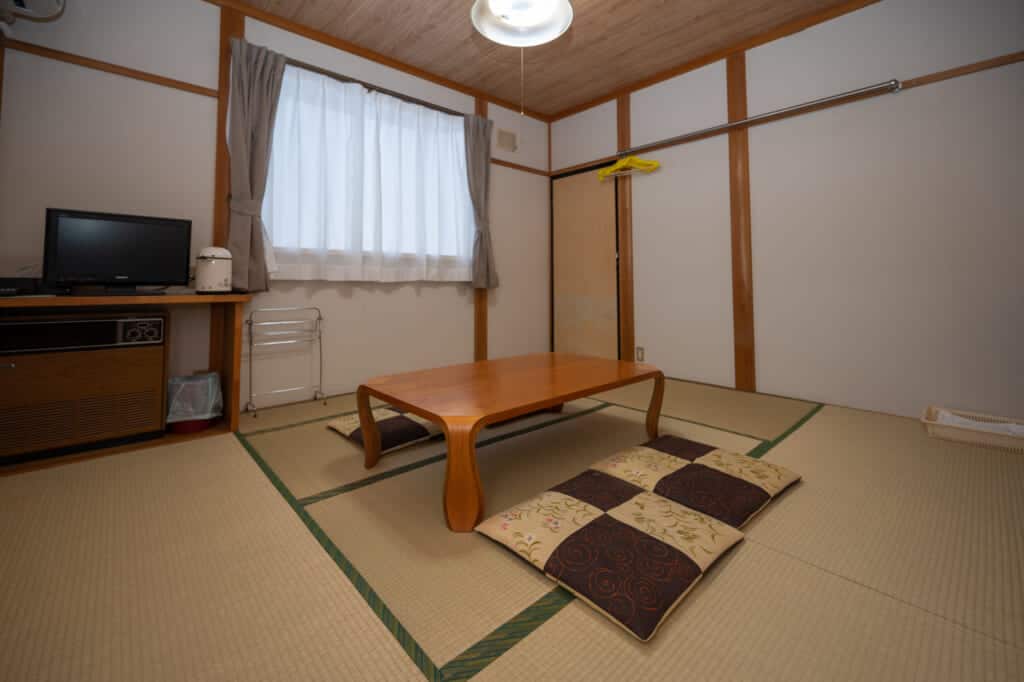 Like most pension houses, Refre Inn has a common toilet, bathing, and dining facilities. There are a small sink and mirror in the room, but the gender-segregated toilets were down the hall, harkening back to my days living in a college dormitory. Downstairs, segregated shower and bathing rooms for men and women contain real onsen (hot springs) baths. In Japan, a bath can only be referred to as onsen if the bath water comes from a natural hot spring source. In this case, the alkaline waters of Togari Onsen purportedly soothe aching joints and muscles, perfect after a day of outdoor activities. During the age of traveling safely with coronavirus, there are limits on the number of people who can use the bath simultaneously, and the room is ventilated when it is not in use.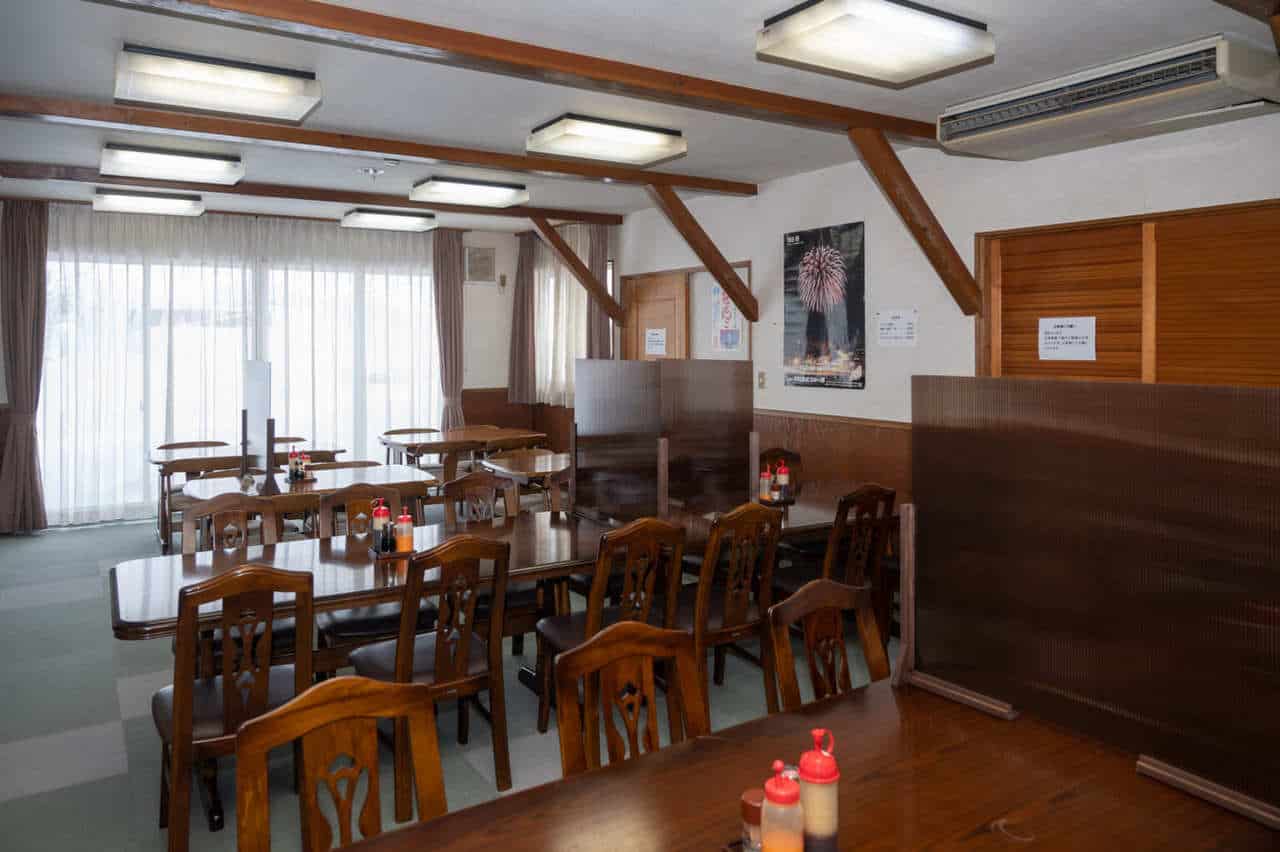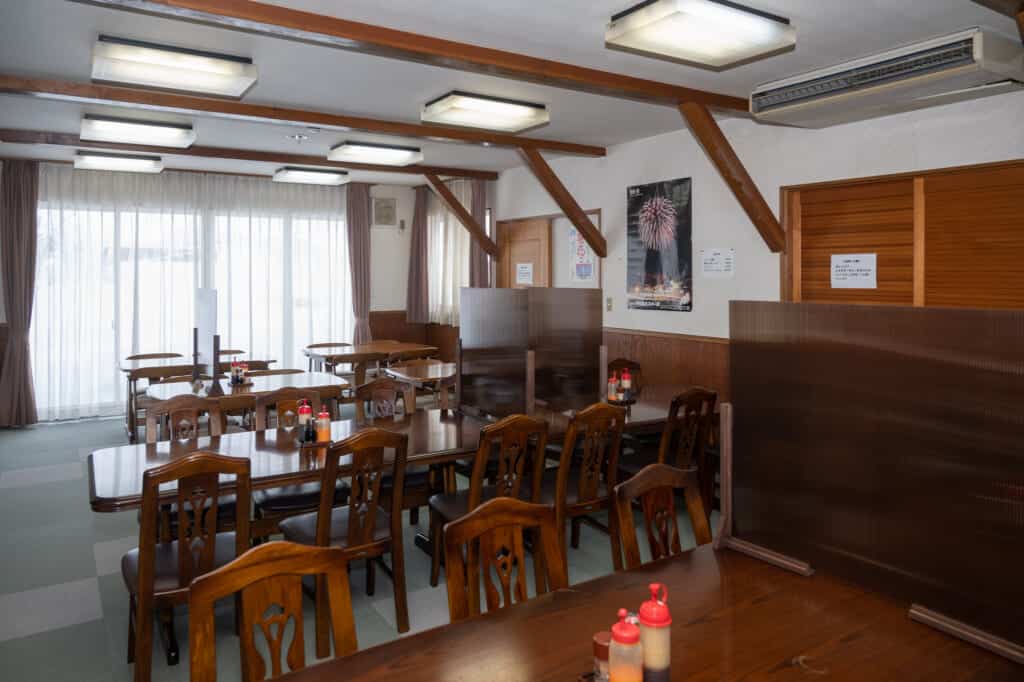 In the common dining area, you'll be seated with the others sharing your room, and groups are separated by tables or plexiglass dividers for coronavirus safety. Dinner and breakfast at Refre Inn are optional but recommended. Though there are several restaurants in the area serving dinner, it is more difficult to find a nearby restaurant serving breakfast, so if you want to get a quick start to your day, eat your breakfast at the inn. Eating breakfast here is no compromise; a hearty Japanese-style breakfast with a piece of fish, egg, sausage, pickled vegetables, miso soup, and locally produced rice are on the daily menu. If there is something you cannot eat or don't enjoy (for me, it's the slimy, slightly smelly natto, a staple of Japanese breakfast), just let the proprietress know in advance.
Dinner is a feast of home-cooked dishes using many local ingredients such as pork, chicken, vegetables, and rice. My dinner included a panko-breaded filet of fish, local soba buckwheat noodles in tororo (grated mountain potato), a hearty tonjiru miso soup packed with root vegetables, and beef, mushrooms, and local vegetables which simmered in a hot pot while I ate the other dishes. No meal in Japan is complete without rice, which at Refre Inn is local Koshihikari rice grown and harvested by the family. In fact, Refre Inn prides itself on the fact that many of the ingredients used in their meals are homegrown, and it comes through in the freshness of the dishes they serve.
On a previous visit to Iiyama, I stayed at another nearby pension, Flora Togari. Like Refre, it is a popular accommodation for students at certain times of the year because they have facilities for groups practicing sports. Flora Togari has its own gymnasium and dojo for groups who want to practice martial arts, dance, or other physical activities.
The owners of Flora graciously gave us a ride to and from our activities, and our stay included a comfortable Japanese-style room and a delicious breakfast with their homegrown rice. They even sent us off packing snacks of onigiri rice balls and fried chicken when we checked out!
If you're looking for a similar travel package plan like this, Iiyama Tabitabi from the Shinshu Iyama Tourism Bureau includes different tours and accommodation plans to choose from, including a dinner in an Igloo at Restaurant Kamakura Village where rice balls and fried chicken are also included!
The Pension Houses of Madarao Mountain
Although pensions houses are scattered all around the foothills of the mountains in Iiyama City, you'll find a large concentration of them in one area just outside of Madarao Mountain Ski Resort, about half an hour up the mountain from Iiyama Station. As you might expect, these Western-style pensions houses cater mainly to those coming to the mountain for winter sports, but Madarao Mountain is also the starting point for the Shin-etsu Trail, which follows the ridgeline 70 kilometers from there to Niigata Prefecture. Locals know that the summer heat that can be sweltering in much of Japan dissipates quickly up here, so hiking the trail during the day and enjoying the cool air of the evening can be a refreshing getaway from June through September.
Of course, one of the joys of staying in a pension house is getting to know the families who run them. Many pension house owners relish the opportunity to meet and interact with foreign visitors and are excited to use their English skills to make conversation.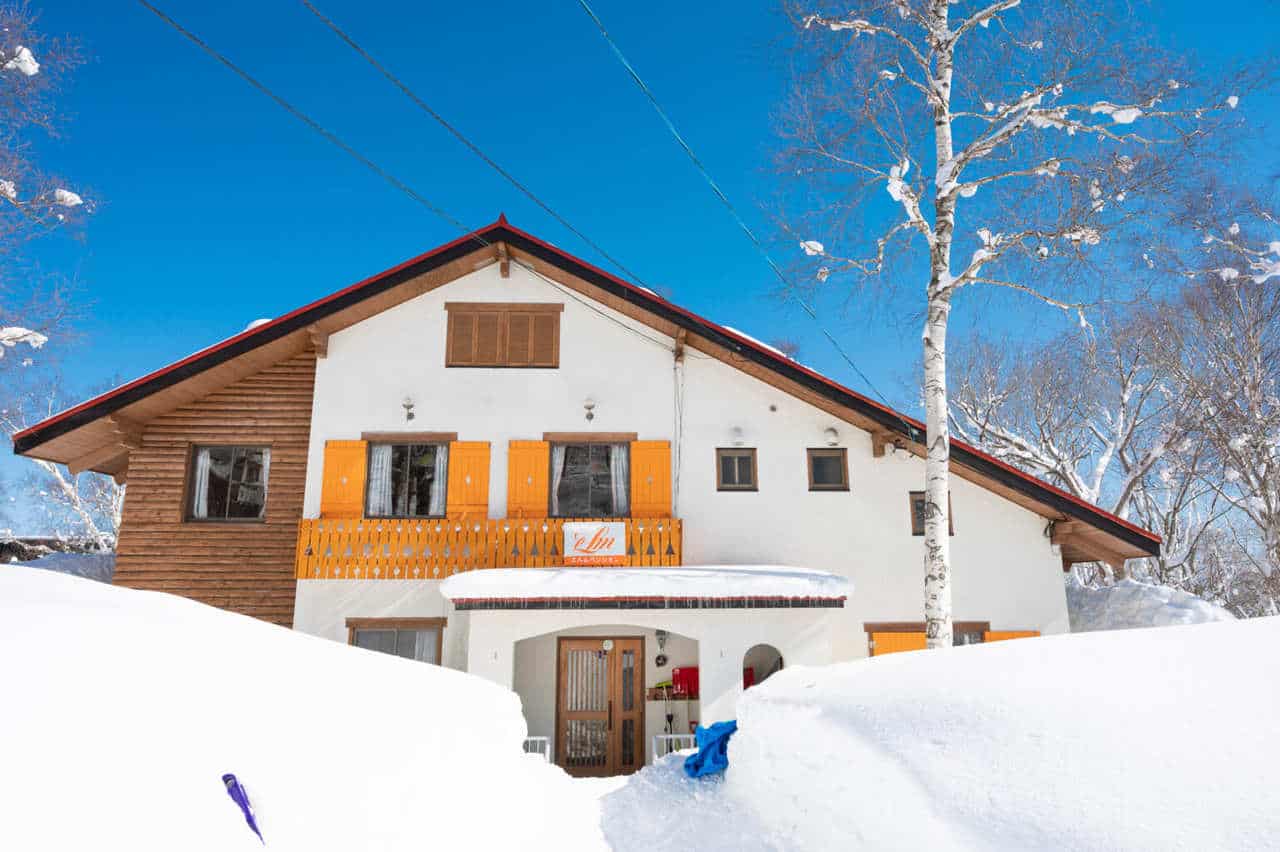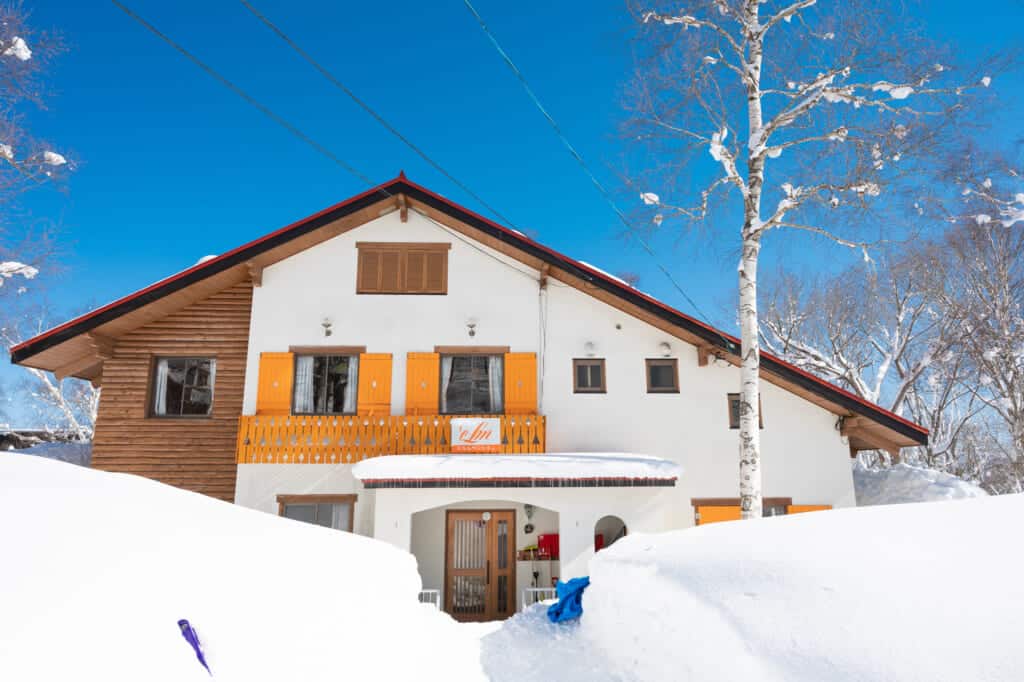 Pension Elm is a cute little house with bright orange shutters that stand out against the pure white snow. Inside, you'll find a bright interior and the warm-hearted couple who run it, the Niiyamas. A colorful painting of jazz musicians curiously adorns one of the dining room walls. Mr. Niiyama explained to me in English that he has been helping to organize the Madarao Jazz Festival, based on the famous American event, the Newport Jazz Festival. The Madarao Jazz Festival was held annually since 2007 before it had to be canceled in 2020 due to the coronavirus pandemic, but Mr. Niiyama hopes it can resume again as soon as it is safe to do so.
A few doors down and up a set of stairs, Pension Pure has a commanding view of the Nagano Valley from the window of its common room. It has a large dining area and several private rooms with comfortable beds, suitable for small families to enjoy. The friendly couple who run it seemed eager to welcome English-speaking guests.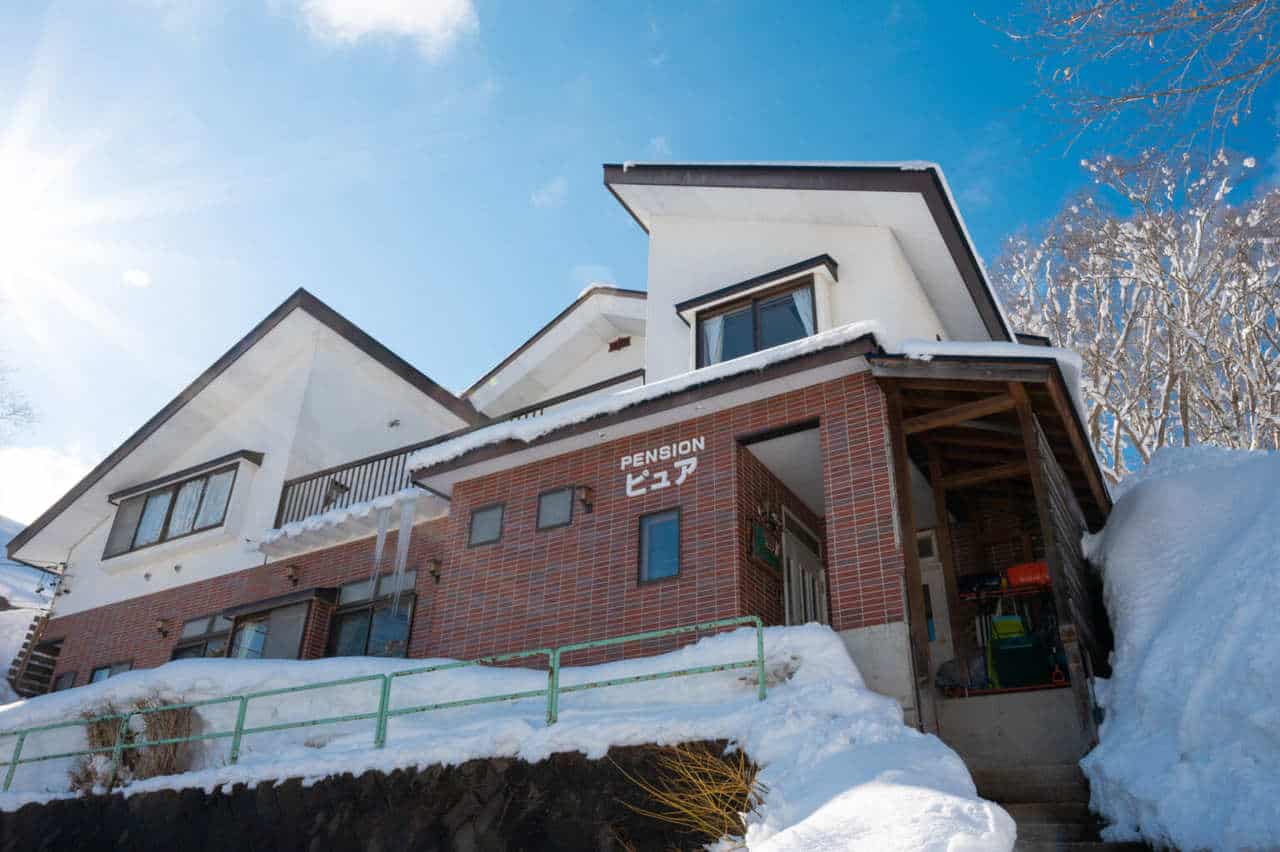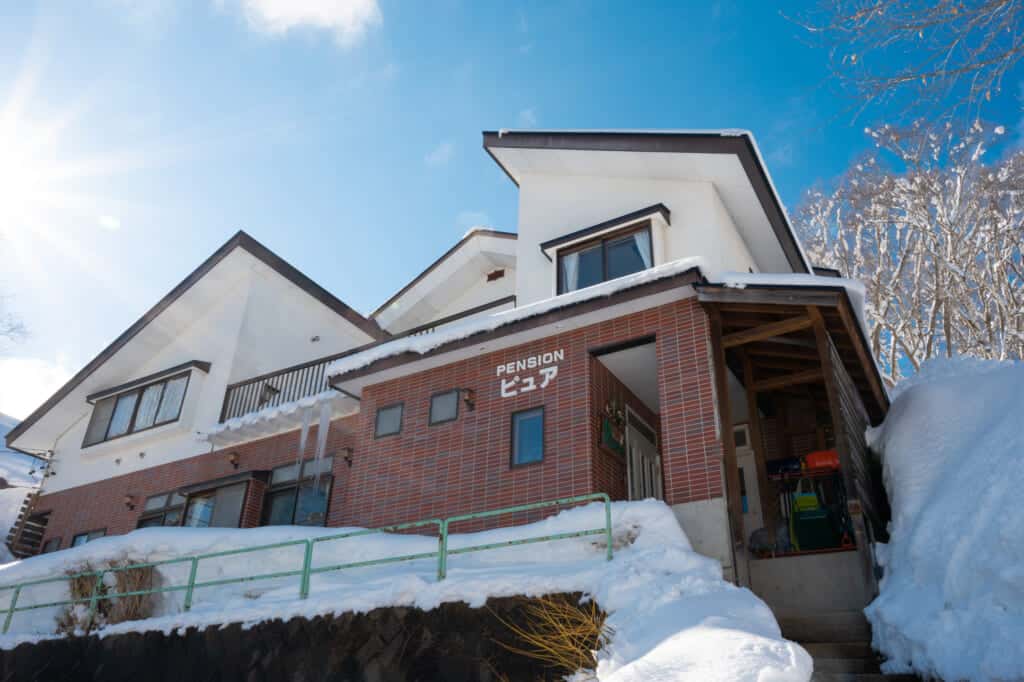 Pension Maroudo is another local pension run by a couple and their adult son. Approaching the pension, it appears to be a simple lodge-like house with a large sun-filled sitting room on the south side. Once inside, you realize Maroudo is built on the hillside, and there are two levels below the main one containing private rooms, a bath, and a dining area with a panoramic view of the valley.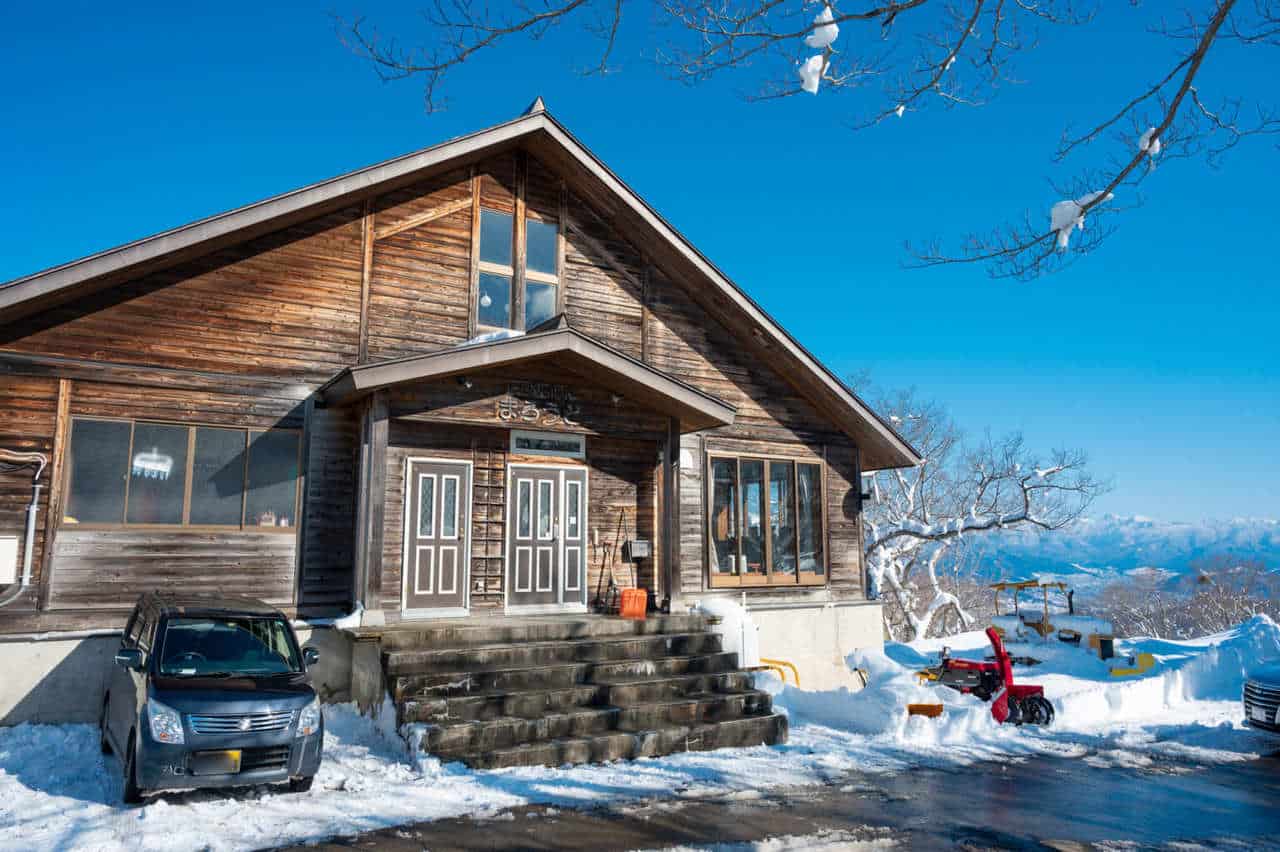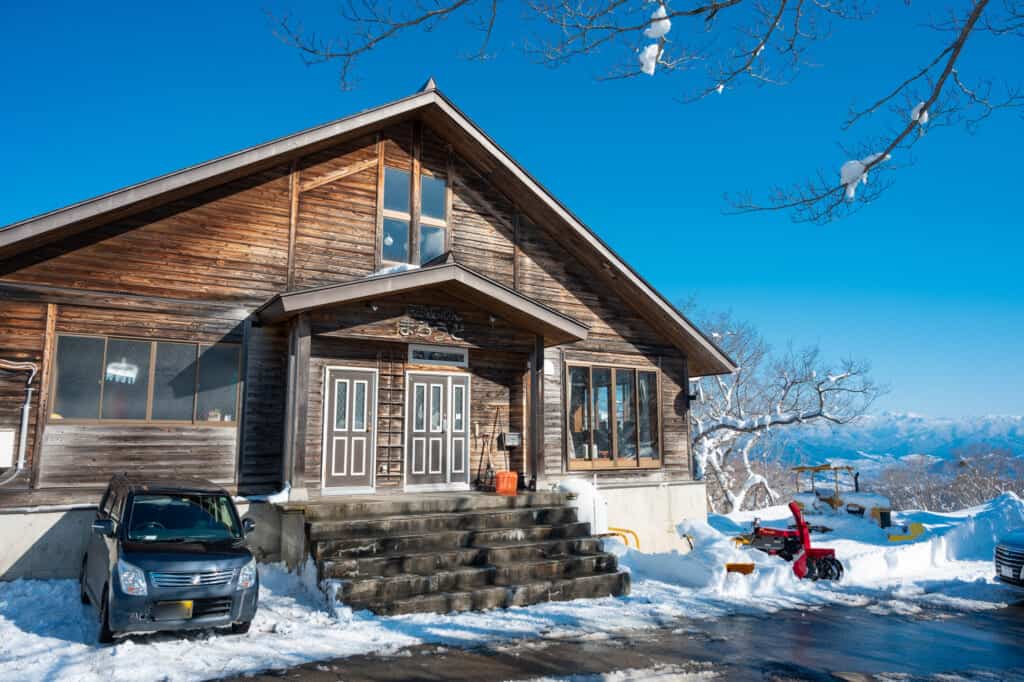 Each of these pension houses is a short distance from Madarao Mountain Ski Resort, and guests can be dropped off and picked up at the resort for their convenience. They provide an affordable option for small families to stay together, enjoy homecooked meals, and get to know the friendly people of Nagano Prefecture. I personally enjoy staying in this type of accommodation for the opportunity of meeting new friends and hearing about the area from the perspective of someone who grew up there.
A Little More Luxury at a Japanese Style Inn 宿
If the idea of homestyle accommodation intrigues you but you want a little more luxury, the next step up the accommodation ladder is the yado 宿, a Japanese-style inn. At this level, you may find accommodations that have larger rooms, private bathrooms, and more formally presented and prepared meals.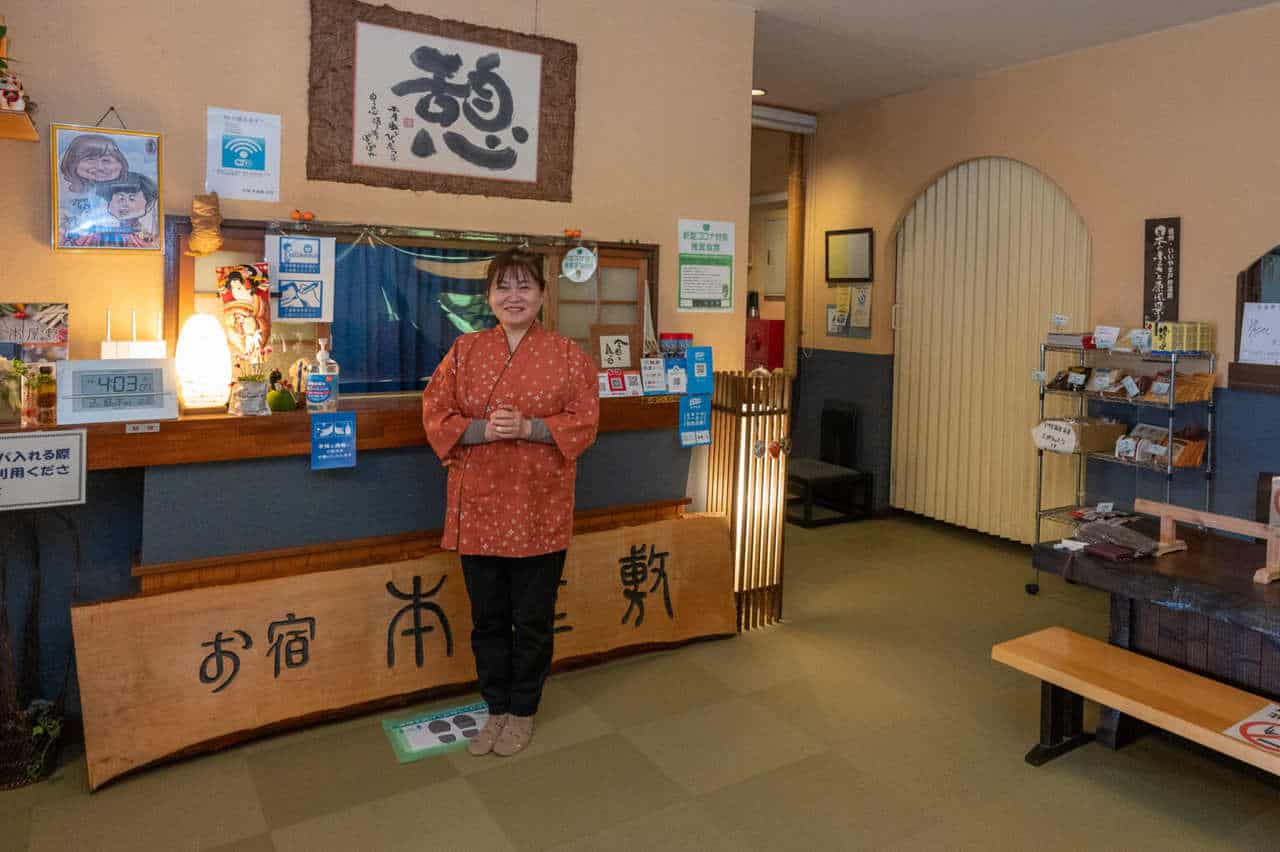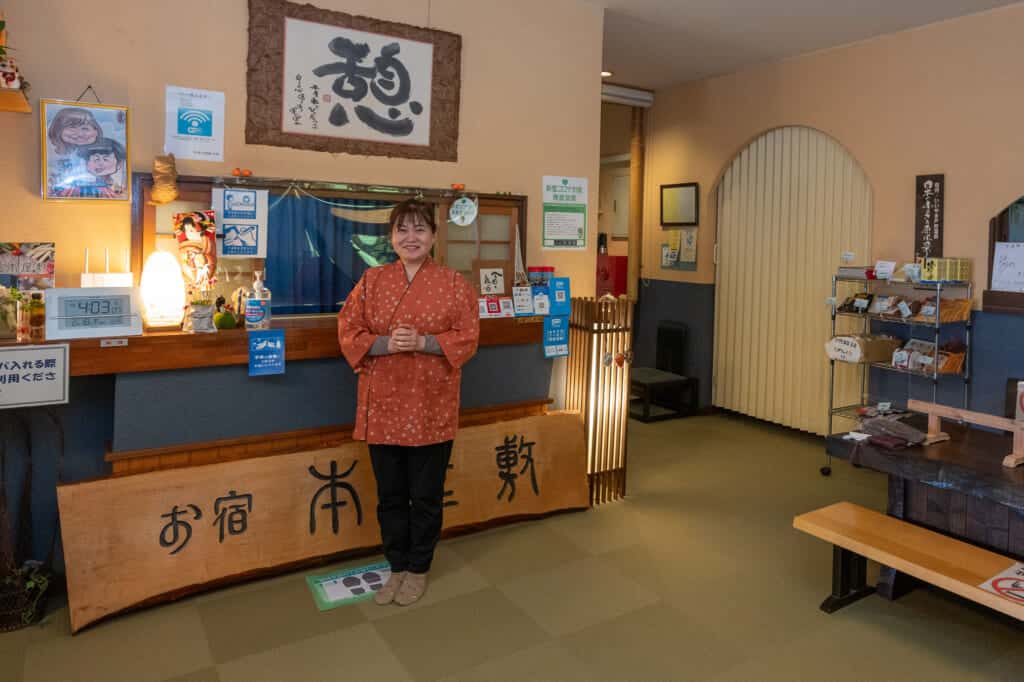 Motoyashiki is one such yado, located walking distance from the slopes of Togari Onsen Ski Resort. You'll immediately notice the rooms at Motoyashiki are larger than most pensions and bear a closer resemblance to a ryokan than a family home. Although there are no private baths here, the on-premise onsen hot spring bath is built from elegant stone and would not look out of place sitting outside at the edge of a forest. The proprietress of Motoyashiki takes particular pride in her cuisine, which uses many organic ingredients produced locally. She can also tailor meals for dietary restrictions; just inform her well in advance so she can pick out the right ingredients.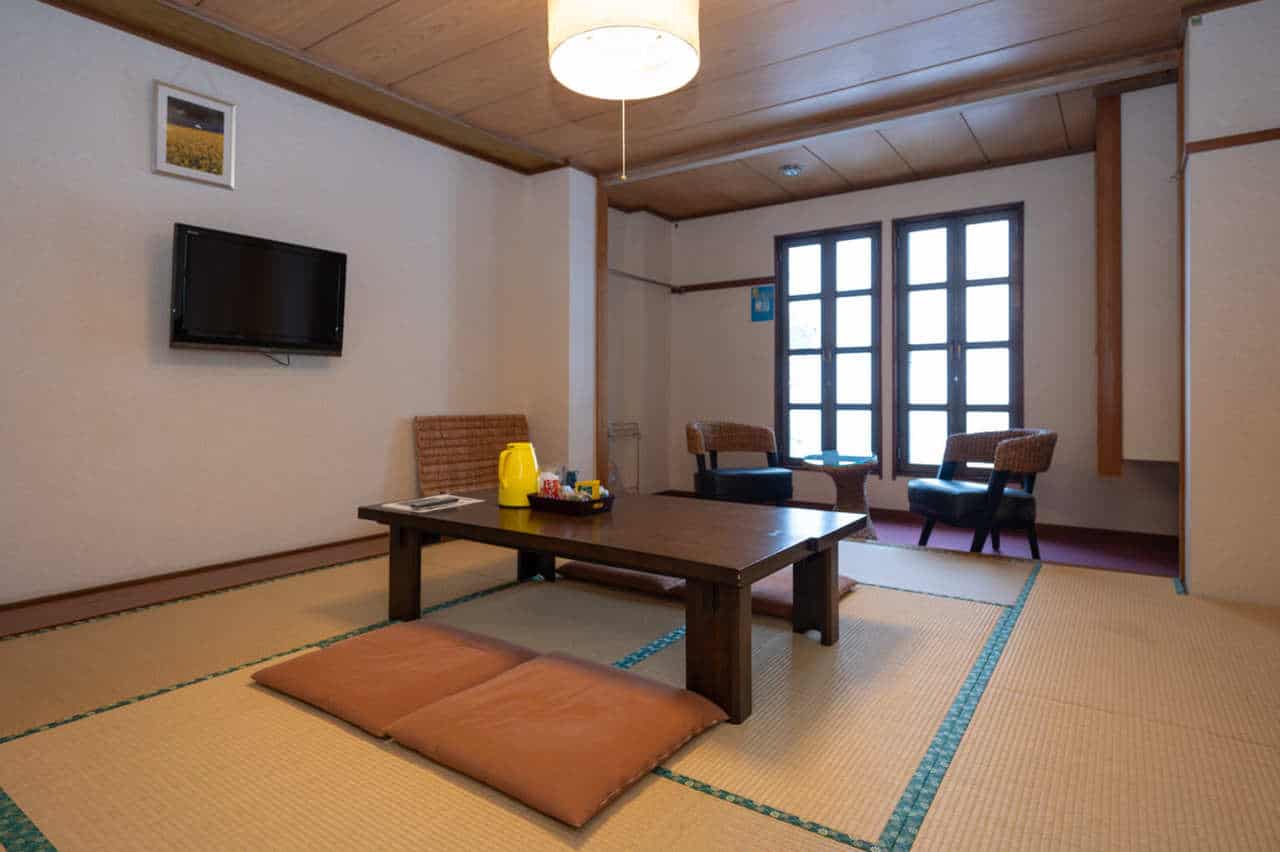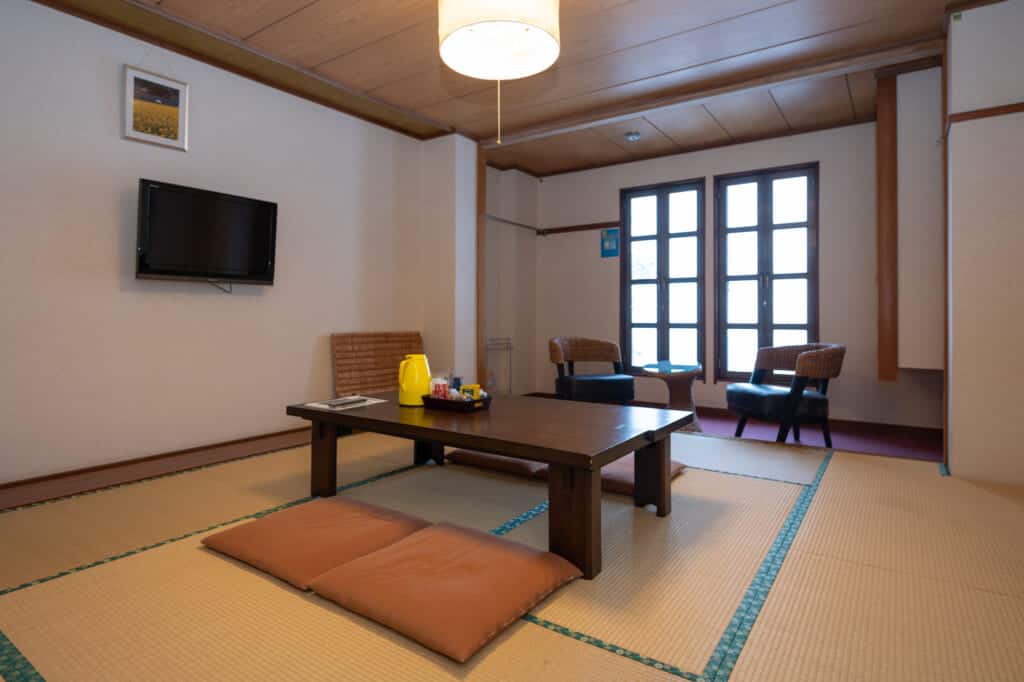 Another plus for Motoyashiki is for those traveling with a furry family member. The dog-loving owners run a pet hotel adjacent to the inn, so if you can't find a sitter, don't let that stop you from enjoying the natural beauty of Iiyama. And don't worry about your dog being lonely; the owners have 17 of their own!
Kanoe is another yado in Iiyama, one that I have been familiar with for several years now. I have written about Kanoe several times, brought my family to stay here, and generally cannot stop raving about the family's hospitality and the incredible meals I've experienced here.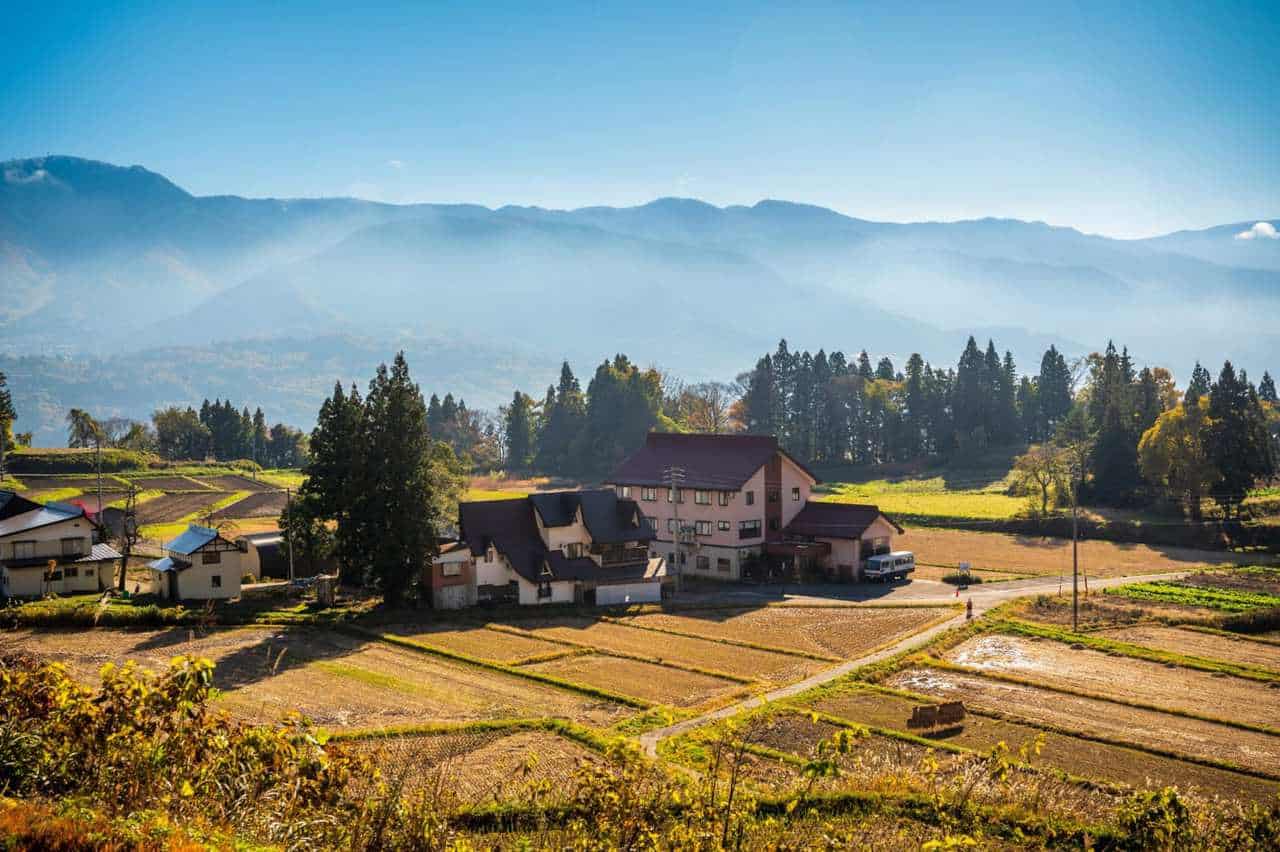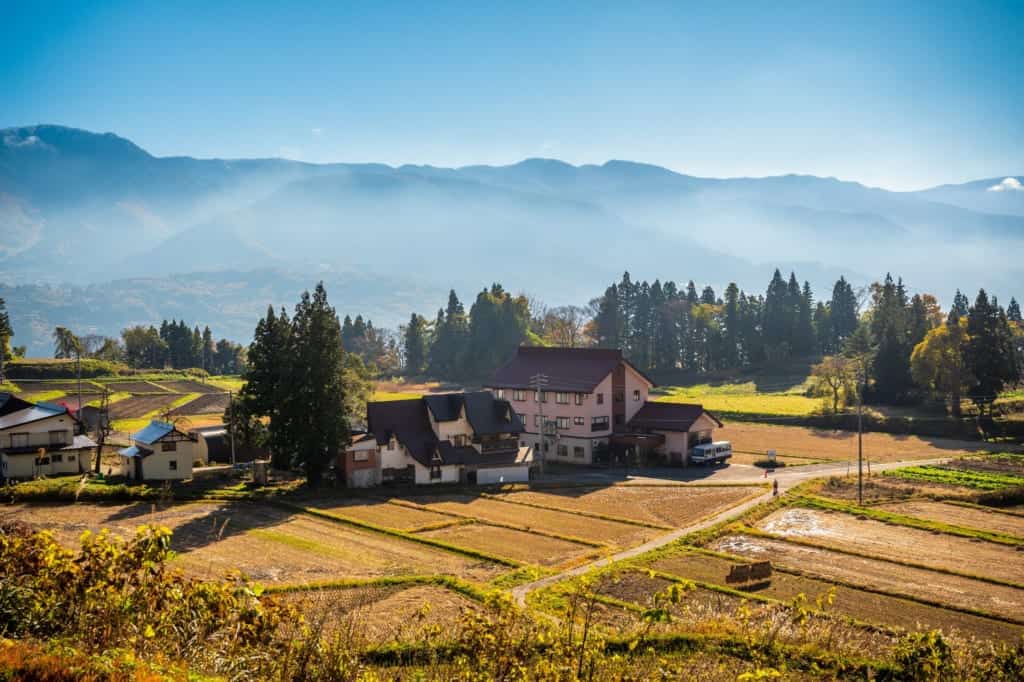 At this point, arriving at Kanoe feels like coming home to family, and isn't this the experience everyone would love to have when visiting Japan? After all, no price can be put on a genuine smile and greeting from an owner who remembers your name and favorite things to eat.
Getting to Iiyama City
Iiyama city is located along the Hokuriku Shinkansen Line, one station beyond Nagano Station heading toward Kanazawa. It takes about an hour and a half to reach the Iiyama from Tokyo Station. From there, you can take a taxi or bus to Madarao Mountain Ski Resort or rent a car near the station. Some pensions offer free pick up and drop off from the station if you notify them in advance.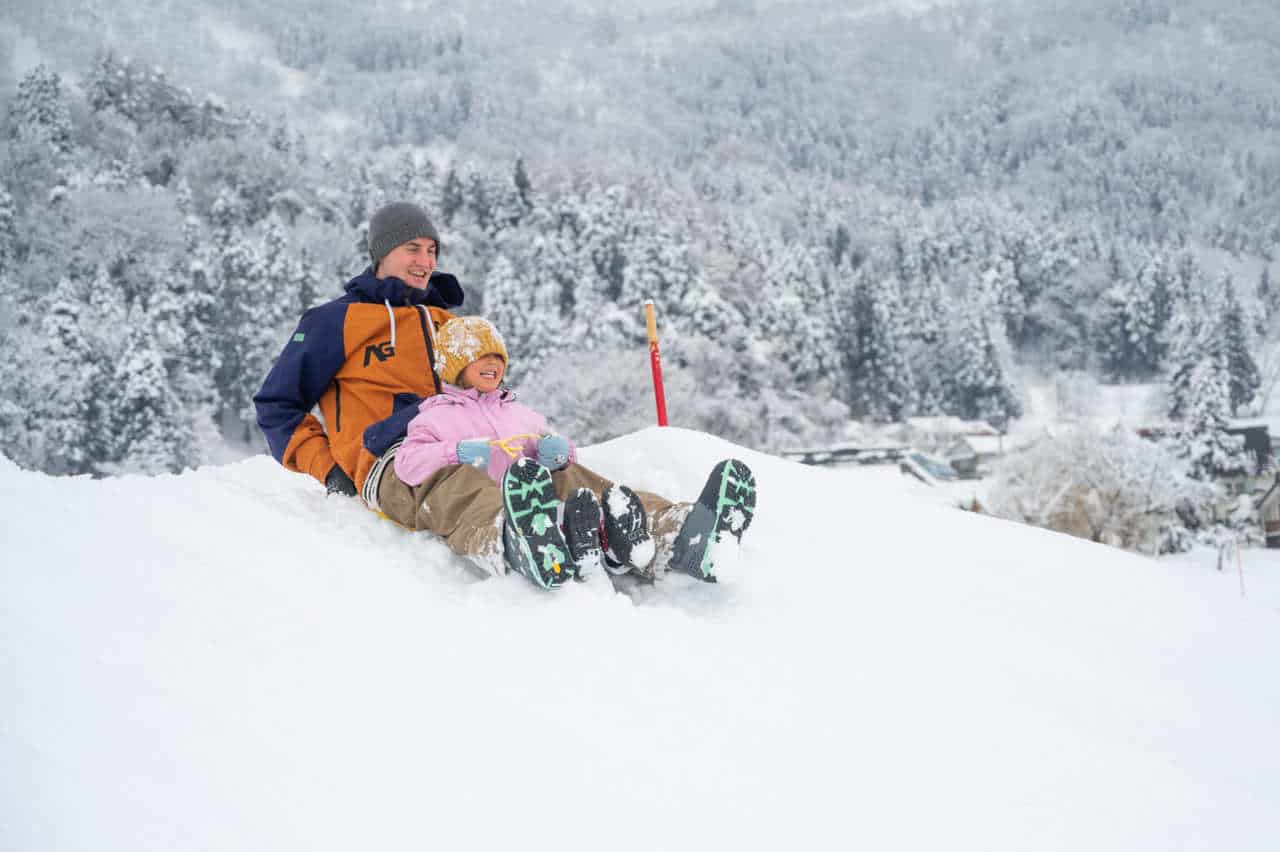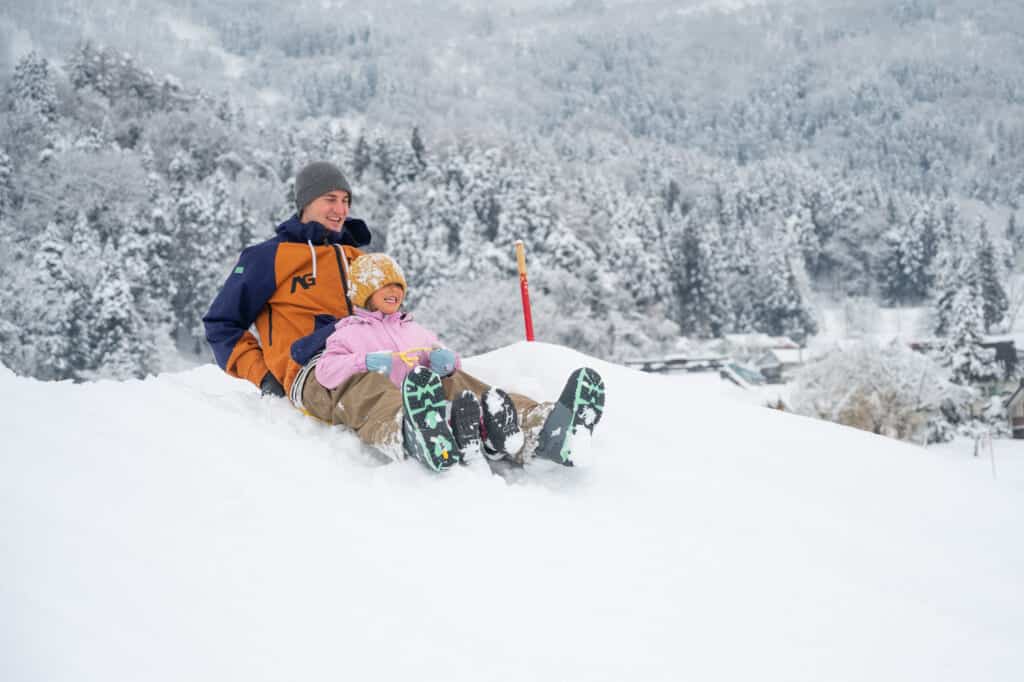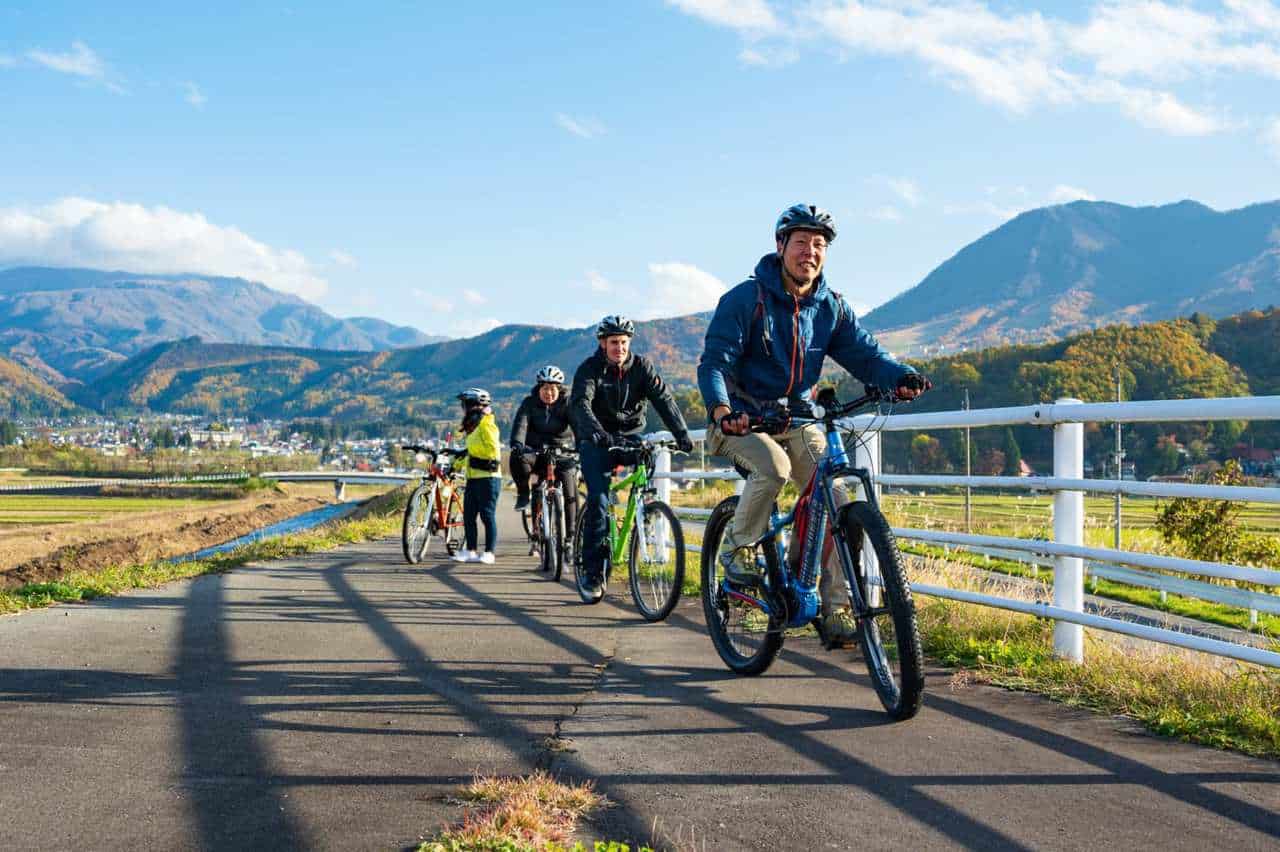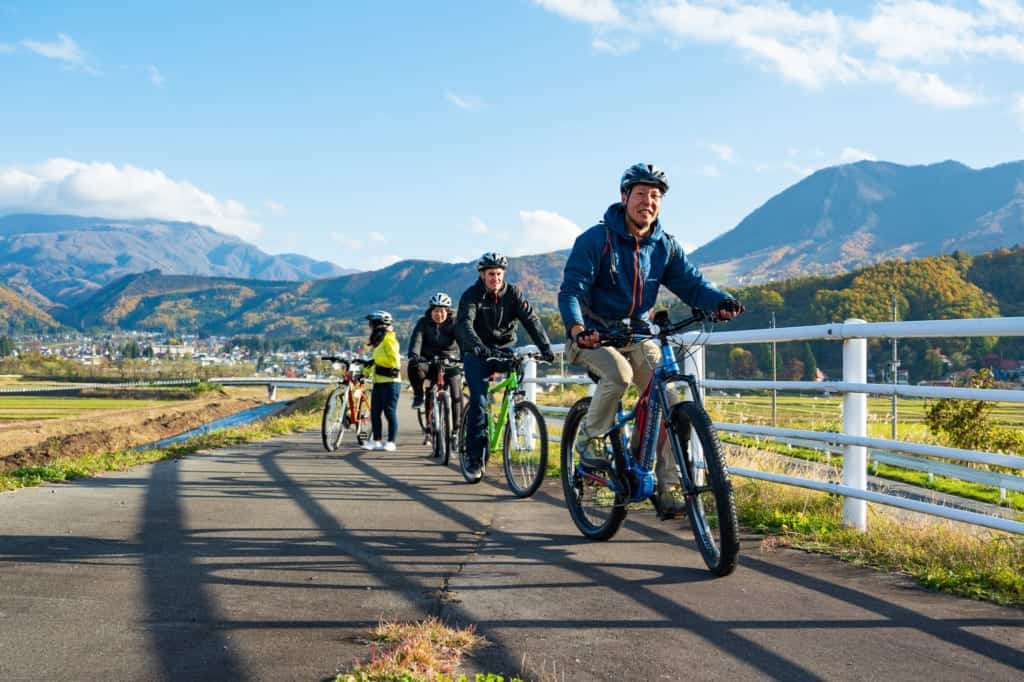 While the Iiyama area is mostly known for its winter activities and events including skiing, snow cycling, snowshoeing, and the Iiyama Kamakura Village, there is plenty to do the rest of the year. They include hiking the previously mentioned Shin-etsu Trail, cycling tours, and apple picking. For those who enjoy the beauty of nature and spending time outdoors with family, one could hardly think of a place more convenient as a getaway from the city as Iiyama. Be sure to visit the Iiyama Station Tourist Information Center if you arrive by train, where the friendly staff will be happy to help you discover the wonders of northern Nagano.
Sponsored by Iiyama city