Sponsored by The Tourism Association of Central Region in Fukushima Prefecture

The Ryokan
Bobata Onsen Yahata-ya Ryokan is located in Ishikawa Town where is close to Koriyama City, in Fukushima Prefecture. The ryokan has been listed as one of the top 100 in Japan, and certainly lives up to the title. Established in 1880, the Japanese style hotel has a very prestigious reputation within Japan, and the fantastic reputation is just one of the many reasons you should make a visit.
The soaring ceilings and elegant communal areas create a peaceful and welcoming atmosphere, while the interior design of the building is reminiscent of a theater, with overlooking balconies and soft ambient lighting.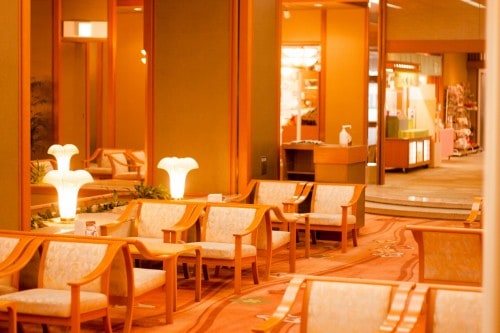 During Friday and the weekends the ryokan hosts an in house koto player, and guests can watch and enjoy the music from the many vantage points offered.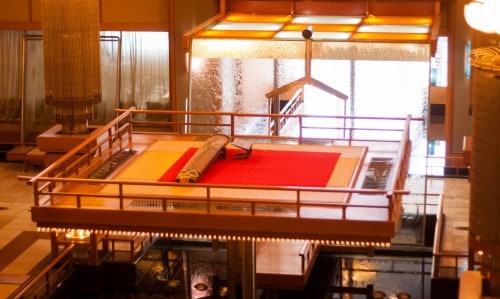 The Ryokan offers a variety of amenities including a spa service, hot spring baths, a souvenir shop, a buffet style breakfast and private dinner, as well as karaoke, a swimming pool (open only in summer) and their own private shrine located a short hike from the main building. At night the torii leading up to the shrine are illuminated, creating a beautiful, if somewhat frightening, night hike.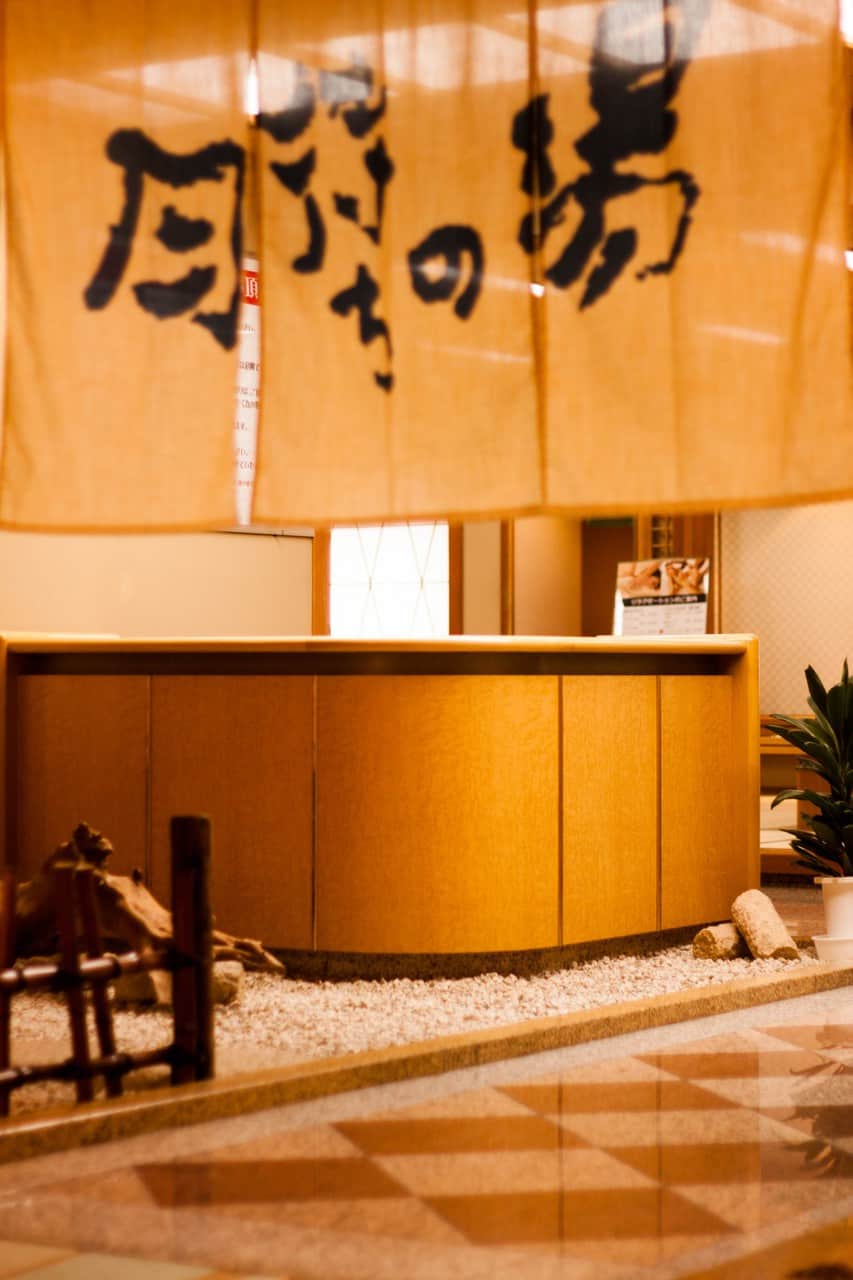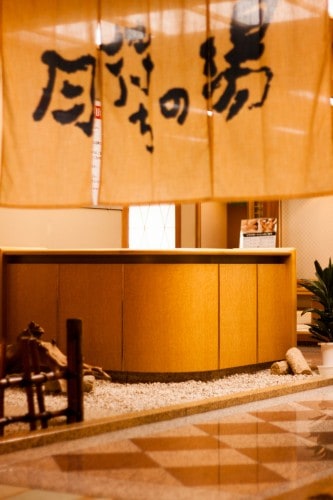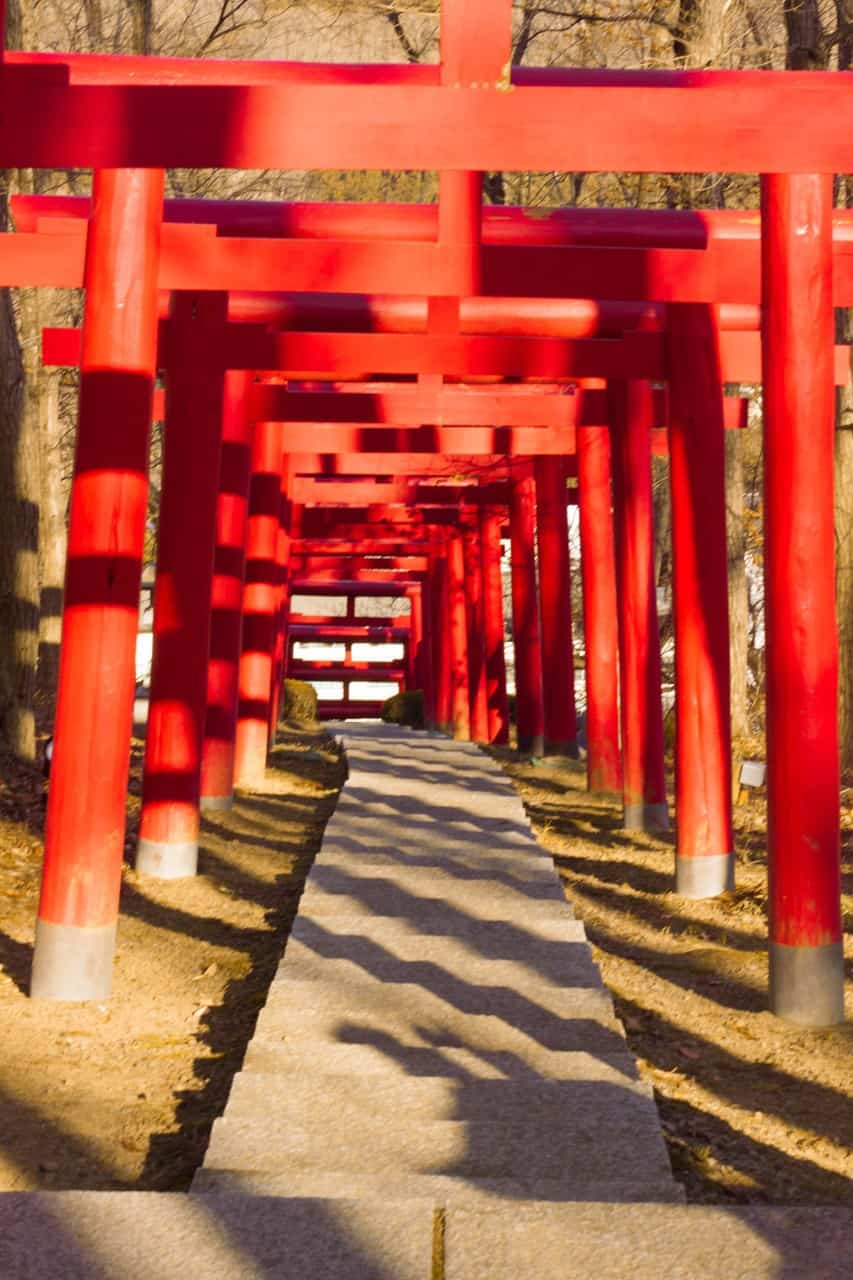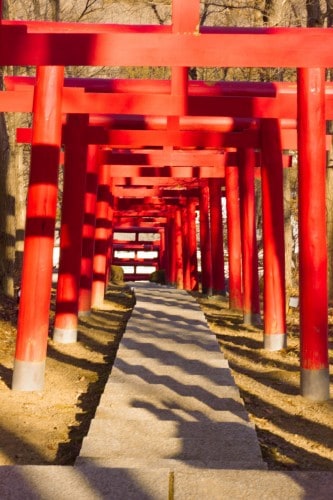 The ryokan staff were wonderful and saw to my every need, coming to my room to explain the location of baths and meals, as well as offering assistance needed. I highly recommend visiting this ryokan, as it is sure to be an experience you won't forget.
The Rooms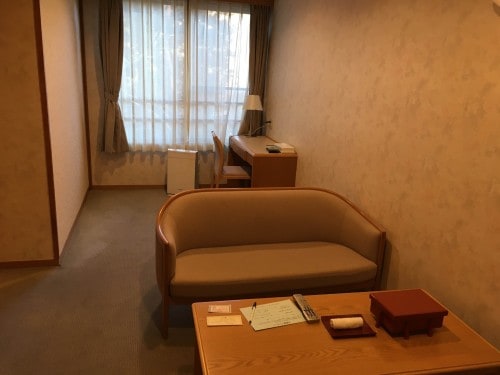 Yahata-ya ryokan offers both western and tatami style rooms, which are spacious and stocked with everything you may need while visiting. The rooms are set up to feel more like an apartment than a hotel room, housing a desk, incredibly comfortable beds, yukata to wear around the ryokan, a television and seating area, and western style toilets. You can find a fully stocked fridge (but drinks come at a cost), as well as tea and water offered for free. But of course you can always make a trip to the omiyage or souvenir section of the hotel to purchase snacks and drinks of your choice.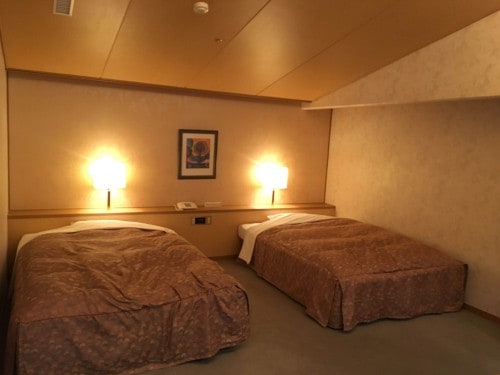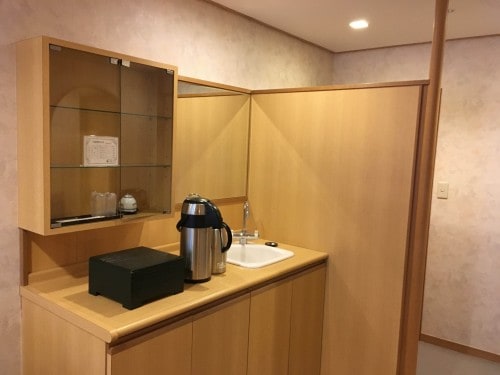 The Baths
The baths were by far my favorite part of the ryokan, as they were numerous and spacious (and this was just the women's section). The onsen is located on the second floor (the same floor as the lobby), and boasts four outdoor pools, three of which are smaller and intended for private use, one large indoor bath, as well as two saunas.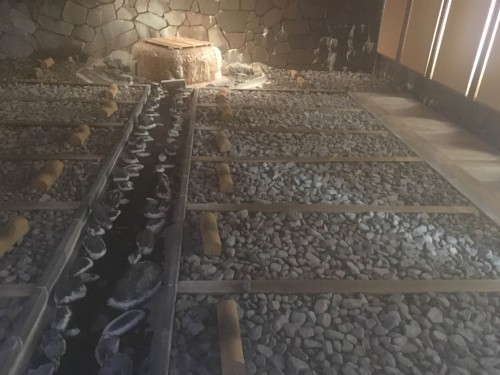 Don't be confused by the layout of the onsen. The saunas, like the baths, are separated by gender, so although you have to walk through a short hallway and into a different section of the building, you can do so without getting re dressed.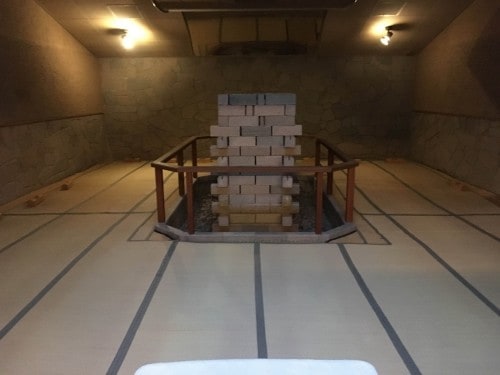 It is said that the hot springs at this ryokan have been famous for their healing properties since the 1950's. The hot springs at Yahata-ya are well known for their ability to sooth and treat joint and muscle pain, and often the Ryokan plays host to sumo wrestlers looking to enjoy the baths, and ease their sore muscles. The baths at this ryokan draw their water from a natural source called Motherfield Hot Spring, and the water has a silky texture, which leaves your skin feelings smooth and cleansed.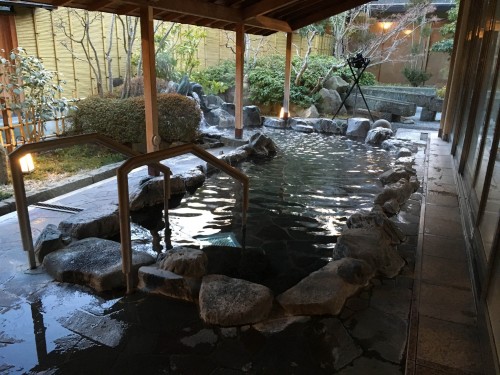 The baths also offer a variety of beauty products for guests to sample; sea salt scrubs, skin cleansers, lotions and much more, which can all be bought at the souvenir shop on the second floor.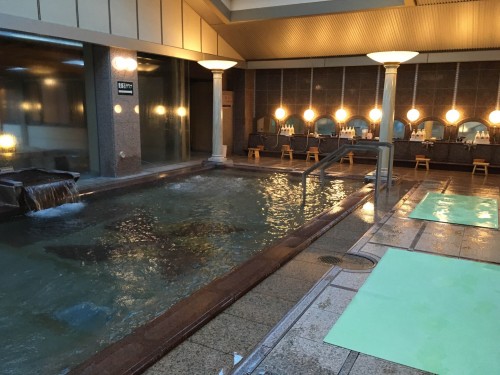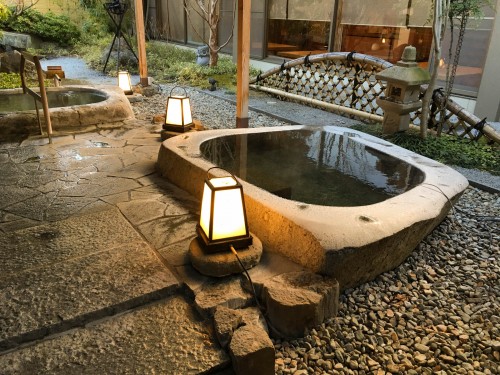 The Meals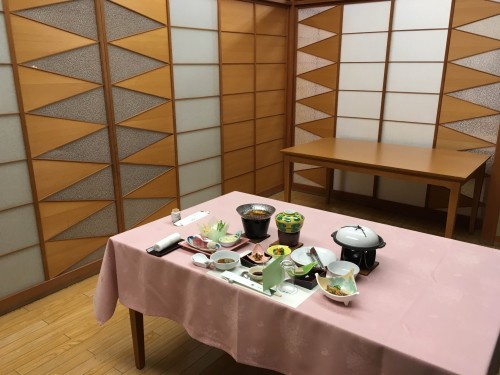 Dinner
A reservation at this ryokan includes a private dinner, and a buffet style breakfast.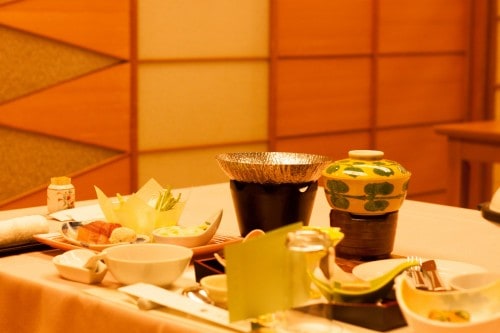 Dinner times are planned by reservation and are located in private rooms on the second floor. Guests can enjoy their dinner while admiring the Zen style garden the rooms overlook. The meal was beautifully prepared and incredibly filling.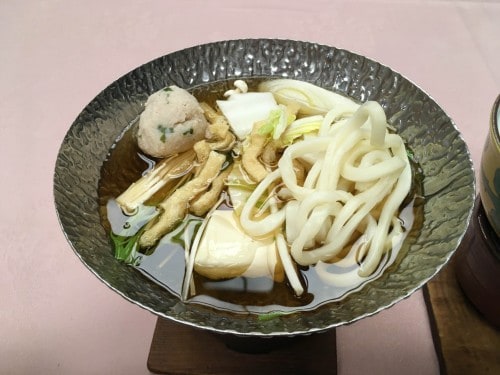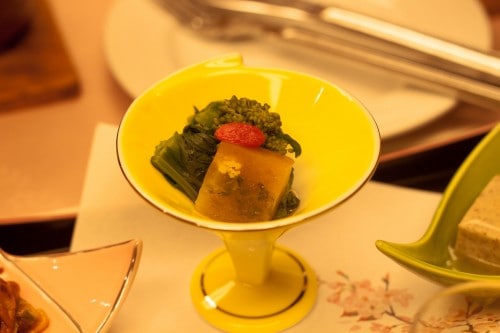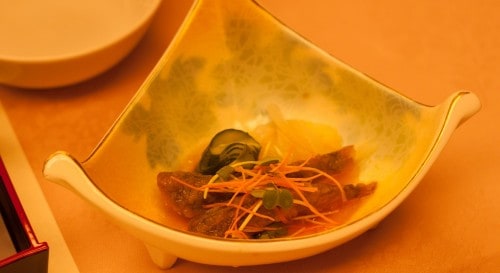 I requested a meat free meal, and was pleasantly surprised by the variety of foods prepared for my Kaiseiki style dinner. My meal began with a single person pot of Nabe (a Japanese style hot pot, with versatile ingredients) and a beautiful collection of steamed shellfish and vegetables. As with most Japanese meals there were a variety of small side dishes accompanying my beginning courses. These were followed by sushi, cold soba, and rice. To finish off the meal I was offered a delicious dessert of yoghurt, fresh fruit and red beans.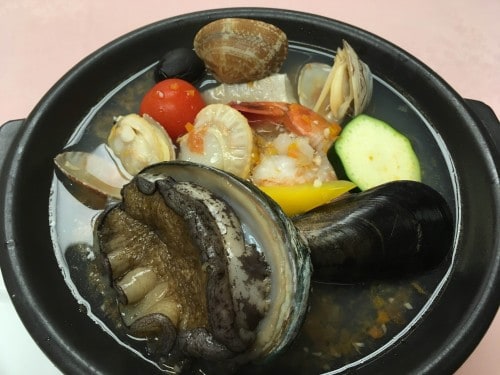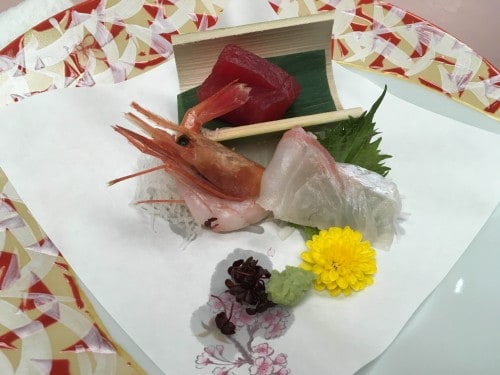 *If you have any dietary restrictions you can let the hotel staff know at the time of your initial reservation.
Breakfast
Breakfast was a buffet style meal, or bikingu as it is called in Japanese. The meal was located in the banquet hall, which is on the third floor. The room is massive and can easily accommodate the large quantity of guests bound to be staying at the ryokan at any given time. The buffet offered both western style breakfast and Japanese style breakfast from French toast, scrambled eggs and sausage to salmon, miso soup and rice.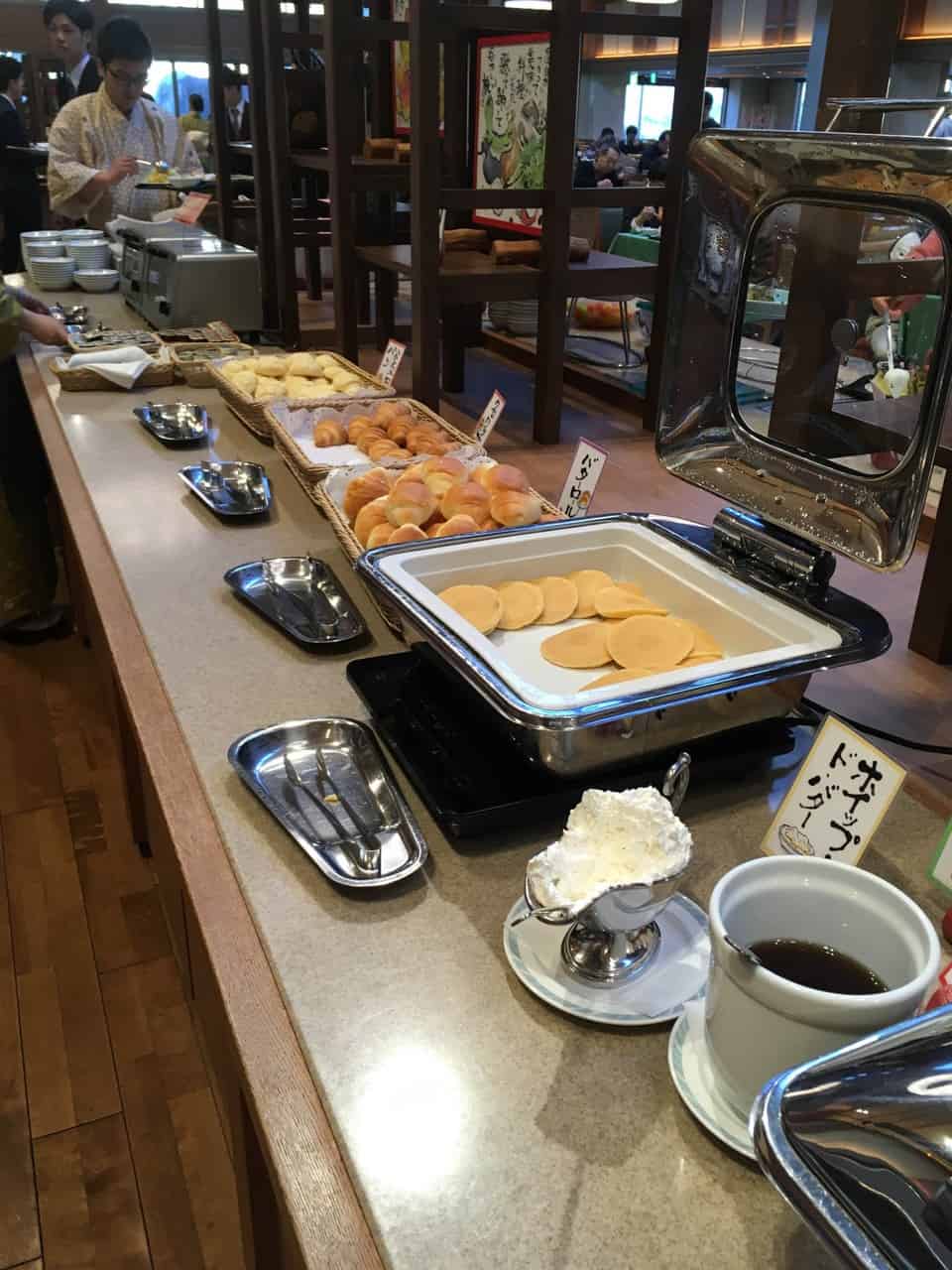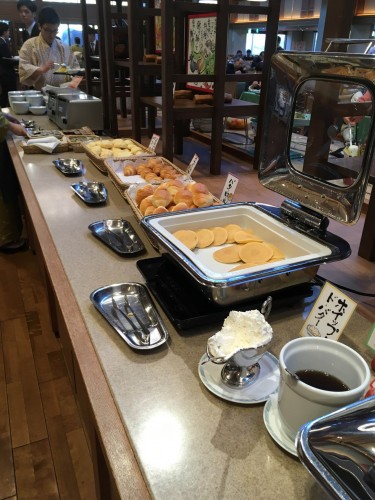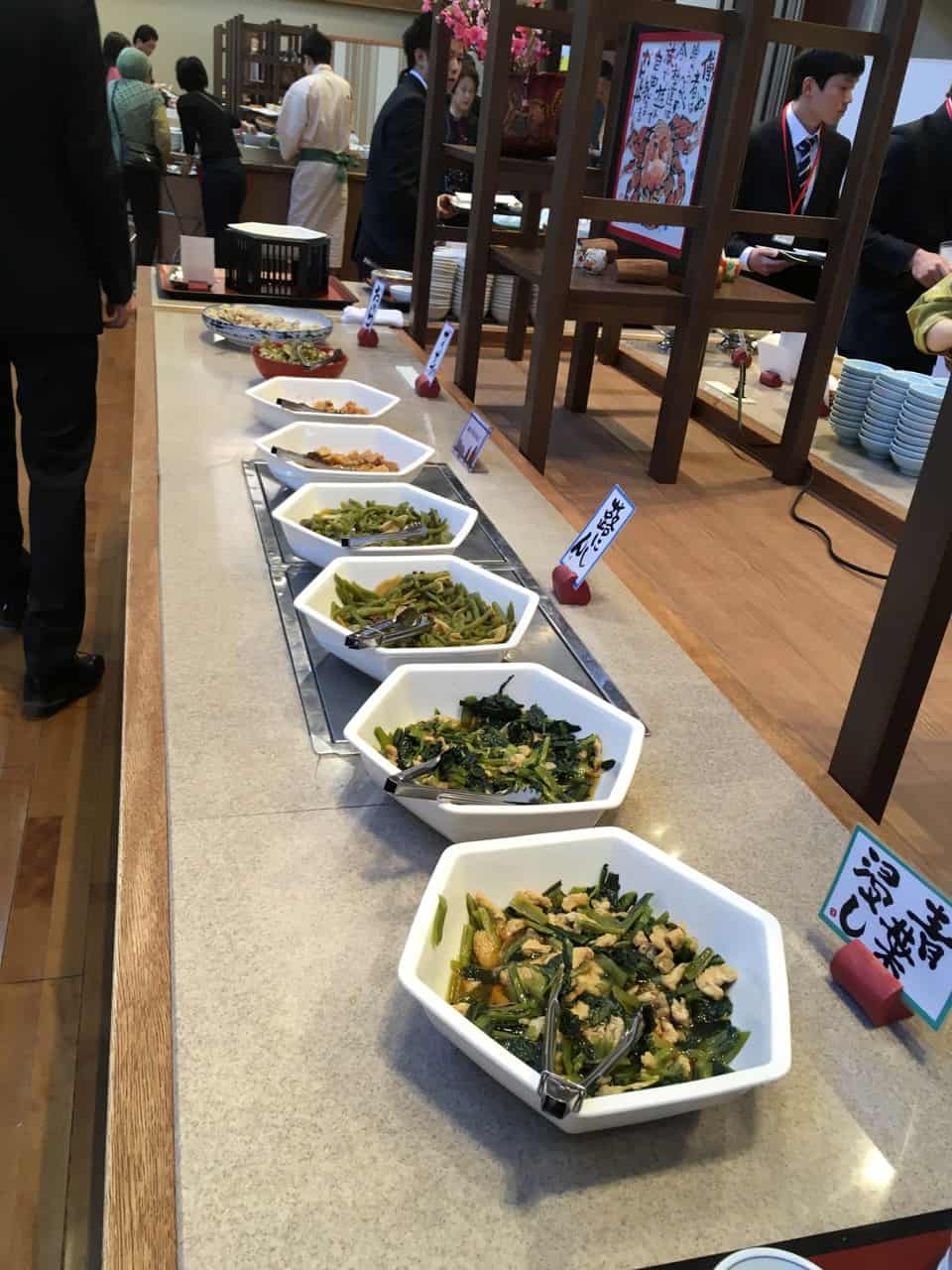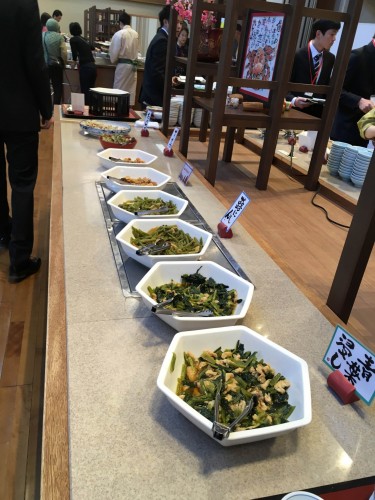 Prices and Reservations
You can make reservations for either the western style rooms or Japanese style rooms either by phone or on there website here.
Rooms cost 14,000 yen per person when staying in a three-person room, or 16,000 yen per person when staying in a two-person room (They promote seasonal package!). Dinner and breakfast are included, as well as access to the baths. However spa treatment, drinks and snacks in the karaoke bar, or items from the souvenir shop are purchased at your own expense.
Check in is open after 3:00pm, and check out is before 10:00am.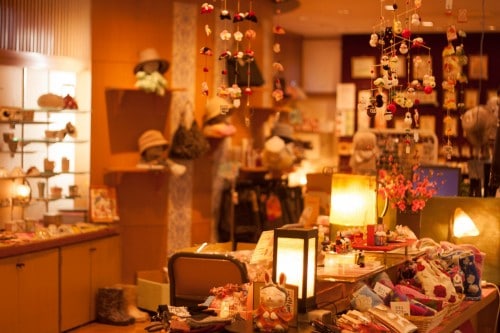 Access:
From Tokyo Station:
Take the Tohoku Shinkansen to Koriyama Station.
From Koriyama Station:
Take the JR Suigun Line bound for Mito. Get off the train at Iwaki Ishikawa Station. The train costs 760 yen and takes roughly 47 minutes.
From Iwaki Ishikawa Station:
From here you can either take a taxi to Yawaya-ya Ryokan.
Or when making a reservation at the ryokan, request that a hotel shuttle car pick you up from the station at a designated time.
[cft format=0]