Sponsored by Izumi City 
The Legacy of Japanese Tsuru
In Japan, the crane (tsuru in Japanese) is more than an animal, it is an important symbol in Japanese culture. Regularly used in Japanese tradition, it is a symbol of longevity and good fortune. It is often found in patterns on kimono, washi paper, and carved into decorations on temples, but especially in the form of origami, paper folding. The belief holds that anyone who folds 1000 origami cranes will see his wish fulfilled.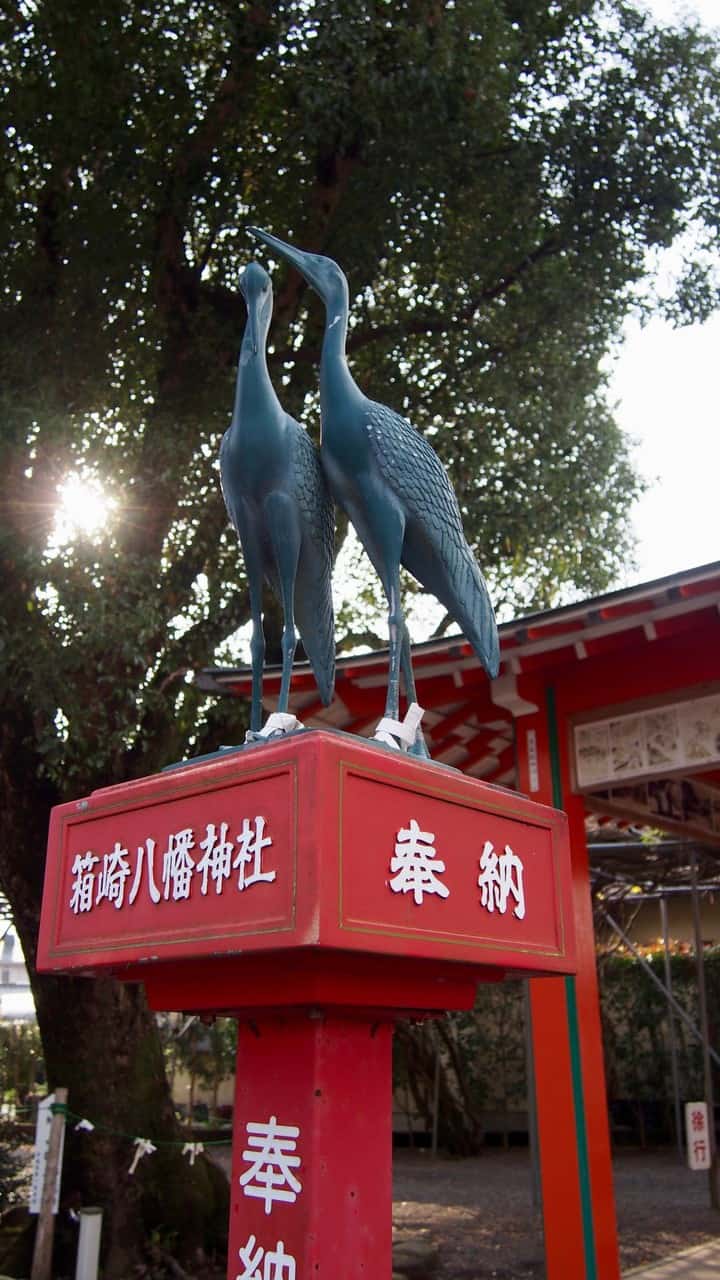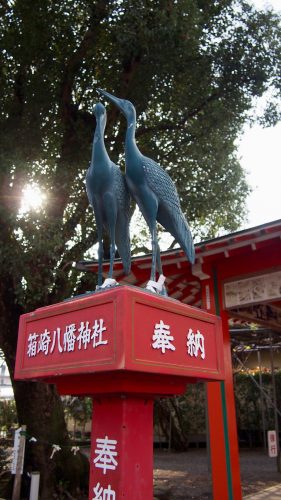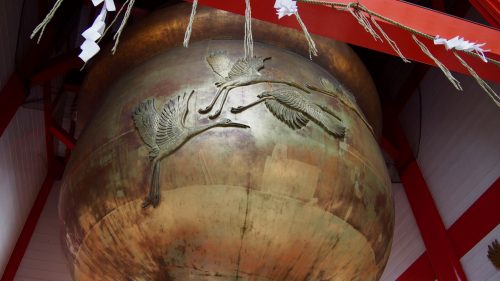 In Izumi city in Kagoshima Prefecture, this migratory bird is a celebrity. It is found everywhere, as statues at the train station, in the main Shinto shrine, it is even the emblem of the city. And for good reason: it is in Izumi that the cranes congregate during the four winter months before starting their migration in early spring to Siberia. It is only in this small town in southwest Kyushu that we can admire the sheer numbers of this migratory bird. During a winter stay in Japan, it would be a shame to miss the opportunity to observe these beautiful birds.
Observe the cranes at Izumi
Every fall, between 10,000 and 12,000 cranes from Siberia and China migrate south the city of Izumi. From mid-October to the end of March, it is possible to observe them from Izumi City Crane Observation Center. Since 1921, the site is classified as a "National Natural Treasure" by the Natural Treasure Conservation Act.
Different Types of Cranes
In Izumi, 7 kinds of cranes can be observed:
Manazaru, or "white-necked crane": These are the most beautiful cranes. They are gray, with white feathers on the nape, the head and the end of the wings. The circular area around their eyes are red.
Nabezuru, or "hooded crane": The are mainly gray-black and their head is white.
Anehazuru, or "damsel": These are the smallest cranes. They are gray, sometimes white and have a black head and neck. They are recognizable by their long white feathers on their necks.
Sodegurozuru, or "Siberian crane": They are all white with a long red beak.
Kurozuru, or "common crane": The most common cranes. They are gray-beige and have white nape.
Kanadazuru, or "Crane of Canada": They are characterized by a light gray body and a red cap on top of their heads.
Nabekurozuru: These cranes are a hybrid between Nabezuru and Kurozuru. They are gray and have a white nape and head.
The observation center is composed of two floors: the first floor is a café and a shop, while the second contains a small exhibition in Japanese. A staircase leads to the rooftop terrace where you can admire the beautiful view of the rice fields and observe the cranes.
Tips to Observe Cranes
Because cranes are sensitive birds, it is necessary to take precautions to protect them from human observers:
The observation zones cannot be entered by people. This would harm the tranquility of the birds.
It is forbidden to throw stones or food in an attempt to attract their attention.
Cranes are sensitive to bright objects and flashes, so no flash photography is allowed.
Observing Cranes at Sunrise
During my stay in Izumi, I had the opportunity to observe the cranes from the small road that runs along the border of the observation area. On the advice of the local residents, I went at dawn, before the opening of the observation center. It was dark and cool, so it was necessary to dress warmly! We parked at the fence that protect the viewing area and we were able to witness a great show of nature: the flight of hundreds of cranes against the background of the sunrise.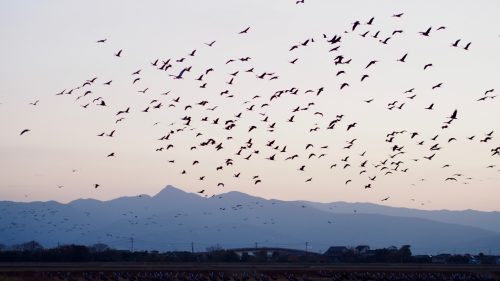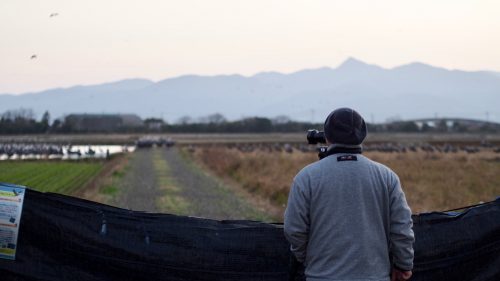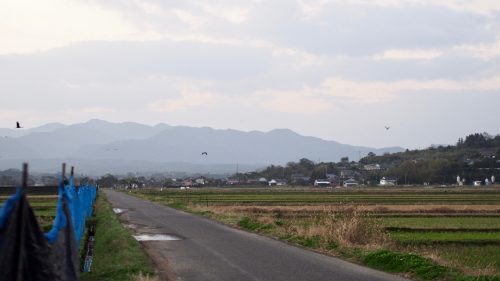 When we arrived, the cranes were all  resting in the middle of fields and rice fields. Once the first rays of the dawn appeared, they began to take flight in large groups, calling loudly to each other. It was an impressive show!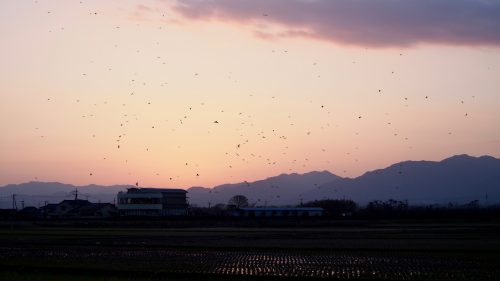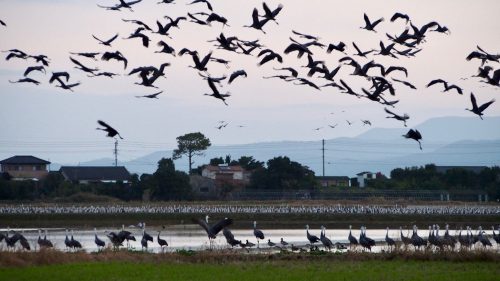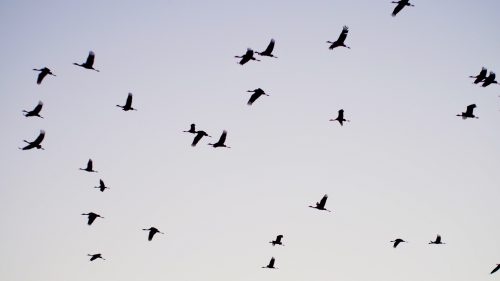 After watching the flight of the cranes, we drove to the coast, taking the small roads through some fields. Some of the cranes had landed in the fields, which allowed us to observe them at a closer distance.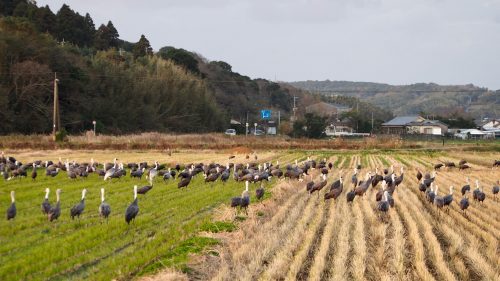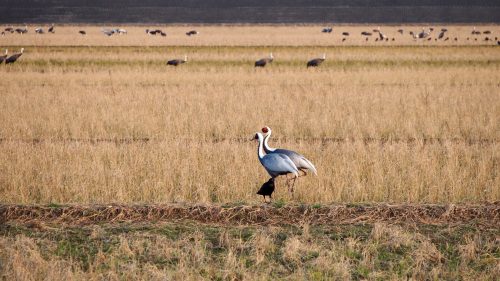 Useful Information
How to Get to Izumi, Kagoshima Prefecture
Izumi is served by the Shinkansen Kyushu Line (Hakata to Kagoshima Chuo), Izumi Station, which makes it easily accessible. A JR Rail Pass is also valid.
From Tokyo: About 2 hours flight to Kagoshima, then 1h20 by bus from the airport to Izumi.
From Fukuoka: About 3 hours by car / 1 hour 11 minutes by Shinkansen.
From Kagoshima: About 2 hours by car / 24 minutes by Shinkansen.
From Kumamoto: About 2 hours by car / 36 minutes by Shinkansen.
Kagoshima Airport is also served by international flights:
From Seoul and Shanghai: Approximately 1 hour 35 minutes flight.
From Hong Kong: About 3 hours flight.
From Taipei: About 2 hours flight.
How to Get to Izumi City Crane Observation Center
By car: Getting to Izumi City Crane Observation Center from Izumi Station takes about 20 minutes.
By bus: The "Crane Sightseeing Excursion Bus" operates from Izumi Station for ¥500; the terminal is Izumi City Crane Observation Center.
Prices and Hours of Operation
Izumi City Crane Observation Center is open from 9:00 to 17:00 during the observation season from November until the beginning of March.
Adult: ¥210
Child and student: ¥100
Groups of more than 20 people: ¥160 for adult and ¥50 for kid and student
Contact
Izumi City Crane Observation Center
2478-4 Sho, Izumi City, Kagoshima Prefecture 899-0435
Tel: 0996-85-5151
For more detailed information, please refer to Izumi's official website: http://www.izumi-navi.jp/en/feature/tsuru
[cft format=0]