Kyoto is seemingly never-ending, offering countless temples and shrines. There are thousands of sites that feature unique and traditional construction alongside beautiful landscapes. For this reason alone, you should visit Kyoto. Once you've arrived there you must check out this temple! Named a UNESCO World Heritage Site in 1994, Ryoanji Temple has attracted many visitors to its rock garden. Located in the Northern part of Kyoto, this temple gives some insight into the beauty of the human imagination.
Ryoanji Temple features a simple yet remarkable garden that covers a rectangular area of only around 25 by 10 meters. You won't find any trees on the grounds near the rocks, only fifteen rocks with various shapes spread out in the sand. This garden is surrounded by a wall of clay which was boiled in oil, which gave it its unique appearance.
Ryoanji Temple was destroyed during the Onin war and rebuilt in 1499 by a highly respected Zen Monk, Tokuho Zenketsu, who intended to use it as a Zen training temple. You will many visitors sit down in front of the garden for a long time, focusing their minds and bringing their souls into the rock garden. It is believed that if you can gain a view of all fifteen rocks at the same time in your mind, you will obtain enlightenment. Focusing your mind only one rock will improve your concentration and bring focus to achieve your hopes and purpose in life.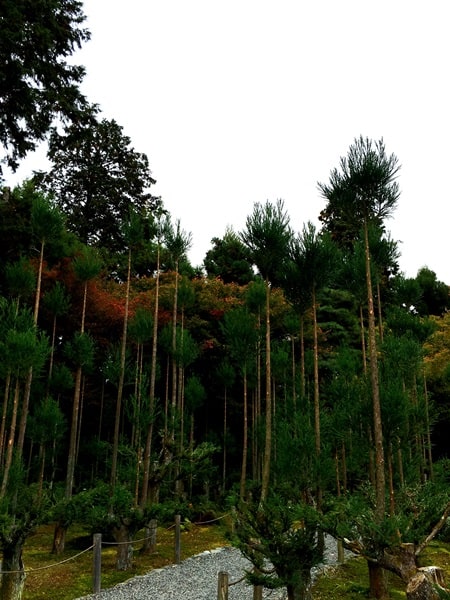 These rocks are not the only reason that visitors come to Ryoanji. It is not a large temple like most others; ideally you would spend around an hour appreciating its unique architecture. Ryoaji also contains a pond and garden. Kyoyoshi pond was made in the late twelfth century, and until recent years many mandarin ducks could seen in the pond covered by lotus flowers. That is why many native Japanese refer to Ryoanji as the temple of the Mandarin duck. The pond is surrounded by various kinds of trees, reflecting their shapes beautifully in the water. During both autumn and spring, it is an amazingly beautiful place to refresh your eyes and see how beautiful this world can be. The leaves changing colors, the morning dew touching your skin and the crisp fresh air practically takes your breath away!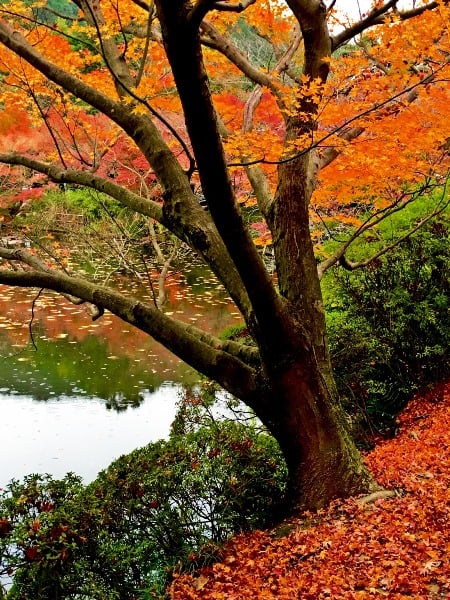 Another interesting site in this temple is a unique stone wash-basin called "Tsukubai". Donated by Toyotomi Hideyoshi, this wash-basin is an important part of this temple for its unique inscription. Historically, it has the meaning "I learned to be content", in that a person who learns to be content is spiritually rich. Conversely, one who does not learn to be content is spiritually poor, even when they are materially wealthy. It also reflects the idea of human satisfaction. If we lack goals, how can we achieve satisfaction within our lives? Must we improve our efforts to obtain our dreams by constantly learning and gaining new experiences? Tsukubai was meant to help us contemplate our lives, with or without regets.
Here are a couple of different ways to get there:
1. Bus from Kyoto Station, take bus number 50 and get off at Ritsumeikan daigaku-mae bus stop and walk around 7 minutes.
2. Bus from Shijo Kawaramachi, take bus number 59 and get off at Ryoanji-mae, and walk around 5 minutes into the temple.
You can also get there via subway, but the nearest train station is around a 30-minute walk away, and you will need to transfer about three times.
Overall, Ryoanji's Zen Rock garden offers a quiet and peaceful atmosphere while walking along the pond and garden into the temple. Spiritually, this place encourages people to enjoy the beautiful landscape of the building and garden to purge the stress from their daily lives. That's why you will rarely find this temple being crowded. This is an enjoyable place to visit in any kind of condition or weather. Enrich your spirit by visiting Ryoanji Temple!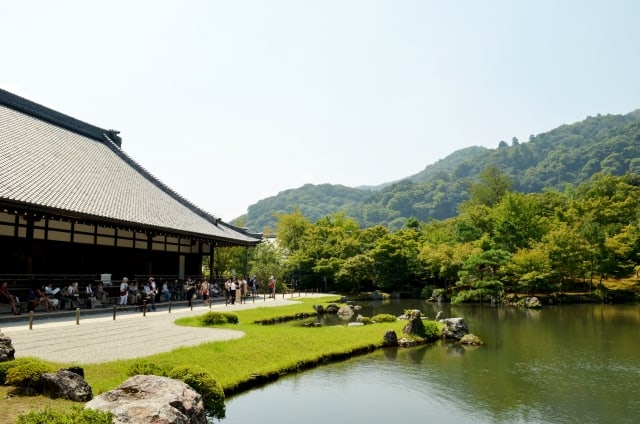 [cft format=0]