Sponsored by Karasuma Bar Yokocho.
What is Karasuma Bar Yokocho?
But first of all, what is even a yokocho (横丁)? A yokocho is an alley bordered by small izakaya, these bar/restaurants that are similar to the concept of tapas: a place to have a drink and grab small portions of delicious food. These alleys started appearing in Japanese cities at the end of World War II. Yokocho (横丁) were originally black markets called yamiichi (闇市), created as a form of resistance of the unique Japanese culture in a context of food shortage and US occupation under the Showa era. The Kanji '丁(cho)' literally means 'encountering' or 'crossing', which is very close to the concept of tapas in Spain, where people of all generations and styles get together and can interact in a relaxed atmosphere.
Nowadays, yokocho bars are a place where you sit (or stand) at the counter, elbow to elbow with your neighbours, where conversations spontaneously engage with other costumers or with the owner. Usually people don't just stop at one stall but rather do it "pub crawl" style: "はしご酒する" (hashigo zake suru, litterally meaning "going up the alcohol ladder"). Frequent customers have long been mainly men of a certain age, mostly regulars. But these last few years, yokocho are seeing a growth in popularity and are starting to open to women, younger people and even tourists.
Surfing on that trend, new kinds of yokocho are popping up, more modern and less exclusive ones, offering wide-ranging menus to a younger, more international crowd. It is in that context that Karasuma Bar Yokocho (烏丸バル横丁) opened its doors in 2017 in Kyoto. By mixing the izakaya culture with the tapas one, the place offers a new kind of experience ; one which is in keeping with the times.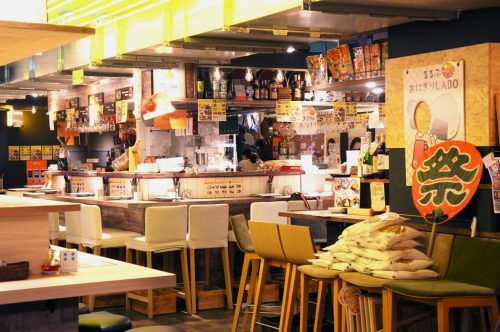 Discover Ten Bars at Karasuma Bar Yokocho
The mission I was entrusted with, and that I gladly accepted, was to experience that "はしご酒" (Hashigo Zake) culture by trying out the restaurants of this new generation of yokocho: 10 restaurants, 10 different types of cuisine and 10 different atmospheres.
1• あいよっ!!(Aiyo !!)  — Kushikatsu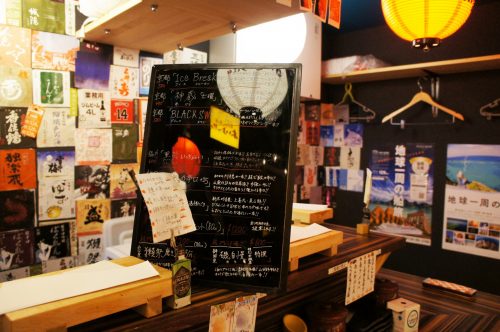 Let's start with a kushikatsu restaurant, a specialty from Osaka. These are breaded and fried skewers that you usually dip in a specific sauce (close to a Worcester sauce). The ambiance at this counter is similar to an izakaya's, with the walls covered in sake labels.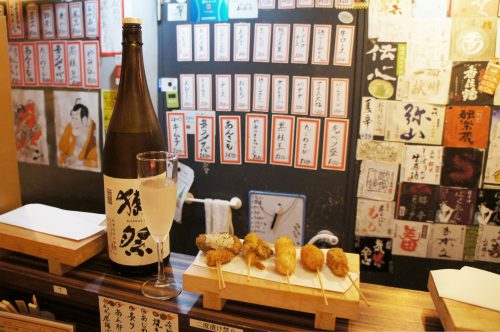 On the menu, from left to right: shiitake mushrooms, kisu fish with shiso, quail eggs, pork loin with ôba (a kind of shiso) and beef loin. They were all delicious and quite crusty, with subtle flavors.
The glass of sake served to pair with the food came from the Dassai brewery, a sake house that only produces high standard sakes. Their established reputation was confirmed with a tasting: an excellent sake, both very delicate and fruity.
2• Pub Sanjo St. — Craft beers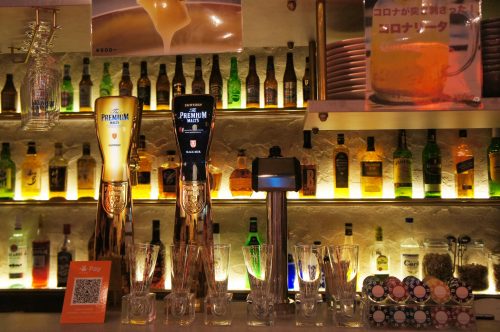 Take a 180° turn and there you will find the next counter: a modern pub serving a large selection of craft beers and various dishes to go along, from simple plate of almonds to fish and chips.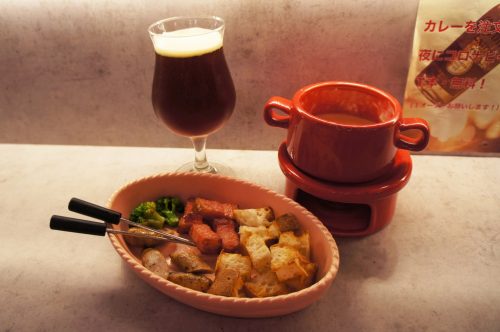 Following the bartender's advice, we tasted a Kizakura Ruby Ale. A beer brewed by Kizakura, a sake house located in the Fushimi district in Kyoto, with the same water they use for their sake. It is slightly spicy, with a mix of sweet and sour flavors, and seems rather light, even though it is a 7% beer.
It was served to us with a cheese fondue accompanied by bread toasts, broccolis, thick pieces of bacon and sausages with pork from Kyoto and basil.
3• Mt Everest — Nepalese cuisine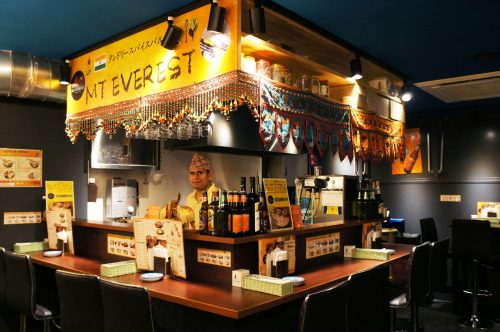 The culinary exploration goes on at the Nepalese counter which serves curry, nan, tandoori… A delightful smell will get you there, where the staff speaks English and will gladly answer all your questions.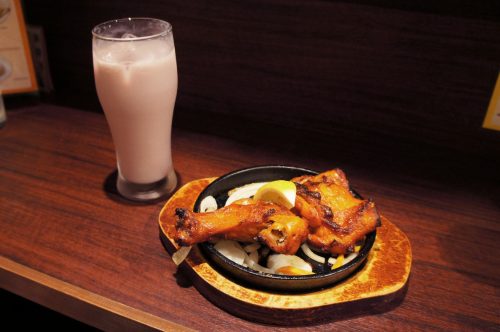 We are served a delicious, burning hot tandoori chicken, prepared with the perfect amount of spices and accompanied by a blackcurrant cream lassi: soft, sweet and slightly tangy. The combination might seem surprising and there are other options to choose from, such as wine or beers from India, but I personally loved the contrast.
4• Yakiniku Stand Kihara — Grilled beef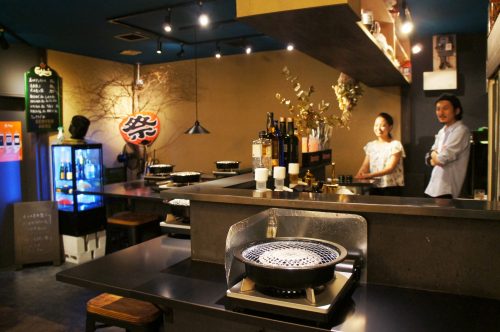 The word "yakiniku" simply means "grilled meat". In yakiniku restaurants, raw ingredients are brought to your table – which is equipped with a grill – and you can take care of cooking them following your own pace and preferences. This time, we are being seated directly at the counter, in a minimal and elegant decor.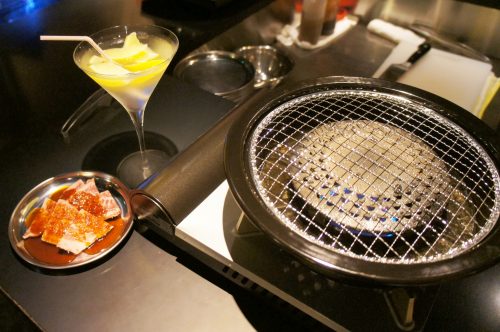 Beef tongue is one of the specialties here but I prefer asking the chef's advice for a more classic kind of meat. He offers us wagyu beef (the same kind of Japanese beef as the famous Kobe beef): beef loin from Tamba (Kyoto prefecture) with an incredibly melting texture, and beef rib from Hida (Gifu prefecture), soft and juicy, with a more pronounced taste.
We were served a Lemon Sour, a cocktail made of shochu alcohol, Hi-Sour soda and fresh lemon juice. A very popular drink in Japanese bars as it is refreshing and ideal to pair with a dish of grilled meat.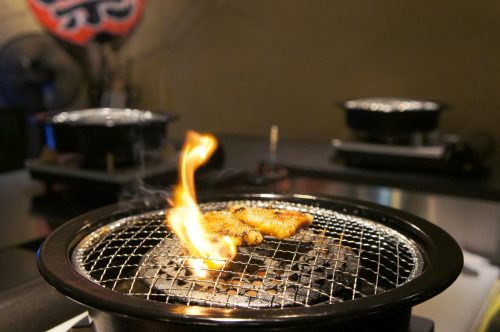 5• Po Cha — Korean cuisine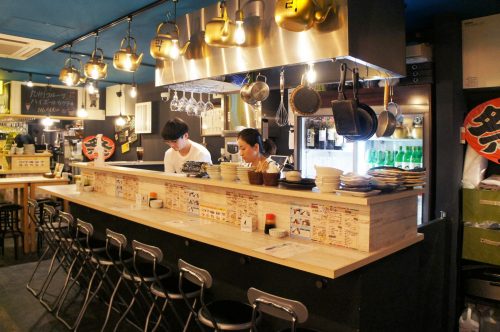 With the next counter, we travel to a neighboring country: Korea. When looking up, you can see a few aluminium kettles hanging. These are traditionally used to serve Makgeolli.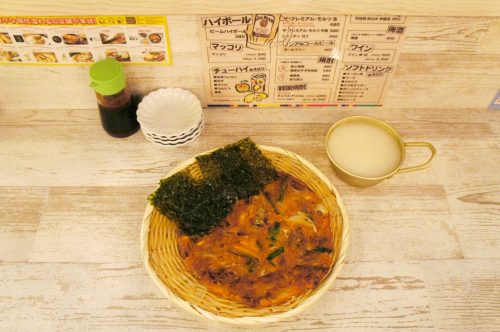 But what is Makgeolli, you may wonder (pronounced makkori in Japanese)? It is a Korean alcohol made from rice. With a milky aspect, it tastes rather sweet and tangy, slightly fizzing in your mouth. We drank this while tasting a chijimi (a sort of savory pancake which is very popular in Japan) filled with kimchi. It was perfectly grilled and spiced: a delight.
6• Shiroya バル (Shiroya Bar) — Gyoza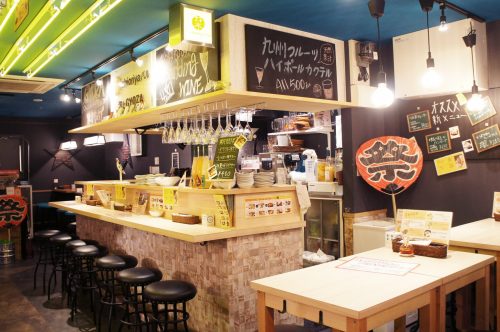 And we are back in Japan with the next counter, serving a dish originally from China: gyoza. These pork meat filled raviolis have completely been integrated to the Japanese culinary culture – so much so actually that they became a staple of it.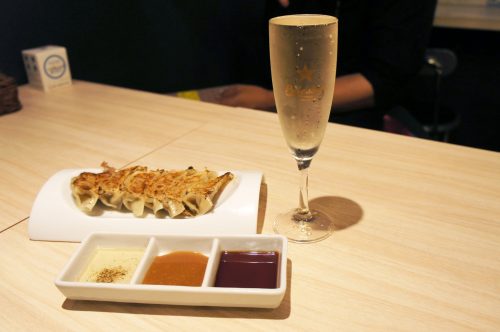 We had them "yaki" style, meaning grilled. These gyoza have the particularity of being prepared without any garlic, but using a lot of ginger instead, which changes the taste a little while remaining as tasty. They are served with three types of sauces: a vinegar and pepper one, a ginger and miso one and soy sauce. To top it all off, we are served a glass filled to the top with a Japanese sparkling wine. A rather scented wine, quite fruity and refreshing.
7• Feliz Pequeña — Spanish cuisine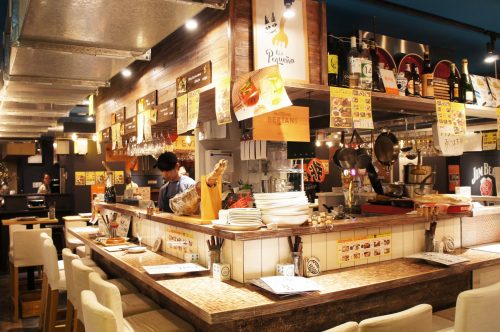 The culinary world tour continues with the counter of a country that shares with Japan the culture of sharing small tasty dishes while enjoying a drink: Spain.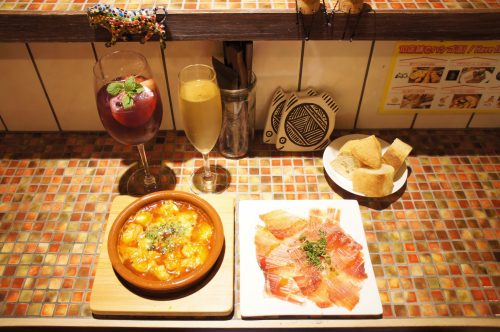 We get to taste seafood prepared "al ajillo", meaning it is seasoned with garlic, olive oil and paprika, as well a Serrano ham finely sliced by hand and served with fresh bread. All of this accompanied by a glass of sangria and some sparkling white grape juice… a truly enjoyable taste of Europe right in the middle of Kyoto!
8• Feliz Piccola — Italian cuisine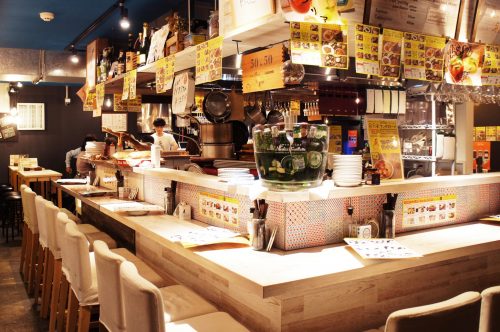 The exploration of Southern Europe goes on with Italy, on the opposite side of the same counter.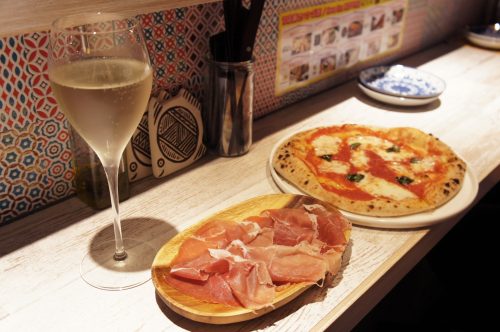 Here again, we get to taste a bit of cured ham. But this time, it is a prosciutto di Parma that had been very carefully selected and finely sliced with a cleaver, to give it the perfect texture and enhance its taste. And of course, you cannot get Italian food without a good old pizza. This one had the perfect crust, very thin and crispy. All of it was accompanied by a glass of sparkling Italian wine.
9• Editor's fav るるぶ キッチン (Rurubu Kitchen) — Regional specialties from Japan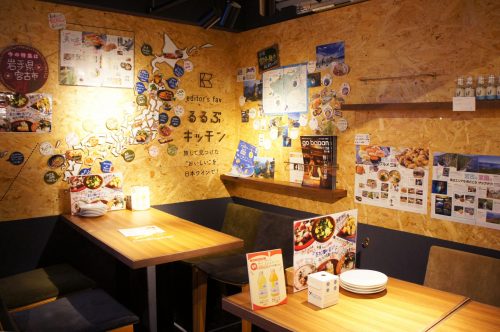 My personal favorite was the counter of the travel magazine "るるぶトラベル" (Rurubu Travel), highlighting various local specialties from all over Japan in a cuisine inspired by Europe.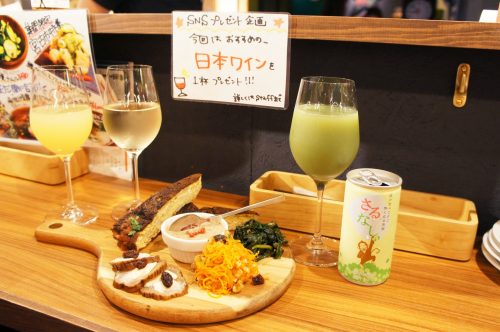 On our tasting plate: pickled (tsukemono) and smoked daikon with fresh cheese and raisins, grated carrots with candied yuzu, fish rillettes, tortilla and spinach. I could not exactly tell what was in each dish, but it was all unexpected and delicious. We could also taste Myoshi wine from Hiroshima, Nashi juice and apple juice.
10• Smoke Star — Smoked specialties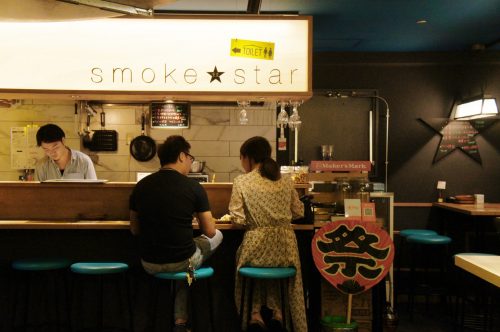 And here is the tenth and final counter, Smoke Star, where you can taste all sorts of smoked dishes while sipping highball.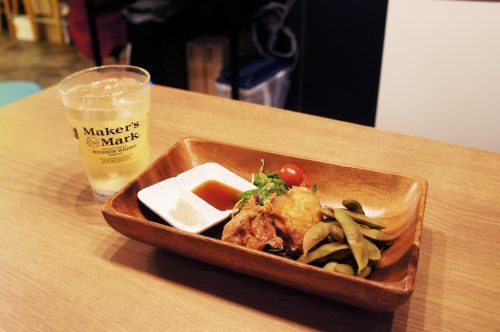 And once more, this culinary experience is a surprising one with two of Japanese izakaya's staples: karaage (fried chicken) and edamame (soy beans), except these ones were smoked. My verdict? It is very tasty and gives a new perspective on these classics. The highball served here was rather surprising too: Maker's Mark bourbon whiskey, sparkling water, lemon and manganji hot pepper from Kyoto. A surprisingly spicy and refreshing cocktail.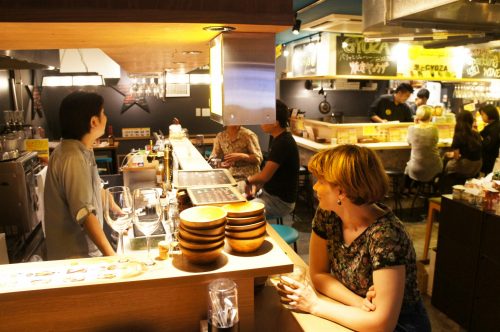 After five hours spent at the Karasuma Bar Yokocho and a very full stomach, I was truly delighted by the experience: tasting such a variety of foods and drinks all the while taking the time to chat with my friends and the staff from each counter. It as much a culinary experience as a social one, far from a simple night spent at a restaurant or an izakaya. 100% tested and approved.
How to get to Karasuma Bar Yokocho de Kyoto ?
The Karasuma Bar Yokocho is located in the heart of Kyoto: a 3 minute walk from Karasuma Oike station, right across from Kyoto Museum. You will only need 5 minutes if you are walking there from the famous Nishiki market or the neighboring Taramachi shopping centre, 25 minutes from Gion, 20 from Nijo Castle… You get it, if you are passing by Kyoto, chances are you will be very close to it at some point.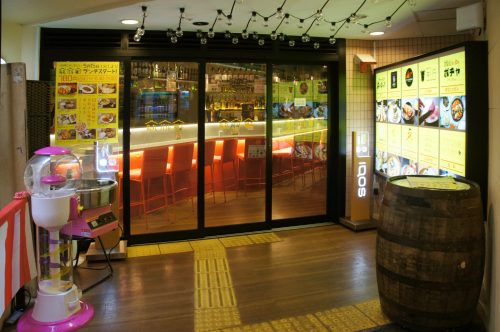 A voice from Bar Yokocho
Yokocho was derived from the black market after World War 2. And even now, Yokocho which locates all over Japan has been rooted as one of the original cultures in Japan. Yokocho was used to be middle-aged man's oasis before, but recently, young generation, especially lady and foreign tourists are visiting Yokocho and enjoy hopping. This is why the company 'Recruit' predicted epidemics of the year 2016 as Yokocho Renaissance. The new movement of young ladies that visit these venue like tourists to take pictures for posting SNS, and enjoy communicating with middle aged man who supports these venue's business without any complicated human relationship but has a warm heart, has been spreading recently. And Neo Yokocho stimulates the trend. There have been born new places where can feel good old days but on the other hand, serving stylish food, drink and hospitality at Tokyo and other regions.
Bar Yokocho that opened 3 places consecutively at Kamata (downtown of Tokyo), Akasaka (premier business district of Tokyo) and Karasuma (premier business district of Kyoto) is the Representative for that trend. Bar Yokocho is new style fun place to hop, which unite Spain and Japan's bar culture. In Spain, people enjoy hopping bar where have specialties at night time, and bar is watering place to local people.
Also in Japan, 'cho' as in the word 'Yokocho' has a meaning of 'meet' and 'come and go'. So it named Bar Yokocho. So please enjoy!
Feel free to visit the Akasaka Bar Yokocho website (in Japanese) to find out more.
Original text: Clémentine Cintré
Translation: Marion Pont