Sponsored by Tourism Oita
Hot spring resort destinations dot the entire Japanese archipelago, but few have the name recognition of Beppu. This seaside onsen town is located in Oita Prefecture on the northeast coast of Kyushu. Its fame derives, in part, from the unprecedented amount of hot springs in the area (over 2,000 sources). They are separated into eight main hot spring areas, known as "Beppu Hatto," which supply mineral-rich water to countless ryokan (traditional Japanese inns) and sento (public baths). Throughout town you can see steam released from the hot springs rising up between these many establishments, contributing to Beppu's iconic skyline.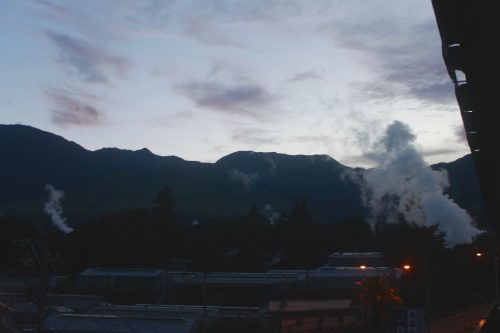 All together Beppu produces over 87,000 liters of natural occurring hot spring water every minute, a number unrivaled in Japan and matched only by the Yellowstone National Park in the United States.
The essential Beppu experience requires a stay at one of the area's ryokan, where you can often enjoy onsen facilities reserved for inn guests. Motoyu no Yado Kurodaya is a great choice if you're looking in the Kannawa Onsen area. Off one of Beppu's main thoroughfares, the ryokan has spacious rooms that include small balconies overlooking town.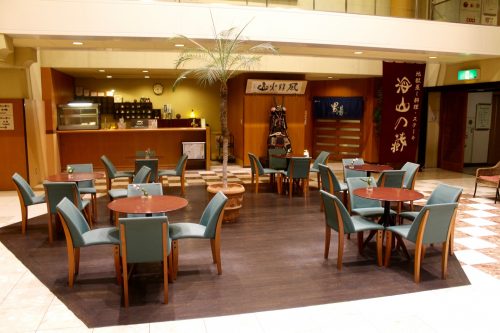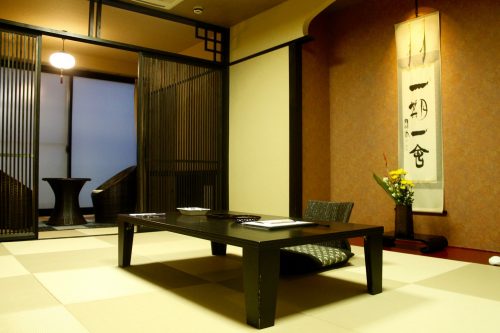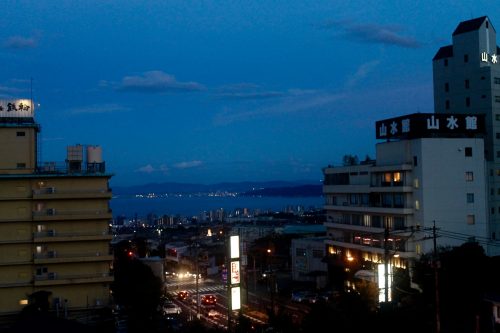 The onsen facilities are also spacious, with indoor baths and rotemburo (outdoor baths) with beautiful rock landscaping. Kurodaya's top floor also features a rooftop bar and a striking night view of town. Guests are given a coupon for one free beer upon check-in. Make a point to take advantage of this offer and enjoy your drink while looking at the city lights and the stunning plumes of steam that rise over Kannawa Onsen.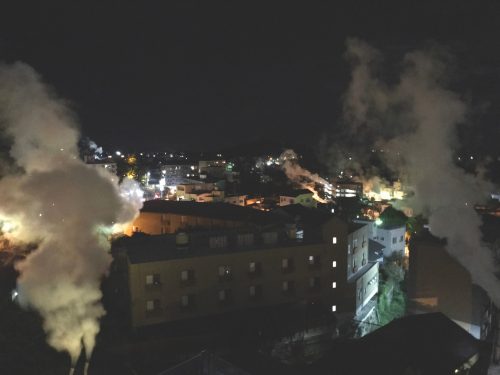 Kurodaya's biggest draw, however, may be its food. Guests can enjoy the inn's gourmet dining experience with a multi-course Japanese dinner. The meal showcases Oita's regional specialty, Bungo beef, a high-end brand of kuroge wagyu (Japanese black beef). Bungo is the old name of Oita Prefecture. While Kobe and Yonezawa beef have more international recogntion, the Bungo variety shows all the signs of a great wagyu with defined marbling, rich flavor and the signature melt-in-your-mouth texture. Kurodaya's restaurant serves Bungo two ways. First comes the medium-rare steak sirloin, sourced from cattle ranchers in the nearby Yufuin district of Oita. Then comes the shabu shabu (Japanese hotpot) preparation. The platter of vegetables and raw beef really show off Bungo's impressive marbling.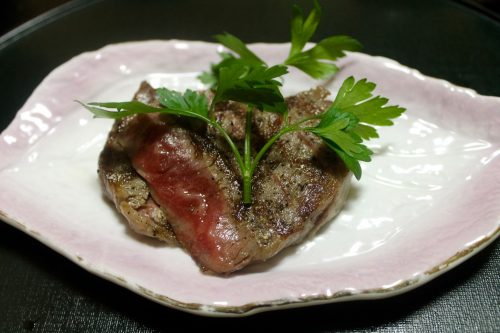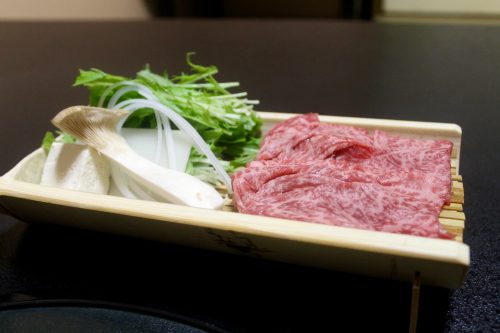 Guests also can enjoy the ryokan's breakfast buffet. While far less luxurious, the meal features an extensive spread of Japanese cuisine, from grilled fish to pickled vegetables and soup. With meals and onsen facilities includes, a night spent at Kurodaya will run between ¥13,000 and ¥35,000, depending on your room and whether your traveling during high season.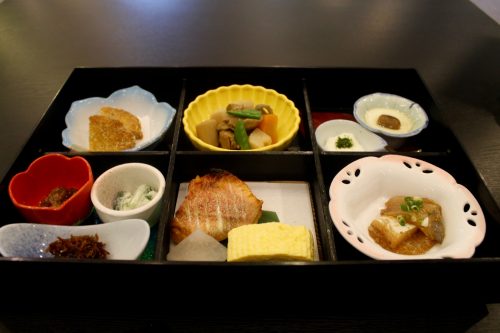 It would be easy to spend a whole trip to Kurodaya moving between its onsen baths, tatami rooms and restaurants, but if you're looking to see more of Beppu there's plenty nearby. The town's most famous tourist attraction is the "Hells of Beppu," a series of seven novelty hot spring baths spread across the city, each following a distinct theme. Several are clustered in the Kannawa Onsen area in walking distance from Kurodaya. I had the chance to stop by Kamado Jigoku ("cooking pot hell") and Oniyama Jigoku (devil mountain hell). While usually overrun with tourists, there's an undeniable appeal to the hells. Each has its own distinct feature.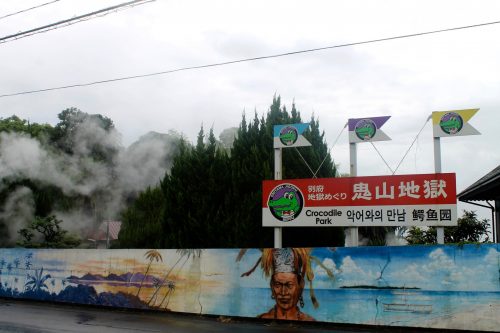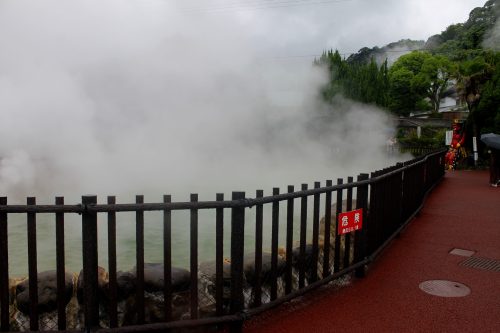 Kamado Jigoku includes boiling mud vents and large pools of water colored orange and an acidic light blue. These baths are meant for show, not actual bathing, but some of the hells have ashiyu (foot baths) on the premises for visitors to get their feet wet.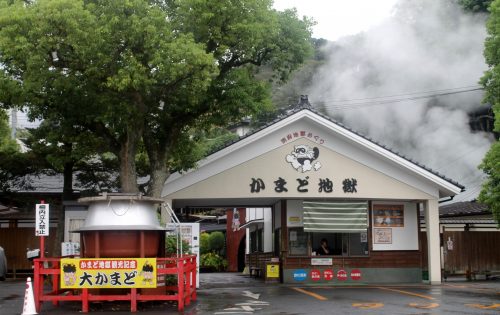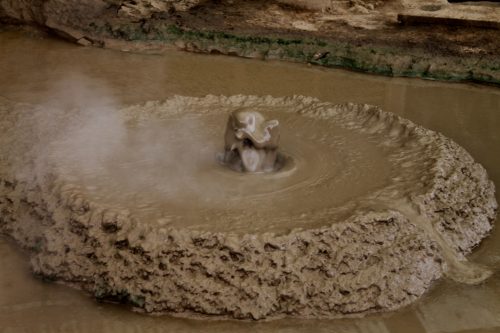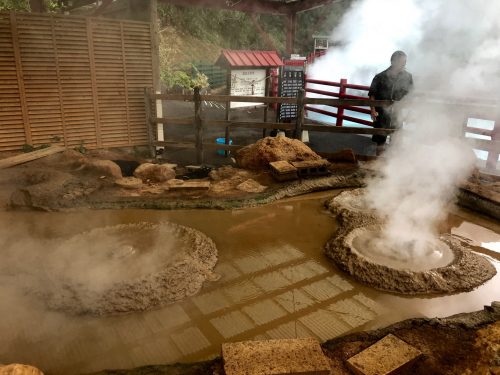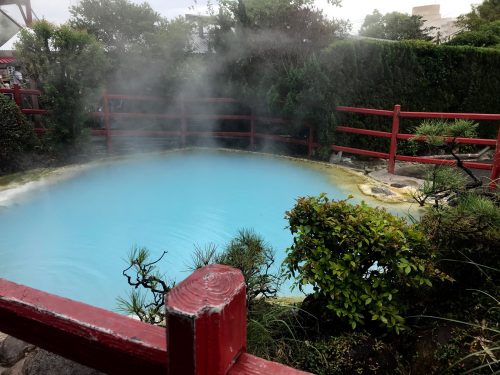 Down towards the coast, the Showa-era Beppu Tower (a sister to Tokyo Tower) stands above the city skyline and offers views of Beppu Bay to the east and mountains to the west. My personal recommendation, however, is a trip to Takegawara Onsen. A short walk from Beppu Tower, this public bath was opened in 1879 and stands as the oldest of its kind in the city. The current building is 90 years old, giving off a worn and weary charm with its dark wooden frames and gritty baths. The bath also offers visitors a unique sand bath experience. For a small ¥1,030 fee, Takegawara staff bury visitors in sand that's been soaked in hot spring water from the neck down. The experience is similar to a sauna and lasts from 10 to 15 minutes, before returning to the baths to wash off the residual dirt.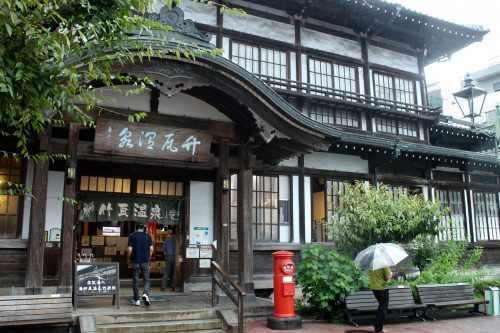 Whether you're visiting Beppu for a relaxing weekend getaway soaking in onsen baths or looking for a jumping off point to explore some of Oita's other attraction, make sure to book a night at one of Beppu's many luxury ryokan.  
Links and Additional Information
For more information about Beppu city, visit the website here.
For more information about Family baths, visit the website here.
For more information about Sightseeing, visit the website here.