When talking about carved and lacquered wood, Japanese craftsmen enjoy a well-established reputation alongside their Chinese neighbors. With many unique techniques and tools, Japanese craftsmen will allow both novices and lacquerware enthusiasts to discover new things about this millenary art. There are many tools unique to lacquerware, from tsutsu (used to sprinkle gold or silver powder), to hake (a large brush) or hera (a spatula), without forgetting the muro, the craftsman's workspace that needs extra care to remain at the perfect temperature, humidity levels, and cleanliness in order to work in the best, most precise conditions.
The workshops of Urushi Factory Jem and Urusho Ohtaki in Niigata prefecture's Murakami (村上市) should both be visited by all those who wish to learn more about the art of sculpted and lacquered wood.
Make Chopsticks at Urushi Factory Jem
Quietly nestled a few meters away from one of the main streets of Murakami and easily reached by foot or by bus from the train station, the Urushi Factory Jem workshop (漆工房じえむ) welcomes all visitors willing to test their dexterity during a chopsticks carving initiation.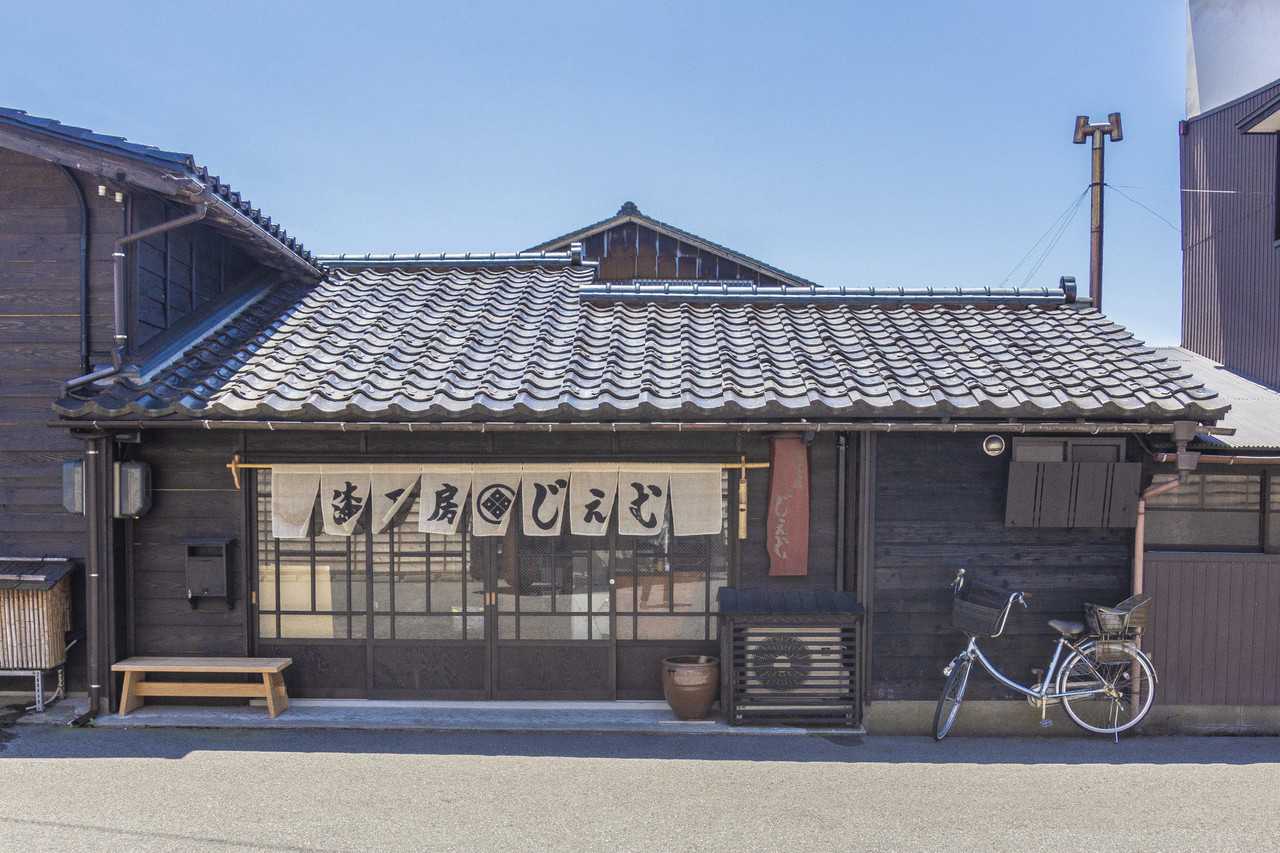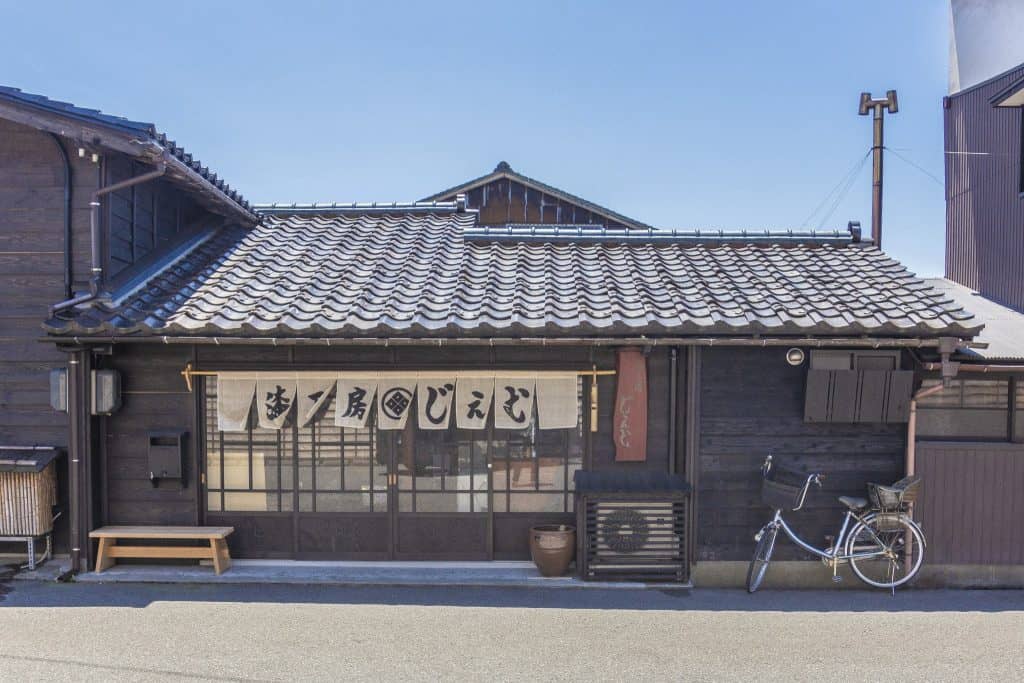 Right after sliding through the front door, you will be welcomed by delicate decorations and the quiet-yet-friendly owner of the establishment who is a lacquerer—she is the daughter of a wood carver and niece to a lacquerer. Being raised in such an environment, she naturally decided to unite these two arts and pass along her love of the family craft to curious visitors.
A true jack-of-all-trades, our hostess has crafted an impressive myriad of objects with her own ten fingers: chopsticks, statuettes, jewels, figurines, plates, and many more. All the fans out there will appreciate the centerpiece of her collection just as much as she is proud of it: a miniature plastic model Gundam traditionally carved and entirely lacquered by hand.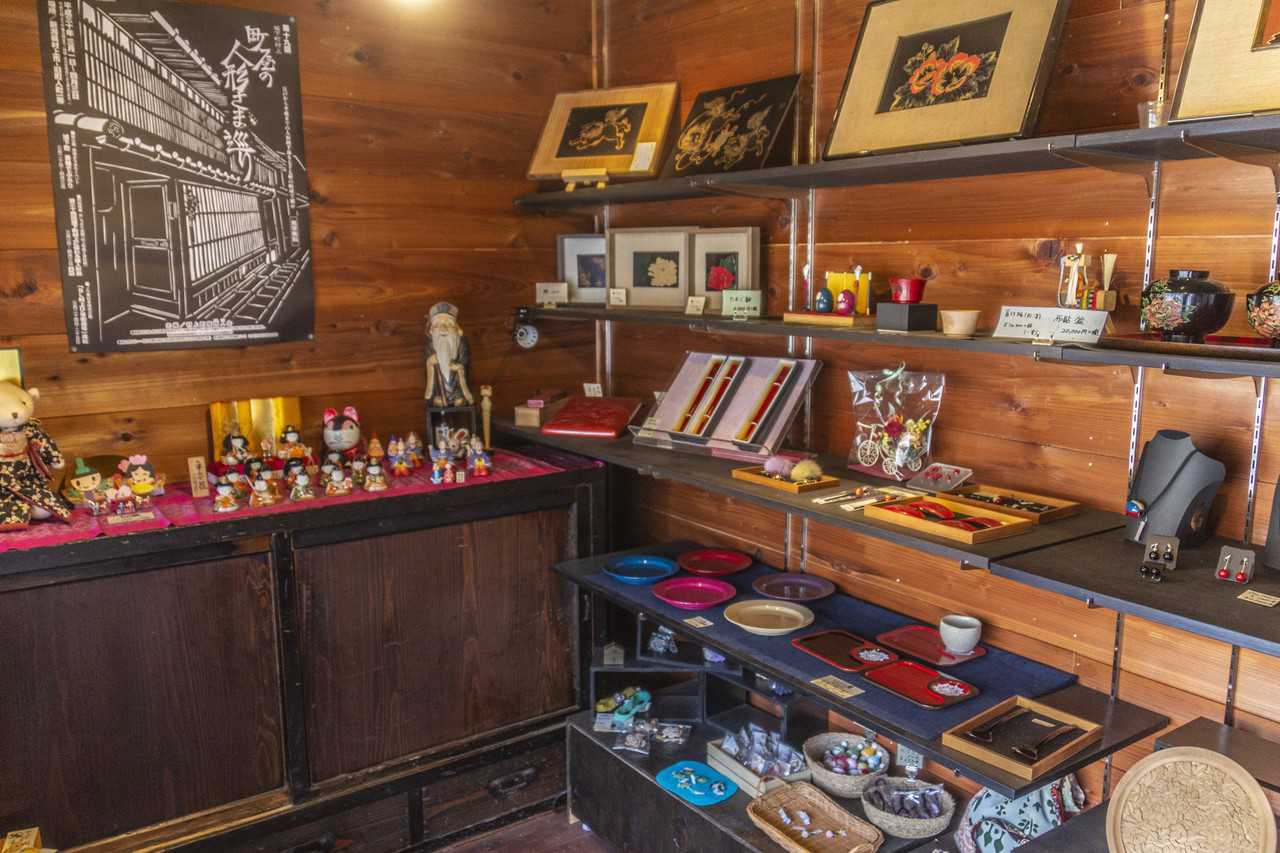 The craftswoman also had the great idea of exposing unfinished pieces of work, such as this plate left without lacquer, for visitors to better appreciate the different steps of creation. A good outline of the extremely meticulous work and patience required to complete each lacquered object.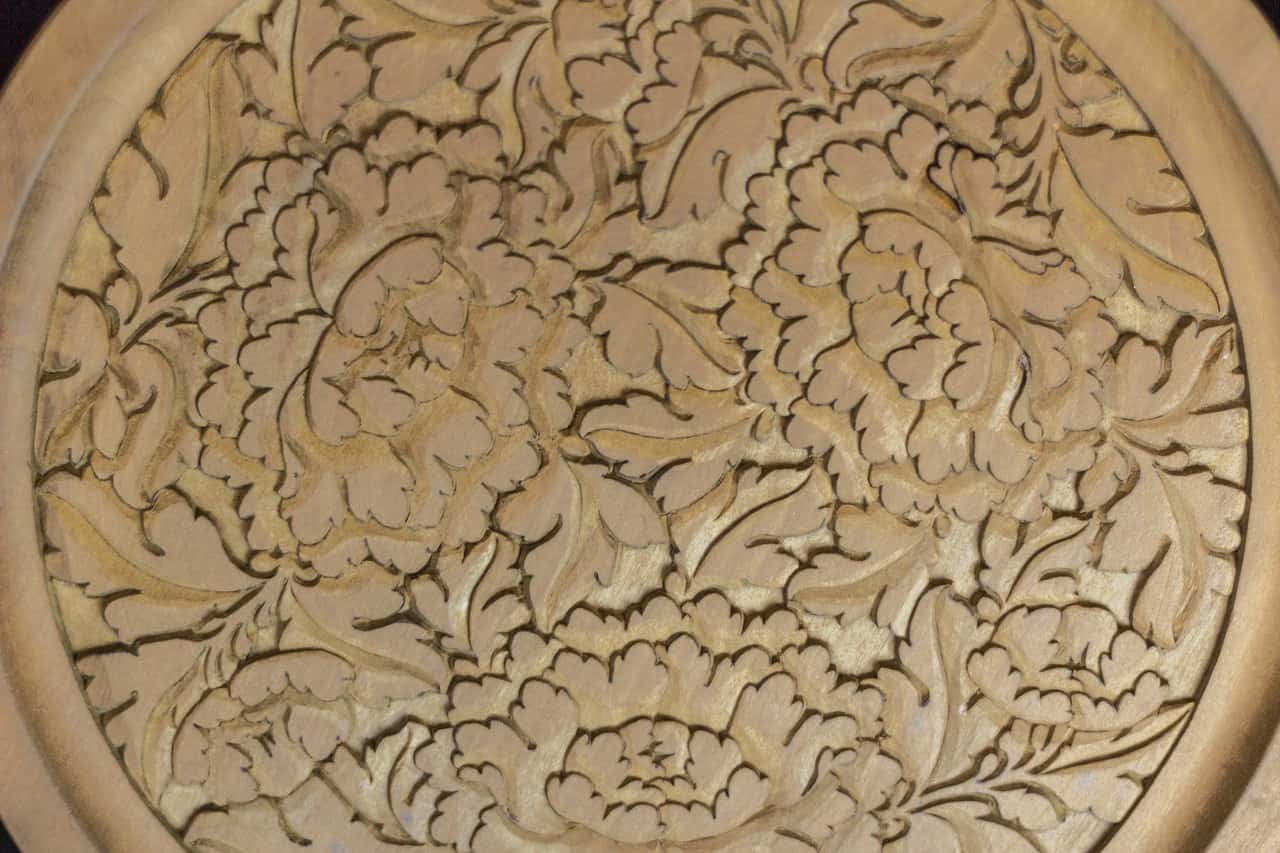 One of the unique skills of this jack-of-all-trades is origami made with copper foil. Folding a simple piece of paper is already quite a challenge. Those of you who have already tried their hands at making just a simple paper crane will be able to appreciate the remarkable precision required to make the same animal using copper.
Urushi Jiemu's wood carving workshop
Let's move on to the workbench space! The shop offers 90-minute long wood carving initiation workshops—in my case to carve a pair of chopsticks. Here you can see a training board, with the lines crafted by the master followed by the ones of a beginner, showing the striking contrast.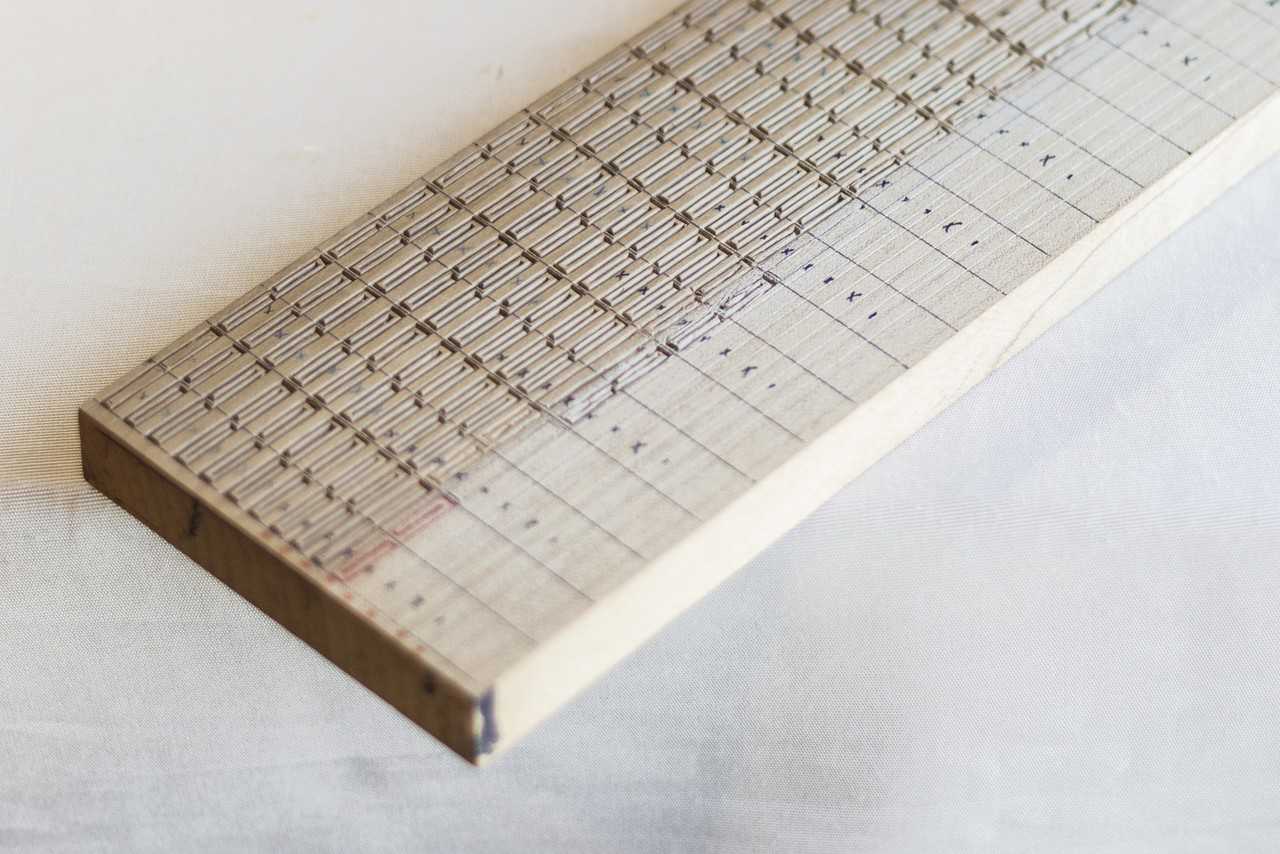 The first step is to select the type of pattern you wish to carve, according to your taste but also your skill level and courage, if not your temerity judging by the complexity of some of them.
The workshop starts with your pair of chopsticks tightly held by a small vise. But before handling your urajiro, a small scalpel with a unique cut that can only be found in the workshops of Murakami, you will first have to draw your carving lines using a pencil with a dry point.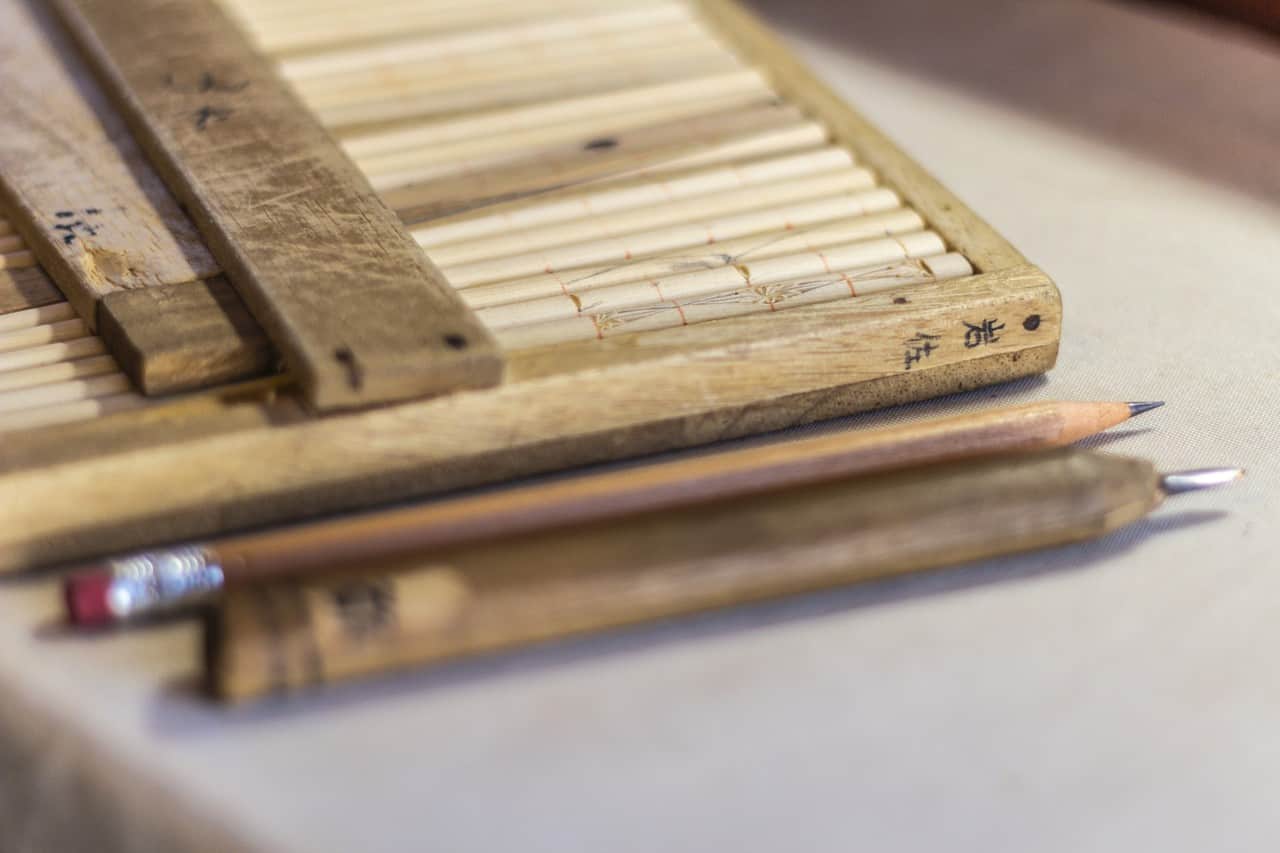 Chosen here, a drawing adapted from the well-known Japanese wave pattern called seikaiha, but this time without the curve, which would be way too difficult to carve as a beginner.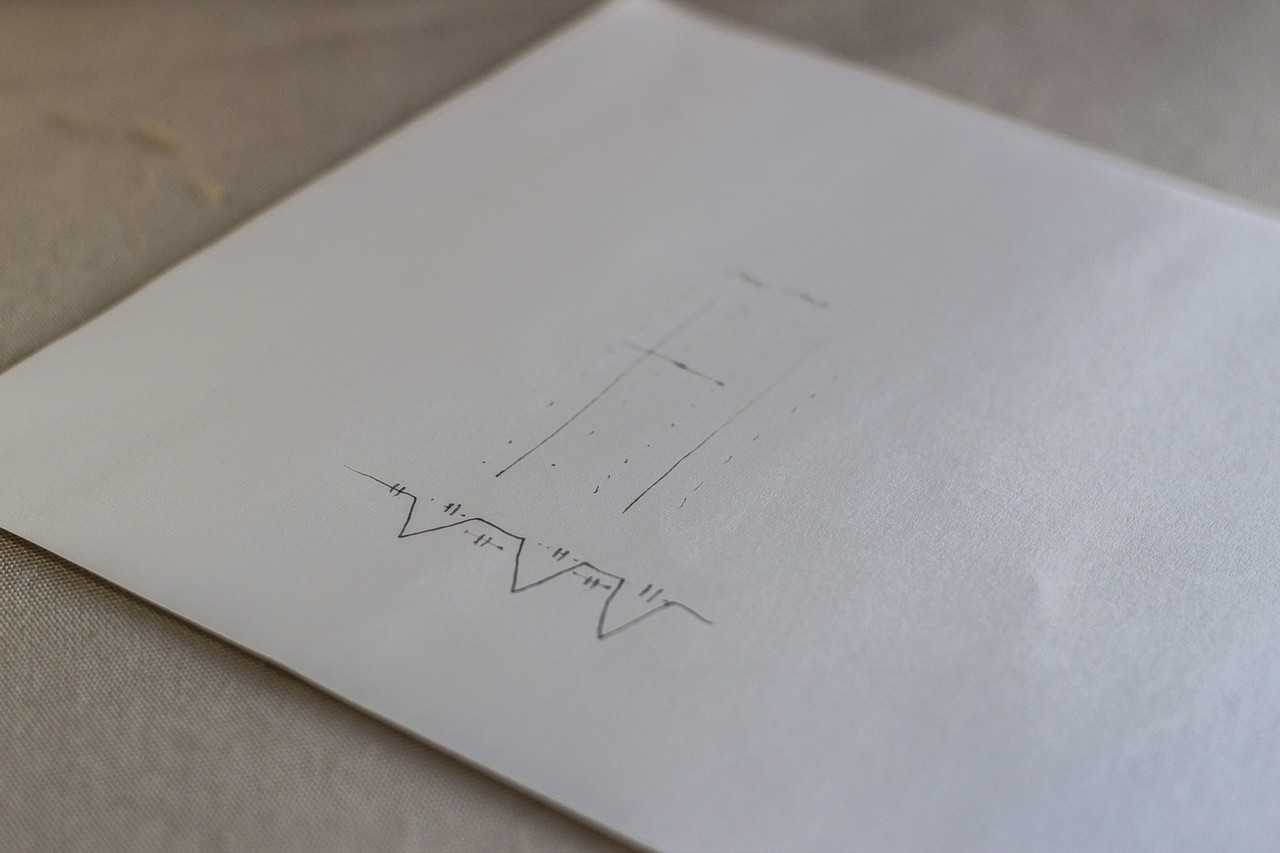 With a vocabulary that can get quite technical at times, it can be easier to communicate with a drawing. Drawn here, it offers clarifications regarding the angle, depth, and spacing of the grooves to be carved.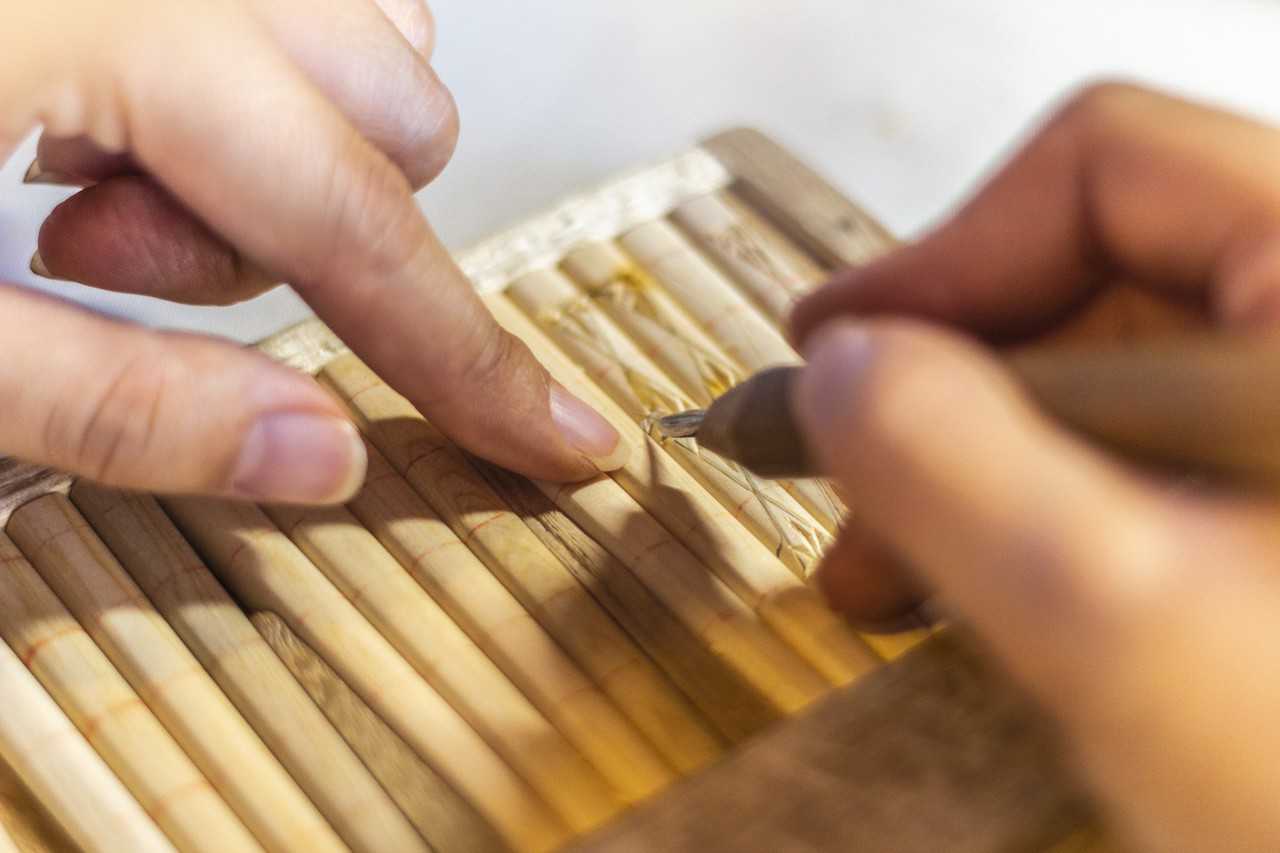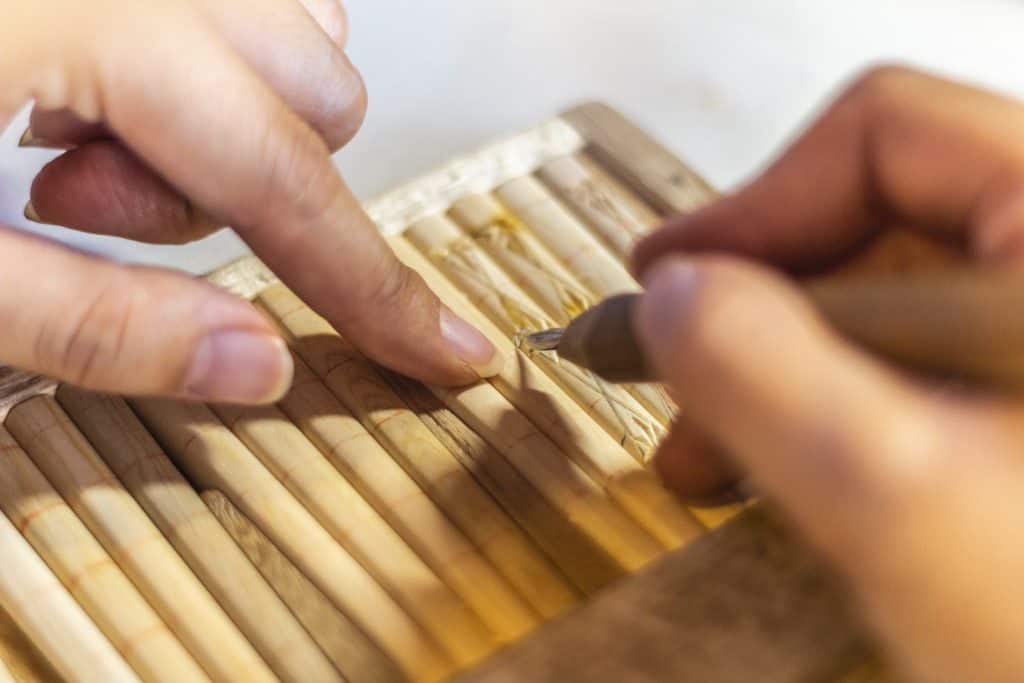 Once the carving is complete, you will be able to get an idea of how it will all look after being lacquered with a pair of finished chopsticks that the owner has in stock. Your own pair of chopsticks will then be lacquered and sent your way from Murakami by mail.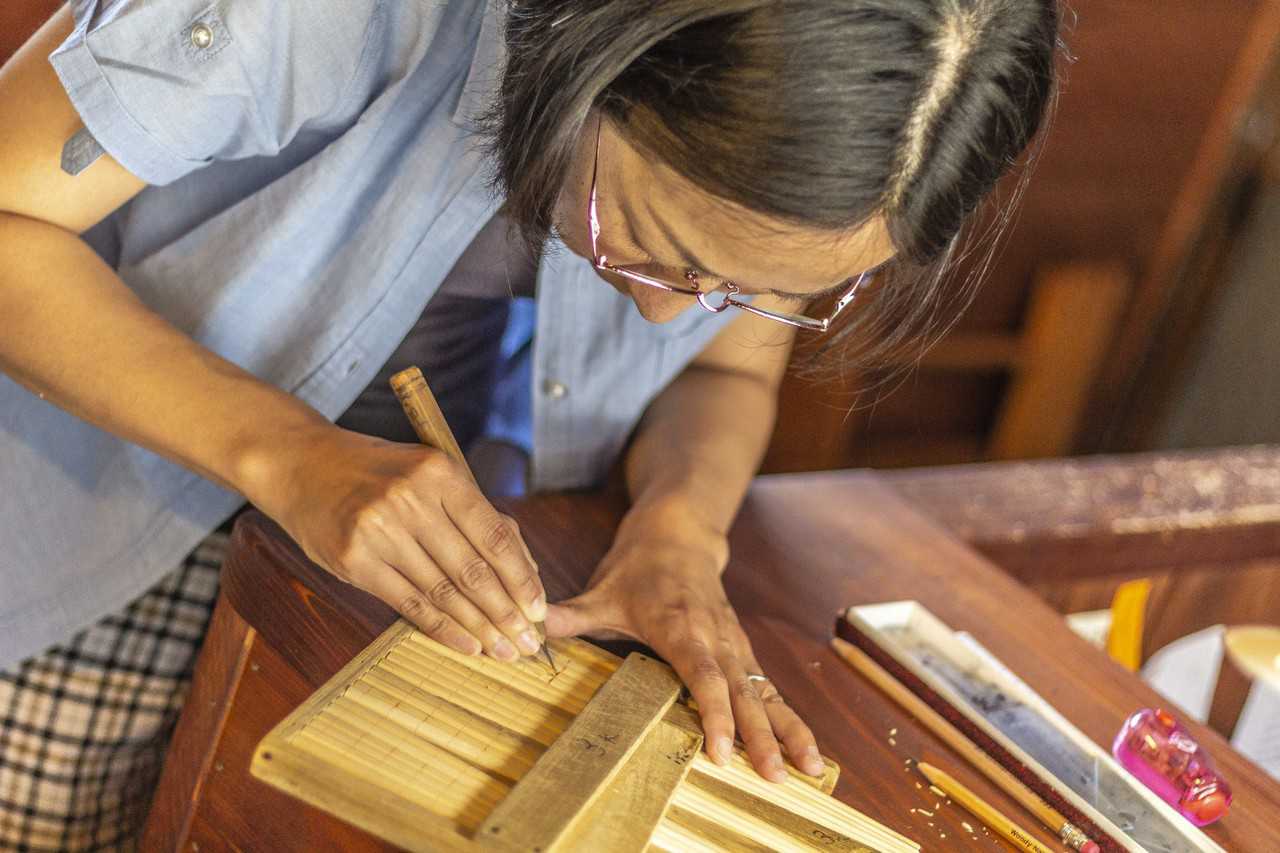 Go Shopping for Lacquerware at Urushi Ohtaki
With a less discreet but nonetheless elegant storefront, Urushi Ohtaki (ウルシ・オータキ) will first delight all Piet Mondrian enthusiasts with a design standing out from the rather uniform city architecture.
Once again immersed in the delicate and quiet atmosphere of lacquerware workshops, you will get to admire hundreds of pieces of work, each one of them more remarkable than the other, before stepping into the back shop and getting behind your own little workbench.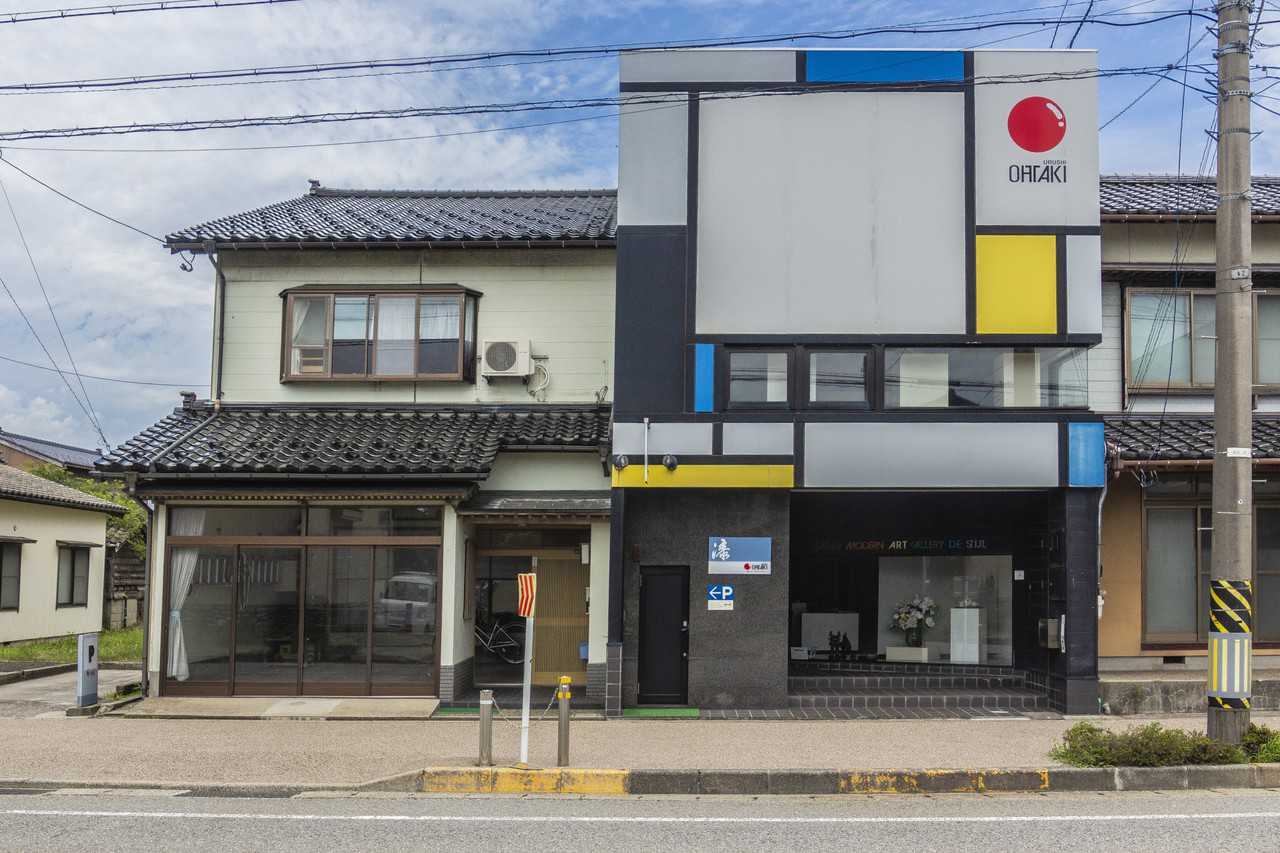 Among the items the craftsman suggests you choose from, you can create these small square-shaped table mats that are about 10 centimeters large. Covered in a mesmerizing black lacquer, you will get to design the drawing of your choice that will appear at the center of it, with the help of various tools.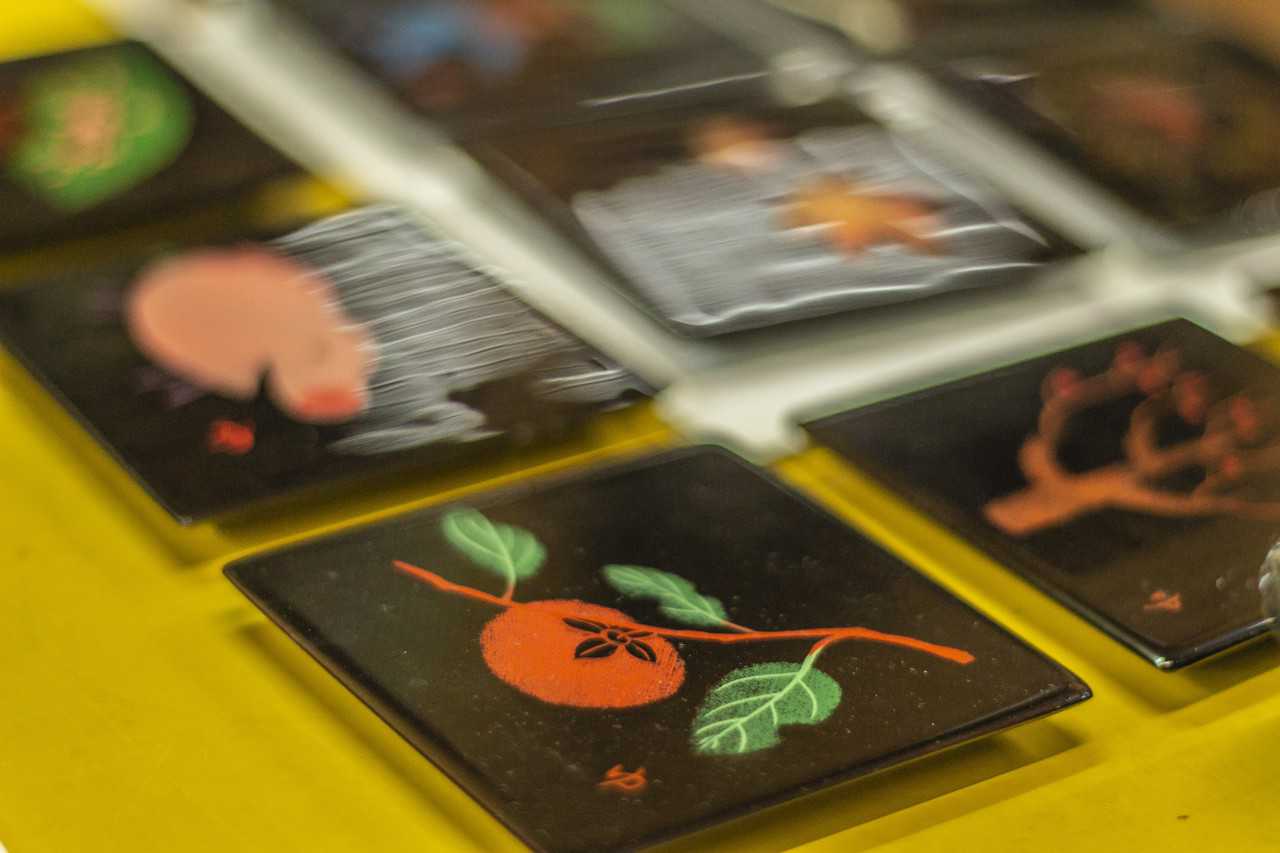 The first step is to choose a drawing you like—a task which is harder than it seems given the large choice offered by the many books at your disposal. Abstract or natural patterns or animals, there are thousands of elegant and poetic options available for you to choose from.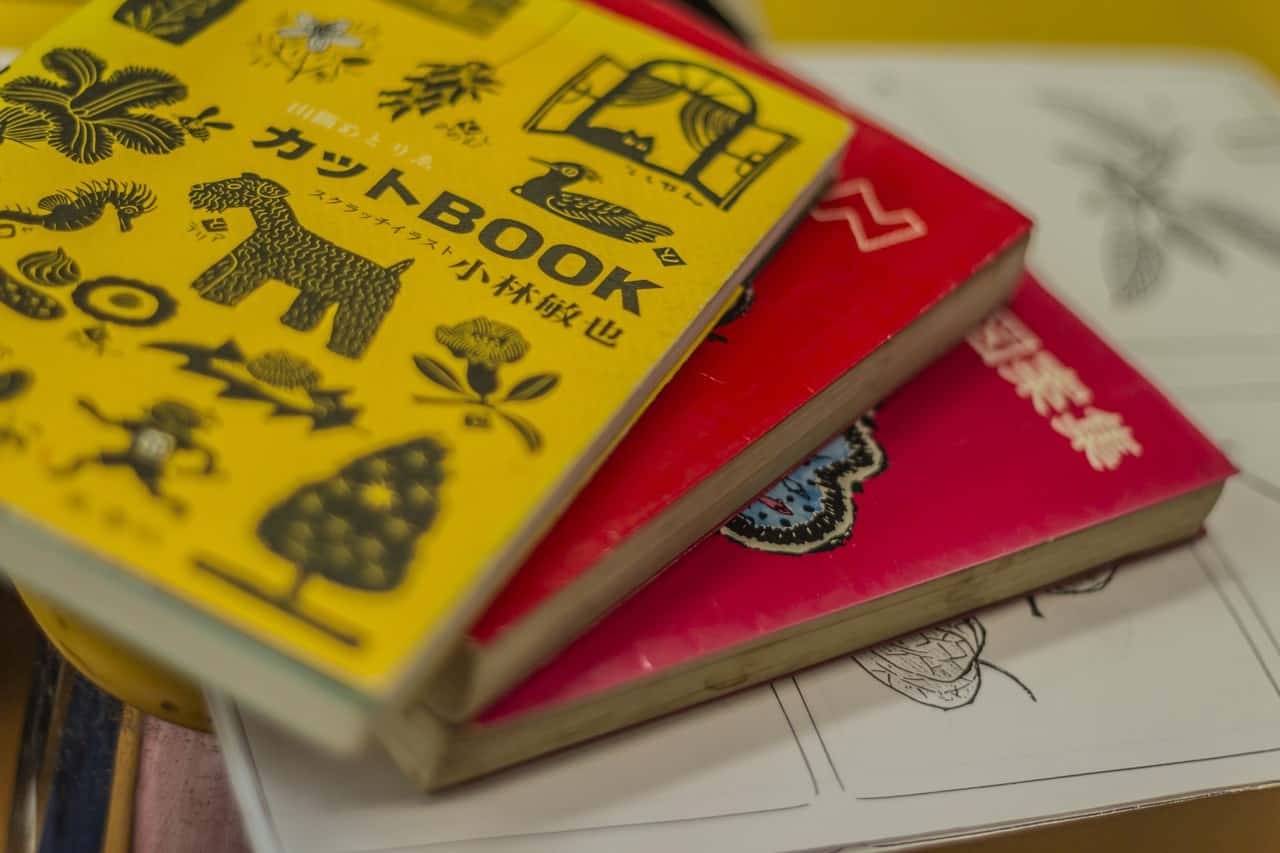 Once you have made up your mind, it's time to work! Within seconds, you are transported to a professional workspace, kneeling on a zabuton, a traditional Japanese pillow, right across from your host who will guide you through the entire process, providing you autonomy with the right amount of support as you make your artistic choices.
Once you are done choosing your pattern and drawing it—here is a monkey grooming its baby with a tree leaf on the side—you will have to draw the outline of your pattern a second time and cut it out in order to create a stencil and get started with the first layer of your composition.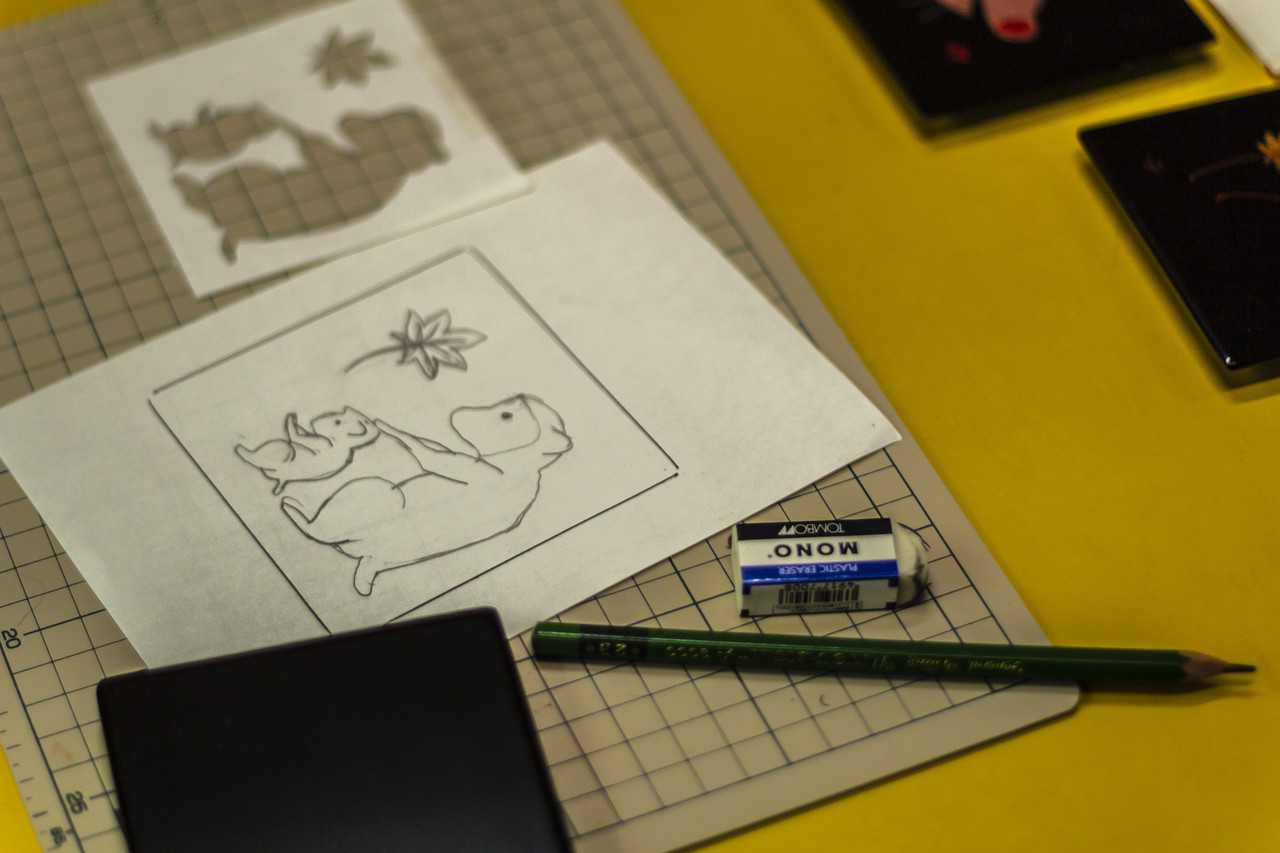 This first layer will be painted with the sap of an urushi, a tree called Japan's varnish (which you will be able to find at both shops) with ink extracted from its trunk. It takes about eight years for this tree to be fully grown and it will then be regularly notched to extract as much ink as possible. It's an amount of ink that remains minimal compared to the many patient years spent waiting for it to grow, as you can only get a bowl full of it before the tree gets cut off. Each drop of it is particularly precious.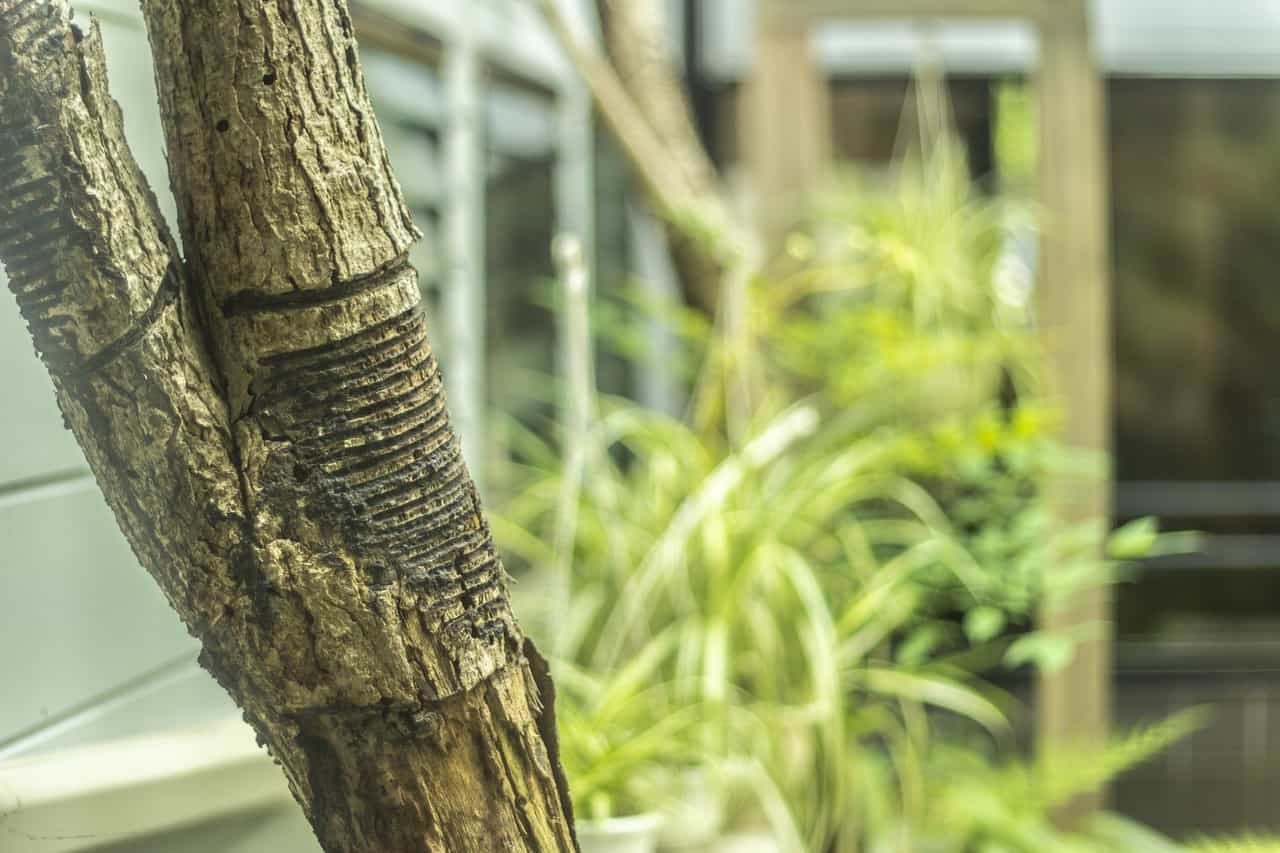 During the workshop, the master craftsman will demonstrate how to use the various brushes as well as the small stamps of his creation to gently apply the layers of your drawing to the lacquered plate. It is then up to you to follow his tips on color arrangements, rather classic ones, or to go for more audacious choices.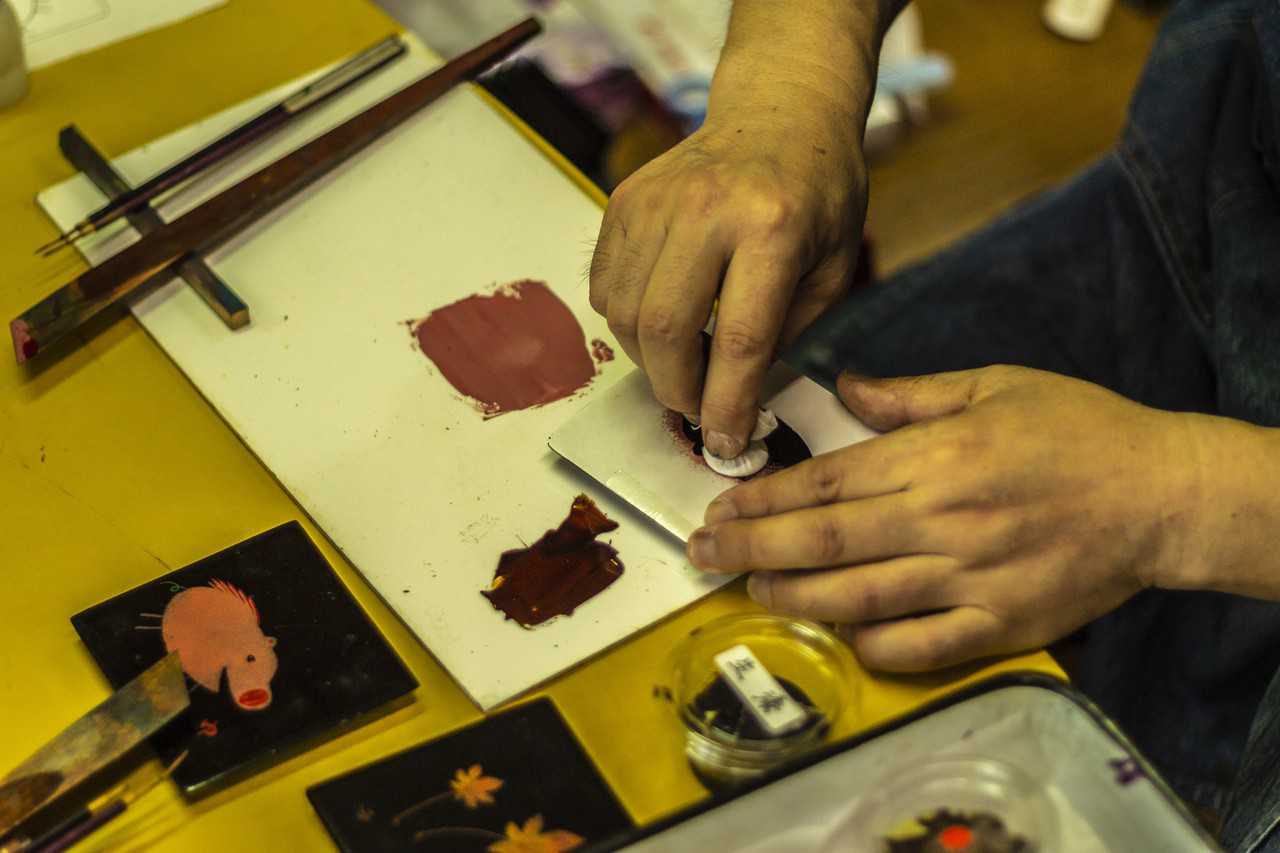 After 90 delightful minutes of work and quietness, punctuated with fresh tea served by the craftsman's wife, you will be able to contemplate your artwork before it is finalized by your host and then sent to you by mail.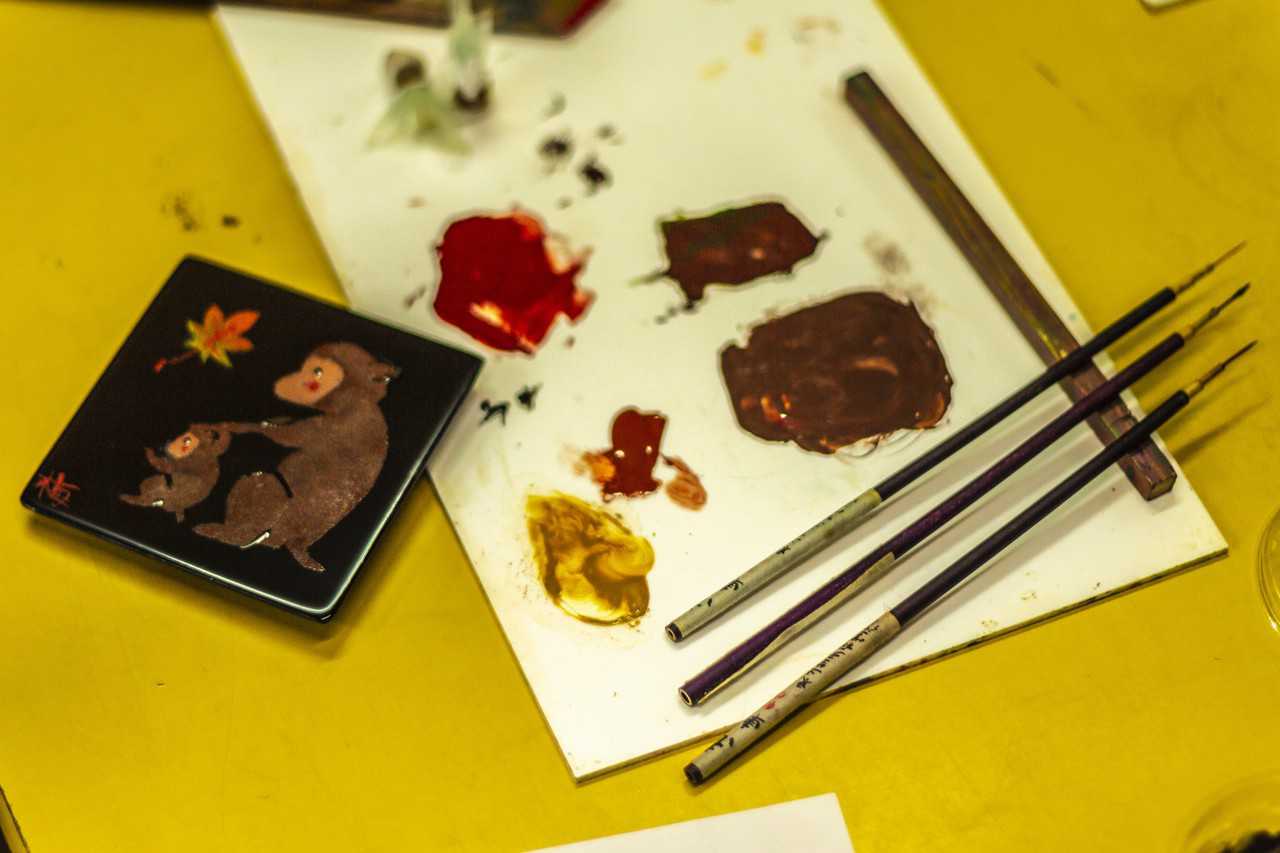 How to get to Murakami
Murakami is located only three hours away from Tokyo by train (with one connection). Feel free to visit the Murakami Tourist Office website for more information. Find other suggestions on what to see and do in Murakami.
Practical information about the Japanese lacquerware workshops
Urushi Factory Jem (漆工房じえむ)
Address: 958-0842 Niigata-ken, Murakami-shi, Ōmachi, 3
Price: 2,000 yen for 90 minutes, about 700 yen for shipping costs in Japan.
Urushi Ohtaki ウルシ・オータキ
Address: 2-32 Kamikatamachi, Murakami, Niigata Prefecture 958-0873
Price: 2,500 yen for 90 minutes, including shipping costs within Japan.
Sponsored by Murakami city
Translation by Marion Pont