Sponsored by Tourism Oita
Located on the vast Ogata Plains is a most unexpected and beautiful sight. In the middle of this valley is a wide cascade of waterfalls spanning 120 meters that collectively form what is known as Harajiri Falls.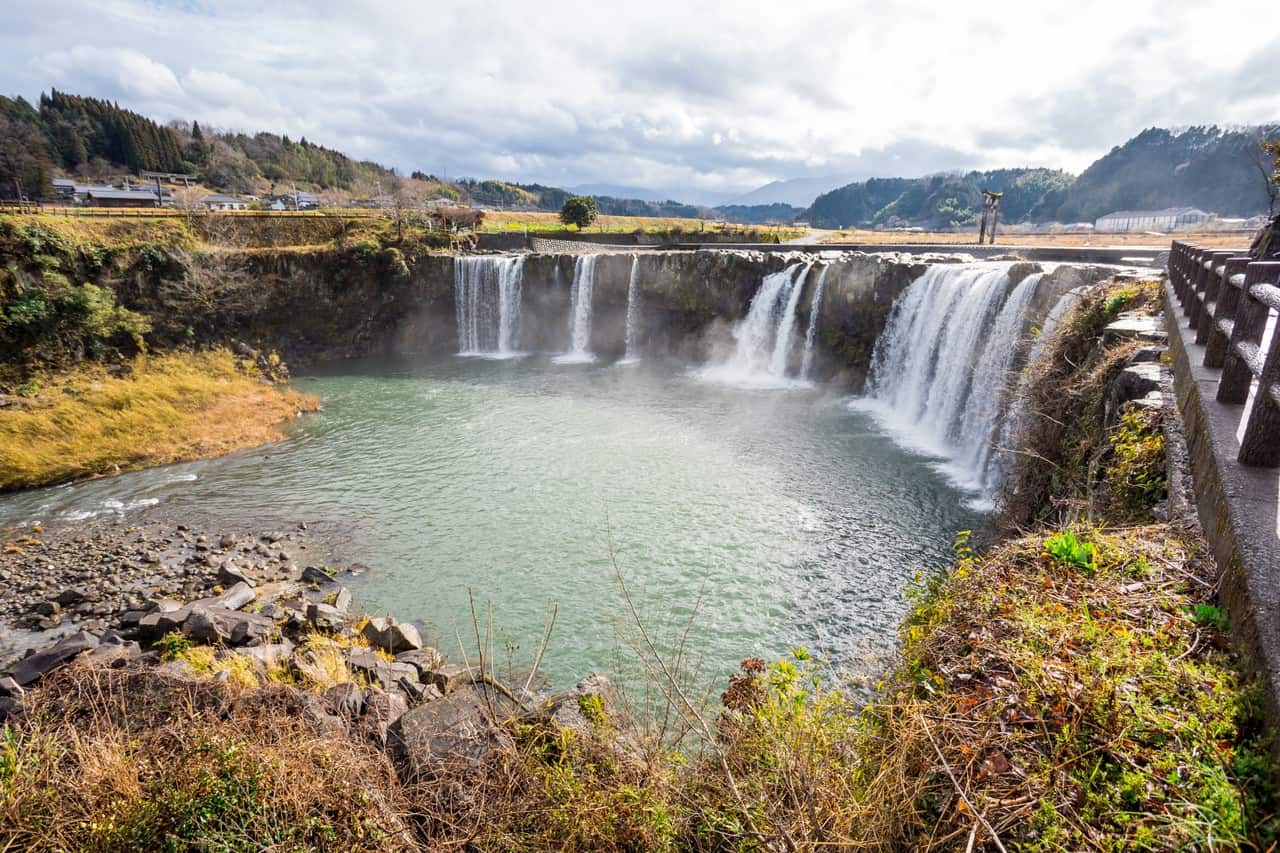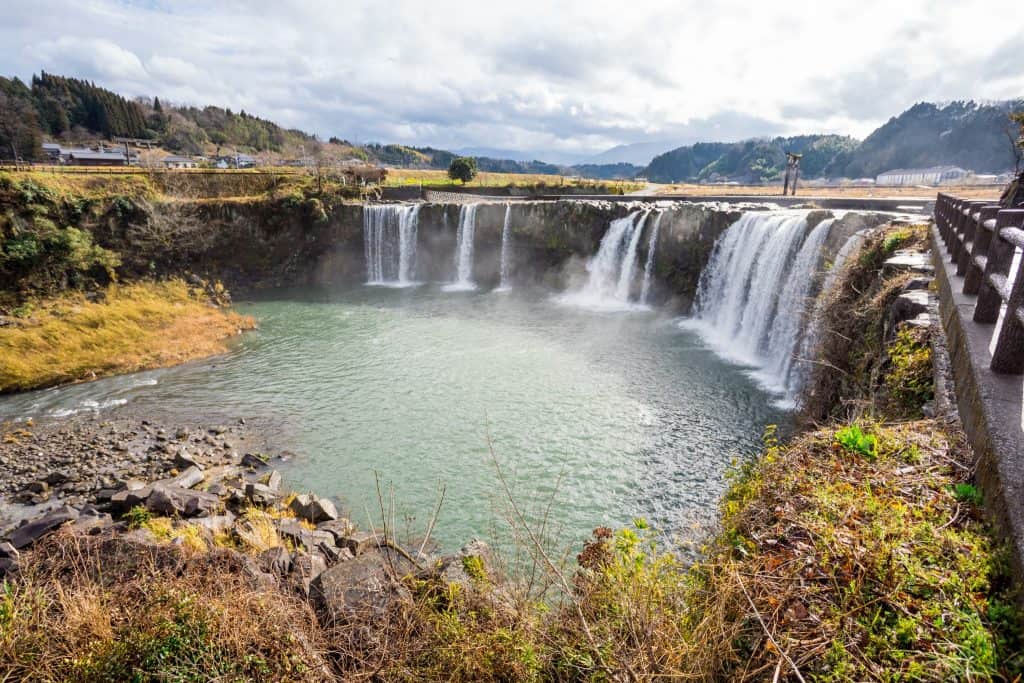 These 20-meter-high waterfalls are nicknamed the Oriental Niagara due to their resemblance to the iconic horseshoe shape of Niagara Falls.  They are believed to have been originally formed by a massive lava flow from an eruption on Mt. Aso over 90,000 years ago.  The hardened volcanic rock gradually broke apart and created the cliffs that the Ogata River flows down from to form these falls.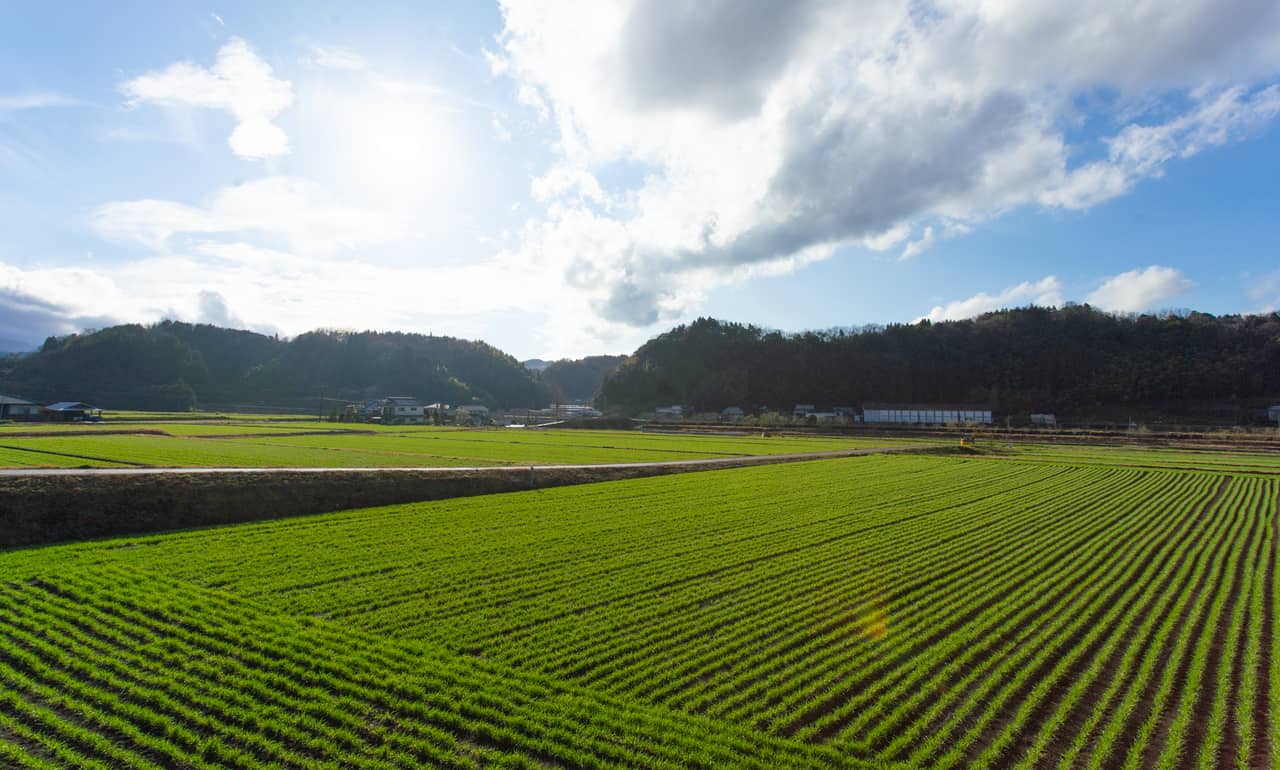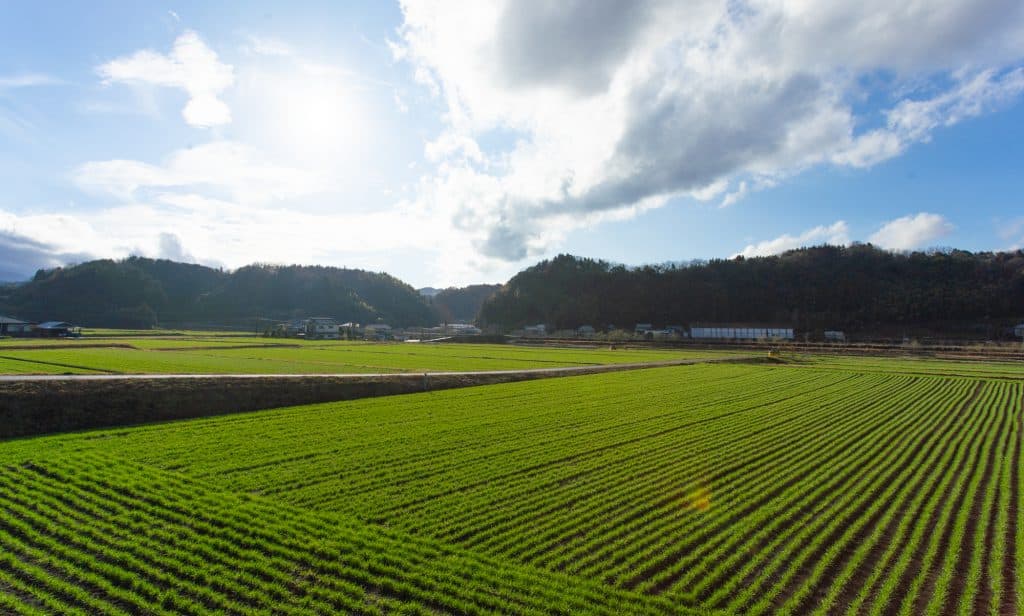 When traveling to Harajiri Falls, I had thought that I must have entered the wrong address into my navigation as this area is almost entirely flat farmland.  However, the rice fields of the Ogata Plains suddenly gave way to a rocky basin that seemed starkly out of place from its surrounding scenery.  I had never before seen a waterfall located on such wide open plains and was even more impressed by its size and the volume of its roar.
Parking my rental car next to the falls, I walked along with the lookout point that spans the right side of the basin to a suspension bridge that offers a fantastic aerial view of the falls 50 meters away.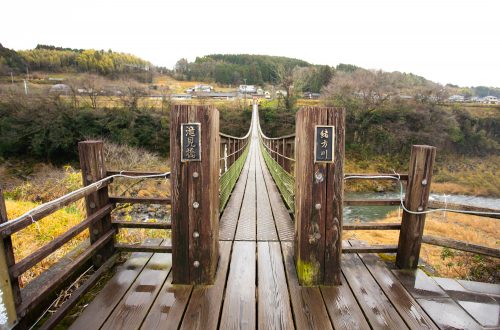 My favorite spot to enjoy these falls was right up on the rocky shoreline closest to the waterfall. Here, you can feel the mist and wind created by the torrents of water.  This would be a wonderful place to cool off and escape the summer heat in August.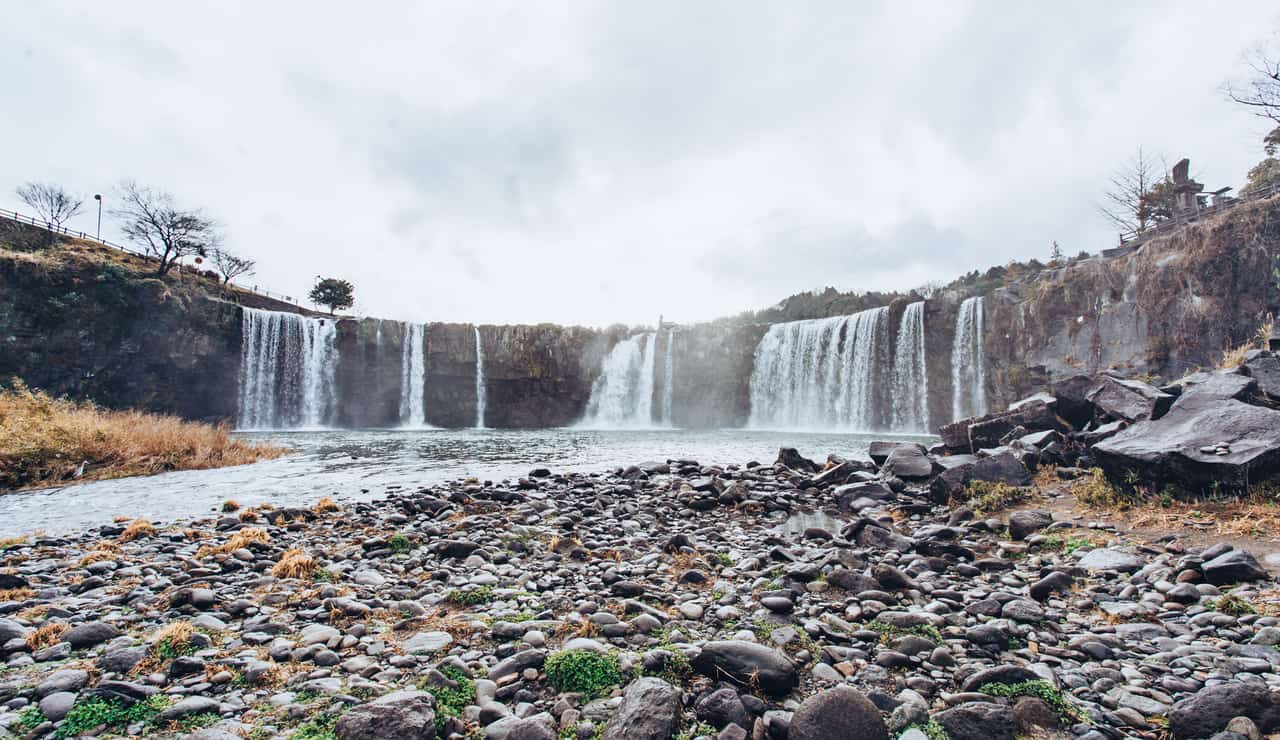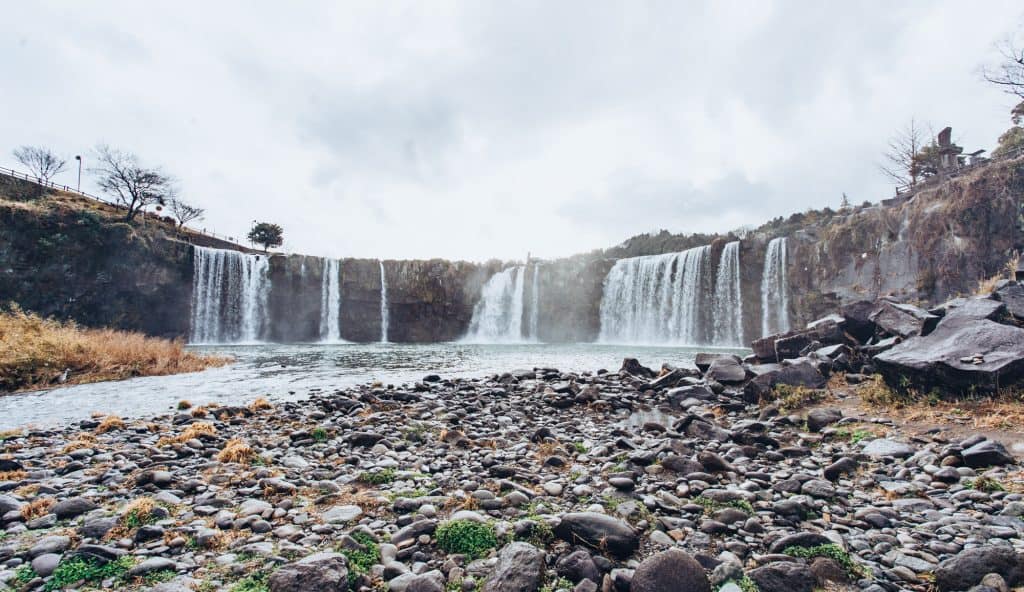 The relatively small size of these falls also makes it very easy to see all of its great vantage points by foot. I could walk to Harajiri Falls in only a few minutes.  At the top of the falls, you can see a large stone torii gate at the point where the Ogata River plunges into the basin below.  I would certainly recommend stopping at the top of the bridge to see how this large river suddenly disappears into the basin below.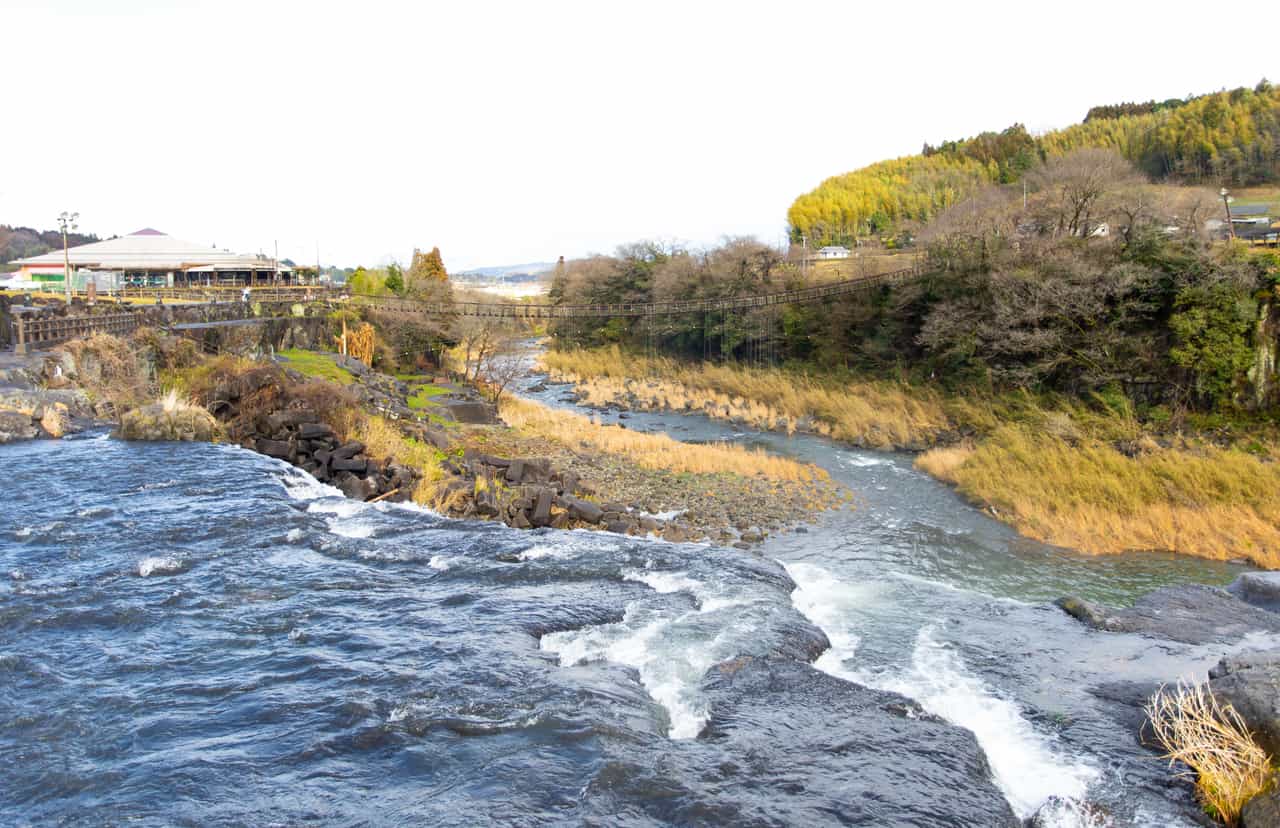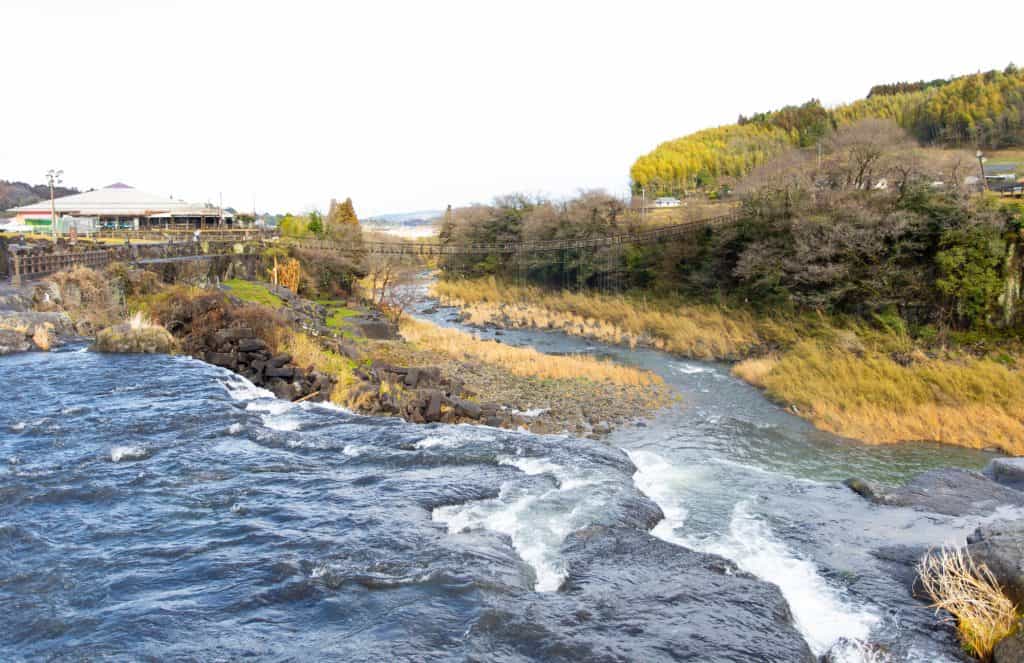 The Ninomiya Hachiman Shrine
After visiting the waterfall, I took a short 300-meter walk into the hills where the Ninomiya Hachiman Shrine rests up against the forested hillside.  This shrine dates back over 800 years to the end of the Heian Period and was established by Koreyoshi Ogata, a famous samurai of this region.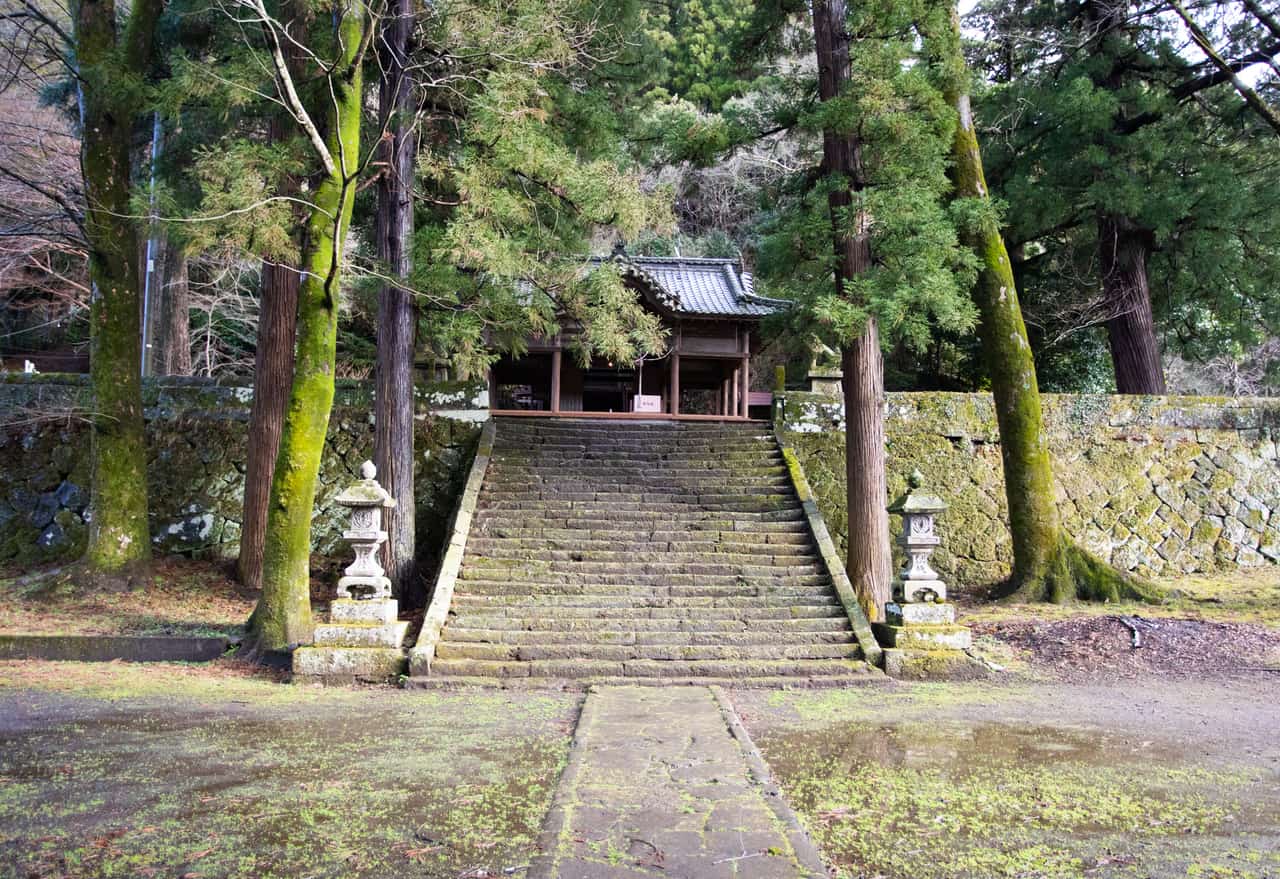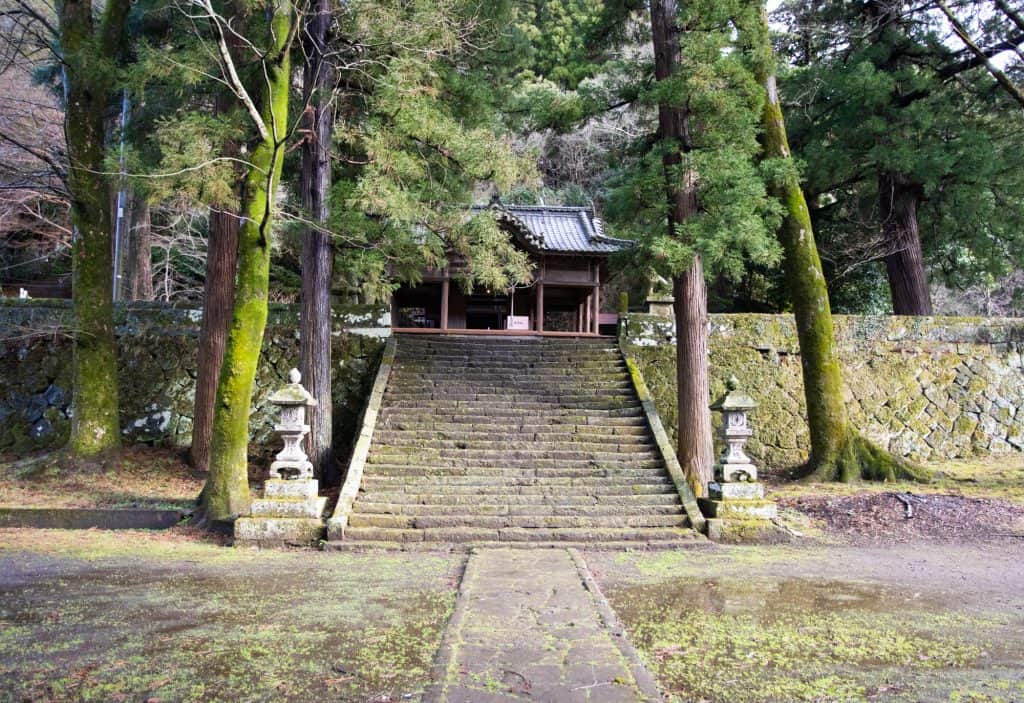 It is said that Ogata shot three arrows into the air and established three shrines where they landed.  Ninomiya Hachiman is one of these shrines, and you can also visit Ichinomiya Hachiman Shrine and Sannomiya Hachiman Shrine nearby.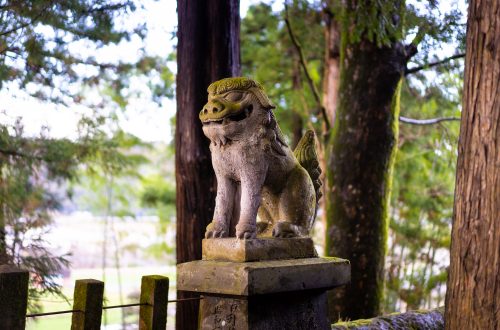 The forest and shrine here are covered in green moss that looks beautiful on its stone torii gate and stone steps leading up to the shrine. While walking up the stone steps be sure to turn around and admire the Ogata Plains with the cedar forest and stone torii gates in the foreground.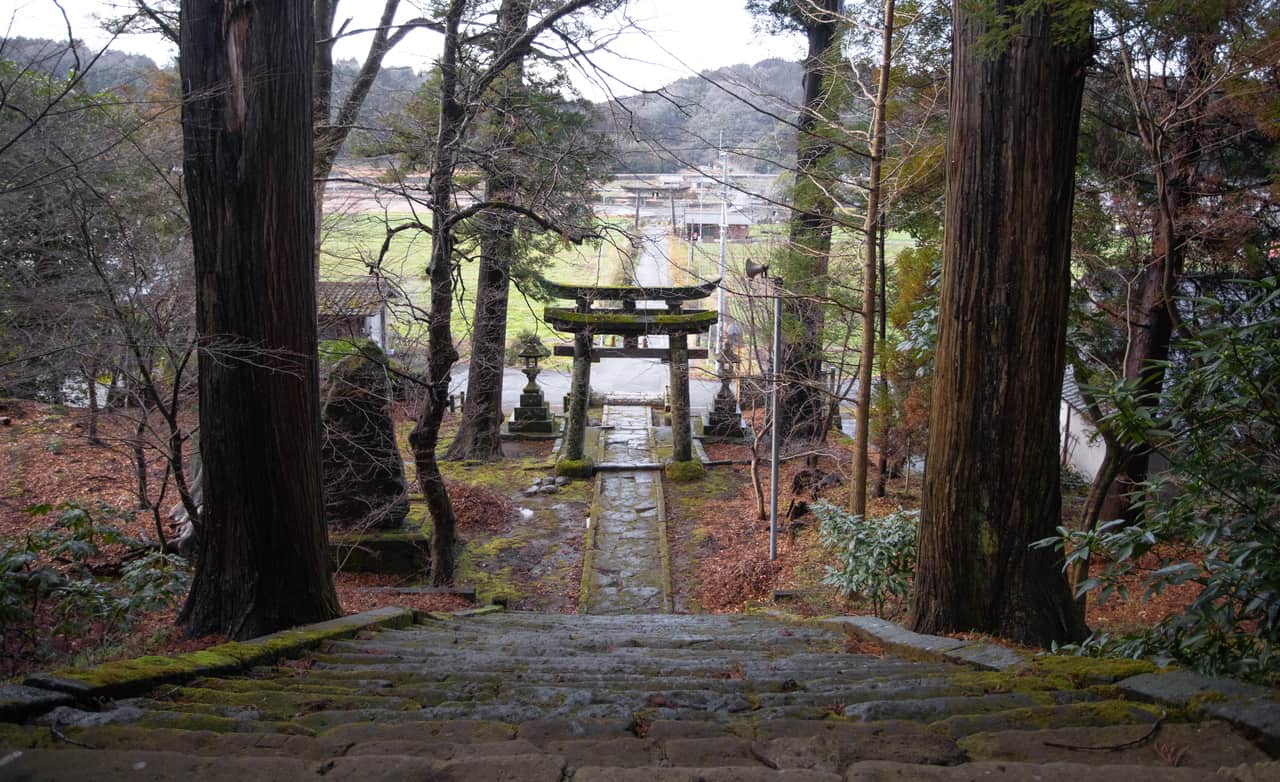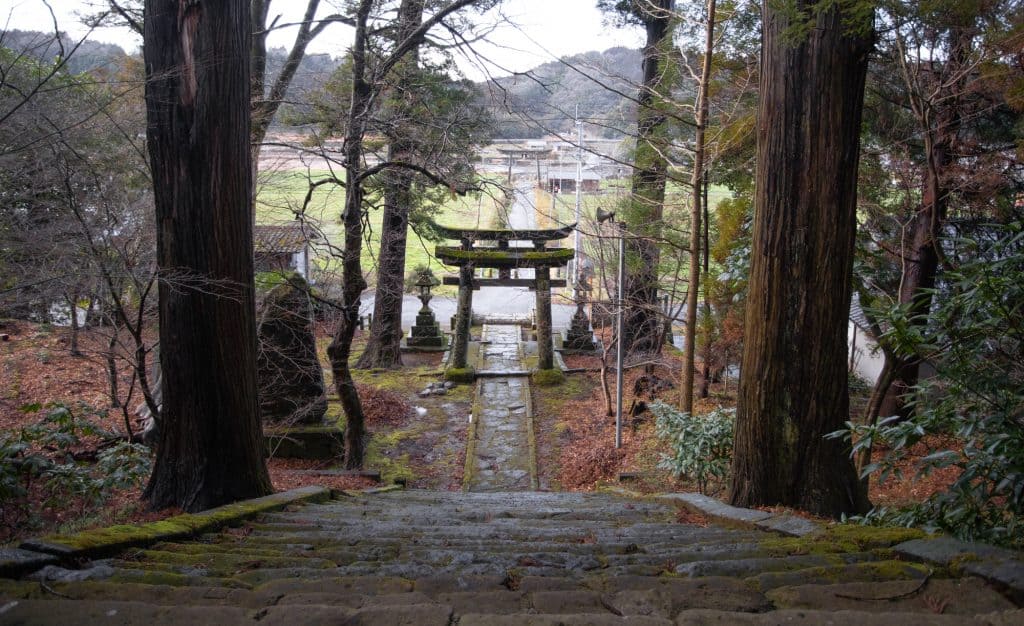 You can make an offering and prayer at the front of the shrine and walk around the shrine to see some of the masterful woodwork that adorns the walls and ceilings. There is also a small hill next to the shrine that you can walk up to get an expansive view of the Ogata Plains.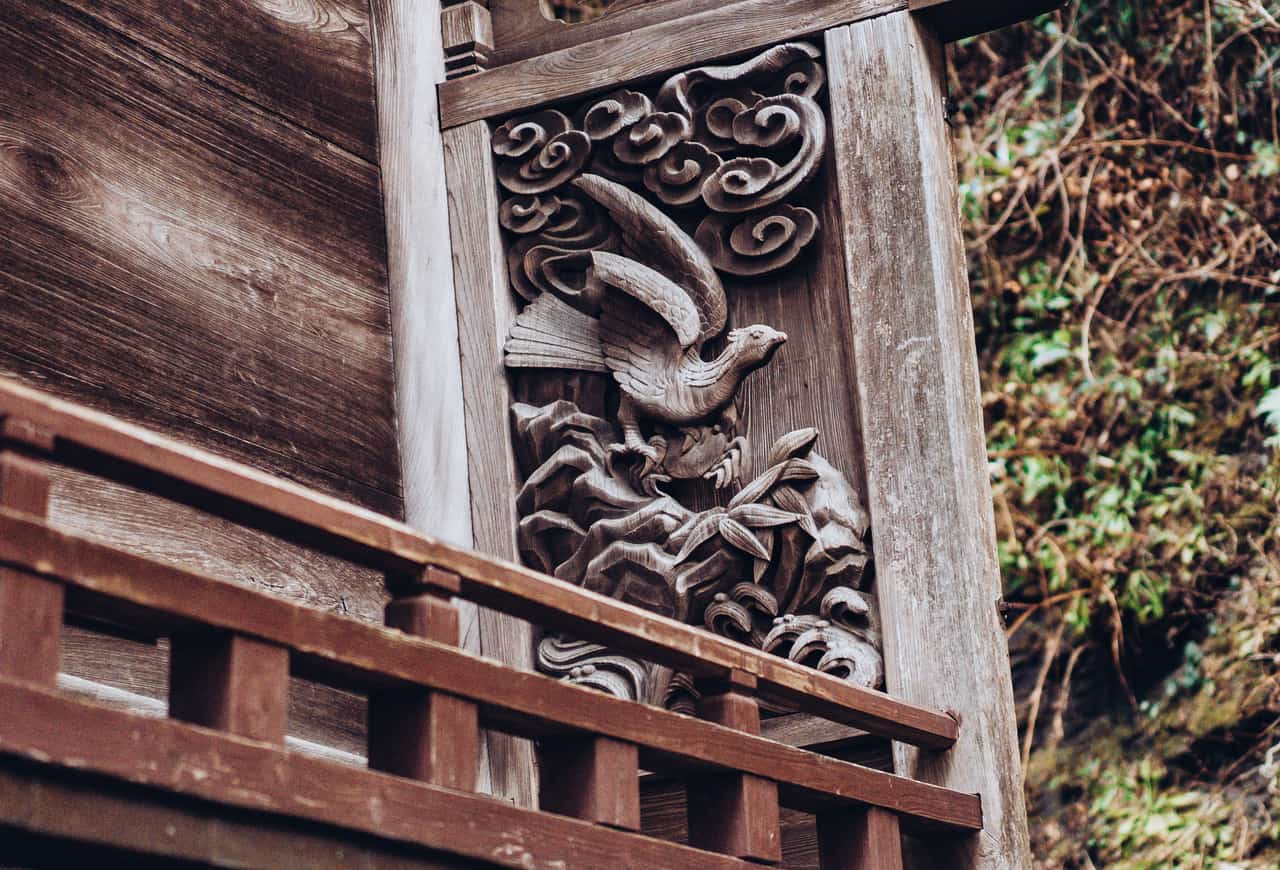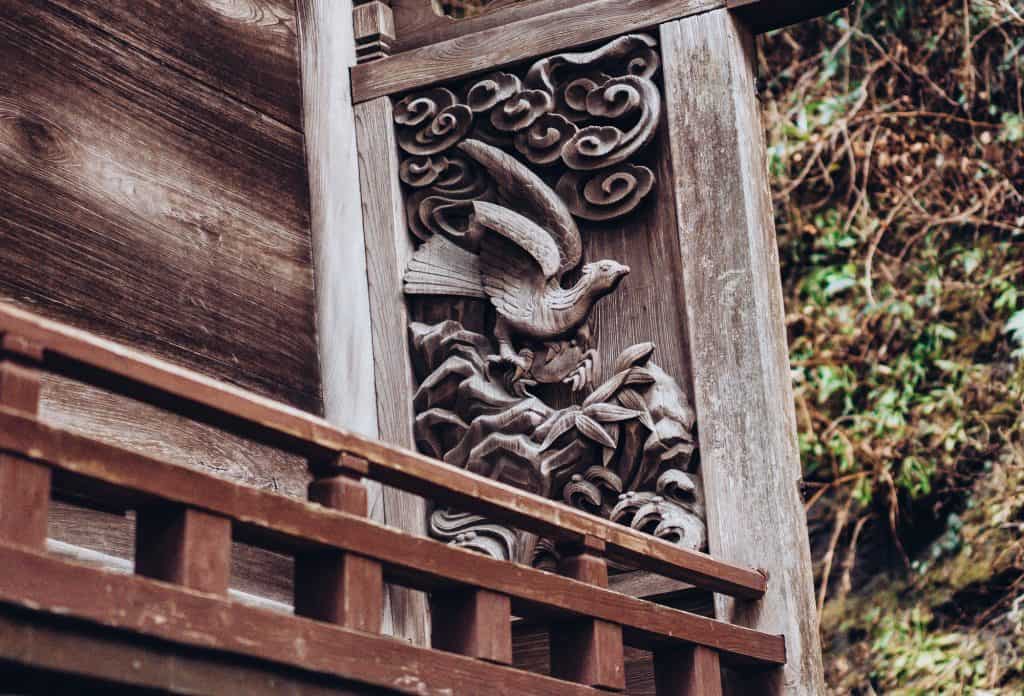 I loved how I could transition from a rocky gorge with a beautiful waterfall to wide-open farmland as far as the eye could see, and finally to a lush green cedar forest temple in such a short amount of time by foot.  
To those looking to rest and eat after your visit, there is a small restaurant right next to Harajiri Falls. You may also purchase some food and sit out on the benches that look into the basin of Harajiri Falls.
How to Get to Harajiri Falls
Harajiri Falls can be reached by a 5 minute taxi ride or 20 minute stroll through the countryside from JR Ogata Station.  Ogata's flat terrain and open roads also would make for a relaxing ride via bicycle for those looking to do a cycling tour in this area.
I had chosen to travel through Ogata via a rental car I picked up from Oita Station.  These falls had a dedicated parking lot that was free to use and gave me easy access to Harajiri Falls and Ninomiya Hachiman Shrine.