Sponsored by Gyoda City and Council for the promotion of Tambo Art.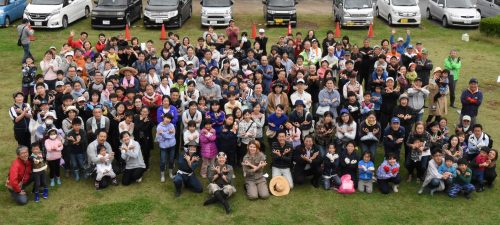 The people of Japan can turn almost anything into a beautifully crafted work of art. From the larger than life ice sculptures of Sapporo's Snow Festival to the warm glows of washi paper in Mino's "Akari" Light festival, and now this—rice field art. And, when it comes to Gyoda, the Guinness World Record holder in tambo (rice field) art, it's no rice, no life!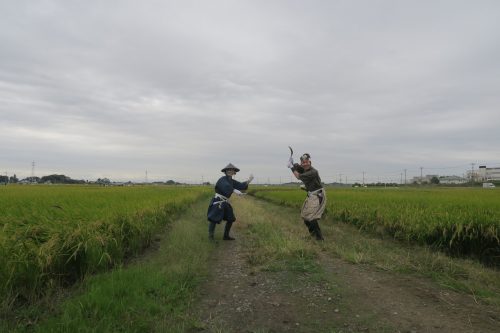 What is Tambo Art?
Rice paddy art began in 1993 in Inakadate in Aomori, when people began to draw simplistic designs and letters using various colors of rice plants. At that time, it was named simply "Letters by Rice Plants," but by around 2003 it took on the much catchier name of tambo art. Things have only gotten better since then. The varieties and colors of rice available have increased dramatically in recent years as well as the techniques for creating the art with more accuracy, leading to some of the best rice field art projects the world has ever seen.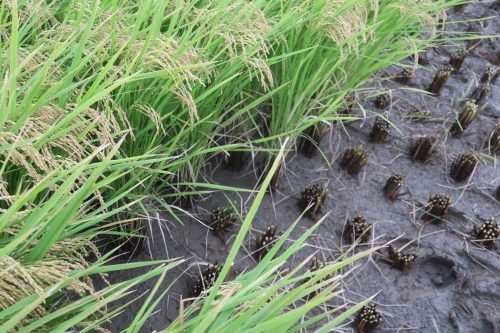 Making Tambo Art worthy of a Guinness World Record in Gyoda, Saitama
It all begins in April with the recruitment of participants and volunteers, and a number of meetings to define this year's big project. The field is then prepared by flooding and tilling it before surveying instruments are used to make a rough sketch for the project on the land. Posts and ropes are then used to draw the edge of the design in a classic "connect-the-dots" fashion. Meanwhile, the seeding center in Saitama Prefecture have been growing special seedlings for use in the project, each designed to grow in the specific colors needed for the project, often through the variety of rice used.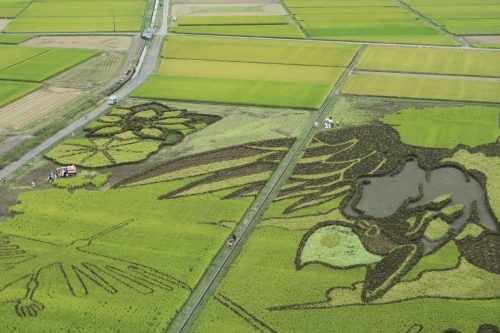 The Planting Event
A total of around 1,000 participants help to plant the rice over two consecutive days, each taking a specific section to "color in." Of course, since young children don't have well-developed aim, they are given large sections of green to cover, leaving the more intricate parts to the adults to avoid contamination. The volunteers are rewarded grandly with free drinks and a hearty soup made with Gyoda's own produce by adorable grandmas. In early July, you can begin to see the pattern emerging in the rice before your very eyes, with the colors becoming even more distinct in the middle of July.
October's Harvesting Event: My Experience
In October, I went along to one of the harvesting events in Gyoda. Not only did I get to see the completed condor image in all its glory from the very roof of the building, I also had the chance to step back in time and use traditional Japanese tools to cut the rice and harvest it alongside Gyoda's very own town mascot. If you want to do something a unique and experience something truly Japanese, this is an event for you.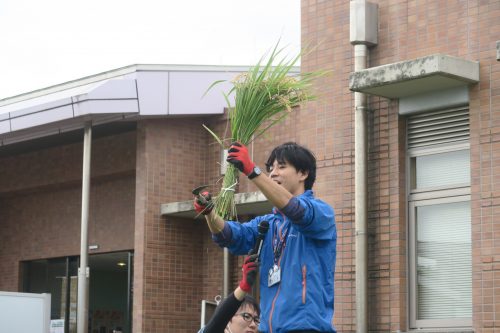 The day began with an early bus ride to Kodai Hasu no Sato. Once I registered my name at the tent, I got changed into some delightful overalls and took part in the customary event photo taken from a nearby rooftop. We were then welcomed, briefed and given some safety information before collecting a free bottle of water (with Gyoda's mascot's face on it!) and a curved knife that we used to cut the stems of the rice.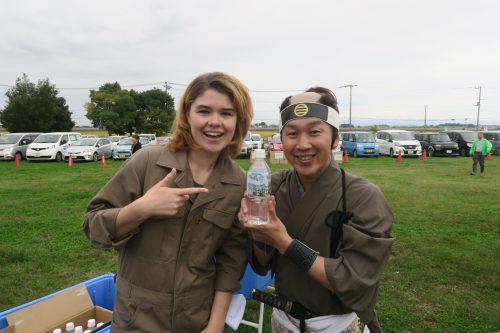 Everyone then proceeded to the field. I had the pleasure to be accompanied by Gyoda's mascot and all his friends who were dressed in traditional Japanese worker clothes and who continued to entertain not only the children but also the adults with their cheer and laughter. Safe to say, I took this opportunity to take many photos with them and enjoyed getting very much stuck in the mud with them (my boots almost came off several times)!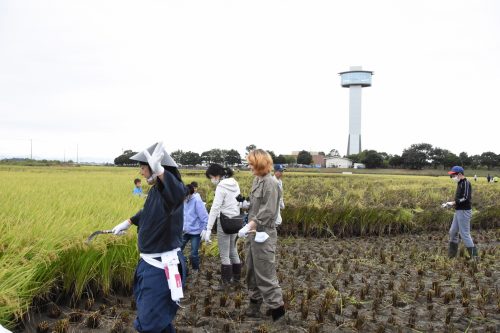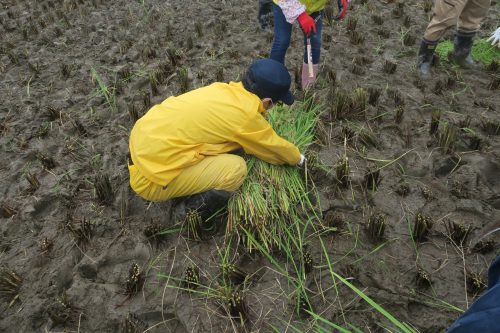 Cutting the rice itself is really easy and actually very therapeutic. What was more difficult to manage, however, was the prospect of tripping over in the mud because my boots were so stuck. This led to much hilarity, laughing and help from my Gyoda team who, in the end, were literally stripping the mud off my boots with their knives!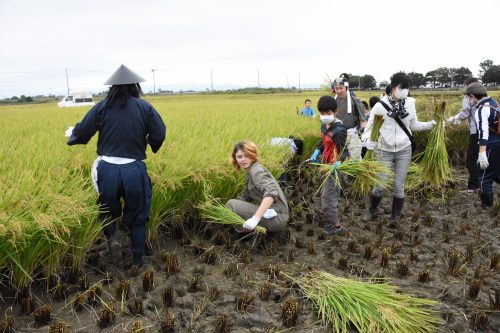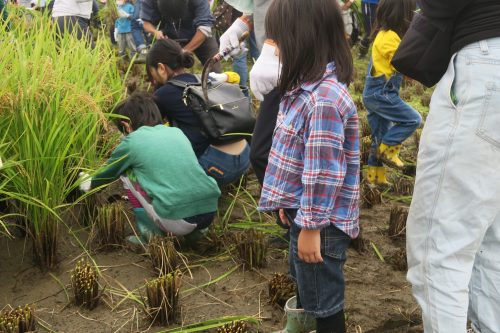 After the event, we all waddled back to the tent area, hosed off our boots a little and sat down to eat a free meal, cooked with vegetables and crops from Gyoda's own farms, and prepared by some lovely Japanese grandmas, who would not stop refilling my bowl. Free drinks, such as canned orange juice, grapefruit soda and green tea were also available in abundance as a way for Gyoda's council to thank the volunteers for their hard work.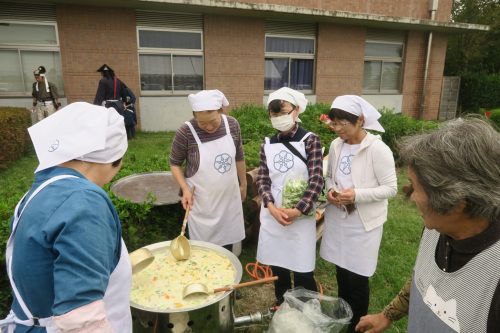 Let's talk about Gyoda's world record
In the case of Gyoda, it's bigger is better, with their 2015 27,195m-squared, space-age image earning them a Guinness World Record for the largest rice field mosaic in the world! Since then, they've become the unprecedented leader of Tambo art in Japan, resulting in a drastic increase in their numbers of visitors, soaring at around 44,604 the following year when they collaborated with the Japanese RPG video game series Dragon Quest. And it doesn't stop there. They immortalized the Japanese TV drama star Rikuo (filmed in Gyoda), as well as displayed some traditional Japanese culture with a larger-than-life image of Inada Hime-no-mikoto and Susao-no-mikoto for their 10th anniversary of making Tambo Art in Gyoda. And now this, "The Great Wings and Nazca Lines," showcasing a terrific condor and recreating the perplexing Nazca lines of Peru. With no conceivable pattern to their brilliance, it will be interesting to see what Gyoda will do next.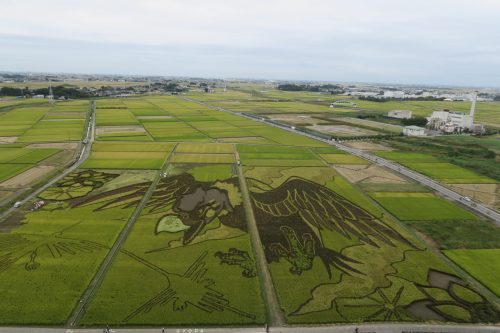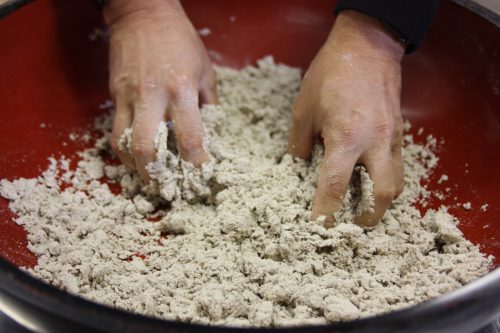 Team Tambo!
Tambo is not just restricted to the delightful region of Saitama, you can find it all over Japan in a range of different designs, from the cute rice balls in Niigata to the adorable Akita dogs in, of course, Akita, to the famous scene from a Japanese movie in Inakadate in Aomori, the actual birthplace of rice paddy art. You can see it all on www.tamboart.jp available in English, Japanese and Chinese.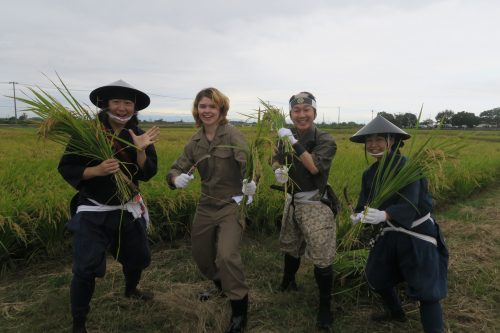 When should you go?
The best time to visit Gyoda's Tambo art is from mid-July to mid-November, making it the opportune moment to visit if you're in town for the Rugby World Cup held in Kumagaya City, one train station stop away. Why not take part in a harvesting event or explore pictures of the previous Tambo art designs in 'Kodai Hasu Kaikan', the Ancient Lotus Hall located next to the rice field event? Make the most of your Rugby World Cup visit in Japan with an experience unlike no other.