The Japanese seasonal change isn't just noticeable in the change in temperature or the number of clothing layers you have on. Its main manifestation is in the gastronomic offerings, the street decorations, and conspicuously, in its commercial promotions. Is it Halloween in Japan yet? For the absent-minded like me, checking the latest frappuccino may prove more useful than looking at the calendar to know which season we're in.
So when the temperatures get cool (and I regret having gone out in short sleeves at sunset), is when I start to see pumpkins and spiderwebs everywhere, coordinated in shades of black, orange and purple… It's when this happens that I realize summer is over and the Halloween season in Japan has already begun.
Yes, I said season. For those unaware of Japanese cultural intricacies, the celebration of Halloween in Japan may be surprising to some. In most of the Western countries, All Hallows' Eve usually consists of several practices resulting from a mashup of Pagan and Christian traditions. But the Japanese remix only employs the form and leaves the substance behind.
Just like Christmas or Valentine's Day, Halloween has been imported mainly for commercial purposes. Thus, it lands in Japan completely disconnected from its cultural background. Gradually, it's transformed into something exclusively Japanese.
Harajuku as a Starting Point
Japan and the United States have a complex cultural relationship since World War II. It influenced the spread of multiple aspects of American popular culture among the Japanese. Some of their most striking practices such as Halloween costumes were not entirely unknown even if the origin was unclear. But in the 1970s, the Kiddy Land toy store chain began selling Halloween-themed items in its iconic Harajuku (原宿) store. That's when its potential commercial possibilities began to shine.
In October 1983, the store went one step further and carried out the first documented Halloween parade in Japan. The so-called "Hello Halloween Pumpkin Parade" took place along Omotesando Avenue in Harajuku. Because of its success, they repeated the event annually until the present day. Soon, more businesses progressively started applying themselves toward the Halloween season. The emblematic Japanese video game developer Namco jumped on the bandwagon during the 1990s at its Tokyo theme park NAMCO Wonder Eggs, until its closure in 2000.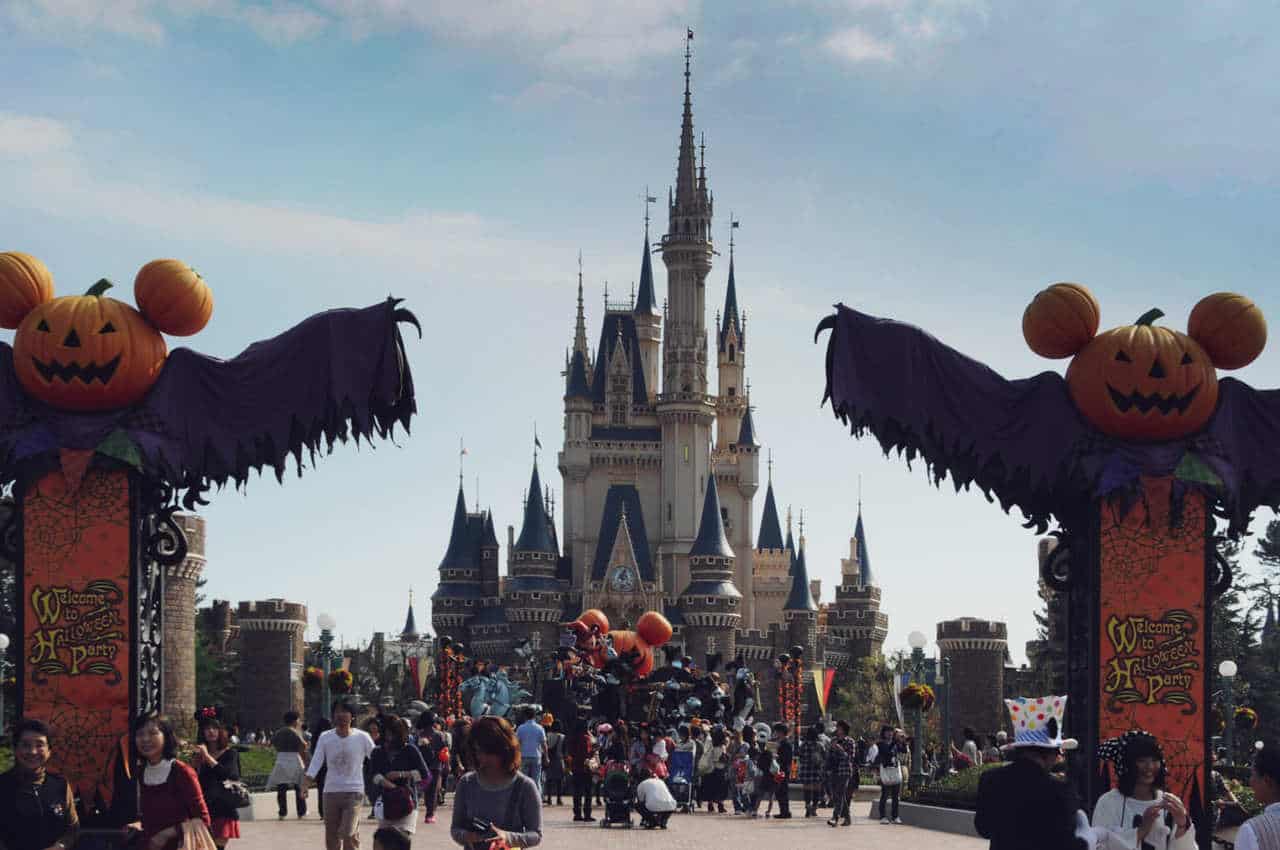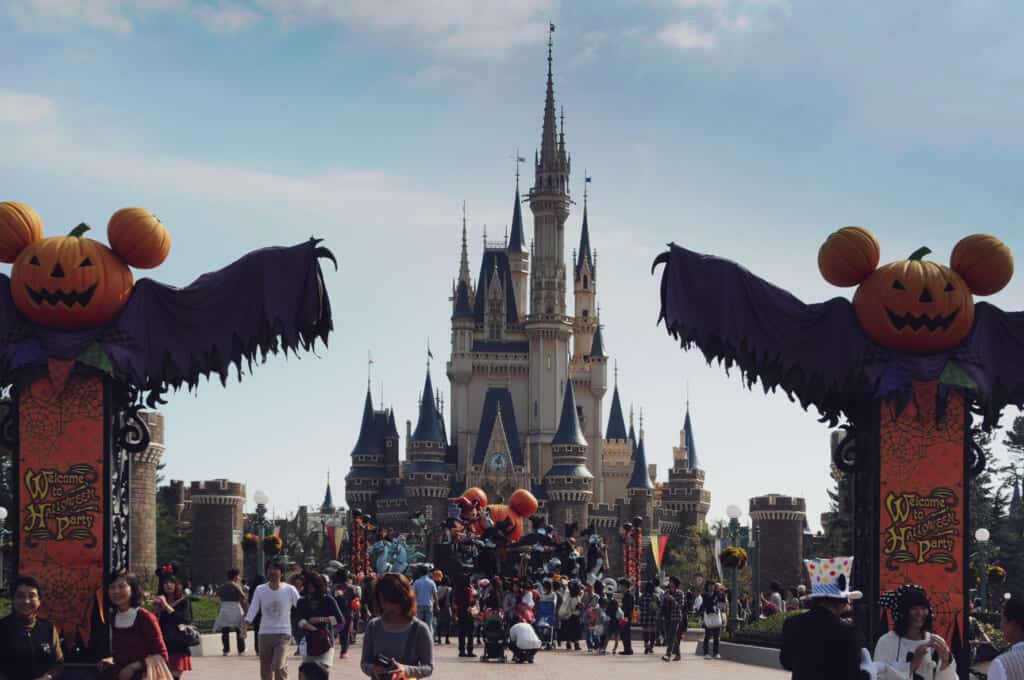 The Leap into Mass Culture
Once it was proven that the Halloween event in Harajuku wasn't losing any gas, two media giants provided the ultimate setup to establish Halloween in Japan. Disneyland Tokyo began organizing Halloween events and parades as part of its fall season since 1997. Universal Studios did the same in its Osaka theme park after its construction in 2002. At the same time, the entertainment complex "LA CITTADELLA" in Kawasaki (川 崎) was trying to find a stylish way to celebrate its 10th anniversary in 1997. What did they do? They joined the party as well. Thus began the tradition of the most important Halloween parade outside of Tokyo and Osaka.
The rest is history.
The Brief History of Trick-or-Treating with the Yakuza
We already pointed out that this Halloween is different from its Western counterpart, aside from commercial decorations. It is noteworthy that one of the most famous Halloween activities, trick-or-treat, door-to-door candy requests, does not exist. But in Japan, that's a cultural red line: neighbours shall not be bothered.
Interestingly enough, the practice of trick-or-treating was employed by those you'd least expect. For a number of years, one of the main yakuza organization set up a stand to serve as a trick-or-treat point, with decorations and yakuza members in costumes included. That's right: Japanese gangsters were distributing Halloween candy to children. There were times when they even set up an inflatable castle. However, citizens expressed understandable concern about young children receiving gifts from an organized crime group. It didn't take long for authorities to step in. The matter was closed and the practice of trick-or-treating was sent to sleep with the fishes.
Ghost Stories Belong to Summer, Rather than Fall
Perhaps those familiar with Japanese culture may think that there is some sort of relationship with Obon (お盆). During Obon, the spirits of the ancestors temporarily return to the world of the living, visiting their former homes. It's customary to tell horror stories on family or friends gatherings during the Obon season.
During Halloween, it is also believed that spirits return to roam the earth. This is thanks to a temporary connection between our world and the afterlife. However, both activities are radically different. Obon spirits visit their families while Halloween spirits in Japan go out to party.
Costumes during the party are not so much a protection to mislead evil spirits. They're more of a cosplay variant. In a similar fashion, Jack-o-Lantern loses its role as a guide lantern or as a way to repel undesired ghosts.
Main Halloween Events in Japan
As the birthplace of the celebration, Tokyo remains the star of Japanese Halloween. There are multiple events throughout the city, with Shibuya (渋 谷), Harajuku and Tokyo Disneyland being the most popular venues.
Osaka follows it closely, with a massive street party in the lively and central area of ​​Dotonbori. This is in addition to the Halloween festival at Universal Studios Japan. Its celebration has only grown since its inception in 2002. It's noteworthy that unlike Disneyland, USJ Osaka doesn't condition costume creativity with a long list of requirements and prohibitions.
In third place, we have the Kawasaki Halloween parade, which grows in popularity with each passing year. This event also stands out for being at the forefront of LGBTQ visibility since 2017. In that year they incorporated a gay pride parade for the first time to their annual celebrations.
General Recommendations for Halloween in Japan
Among the most popular Halloween shopping options is Don Quixote (a.k.a Donki, ドンキ), a popular chain of discount shops (not related to The Ingenious Gentleman of La Mancha) for original and inexpensive outfits. Loft or Tokyu Hands are two common favourites for accessories, miscellaneous decorations, or makeup among crafters. Finally, 100 yen shops are a great alternative for those on a tighter budget.
In case of going to one of the more popular events, it's advisable to go early to ensure decent visibility of the parade. Finally, due to its decentralized and mainly street nature, it's better to check online for updated information on any of the places where you want to participate since the events may not necessarily be held on October 31st.
Note: Due to COVID-19 concerns, most of the 2020 events may be cancelled.