"Watch out for those deer!" I whispered, as a herd suddenly skipped across the road in the dark. It was a moonless night in Hyogo prefecture's Tamba Sasayama (丹波篠山) as we headed to our accommodations at Umetan Fuji for the night. Our guide Michiko however, seemed to have seen them a mile away, slowing her car down enough for them to cross and vanish back into the darkness. It had been a packed afternoon of exploring the charming city of Tamba Sasayama, where the vibrant energy of young businesses ran hot through the city. But it was also a relentlessly cold and rainy day. so I was already fantasizing about hot baths and steaming hot pots when we arrived at the 100-year-old traditional Japanese house.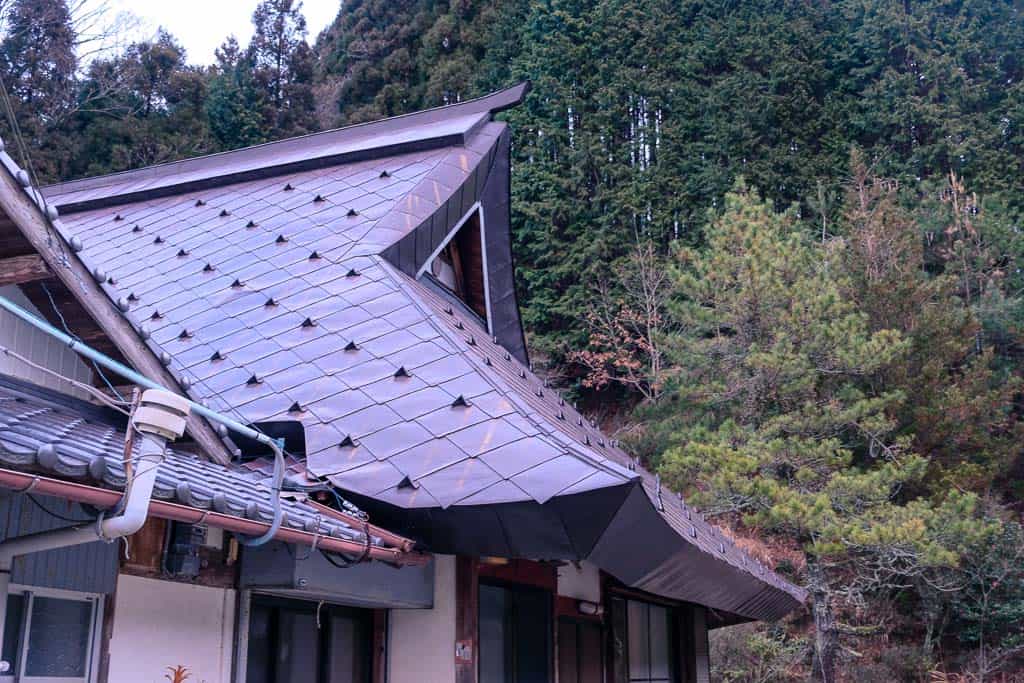 A Call to Rural Life
The traditional Japanese house of Umetan FUJI has been here for over a hundred years. But its life as an Airbnb property began when Michiko, our tour guide and Umetan FUJI's owner, first arrived in Tamba Sasayama. Like many of Tamba Sasayama's newer residents, Michiko spent several years living in a big city before making the move to the rural countryside. In the face of a declining population, several new organizations such as the Chiiki Okoshi Kyoryokutai or the Members for Local Vitalization began posting advertisements for some of Japan's more rural business opportunities. The local government began offering financial support for budding businesses willing to make the move to the community of Tamba Sasayama.
Additionally, the local spirit of the Tamba Sasayama residents that kept the traditions of the city alive also attracted Michiko to the area. Now, she is a part of the web of entrepreneurial businesses that continues to uphold Tamba Sasayama's story and history.
The Traditional Japanese House of Umetan FUJI
There's not a street light in sight. From the front door light, I make out the metal roofline, though its hard to tell anything else in the dark. The next morning, daylight will show the striking metal roof with protruding, sharp points creating a pattern on the roof. In my imagination, it looked like the protective metal of a samurai helmet or a beetle's shell. Underneath, lies the 100-year-old thatched roof, visible from the eaves of the roof.
We haul our bags inside, past tatami mat bedrooms, and into our living room, where we settle in for the night.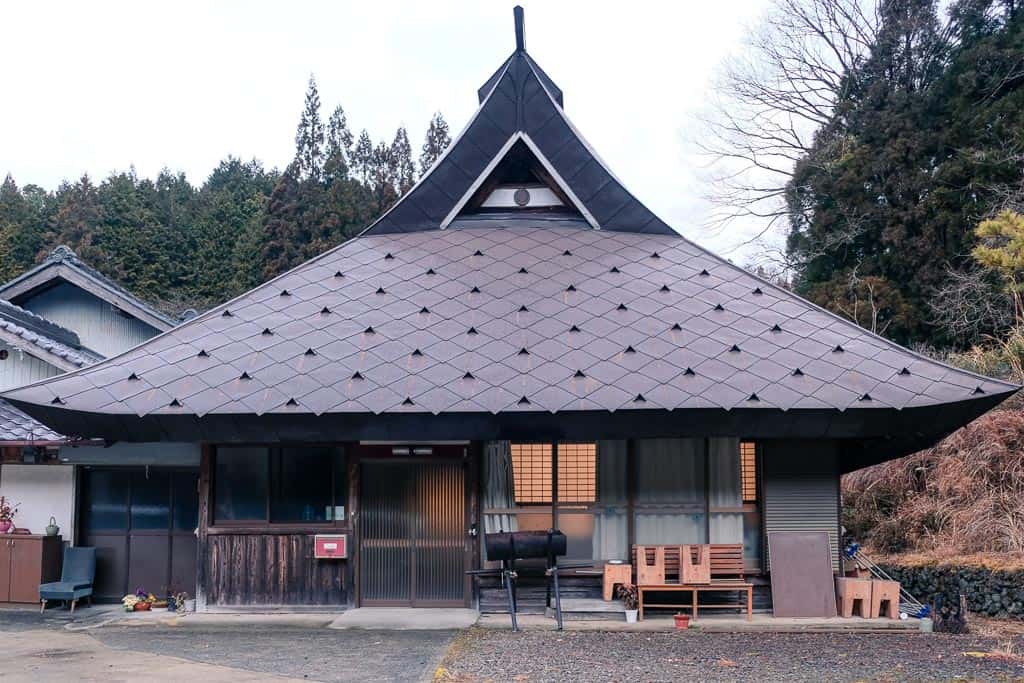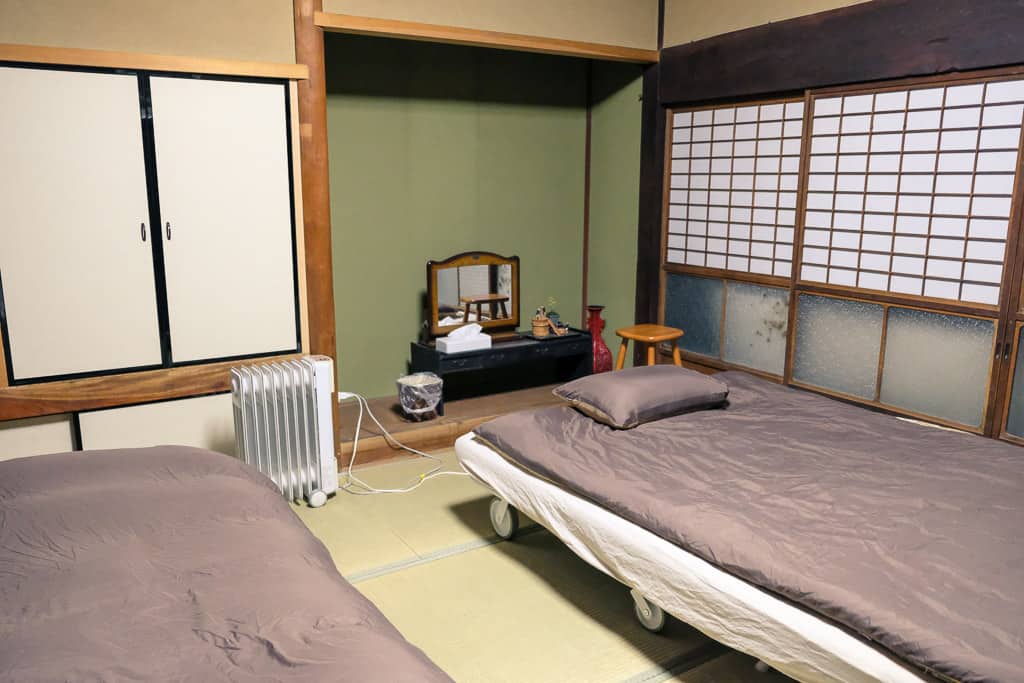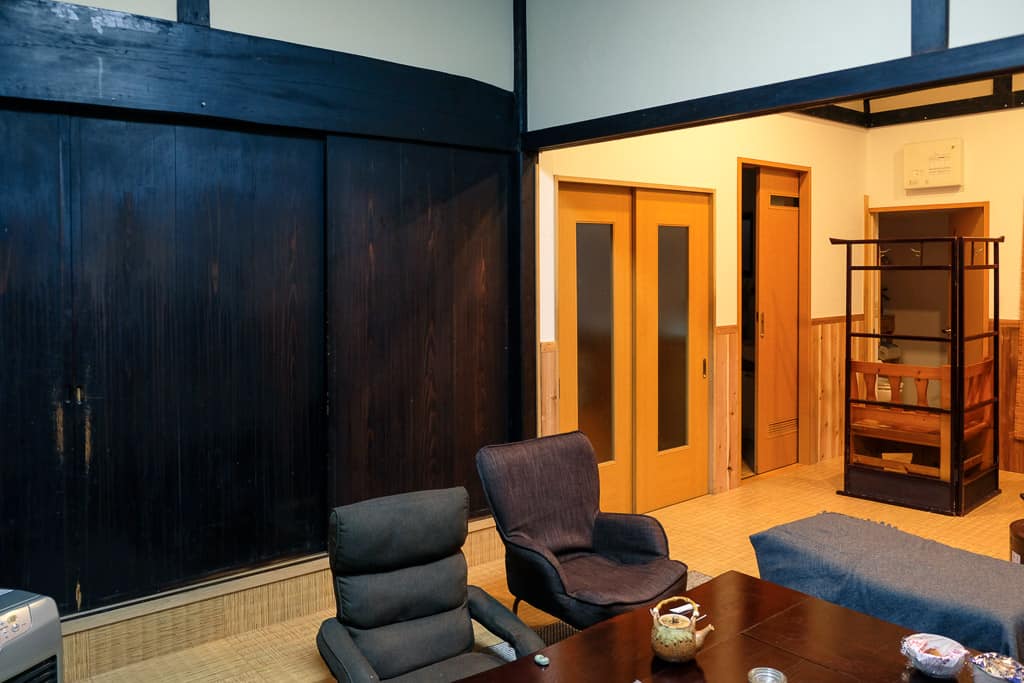 The 100-year-old house has been fitted with modern improvements, with a western-style bathroom, electric lights, and even a beer tap. The wooden beams that support the house are still stained black from smoke that once emanated from the indoor hibachi. Once used to keep rooms warm, heat iron kettles, and cook meals, kerosene heaters and gas appliances have now taken its place.
Showcasing Tamba Sasayama's Local Flavor and Cuisine
We're in the middle of rural Hyogo and 6 kilometers from the nearest conbini (convenience store). Not that it matters really, because we've ordered the dinner and breakfast set for our stay. A choice between local specialty botan nabe (wild boar hot pot), wild venison, or black wagyu beef is often featured on the menu, though Michiko is happy to oblige to any dietary restrictions. Tonight, we'll be having chicken sukiyaki. With a gentle suggestion for us to soak in the bath before dinner, Michiko shimmied into the kitchen to prepare our supper.
It's not long after our bath before Michiko emerged with appetizers of deep fried gobo burdock root, sato imo Japanese taro, and a side of sweet mashed potato. Soon after, a plate of local vegetables, mushrooms, chicken, and home-made konyaku (konjac) from a neighbour is set out onto the table. Cooking it in a sukiyaki style, all the ingredients are slowly simmered over a stove, in a shallow sauce of soy sauce, sugar and mirin.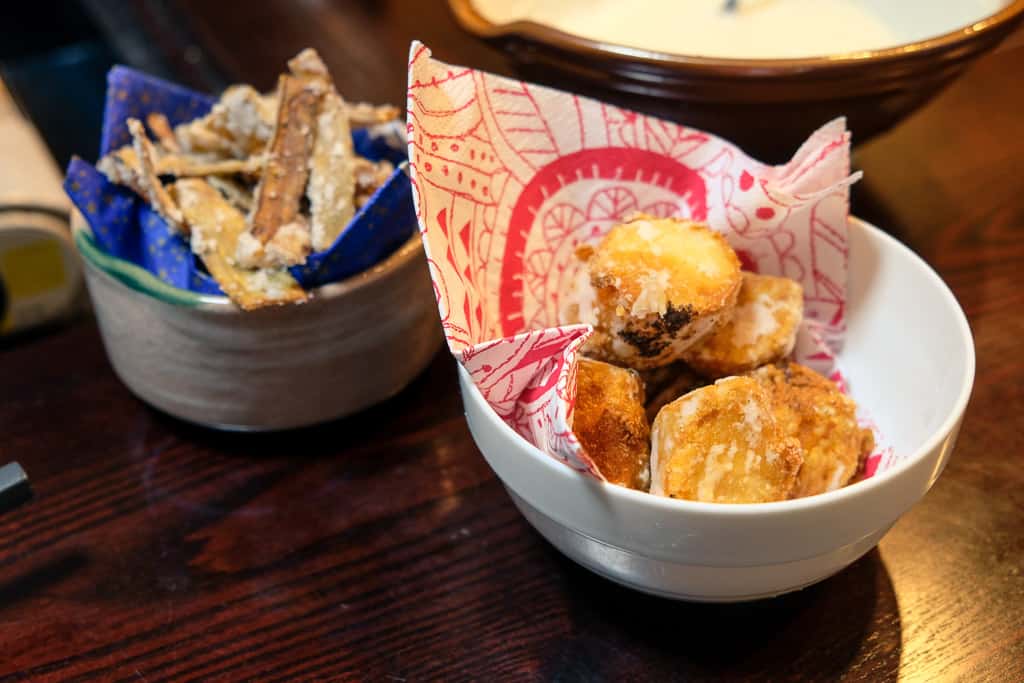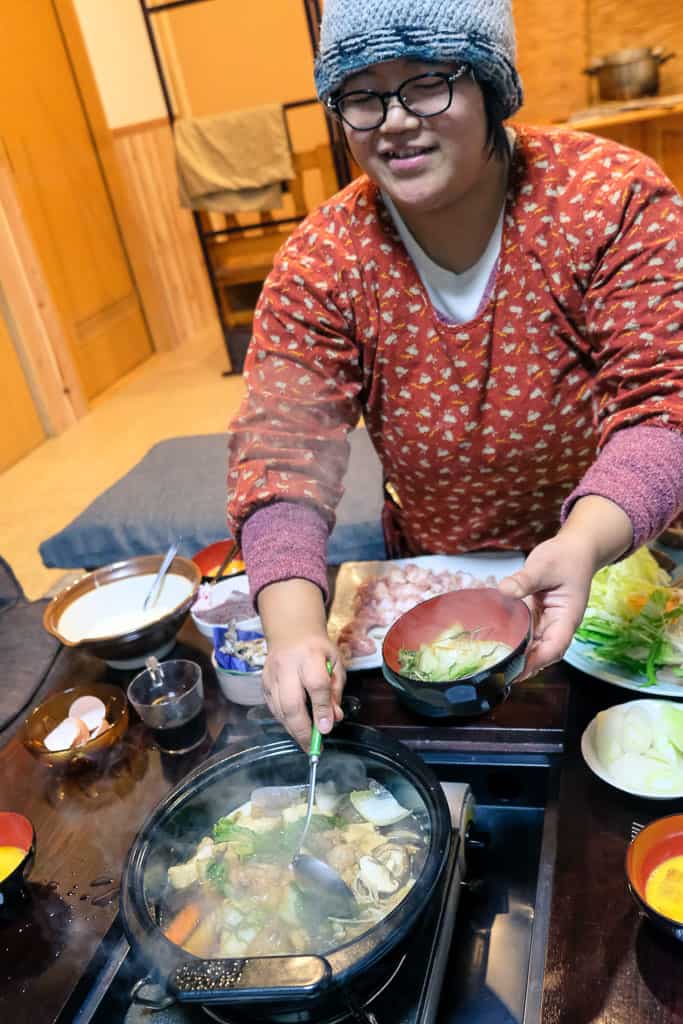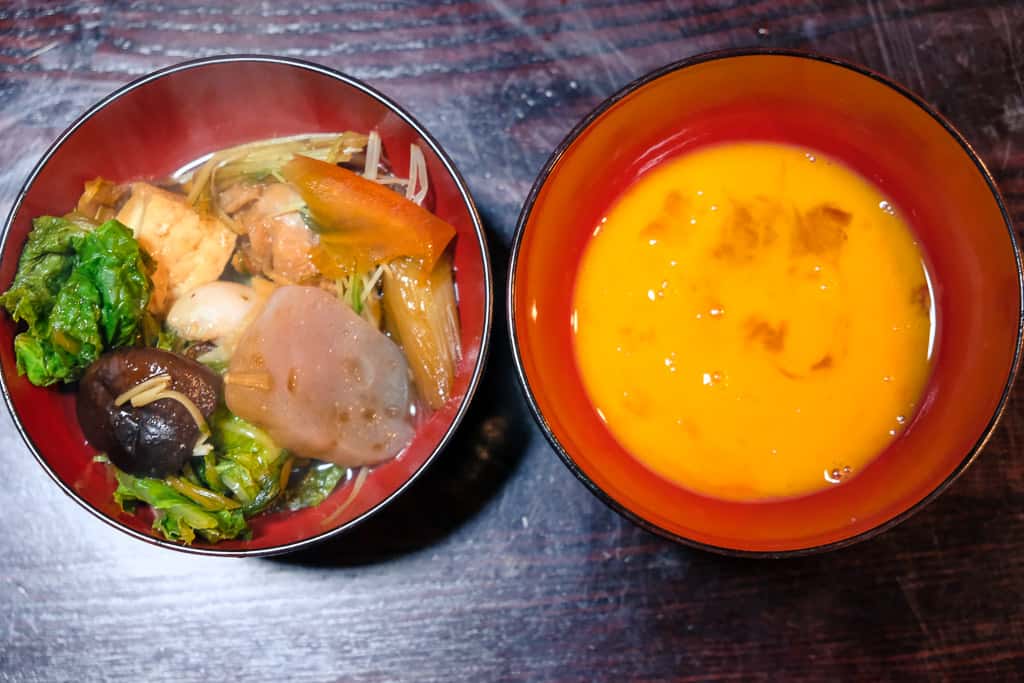 All of this was as delicious as it looked, but the big surprise for me was the local Tororo (grated Japanese mountain yam). Normally, I'm not a big fan of its starchy flavor and slimy texture. So you can imagine how surprised I was to find that it was slightly sweet without the starchy aftertaste. The soil of Tamba Sasayama must have a magic quality to it because I found myself returning to the bowl to scoop up another serving. After the main meal of vegetables and meat, we finish our meal off with udon noodles cooked in the remaining sauce. As I slurped up my last noodle, I felt my stomach reach its satisfying quota.
One of the highlights of our stay is the chance to talk to our host as she cooked our meal. I especially enjoyed hearing her stories of listening to the deliberate footsteps of deer outside or being awakened by wild boar crashing into the side of the house.
In the darkness, as the deer and boar rustled in the rural country, we head to our futons for the night.
Morning at Umetan FUJI
The rain seemed to have tired itself out by morning, and the air is brisk and pretty with a pink sunrise. Breakfast is a broccoli coleslaw, rice, age-tofu (deep dried tofu), miso soup and local black soybean natto (fermented soybean). It's the perfect start to my day, before another full itinerary of exploring Tamba Sasayama's traditional craft history of Tamba ware and Kurotani washi paper. Staying at a Japanese traditional house might seem a bit out of the ordinary for some, but for me, it's part of the theme of this area, where the traditional and modern have come together seamlessly.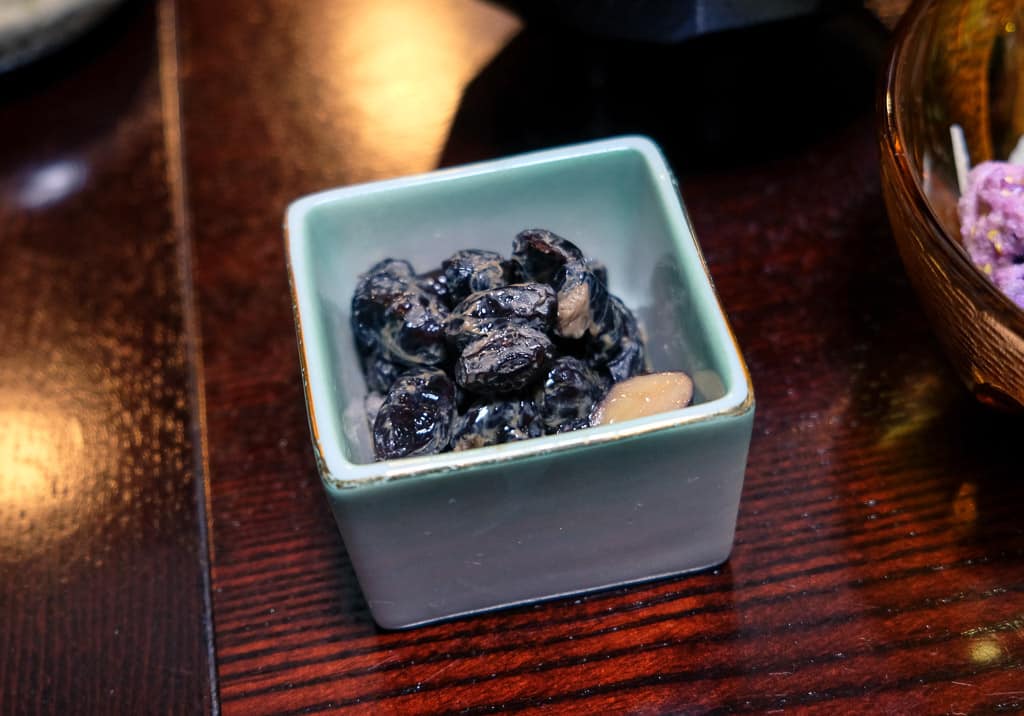 Getting to Tamba Sasayama and Umetan FUJI
From Kyoto, take the train on the JR Tokaido Main Line to Amagasaki Station, before transfering to the JR Fukuchiyama Line (JR Takarazuka Line) to Sasayamaguchi Station. (approx. 1 hour and 40 minutes)
From Osaka, take the JR Fukuchiyama Line (JR Takarazuka Line) from Osaka Station and get off at Sasayamaguchi Station. Alternatively, take the JR Tozai Line from Kitashinchi Station, change to the JR Fukuchiyama Line (JR Takarazuka Line) at Amagasaki station and get off at Sasayamaguchi station.
To get to Umetan FUJI, reserve a free pickup from Michiko before you arrive at Sasayamaguchi station, or take the train from Kyoto on the JR Sagano line to Kameoka station (approx. 40 minutes ) and use the free pick up from Michiko.
---
Exploring the Tamba Province
If you're in the area, the city of Tamba Sasayama is an excellent place to experience the traditional/modern model of Japan without the hustle and bustle of bigger tourist centres. Tachikui Pottery Village is a 25-minute drive south, where you can look through its 800-year-old history, try your hand at making your own pottery, or explore the pottery town that still makes Tamba ware. If traditional Japanese paper is more up your alley, the Kurotani Washi Cooperative is a 50-minute drive to Kyoto prefecture, where you'll see a river running through the 800 year old traditional of washi making village.
Article sponsored by North Kansai Tourism Association.