Torikizoku: Japanese Izakaya
One of the best things about living in Japan is the amazingly fine tasting foods. But more than that, it's the fact that whilst the expensive restaurants are, to nobody's surprise, the cheap-eats are also extremely tasty, especially at Torikizoku(only in Japanese).
Torikizoku is probably one of the most famous cheap eat chains in Japan. It is an Izakaya (Japanese tapas) where every dish and drink is priced at 298 yen (plus tax). Whilst this is convenient for being able to keep track of how much your spending (rather like a kaiten sushi), it's also really cheap. A usual Izakaya will set you back double to triple more than this. This might put you off, bringing thoughts like "fast food" and other nasty words, but it's actually really tasty!
The food of Torikizoku fits perfectly in the gap between my own cooking (horrible) and a normal Izakaya (a once a week or fortnight affair) – if you are like me and living on a budget. Whilst holidaying in Japan, it's is a good choice as it will allow you to have a cheaper night's meal that's still delicious and very Japanese. Please avoid McDonalds!
Izakaya: Smoking or Non-Smoking
When you are seated you will either get the bar or a table. If your group is large you may be seated in the Japanese table area. You have to take your shoes off here. The table looks awfully low… but actually the floor is sunken underneath so you can sit western style. What a relief! As smoking is still allowed in restaurants in Japan, please make sure to request the non-smoking area if you don't smoke or vice versa. The Japanese for non-smoking is 禁煙(kin en). The Japanese for smoking is 喫煙(ki tsu en).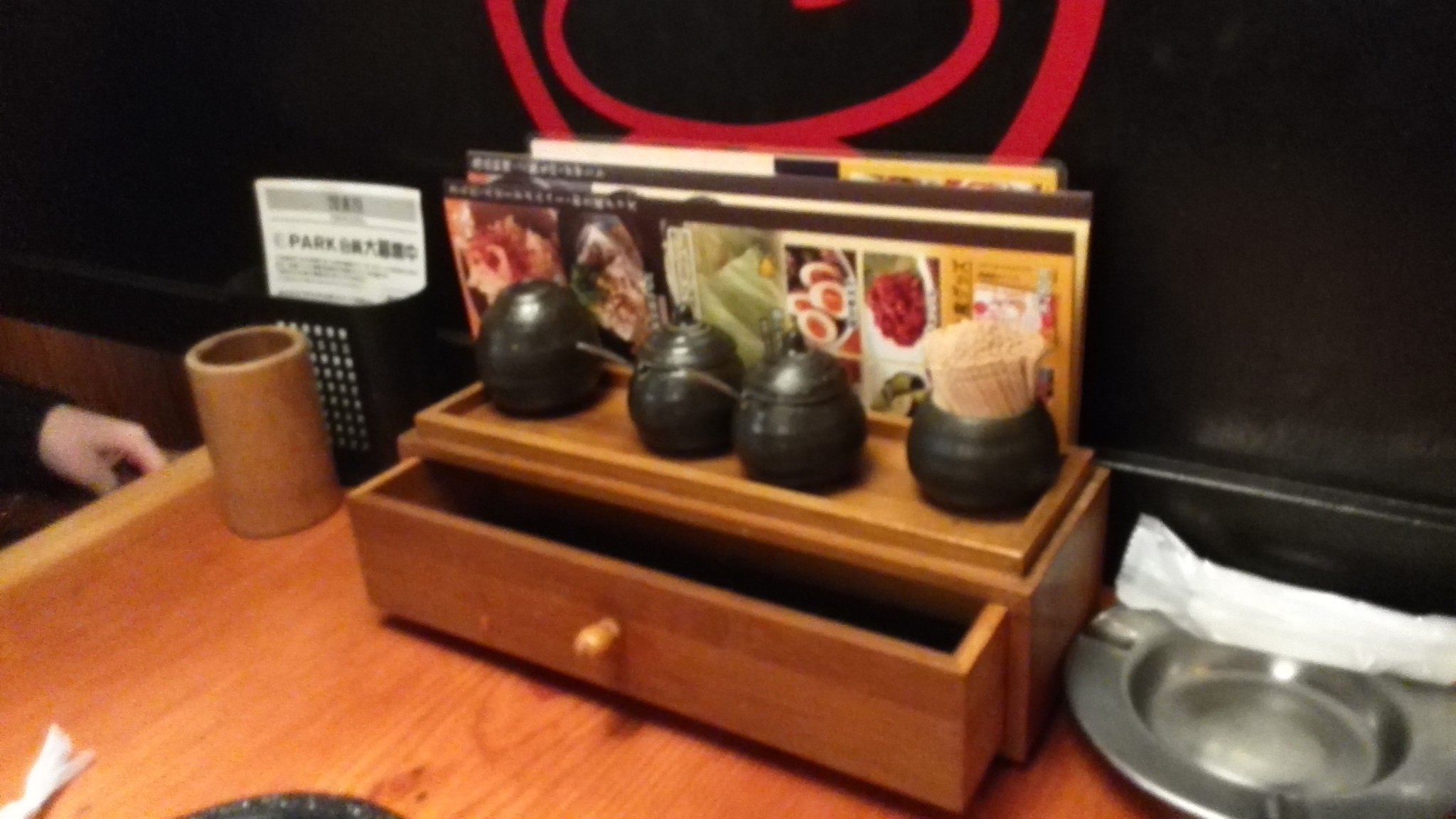 Izakaya: Where to Find Your Utensils
At the table there is a little drawer, inside which are the chop sticks. We also have salt, some chili powder and some grey spice. It's not pepper… Somewhere, usually on the wall, is a push button. You can use this to call the waiter or waitress for service.
Deciphering the Drink Menu
Everything is 298 yen. Even the drinks! The variety is very large, and its a good way to sample many different drinks on the cheap… or just drink a lot of beer for next to nothing. I will help you out with a few translations.
Japanese

English

Phonetic

Subーmenu

ワイン

Wine

"Wine"

トリキ:House.

赤:Red 

白:White.

お茶ハイ

Tea and Whisky

"oh cha high"

サワー

Soda and Sho-chu

"sawa"

Sho-chu is a Japanese rice drink, usually sweet.

レモン:With lemon juice.

ピンクグレープフルーツ:With grapefruit juice.

ビール

Beer

"beeru"

ザ・プレミアム・モルツ(中): Suntory premium malt beer. (Normal size).

金麦(大) : Gold wheat (Large Size).

日本酒

Japanese Sake

"knee hon shu"

ソフトドリンク

Soft drinks

Softo dorinku

メロンソーダ : Melon soda.

ジンジャーエール: Ginga ale.

コカ・コーラ: Coke.
Ordering Your Food: What to Expect
Izakaya is enjoyed by ordering many small dishes and sharing them among those at the table. At 298yen per dish, this is very cheap to do at Torikizoku. The serving sizes are adequate to share between two people, so if you are dining in a party of four you should order two. The staff will understand if you simply point to the picture on the menu of the food you want, and hold up 1 to 5 fingers on your hand. Most Japanese understand English numbers too, if you speak it clearly enough.
When you first order your drinks, you are required to order something from the "speed menu". The cabbage is free so you can keep ordering more as many times as you want! It's really tasty… but everything is so cheap, don't just go filling up on cabbage…
Deciphering the Menu
Torikizoku sells a lot of chicken, so it's good to know the Japanese words for the various parts of a chicken!
Next, let's take a look at the menu. It's a little nicer to know what food you are ordering than just the pictures.
スパイス: Spice. 塩: Salt. たれ: Sauce.
むね貴族焼 : Grilled chicken breast.
もも貴族焼 : Grilled chicken thigh.
みたれ(もも肉): Thigh meat.
きも(レバー): Chicken liver.
つくねチーズ焼 : Meatballs with grilled cheese.
つくねたれ: Meatballs with sauce.
かわたれ: Chicken skin with sauce.
牛串たれ焼:Grilled skewed beef with sauce.
ハートたれ: Chicken heart with sauce.
Do you know "betsu bara"? Its Japanese for "separate stomach". It refers to the ability to be completely full, and yet still have room for desert. That's a culture I can relate with!
Green peppers packed with ponzu sauce and chicken (ピーマン肉詰). This is one of my favorite foods on the menu. Do try it! Ponzu sauce is a mixture of soy sauce and lemon.
Next time you want to enjoy a nice meal, something a little above gyudon… or perhaps you don't want to do any cooking in your hotel room, why not go to Torikizoku? With everything (including the drinks) priced at only 280 yen, you can't go wrong. Bon appetit~
Information: Torikizoku (only in Japanese)