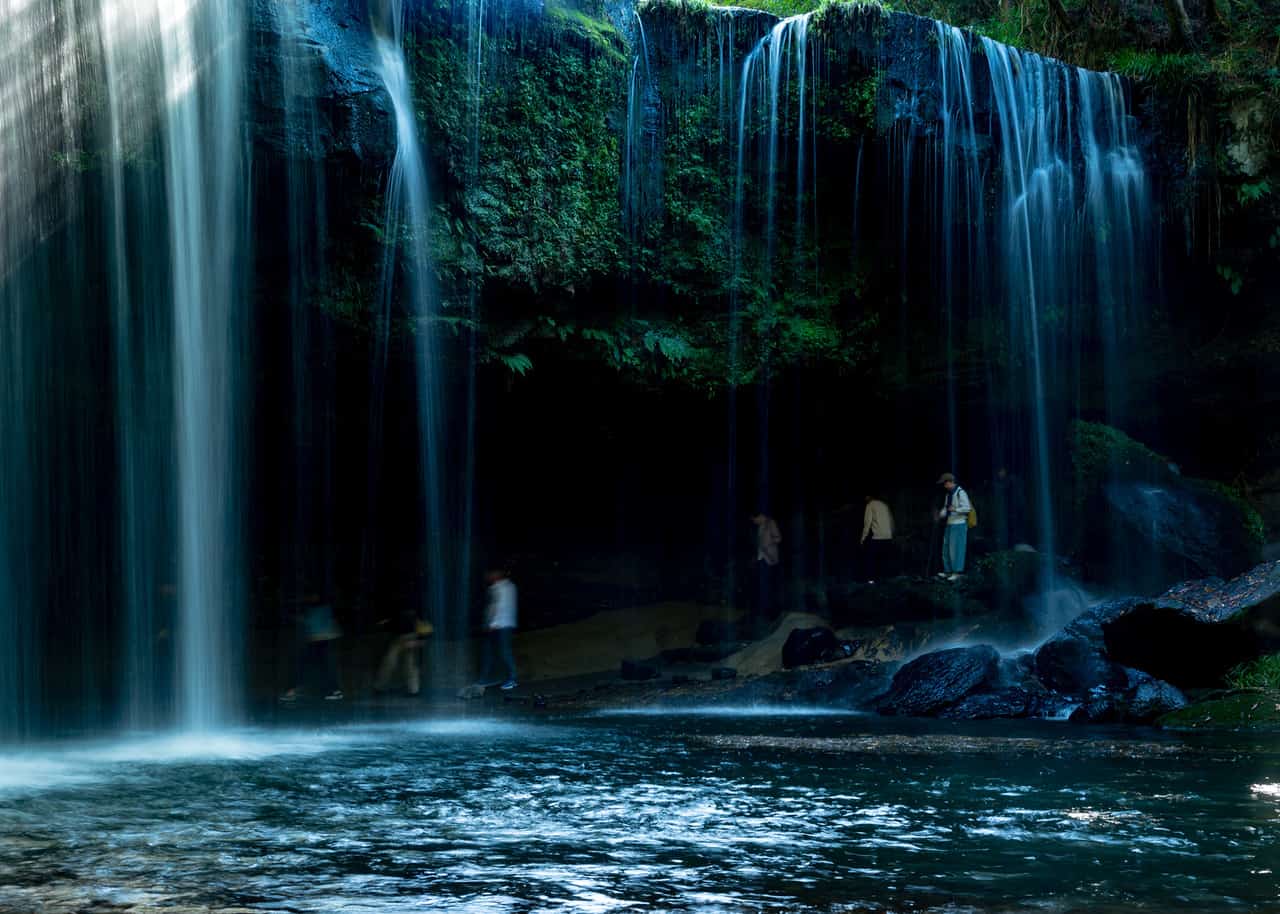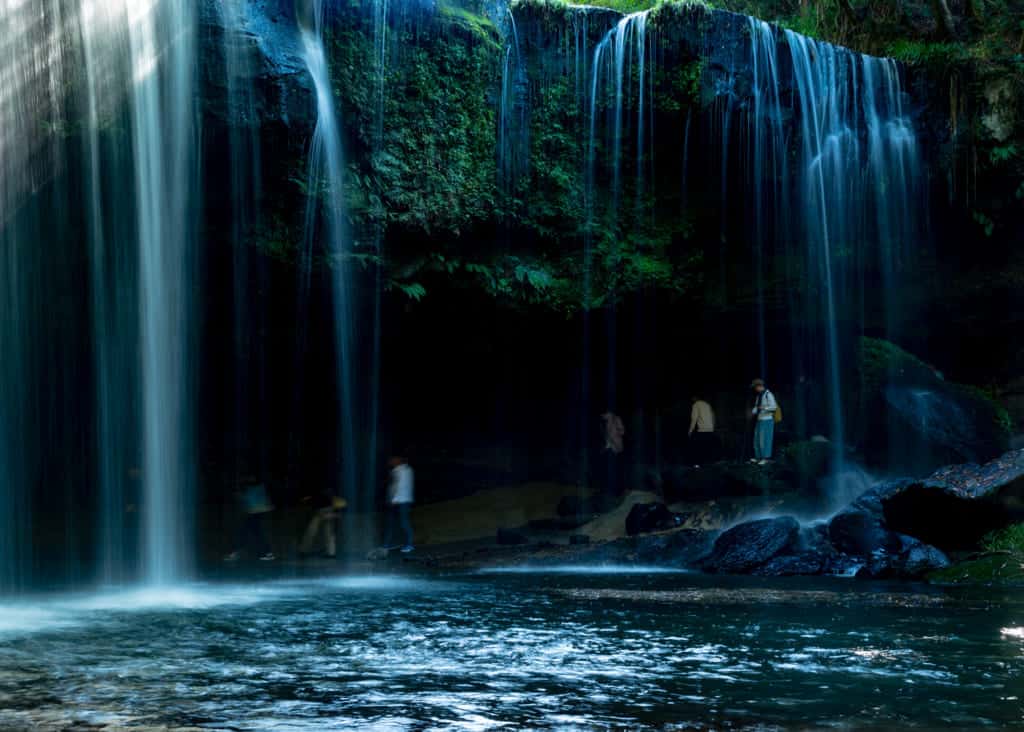 Call me a waterfall skeptic. Often while browsing through Google Maps, I'll come across a waterfall marked as a landmark and have images of cascading falls of pure bliss springing into my thoughts. Then, I click the photos. Meh.
So forgive me if I wasn't excited as I made my way over the winding roads leading to Nabegataki Falls. This waterfall is one of the famous natural landscapes of Kumamoto Prefecture. This area is blessed with so much natural beauty, how could this spot be labeled more picturesque than any other place surrounding it?
Fire and Rain – Nabegataki Waterfall
The falls were formed 90,000 years ago when the super eruption of the surrounding volcanoes formed the Aso Caldera, one of the largest volcanic calderas in the world and the central attraction for visitors to northern Kumamoto Prefecture. The spring waters flowed over the structure, eventually eroding a hollow space behind the falls, which is one of its hallmarks. Visitors can photograph the falls from both the front and the back, enjoying the view that changes with each of Japan's distinct four seasons.
There is a 300 yen admission fee to view the falls, which goes to the maintenance of the trail leading from the parking lot to the falls below. This trail is mostly paved with a solid wooden staircase leading down the side of an otherwise precariously steep cliff. This keeps the falls accessible to most able-bodied people.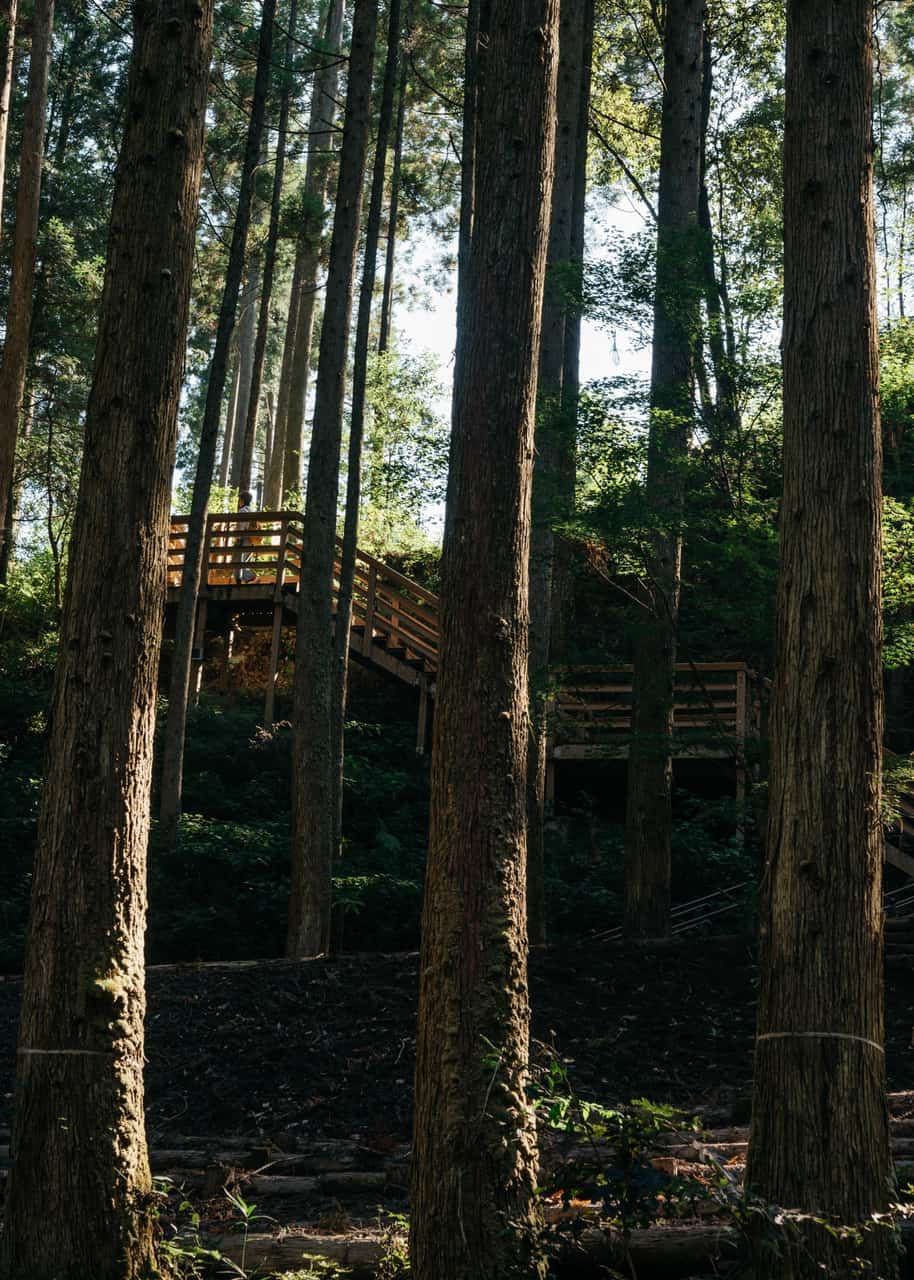 The gorgeous beauty of Nabegataki Falls overcame the skeptic in me. As if the scales had fallen from my eyes, I marveled at this modest yet mesmerizing work of natural beauty. The sun peeked through the still green maple leaves, lighting up a part of the falls like the sparks from a blacksmith's forge. Though a few tourists came and went through my photos, their presence could not distract me from the beauty of the falls.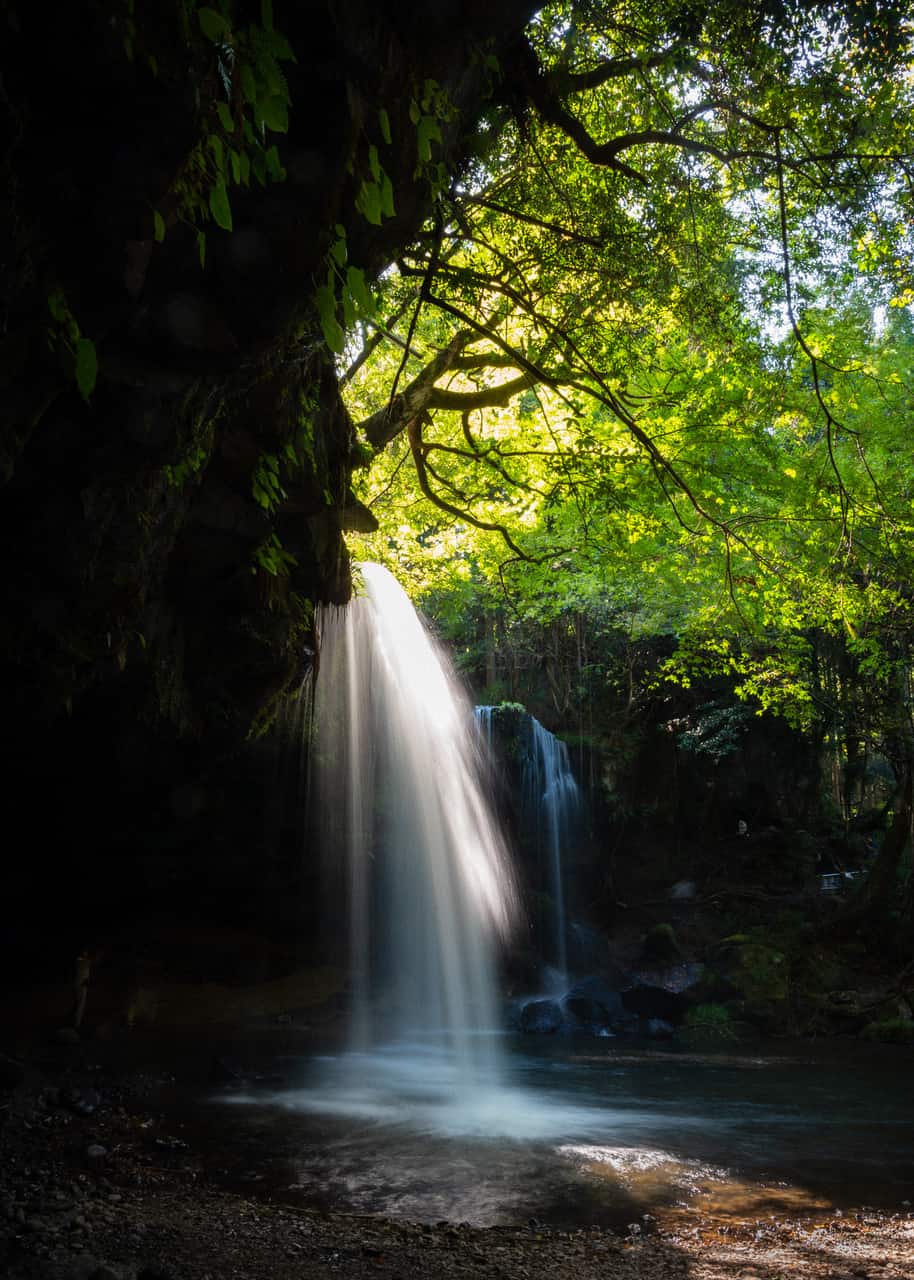 The view from behind the falls is made possible by a fairly deep recess, plenty deep enough to keep from getting wet as you cross from one side of the falls to the other. It is wide enough for a photographer to set up a tripod, which is necessary to capture the silky water effect.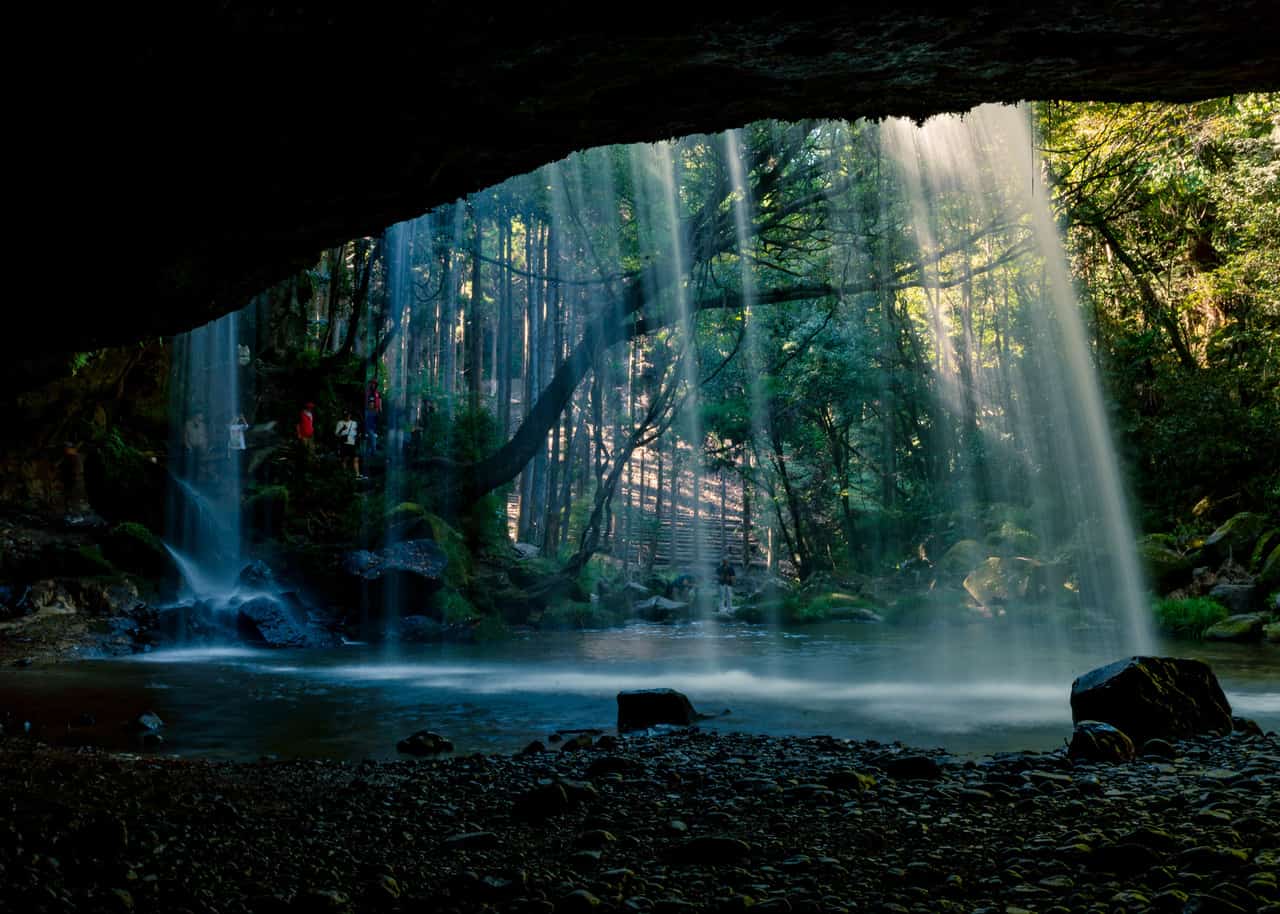 Nabegataki Falls is a beautiful place to contemplate the beauty of nature, but I had a date to keep with a certain luxury ryokan. But before that, I wanted to satisfy my curiosity about a roadside cafe I had passed earlier advertising an exceptional dessert.
Ice Cream Social at Couple
Along the National Route 387 sits a rustic little cafe with a cute sign. If the signage isn't enough to get you to stop, perhaps the lure of a freshly made soft-serve ice cream sundae can.
Couple Cafe and Restaurant is owned by Umeda-san, whose 70-cow dairy farm is a stone's throw down the road. He's been in the dairy farm business for 60 years from the age of 6 when he was old enough to help out around the farm. Today, his family is still involved in the business; he introduced me to his daughter and grandkids, who happened to drive up while I was at the cafe.
Umeda-san raises Jersey cows, a standard dairy breed in America, but rare in Japan, where Jersey cows make up only 0.4% of dairy cattle. Jerseys are known for producing creamy milk, high in butterfat content. They were brought to Japan post WW2 by Paul Rusch, an American Christian professor who also helped raise funds to build St. Luke's Hospital in Tokyo. After seeing Japan struggle to provide proper nutrients to its children after the war, Rusch helped bring the Jersey cow to Japan, which was could thrive on a diet of nearly anything and still produce highly nutritional milk. Rush's achievements were one factor that changed the public perception of the value of milk., which eventually became a staple of Japanese school lunches, while Jersey cow's milk became a popular ingredient in desserts, especially ice cream.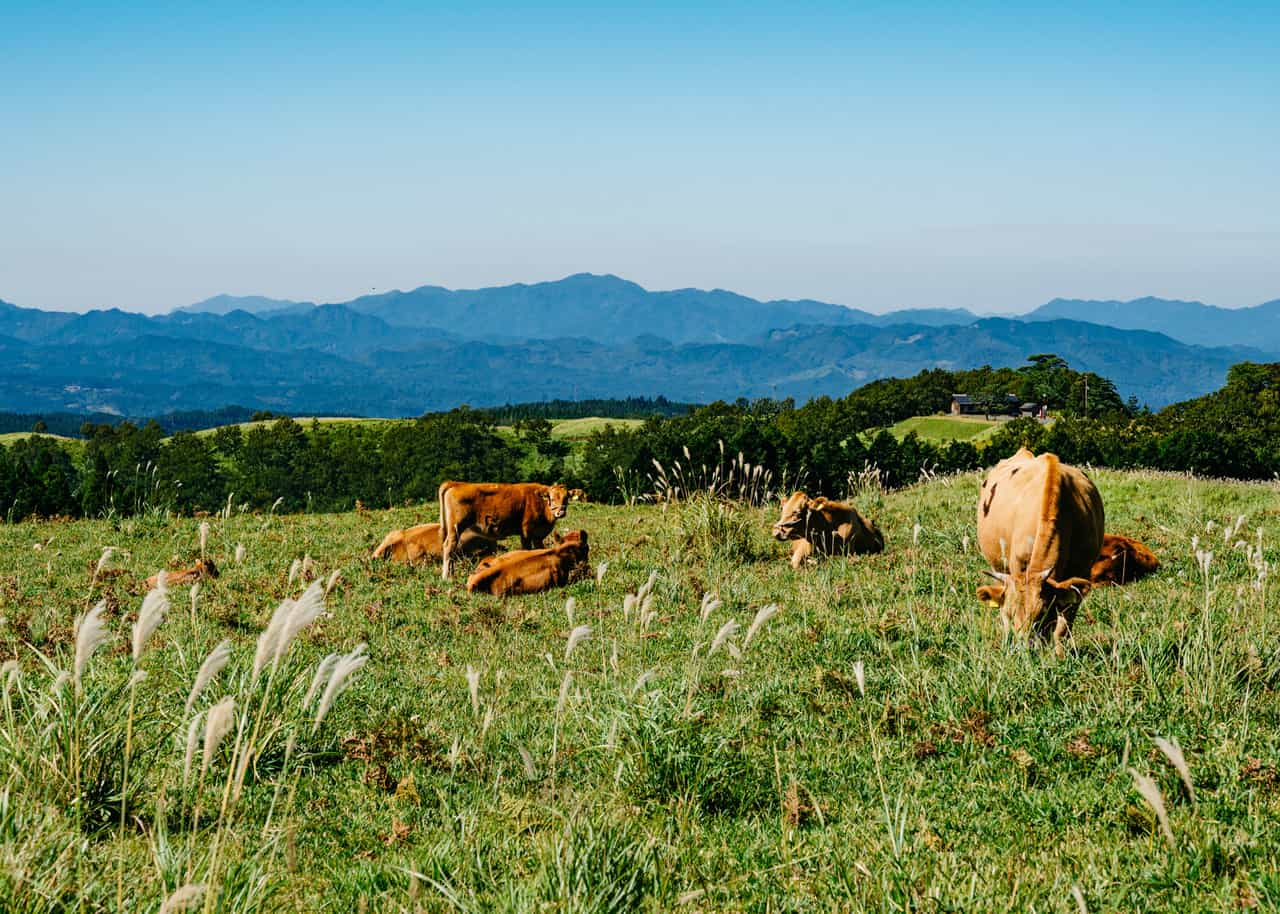 The Umeda farm produces milk, yogurt, cream, and of course, ice cream. And it was this ice cream that brought me here on an unusually warm autumn afternoon. There are many options on the menu, but I simply asked the friendly staff what most people order. She delivered a cute cup with fresh Jersey milk ice cream on top, a swirl of chocolate sauce in the middle, and an incredibly creamy pudding at the bottom.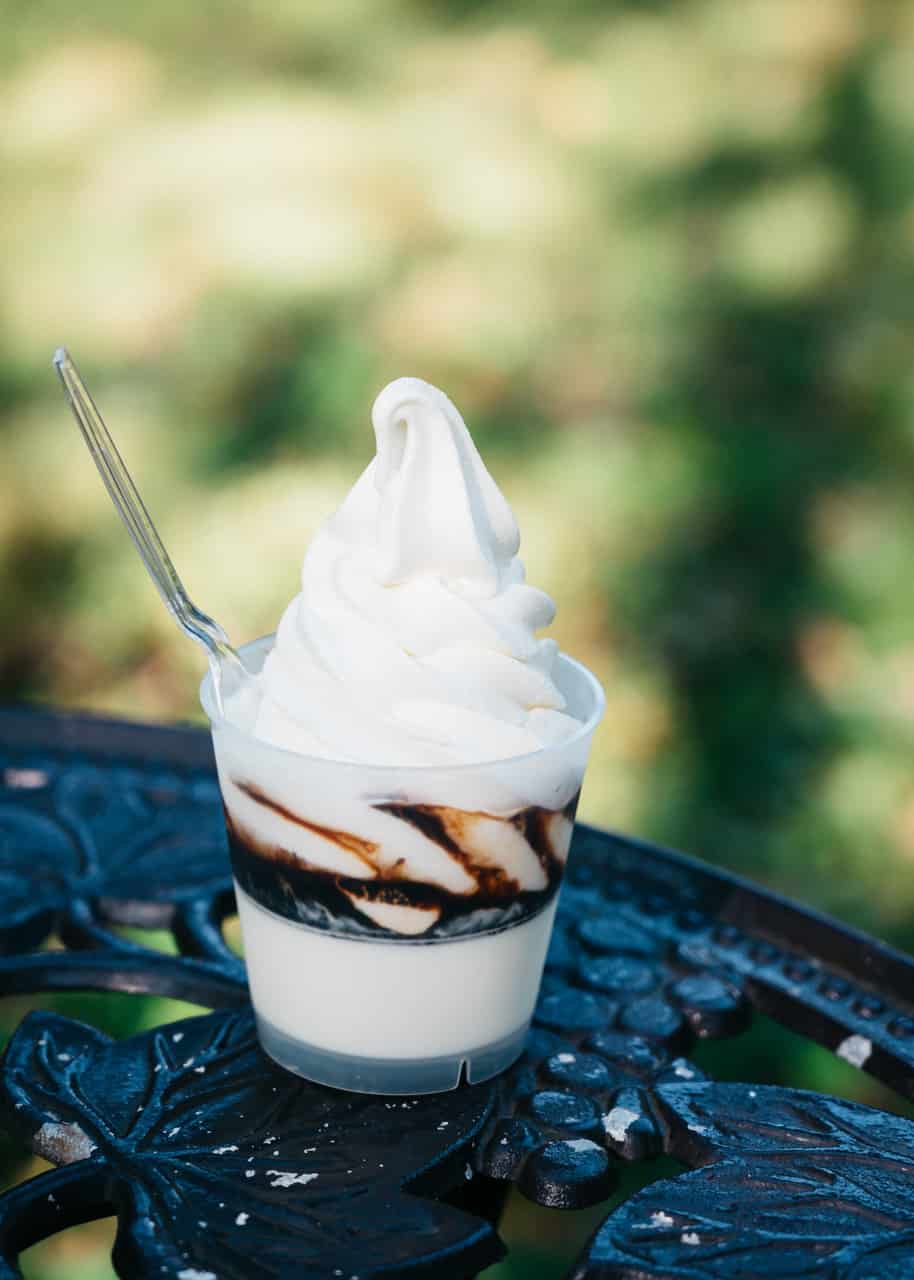 As an American, the taste brought me back to my childhood, when I would visit my best friend's grandparents' farm in central California, where fresh milk was always in the fridge. As I ate and reminisced, Umeda-san came out with a sample of his fresh yogurt. Yogurt is quite popular in Japan for its health benefits, and no doubt it is a best seller at Couple for its clean, sharp flavor.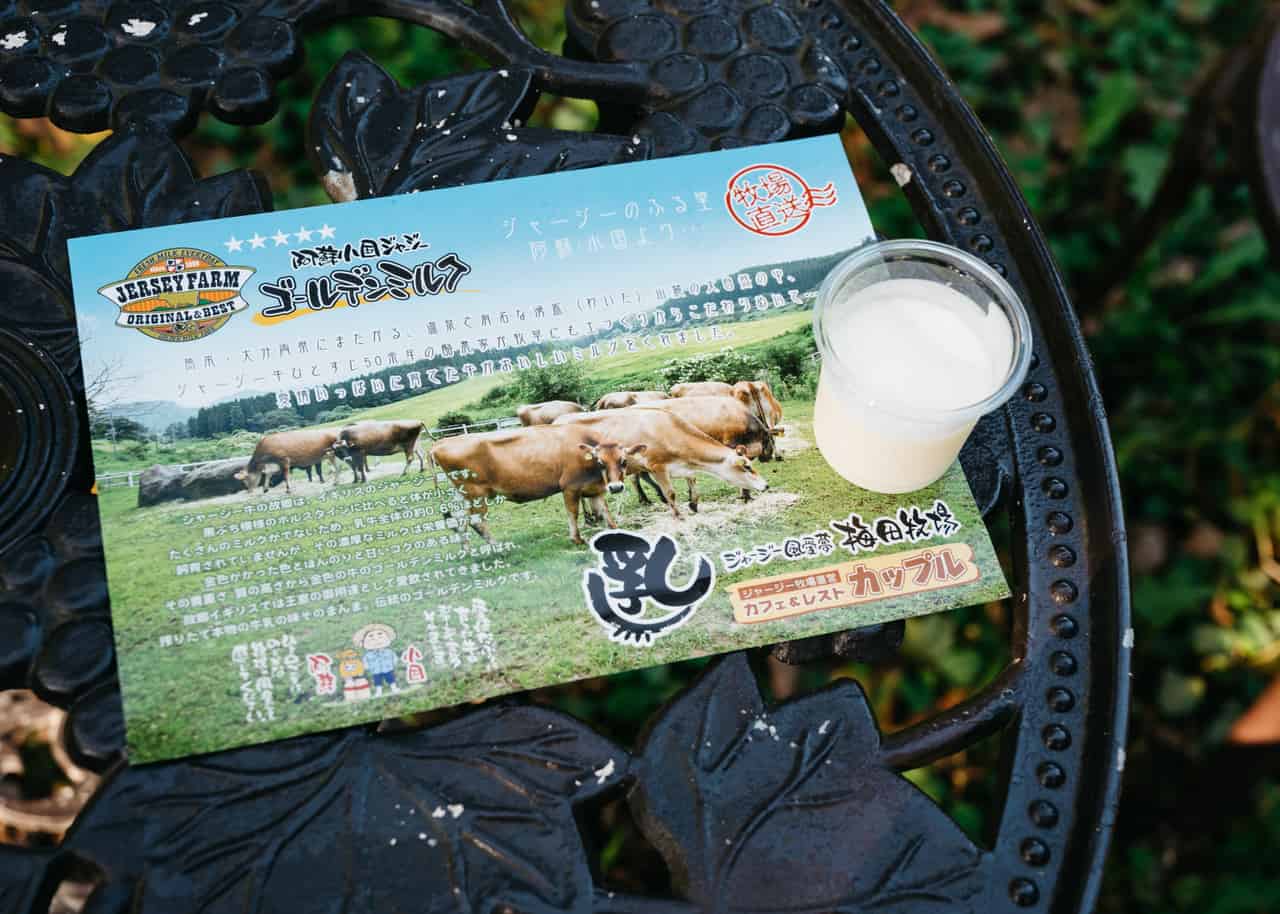 I had more questions about the technicalities of dairy farming. We went inside the shop to fetch Umeda-san's electronic translator. After several failed attempts to get it to work, Umeda-san's daughter arrived by car, and he summoned her over to help. She, in turn, summoned her grade school children, who were too shy to practice their English skills with me.
Later, as they waved me off to my ryokan, they overcame their shyness, exclaiming, "See you again!" as I drove off down the highway.
Refined Luxury at Zenzo Ryokan
Arriving at Yamagawa Zenzo Ryokan, you veer up a cobblestone road right out of the Edo Period. Above you looms the front facade of Zenzo atop a stone wall, like a feudal castle overlooking its domain. If a location is looking for a great introduction, it doesn't get better than this.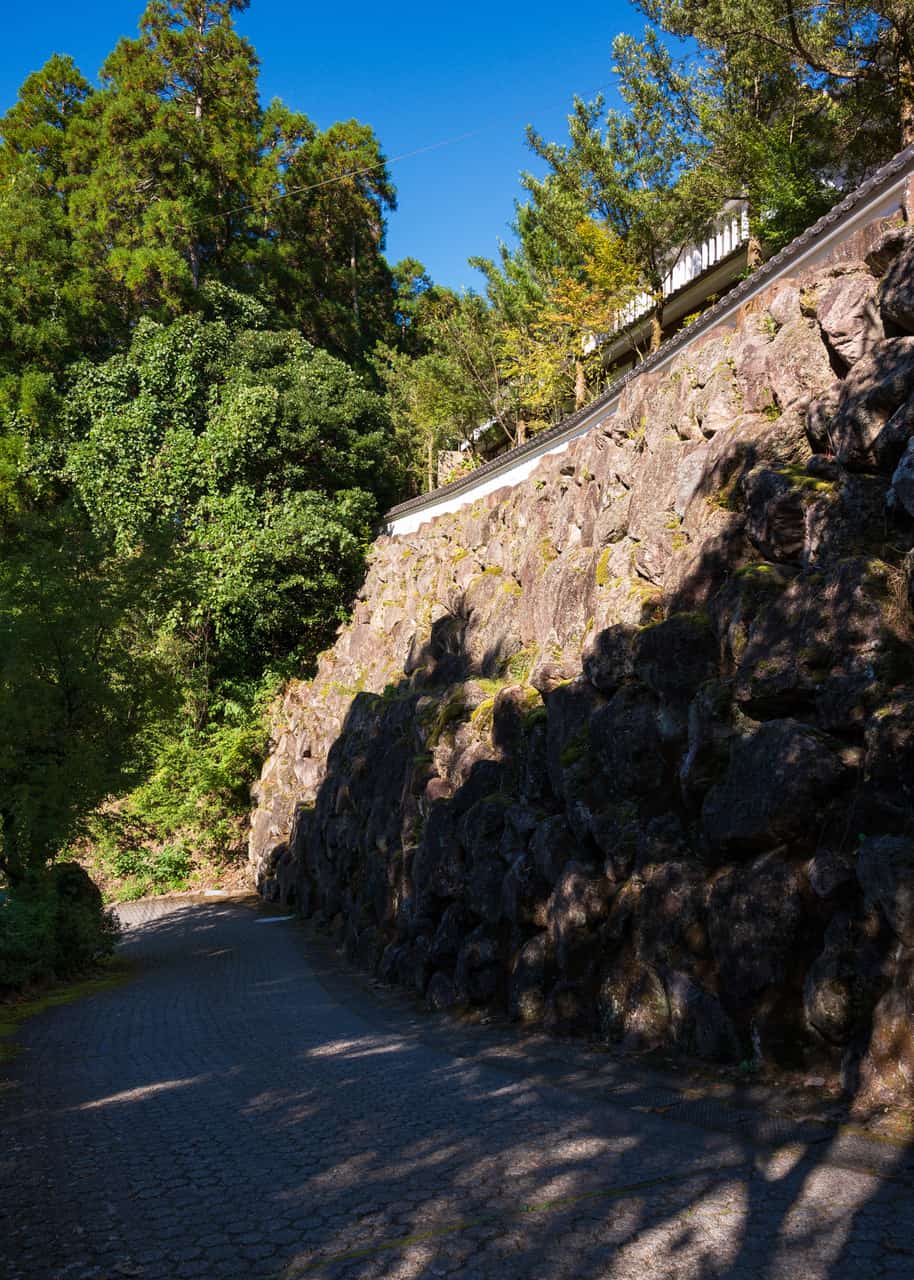 Before I could pull into a parking space, a staff member appeared from behind the ryokan's large white noren, greeting me and guiding me into a space. Gathering my luggage, he then escorted me to my room for the night, pointing out the dining areas for dinner, breakfast, and the unfortunately unavailable public onsen. Of course, every room at Zenzo has its own private onsen, so this wasn't going to be a major inconvenience for me.
Rooms at Zenzo are not contained in a single large building but a collection of smaller buildings, making the ryokan feel like you are staying in a private cottage in the forest. Buildings are separated by private outdoor baths, screened off by wooden fences for privacy. The room itself is cozy, enough space for a small table, TV, and a place to lie out your futon for the night (which the staff takes care of discreetly while you dine). An area separated by a shoji sliding door contains a toilet room, sink area, and a changing room leading out to the bath, which also has a safe and mini-fridge.
But what you're really here for, apart from the lavish meals, is the private onsen. No two rooms have the same onsen; the one in my room was carved from a large boulder, set in a small garden. As it is directly connected to your room, you can use it as often as you like without the inconvenience of throwing on anything more than a towel to get to it. The cleaning station, replete with shampoo and body soap, is also outside, just steps from the bath.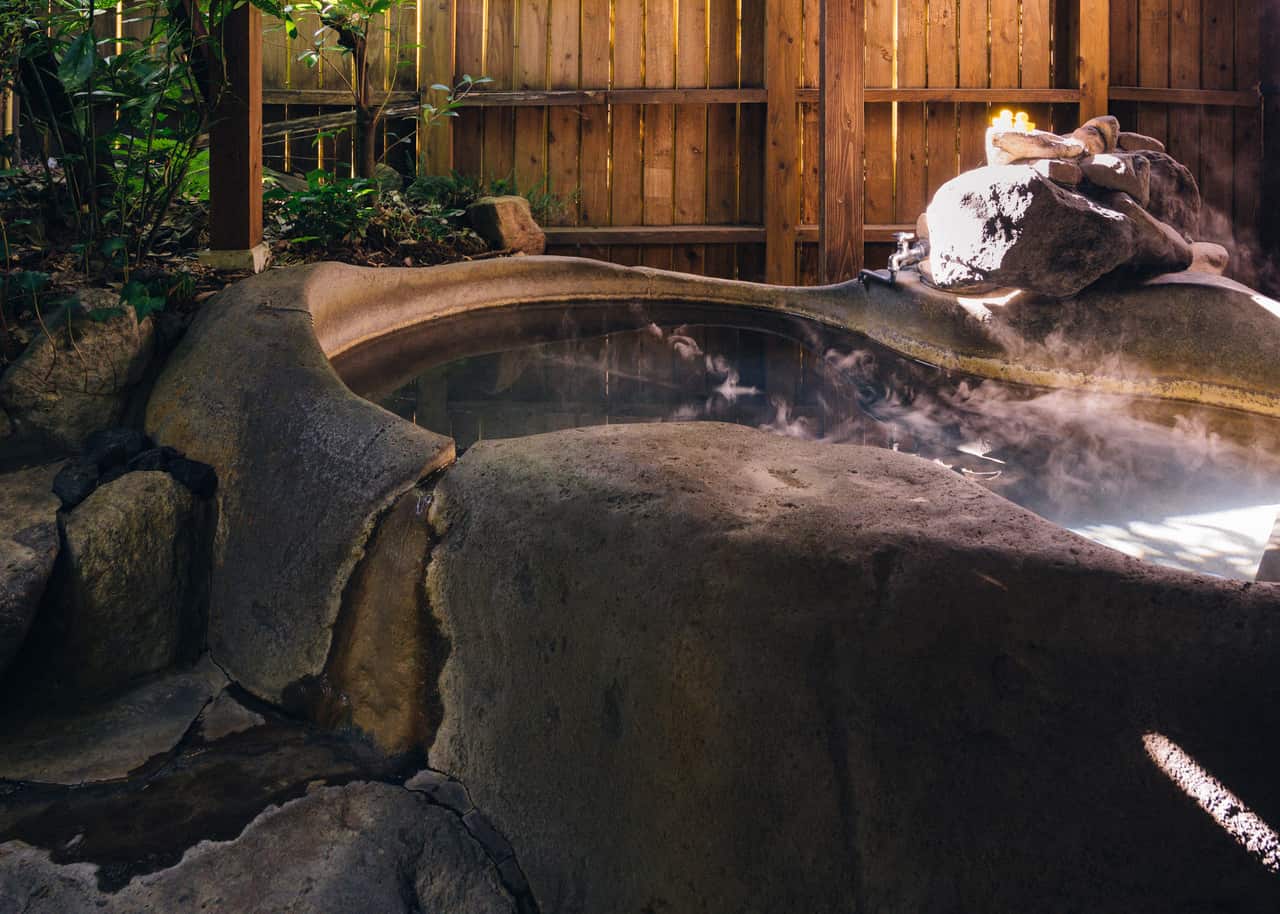 Dinner at Zenzo is an experience, as well as a test of the capacity of your stomach. Depending on your counting method, dinner consisted of between 12 to 15 different dishes, some of them nearly a meal in themselves. Arriving at the specified time, the staff had already begun to grill fish, bread, tofu, and various meats around a glowing pile of charcoal in front of my seat.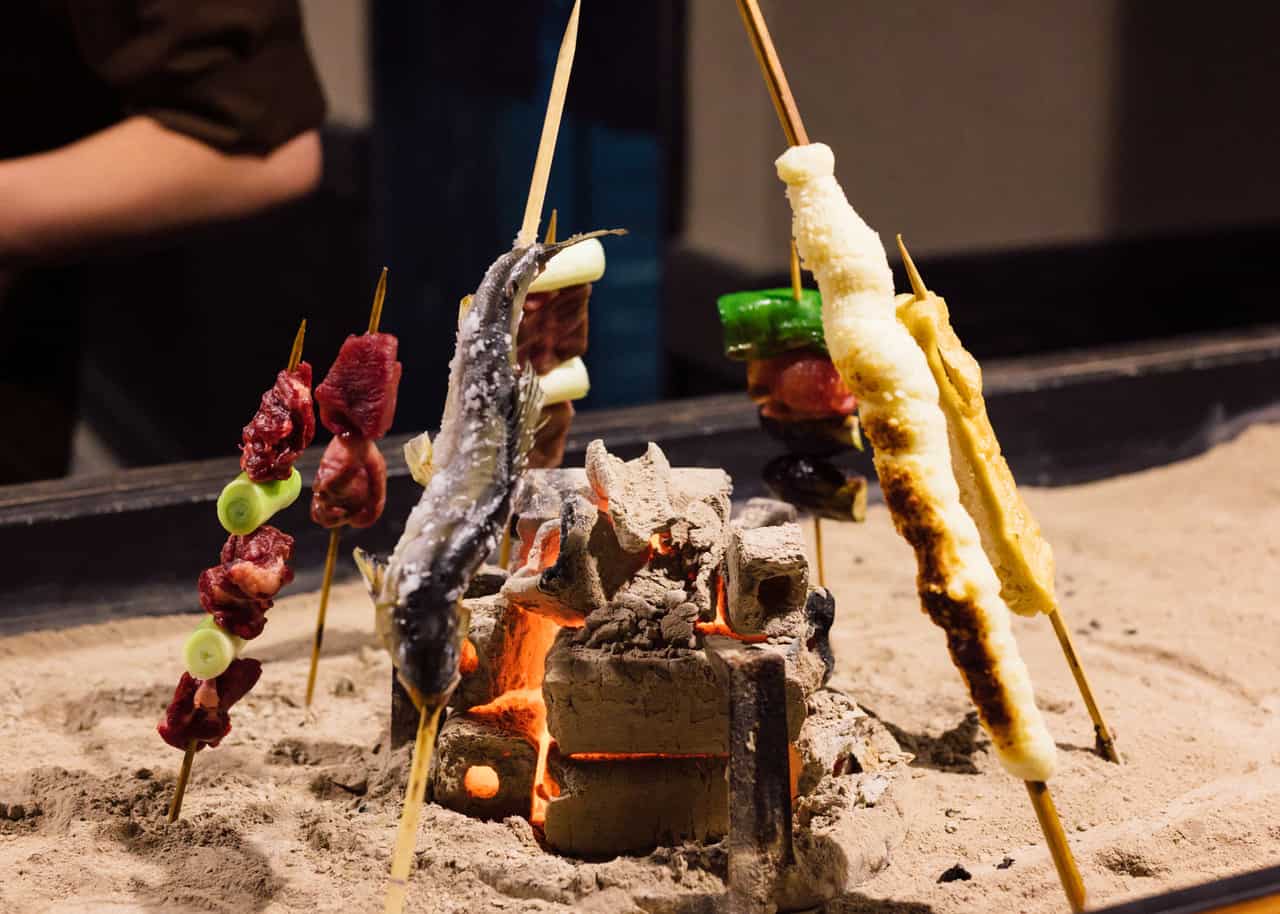 While the fire-roasted dishes slowly cook before your eyes, the staff brings out other dishes to stimulate your appetite. A few pieces of salmon sashimi, a salmon nigiri, and green snap peas and okra salad arrive first. This is followed by a Kumamoto specialty, basashi, raw slices of horse meat. Surprisingly, raw horse meat doesn't have a lot of flavor by itself, so various dipping sauces, as well as condiments like grated ginger and sliced green onion, help provide the flavor of the dish.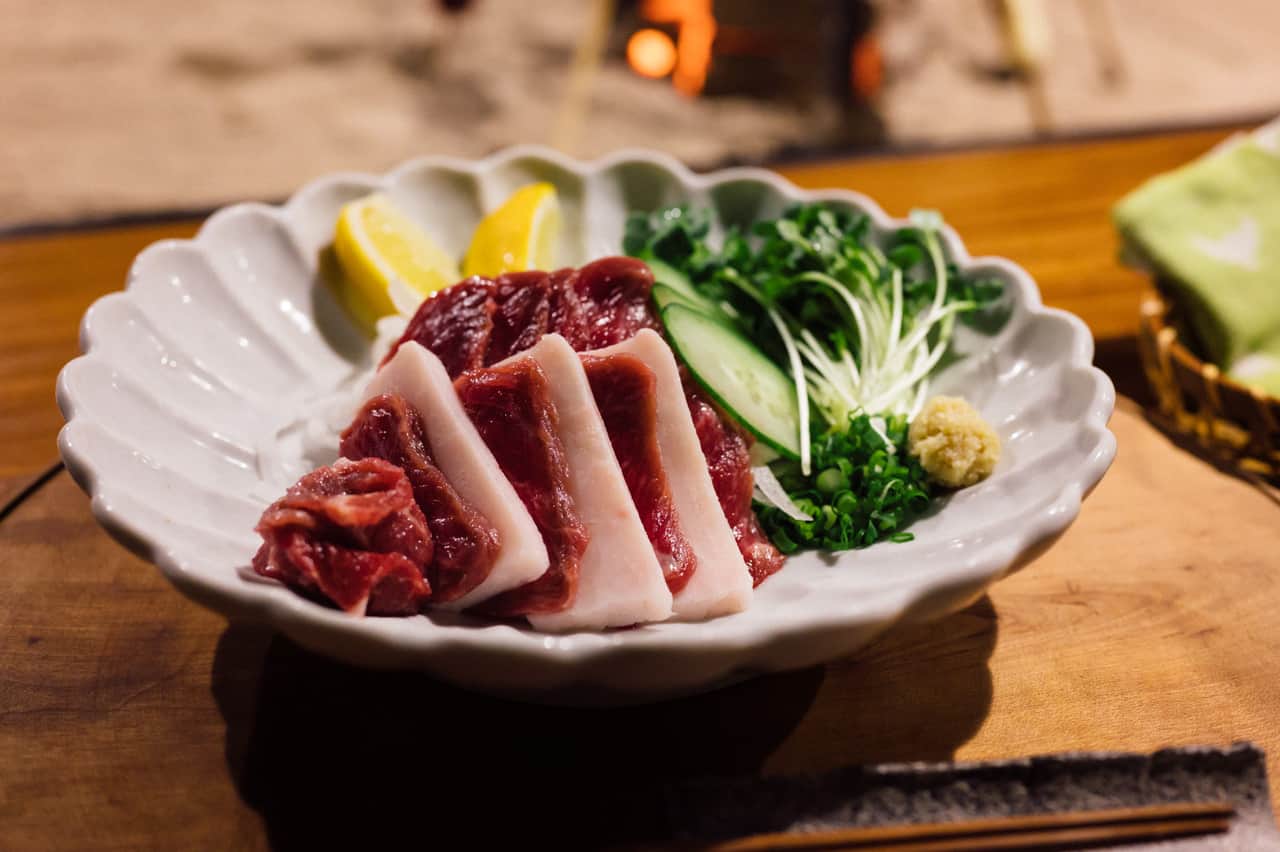 When the skewers are ready, they are served on a plate with appropriate condiments. Akaushi beef thigh meat with grilled negi. Calf's tongue. Another cut of horse meat, this time from the back. One skewer was a long piece of bread seasoned with cheese, served with a plate of olive oil. Another was nama-age, fried tofu, crunchy, and delicious dipped in soy sauce with grated ginger. A vegetable skewer with a shimito (green pepper), bacon-wrapped tomato, and two pieces of nasu (eggplant), served with a sauce made from konbu dashi, vinegar, and grated ginger.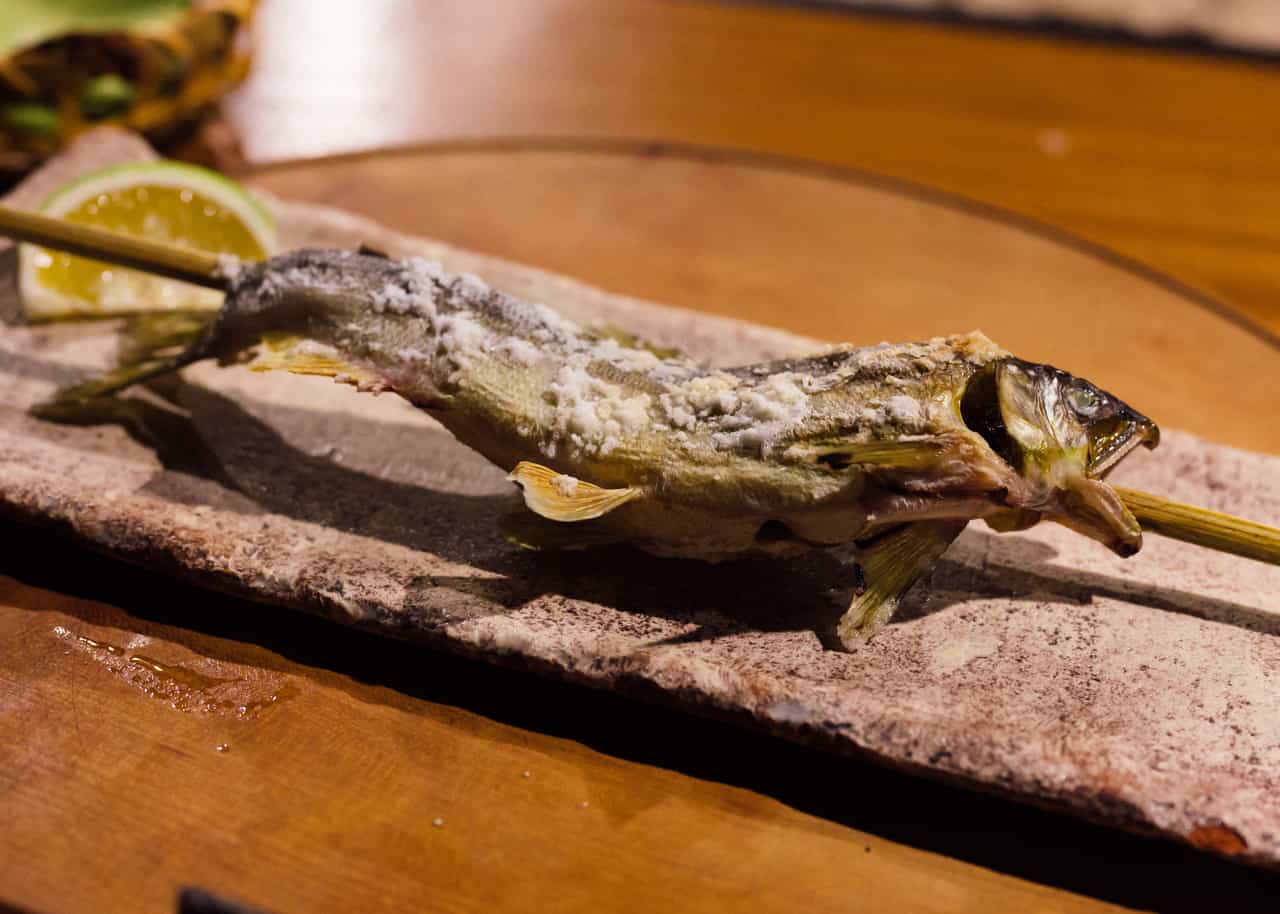 The final skewer was the matsuri favorite, ayu, a small fish salted and sprinkled with lime that is a staple of many Japanese festival food stands. To my surprise, another dish made with horse arrived, this time with "parts unknown". The flavor was slightly sweet and delicious, but I couldn't get over the fact that I wasn't able to identify the various pieces of horse I was consuming (or maybe I could, which made me even more uncomfortable).
Now well beyond the capacity limit of my poor stomach, the food continued to come. A lovely bowl of udon was brought out to simmer over the fire, its light and citrusy flavor enough to entice me to take at least a few bites. And finally, mercifully, the staff inquired if I was ready for dessert. It was coffee and rum raisin cake. Don't ask me about it, because by then, I was deliriously overstuffed.
The following morning, breakfast was served in another room of the ryokan, with a commanding view of the sun rising over the forest valley below. In perfect balance with the meat-heavy dinner the night before, breakfast was refreshingly light, with plenty of vegetables, pasta, fresh-squeezed grapefruit juice served in the fruit, and French-press coffee.
Northern Kumamoto and the Waita Onsen area are full of lovely natural scenery, onsen resort towns, and unique restaurants. With the convenience of a rental car, one could spend several days just driving around the area, pausing for a relaxing hot springs bath, or a meal made from the many locally produced products of northern Kumamoto, and staying at one of the dozens of ryokan and inns. And, of course, views of the area's main attraction, the Aso Caldera, are just minutes away.
How To Get To Waita Onsen
The Waita Onsen area is surprisingly easy to access from major cities in Kyushu (and therefore easy to access by Shinkansen or domestic flights from other parts of Japan). I realized there are places I have driven to from Tokyo which take longer to reach than the short flight to Fukuoka or Kumamoto airports and the drive to northern Kumamoto. The greater appeal of this area is the unique scenery created by volcanic activity and the abundance of onsen resorts and towns. Depending on the airport you choose, you are between less than an hour to two hours from Waita Onsen.
A car is essential to the enjoyment of northern Kumamoto, where activities, restaurants, and accommodations can be spread over a wide area. Driving is easy in these parts, with little traffic and gentle, winding roads inviting you to roll down the windows and take a breath of fresh air. Rental cars are available in any major city, airport, and near many major train stations with an international driver's license.
Nabegataki Waterfall
Kurobuchi, Oguni, Aso District, Kumamoto 869-2502
Hours: 9:00 – 17:00
Admission: 300 yen (adult) 100 yen (children)
Web site: https/www.town.kumamoto-oguni.lg.jp/q/aview/143/273.html (in Japanese only)
Couple Cafe and Restaurant
2053-204 Nishizato, Oguni, Aso District, Kumamoto 869-2504
Hours: 9:00 – 17:00 weekdays, 9:00 – 18:00 weekends and holidays
Yamakawa Zenzo Ryokan
1426 Kitazato, Oguni, Aso District, Kumamoto 869-2505
Online Reservations (Japanese)
Access to Waita Onsen From Other Areas
From Fukuoka Airport: about an hour and 40 minutes by car
From Oita Airport: about an hour and 20 minutes by car
From Kumamoto Airport: about an hour and 20 minutes by car