Sponsored by Northern Kumamoto Administrative Headquarters
Kyushu, the most southwest of Japan's main islands, is a food lovers paradise. With miles of lush, fertile land, organic products from Kumamoto are in high demand. Farmers are constantly thinking of ways to bring exciting new products to consumers. As a lover of Japanese cuisine, I was excited to find out more about the food in Kumamoto and explore its rich heritage as one of Japan's culinary capitals.
Kyushu no Shokutaku: Kyushu's Dining Table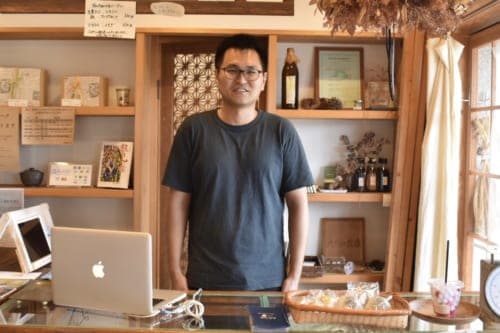 Kyushu no Shokutaku, or 'Kyushu's dining table', started as a magazine in 2009 to promote homemade organic foods and good quality kitchen items. The popular magazine has predominantly moved online which allows them to concentrate on their mail order business, supplying organic products to customers throughout Japan, as well as from their shop in Kumamoto.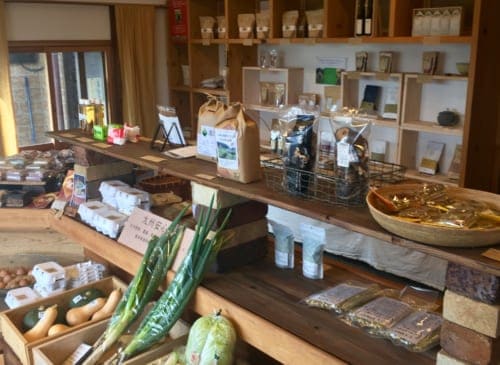 The shop is situated opposite the tiny train station of Higo-Ozu on the Hohi Line that runs between Kumamoto and Oita (Currently the section between Higo-Otsu and Aso stations has been suspended). It's a residential area with many tall buildings and feels like a commuter town. Several izakaya (Japanese pubs) are clustered around the station, their menus written on wooden boards and hung alongside colorful lanterns to entice hungry Japanese salarymen (white collar workers).
Kyushu no Shokutaku is set back slightly from the main road and has a lattice-style facade which makes it look quaint and welcoming. It's small but stocked with a wide range of beautiful organic products. Walking through the shop is like a journey through Kyushu with products displayed around you. They include everything from fresh eggs to sweet local jams and even beauty products. Each item has its place and is given a brown label with its name in English and Japanese.
I was greeted warmly by the two members of the staff and given a short tour of their cafe. It's an attractive space, filled with beautiful old kitchen items and wooden furniture. The coffee menu had an interesting selection of beverages that not only featured tea and coffee but also blueberry and plum soda splits, made from local fruit, and a selection of tasty cookies. The menu specified where the item was from which was a very personal touch.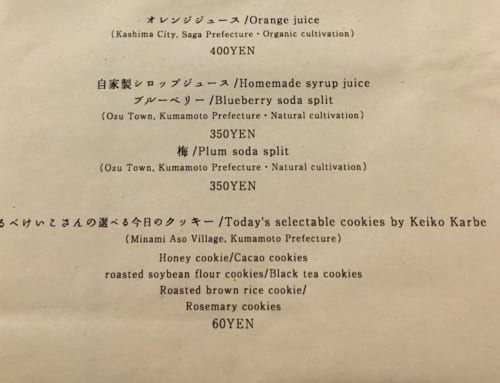 A packet of 9 small sable cookies caught my eye; each one was simply decorated with a flower from the Aso caldera and arranged on a piece of Japanese paper. They looked so delicate and had a subtle sweetness that went well with a hot cup of coffee. I chatted with the staff during my visit and they were very appreciative to have visiting tourists.
Yamauchi Honten Miso and Soy Museum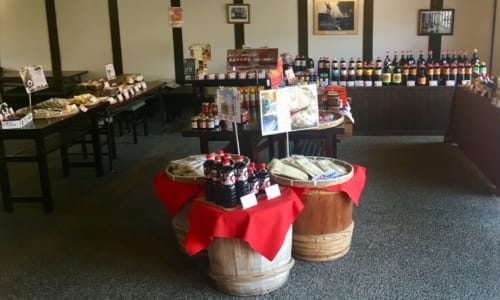 My next stop was a miso and soy sauce company that has both a shop and museum. Located on the outskirts of Kumamoto, Yamauchi Honten Miso and Soy Museum is a true representation of Japan's culinary culture. It has a rich history of more than 250 years in the business and has won numerous awards for its outstanding contribution to the food industry.
It is an unassuming place, a small wooden building situated within the factory complex. The museum itself is located above the shop and there is plenty of parking outside. You are free to browse the products and then enjoy learning about the history of miso and soy sauce in the informative museum (in Japanese only). It's free to enter and the staff are happy to answer any questions.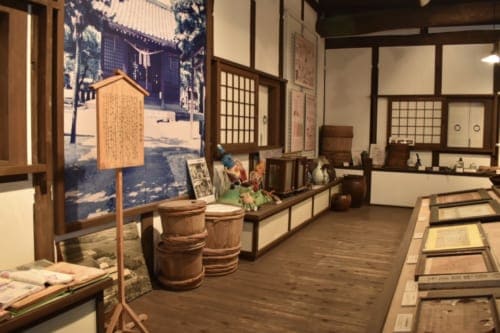 I was greeted by two members of staff and, through the use of limited English and translation apps, was shown the main store and introduced to some of their signature products. Along with miso paste and soy sauce, they have a wide range of dressings and seasonings. All of their products are produced on site, using techniques that have been perfected over the years.
The museum, while being solely in Japanese, has several attractive displays and interesting exhibits. The staff are keen for visitors to learn more about the production of miso and soy sauce and are proud of the company's long heritage.
I was overwhelmed by the large choice available and truthfully, I had little knowledge of miso or soy sauce to make any informed purchasing decisions.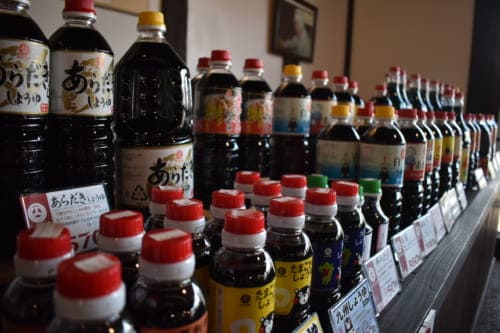 Sensing my dilemma, the staff recommended their signature products to try. I bought a bottle of dark, rich soy which I enjoyed with red meat and rice dishes. It had a smokey flavor that was not too overpowering and the smooth aftertaste left you in no doubt that it was a premium product.
I also bought a tub of miso paste. This Japanese superfood, made from fermented soybeans, has numerous health benefits and is great for the digestive system. I added a large spoonful to a mug of hot water and mixed in some chunks of tofu and a few leftover vegetables. It was the ideal mid-afternoon snack and gave my energy levels a real boost.
Shikisaisai: Products Representing Kumamoto in One Location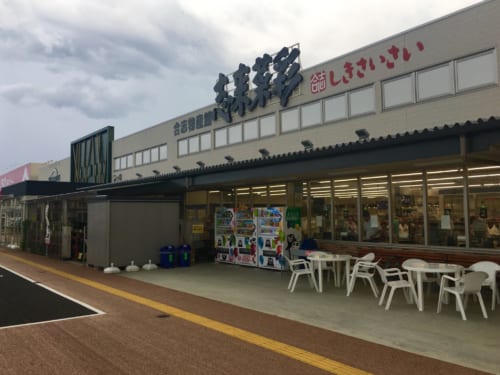 My third stop was Shikisaisai, one of the Kumamoto's largest product promotion center which is located in Koshi city. I was not sure what to expect in terms of the content of the store, but almost all the products were uniquely from the Kumamoto region. The choice of Kumamoto-made products was truly amazing and I would recommend taking the time to browse the aisles and speak to the staff.
Horse meat sashimi (raw horse meat) is a local specialty in Kumamoto and there was a selection of samples with various marinades that I was encouraged to try by the friendly butcher on the meat counter. I had never tried raw horse meat before but I enjoyed it. It had a lighter texture than denser meats such as beef and the marinades were delicious.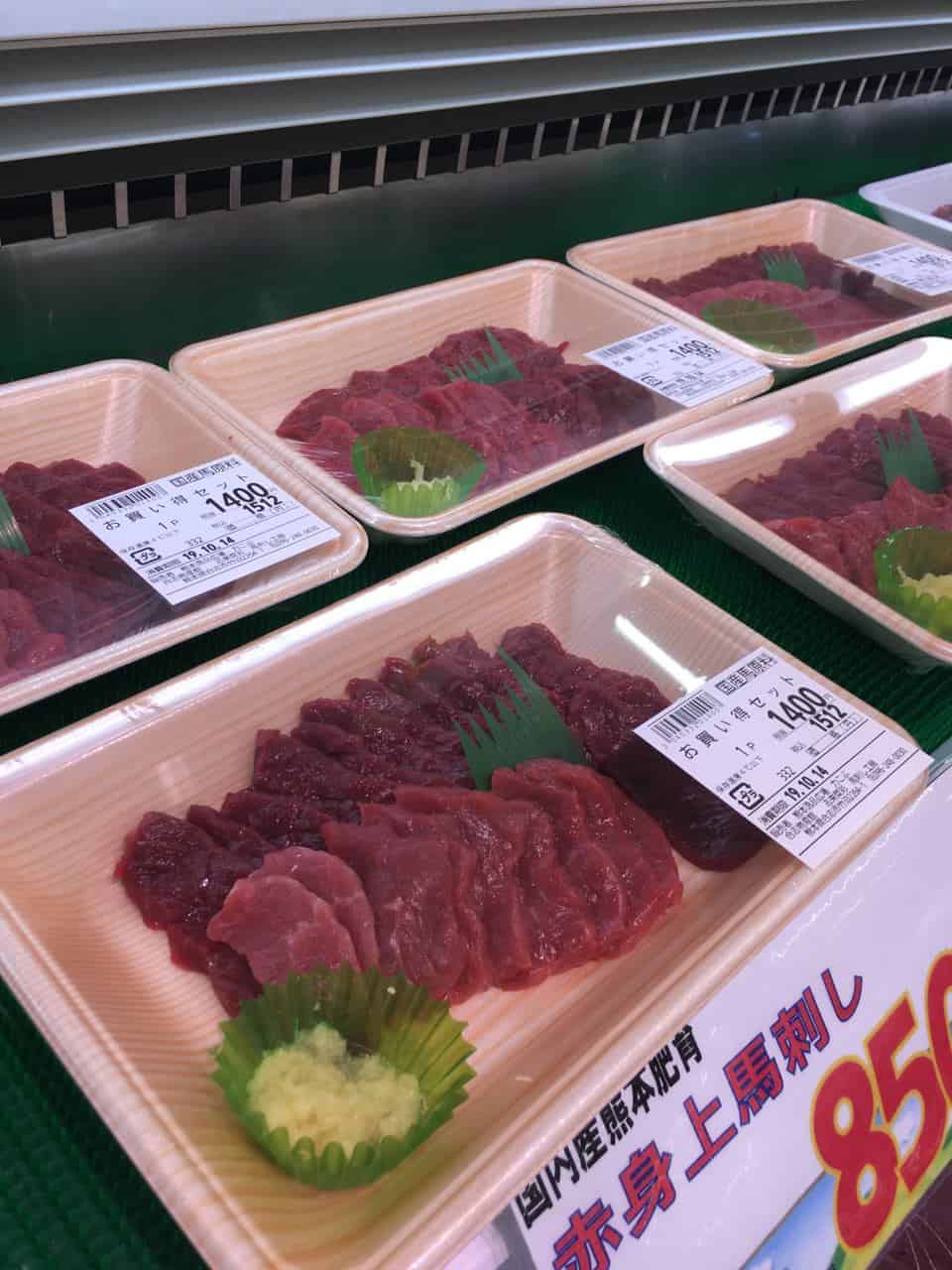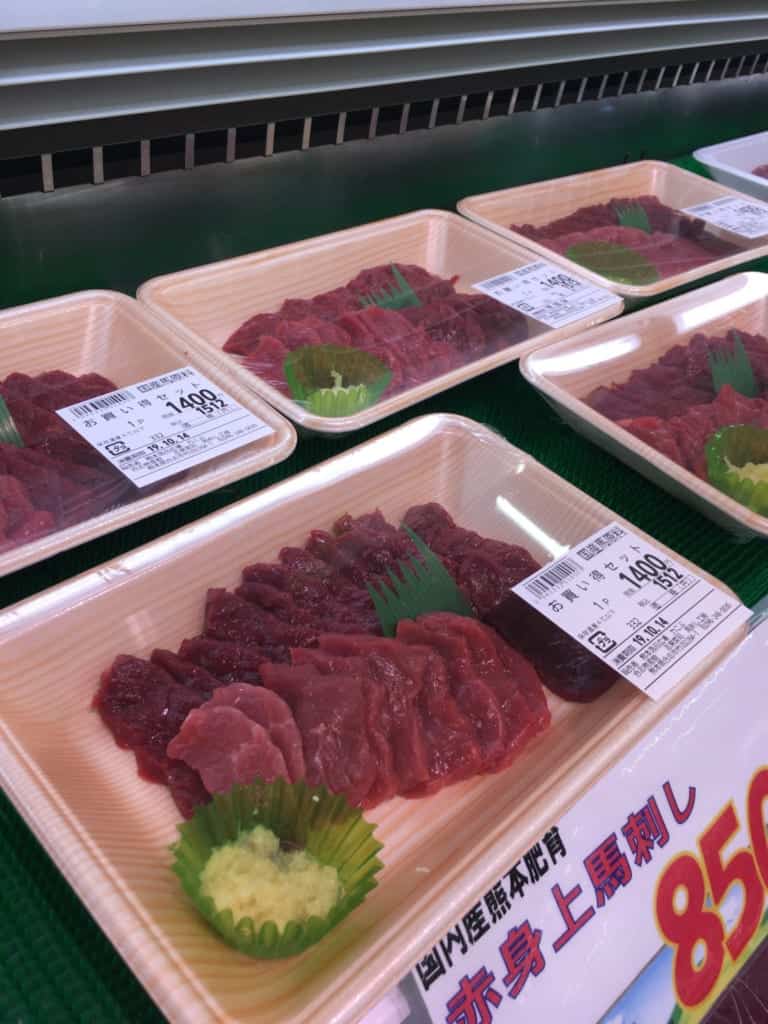 The store sells various kinds of meats and fish which all come from the lush plains of Kyushu and the nearby sea. Akaushi beef is a famous product of Kumamoto which you can purchase in this shop. You can find out more about my experiencing tasting this Kumamoto specialty in this article.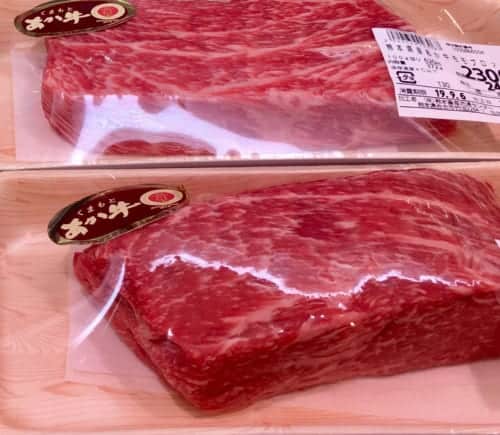 A visit to Shikisaisai can be a highlight of a trip to Kumamoto if you enjoy browsing supermarkets and learning about a region's cuisine. There is also a range of Kumamoto souvenirs at reasonable prices.
Karashi renkon is a local specialty in the Kumamoto area. Renkon is a root vegetable. It looks unusual, as it is beige-colored and has holes running through it. Kumamoto have added their own twist to the popular vegetable and stuffed the holes with spicy local mustard before coating the vegetable with flour and frying it. It goes very well with meat dishes and is also eaten in the morning with a rolled egg omelette.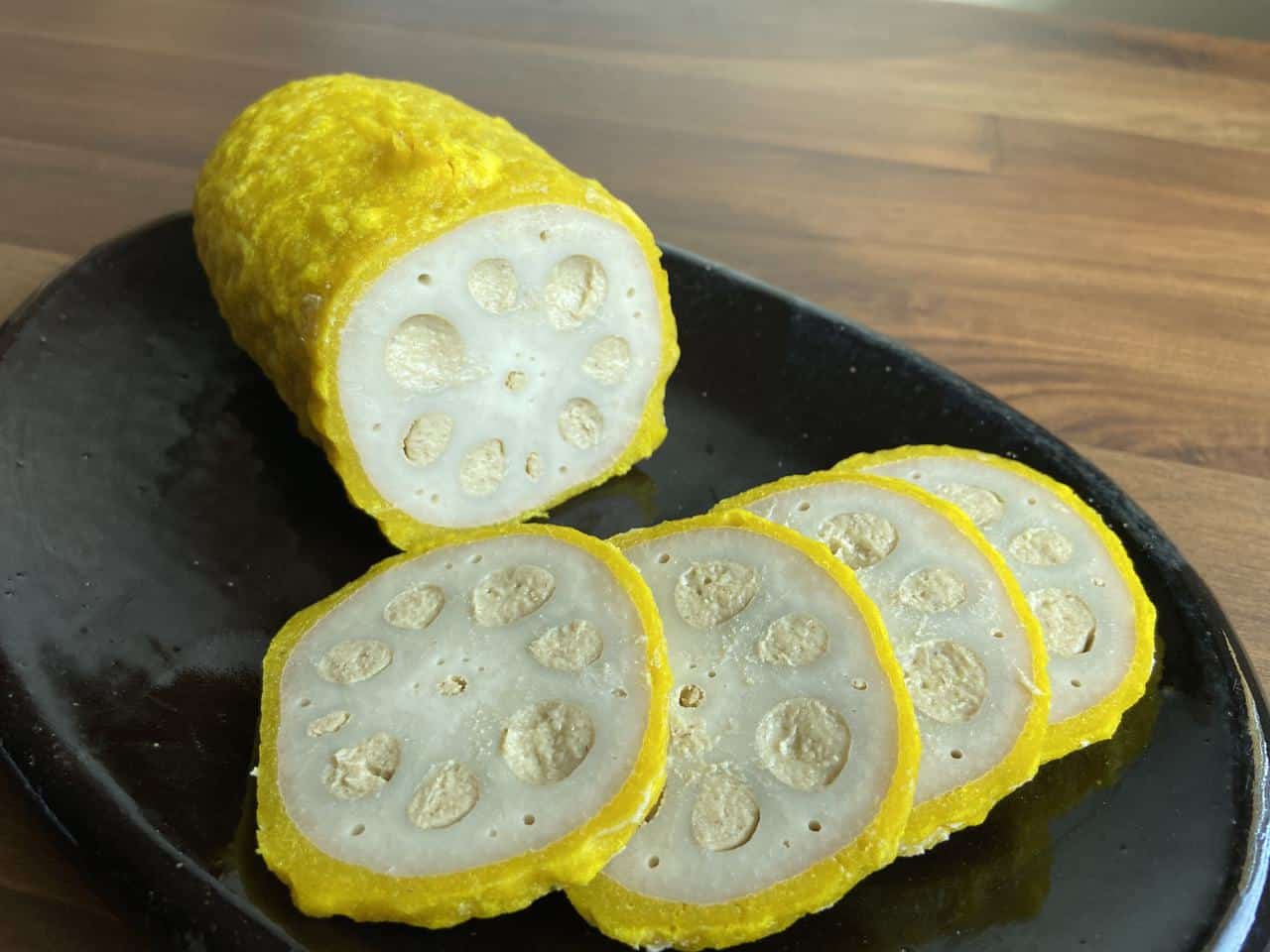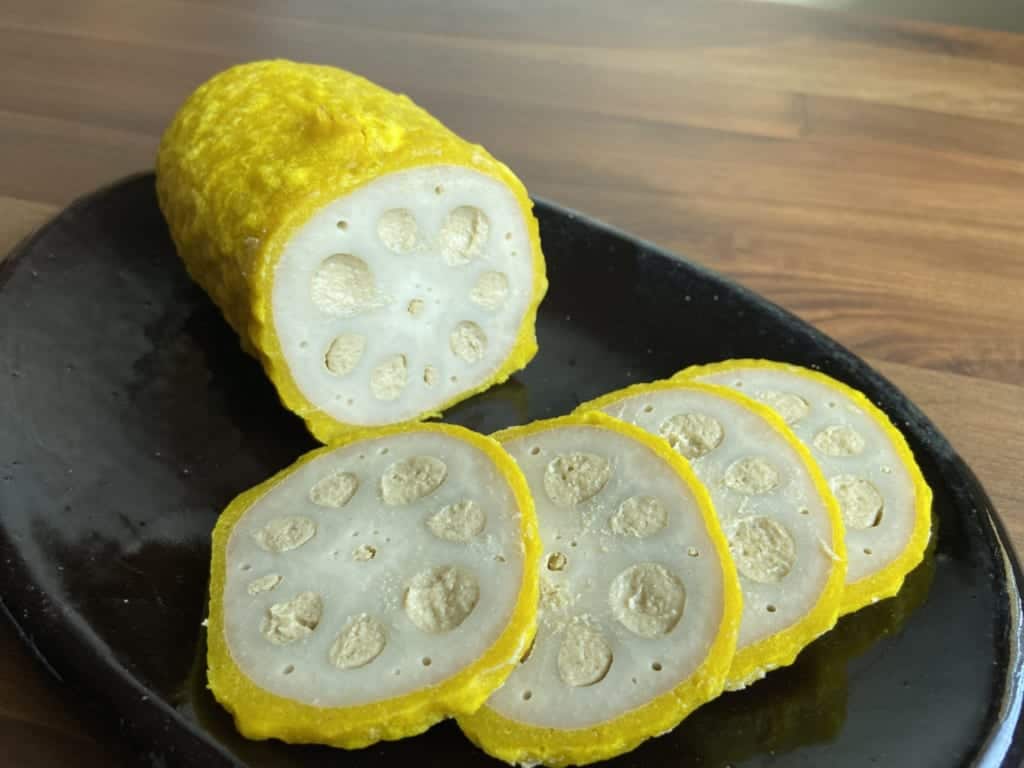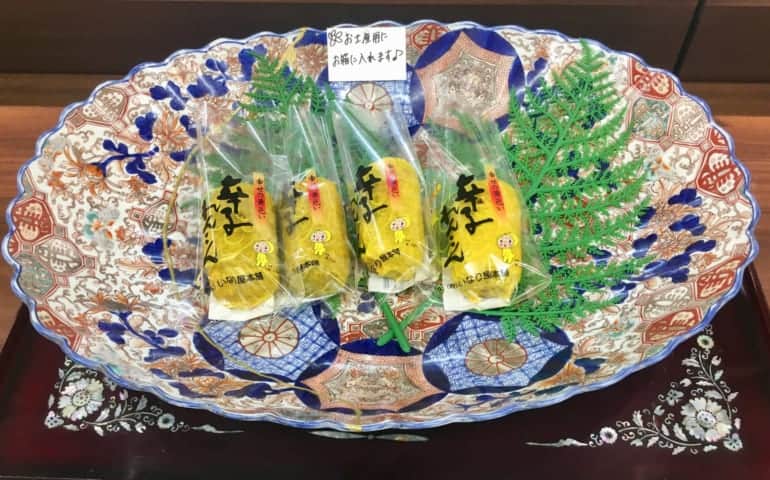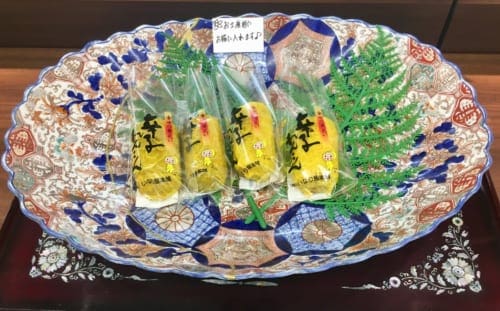 I wanted to indulge my sweet tooth so I decided to purchase a nutty fruit loaf from their bakery. I was used to the fruit loaves in the UK being dark, sticky and somewhat rich. They often leave a strong, acidic taste in your mouth and need to be covered in layers of butter. However, the fruit loaf that I purchased from Shikisaisai was the opposite; it was light and soft, with just the right amount of fruit. The caramelized nuts on the top gave it a nice crispy bite and it was so deliciously fresh. If you have a love of sweet things, I would certainly recommend trying this tasty treat.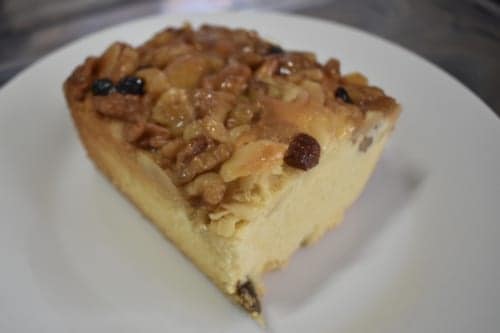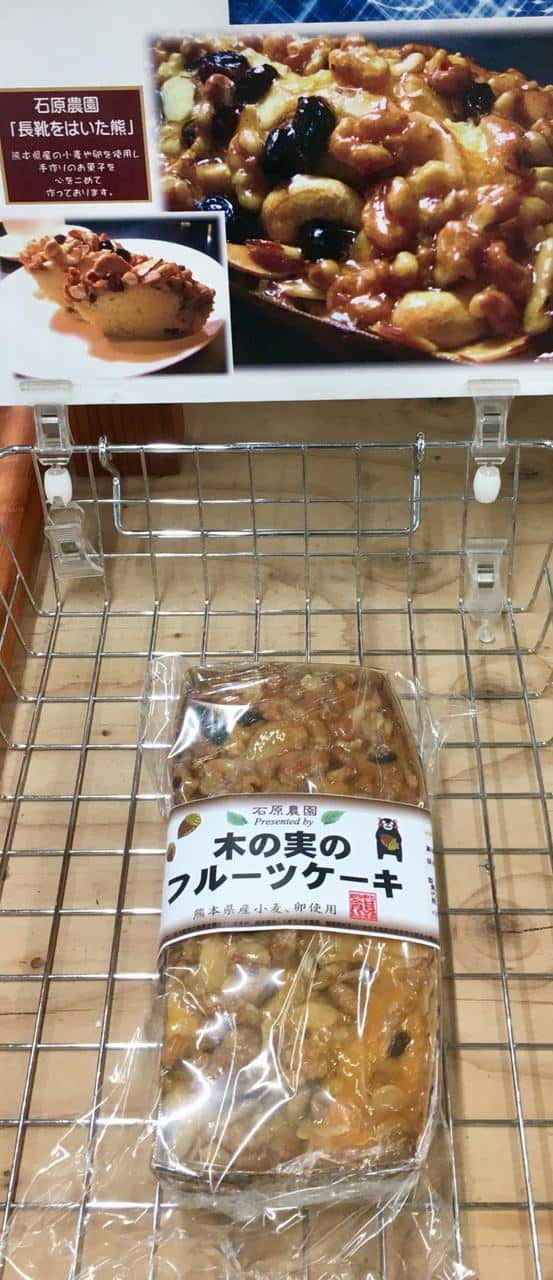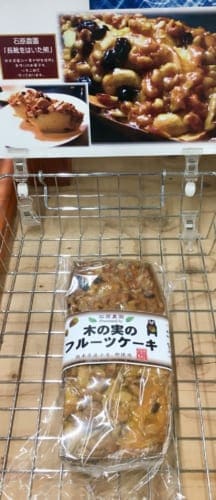 Visiting food shopping areas in Kumamoto gave me the opportunity to learn about the wide selection of products from the region as well as try some of the best organic and local foods that I have ever tasted. The area benefits from a warm climate and has an abundant supply of fresh groundwater which makes for very fertile land. While visitors might know the area for their meat products, my opinion is there are many other foods that demonstrate Kyushu's importance to Japan as a food-producing region.
Access
In 2019, Kumamoto takes to the world stage when it hosts the 24th Women's World Handball Championships where 24 countries will play 96 matches at 5 venues across the prefecture.
Fukuoka, Kyushu's main city, is just 40 minutes from Kumamoto by bullet train and an hour and a half by car on the Kyushu Expressway so the region has never been so accessible. Both Fukuoka and Kumamoto have airports with flights across Japan as well as some international destinations.
We used a rental car to tour the area which gives you the freedom to go where you please and explore in more detail. It takes less than an hour by car from Kumamoto Airport to the foothills of Mount Aso so it's perfect for a day trip, or even a longer stay in a local guesthouse. The roads are easy to navigate and you pass through quaint villages with wooden houses and neatly-trimmed hedges, both quintessential images of Japan.
Access to Kikuchi From Other Areas
From Fukuoka Airport: about an hour and 30 minutes by car
From Oita Airport: about 2 hours and 10 minutes by car
From Kumamoto Airport: about 15 minutes by car