Sponsored by Northern Kumamoto Administrative Headquarters
On the north east rim of the Aso caldera, there's a place where you can relax in a steaming hot bath while a feast of local wagyu beef and seasonal vegetables is lovingly prepared for you. The village of Ubuyama, with its tiny population, is hidden amongst the caldera's ancient fern trees, a place where the only light is the twinkling of stars at night and the comforting smell of wood hangs in the air. Local people make use of the natural resources such as clean spring water and fertile soil for growing rice.
A Home Away From Home
My mother and I were given the opportunity to experience a night of warm hospitality at Yamanosato Minshuku and Farmer Restaurant. The minshuku, a type of guesthouse or in this case, a farm stay, has been home to Yuri's family for generations.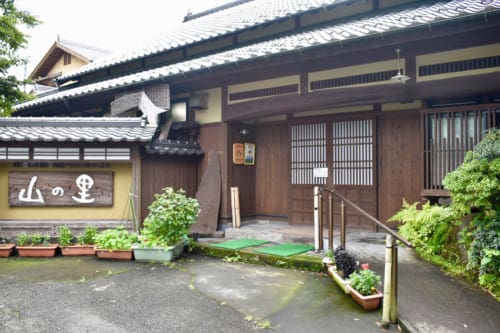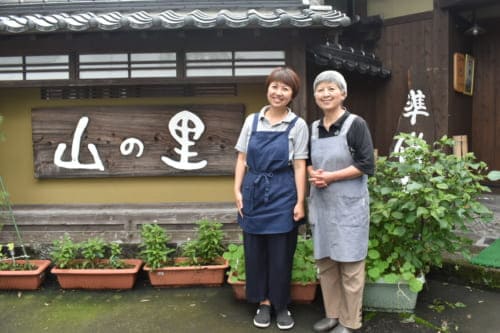 It's a real family business; while Yuri takes care of the guests, her husband rears the area's famous brown cows in their private ranch and looks after the rice field. Yuri's mother cooks up wholesome Japanese dishes in the kitchen and even Yuri's young children and their classmates sell kokedama (moss balls) and other goods in the reception.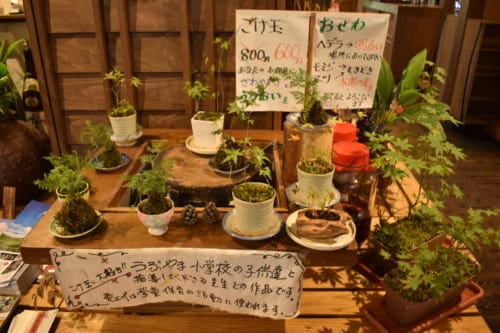 The farm stay is located in the heart of Ubuyama village, close to the Yamaga River. It's a small wooden building surrounded by rice fields. Yuri and her mother greeted us warmly and could not have been happier that we were there.
Over hot green tea, Yuri spoke excellent English and asked about our day. We instantly felt like we had known her for years as she was so easy to talk to and had an upbeat energy that we adored. My mother especially enjoyed the opportunity to chat to Yuri and learn more about her life.
The restaurant was adorned in traditional local wood and large benches waited for customers to come and try their local wagyu beef barbecue.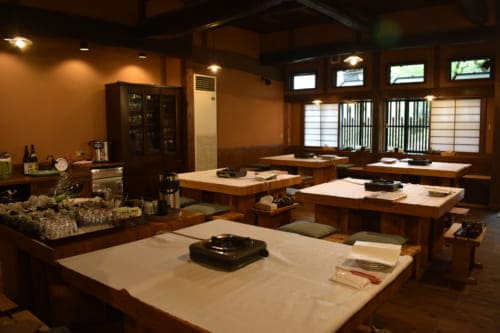 There was a small, cosy bar with about 4 or 5 wooden stools where guests could choose from a range of Japanese whiskeys after a hearty meal.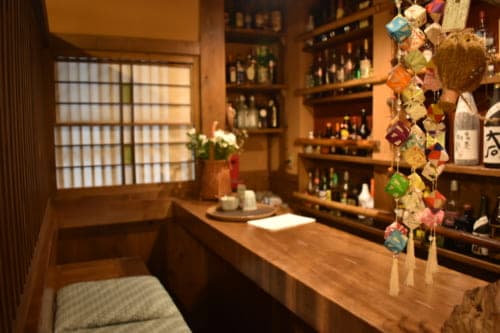 Traditional Comforts in the Guesthouse
The farm stay was located behind the restaurant across a beautiful courtyard, with a rocky pond filled with small koi carp. As we followed Yuri to the room, a cat darted out from behind a rock and she joked that it was looking for its lunch.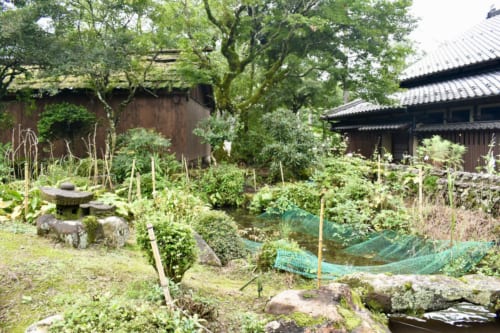 The 4 large tatami rooms, shared toilet and bath made us feel warm and at home as it was decorated in dark wood, and bamboo. The simple Japanese-style rooms featured a dining table with a tea set, television, fan and thick jackets to wear if the weather turned cold. The building was over 200 years old and the rooms had original bamboo ceilings. Each room had a balcony that looked out across the rice fields to the mountains in the distance. The only sounds were the croaking of birds and the trickling of a nearby stream.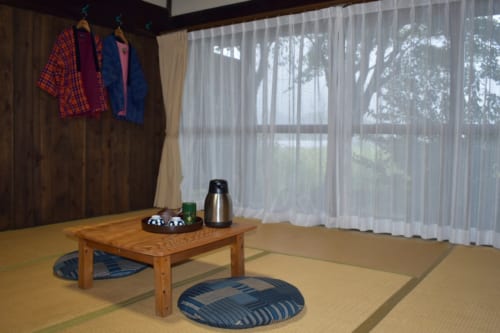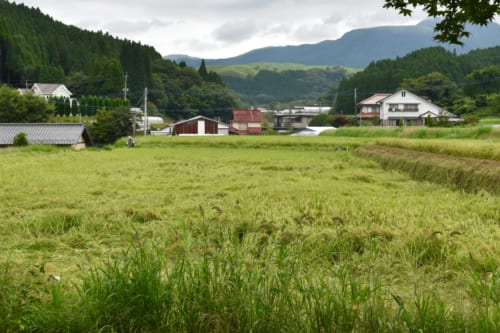 The farm stay had a communal bath that could be used at any time. It was surrounded by rocks and bamboo in an outhouse at the end of the tatami-lined corridor.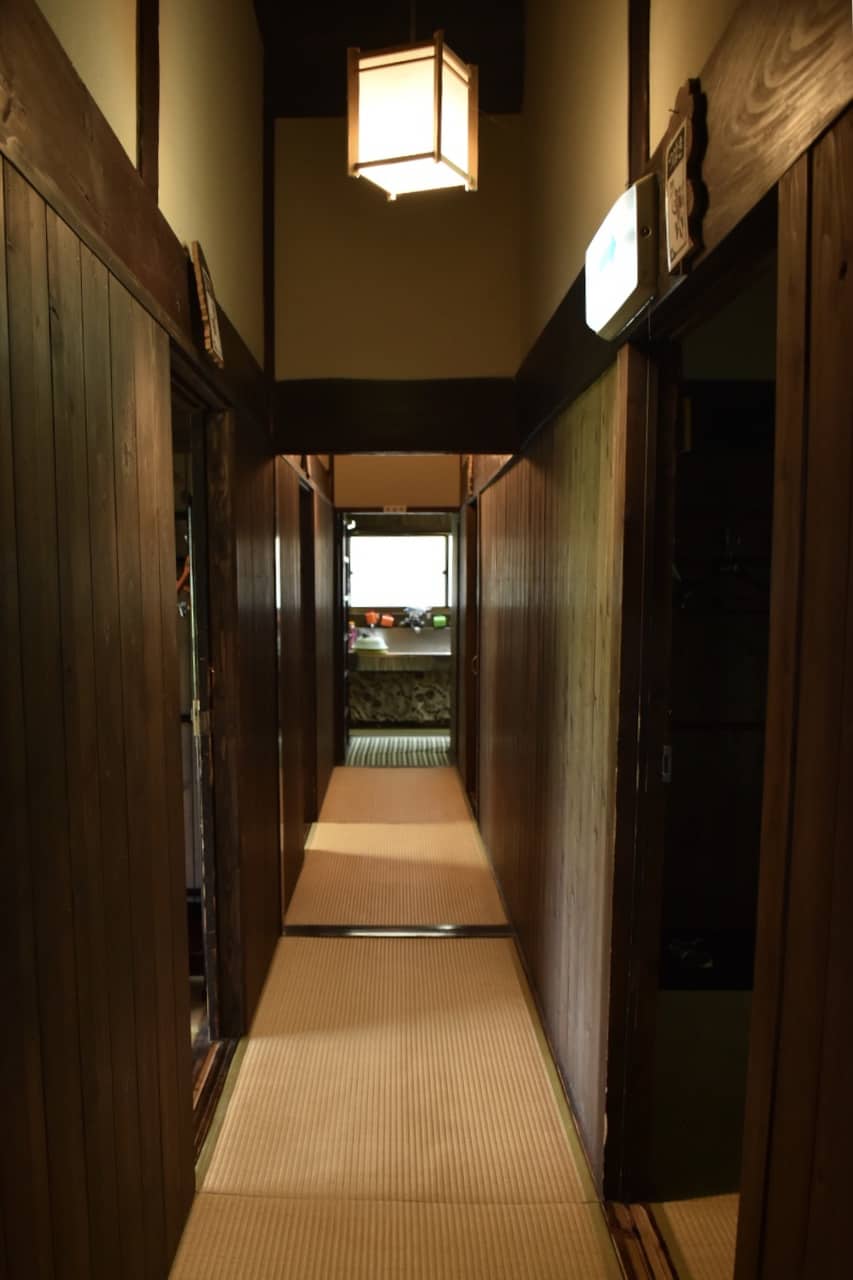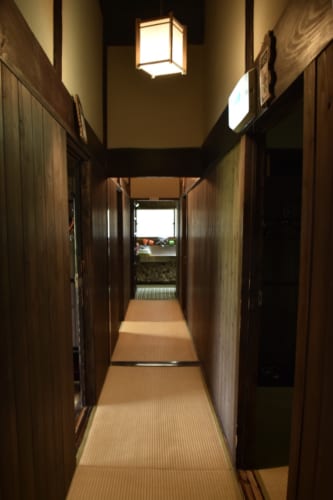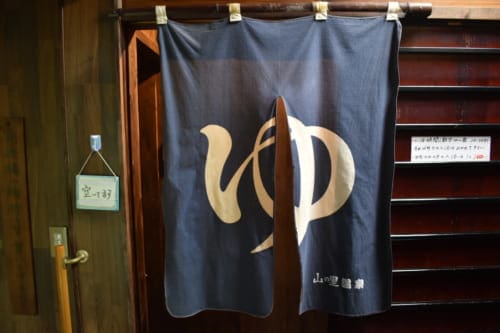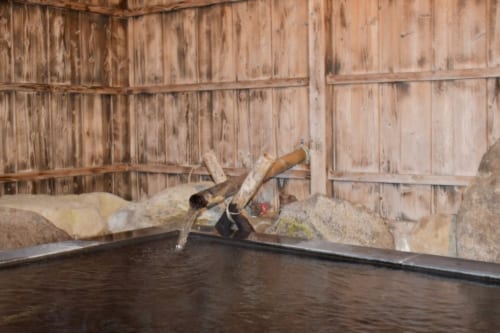 The water is collected from a local spring before being heated to just the right temperature. There was everything we needed: plenty of fresh towels, traditional Yukata bath robes and a selection of toiletries. Even though the bath was shared with the other three rooms in the guesthouse, it could be locked from the inside and enjoyed individually.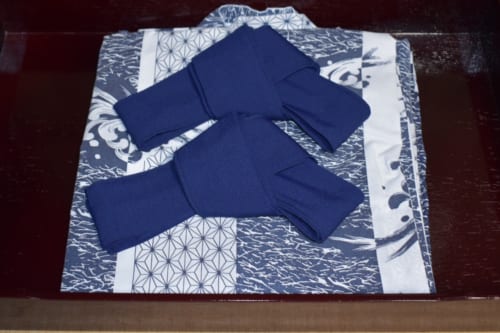 Before dinner, Yuri came to our room to make sure we were comfortable. She made up our Japanese futons and even brought us an extra mattress. The traditional Japanese bed was not something that my mother had seen before and Yuri carefully ensured that the fresh, crisp sheets were properly arranged. The bed set included traditional buckwheat pillows which provide perfect support for your neck, despite their firm texture. As Yuri escorted us to the restaurant, we could not wait to return and experience a night in our cozy room.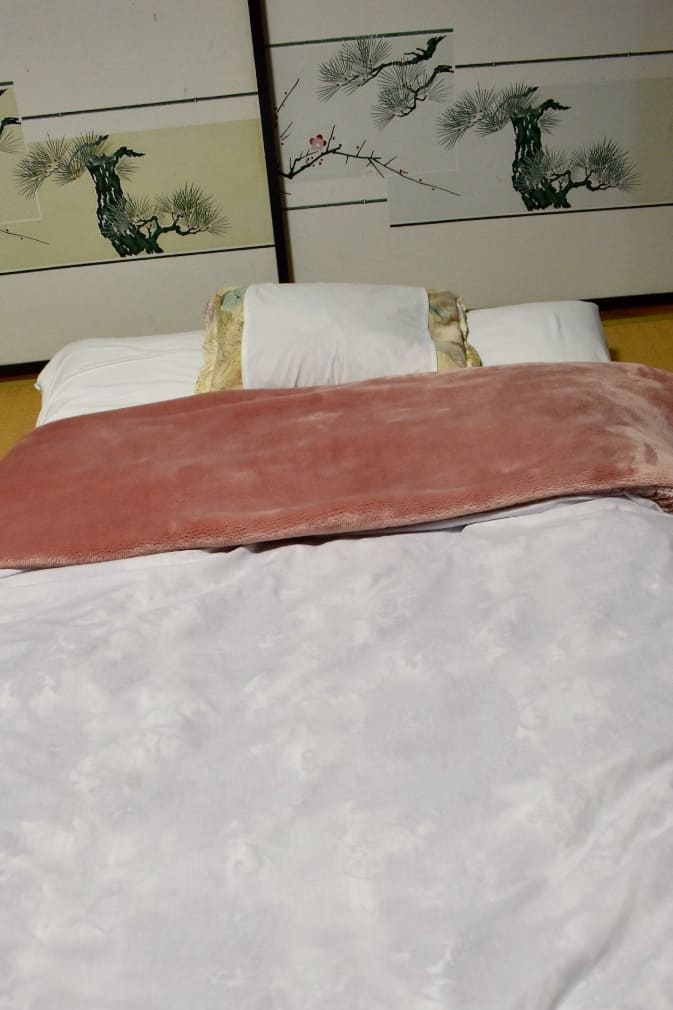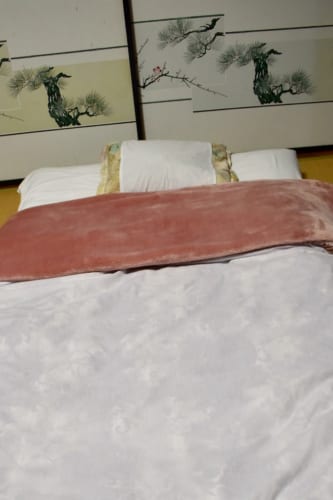 Dining on Local Pickles and Seasonal Vegetables
Dinner was served in a private section of the restaurant. There was a tray of pickles neatly arranged in the centre of the table. Ubuyama Village is famous for pickles and they are the perfect accompaniment to the Akaushi beef which the area is known for.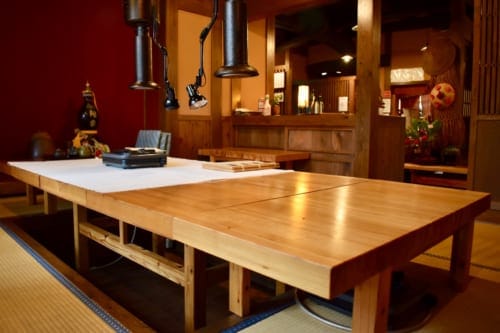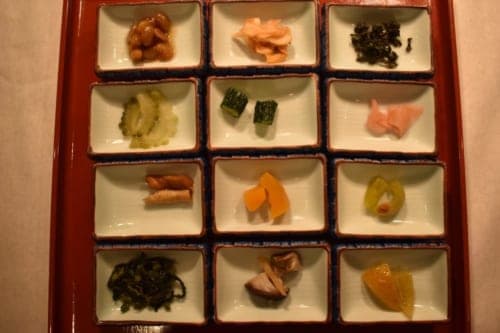 All of the pickles consist of vegetables from the local area and sampling them is truly an awakening for the senses. The shiso (perilla) plant is very common in pickles as both the seeds and the leaf are used in various ways. It has a wonderful fragrant scent which calms the sinuses. Takana pickle is also very famous in the Aso area and it has a fresh, sharp taste. There was an unusual pickle made from the peel of the yuzu (a type of citrus) which had a sweet marmalade-like taste.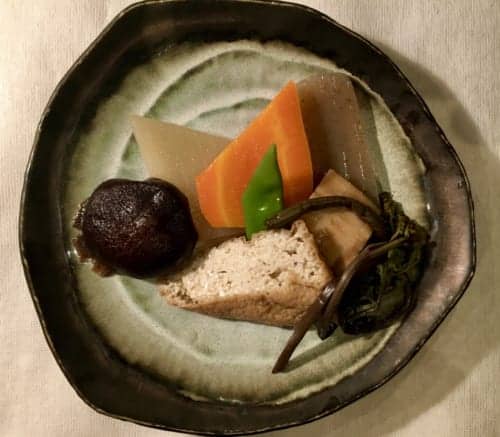 An array of chunky seasonal vegetables and tofu were delicately displayed in ornate individual pots. A dish called Unohana caught my attention as it was white and seemed to resemble a type of cheese. Yuri explained that it was soy pulp and sautéed with vegetables to give it a perfect salty taste.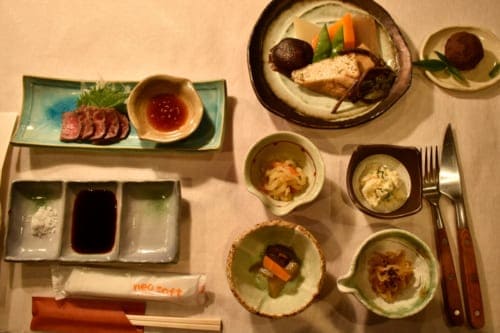 Akaushi Beef
Yuri's husband suddenly appeared with a sizzling Akaushi steak, cooking on a bed of diced onions.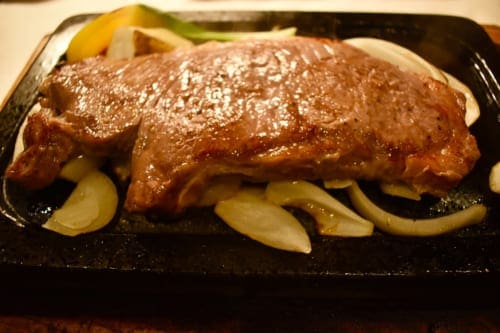 The region is famous for Akaushi beef, one of four breeds known as Wagyu beef and the animals are typically light brown in color. They are reared on the family's private ranch in the open Aso countryside until they are between 24 and 27 months old so their meat is typically tender and has a low fat content. The flavour of the meat was enhanced by a tiny amount of homemade wasabi and it was cooked to perfection. It was soft, juicy and melted into my mouth in a way that I have never experienced before.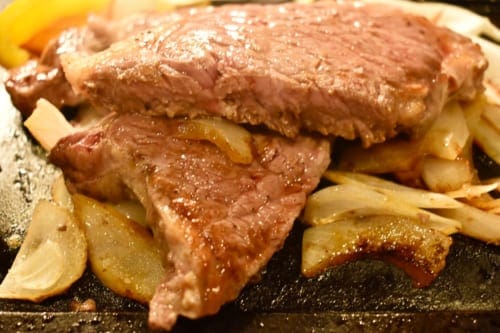 To accompany the beef, we drank Ubuyama sake which is made from local rice and spring water. Yuri topped up our water glasses throughout the meal with iced spring water and served us their own organic rice which tasted cleaner and less starchy than other types of Japanese rice.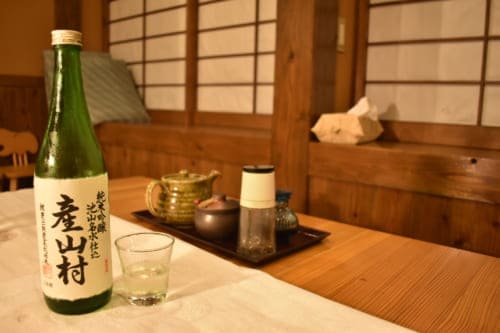 A Delicious Breakfast for Japanese and Western Paletes
After a comfortable nights sleep, we were served breakfast in the same place the following morning. It included an array of different pickles, rice and miso soup as well as more Western-style choices such a fried egg, sausage,  toast with peanut butter and some deliciously sweet chocolate bread. It was my mother's first time in Japan and she was not used to eating Japanese food but Yuri's hearty breakfast ensured that there was something suitable.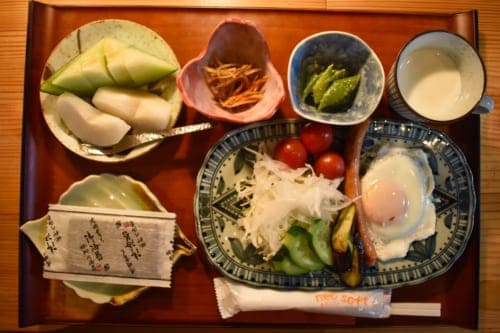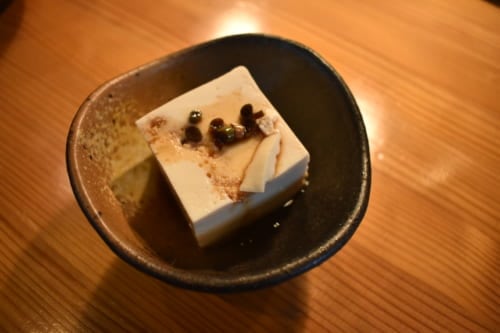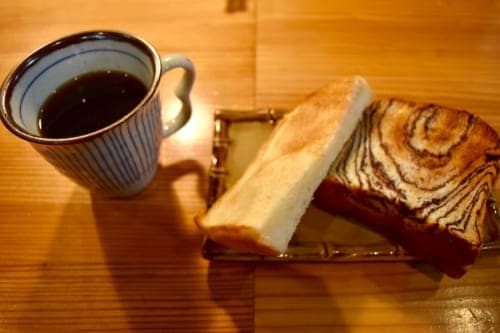 It was the first time that we had stayed in this style of accommodation in Japan and Yuri's hospitality made it a great experience. She was warm and welcoming and ensured that we knew about all the various foods. The wagyu beef was cooked to perfection and knowing about the food that we were eating made us appreciate it more. The accommodation was simple, comfortable and clean and ideal for those who want to experience Japanese hospitality in a rural setting.
More information can be found on the Yamanosato website (in Japanese only).
Access
In 2019, Kumamoto takes to the world stage when it hosts the 24th Women's World Handball Championships from November 30th to December 15th, where 24 countries will play 96 matches at 5 venues across the prefecture. It is also one of the host venues of the Rugby World Cup and two international matches will be played at EGAO Kenko Stadium. Fukuoka, Kyushu's main city, is just 40 minutes from Kumamoto by bullet train and about an hour and a half by car on the Kyushu Expressway. Both Fukuoka and Kumamoto have airports with flights across Japan as well as some international destinations. We used a rental car to tour the area which gives you the freedom to go where you please and explore in more detail. During the journey, we enjoyed stopping off to take photographs and the roads are generally quieter than other places in Japan so it a very pleasant experience.
[cft format=0]
Access to Yamanosato from other areas
From Fukuoka Airport: about 2 hours by car
From Oita Airport: about 1 hour and 40 minutes by car
From Kumamoto Airport: about 1 hour and 10 minutes by car