Sponsored by Fujisawa City Tourism Association
Enoshima island is very popular for its beaches and marine activities. This small rocky island, full of greenery, is known for its picturesque views and popular traditions. Among the various activities which you can enjoy around Enoshima, surfing and sailing are quite famous. This time, we chose to experience a motorboat cruise… and it was truly incredible!
Boat Cruise: An Incredible Experience around Enoshima
We made a reservation for a small boat cruise with Enoshima Moterboat. First, we were surprise at its size, we were expecting a cruise on a larger boat, but no, it was a small motor boat for 5-6 people. But we felt comfortable squeezing in together on the smaller boat.
We reserved a private tour around Enoshima island discovering its geography with astonishment. Although we had already walked around Enoshima the previous day, everything looked very different from boat, and we could enjoy the new surroundings while enjoying a pleasant and intimate atmosphere.
We gradually approached an island, we were going from Katase Enoshima station to the lighthouse on the other side of the island. As we cruised alongside palm bridge, we saw the Iwamotorou Ryokan, the observation tower Samuel Cocking Garden, and Iwaya caves!
We had just visited the caves the day before, during our "hike" on the island, but this time, we were able to see the other face of the caves, their impressive geography from a different perspective, and the way the rocks were built all around.
We then turned back to the port, but there was still time to keep our eyes open and to gaze at the new view, so we had a nice cruise around the island in the opposite direction!
This experience is undoubtedly one of the most enchanting experiences in Enoshima. I really recommend this cruise, but I think it is best to explore the island on foot before exploring it by boat, in order to have a better perspective!
Here is some more practical information. Prices vary depending on the length of the cruise. For 7,000 yen, you can enjoy a 20-minute cruise to discover the back of Enoshima island. For 12,000 yen, it will be about thirty minutes to the marina. For 17,000 yen, about 50 minutes to Eboshi Iwa which is at coast of Chigasaki. For 20,000 yen, for an hour you can go up to Hayama area from Enoshima. And for 35,000 yen, you'll have an hour and a half cruising to Hayama and Eboshi Iwa. Up to seven people can board this small boat.
There is something for every budget and for every taste, so do not hesitate! Especially since it is not so far from Tokyo if you stay in the capital , by taking the Romancecar train , you can reach Enoshima from Shinjuku in less than 1 hour and 20 minutes!
"Romancecar"; The Express Train Between Shinjuku and  Enoshima
First of all, if you did not make this trip to Japan with a partner, do not panic: despite what you may think, the Romancecar is not a train designed especially for couples and decorated in pink. Its name is due to the fact that it is a train with very large windows allowing you to feast your eyes on the view during the entire trip!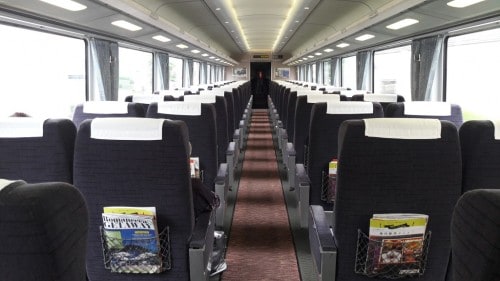 Indeed, this express train linking Shinjuku to Hakone, Enoshima, and Kamakura crosses some of the most emblematic landscapes of Japan, which you can take your time to admire. Without making an exhaustive list, it is possible to get a seat (a very comfortable seat!) to observe the pacific ocean, the mountains and, on clear days, even majestic Mount Fuji.
Note that you need a reservation (depending on the period, it may be possible to book the seat on the same day), and it is possible to ask for seats at the front or the back of the car in order to have the most beautiful view during your trip. But if you do not manage to snag one of those seats, it's not so bad, even the view from the "normal" seats is outstanding!
Same as Shinkansen (high speed bullet train), a waiter will sell snacks or sandwiches on a cart.
The Romancecar will take you to this beautiful station, Katase Enoshima, which costs you 1,250 yen (fare + express train fee) from Shinjuku.
General Information about Enoshima
For more information, do not hesitate to visit the official website of Fujisawa City Tourism Association in English!
You can also visit the tourist center which is one minute away from Katase Enoshima station, it is open from 8:30 am to 5:00 pm and they will be happy to provide you with information and, if necessary, WiFi information as well.
[cft format=0]
Translated by: Aika Ikeda