Sponsored by Usa city, Oita
Although many will come to Usa to visit the glorious Usa Jingu, one should not overlook the omotenashi (hospitality) of Usa City itself.
There are many places to experience omotenashi in Usa: crafting experiences, guesthouses and restaurants. By trying out a few of these, we can catch a glimpse into Usa's rich history, traditional culture and the simple pleasures of inaka life, life in the Japanese countryside. All of these activities are contained in Usa's Yokkaichi district, making them convenient for any traveler who wants a deeper experience during their stay in Usa.
After arriving in Yokkaichi, I headed to my first activity of the day, a lesson in e-tsuke(絵付),  Japanese porcelain painting. On the way to class, we passed several temples that appeared to be Buddhist, but have an unusual secret. These temples were shared by two different Buddhist sects from Kyoto: Nishi- and Higashi-honganji. My host informed me that this was an uncommon circumstance for a Buddhist temple.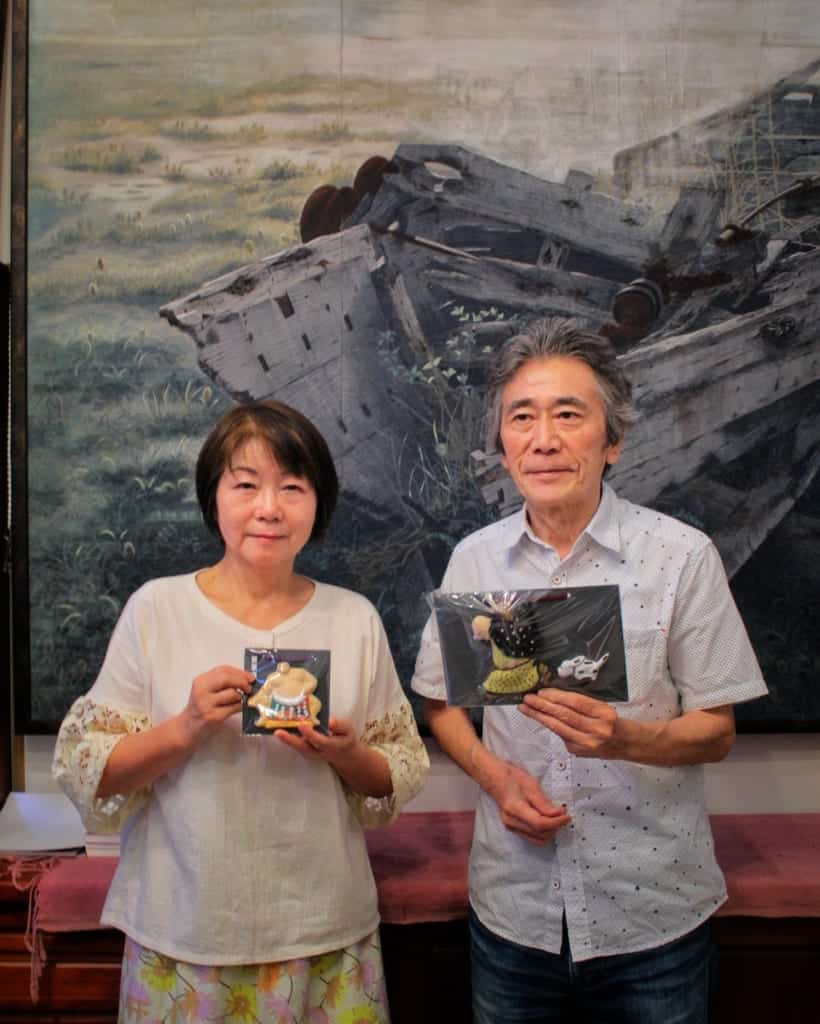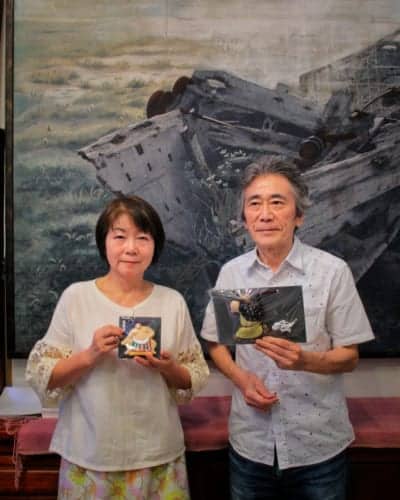 E-tsuke: Painting on Japanese Porcelain
The e-tsuke lesson was held in the Watanabe's house, which allowed me to have a glimpse at the other artistic disciplines Mr. Watanabe practices, such as Nihon-ga style painting.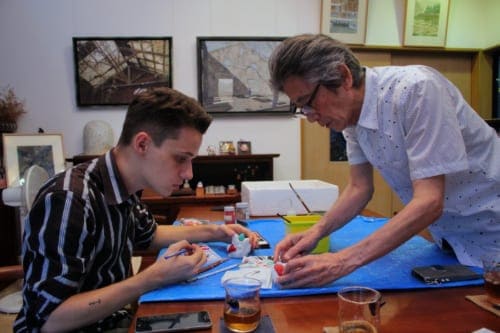 My hands-on experience with e-tsuke was delicately painting a small Manekineko figurine. To my delight, I chose the colors I wanted, except for the fish under the cat's arm, which is red by default. Mr. Watanabe watched over me, providing gentle guidance.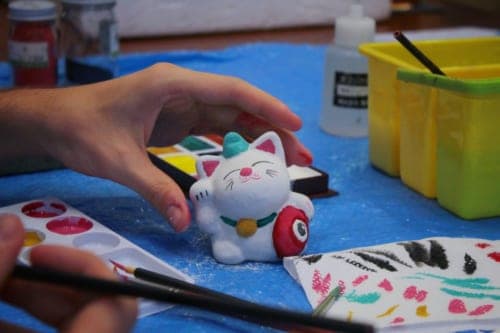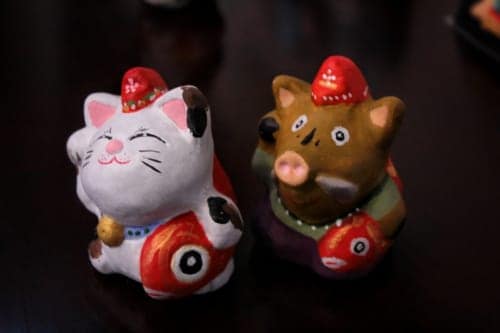 I was proud of the souvenir I had made, guided by the master and made more meaningful because I had crafted it with my own hands. If you also wish to make your trip to Japan memorable by learning the art of e-tsuke, contact the Usa City Tourism Association which will gladly assist you in making an appointment for an artsy experience.
Contact Details:
Usa Tourism Association
E-mail: info@usa-kanko.jp
Please inform them of your desired date and number of participants. The location of the workshop vary by date and will be sent to you later. However, all locations are in the Yokkaichi area and easily accessible by walking if you decide to stay at Naru Guesthouse.
A dreamy night at Naru Guesthouse
Spending the night in Yokkaichi, the Naru Guesthouse proved to be everything I could have wished for in a relaxing accommodation.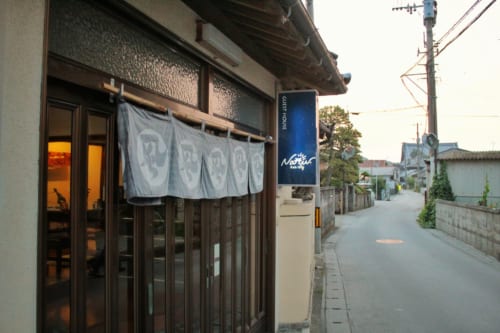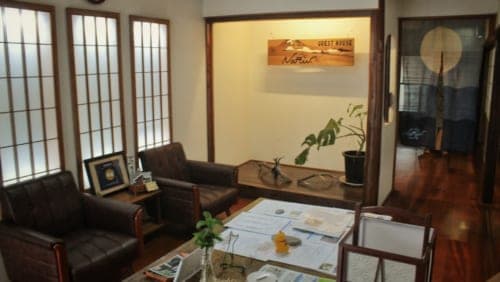 The staff of Naru are a family and each guest is welcomed like family as well. Conversation with them feels warm and personal, like talking with friends. Each morning, waking up at Naru was like waking up in my own home, and upon leaving each morning, the manager Aki Kosaka and his wife and son already felt like friends I looked forward to returning to after a long day of sightseeing.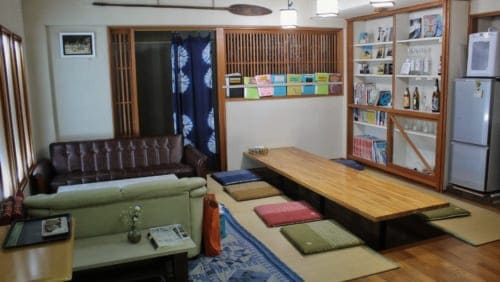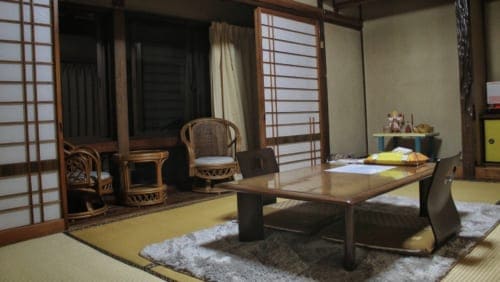 Aki is more than happy to share the fascinating history of Naru with anyone who is interested. It is a place in the style of comfortable countryside living, drifting off to sleep to the sound of chirping crickets and waking up to a satisfying home-cooked breakfast. Though my stay was short, Naru felt like a home away from home for me.
Contact Details
Naru Guesthouse
1441-2 Yokkaichi, Usa City, Oita Prefecture, 879-0471, Japan
Website: www.naruguesthouse.com
E-Mail: naruguesthouse.booking@gmail.com
Feasting through the Nightlife
Usa City also has its local specialities that give it its own unique flavor, quite literally. After a long day of sightseeing, visiting some of these wonderful restaurants is another way to learn about Usa's culture.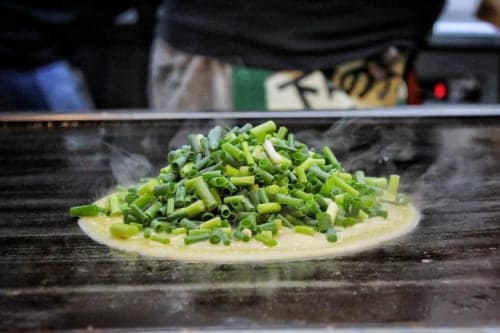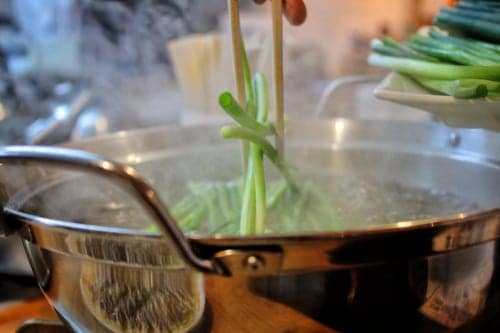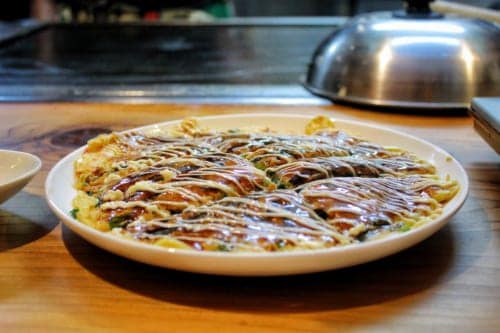 One of the specialties Usa is known for is negi (green onion). Negi has a special quality for enhancing the flavors of a dish. It can be combined with other Japanese dishes such as shabu shabu or okonomiyaki. We decided to have an immersive negi experience at a local bar/restaurant called Negiya, which specializes in negi dishes. Negiya offers the freshest negi in Usa City because the owner and chef grows his own supply. Every morning at 5 o'clock, he gets up to harvest negi from his field, which he prepares the same day.
Info:
鉄板バル 葱屋 (Negiya)
Address: 大分県宇佐市四日市1398-2
Tel.: +81 80-2721-6946
Price range: 2000~3000円
Note: Smoking spot available, payment by cash only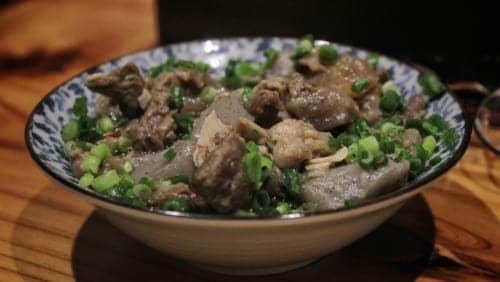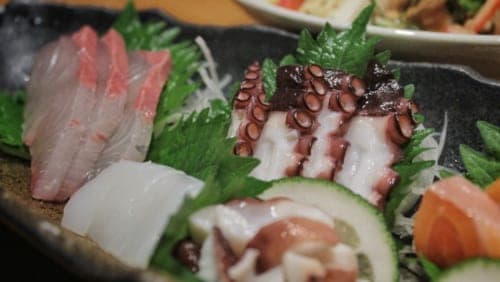 The next stop on our gourmet tour was Okiraku Dining Nomouccha, a restaurant with a wide range of cuisine from all over Japan, not just the local specialties. In fact, their menu can be quite overwhelming at first glance, but there is literally something for every taste or food preference. Okiraku Dining Nomouccha is located near Yokkaichi's main street and the aforementioned Naru Guesthouse. Starting your night here is a great introduction to the culinary wonders of Japan.
Info:
Okiraku Dining 呑もうっちゃ
Address: 宇佐市四日市1462-1 グルメ横丁
Tel.: +81 978-32-6365
Price Range: 3000~4000円
Note: No smoking, payment by credit card available
Access to Usa City
Usa City can be easily accessed from both Kitakyushu (Kokura Station) and Fukuoka City (Hakata Station) by the convenient JR Kyushu's Sonic Nichirin Line. Enjoy the nostalgic atmosphere found in the details of the train's interior. This transfer-less train brings you to Usa city in comfort, quickly and stress-free.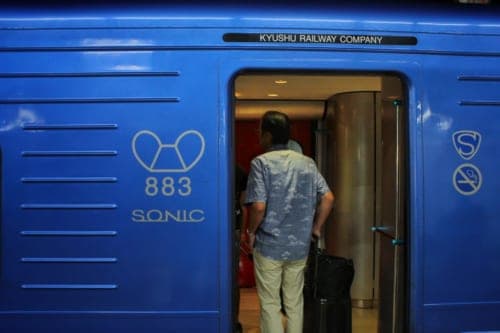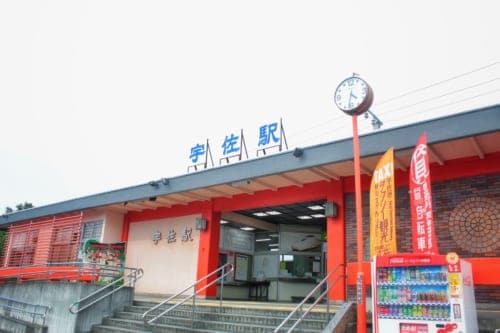 After arriving at Usa station, make your way to Yokkaichi district by taking the local bus. A timetable for Usa's public bus is provided at the bus stop next to Usa Station's parking lot. If you're unsure about whether you are using the right bus, the following vocabulary will help you along the way:
Sumimasen, kono basu wa Yokkaichi ni tomarimasu ka?
"Excuse me, will this bus stop at Yokkaichi?"
Basu wa Yokkaichi ni tomattara, oshirase kudasai.
"As soon as the bus stops at Yokkaichi, please notify us/me."
| | |
| --- | --- |
| Name | |
| Category | |
| Address | |
| Access | [map][/map] |
| Opening Hours | |
| Price Range | |
| Payment options | |