Sponsored by Northern Kumamoto Administrative Headquarters
At first glance, Yamaga resembles any other quiet and laid back town in the northern Kumamoto countryside. In the Edo period, however, Yamaga was a flourishing town on a trade route called Buzen Kaido. Though times have changed, the economic spirit has carried over from those days, reflected in Yamaga's wine industry, most notably in the Kikuka District. Kikuka wine excels in national wine competitions and has helped establish a glowing reputation for Yamaga's wine industry.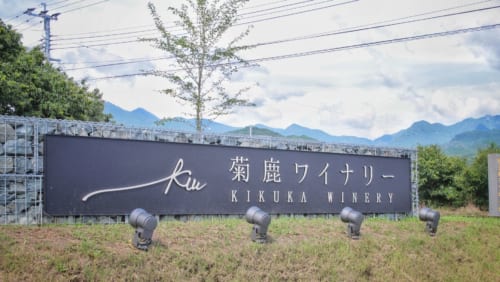 Yamaga's wine production began like many success stories: with a series of trials and errors. In 1999, due to poor climate conditions and heavy rains, the first attempt to grow Chardonnay grapes in northern Kumamoto didn't go as planned. Over the next decade, many ingenious improvements were made in drainage, growing techniques and greenhouse technology. Hard work eventually paid off for the Kikuka Cho Production Promotion Association when in 2009, they brought home the Best New World White Wine award from the Japan Wine Challenge. Later awarded gold twice at the Japan Wine Competition, Kikuka demonstrated how they turned struggle into success and established themselves as a nationwide champion. Finally in November 2018, Kikuka Winery was established as Yamaga's hallmark of wine production.
Local Culture à la Carte
In order to fully appreciate Kikuka Winery's variety of fine wine, one needs to pair it with food, which is exactly what we decided to do. The pairing of exquisitely prepared beef served with Kikuka's finest wine would be a great introduction to Kikuka's viticultural achievements.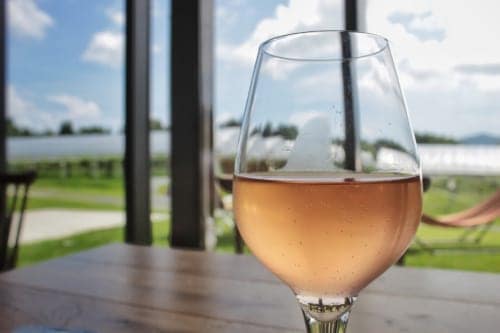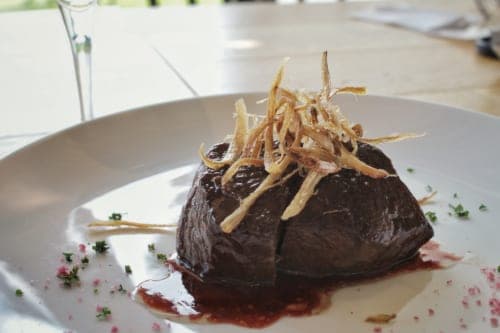 A table with a view, good conversation and gastronomic heaven served both in the glass and on the plate. How could my day be more perfect? I savored every bite and sip, the flavors of Ajisaigyu Beef and Kikuka wine a perfect complement to one another.
At Kikuka Winery's restaurant, lunch is served from 11:00 until 15:00 o'clock. However, the restaurant is open as a café from 14:00 to 17:00 o'clock. During lunchtime, a buffet of delicious treats is available, as well as a variety of drinks. Make yourself comfortable and enjoy the exquisite atmosphere along with a tasty meal and drink.
Tasting the prized Selection
After having lunch and getting familiar with the flavors of Kikuka Winery, it was time to get better acquainted with the wine selection by having a wine tasting. Depending on the wine, the price of the degustation will range between 300 and 700 yen.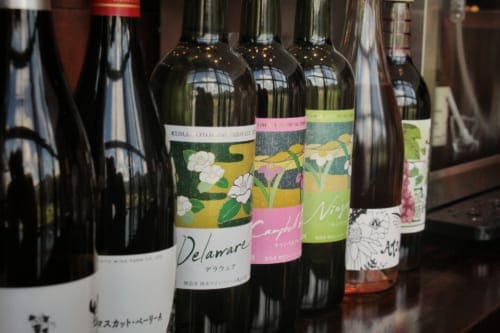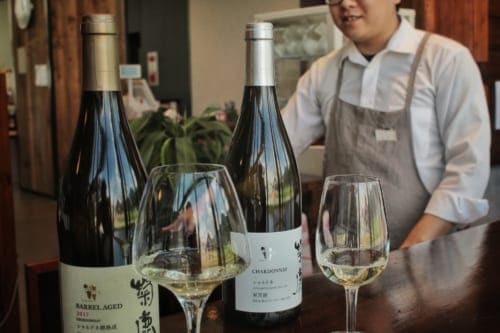 For my tasting, I chose a 2017 barrel-aged chardonnay. Before letting my tongue taste this prestigious wine, I first enjoyed its aroma with my nose. The fragrance was sweet, promising an extraordinary experience. Next I took a timid sip from the glass and let the chardonnay caress my tongue, I realized how a light flow of air through the mouth completely enhances the taste experience. So I took another sip, now with more air flowing between my tongue and the chardonnay. It was like opening the flavor gates to another world! The oaky flavor of this chardonnay aged in a wooden barrel was a delight.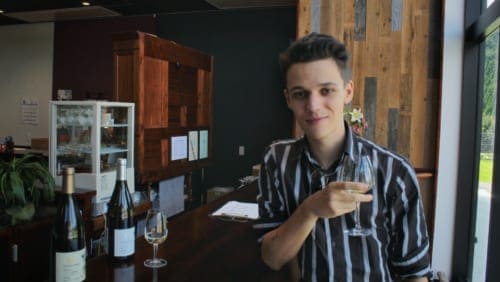 The second wine further improved on the oaky essence of our 2017 barrel-aged chardonnay. This variant blended the taste of a fresh chardonnay with the barrel-aged one, toning down the oaky flavor a notch and adding a sweeter, fresher note to the overall flavor experience. This special blend lets you enjoy the best aspects of both wines at once!
Taking Home a Piece of Kikuka
Wine is not the only delicious souvenir you can bring home from Kikuka Winery. Located right next to the main building, a row of smaller shops collectively called Aira Ridge offers a variety of tasty souvenirs, most of them produced right in the surrounding area!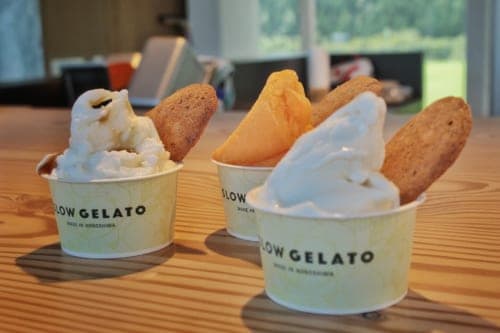 First wine, then gelato! At this point, our trip to Kikuka Winery almost felt like a trip to Italy. Can you guess which one of these gelato tasted like carrot? You'll find this frozen curiosity and many more unique flavors right here at Aira Ridge!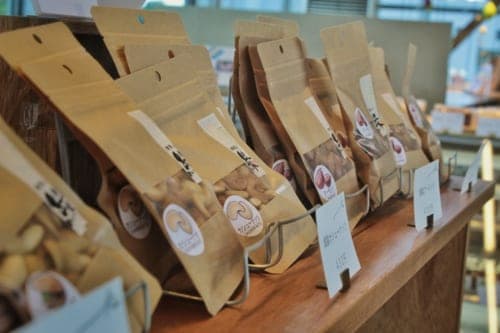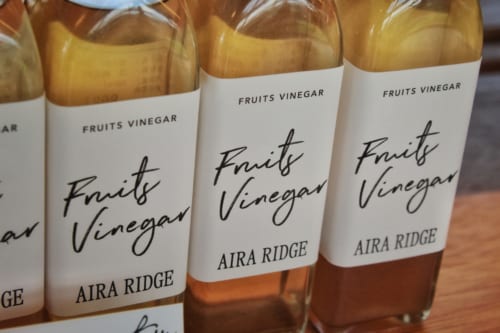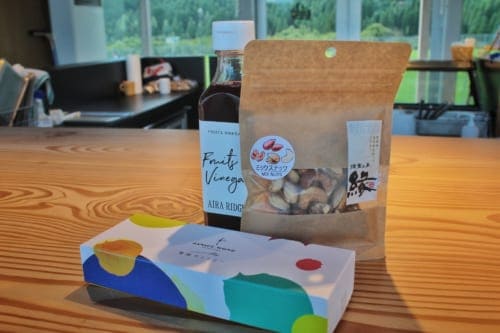 I ended up purchasing a box of omiyage by Janice Wong, locally produced purple yam fruits vinegar and a mix of Kumamoto's best nuts. With these treats, my taste buds would never forget our trip to Kikuka Winery.
Access to Kikuka Winery by Train
Since it's not possible to access Kikuka Winery by public transport, the best method is renting a car. Yamaga has a variety of car rental shops that will have you on your way to the winery in no time.
Yamaga itself can be reached by public transportation. Arriving at Shin-Tamana Station, where the Kyushu Shinkansen makes its stop, you can take a bus all the way to Yamaga. Simply locate the bus headed to Yamaga Bus Center (山鹿バスセンター). You can also rent a car in Tamana; in fact, there's a Rent-a-Car shop located right at Shin-Tamana Station.
Website of Kikuka Winery (in Japanese): https://www.kikuka-winery.jp/
Additional information on Kikuka Winery (in Japanese): https://www.kumamotowine.co.jp/kikuka/
| | |
| --- | --- |
| Name | Kikuka Winery |
| Category | |
| Address | 526 Kikukamachi Aira, Yamaga, Kumamoto 861-0412, Japan |
| Access | [map]526 Kikukamachi Aira, Yamaga, Kumamoto 861-0412, Japan[/map] |
| Opening Hours | 10:00 - 17:00 |
| Price Range | Degustation ¥300 - ¥700 |
| Payment options | Both |
Access to Kikuka winery from other areas
From Fukuoka Airport: about an hour and 30 minutes by car
From Oita Airport: about 2 hour and 25 minutes by car
From Kumamoto Airport: about 50 minutes by car