Sponsored by Hokkaido Government
A Four Day Journey Along the Hokkaido Shinkansen
As you may know, the Rugby World Cup 2019, one of the three major sporting events in the world, is now being held in Japan. To commemorate Japan hosting the RWC 2019, this 4 day trip from Kamaishi city, Iwate to Sapporo was hastily arranged for me to experience. This route is completely different from Japan's "Golden Route" between Tokyo and Kyoto/Osaka that so many first time tourists take. Along the way, I experienced the diversity of the region: the rugged beauty of its coastline, the extravagant variety of seafood, and the abundant outdoor activities. Most impressive however, were the people I met along the way, kind-hearted people with an inner strength, many committed to rebuilding areas heavily damaged by the 2011 tsunami disaster. Please follow along my journey to discover more about an incredible part of Japan most people completely miss out on.
Day One: Kamaishi city and the Recovery Memorial Stadium
Day One, Part 2: Cycling Kamaishi and the Sanriku Coastline
Day Two: A Day in Aomori – Stunning Nature Trails and Custom Fresh Seafood Meals
Day Three: 12 Hours in Hakodate and A Summer Splash in Niseko (this article)
Day Four: Sapporo City – Hokkaido's Lively central city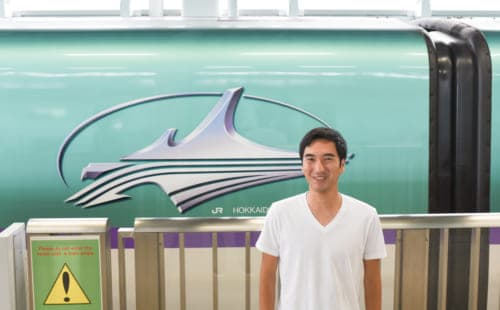 Day Three: 12 Hours in Hakodate and A Summer Splash in Niseko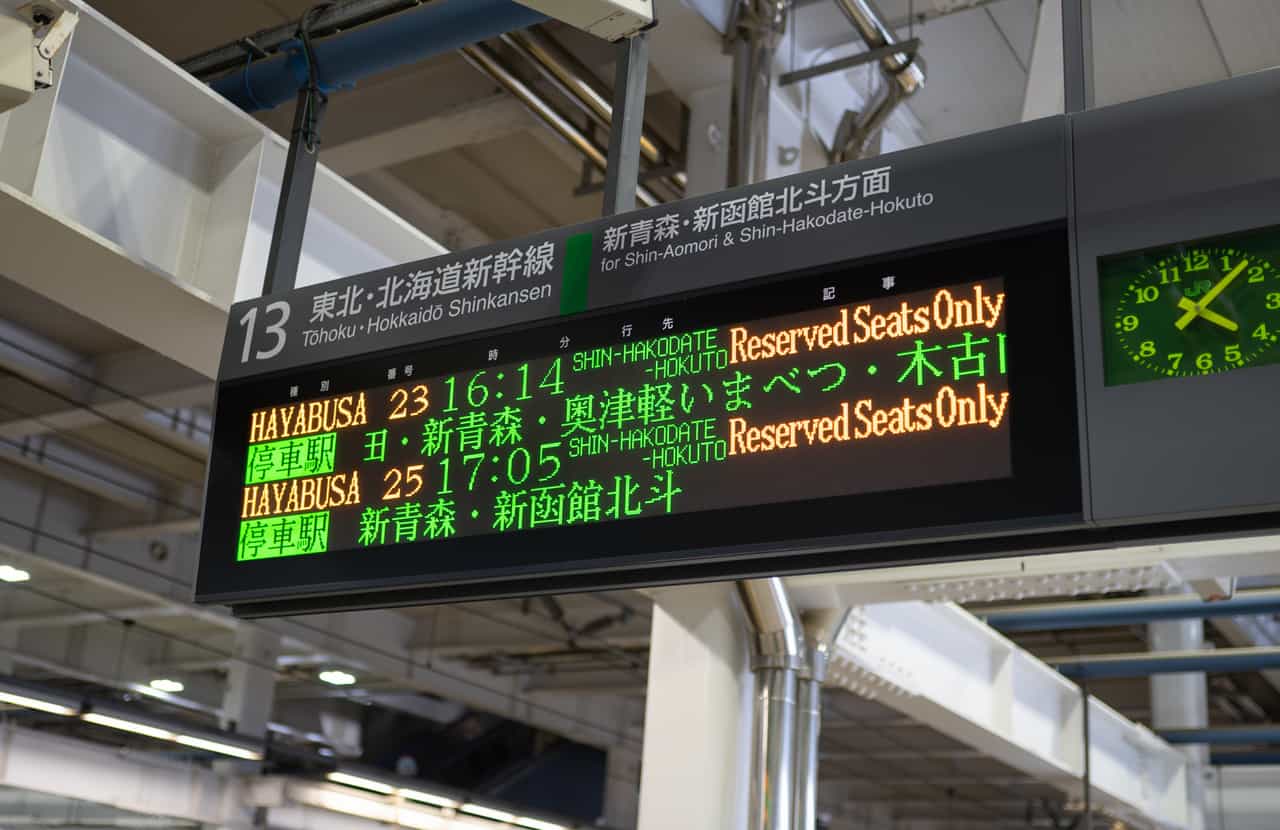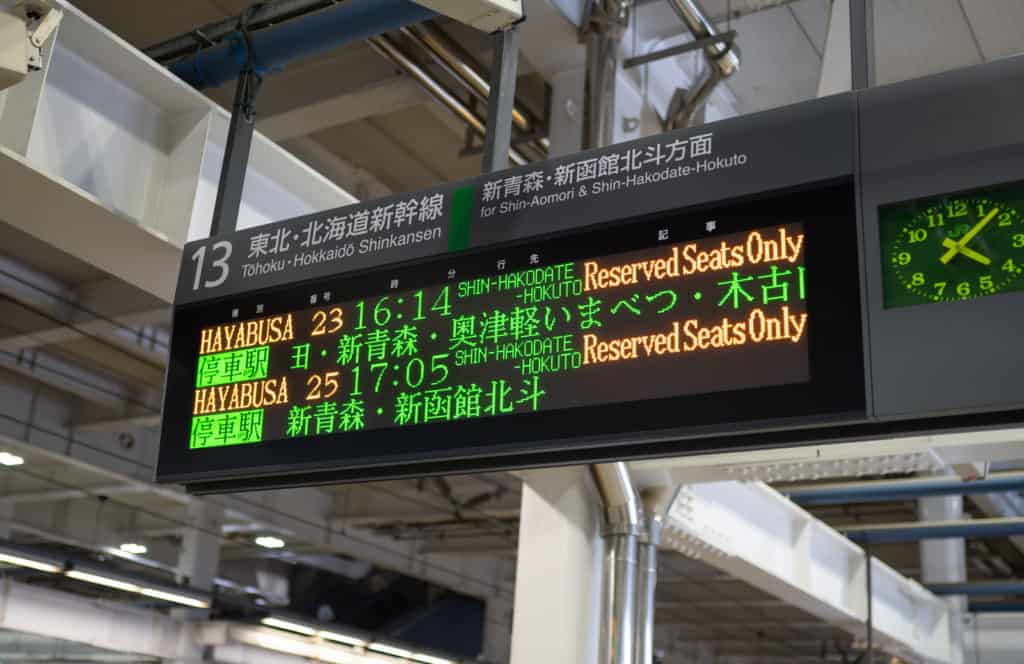 Continuing my journey to Sapporo City, I boarded the Hokkaido Shinkansen at Shin-Aomori Station in the northern part of Aomori Prefecture. My destination today was the southern Hokkaido port city of Hakodate.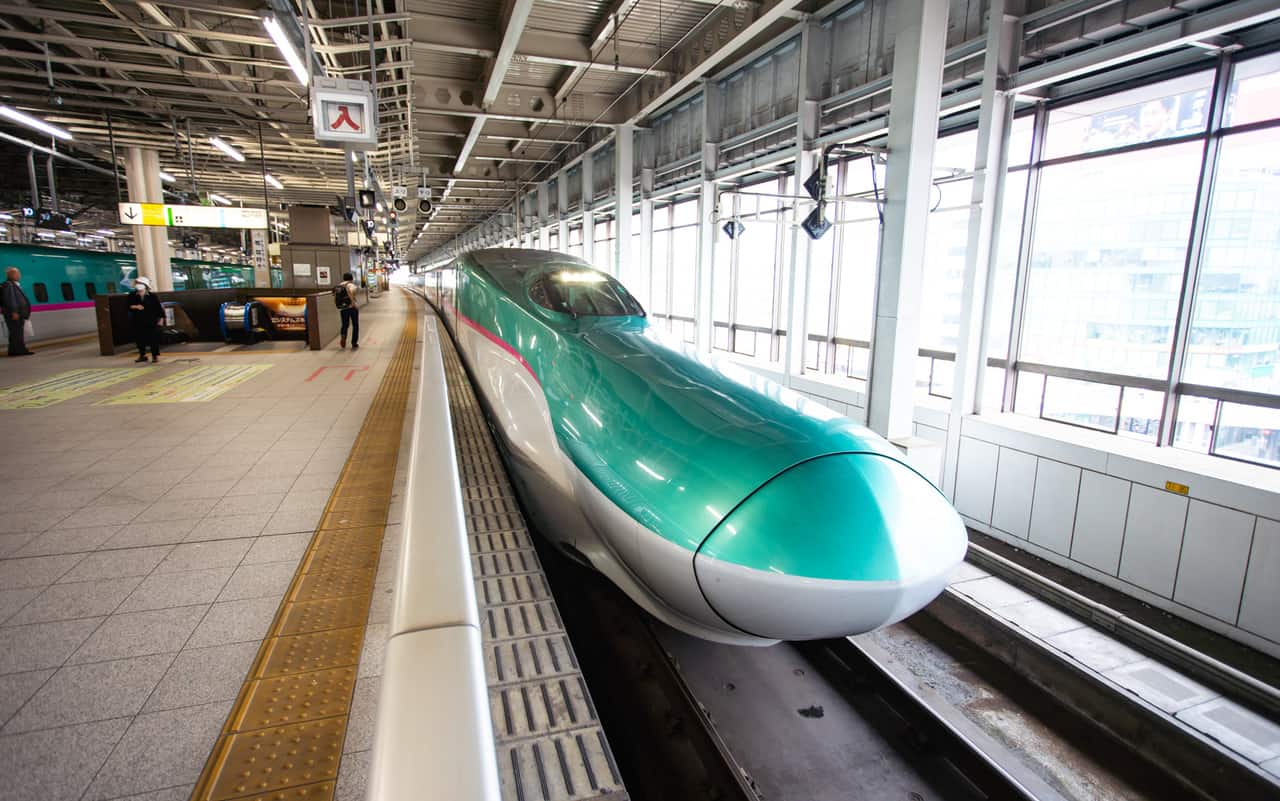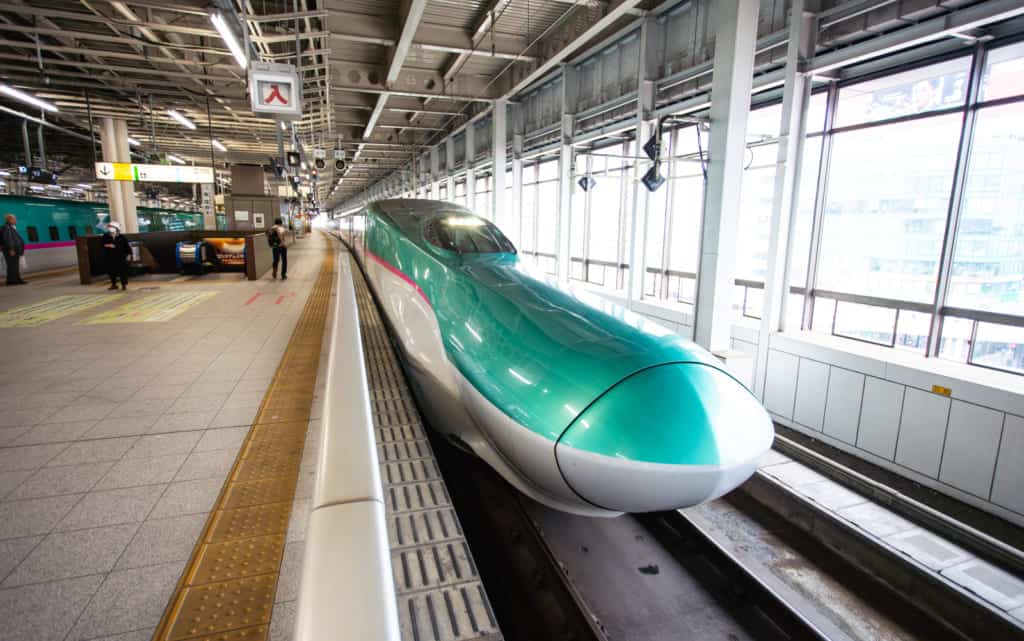 I was particularly excited about this particular leg of this trip because the bullet train actually runs underneath the ocean in this section, through the Seikan Tunnel. This tunnel connects Honshu island with Hokkaido and at 53.8km is one of the longest undersea tunnels in the world. From Shin-Aomori station to Shin-Hakodate-Hokuto station, the ride can take less than an hour. Moreover, the ride is extremely comfortable because there is little cabin noise or shaking in the wide train car interior.
I thought I would lose connection while underneath the ocean, but was surprised to have full 4G service for my ride to Shin-Hakodate-Hokuto Station.
After arriving at Shin-Hakodate-Hokuto station, I made a quick transfer to the Hakodate liner and finally arrived in the historic port city of Hakodate.
12 Hours in Hakodate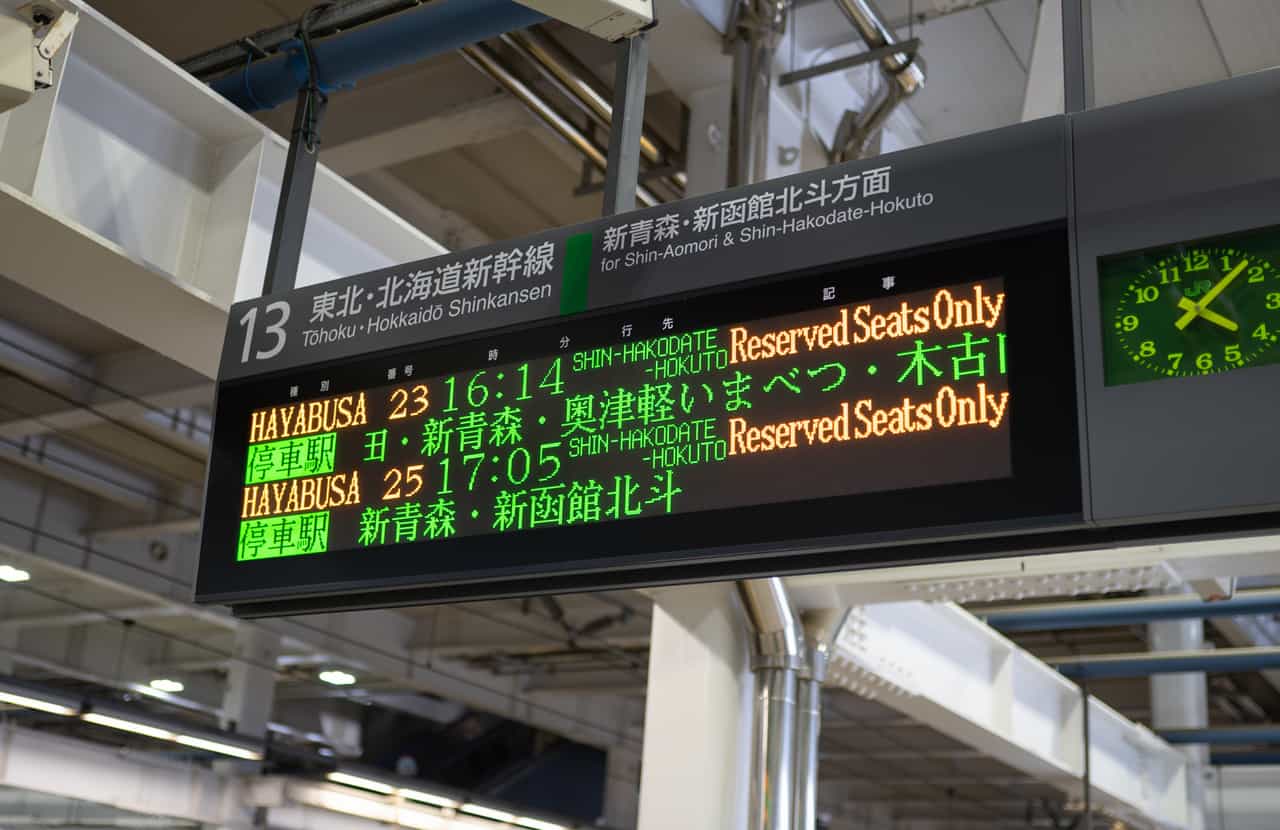 With a morning departure to Niseko already reserved, my time in Hakodate was extremely short and I wanted to make every minute count.
Originally, I planned to take the cable car to the top of Mount Hakodate to see the famous night view of this picture perfect port city, but the rain this week again forced me to change my plans.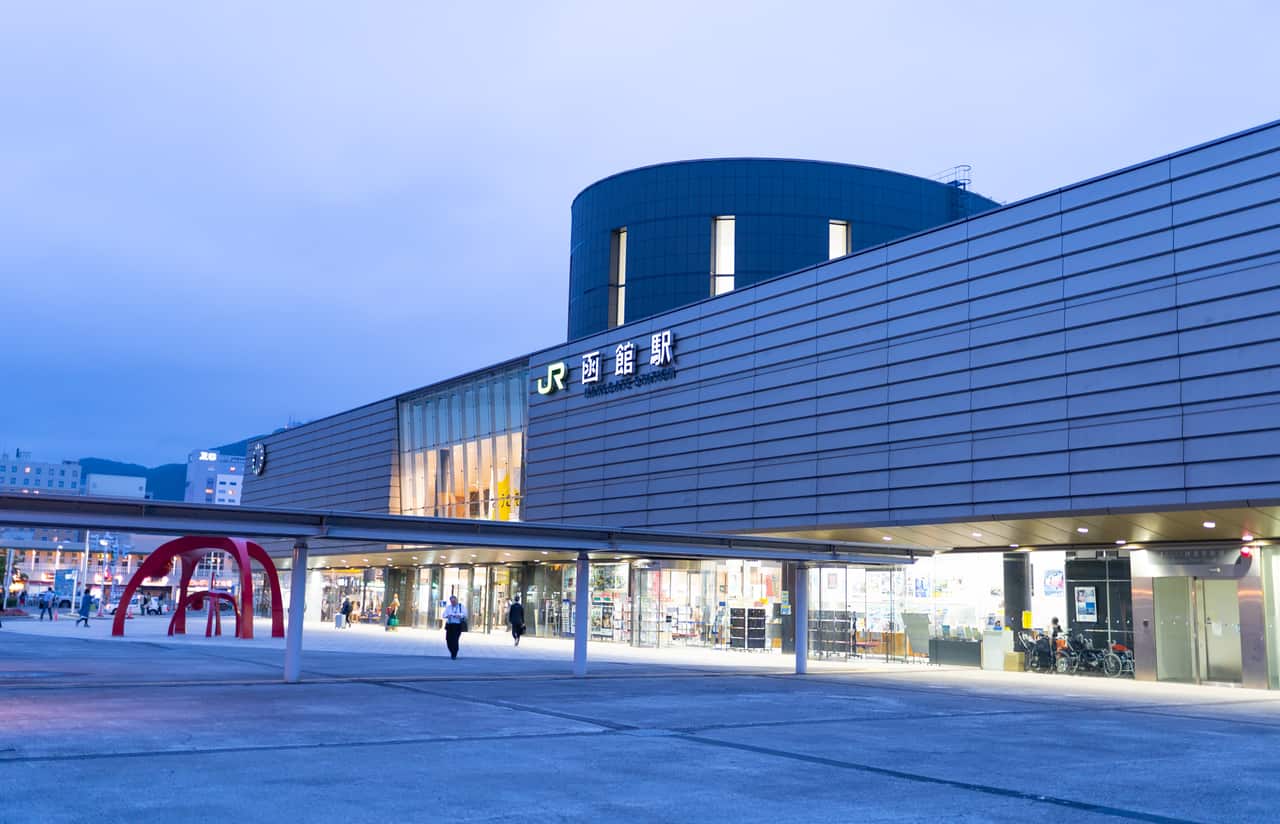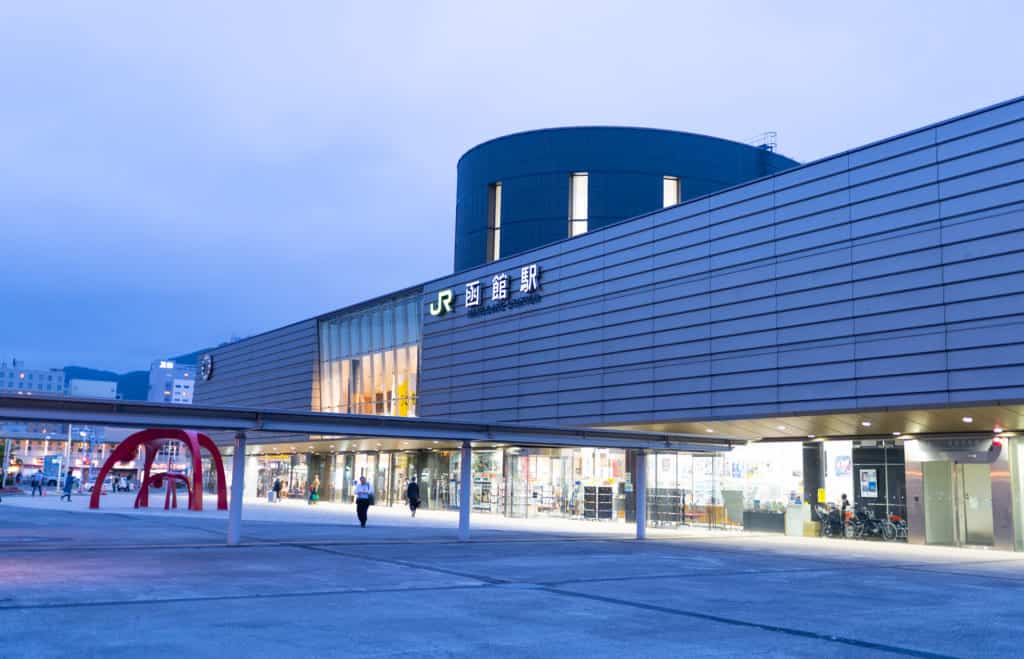 Fortunately, Hakodate is not short on beautiful scenery and I was more than happy to take a stroll through the port and enjoy the night view of Hakodate from within the city. Starting from Hakodate Station, I checked my luggage into my hotel and made my way into the downtown area.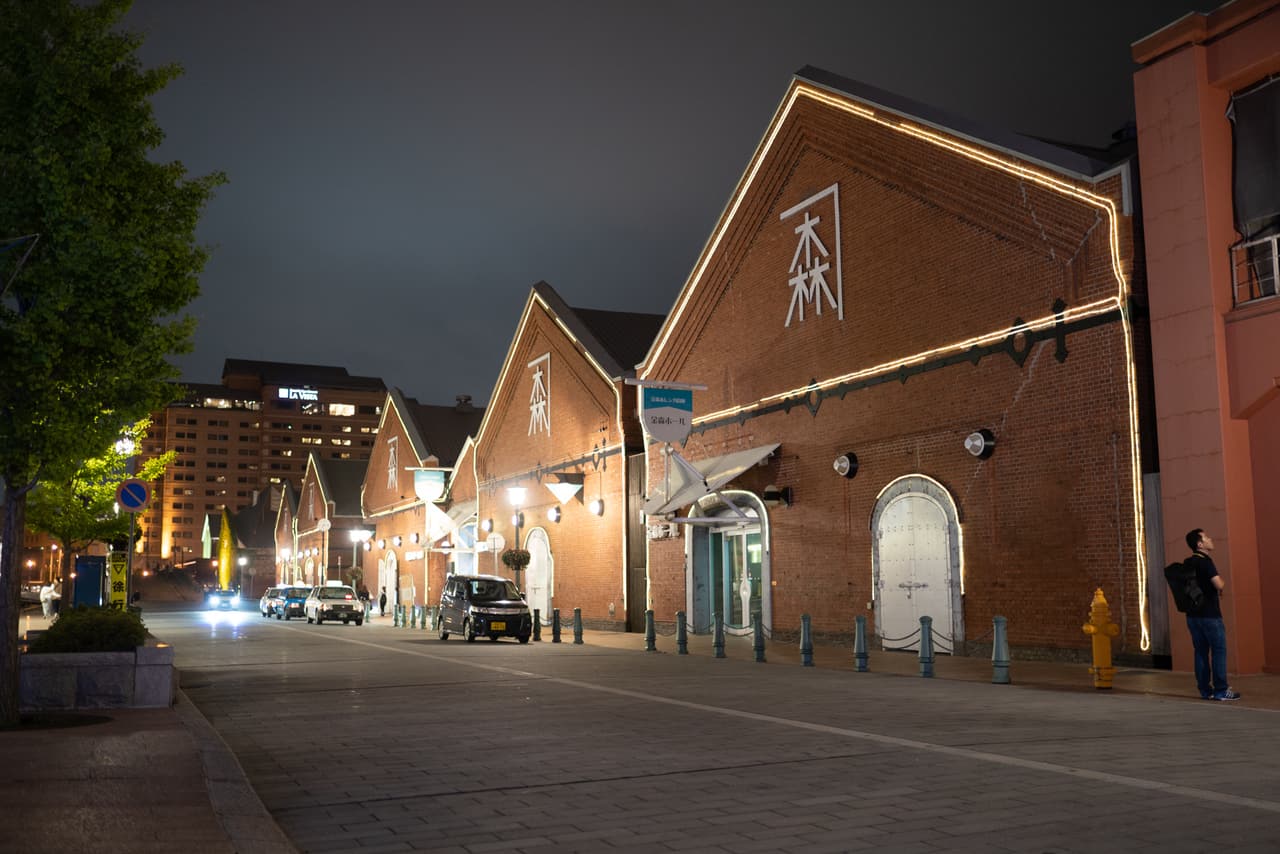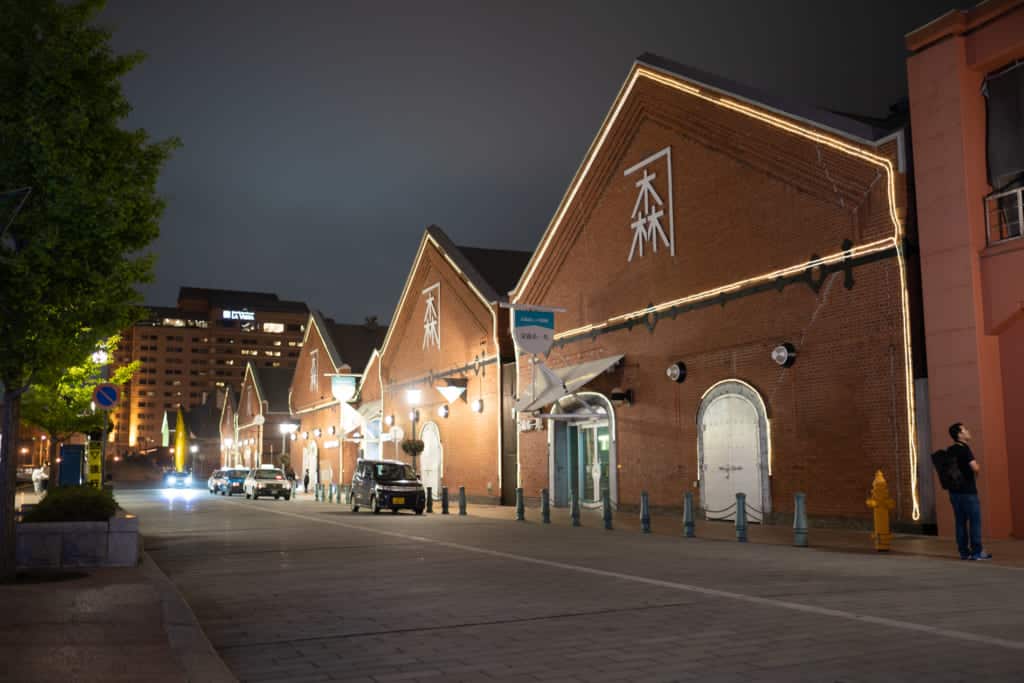 My first stop on my night excursion was the Kanemori Redbrick Warehouses. These historic warehouses were built over 100 years ago and once served a vital role in the thriving trade Hakodate enjoyed as a major port city for domestic and international. Now they have been repurposed and renovated to include dozens of shops and restaurants inside.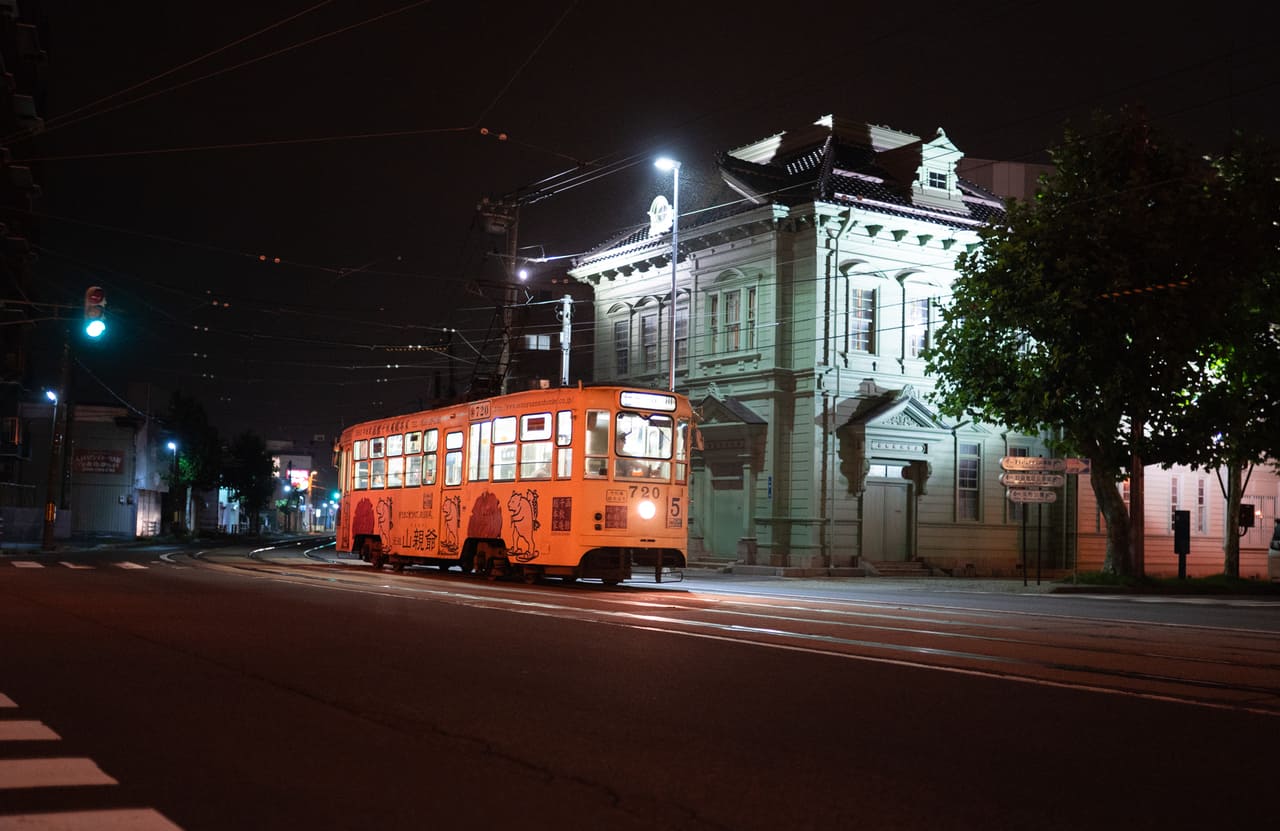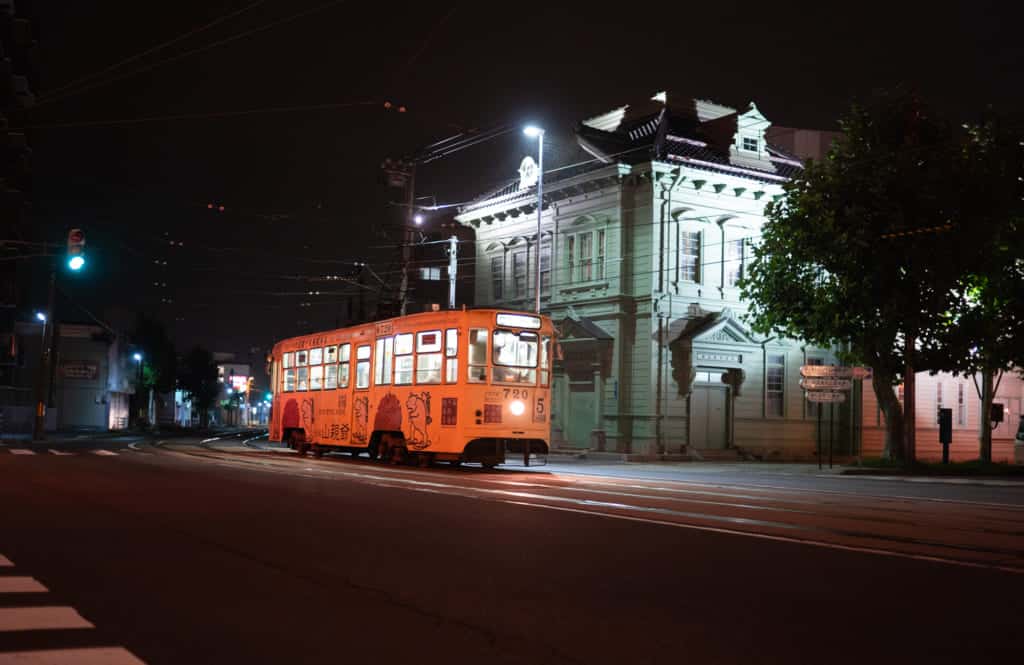 After this I made my way deeper into the city away from the port and was surprised to see that the layout of this city reminded me of San Francisco with a pinch of Los Angeles. The streets here were wide and spread apart and there are even street trolleys! This was the first city in Japan whose port was opened to foreign trade under the treaty between the United States and Japan in 1859 and the western influence on this city can be seen throughout Hakodate.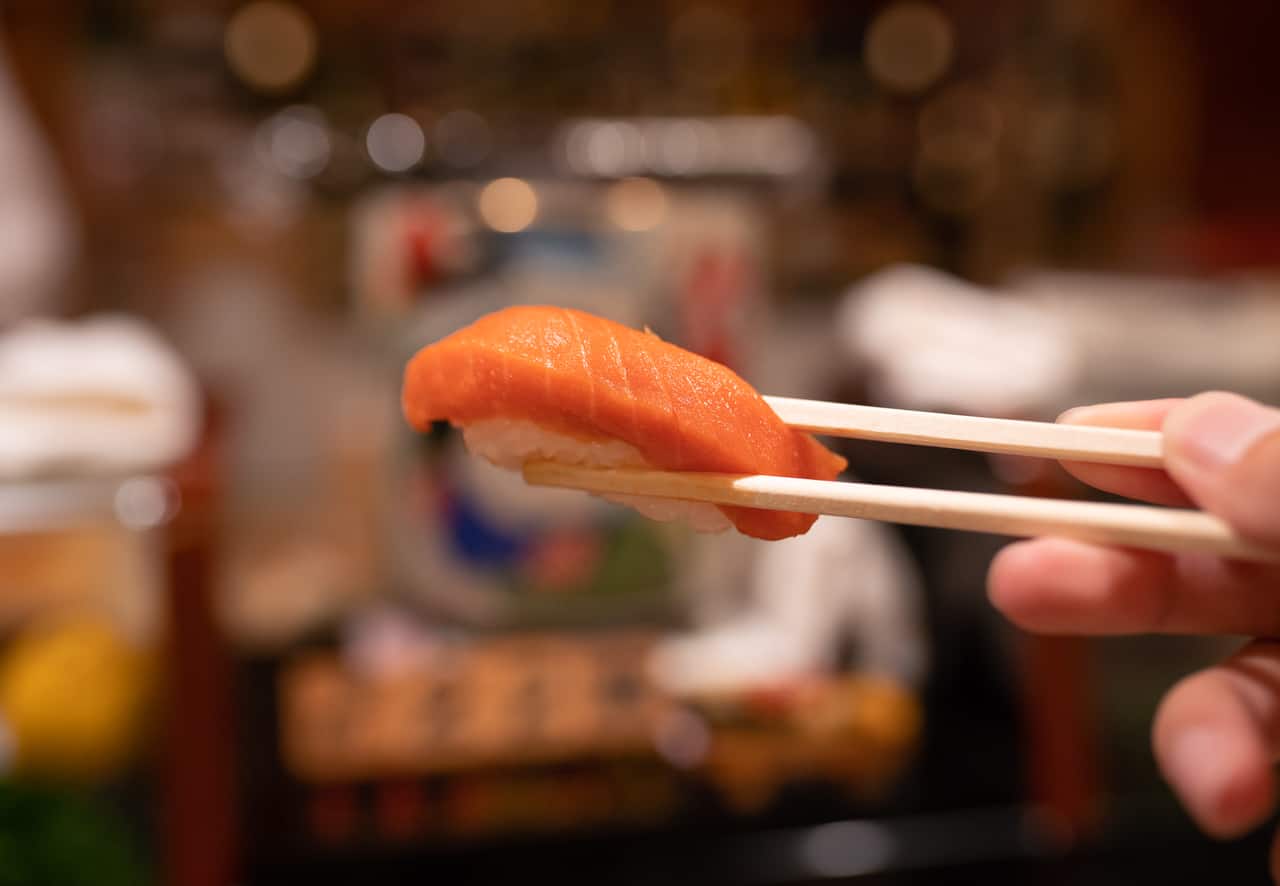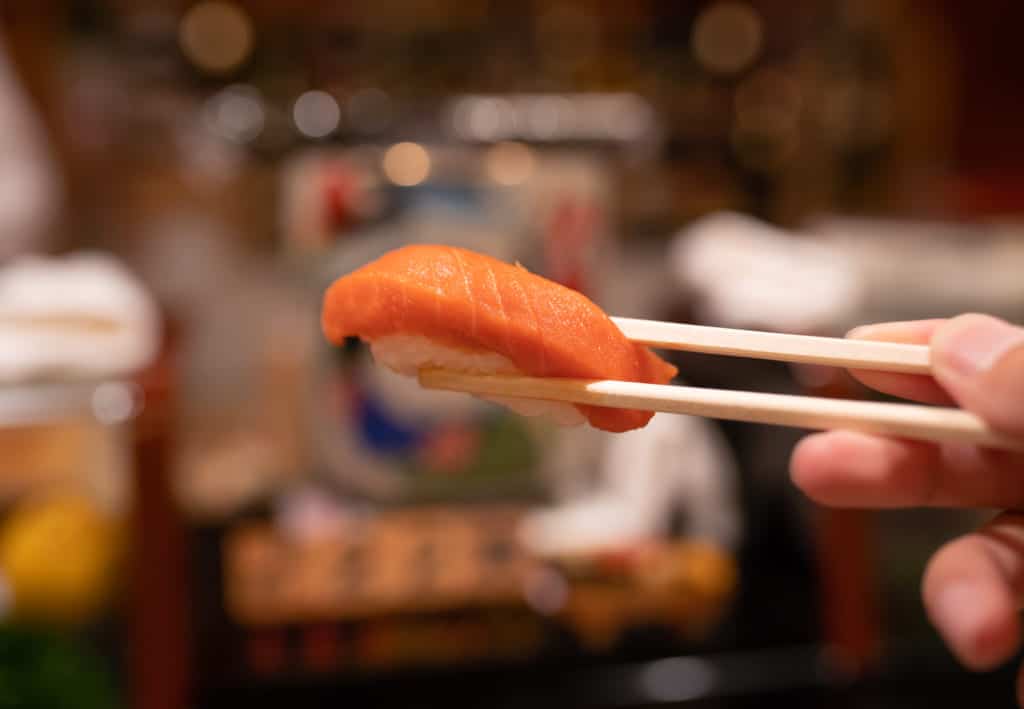 Next up was finding a place for dinner and I already had my heart set on one thing: sushi. I decided to go to a lovely omakase restaurant that was tucked away in the suburbs of this city.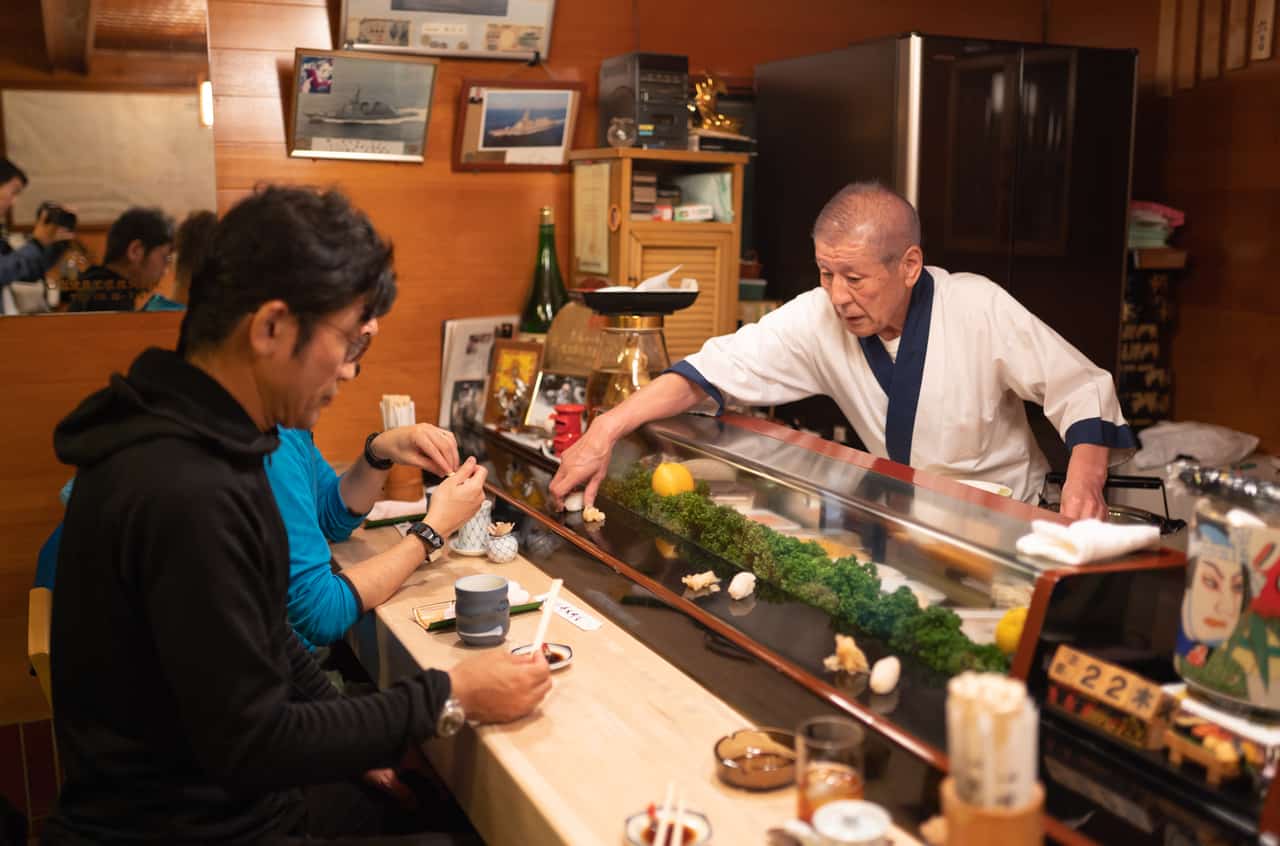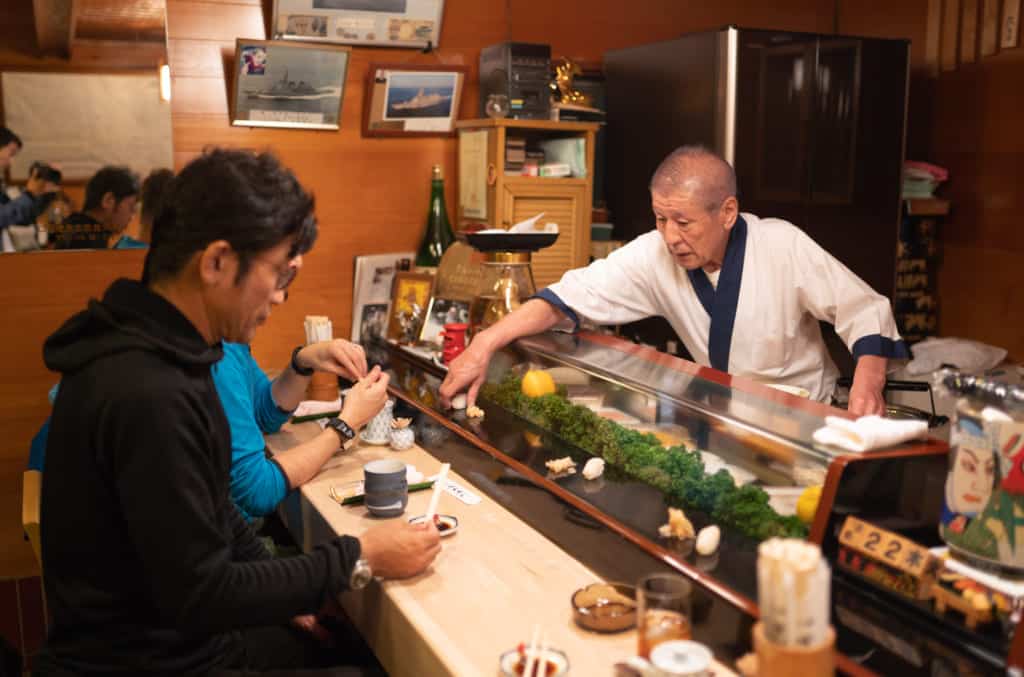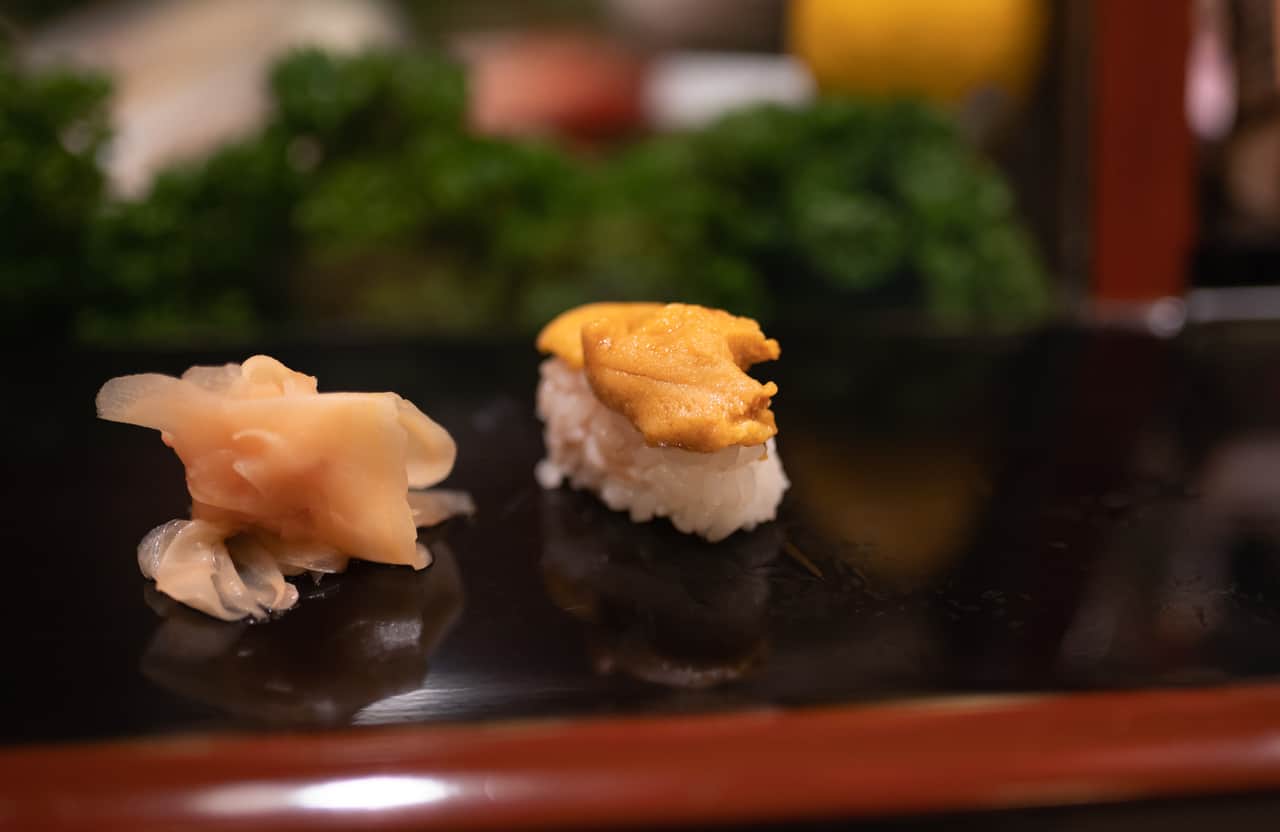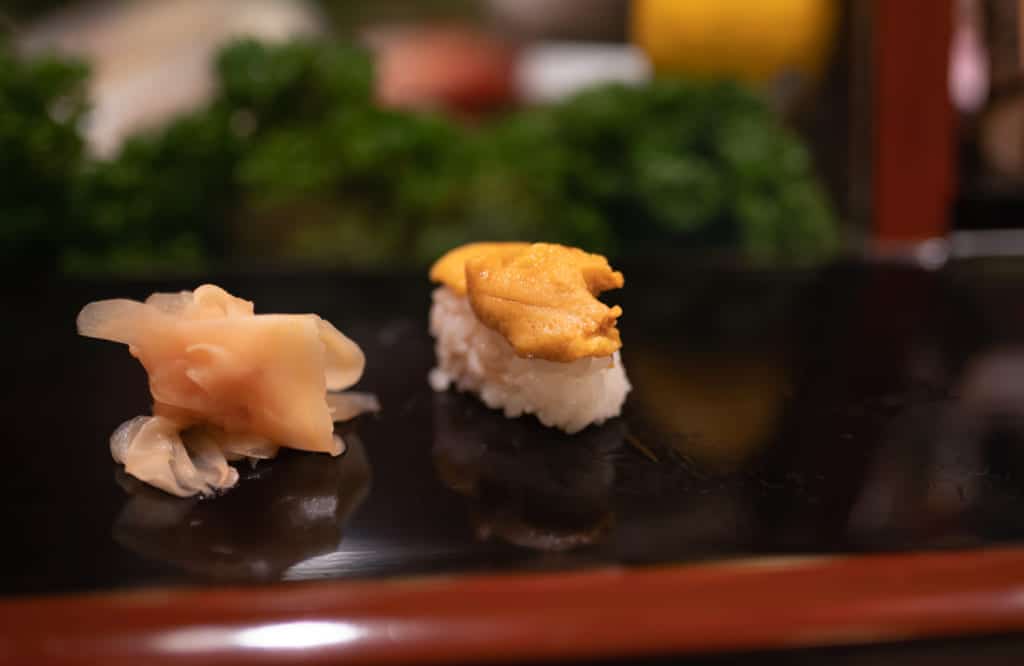 This restaurant is a small sushi bar where you order a set course or a la carte from the sushi master behind the counter. Each piece is made on the spot and served to you one piece at a time. The chef here is a seasoned veteran who has been making sushi for over 50 years.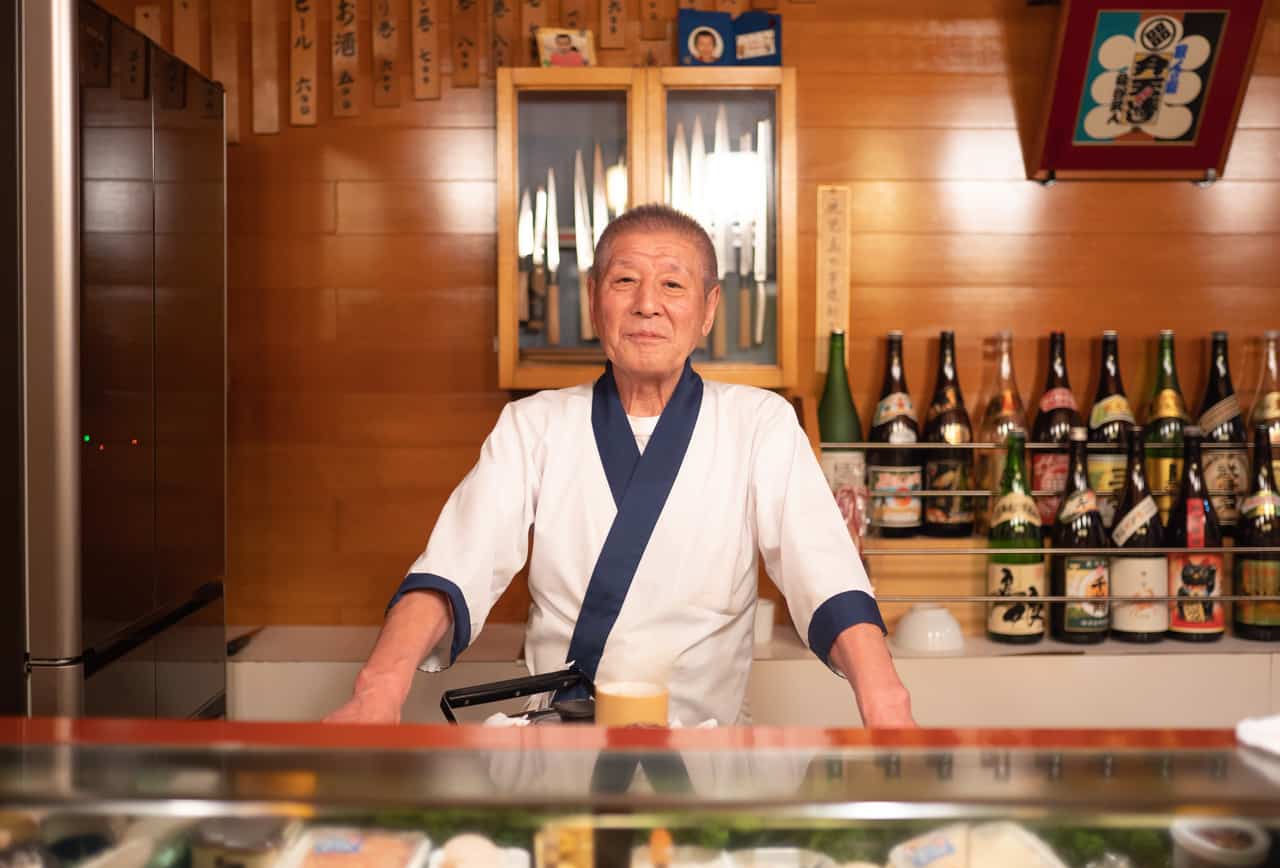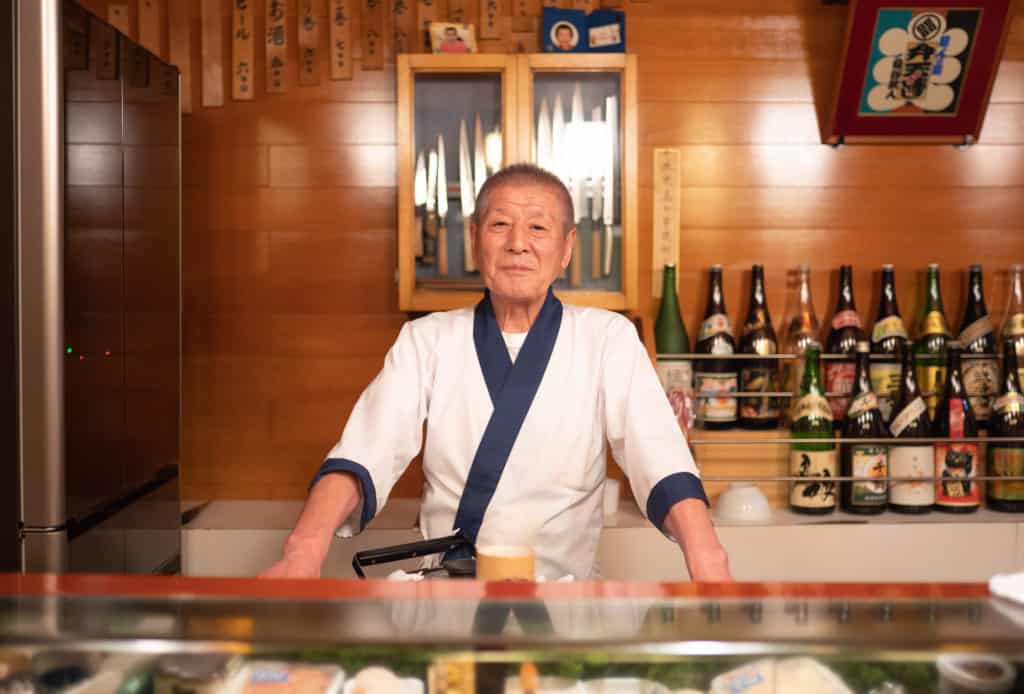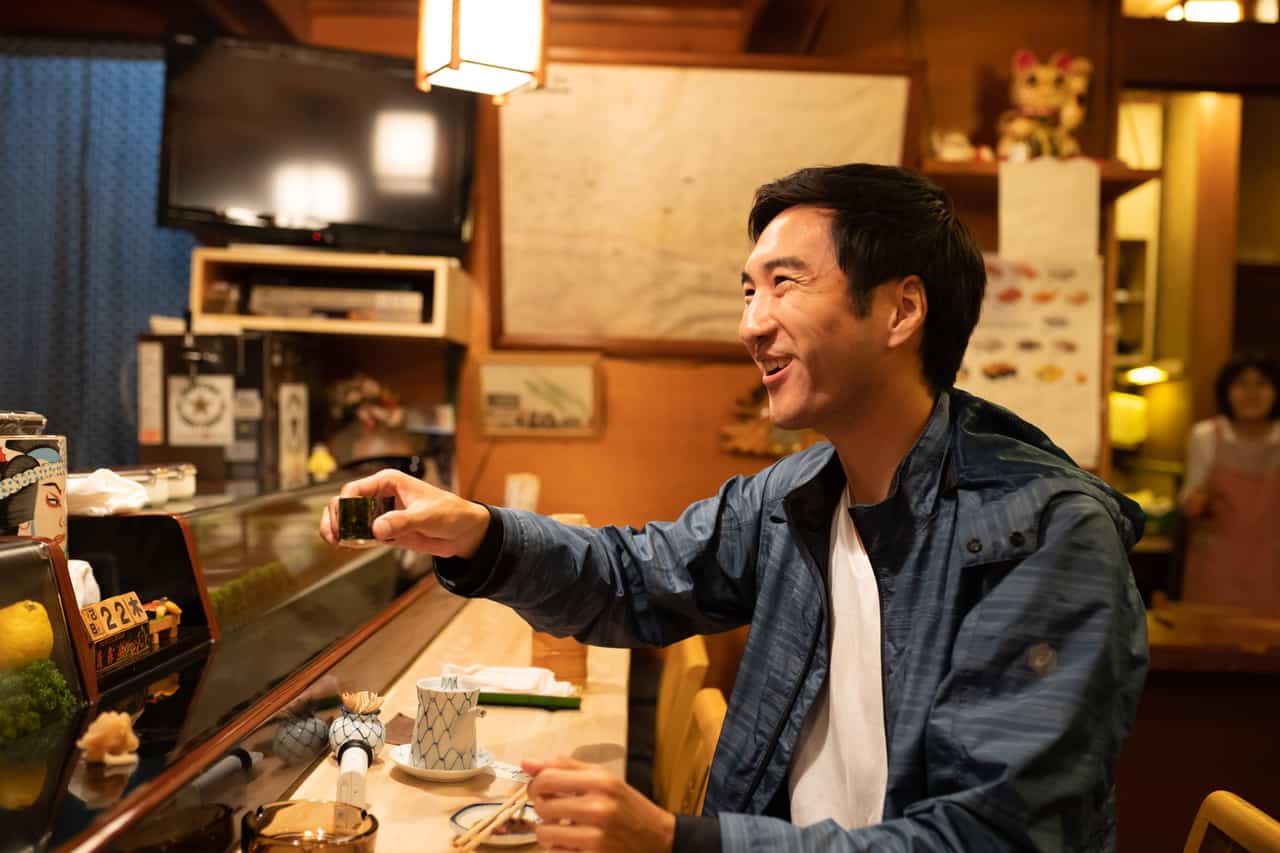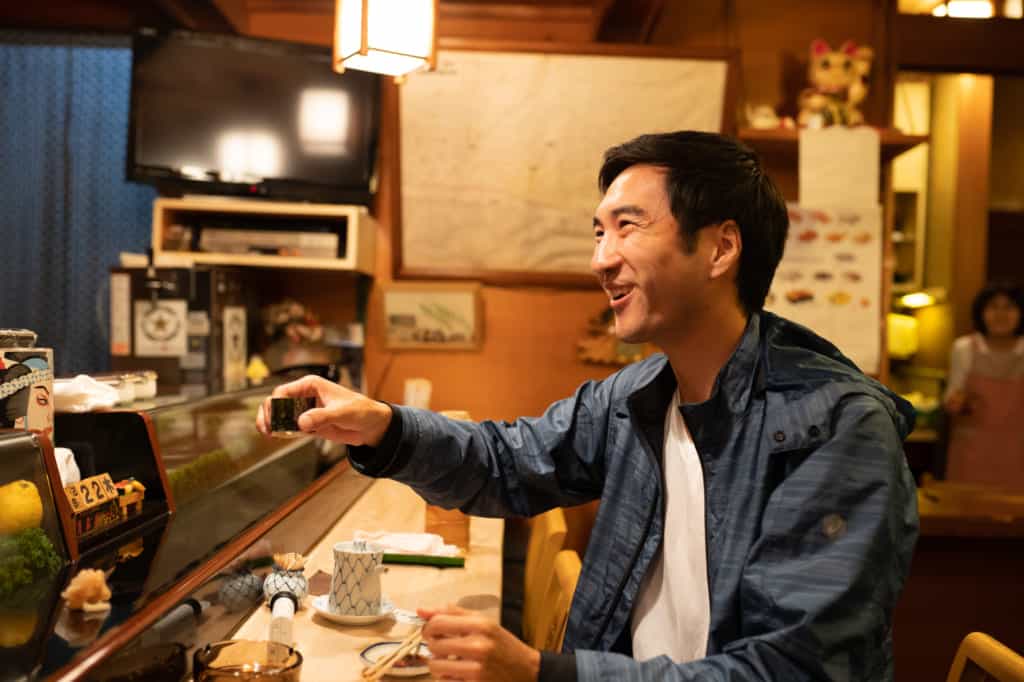 I ordered a course of 9 sushi and was amazed not only by the quality of the sushi but also by the charisma and entertainment of the chef himself.
The owner does not speak English, but he regularly welcomes guests from around the world and he said the language barrier has never been much of an issue. This is a small and lovely sushi bar that is perfect for those wishing for some great sushi and time with a sushi master.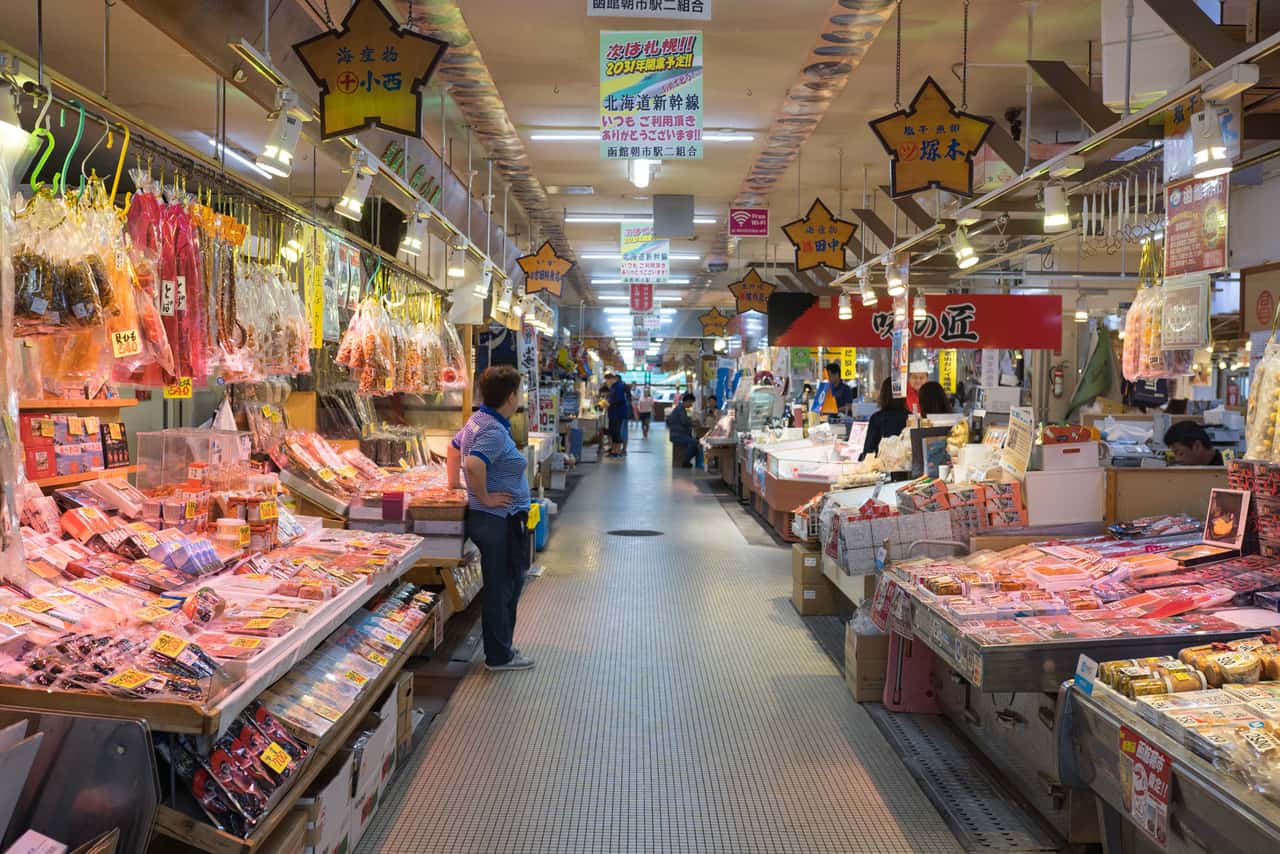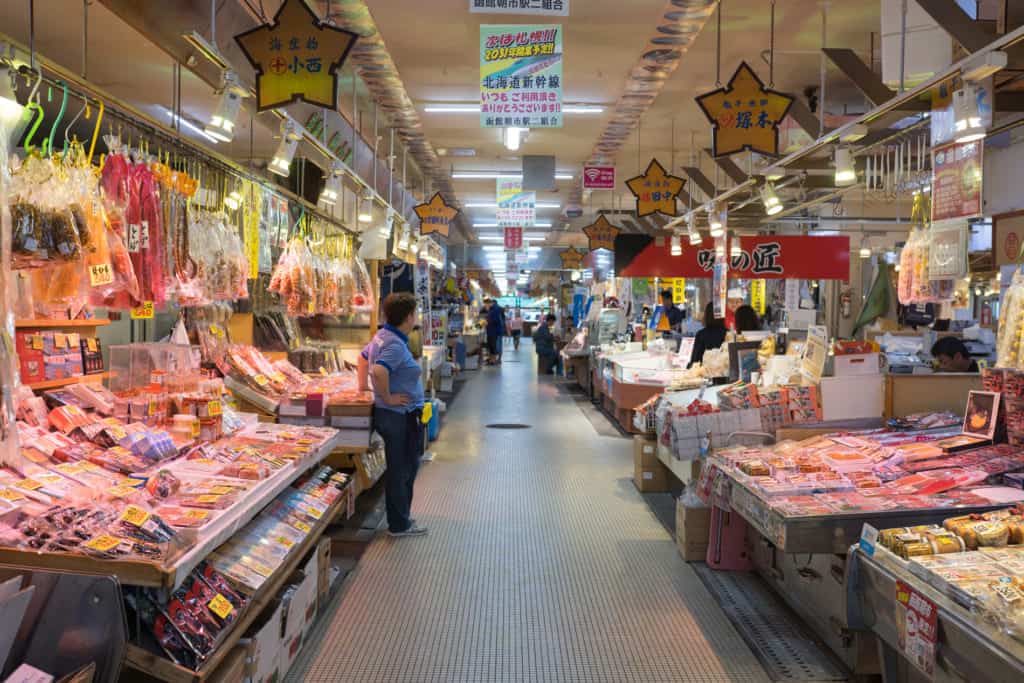 Early the next morning, I went to the morning market next to the station to see some of the local seafood and try some of the squid that this city is so famous for. This included a fishing experience where you can catch your own squid and have it prepared while it is still alive right in front of you. The squid was incredibly soft and flavorful. Certainly a worthy attraction to try here although it may be difficult for those who are squeamish to watch how the squid is prepared.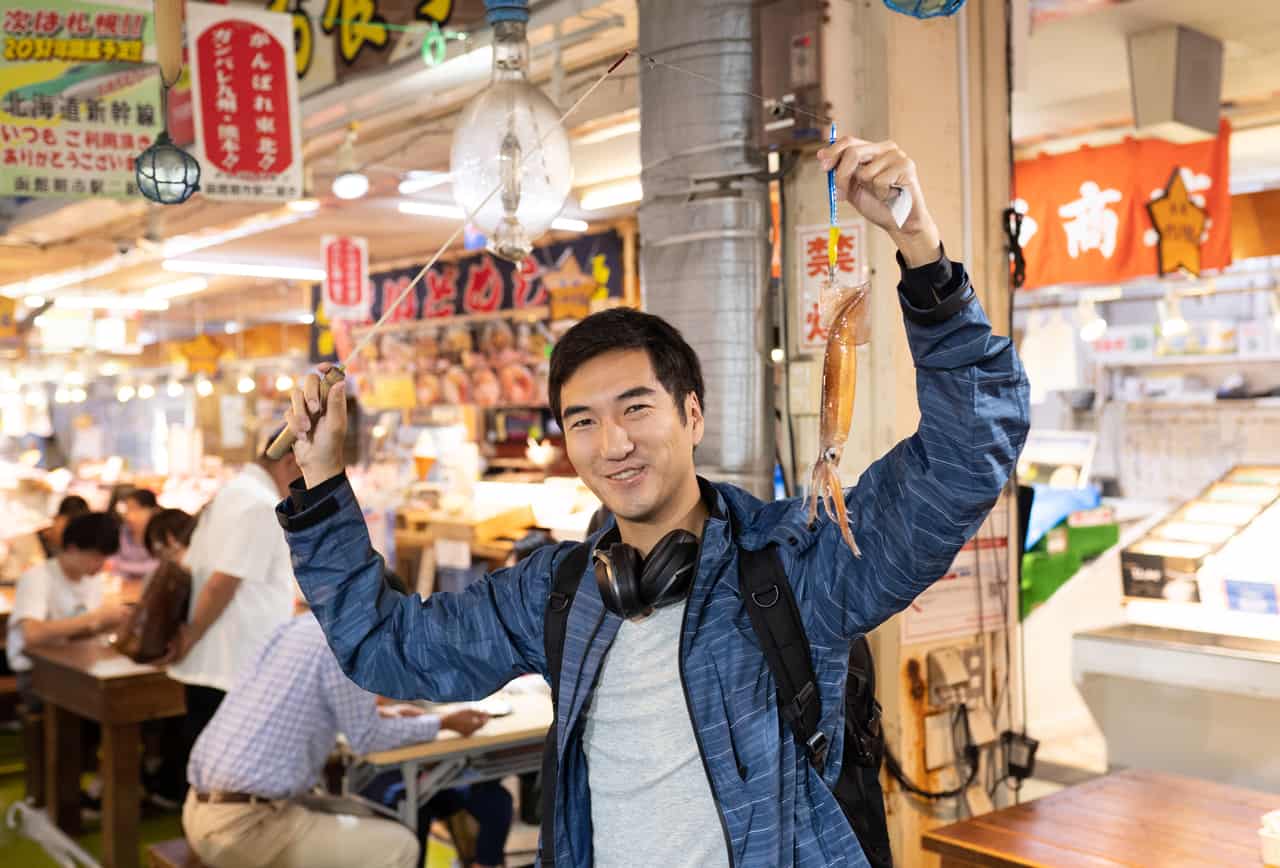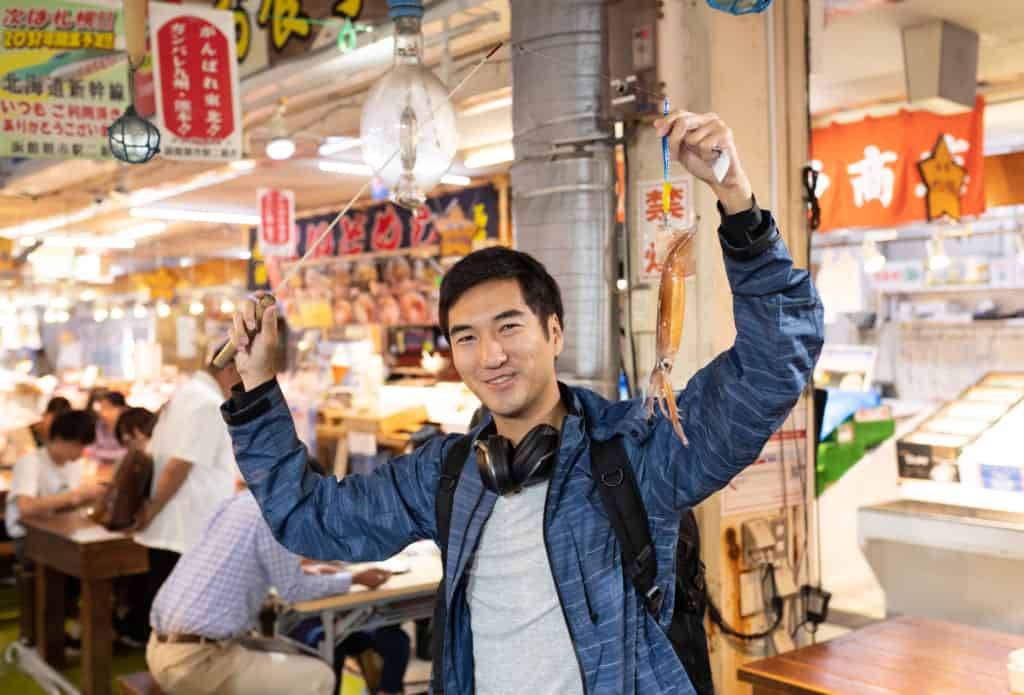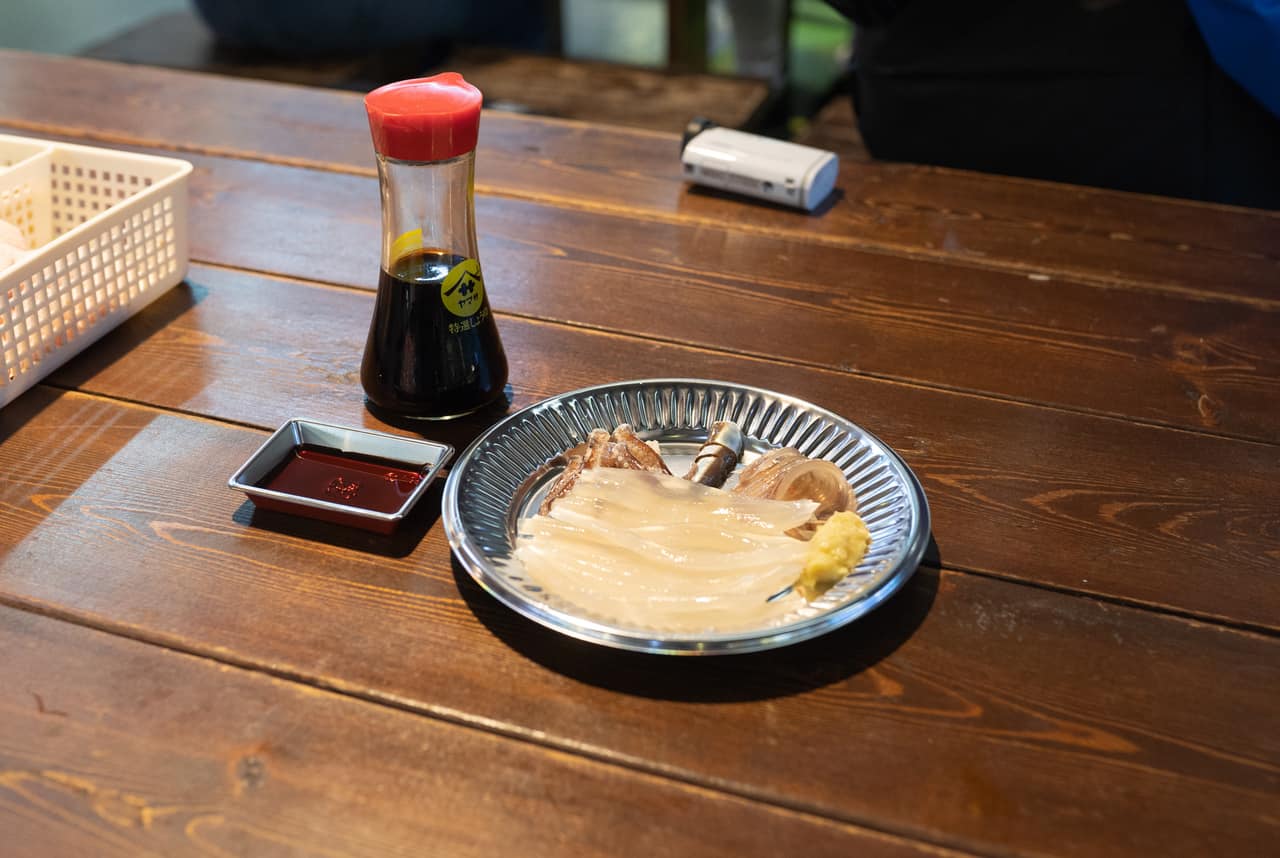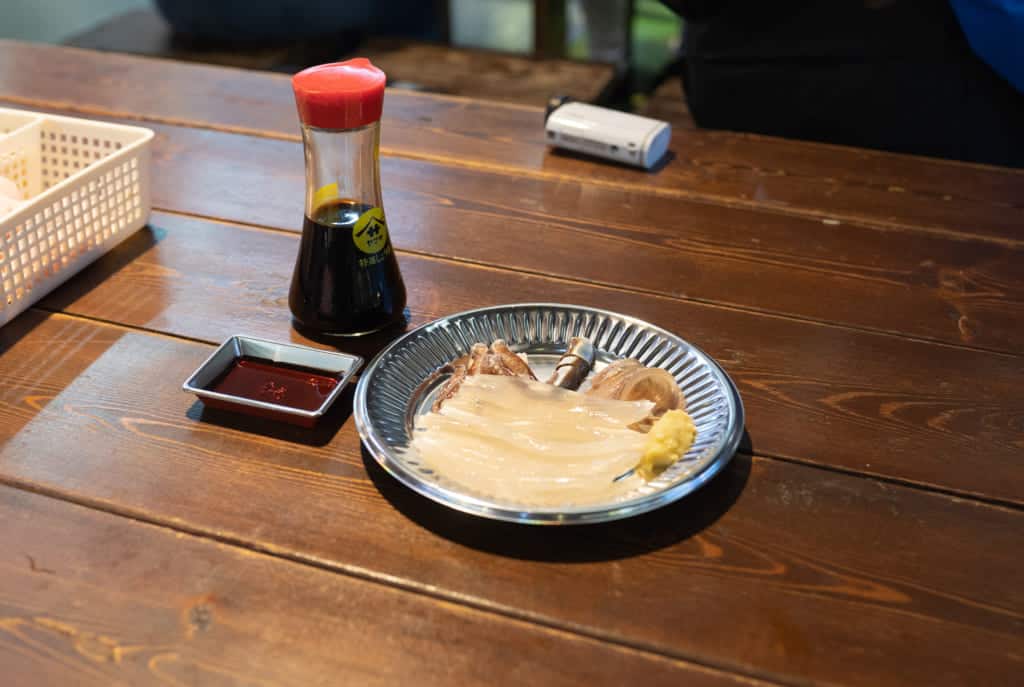 With my train departure fast approaching I finished off my visit to Hakodate with a chirashi bowl breakfast at the market. This is another specialty of Hakodate and the restaurant area of the market was comprised of over a dozen restaurants that all served chirashi bowls! I chose one with generous helpings of rich uni, ikura, and shrimp fresh from the port of Hakodate.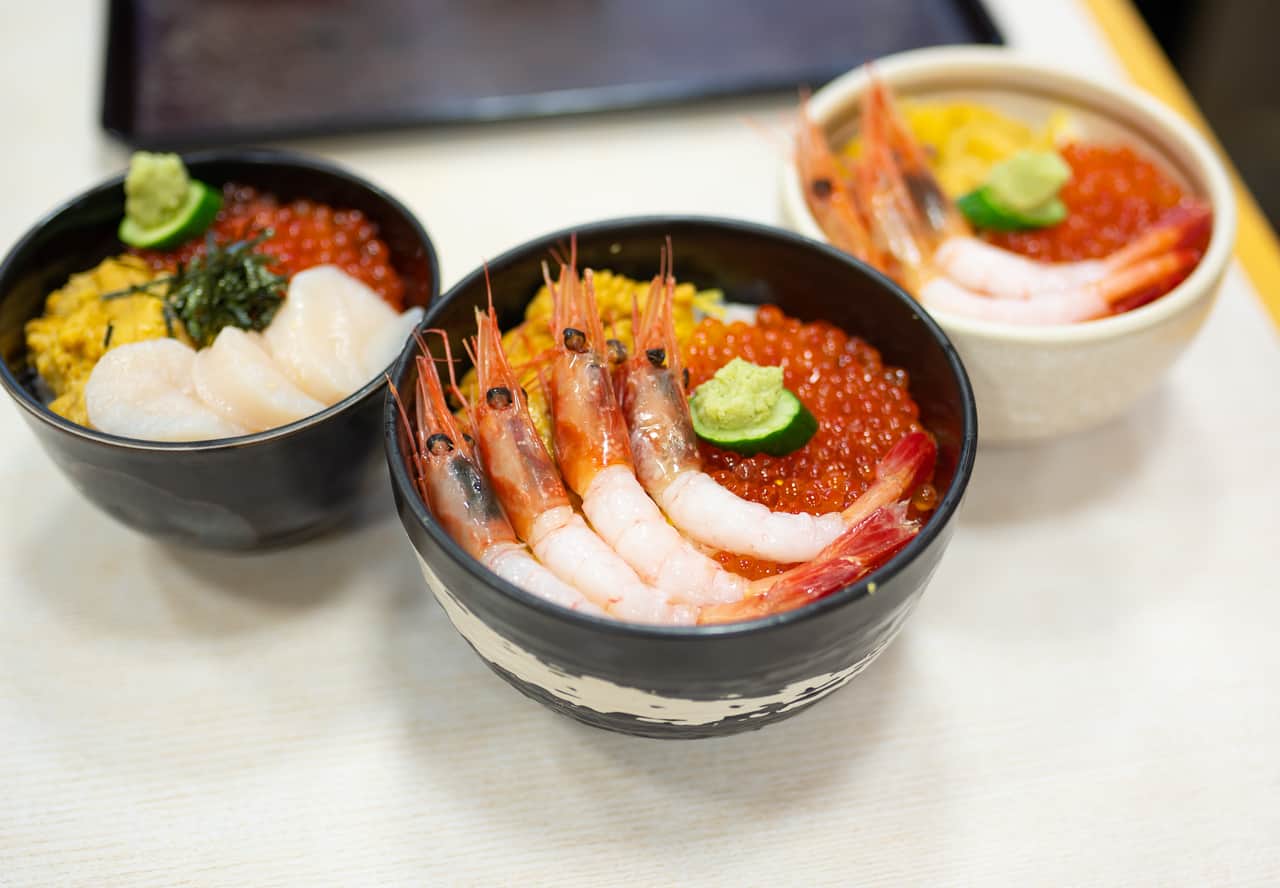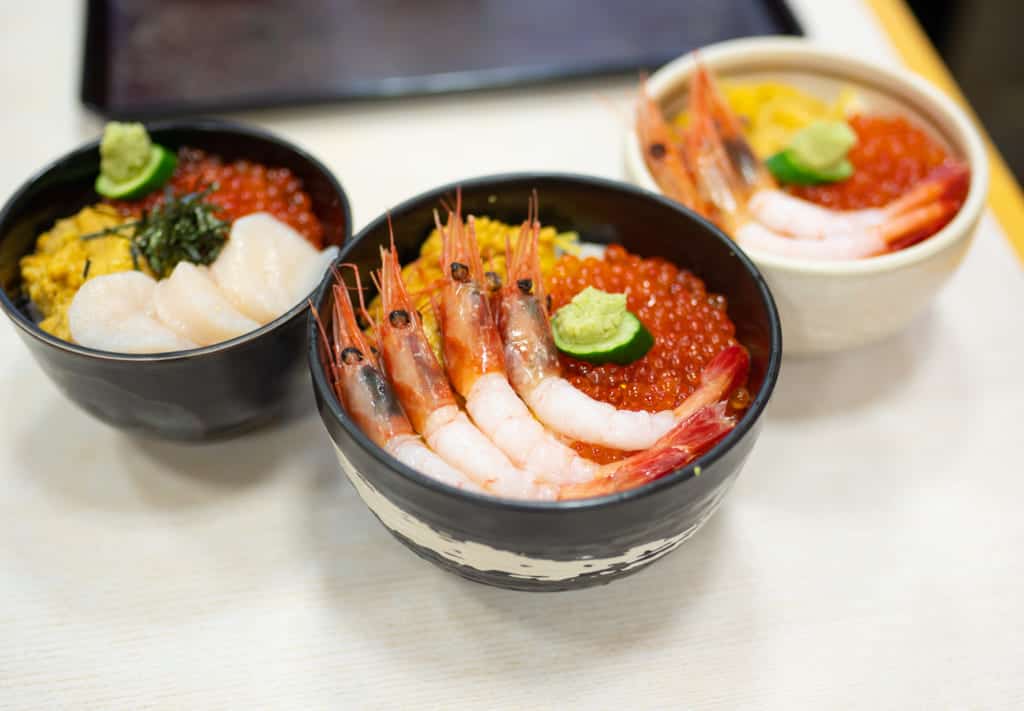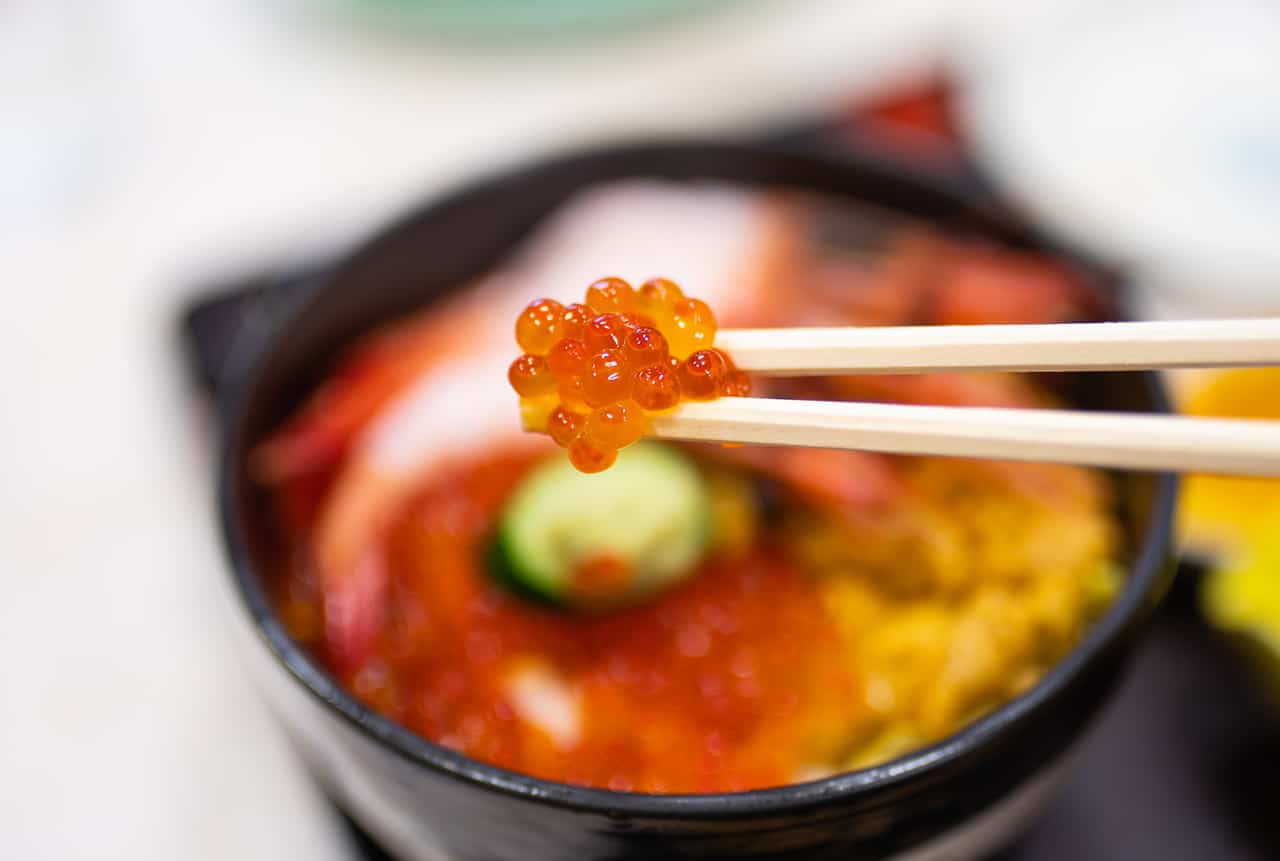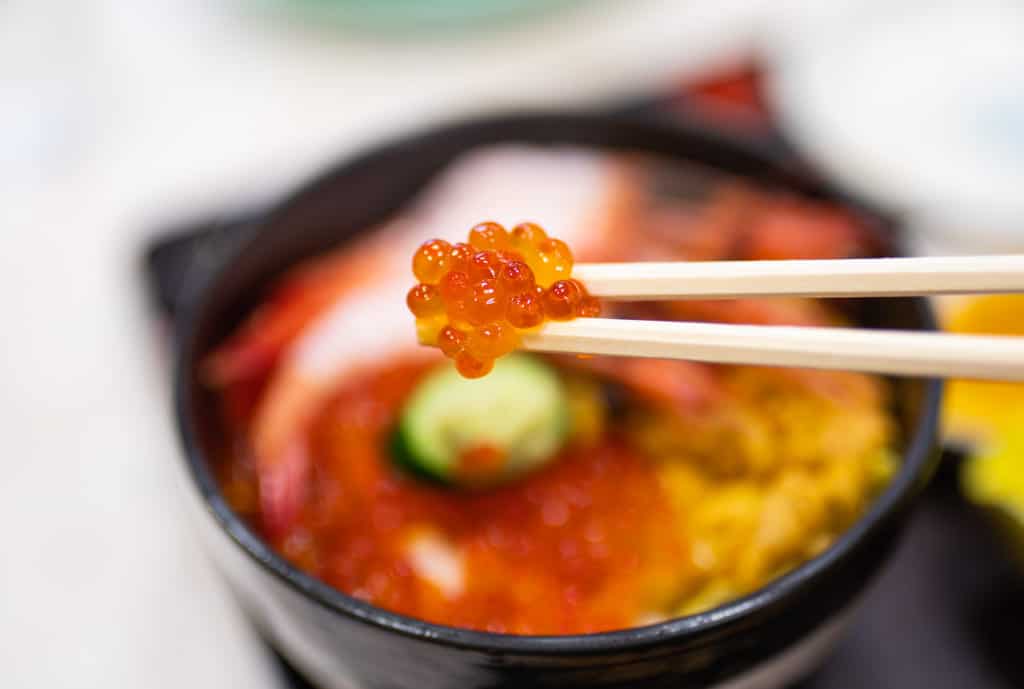 River Rafting in Niseko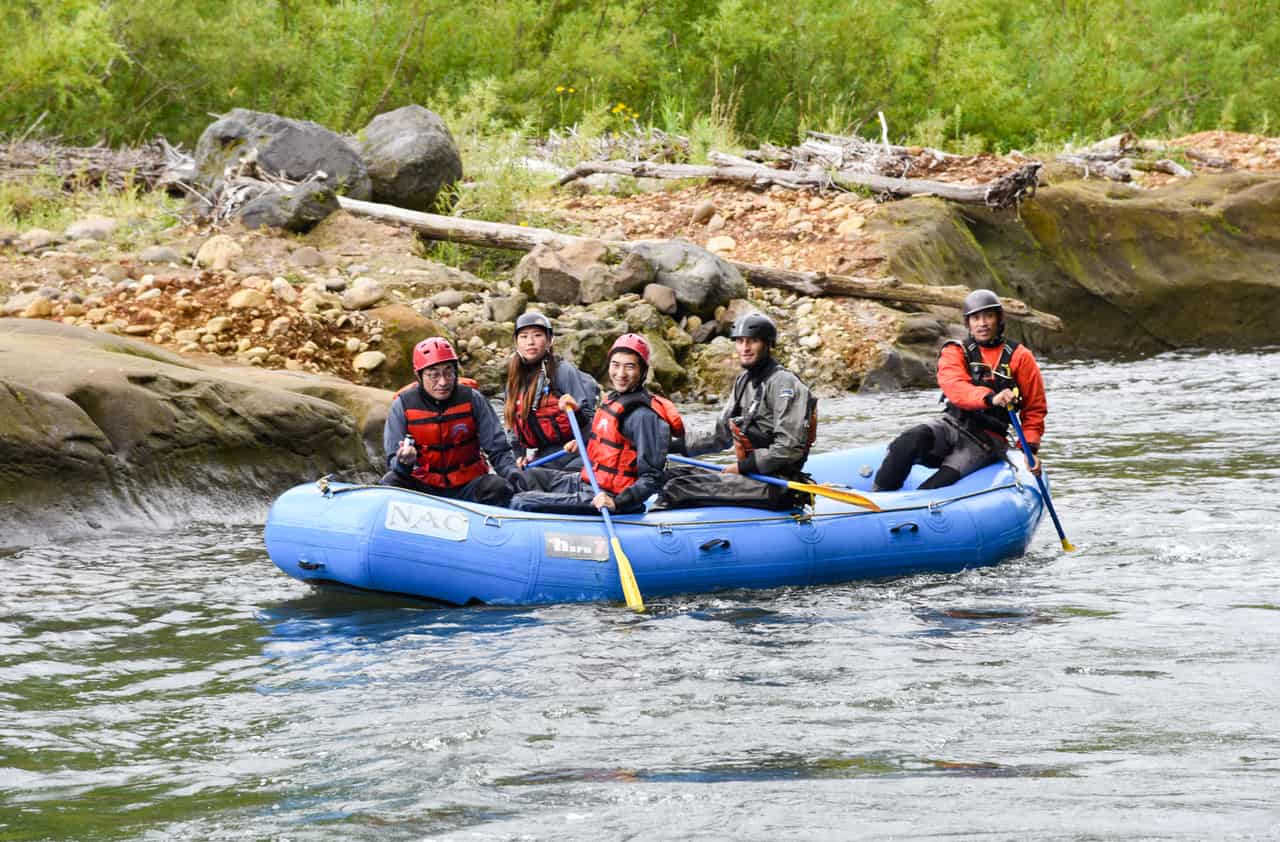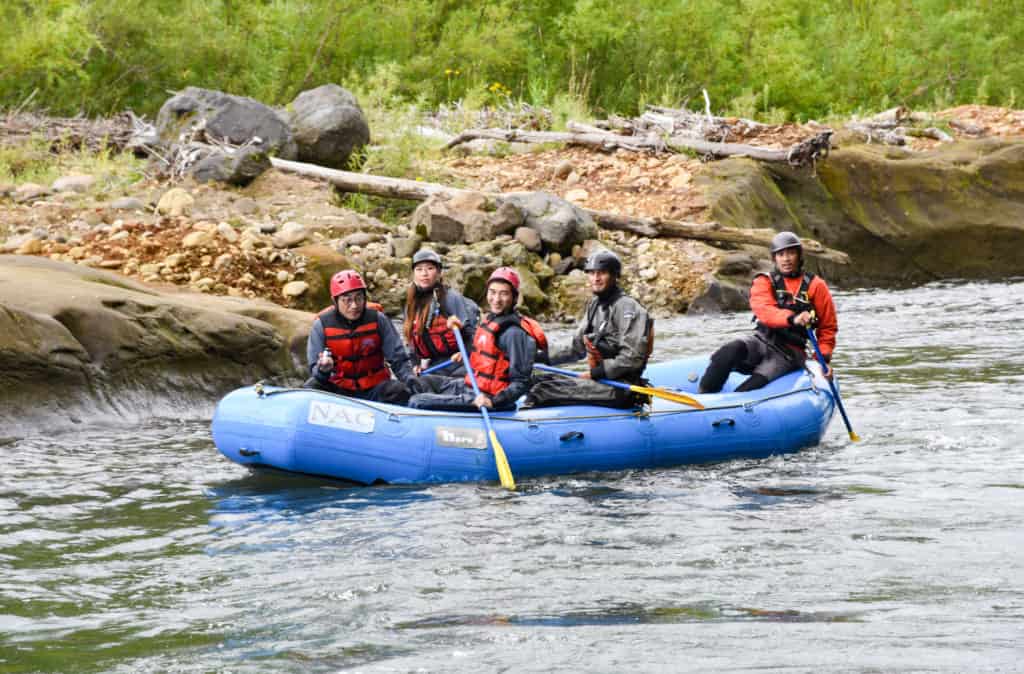 For the next part of my trip I visited the town of Niseko, which lies between Hakodate and Sapporo. This small town located in the deep countryside has become a snow sport mecca for Australians and others from around the world. During the winter, the number of internationals in this town dwarfs the number of Japanese and it can even be rare to see a Japanese person here during this time.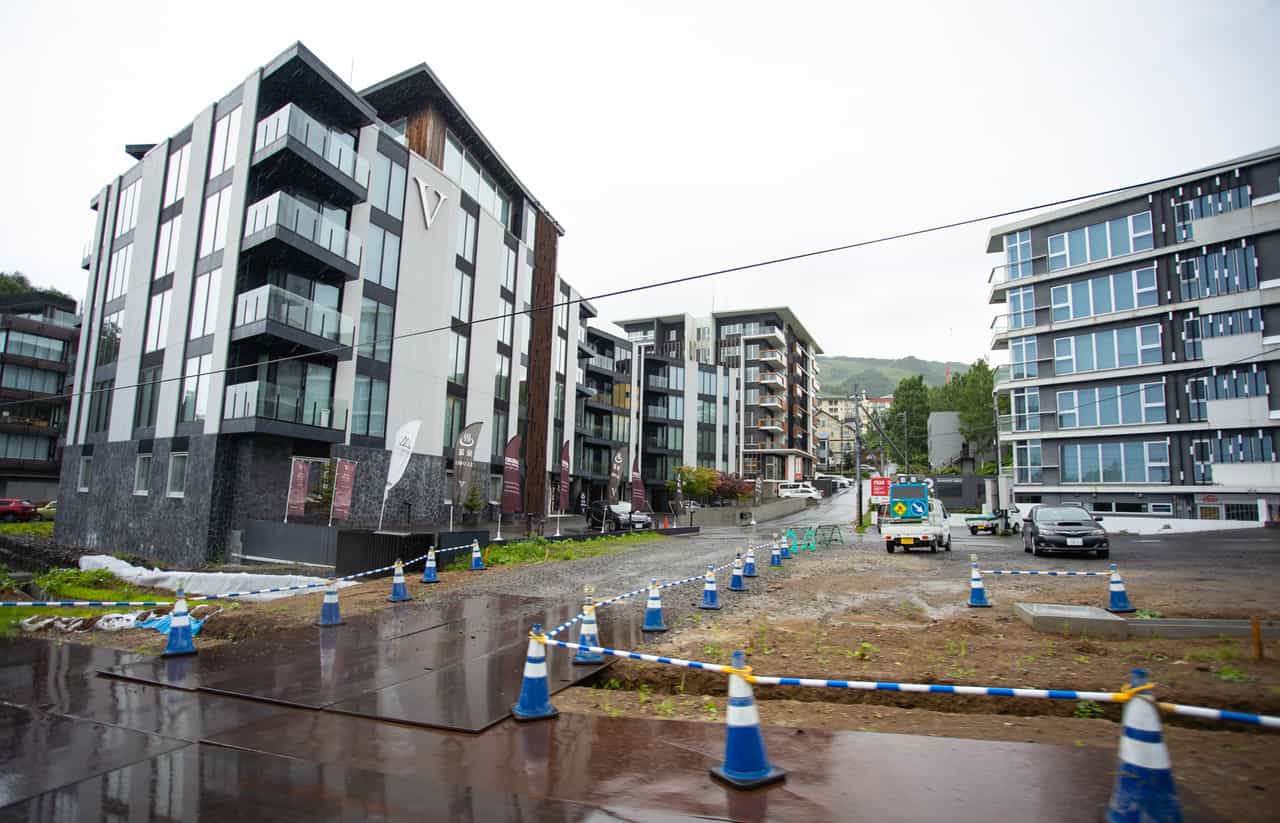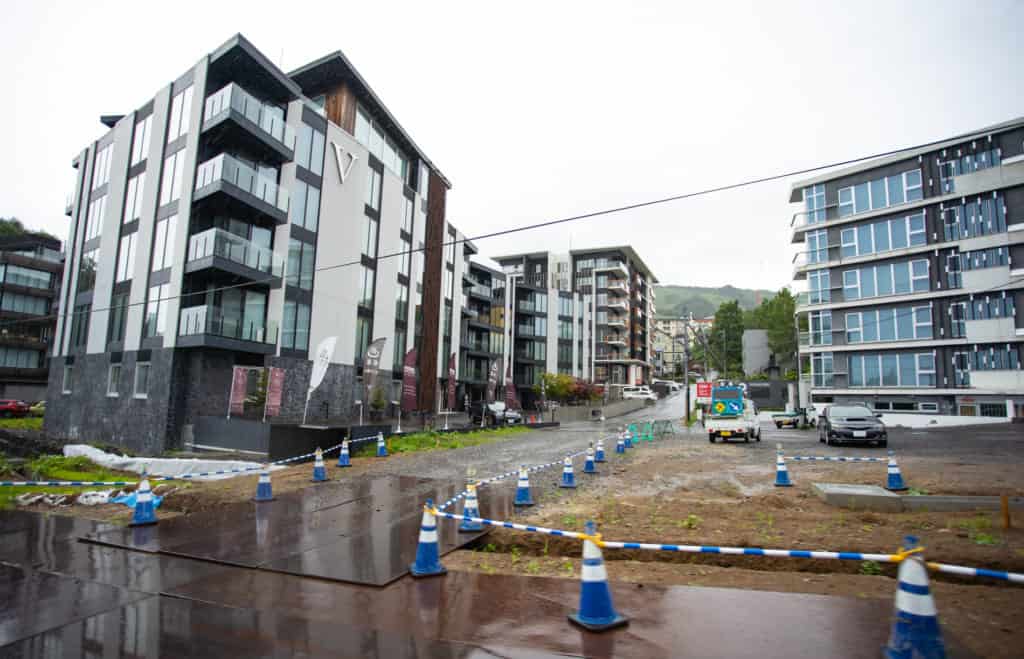 This has led to a massive surge in foreign investment into this town and as I drove through here I saw high rise apartments and resorts being built everywhere I looked. Niseko is quickly becoming a town redefined by international influence and you may even need to remind yourself that you are actually in Japan as you walk through the streets here.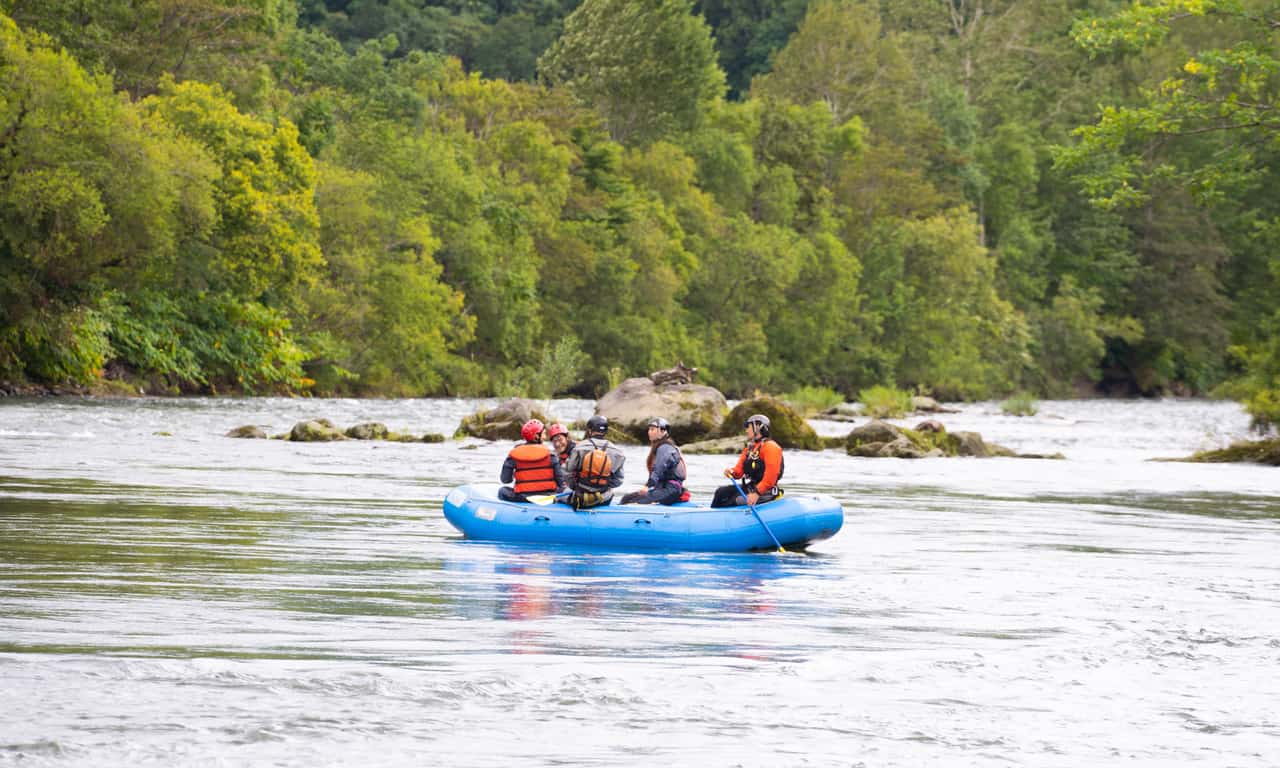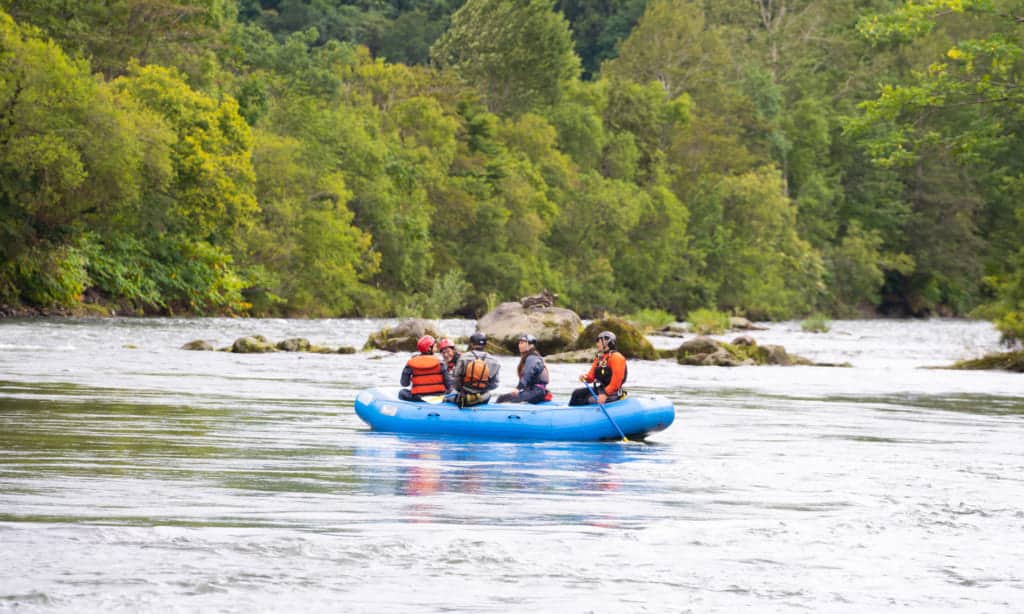 However, if you visit Niseko in the Summer season you will find that it is quite a different scene. During this time of the year, Niseko is quickly becoming a destination for domestic Japanese visitors seeking outdoor adventures like river rafting, mountain biking, hiking, rock climbing, and various other outdoor adventures. This is what I was here to experience.
For this reason, I visited the Niseko Adventure Center, Japan's largest outdoor adventure company that offers various outdoor tours in Niseko.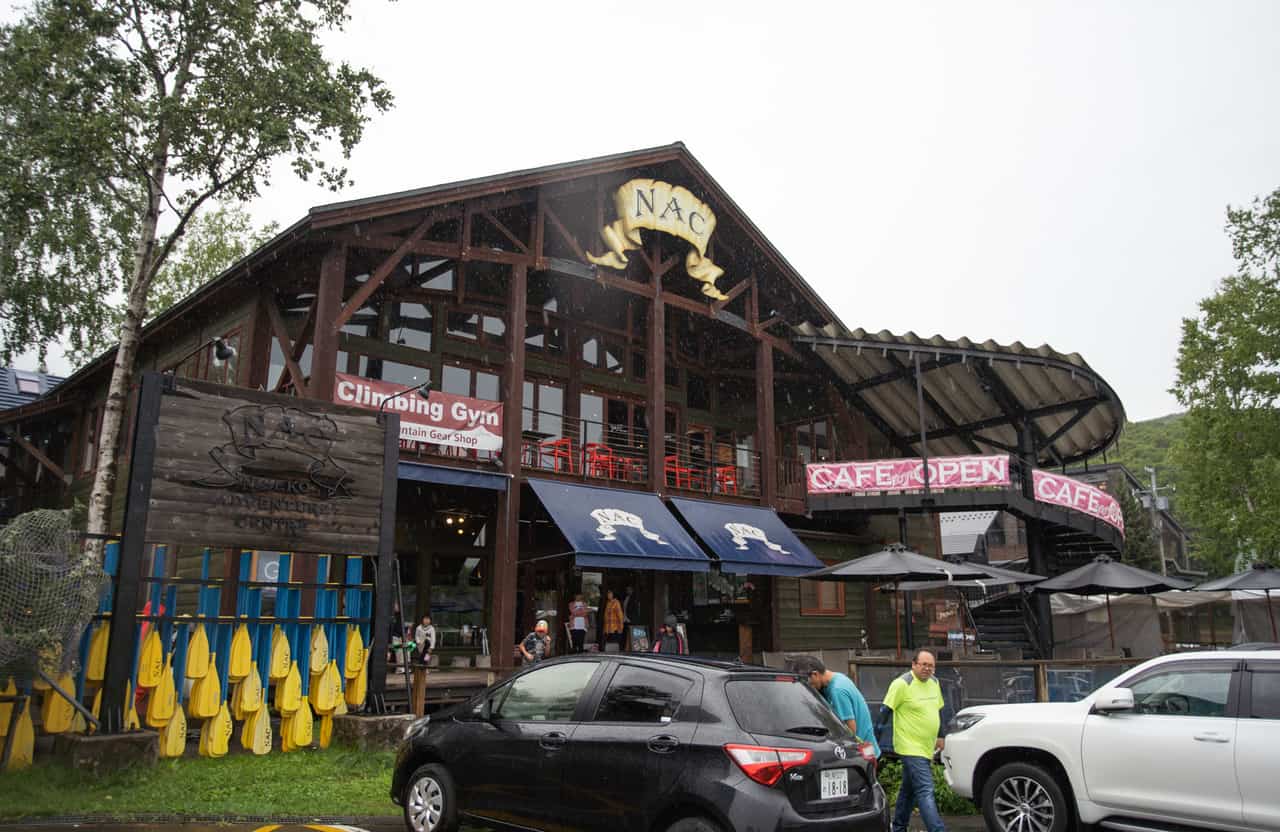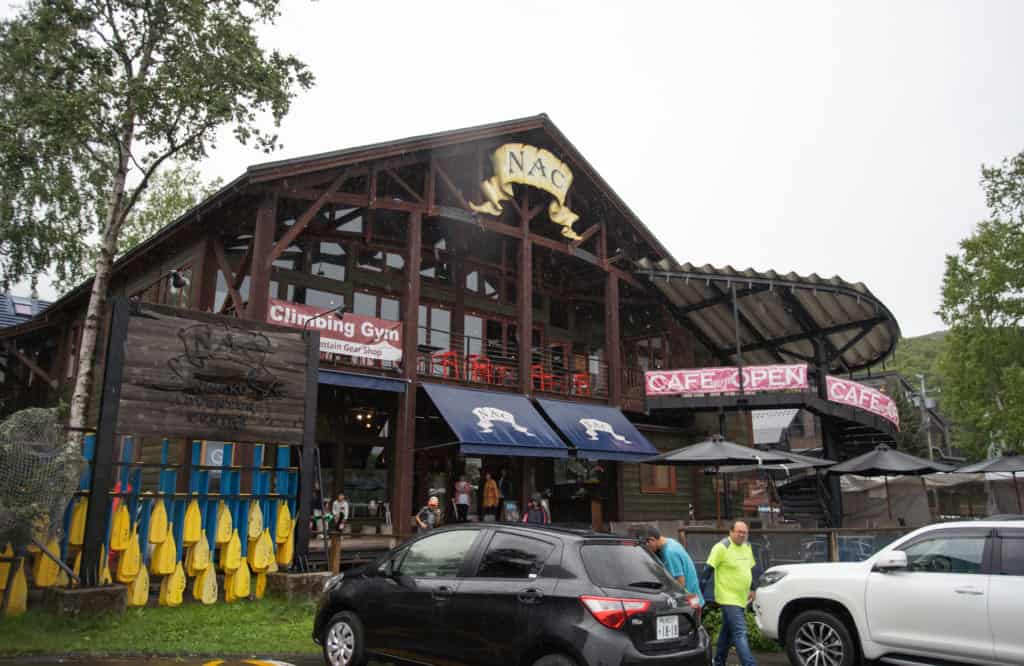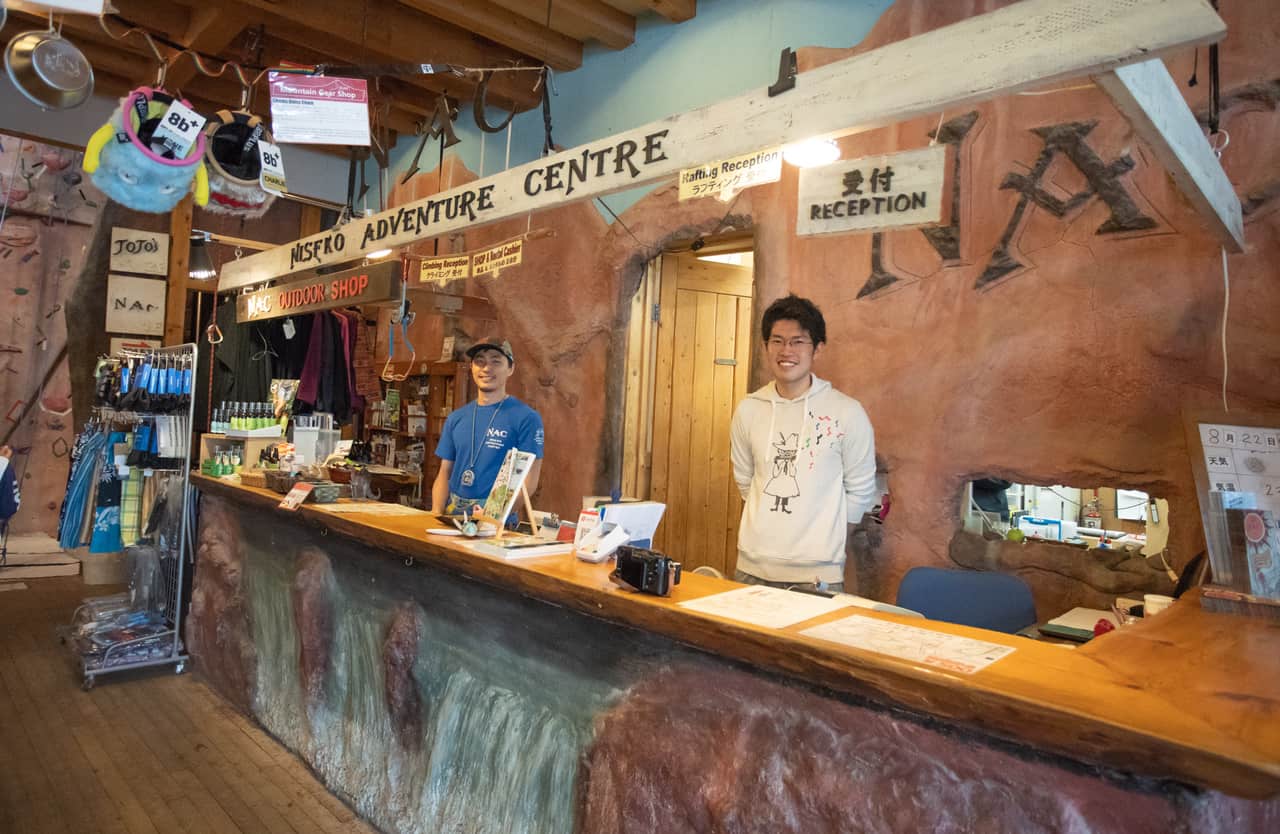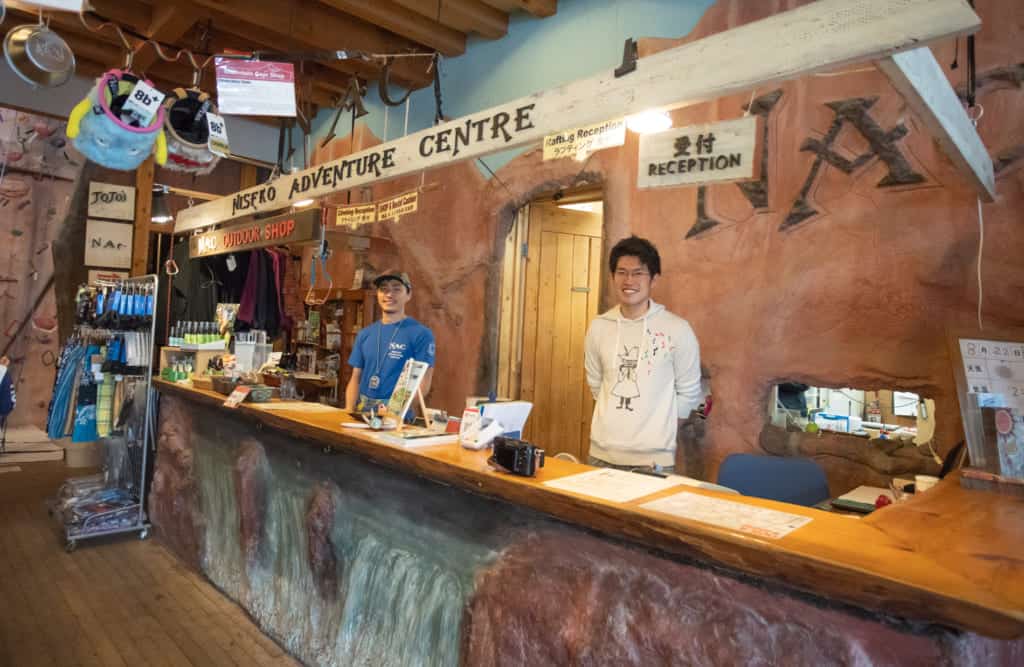 The staff here are bilingual and friendly and they even had indoor rock climbing and a cafe that served some delicious hamburgers.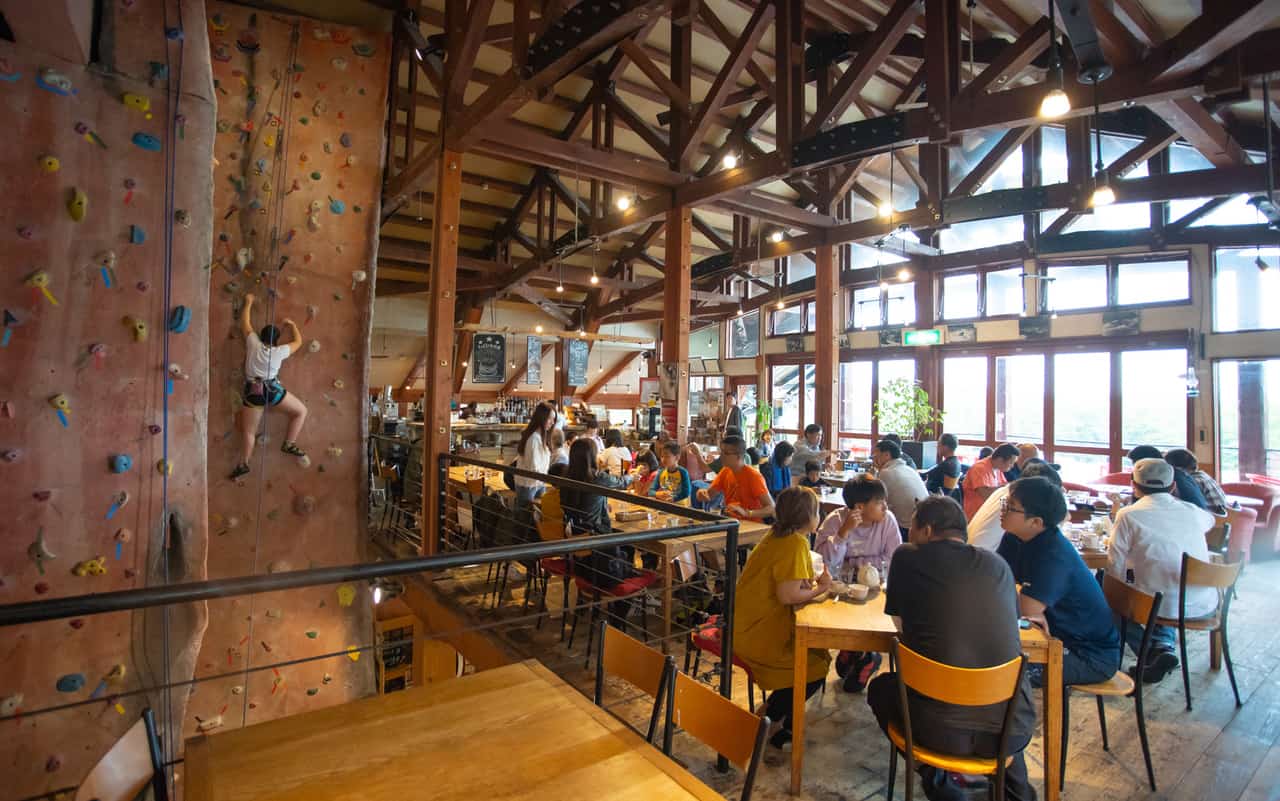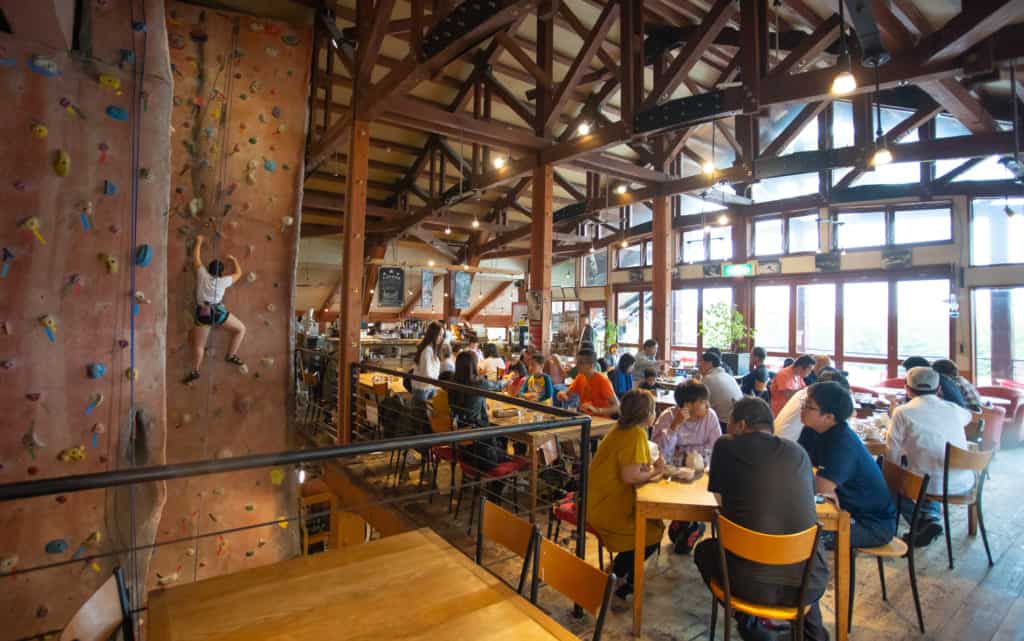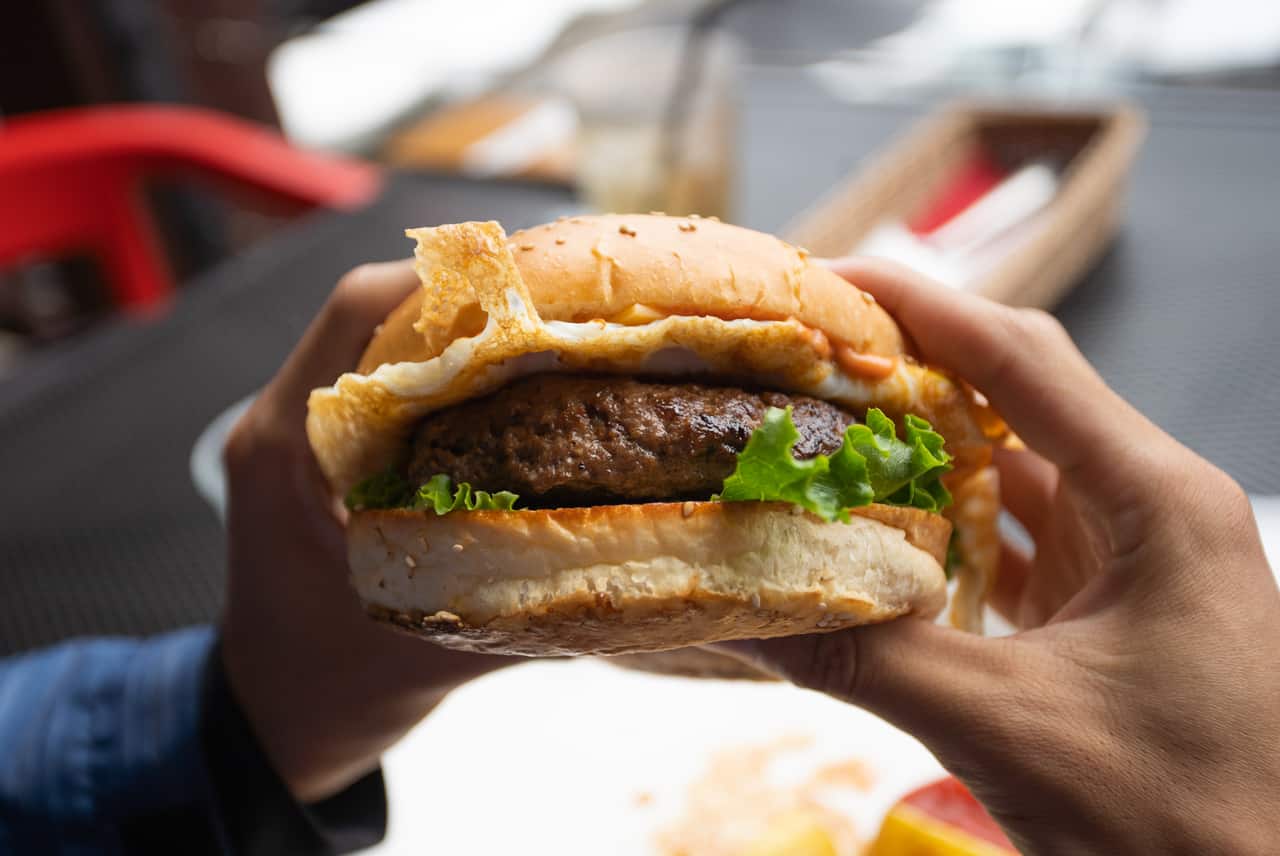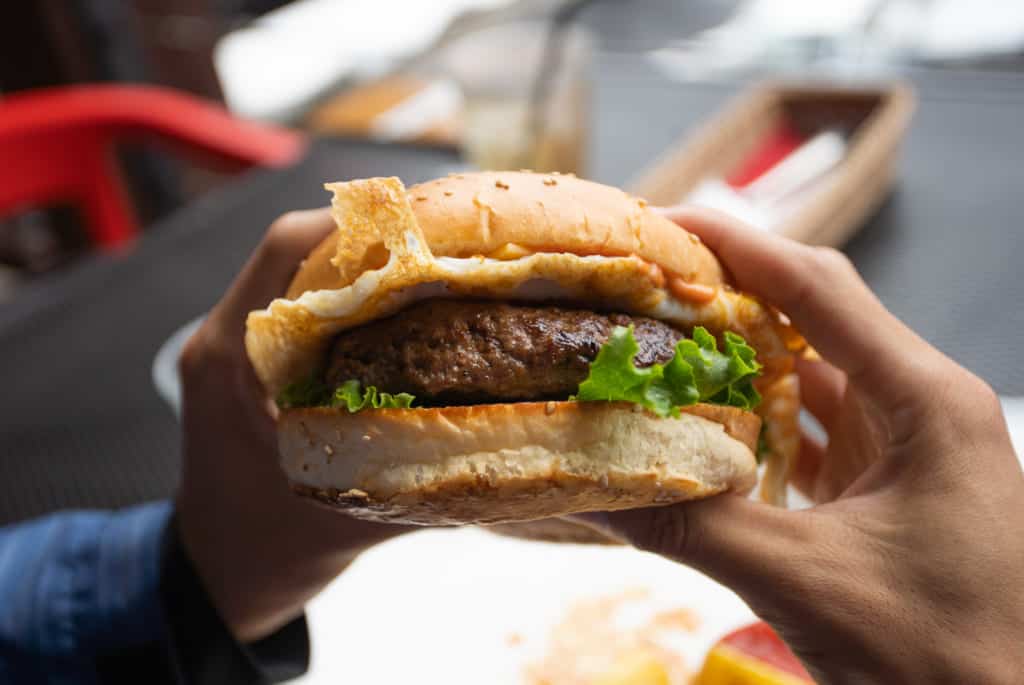 I joined one of their rafting tours at the base of Mt. Yotei in a river that ran through some of the rich forests found across this area.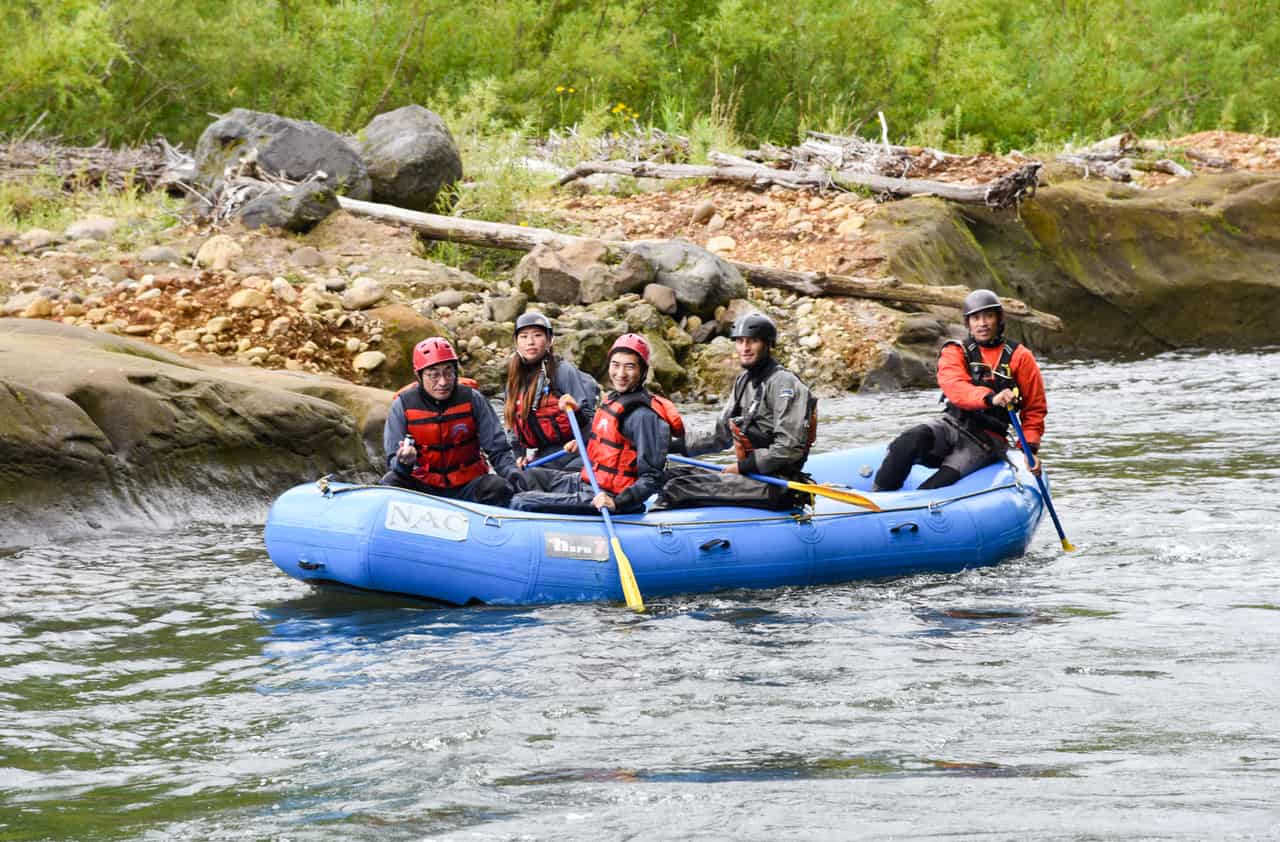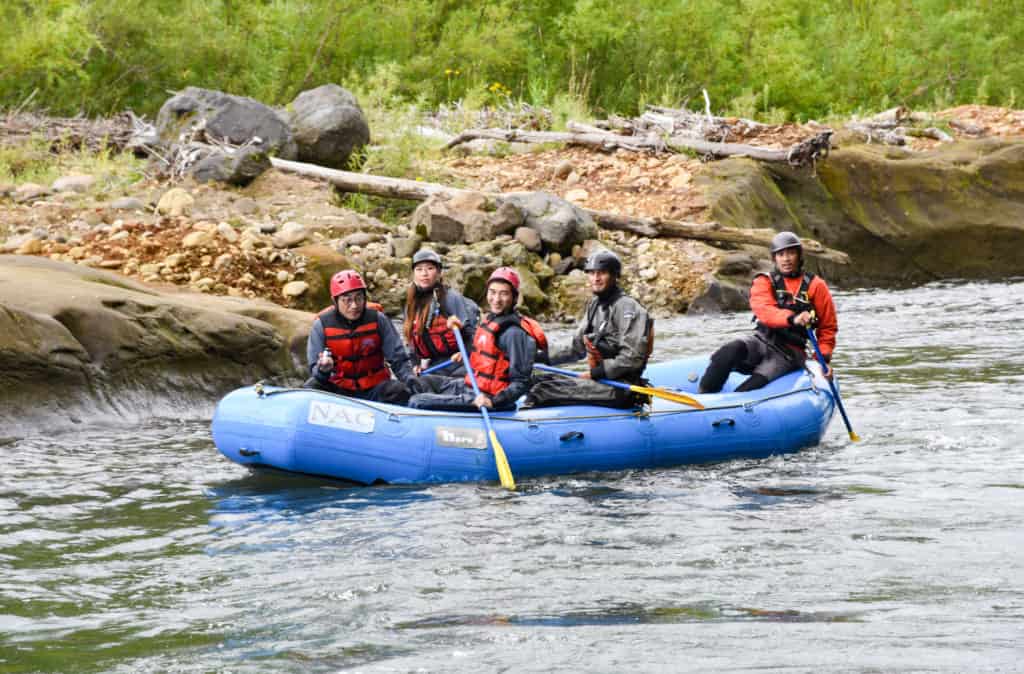 The guides on this tour were excellent and they did a great job introducing me to this sport and navigating the rapids here. Along the way we got to stop on some small islands in the middle of the river and take in the natural beauty of Hokkaido.
At first I thought they were joking when they asked me if I wanted to jump in the river, but they weren't. So I did. In the summer heat, I was more than happy to cool off in the cold water of the river. This is optional, of course, but you will be missing out on the best part of the tour if you don't!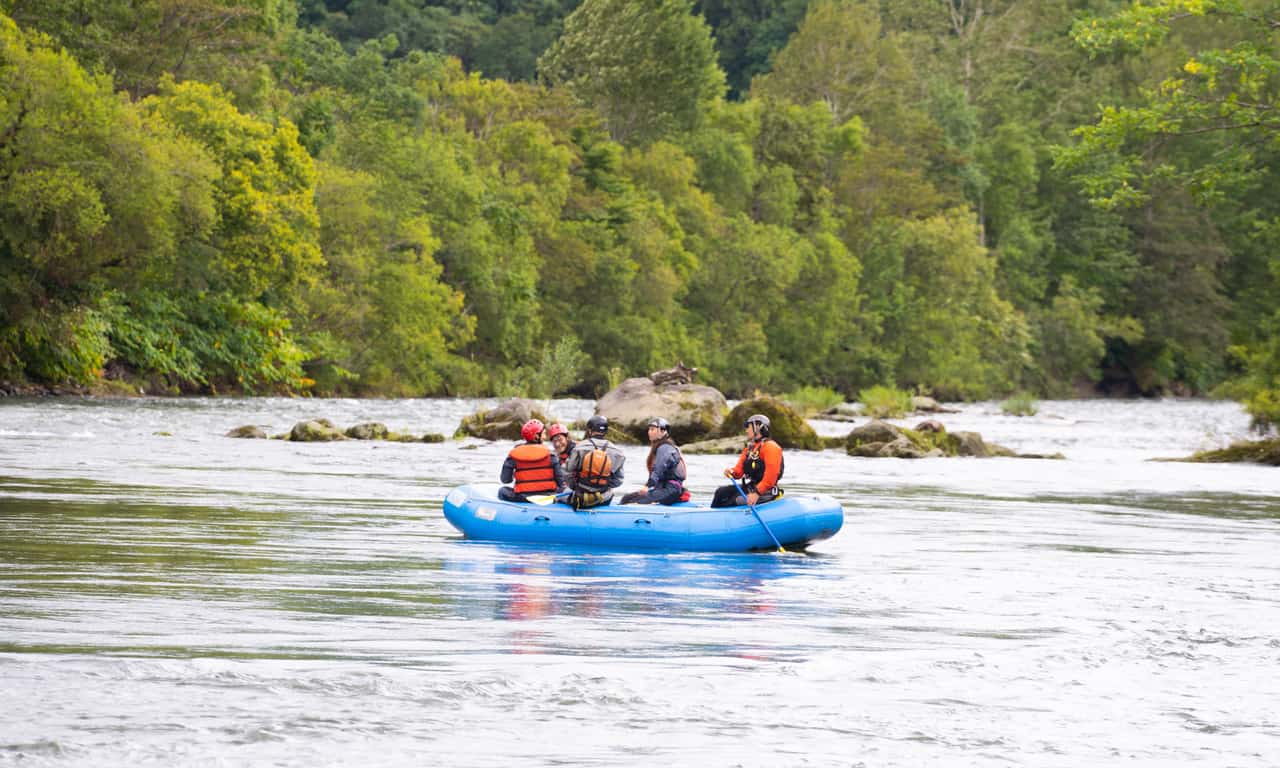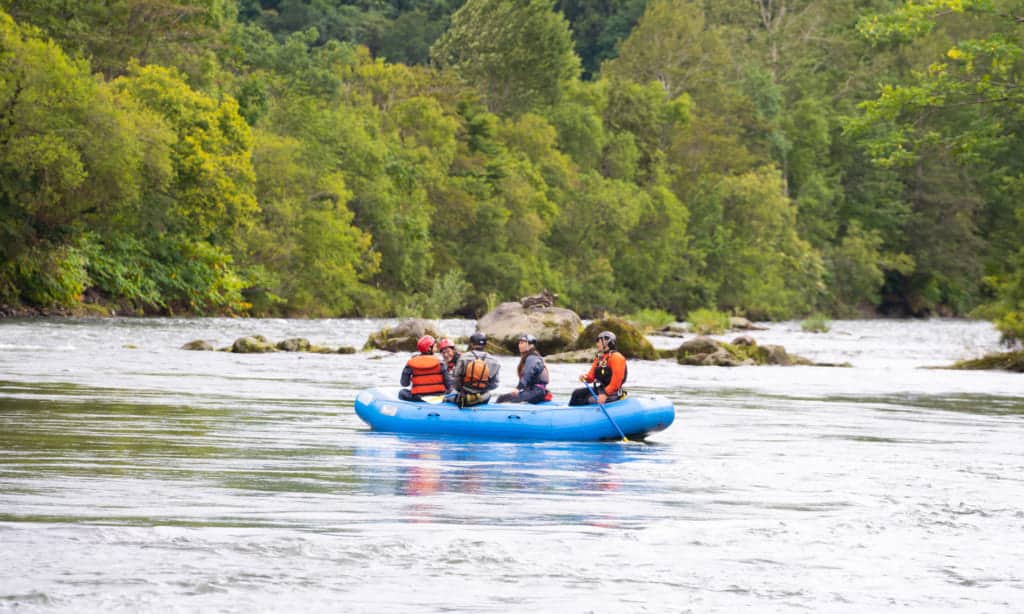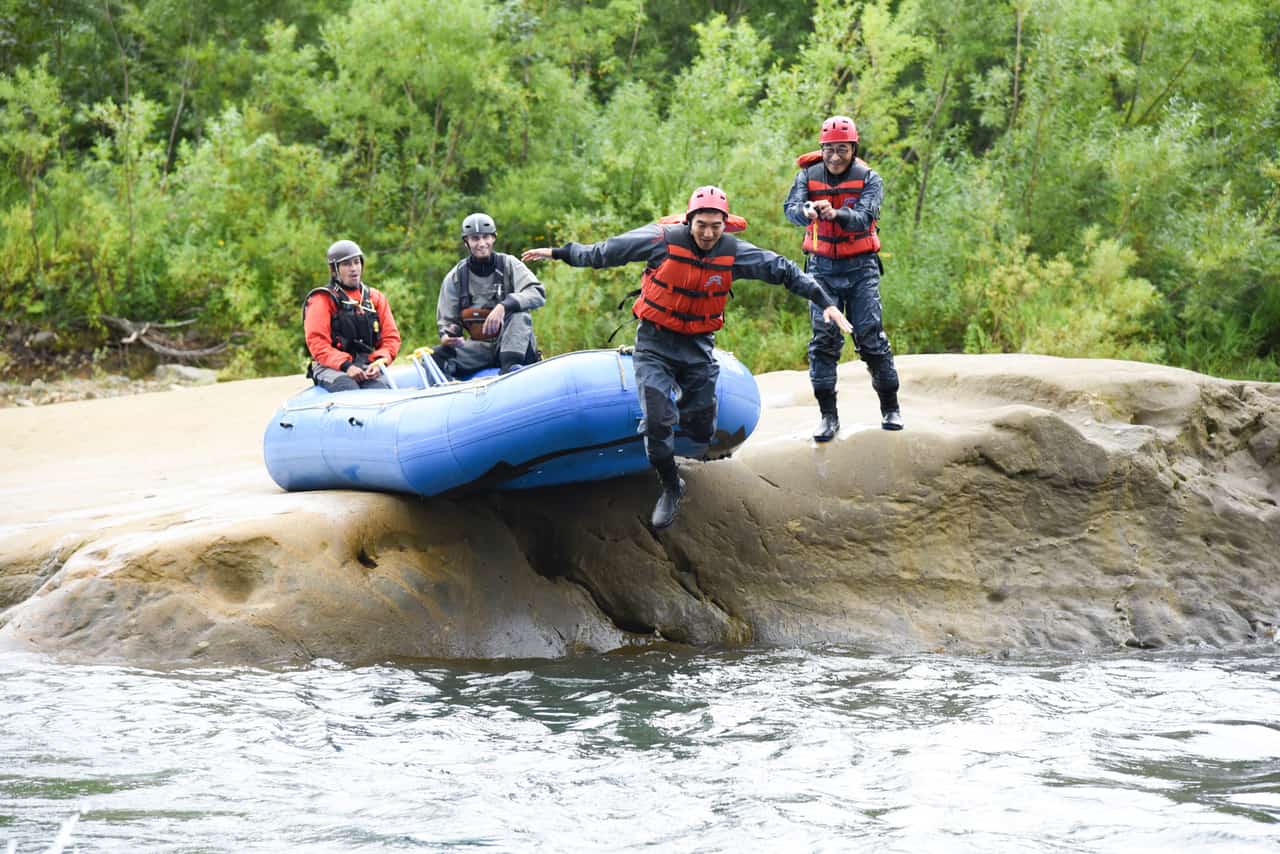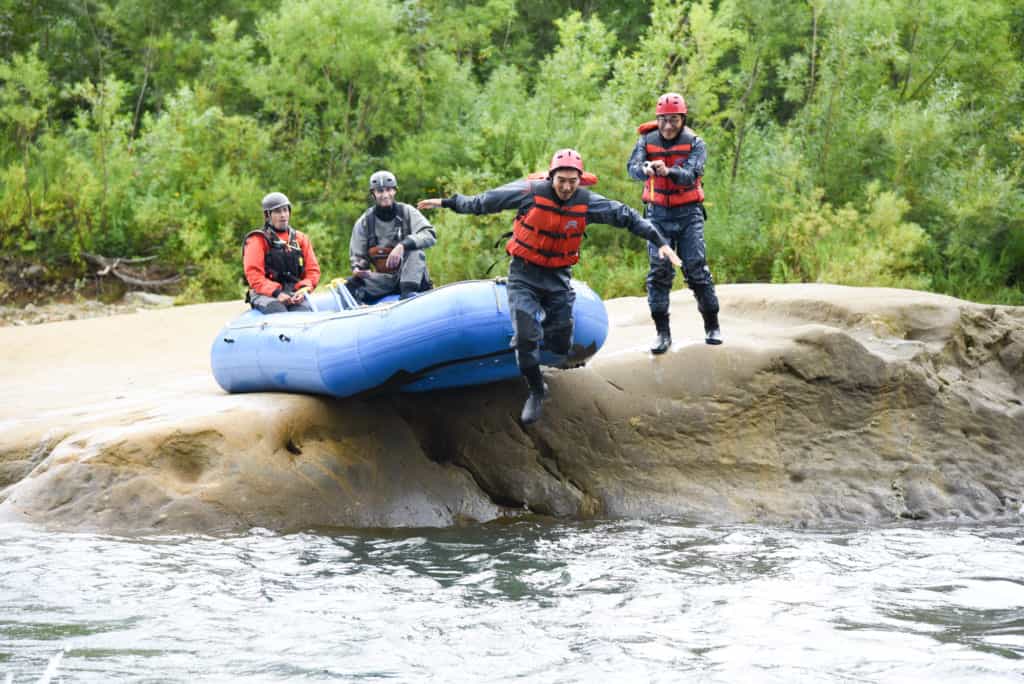 This experience lasted about 3 hours and the adventure center even drives you to and from the lodge in their vans. I had never been rafting before and my time on the river with my guides was an absolute thrill.

At the end of the day I made some new friends and found a new way to enjoy the outdoors.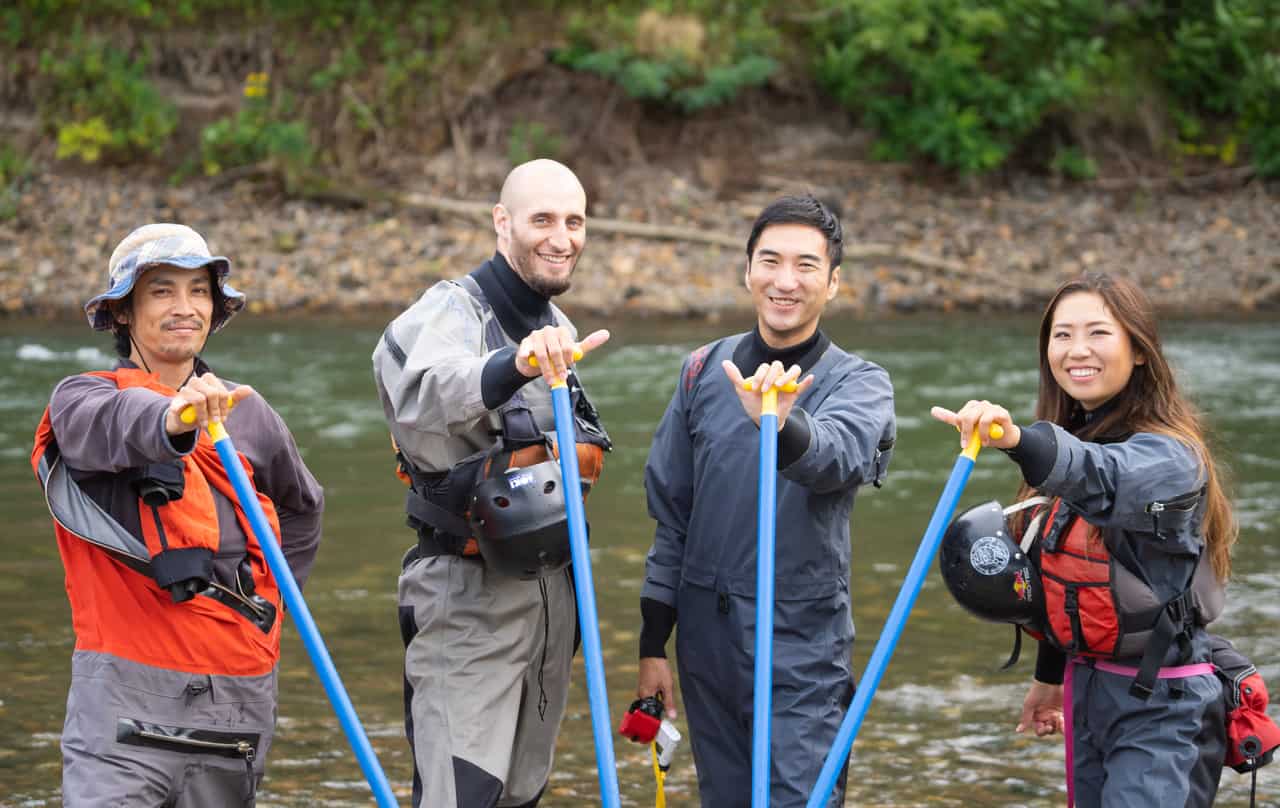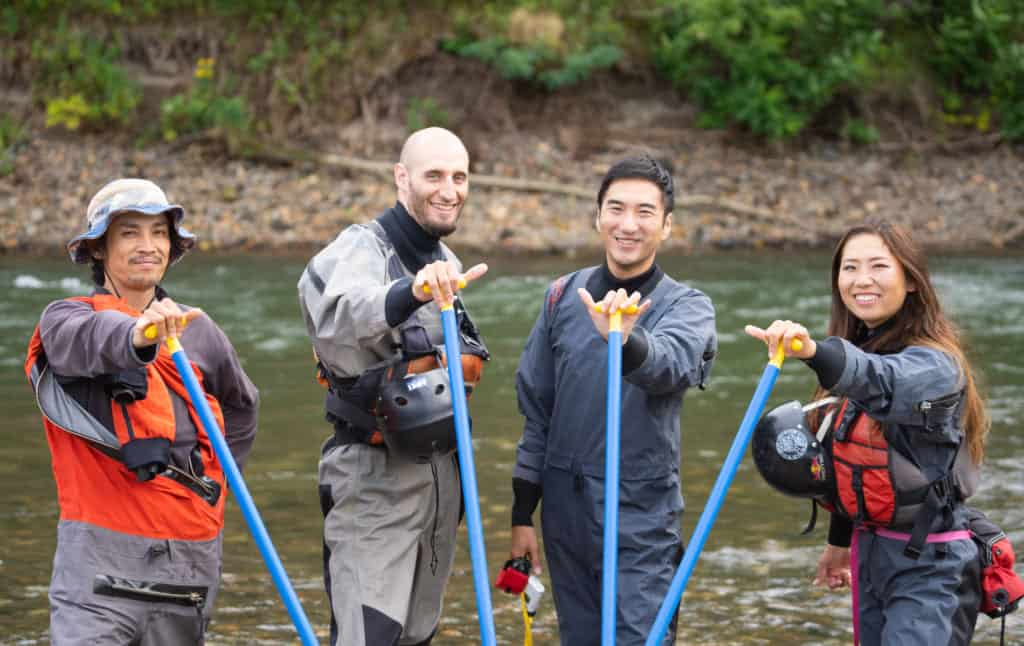 Niseko is a lovely summer getaway and the perfect place for those seeking to escape the city and explore the outdoors of Hokkaido.
The closest train station to Niseko is Kutchan Station and can be reached with local trains via the JR Hakodate Line.
The Hokkaido Shinkansen is currently scheduled to connect to Sapporo by the end of 2030 and Kutchan Station will be included on this route!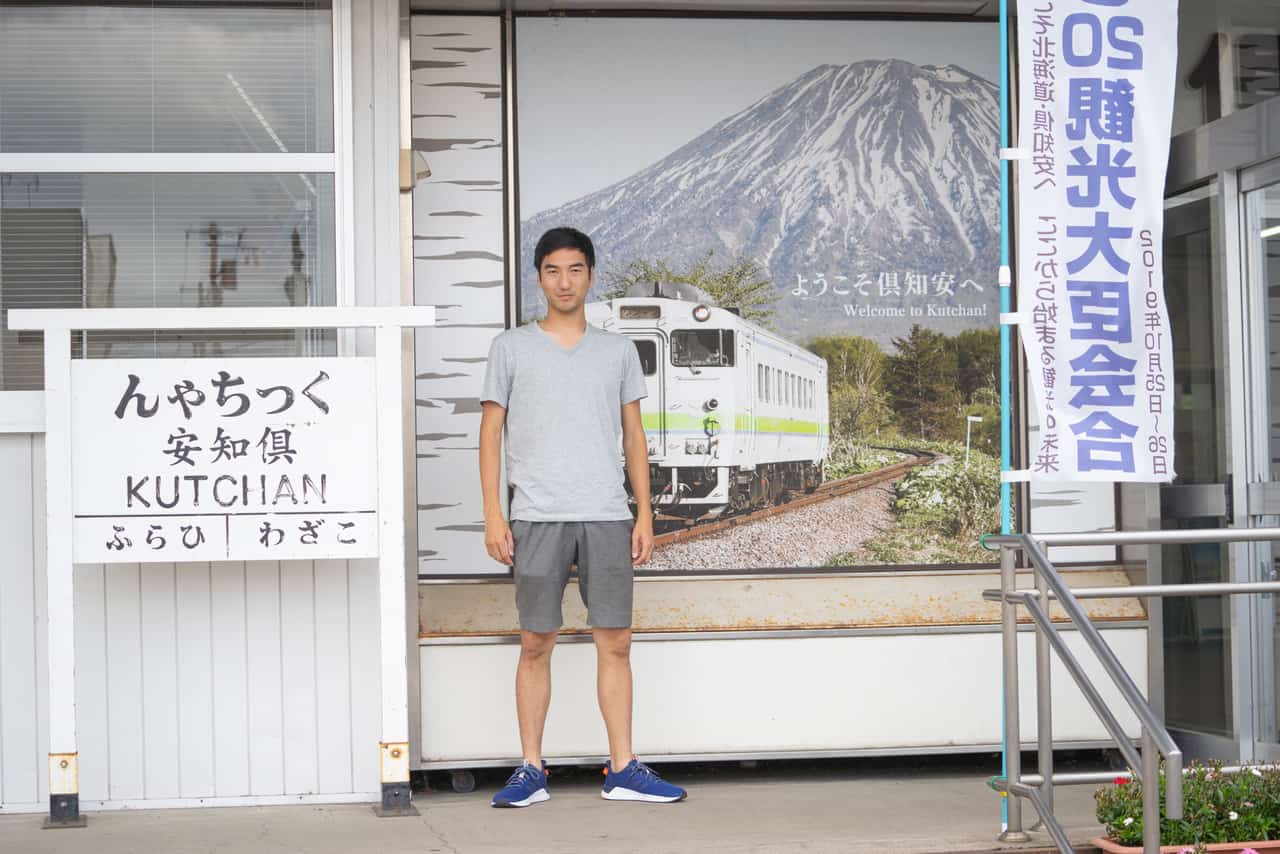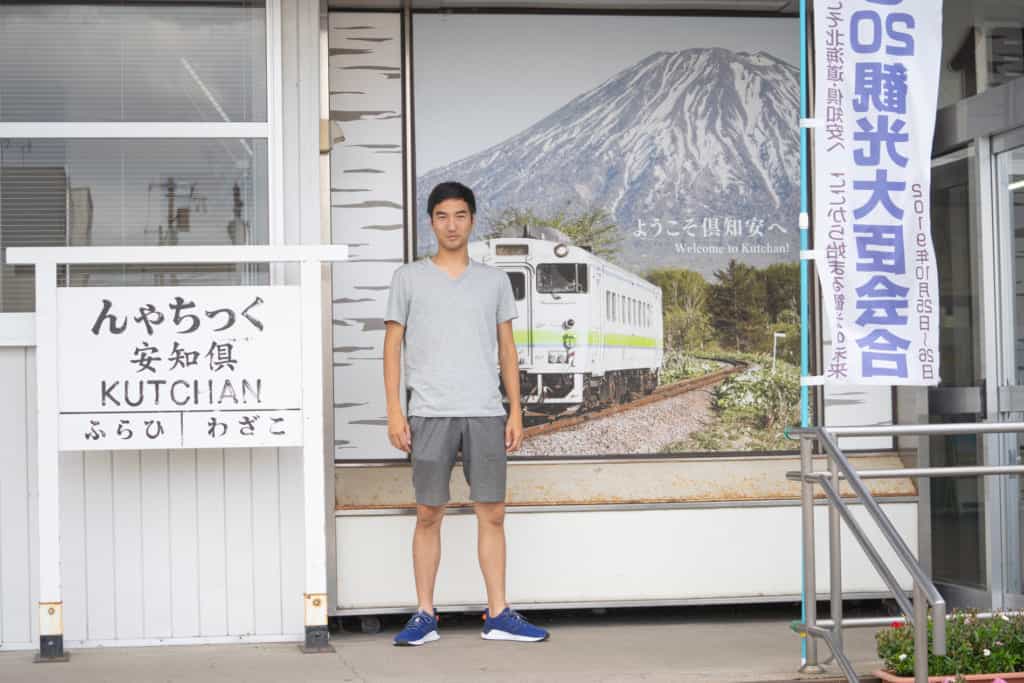 As it has become a common theme on my trip, I wish I could have taken my time to explore more of this beautiful town. However, I had a train to catch to my final destination of this journey, Sapporo City. You can find this article here.