Sponsored by Fukushima City Tourism and Convention Association
Inconspicuously placed within the Azuma Mountains, is Takayu Onsen (高湯温泉) – a small hot spring resort only 18 km away from Fukushima City, in the Tohoku Region. Takayu Onsen's hot springs were discovered around 400 years ago and have allowed the town to blossom into the elegant town that it is today. Takayu Onsen is a 30 minute drive from Fukushima JR Station and is along the Bandai Azuma Skyline – a sightseeing road which offers incredible views of Fukushima and beyond.
The are various ryokans (Japanese inns) for you to relax at in Takayu Onsen, two of the most well-known ones being Tamago-yu (玉子湯) and Nonbiri Kan Onsen (のんびり館).
The water that Takayu receives is sulphuric, which gives it a milky appearance with a 'tamago' (egg) smell. Not wanting to affect the quality of the water – which emerges from ten hot springs at around 50°C – many ryokans pump the untampered water directly into their baths.
Being quite the onsen-ambassador, I believe that onsens should be enjoyed all year. Yet, whatever the weather, I tend to find them especially gratifying after a tiring day. Fortunately for me, after a day of hiking around the Azuma Mountains, I was sufficiently exhausted enough to indulge my soul at Nonbiri Kan Onsen.
First Impressions of Nonbiri Kan Onsen
When I arrived at the ryokan, I was greeted by the owner, Mr. Kobayashi. He enthusiastically presented a name card with 'Miss Tamara' (that's me) on it, making me feel instantly at home!
Mr. Kobayashi took the time to personally show me to my room, indicating where all facilities were along the way.
We had only been in my room for around 10 seconds before he insisted on making me a green tea. Unsurprisingly – being British – this went down extremely well!

My Room
After a few sips of tea, Mr. Kobayashi apologised and informed me that the hotel didn't have wifi. I actually felt relieved. After all, this is a place for relaxation – not productivity!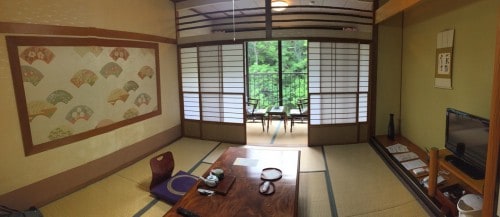 The room was separated into three parts: a smaller tatami-covered area at the back of the room, a central area with zaisu (legless chair), and the entrance area of the room – which connected to the lavatory and futon storage.
Behind the
shoji (sliding doors)
in the picture below, was a seating area for two which overlooked the entrance to the secluded outside onsen.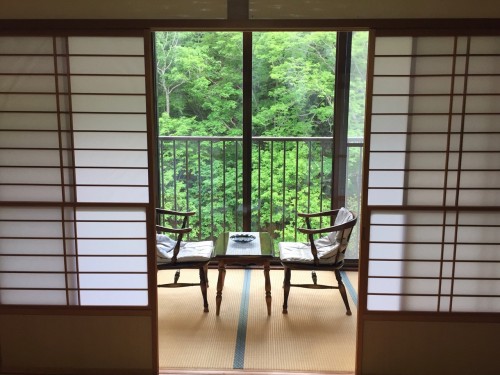 Also within this section of the room was a small fridge, a heating unit and a vanity mirror with toiletries. I love the whole process of pampering yourself after a hot spring bath, so I was pleased to see a variety of skin products available! (There were also toiletries available for men in the bathroom!)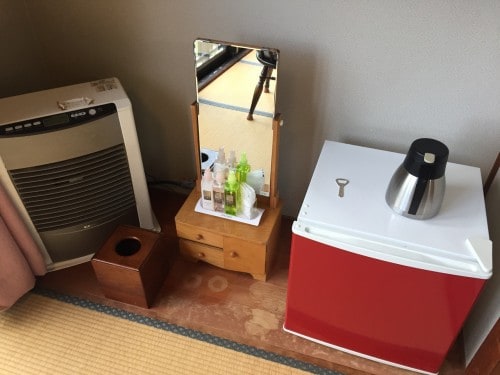 The central part of the room had a television, an air conditioning unit, a seating area, a wardrobe and tea making facilities.
Facilities at Nonbiri Kan Onsen
Whenever I vist a ryokan my priorities are always onsen and food – in that order. I tend not to pay attention to much else. Nonbiri Kan Onsen has a restaurant which serves breakfast and dinner at set times (which in my case was 18:00 and 08:00). There is also a lobby which serves coffee and a range of gifts, ample parking and a tatami area on the second floor which is available for use during the day.
The Baths at Nonbiri Kan Onsen
Most importantly though, Nonbiri Kan Onsen has three different onsens available to use: a gender-separated open-bath, a gender-separated inside bath and a private inside bath. Both of the inside baths also have windows allowing you catch a glimpse of the outside while you soak your loins! One of the benefits of the private bath is that tattoos are permitted!
Thankfully I had enough time to enjoy all three onsen. My favourite of the three was the outside onsen ( which I unfortunately couldn't get a picture of). This refreshing bath faces a wall of trees and the River Su – which you can hear flowing as you bathe.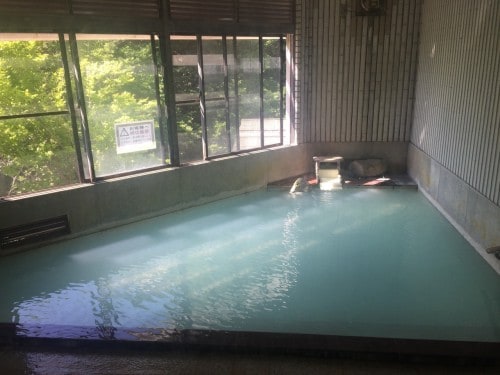 The onsen pictured above, is the largest of the three and also has the best shower facilities. This bath was particularly calming after sunset.
The smallest of the three baths is the private bath which is shown below. I liked the cosiness of this bath and how secluded it felt amongst the trees.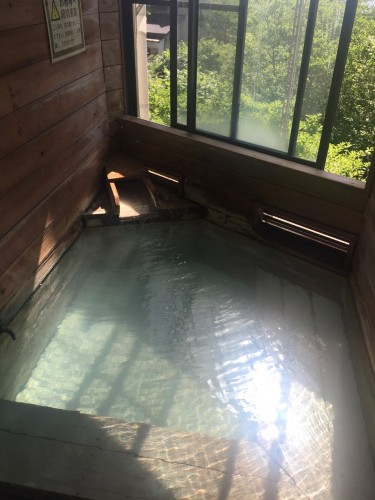 Incredible Traditional Japanese Food
If I had to describe the food at Nonbiri Kan Onsen in one word, it would be 'feast'. With six words I would describe it as 'the greatest feast of my life'. I was not only astounded by the quality of the food on offer, but also the sheer quantity of it!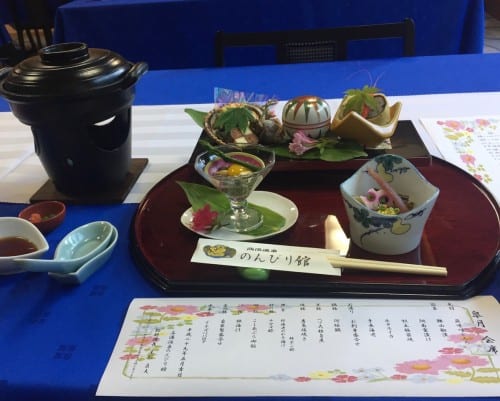 The style of food served at Nonbiri Kan Onsen is known as kaiseki-ryori, which is a traditional Japanese dinner comprised of multiple courses. I didn't know it at the time, but the courses within a kaiseki meal are served in a specific order and have certain dish styles within them on an individual tray These dish styles range from grilled, deep-fried, vinegared and boiled, through to soups, rice and hotpots.
Fortunately though, whilst there are many kaiseki rules which control the layout, colours and flavours in the meal, there is still room for the chef to be creative. The dishes showcase the best colours, tastes and textures of the region's seasonal produce – so when it comes to crafting the kaiseki meal, ingredients are substituted and modified as necessary to enhance their flavours.
If you've ever eaten in a restaurant alone, you will know that it's not the same as the lengthy social affair that you would have with a friend. In fact, it often seems to be over before it began. This certainly wasn't the case at Nonbiri. Dinner was served promptly at 18:00 and everytime that I thought the meal was over, more food would arrive (much to my delight because I had hardly eaten all day). Despite the staff kindly translating the menu into English for me, I still couldn't gauge when, or if, it would ever finish!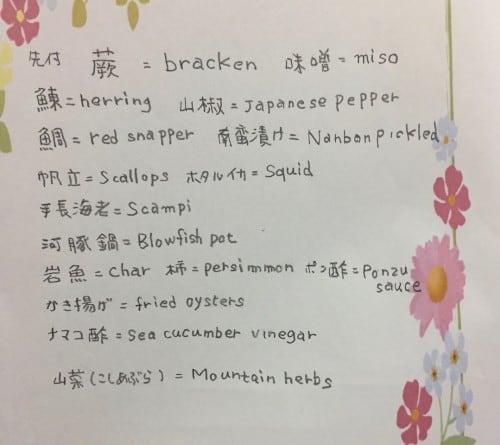 Smoked snapper. Rice. Fried oysters with cheese. Blowfish pot. It seemed to be never ending. But I did my "duty"and happily ate every last mouthful!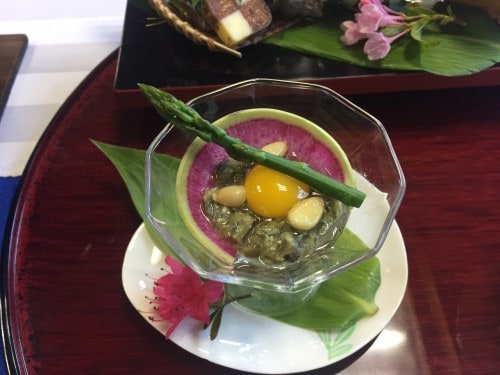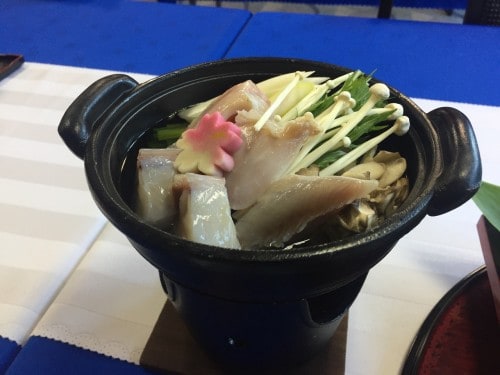 The meal continued until around 19:30 and I was eating for most of that time… Non-stop. One thing that I greatly appreciated was that the hotel were able to accommodate my dietary requirements. I was astounded at how they still offered such fantastic variety despite this!
The following day, breakfast was ready bang-on-time at 08:00. The grilled salmon was tender, the miso soup warmed my body and the white rice with silken tofu sustained me until around 17:00 that day!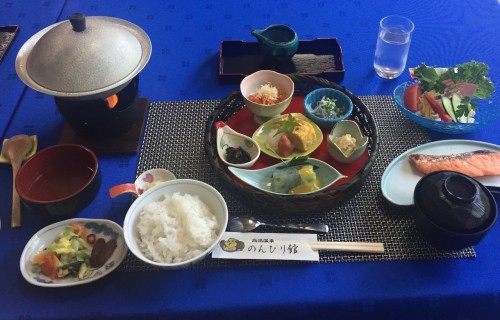 Fantastic Service
Whilst food and onsen are my priorities at a ryokan, the glue that binds these things together is service. Undoubtedly, Nonbiri Kan Onsen went above and beyond to provide me with an exceptional experience…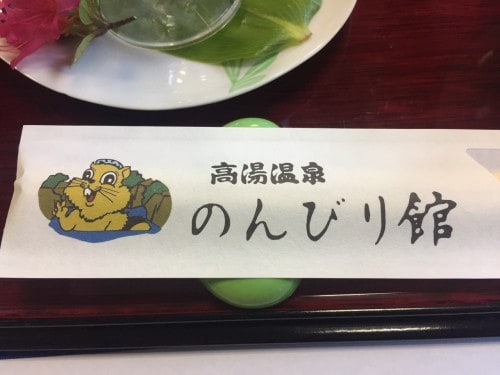 In the Japanese countryside it is quite normal to only accept cash payments. Despite knowing this well enough, when I didn't have enough cash with me to cover my stay!  So how did the hotel handle this? Well, firstly they offered for me to come back and pay later which showed a great deal of trust. But in the end the owner offered to show me the way to the cashpoint, even stopping along the way to show me "the most scenic part of Takayu Onsen". Overall, I was greatly impressed by the enthusiasm and friendliness of the hotel staff and hope I can return there one day soon!
Access
Bus: From JR Fukushima Station West Exit, take the bus bound for Takayu Onsen (高湯温泉). Disembark at Tamagoyumae (玉子湯前) Duration: 40 minutes. Cost 470 yen.
Car: Approx. 30 minutes and 18km drive from JR Fukushima Station via Route 70
To reach Fukushima from Tokyo, take the Shinkansen Yamabiko from JR Tokyo Station. Departures are from platforms 20-22. Duration – approx. 90 minutes. Cost – unreserved seat 8450 yen one-way, reserved seat 8950 yen one-way.
[cft format=0]