Ask me where my favorite place to visit is in Kyushu, and without hesitation, I would tell you it's the Aso-Kuju National Park. Volcanic landscapes, golden marshlands with gentle walking trails, and mountain-top onsen make up only a tiny portion of the fantastic sceneries I've found while exploring this massive 726.8 km² national park. And yet, after successive visits and an almost-annoying level of recommending this park to friends and family, I'd somehow inexplicably missed one of its top attractions — Kuju Flower Park (くじゅう花公園, Kuju Hana Koen).
Luckily, a break in my busy workweek was all I needed to make the impromptu drive to Kuju Flower Park, serendipitously bringing me into its peak tulip season. On this clear April day, the startlingly clear blue skies gave way to views of the Kuju plateau to the north and the Aso mountain range to the southwest, which, in my opinion, is one of the most striking features of this 49-acre park.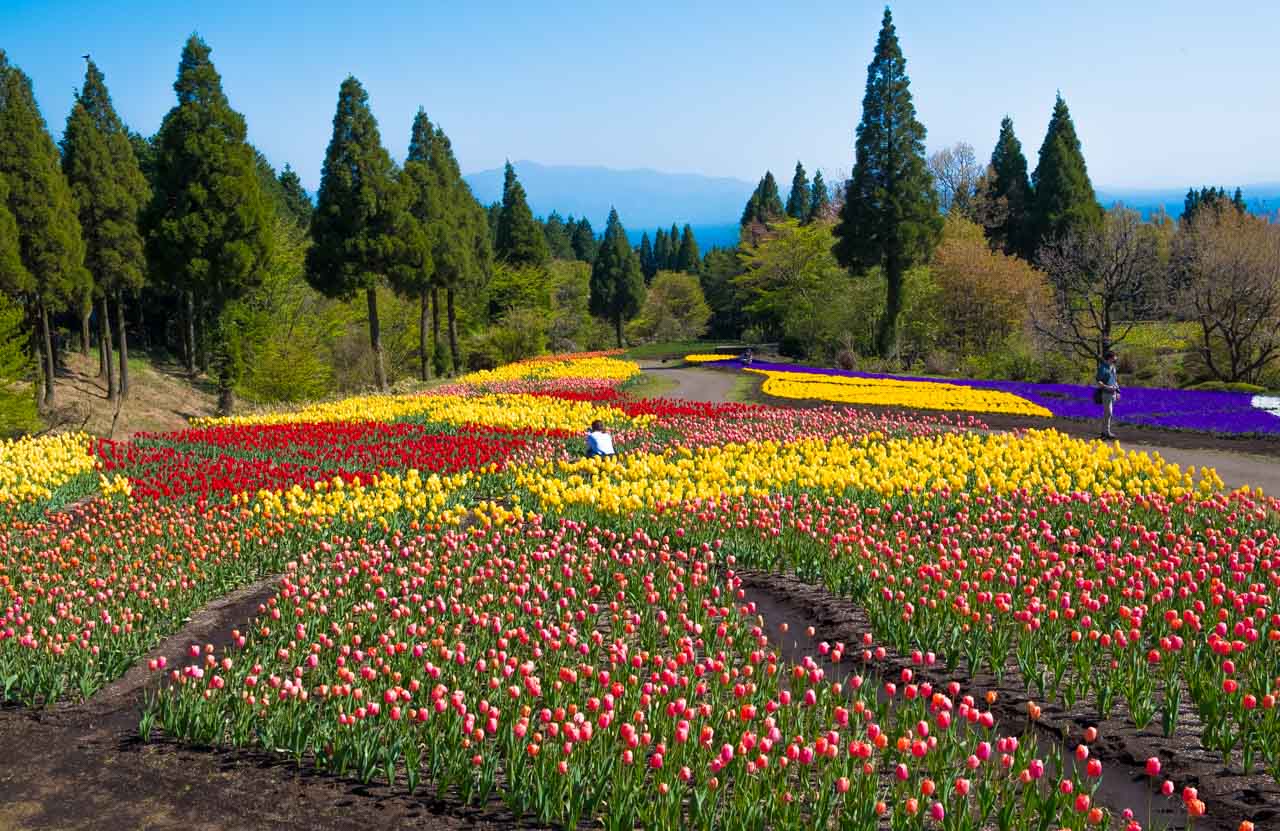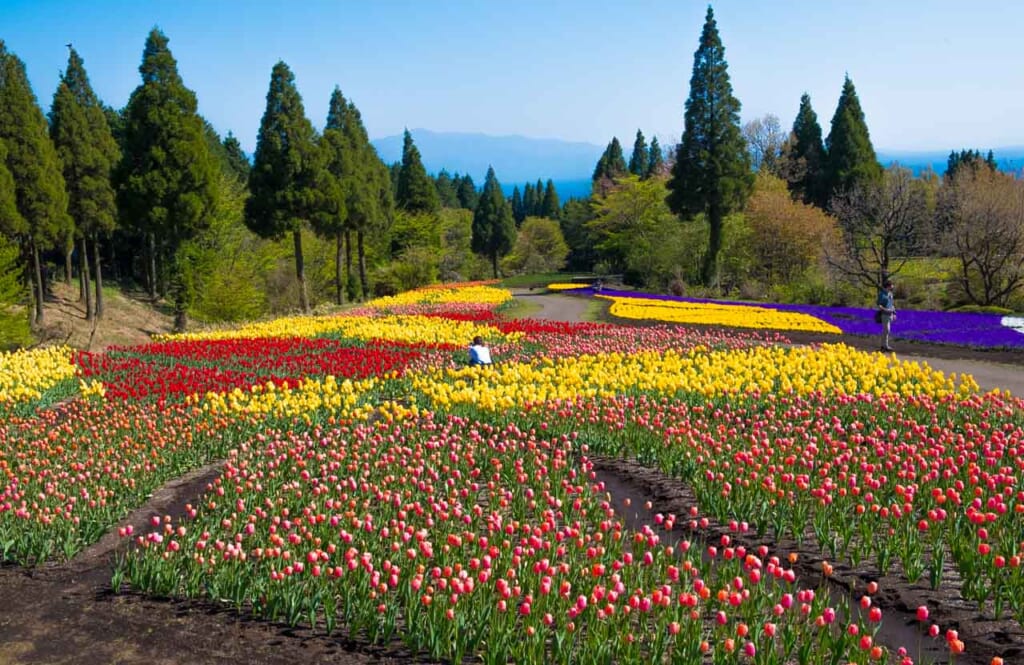 While tulips were the highlight seasonal flower of my visit, talk to anyone else who has been to the park, and they may tell you about the sky-blue Nemophila in the spring, the fragrant lavender during the summer, the pink and white Cosmos of autumn, or any of the 500 different flower varieties that bloom at Kuju Flower Park. That's because of its six-month-long floral calendar year, meaning you can schedule a visit to the park with visits to Aso-Kuju's robust outdoor activities without the restriction of the typically shorter flower seasons.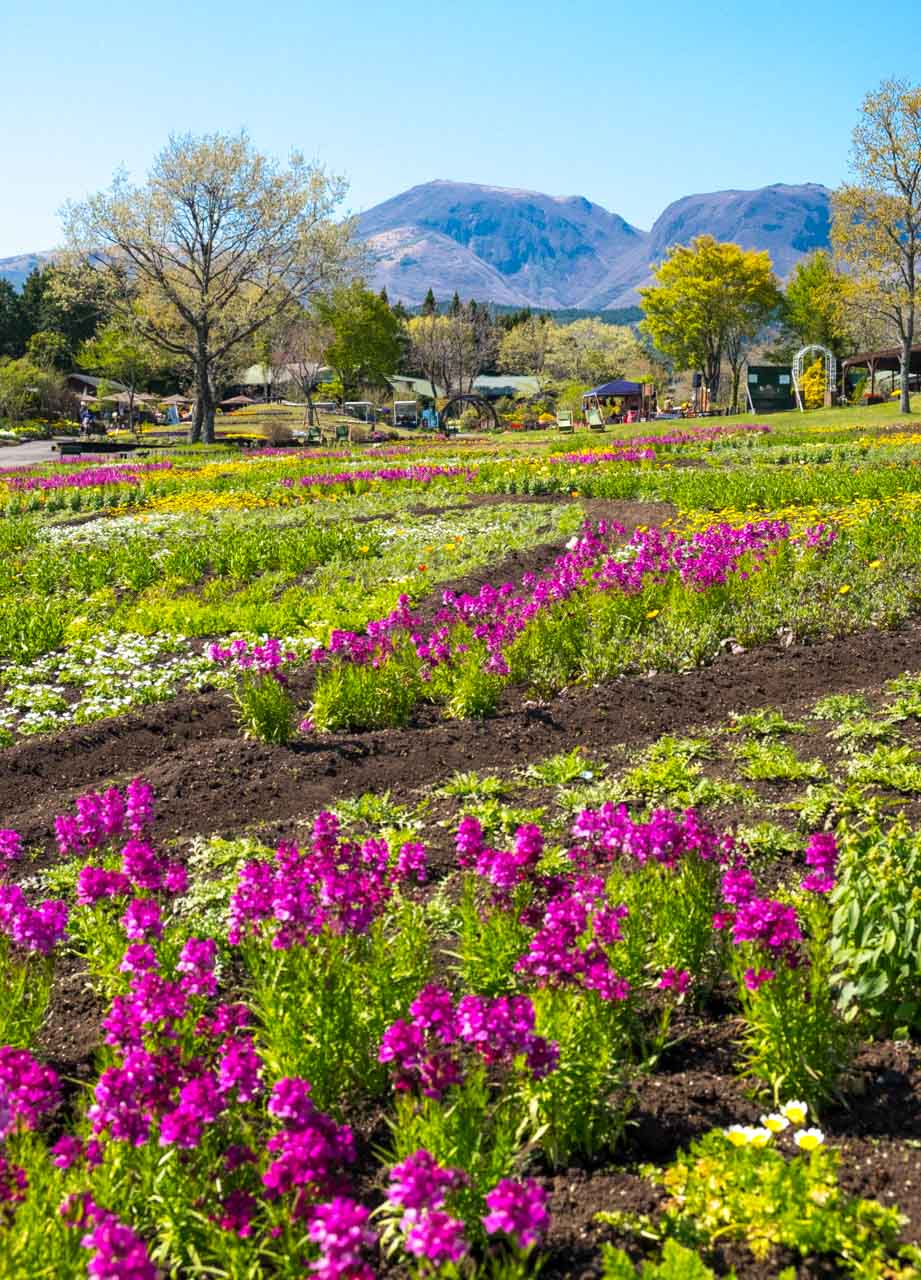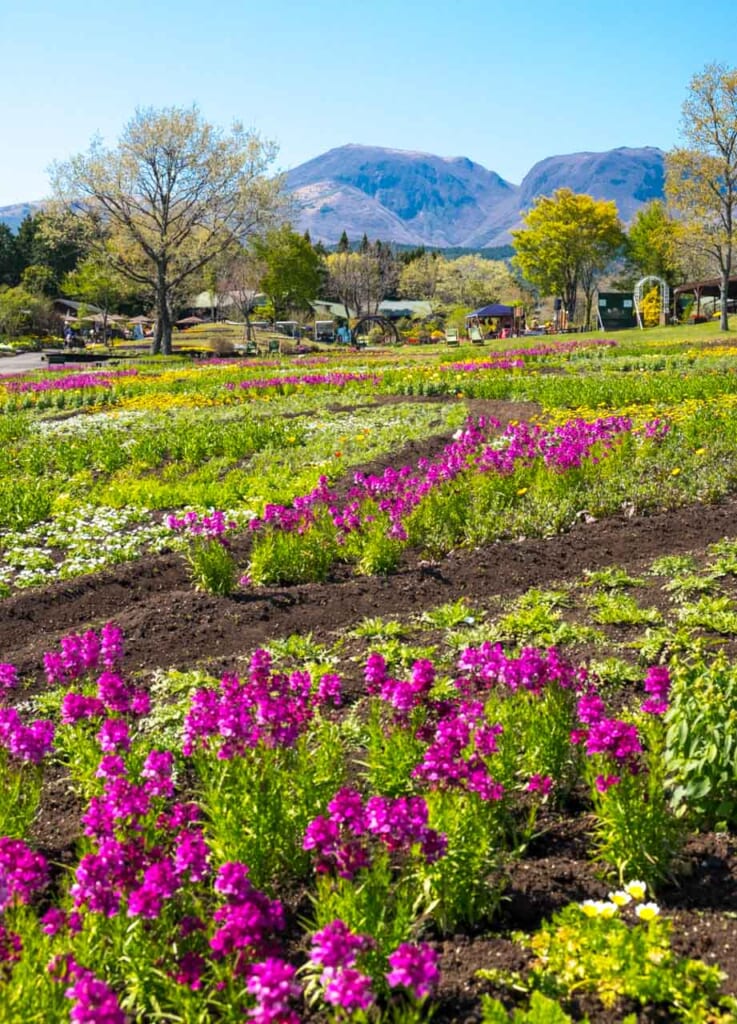 This 49-acre floral park also includes a greenhouse of tropical plants such as begonia and several souvenir shops and restaurants with menu items featuring Kuju Highland-grown fresh vegetables or lavender-flavored ice cream. The park's glamping accommodations at the newly-added Hana to Hoshi Camping Resort also mean that you can enjoy the flowers well into the evening as the Kuju skyscape transforms for a stunning stargazing opportunity.
When is the Best Time to Visit Kuju Flower Park?
The seasonal flower turnover starts from mid-April into late October, extending your flower viewing pleasure far beyond other flower park calendars. The spring season has the most flowers in one season with colorful wildflower gardens, tulips, and vivid pink phlox moss. The summer is a favorite for lavender and blueberry lovers. For an extra charge, visitors can hand-pick blueberries to add a delicious touch to their breakfast cereal or munch on their way home. Finally, the autumn season delivers the final floral note before winter with festive multi-colored cosmos flowers and its electric-red Salvia.
While you can make an impromptu trip to the park anytime during the park's seasonal time frame, it pays to check the seasonal calendar on the Hanakoen Park website (Japanese only) for the most up-to-date peak flower seasons before your visit.
Spring Flowers at Kuju Flower Park
Starting from mid-April to early June, the park's spring calendar comes alive with tulips, Nemophila, violas, moss "pink" phlox, poppies, Livingstone Daisies, and spring field (春彩の畑, lit. field of alpine flowers) during the park's most abundant seasonal flower period. The roses in its dedicated Rose Garden also begin their first bloom from late May to early June (the second bloom occurs in late summer), with over 350 rose varieties over the year. While each flower has its fan-following, it was clear that the tulips were a big hit with visitors, especially those with small pets in tow, choosing the cheerful tulips as their perfect photo-opt backdrop for their beloved pets.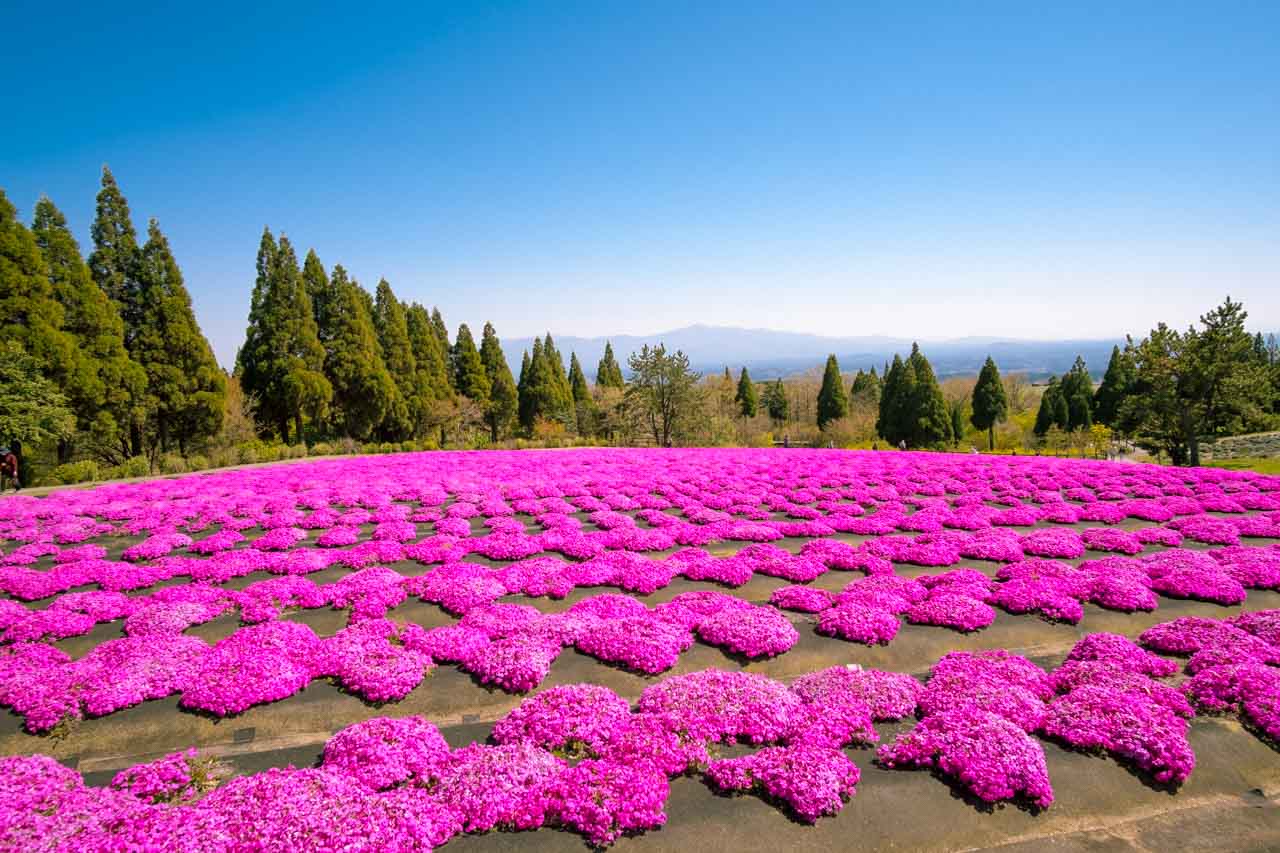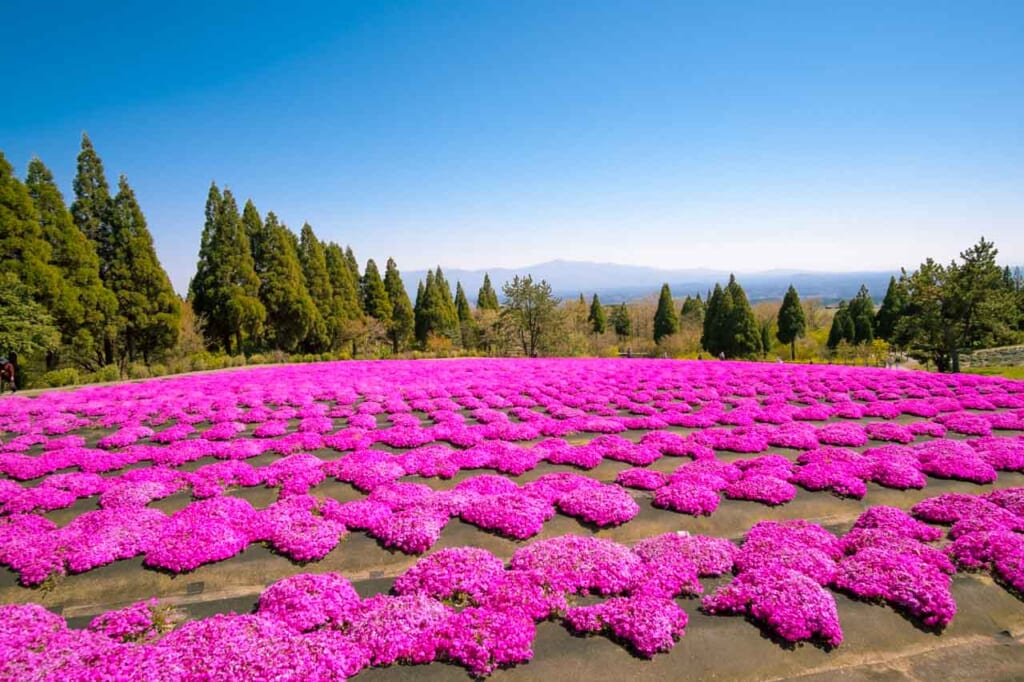 Even if some of the springtime gardens are only beginning their full bloom, the lofty blue mountain range may be enough to lure you into the park's lounge chairs to take in the beauty of the landscape.
April to June: What's Blooming During the Spring Flower Season
Tulip: Late April
Moss "pink" phlox: Late April to early May
Pansy: Mid-April to late April
Nemophila: Late April to late May
Poppy: Late April to mid-May
Livingstone Daisy: Late April to late May
Spring Field: Early May to late May
Rose Garden (first yearly bloom): Mid-May to early June
*Please note that this is subject to change due to weather conditions.
Summer Flowers at Kuju Flower Park
If you visit during the summer months from early June to late August, the garden will bless you with scents of Lavender, Celosia (also known as Cockscomb), and the quintessential summer flower, the sunflower. From early June to mid-August, blueberry fields are open for picking for an additional fee and one of the many attractions for couples and families looking for a fun summer-filled activity to highlight their park visit.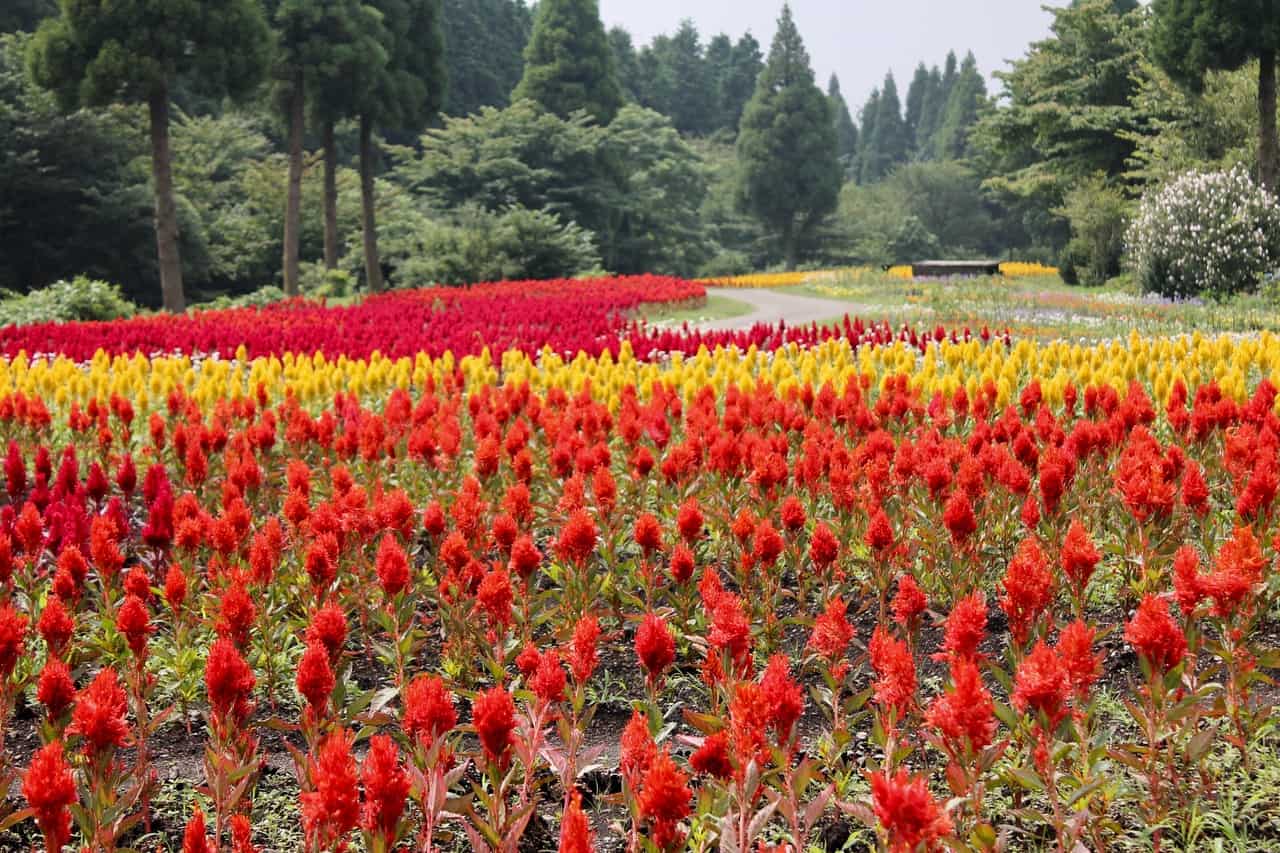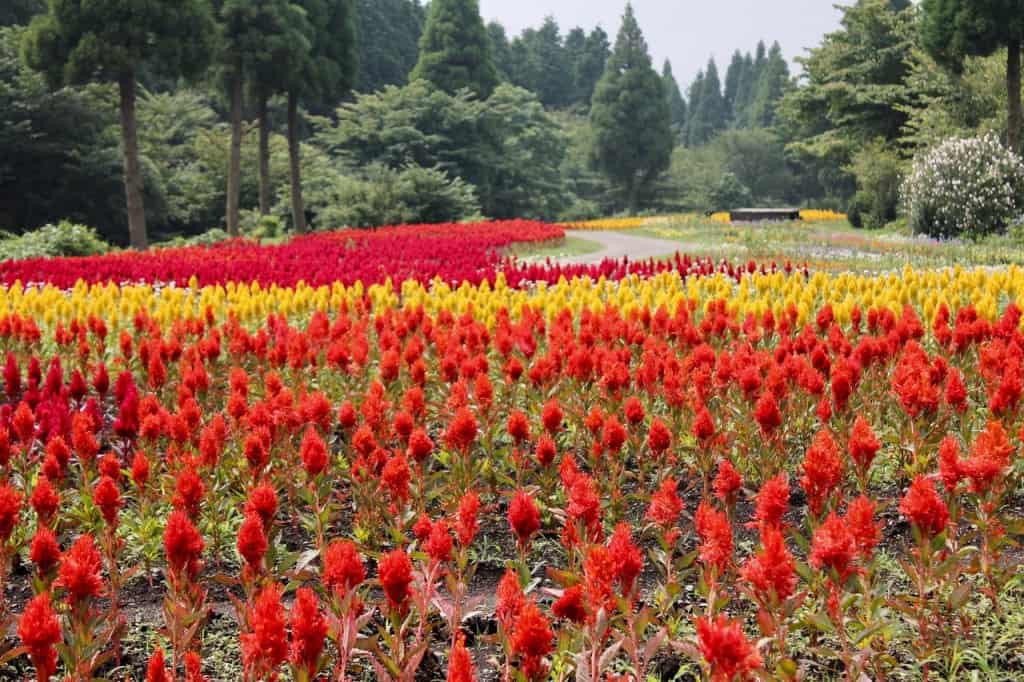 June to August: What's Blooming During the Summer Flower Season
Celosia: Early June to early August
Lavender: Mid-June to late July
Sunflower: Mid-August to late August
*Please note that this is subject to change.
Autumn Flowers at Kuju Flower Park
Unlike the cooler climate in my native Canadian hometown, one thing I can always count on is Japan's continuous floral offerings in the autumn, and Kuju Flower Park is no exception. The autumn calendar starts from mid-August to late October. The electric-red Salvia (also known as sage), pink and white Cosmos and orange marigolds create a wonderful complementary color scheme with the distant blue mountains. The Rose Garden's second bloom also begins from early August to late September.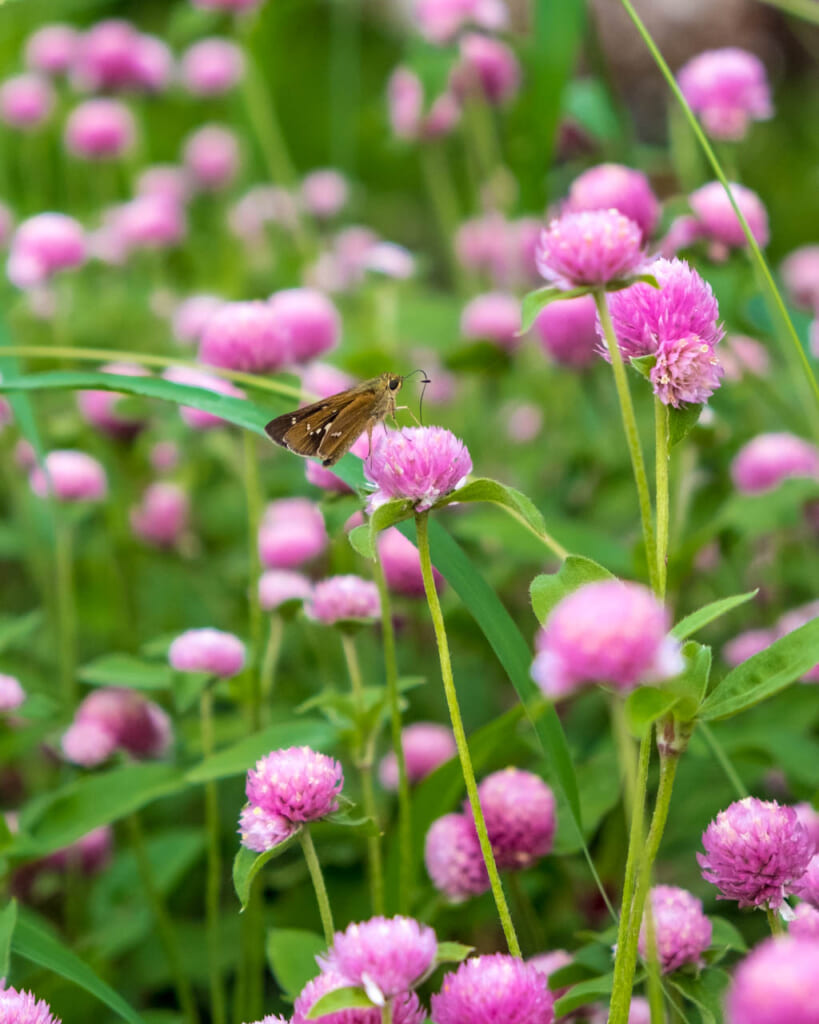 August to October: What's Blooming During the Autumn Flower Season
Salvia: Late September late October
Cosmos: Early October to late October
Marigold: Mid-September to early November
Rose Garden (second yearly bloom): Early August to late September
*Please note that this is subject to change.
Glamping and Stargazing at the Hana to Hoshi Camping Resort
One of the park's newest additions, the Hana to Hoshi "Flower and Star" Camping Resort, has spacious yurt-style facilities on site, with rental bedding, lounge chairs, kerosene heaters, and hammocks providing all you need to spend the evening comfortably. In addition, from March 2021, the camping resort added a BBQ plan with both charcoal and gas grills so you can BBQ to your heart's content under the night sky.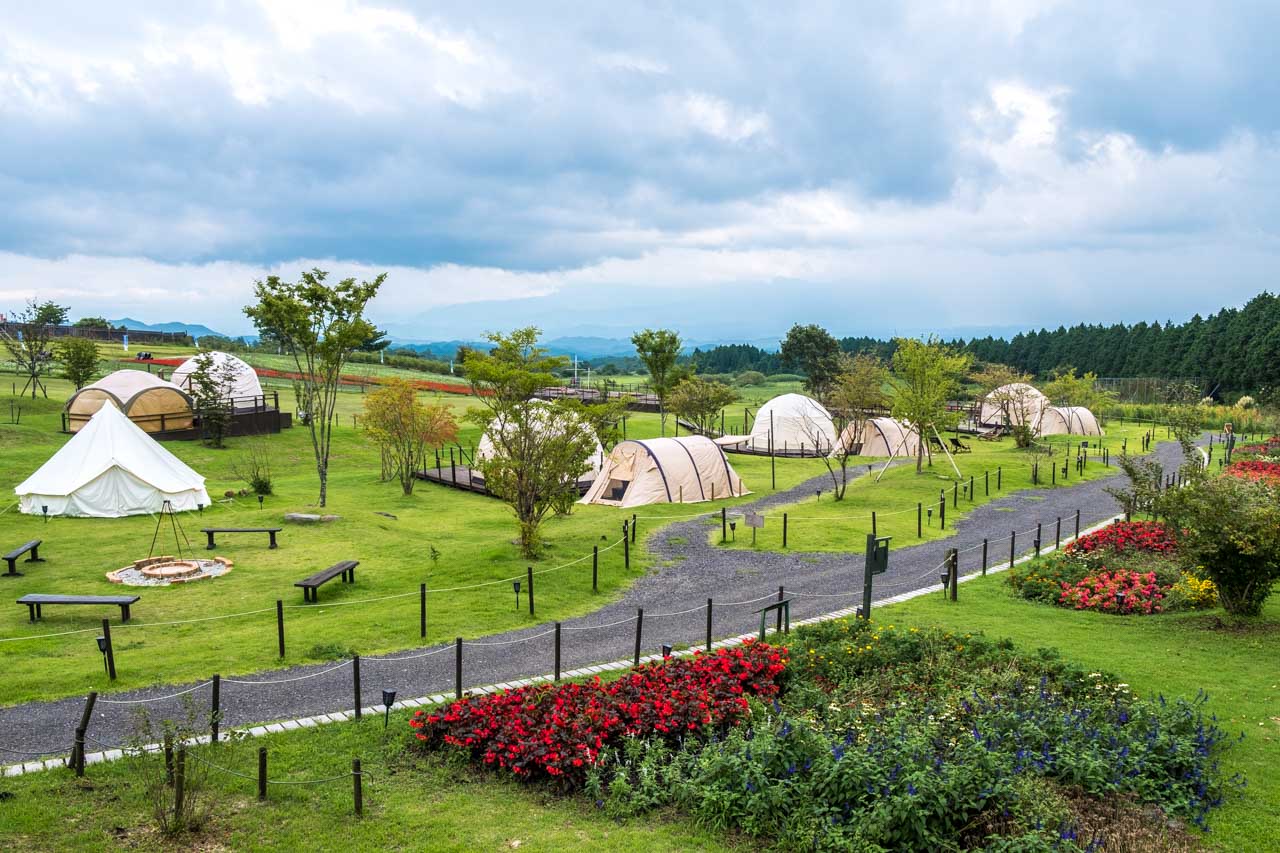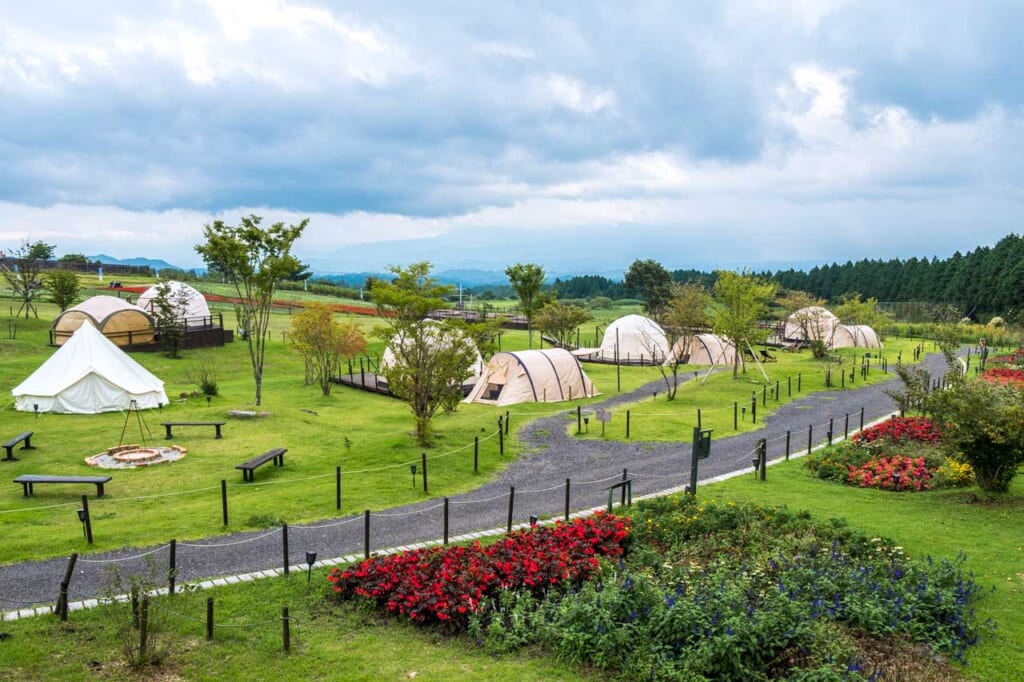 Speaking of nighttime, stargazing is one of the main events during your overnight stay. With its location on a plateau away from any major cities, the night views from Kuju Flower Garden are equally as breathtaking as the view of the flowers during the day.
For those wanting a bit more autonomy during their overnight stay, there are camping sites outside the flower garden limits. Visit the Hana to Hoshi official website (Japanese only) for more information on fees.
Kuju Flower Park Business Information
How to Get to Kuju Flower Park
From Oita city, it takes 1 hour and 12 minutes by car, and approximately two hours from Kumamoto city by car. Many of these spots in the Aso-Kuju region are difficult with just public transport, so renting a car would offer the most convenient solution to reach Kuju Flower Park, especially if you plan on stopping at other nearby destinations. Bungo-Taketa station is the closest train station and takes 30-minutes by taxi.
What Else to See in and Around Kuju Flower Park
Kuju Flower Park makes up part of the massive Aso-Kuju National Park with a variety of outdoor activities on offer. Approximately 30-minutes north is Tadewara Marsh, with wooden boardwalks leading through a diverse flora and fauna wetland, a gentle introduction to hikers new to Aso-Kuju's hiking terrain. Further 12 minutes north is Kokonoe Yume Otsurihashi, Japan's tallest pedestrian bridge stretching over a gorge with two waterfalls and countryside views. Finally, if a visit to a castle remains is on your mind, the beloved Oka Castle Ruins is 30-minutes east in Taketa city, which on misty days, would feel more like you're standing on Laputa-esque castle ruins than a feudal castle.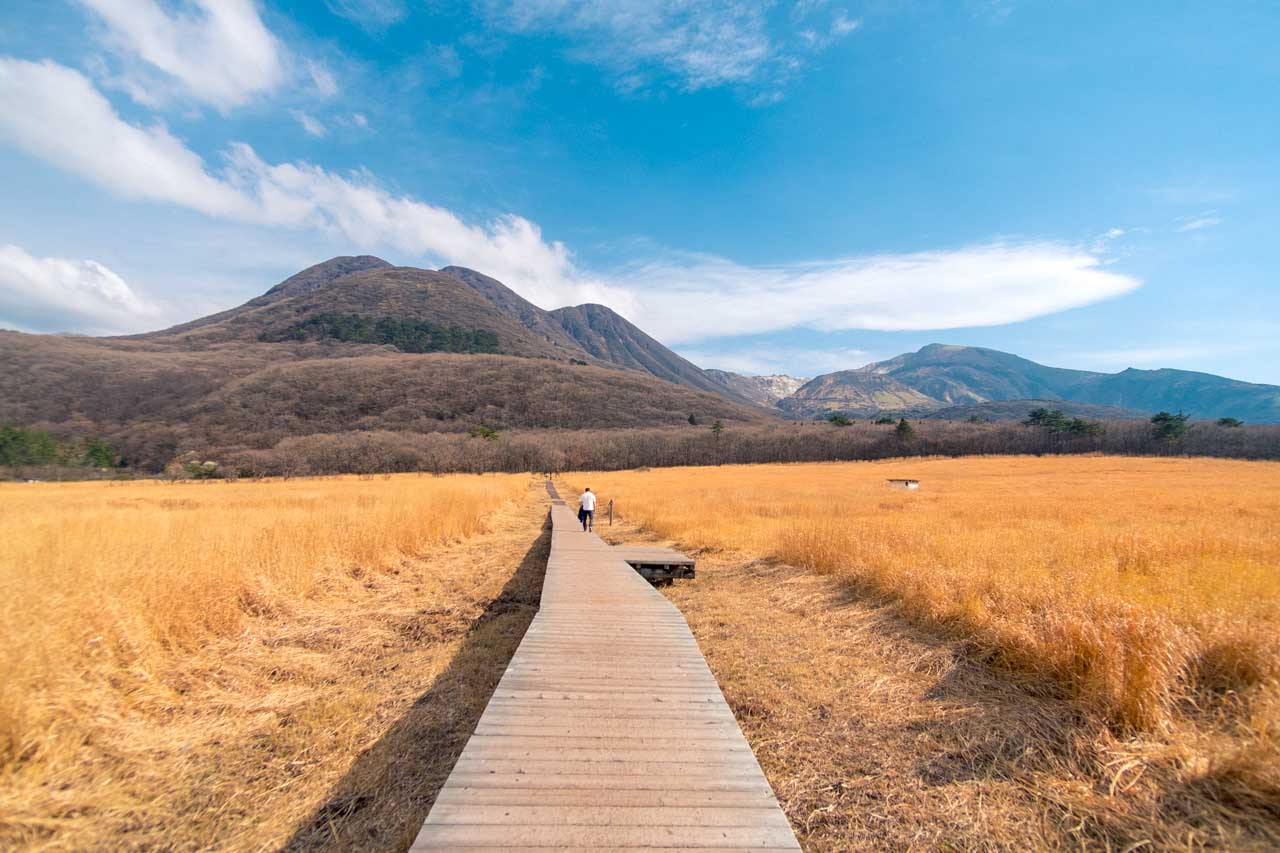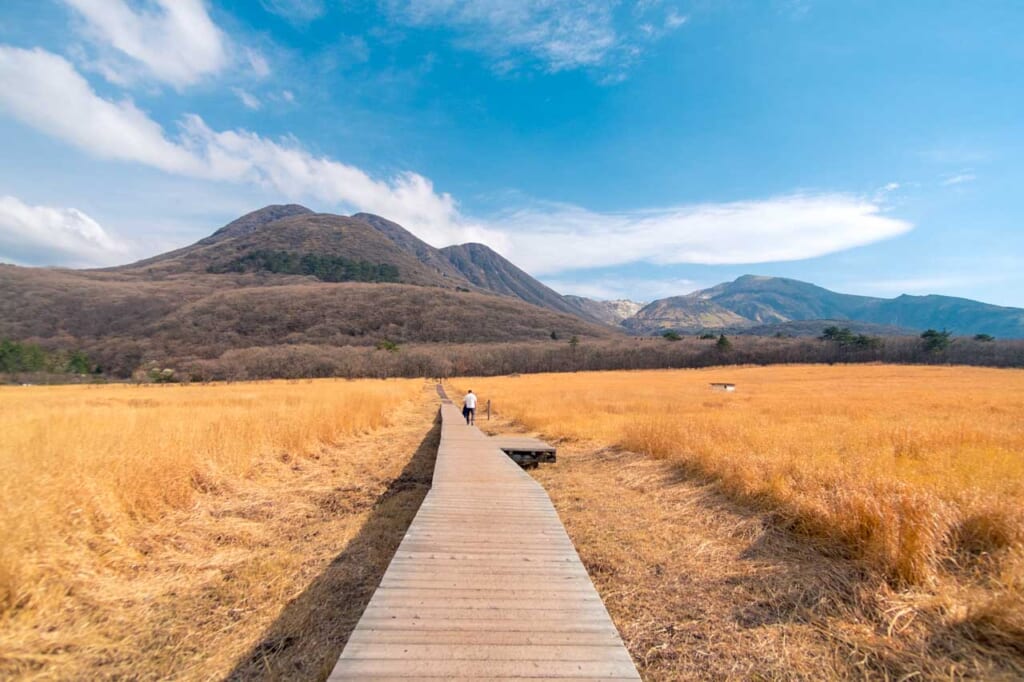 From nemophila, sunflower, wild spring flowers, tulips, or any of the other 500 flower varieties, there's bound to be one that stands out as the highlight of your visit. Top that off with the park's glamping-style accommodations and stargazing, and Kuju Flower Park is the perfect stopping point along your Aso-Kuju itinerary, and one I'll return to year after year.
Sponsored by Tourism Oita