Sponsored by Tourism Oita
A Night at a Home-stay on Kyushu Island
Experienced the bustling city life of Tokyo, the worlds largest metropolis? Ventured to the numerous temples and shrines of Kyoto? Experienced Bungotakada? …no? Well then are you ready for something different? if you are ready to get off the beaten path of Japans tourism, then look no further than Bungotakada in Oita prefecture.
Located on Kyushu island, Japans third largest and southern island, this small town lost in the mountains and pent in by the rice paddies offers you a unique chance to experience the real countryside life of Japan. Here Mr. and Mrs. Kono have opened there family home and farm to guests who want to experience life in rural Japan. Located in Ofuji, here the Kono's offer you a unique experience of full immersion as they share their house, farming know-how and of course some top quality meals too! I was lucky enough to experience their hospitality over a weekend, and would like to share my experience.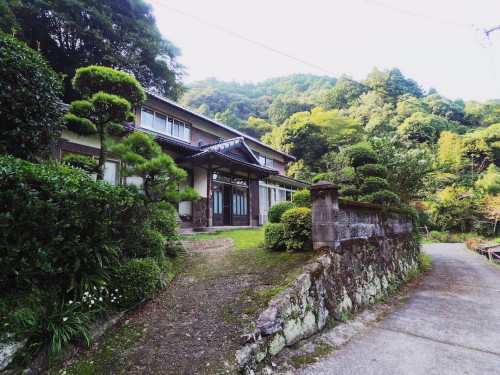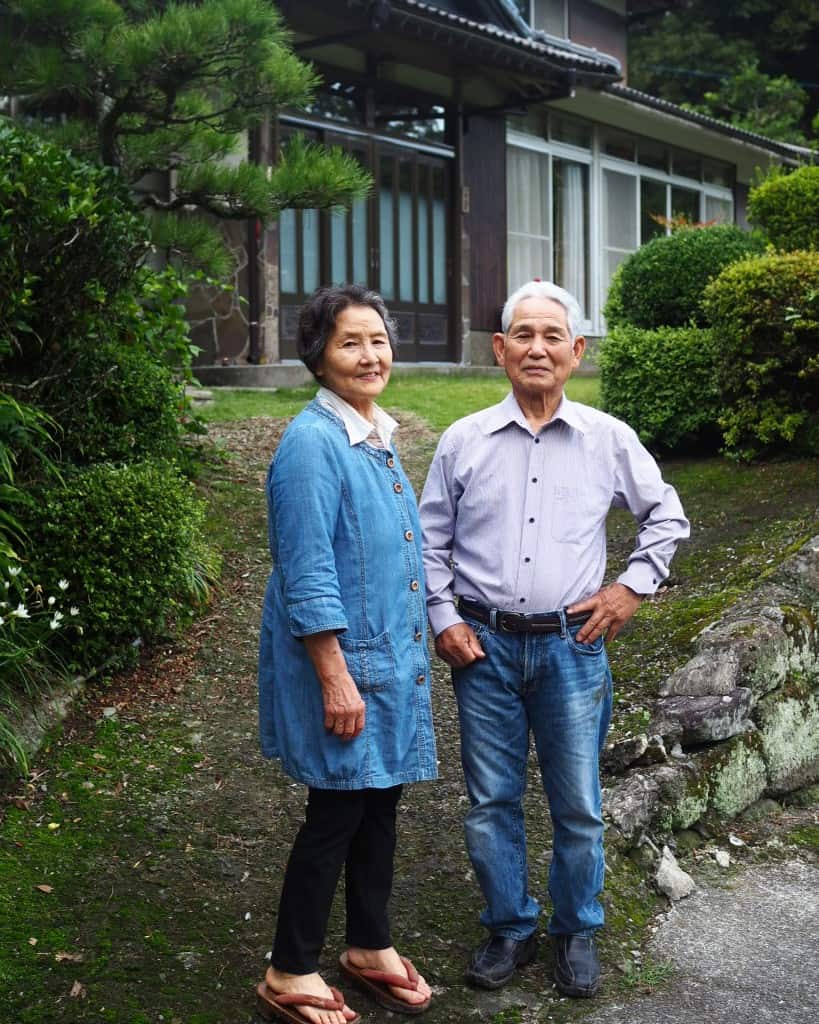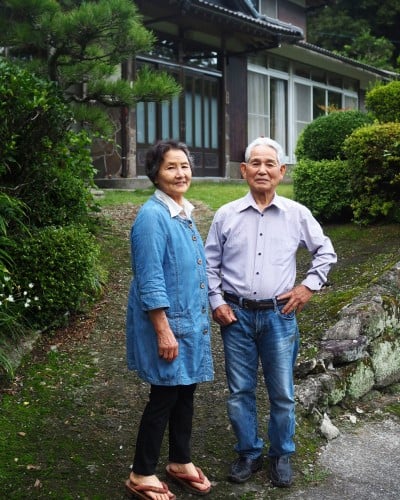 After arriving at Usa station,  Koto-san (Mr. Koto) came to pick me up in his car. The farm is a good 30 minute drive from the station. In the early afternoon of late September, the rice fields glittered as if sprinkled with gold. We stopped during the trip to take a few pictures before taking the car up a steep path lined with trees, up the mountain. I was so taken by the breathtaking scenery that we arrived in front of the isolated family farm, surrounded by a full green landscape, before I knew it.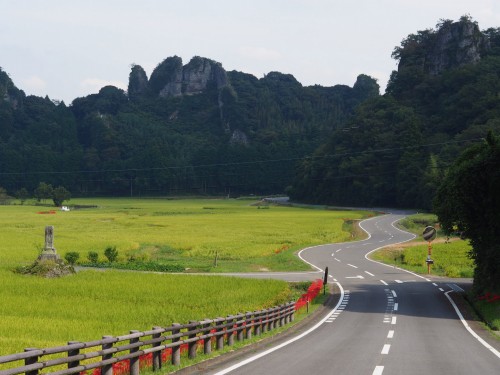 Discovery of Japanese Traditional Housing
Mr and Mrs Kono live in a beautiful and large traditional Japanese house.  Built 120 years ago with a wooden structure, it has been in the family for many generations. Many features of traditional Japanese housing can be found inside, from the genkan (the entrance where one takes of there shoes), to the tatami flooring, many sliding doors, and the butsudan, a small Buddhist altar used to pray to the Buddha and ones family ancestors. You will also notice many futons piled up, waiting to be used for the night.
Along with a very warm welcoming and some iced green tea and cake, we begin to get to know each other. The Kono couple, both in their seventies, do not speak a word in English! This was a great opportunity for me to really practice my Japanese and to use expression and imagination to make ourselves understood. Anyway we laughed a lot and finally managed to exchange words. I think this really added to the experience.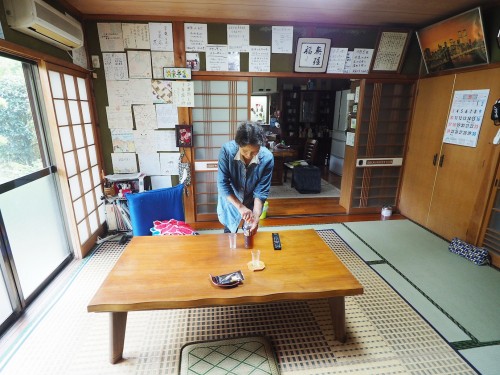 Ecotourism on a Japanese Farm
In the afternoon the Kono's offered me to show me how to pick eggplants. It is the peak season and the garden is full of them. But before we set out have to get ready. Despite the mild heat of September long sleeves are strongly recommended , lest our arms all ravaged. To do this and to protect my clothes, Mrs. Kono lent me a nice purple long-sleeved apron. Upon seeing me don this the couple declared in one voice that I looked really "kawaii" – cute in Japanese – and we set out to go to work the fields.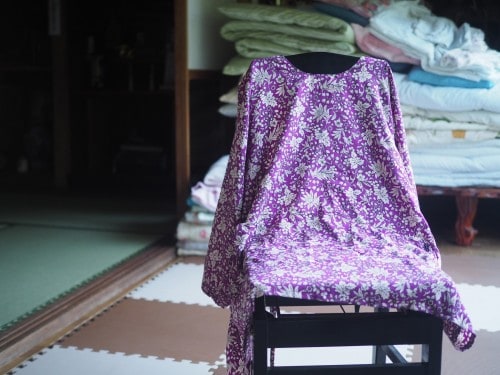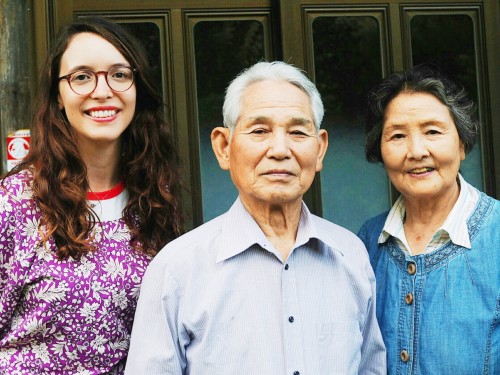 Picking eggplants is actually harder work than I expected. To spot exactly which eggplants were mature I had to be constantly bent down and had to move forward, twisted under the plantations. Kono-san explained to me where to cut so that the eggplants would be able to grow back strong, and how to select the best ones for harvesting. At the end with our full, quite heavy bucket-loads, the 79-year-old farmers carried them back up to the homestead without a word of complaint. I also received a full tour of the vegetable garden filled with squashes, potatoes, sweet potatoes, onions and more, as if it was an open-air greengrocer store.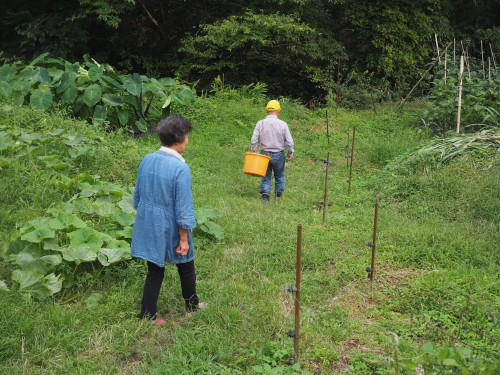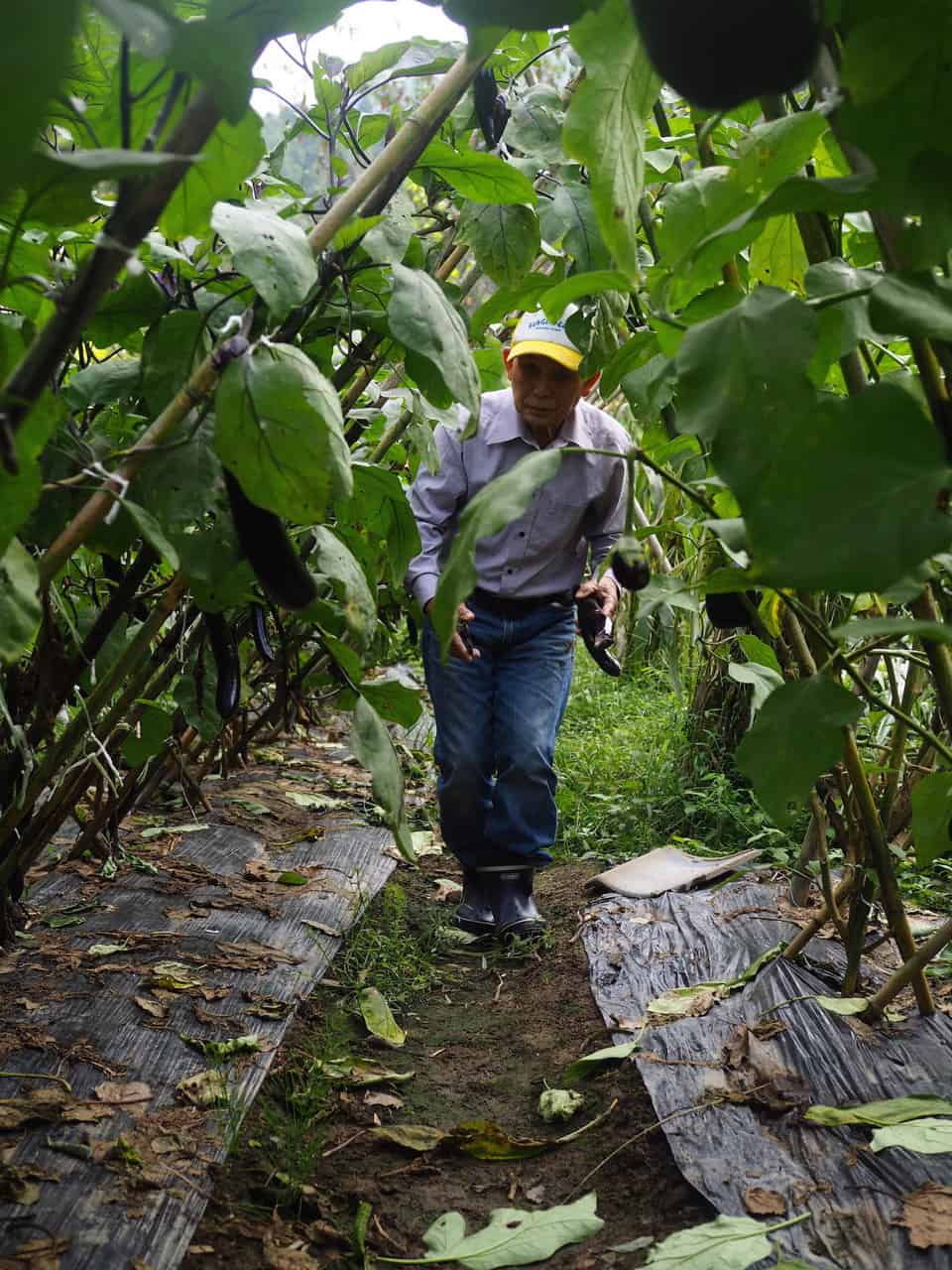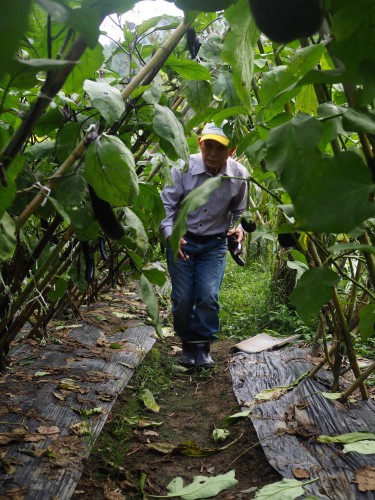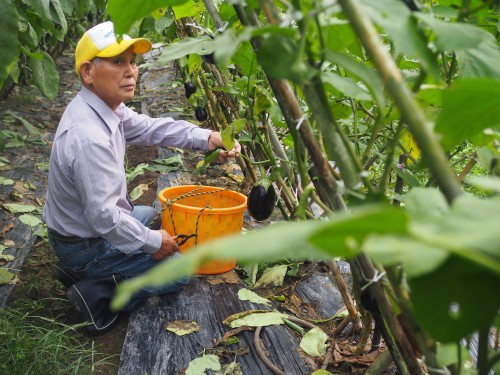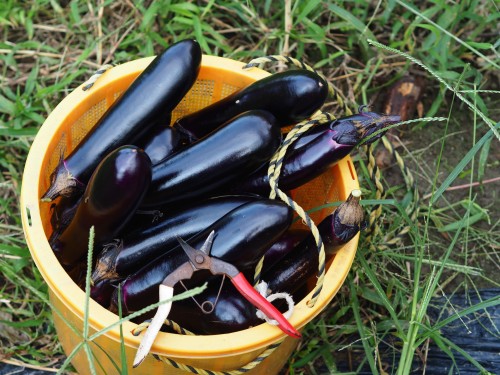 A Stroll in the Japanese Countryside
After the harvest I went for a walk around the area of Bungotakada. As far as I could see there were only rice fields. The Harvest is scheduled for the following week, from October 7th-8th. The Kono's own around 74 acres of land and cultivate mainly, in addition to their vegetable garden, rice and makomo. Makomo is a plant that can be cooked or infused when the sprouts are still young. They also have Oita-prefecture-born hens, famed for their taste, which provide to the family both meat and eggs. Thanks to their farm, the Kono's are almost entirely self-sufficient. This is great as there are no convenience stores (conbini) in the neighborhood, let alone any supermarkets. The closest cities of Usa or Showa-no-machi are a 30-minutes drive away. When one travels in Ofuji, the feeling of really being in another world is quite strong.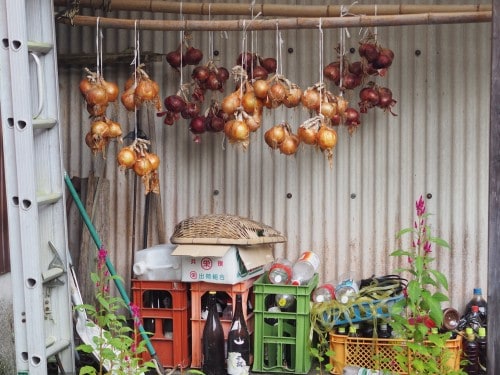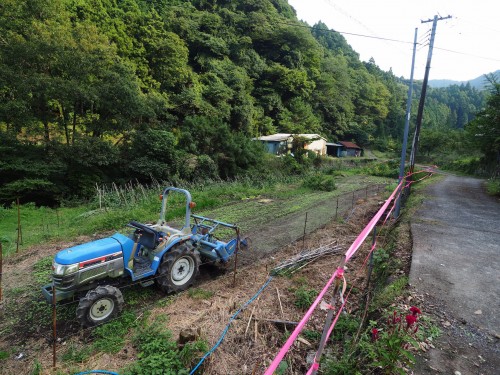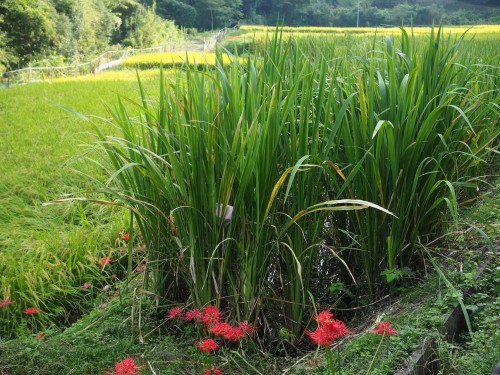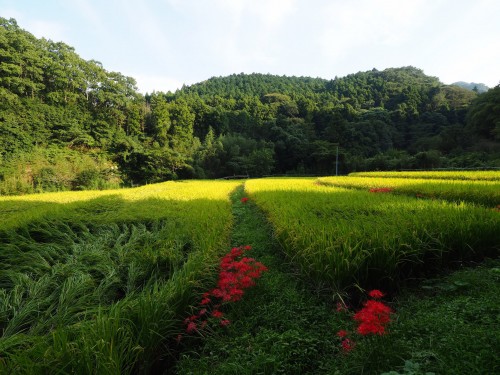 Meals made with Farm Produce
After working, it's time to relax. With the delicious aroma of tonight's dinner wafting in from the kitchen, I chilled out and discovered with pleasure the practice of the ofuro. The ofuro is a Japanese bath that is found in most of the houses around here. Proper etiquette says, one must shower before entering the 42-degree heated water. The bath is somewhat deeper than the usual western style, so you can really soak.
During this wonderful period of relaxation, The Kono's served up a whole feast, made only made with the local farm products. It was all waiting for me, set out on the living-room table. Each dish was truly delicious: from the vegetable tempura, scrambled eggs with tomato, the soup, the chawanmushi (vegetables and egg flan) to even some karaage (fried-chicken). I do think it was the most delicious food I have eaten since arriving in Japan. Whilst my belly was already full, the regions pride product was brought in to close the dinner; the rice. We eat the rice without any seasoning, so that we may truly experience the flavor. The rice that we can find in France has nothing on this. My final word is, wow.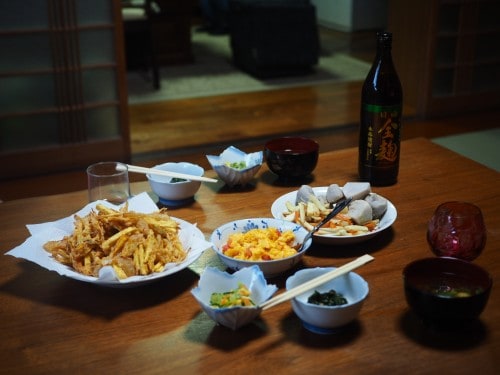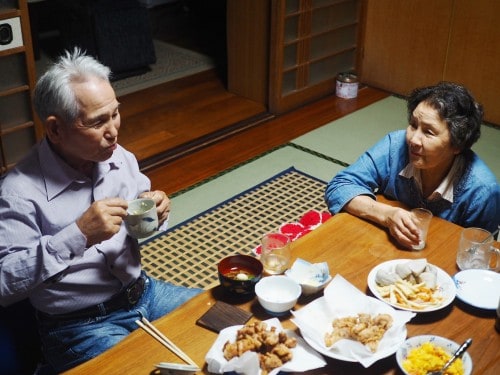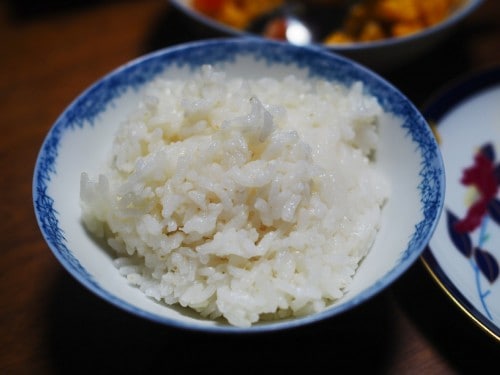 During the dinner, we talked about many things again and we even commented on television programs. The Kono's place is not a hotel, but rather their real family home so everyone can feel at home. Before going to sleep I helped to set up my bed. I was given two futons to sleep on, and five blankets to keep warm. Well, as you can image I slept warm and comfortably!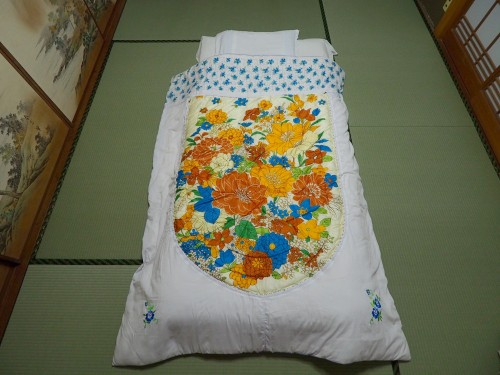 Finally I woke to a pure and traditional Japanese breakfast. On today's menu, we enjoyed a miso soup and some salmon, raw vegetables, all served with rice and yakinasu.  Yesterdays-freshly-picked eggplants also made an appearance, all grilled up and served on top of miso. There is no better way to start the day for a tour of the region!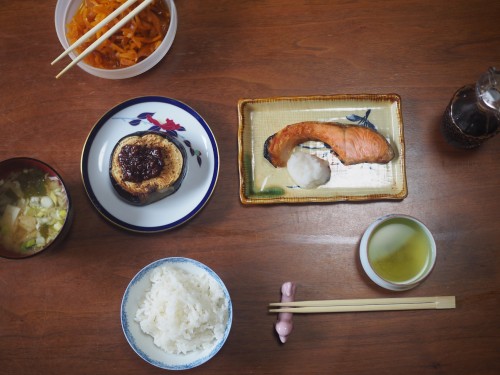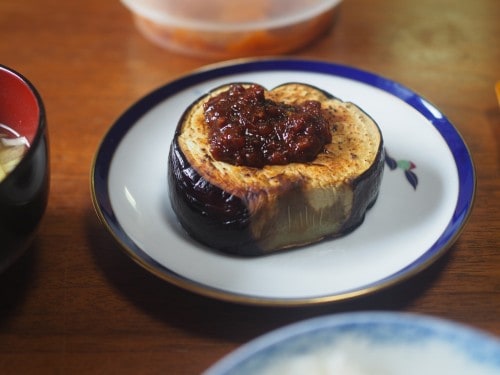 How to Get to Ofuji Farm?
From Tokyo, take a flight to Oita for 1 hour 45 minutes. Then, from Oita airport, take a bus bound for Beppu station. Once you have arrived at Beppu station, take a train to Usa station. From here, Kono-san will probably come to pick you up at the station to bring you back to their home.
How to Book?
It costs 6,800 yen for a night with dinner and breakfast.
| | |
| --- | --- |
| Name | Ofuji |
| Category | Farmer's Inn |
| Address | 3900 Tashibuosaki, Bungotakada-shi, Ōita-ken, Japon |
| Access | [map]3900 Tashibuosaki, Bungotakada-shi, Ōita-ken, Japon[/map] |
| Opening Hours | Check in: 16:00 / Checkout:10:00 |
| Price Range | ¥6,800 |
| Payment options | Cash |