Sponsored by Shinshu-Iiyama Tourism Bureau
It seemed like a simple question: where could I go to catch Shinshu Salmon? As one who occasionally enjoys casting a line into a lazy river, I was interested in where they could be caught as I was certainly dedicated fishermen from around the world would flock to Nagano for a chance to net one of their own. The prized ingredient in meals from Nagano, one of Japan's few landlocked prefectures, appeared in several meals and various forms during my stay in Iiyama City. Shinshu Salmon, the brand name for Nagano Salmon, is what most other salmon dream of growing up to be: beautiful to the eye, flaky to the touch and flavorful to the taste. And apparently, impossible for me to catch.
I had come to Iiyama City in Nagano to hike the Shin-etsu Trail, an 80km trekking route along the ridge of mountains dividing Nagano and Niigata Prefectures. While more adventurous folk prefer to sleep in tents along the route, a city boy like me prefers a soft futon to sleep on, a hot onsen to soak in and a toilet that doesn't require a shovel to use (to be fair, there are real bathrooms along the Shin-etsu Trail, but that's a story for another day). After my first day of trekking, my host brought me to my accommodations at Shikisai no Yado Kanoe at the base of the mountains on the western side of the valley. The foothills of Iiyama City are a wonderful place to witness the changing colors of the season, which were currently turning autumn hues of gold, red and orange.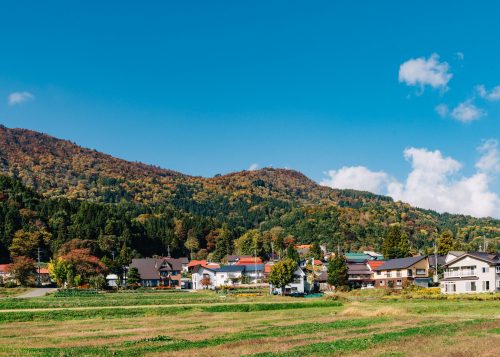 Shikisai no Yado Kanoe is a traditional-style, family-run ryokan, complete with onsen fed by the hot spring waters of Togari Onsen. The simple rooms consist of a tatami room with a small table and space to put out your futon for bedtime, as well as a small television, though it is far more satisfying to get a good soak in the onsen and turn in early. There is a private toilet and sink in each room but the onsen (one for men and one for women) are communal. During off-peak, it would be quite easy to get the whole onsen to yourself if that is your preference.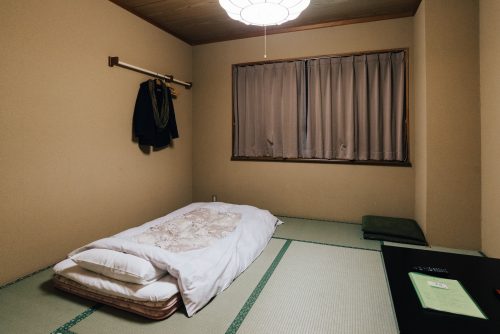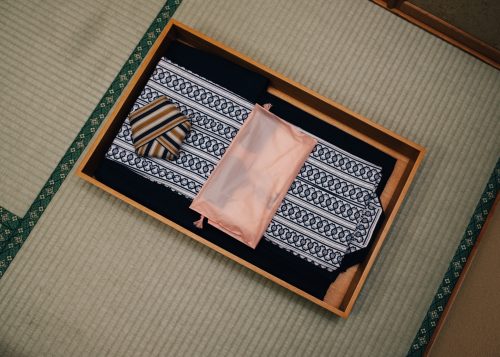 The draw of Shikisai no Yado Kanoe is neither the rooms nor the onsen, but the home-cooked meals of Mrs. Kanoe and her family. Nearly every ingredient is sourced locally, and for some, locally means "out the back door and a few steps into the garden." Mrs. Kanoe was kind enough to show me around her two gardens, the summer one being mostly finished for the year and being turned over by Mr. Kanoe, and the large winter one across the rice paddy that was already full of the vegetables that she was now using in her dishes.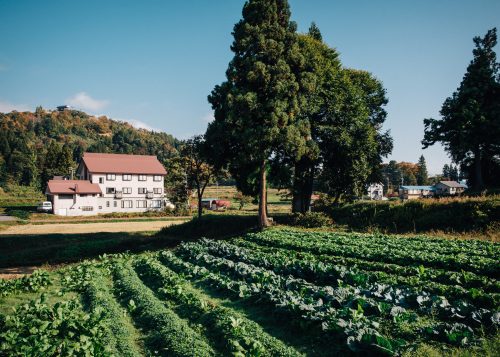 Dinner is served in a communal dining room, though parties are served at separate tables. A large group of friends traveling together shared the dining room with me, enjoying the vast array of dishes with significant quantities of alcohol. Among the dinner dishes served were plenty of vegetables from the Kanoe garden, the amazing Shinshu salmon sashimi (say that three times fast), slices of tender Iiyama pork in salad, broiled buri (yellowtail) in tare. The flavors of the dishes were diverse: sweet, salty, sour, umami, working together without overpowering one another. The kabocha (Japanese pumpkin) was particularly satisfying, the sweet pumpkin flavor evoking memories of Autumn's past.
And finally, the seasonal chestnut rice, for which a large pot was brought into the dining room for those who wanted seconds…or thirds.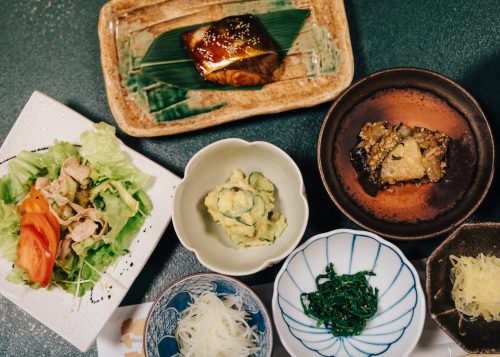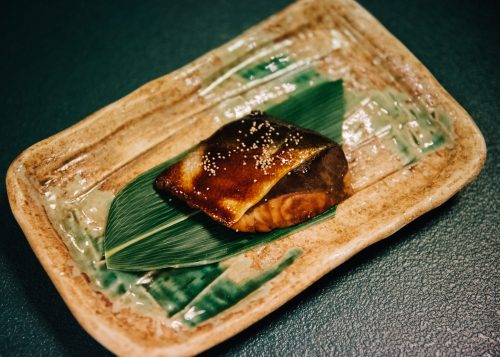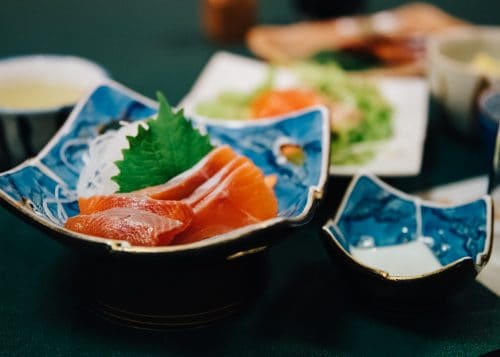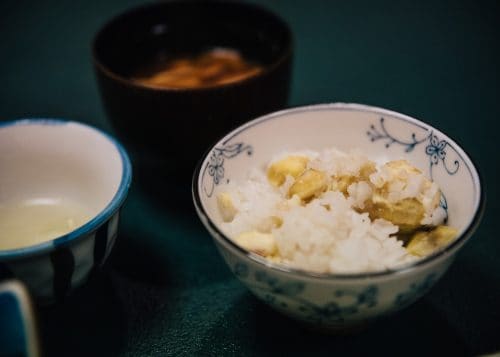 Let's pause for a moment to appreciate the wonder of Mrs. Kanoe's chestnut rice, starting with the high-grade koshihikari rice grown in the paddies of Iiyama, fluffy and aromatic. Now she adds locally-sourced steamed chestnuts, just firm enough to provide another texture in your mouth as the sweetness of the warm chestnut seeps into your tastebuds. Let's just say there were many trips made to that giant pot of chestnut rice left in the dining room that evening.
After bathing and sleeping off that extravagant meal, I had a restful night's sleep and awoke to a much simpler but equally delicious Japanese-style breakfast. The vegetables of Mrs. Kanoe garden were highlights of the meal, but the Shinshu salmon appeared again in traditional broiled form, teasing me again with its gentle flavors and rich texture. I wanted to ask Mrs. Kanoe more about the salmon, but I had an early start that morning on my trek along the Shin-etsu Trail and our guide would be waiting. Upon hearing of my plans for the day, Mrs. Kanoe packed me a wonderful bento to take along on my hike, free of charge.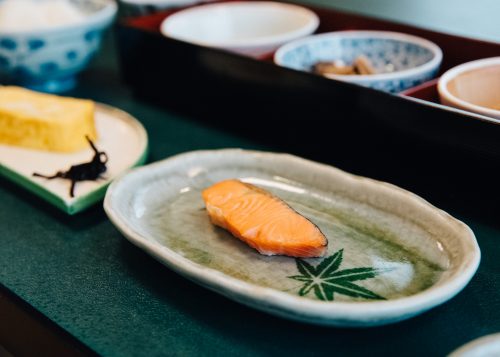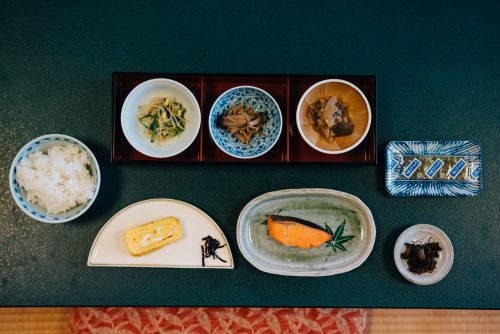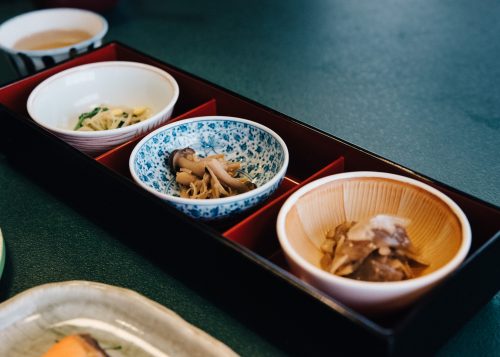 Our second day of trekking proved more rigorous than the first and despite having a hearty bento lunch, I had worked up a good appetite by the late afternoon. My host took me to my next accommodation, Nabekura Kogen Mori no Ie, which also happens to be one of the tourist centers of the Shin-etsu Trail. Though the accommodations at Mori no Ie are detached cottages with full kitchens designed for people who want to cook for themselves, you can also get a package that includes dinner at nearby Iiyama Yutaki Onsen, which I did.
The package included the full use of Yutaki Onsen, which has both indoor and outdoor facilities for both men and women. The onsen overlooks the Chikuma River, of which you can enjoy the view as you soak your cares away. After rejuvenating my tired muscles in the onsen, I joined my host Takayanagi-san in the dining room for our meal.
Like my previous meals in Iiyama, local, seasonal ingredients are the keys to the specialties served at Yutaki Onsen. Three types of potatoes, each seasoned in a unique way. Four types of mushrooms served in tempura and a variety of other mushrooms served in different styles. Konnyaku (potato starch) sashimi flavored with several different dipping sauces. Grilled jodori chicken, hire-katsu (fried white meat pork cutlet), and a fish called iwana served both as carpaccio and grilled whole and served with lemon. The famous Iiyama dish, sasazushi, vinegar seasoned rice topped with mountain vegetables served on a bamboo leaf. And almost hidden in the mass of delicacies, the jewel: Shinshu salmon baked with cheese and onion that practically melted in my mouth.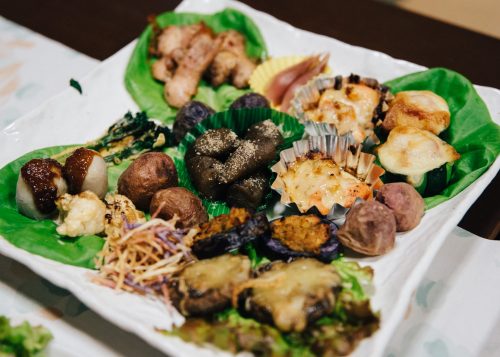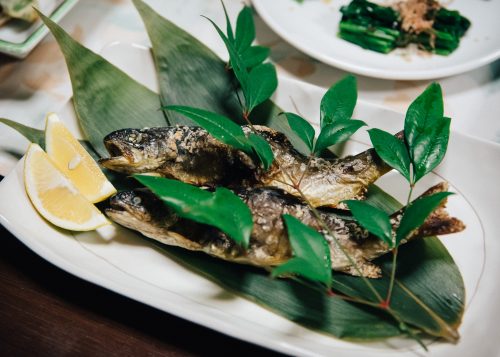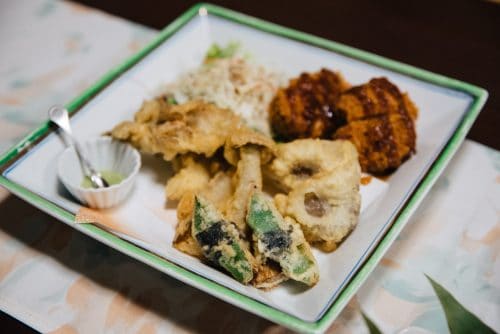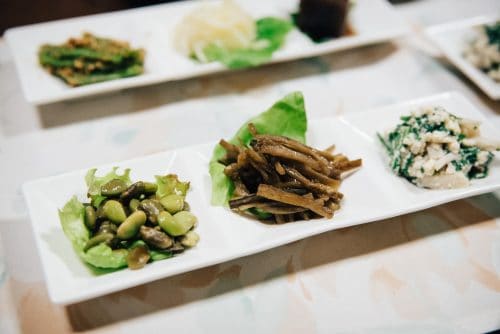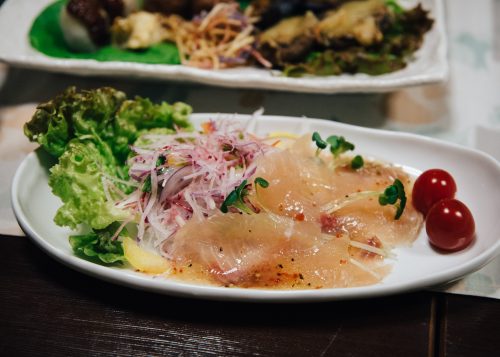 And let's be honest right now, we were served more food than any two people not named Hakuho and Kisenosato could actually eat. Try as we might, in an hour and a half, we were barely able to sample everything, let alone finish it. But over dinner, I asked Takayanagi-san where I could get Shinshu salmon. She looked at me with a bit of confusion; after all, it was right there on my plate. But where do people catch it, I asked. "It comes from a lake." she replied.
After dinner, the shuttle bus from Mori-no-Ie came to fetch me and return me, drowsy with food, back to my cottage. For those who have come to regard Japanese accommodations as small spaces for small people, Mori-no-Ie is a treat. The cottages are spacious and spread out, with views of the Iiyama forests on all sides. If you are interested in saving money by making your own meals or have dietary restrictions, there is a full kitchen in each unit. Best of all Mori-no-Ie has great internet, but no television, so at night you can enjoy the crackle of the wood-burning stove or the sound of the wind rustling the leaves in the trees and still be able to look up locations you want to visit the next day on Google. There is a loft upstairs which in my unit had futon to sleep on, though some units have Western-style beds.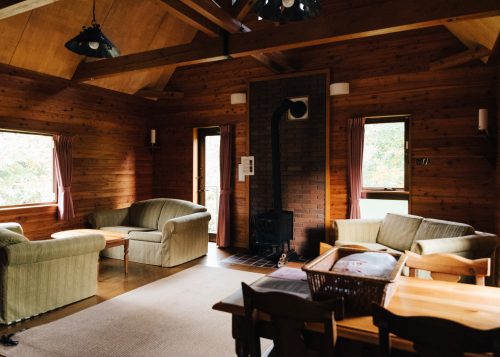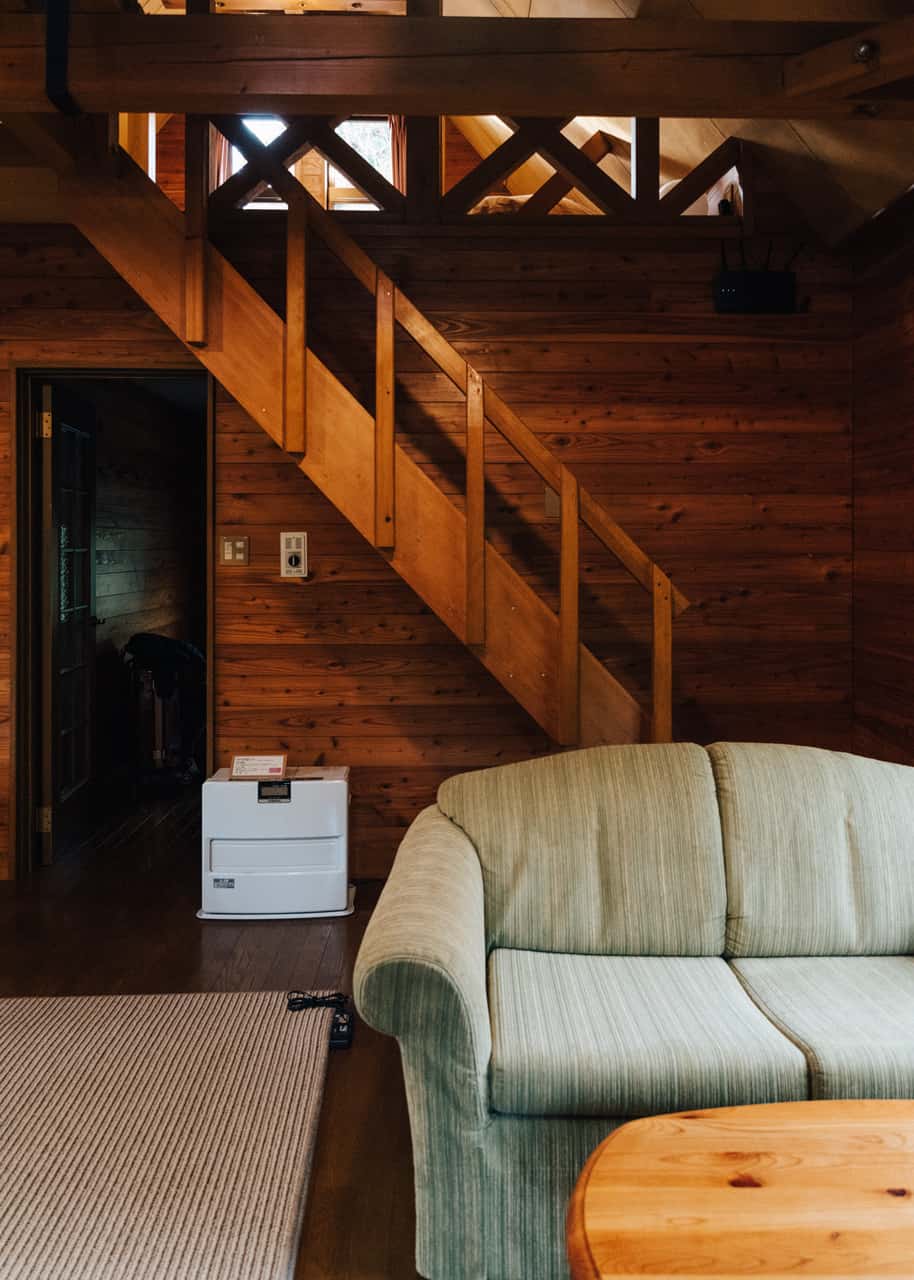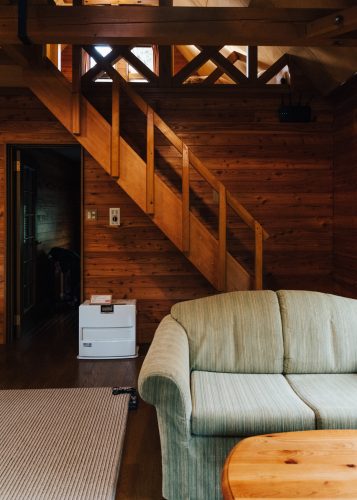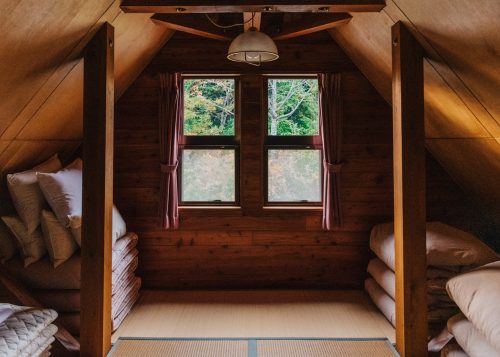 In the morning, I had a chance to look around the Mori-no-Ie site. Secluded in the forest near a small stream is the Hammock Forest, a grove with about a dozen hammocks suspended from the trees, a perfect place to absorb the peace and quiet of the forest while catching up on your sleep. Picnic tables and places to rest are scattered about the property. Mountain bikes and trekking equipment are available to rent on-site. The whole point of the facility is to get you to enjoy being in nature.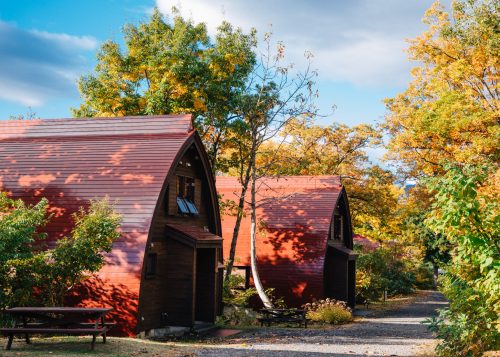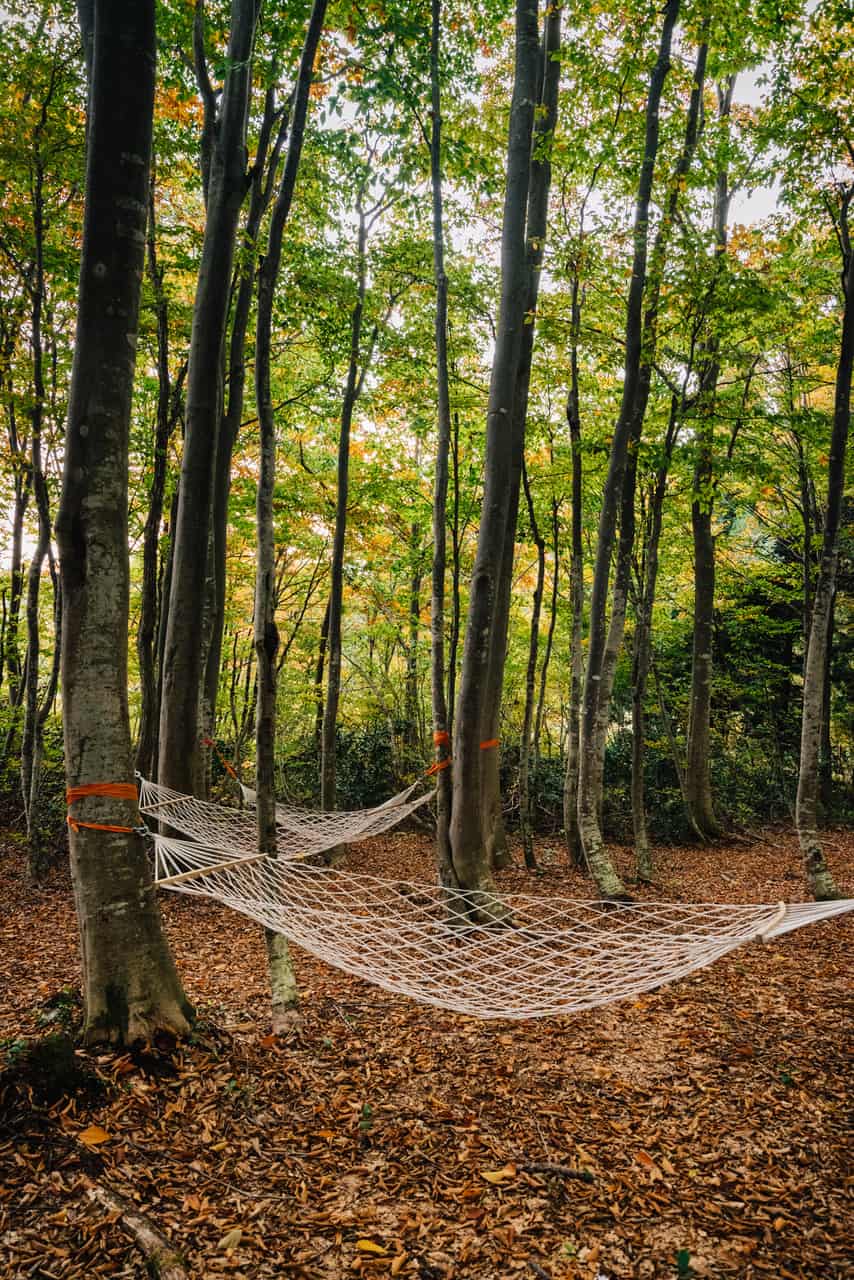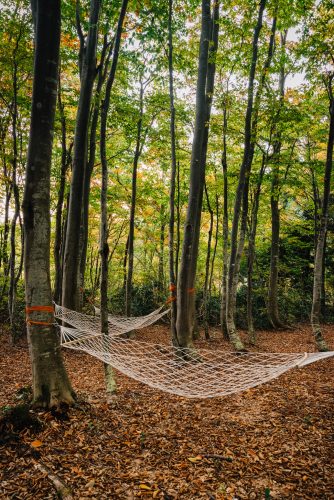 I had a simple continental breakfast of bread, bagel and cheese in the Mori-no-Ie lodge, accompanied by a cup of coffee and a glass of Nagano apple juice. The lodge provides a quiet place to relax or socialize with the many other travelers who use Mori-no-Ie as a base for their stay in the Iiyama area. The manager speaks perfect English (despite his protests that he does not) and is very knowledgeable about the area. Which made him the perfect target for my final attempt to uncover the mystery of Shinshu Salmon.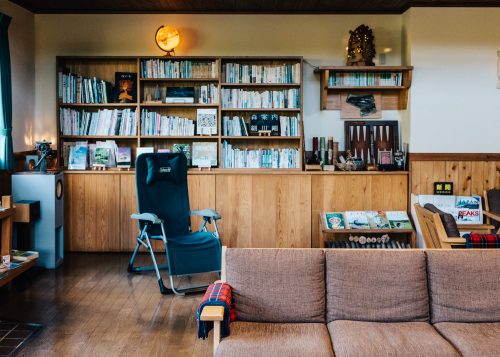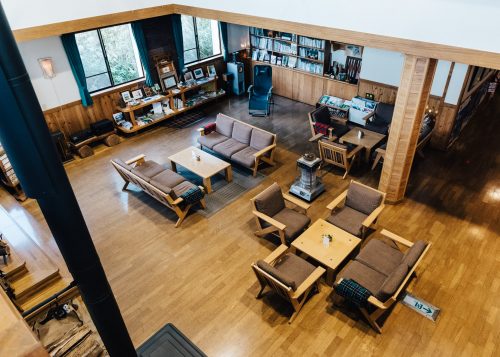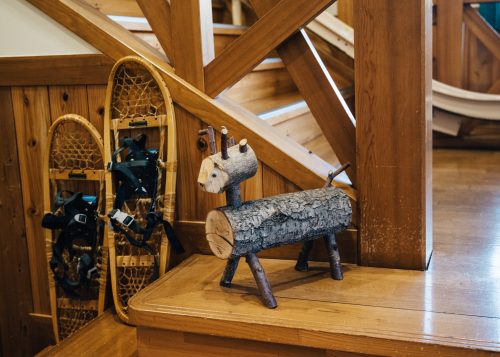 "Where can I go to catch a Shinshu salmon?" I asked him. He smiled politely, waving his hand. "Shinshu salmon is a farm-raised salmon." he answered. "You can buy it as a local delicacy, but you cannot catch one yourself." I was crushed, for a moment, until I remembered that I had the privilege of sampling that delicacy not once, but three times in my two days in Iiyama. So this would just have to be my story of the fish that got away.
Getting To Iiyama City
The fairly new Hokuriku Shinkansen delivers you in comfort from Tokyo Station to Iiyama Station in just over an hour and a half. From Shin-Osaka, you will take the JR Hokuriku Limited Express train to Kanazawa station and transfer to the Hokuriku Shinkansen and it will take you just under four hours.