Sponsored by Murakami City
During my trip to Murakami city, I learned about the numerous "charm points" of this interesting town. Besides beautiful beaches and delicious food and drink, Murakami also has a history of making "Tsuishu" or red lacquerware. Most westerners would typically associate this craft with China, and indeed that's where it originally came from; in the 6th century, Chinese culture dominated Japan, and such things as Buddhism, the kanji alphabet, and Tsuishu were popularized on the Japanese mainland. From this tradition eventually came Maki-e, which specialized in painting using metal powders such as gold. Tsuishu, on the other hand, typically uses red lacquer which is carved and then painted over.
Murakami Lacquerware – A Brief History
One of the shops in Murakami famous for this art is Kosugi Shikki. This shop has existed since the Edo period, and is a veritable museum of quality lacquerware pieces. Mr. and Mrs. Kosugi were very friendly and eager to explain to me the history of Murakami Lacquerware. Though I admit I knew next to nothing about this beforehand, I was lucky to learn a lot in a short time from masters of the craft. This was all hastily arranged on the day of the interview by the fine folks at Taiyo Sake Factory, which I wrote about earlier. It was great to see the different industries of the town support one another in such a way.
The history of woodworking in Murakami goes back over 600 years. As Kosugi san explained to me, since Niigata is a cold mountainous area, often people had to find diversions indoors to keep themselves occupied in the winter months. One of these things, it turns out, was woodworking. "Dento Kogeihin," or the tradition of working with one's hands, was an attitude born of these cold harsh climates. Murakami craftsmen's original claim to fame were carving relief art on the gates of temples, and from there, to lacquerware. As the Edo period went on, lords and ladies of the imperial court would often come to Murakami to purchase these treasured items, often sold for high prices. Even the members of the Tokugawa family were known to have a few prized items from Murakami in their royal collection. The lacquerware uses all natural wood, and is hand carved with traditional instruments, even to this day.
Kosugi Quality
Fast forward to the present, Murakami is currently the only maker of Japanese Tsuishu lacquerware that still hand carves and paints all of their items. This hand carving technique makes all of the difference, because it is possible to carve incredibly detailed pictures into the wood, as well as to create raised impressions in the picture. The finished product feels incredibly smooth to the touch. Kosugi's shop typifies this strict attention to detail and quality. Every item is a labor of love, and this work-intensive process ensures that each item is built to last. Indeed, only about 200 items are made every year, and each one, sitting behind glass, has the look of a showpiece. Despite the small product runs of these artisan shops, 15% of all lacquerware in Japan is currently made in Murakami.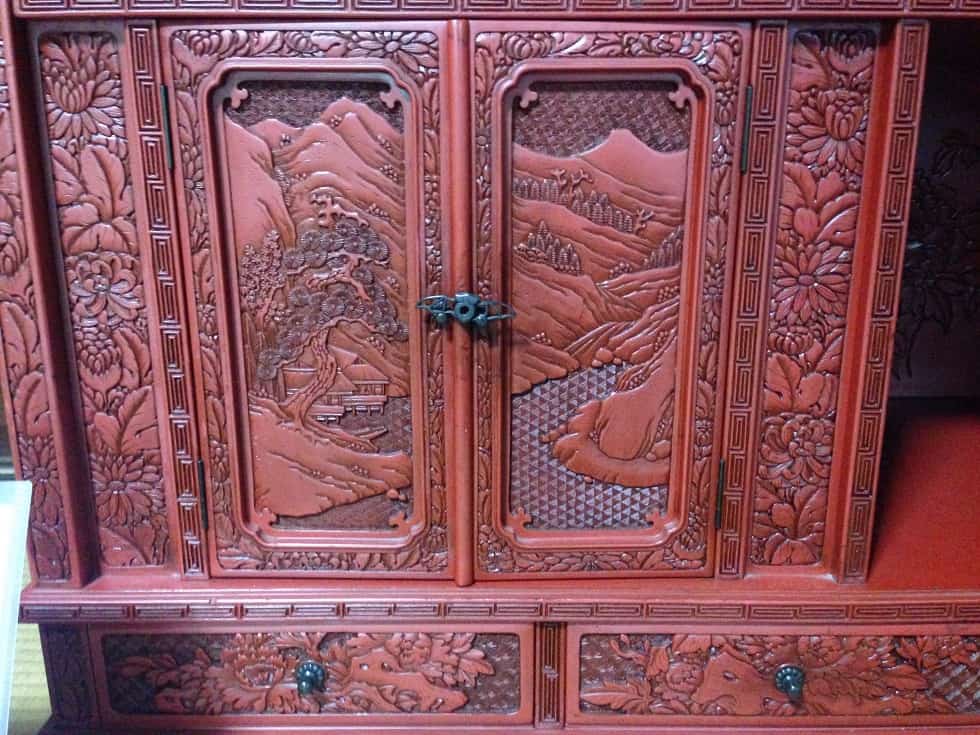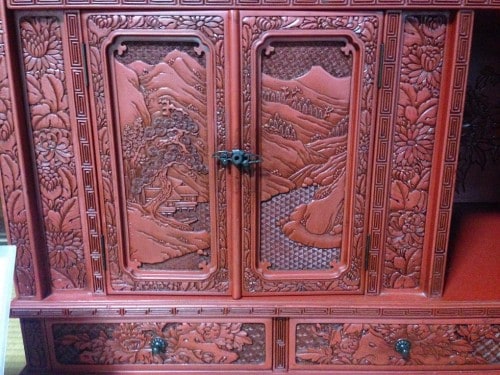 Fortunately, I had the great opportunity to see some of Kosugi's best work up close. In the store's backroom sits a personal heirloom of sorts, a 150 year old desk made completely of lacquer wood. In each panel is incredibly detailed art of birds and mountain scenery. From my point of view on seeing it up close, it was clear that the piece was absolutely priceless. Later, I had tea with the Kosugi's, drinking over a beautiful lacquer table. One look toward the ceiling, with its deep reddish color, confirms that even the ceiling is Urushi, the Japanese term for lacquer painting. While we chatted over tea, I saw many other examples of the craft, such as a red lacquerware box, or a black and white lacquerware piece, which though made of wood, had the look of an ancient acrylic painting. As a tribute to how well these pieces aged, I had a hard time telling between an item made 150 years ago, and a beautiful red cup which was just finished yesterday. These warmer colors (red and gold) were chosen to "light up" people's homes in contrast to the often snowy landscapes of Niigata.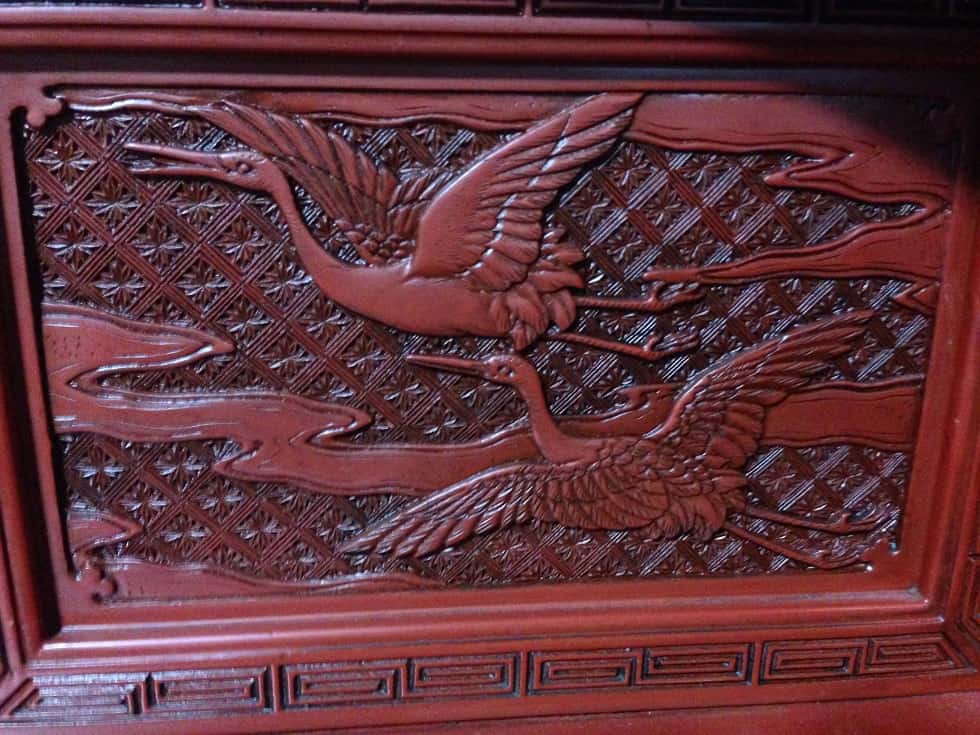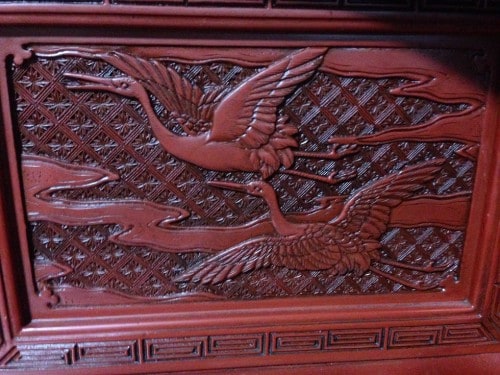 Traveling to Murakami is a chance to experience not only just local cuisine, but a chance to own celebrated local handicrafts. These are much different to the mass-produced items frequently available in gift shops in tourist-y parts of Tokyo or Osaka. It is one thing to simply sample and browse, but if you'd like to bring a part of Murakami back with you, there is probably nothing better than Tsuishu lacquerware. In your own travels, please feel free to take some time to experience this aspect of Japanese and Murakami culture.
| | |
| --- | --- |
| Name | Kosugi Lacquerware Shop |
| Category | Shop |
| Address | 〒958-0844 Niigata-ken, Murakami-shi, Nagaimachi, 1−9 |
| Access | [map]〒958-0844 Niigata-ken, Murakami-shi, Nagaimachi, 1−9[/map] |
| Opening Hours | 9:00-19:00 |
| Price Range | Varies |
| Payment options | Cash |