Sponsored by Nikko City Tourism Association
If you have read the previous articles we have written about Nikko, you may find that the feat of doing everything in one day may be quite difficult. But not to worry! There are plenty of accommodations in the area suitable for all budgets. (I myself was hoping for something on the cheaper side.) Though there are business hotels around the area, why not check out a Bed and Breakfast? I stayed overnight at the Annex Turtle Hotori An. This is a foreigner-friendly Bed and Breakfast that has WiFi, sizable rooms with standard bathroom amenities, and a few extras that are particular to Japan.
A Japanese Bed and Breakfast, with a Twist
The hotel is in an especially quaint and scenic part of town, a little bit of a ways from the station. From either station, it is recommended to take the bus toward Sogo kaikan mae, as this will surely shorten the journey. From there, the road narrows considerably, until you get to a wide wooden bridge, across which is the hotel. However, unlike some of the other hotels, you do not have as convenient access to restaurants and convenience stores. But it is definitely a fair trade-off for the serene nature that makes for a peaceful stay.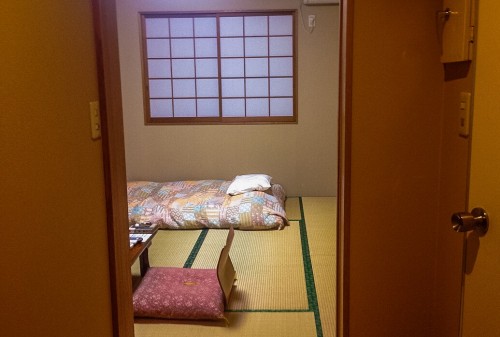 I was more than ready to sleep after a full day of playing around in Nikko. The rooms are quite spacious, and, in typical Japanese Ryokan fashion, can fit multiple people. The floor, as you can see, is Tatami, with a quite comfortable futon laid out. If you have never slept on futon before, you are in for a treat! Personally, I prefer it to beds–not once have I woken up with pain from sleeping on a bad spring, or my neck hurting. Just be sure to take your shoes off before you go on the tatami!
Where to Sleep, and How to Go About It
The Breakfast Part of "Bed and Breakfast"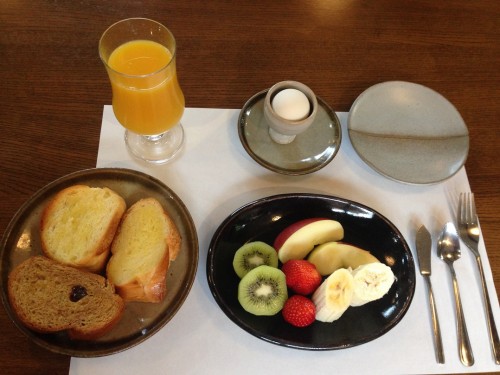 Breakfast was served promptly at 8:30 the next morning. It was a western breakfast, with buttered toast, fresh fruit and a hard-boiled egg. Fresh, friendly, and familiar–though I have to admit I was hoping for at least the option of a Japanese breakfast because of how delicious Japanese hotel breakfasts usually are! If my last article on the local cuisine made you a bit squeamish, however, this will definitely be more to your liking.
The comfy communal dining area has many large windows to let in natural light. It makes for a friendly and bright breakfast experience. The lounge also has nice couches and English books to read. The staff are very accommodating and talkative as well. Additionally, staying in a place like this is also a good opportunity to meet other travelers!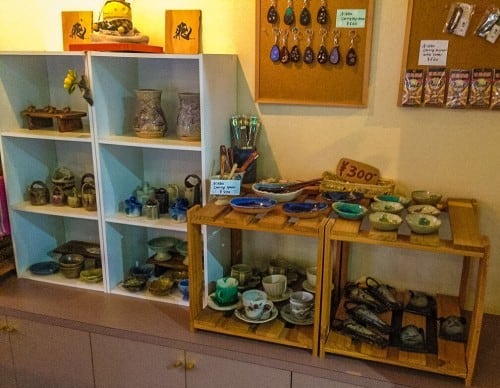 Other Odds and Ends (and Onsens!)
Because the owner's family comes from the neighboring town of Mashiko, the Turtle Inn has plenty of Mashiko-yaki pottery. This is also something of a local specialty, and luckily some of the collection is for sale!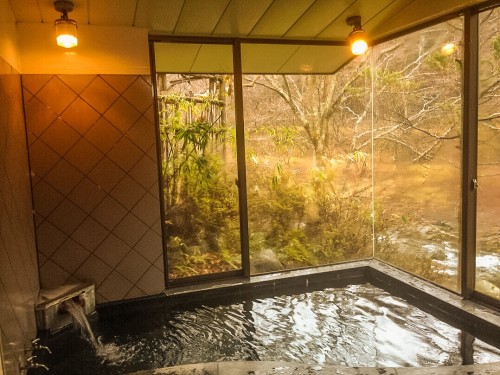 As for the hotel proper, one thing not to miss is the private onsen bath! For those travelers who are new to this part of Japanese culture, this sort of personal setting is best. The onsen has a very great and relaxing view, though it is also open to any other guests, so be sure to share the space.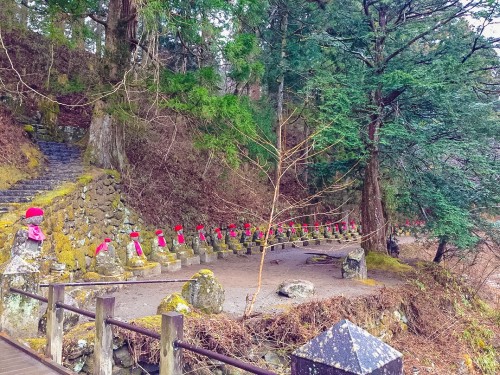 Later that morning, the friendly English speaking staff helped me plan the rest of my trip. To my surprise, there are actually some great sights by the hotel, such as the beautiful Bakejizo statues and equally stunning (though frighteningly named) Ganman Abyss. The Nikko Museum and Botanical Gardens are also just a 10 minute walk from the hotel. It is a great place for a stroll, and one of many examples of Nikko's natural beauty.
If you cannot secure a reservation to this particular accommodation, not to worry! There is a sister hotel of Hotori-An just down the road, and there are plenty of similarly priced Bed and Breakfasts popping up around the town, many of which seem to have English speaking staff. When talking with other foreign travelers, many of them complimented the accommodations. Wherever or not you decide to stay, you can plan your stay in Nikko with confidence!
Other Options for Those with a Higher Budget
For those of you looking for something a bit more conventionally luxurious, there are more traditional upscale Japanese-style Ryokan that can run between ¥11,000 – ¥33,000 a night. For being able to experience onsen in a great setting, the price is quite reasonable.
Lastly, the most famous hotels around the Kinugawa and Chuzenji area can cost up to ¥110,000 a night, but feature many amenities. Recommended hotels include Hoshino Resort Kai, Kinugawa Park Hotel and Okunoin Hotel Tokugawa. There is also going to be a Ritz Carlton opening at Nikko in 2020! For more information on hotels, check out the following links:
1.On Budget (Less Than ¥10,000 Per Night)
Turtle Inn (where I stayed): http://www.turtle-nikko.com/hotori-an/
2.Middle Range (¥10,000 – ¥30,000 Per Night )
Park Hotel Kinugawa: http://www.park-hotels.com/english/
Kinugawa Kanaya Hotel: https://www.kinugawakanaya.com/en/
3. Luxury Range (More Than ¥30,000 Per Night )
Hoshino Resort Kai: http://www.hoshinoresorts.com/en/resortsandhotels/kai/kawaji.html
Okunoin Hotel Tokugawa:  http://www.hotel-tokugawa.com/e/
Check out Other Accommodations
General Info: http://nikko-travel.jp/english/accommodation/
| | |
| --- | --- |
| Name | Annex Turtle Hotori-An |
| Category | Hotel |
| Address | 8-28 Takumichō, Nikkō-shi, Tochigi-ken 321-1433 |
| Access | [map]8-28 Takumichō, Nikkō-shi, Tochigi-ken 321-1433[/map] |
| Opening Hours | checkin: after 15:00, checkout: by 10:00 |
| Price Range | 4,500-7,500 per day (On Average) |
| Payment options | Both |