Noboribetsu Onsen (登別温泉) is a famous hot spring town located just a couple of hours from Sapporo (札幌). And for me, it was a great place to head for my first onsen experience while getting out into the beautiful Hokkaido wilderness at the same time. Here are some of the top things to see and do when you visit Noboribestu Onsen in Hokkaido (北海道), the northernmost region of Japan.
Jigokudani "Hell Valley" of Noboribetsu Onsen
One of the best things to do in Noboribetsu Onsen is to go for a hike and visit all the geothermal attractions just out of town. If you walk 5-10 minutes north from the main street of the town, you will arrive at Jigokudani (地獄谷), also known as "Hell Valley." This is a beautiful valley to look at with its barren landscape, sulfurous streams, and bubbling steam vents dotting the valley.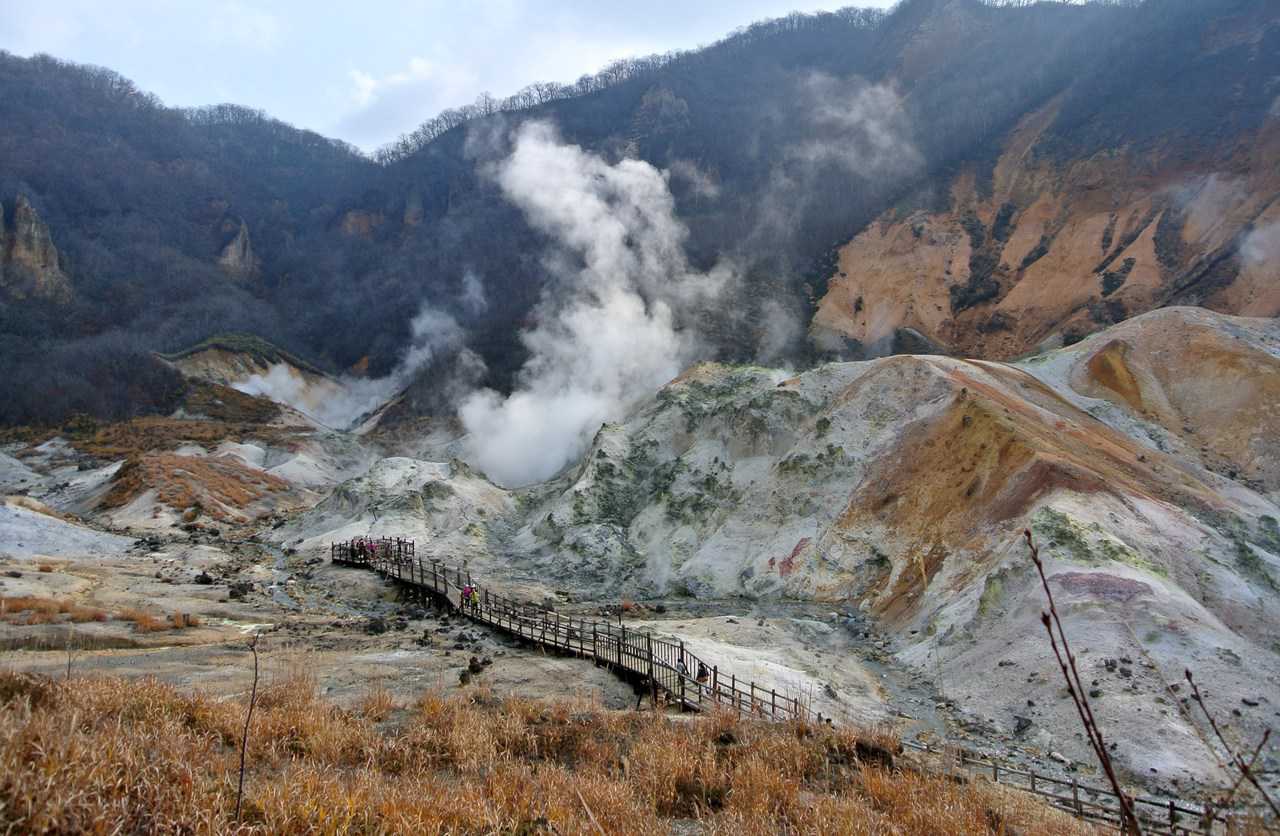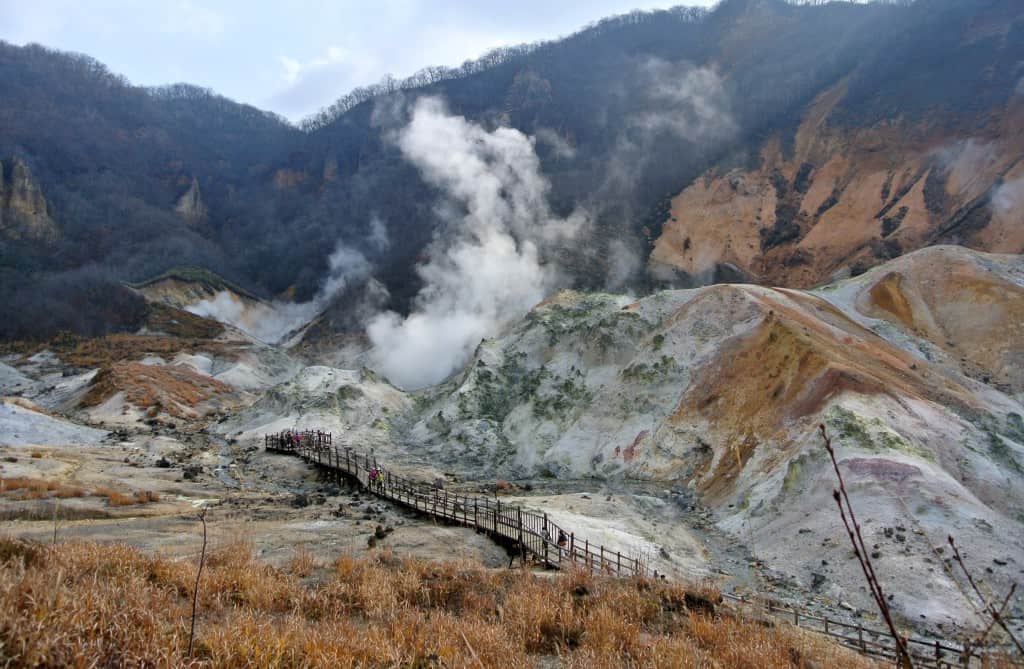 You can walk along wood pathways that run through Jigokudani "Hell Valley" that connect various steaming ponds in the landscape.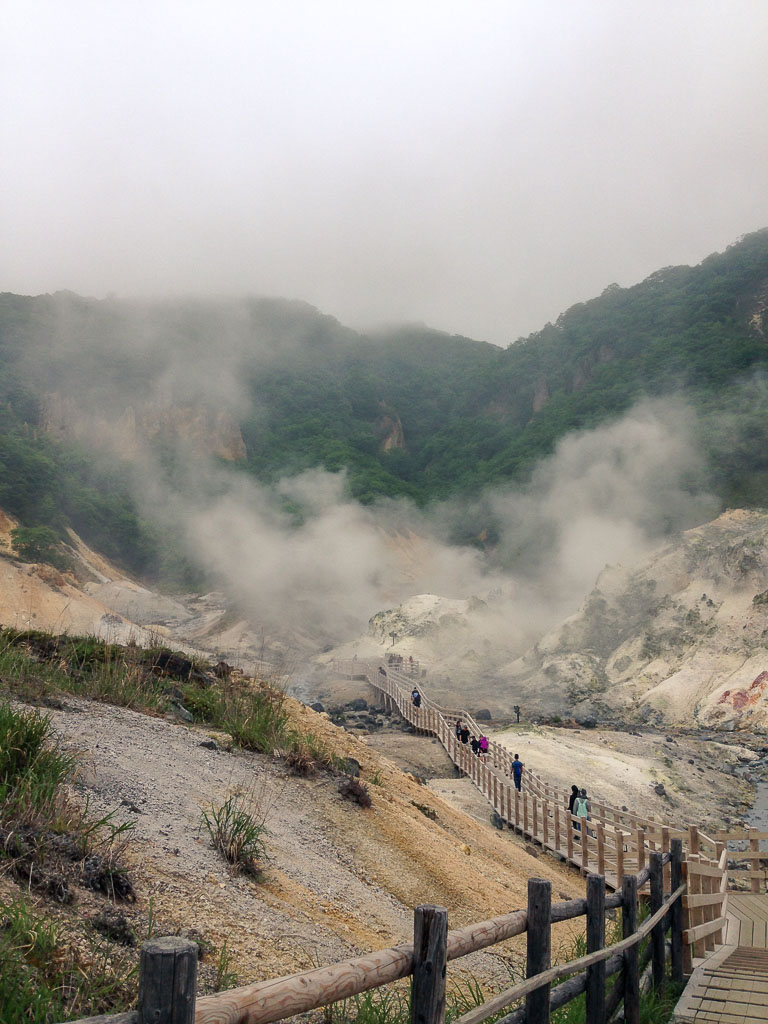 View Fireworks during the Demon Dance Festival at Jigokudani
If you visit during summer, make sure to plan a visit on a Thursday or Friday night so you can experience the Demon's Fireworks (鬼花火). This fantastic show starts at 8:30 p.m. and features dancing Yukijin (湯鬼神) demons holding cannons of fireworks that light up the valley. The boardwalk into Jigokudani also lights up every night, so it's worth going for an evening stroll to experience what it's like to be in 'hell' in the darkness.
Hike Through Forests and By A Geothermal Crater Lake
If you packed some comfy walking shoes, I would recommend heading further up into the hill through a network of hiking trails that take you through forests and to a geothermal crater lake.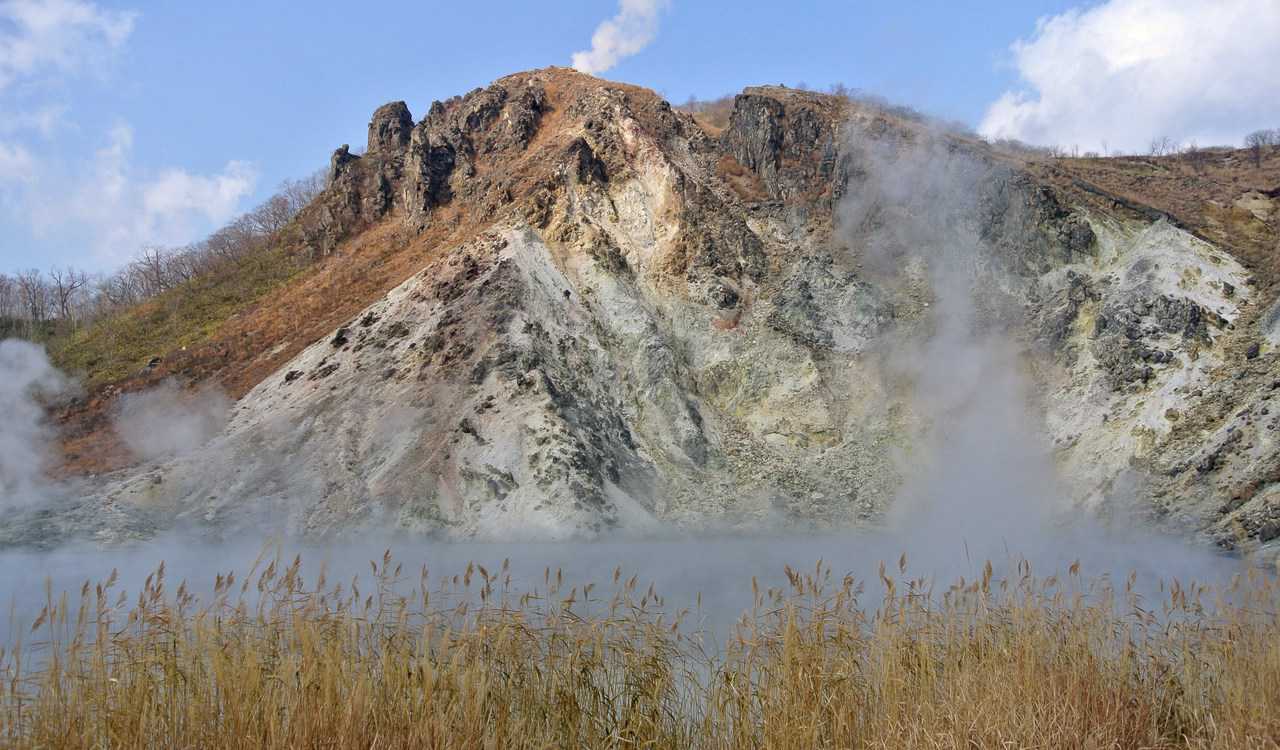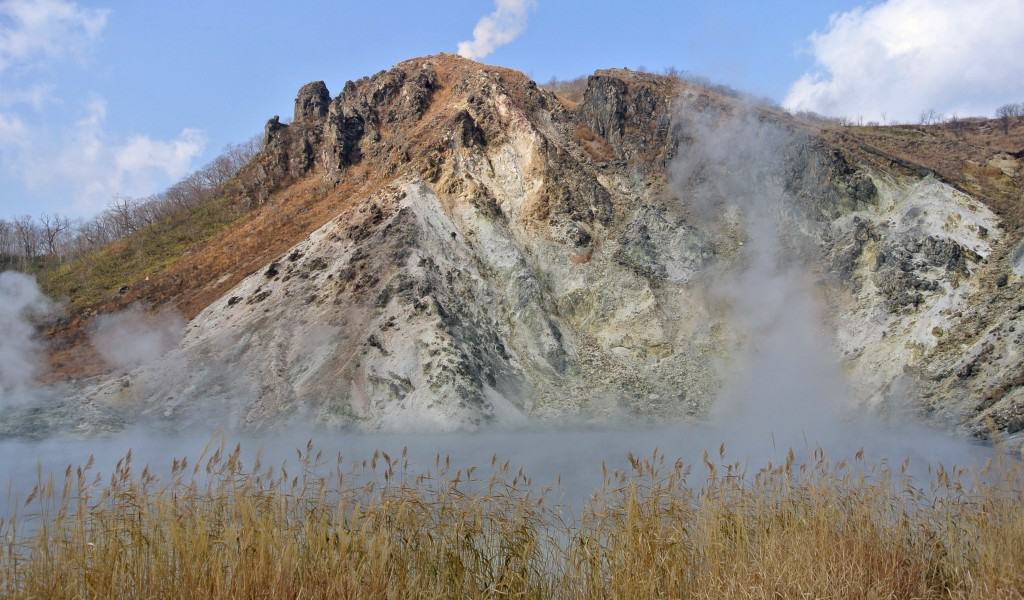 Foot Baths of Noboribetsu Onsen
Your next destination should be the Oyunumagawa Brook Foot Bath (大湯沼川天然足湯), around a 30-minute walk from Jigokudani. The river water here is a pleasant temperature, and it is one of those unique and beautiful experiences that you need to take the time to enjoy.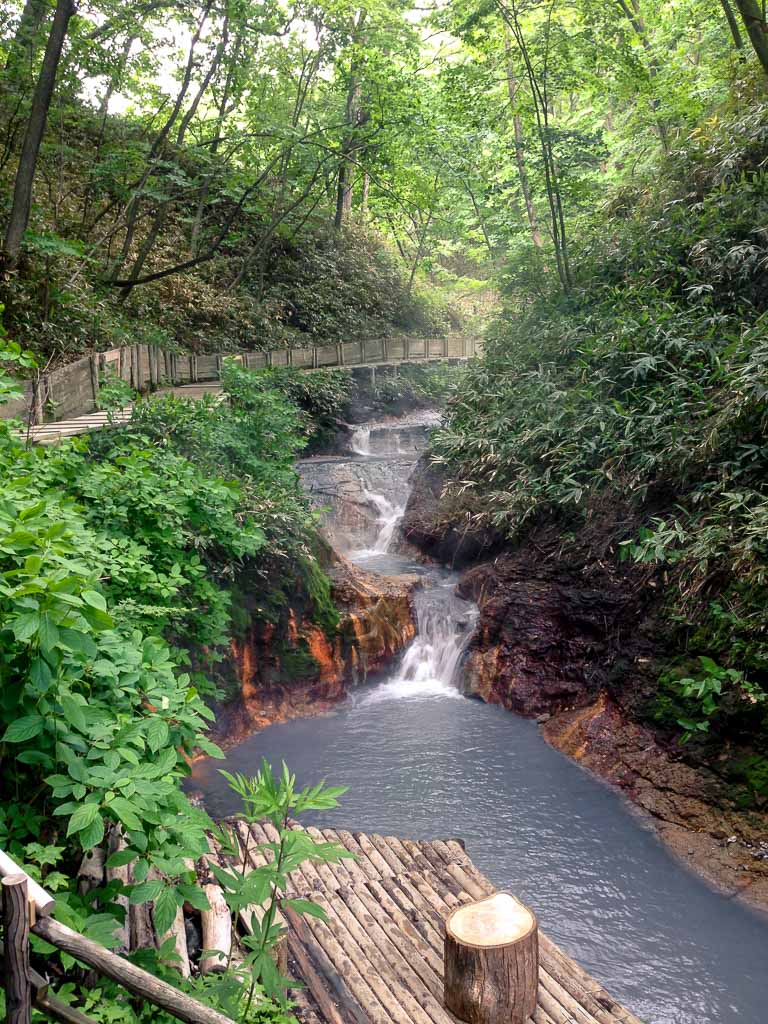 To make the hike back a little more comfortable, I would recommend bringing a towel to dry your feet off and something to sit on if the foam pads (free to visitors) are in use.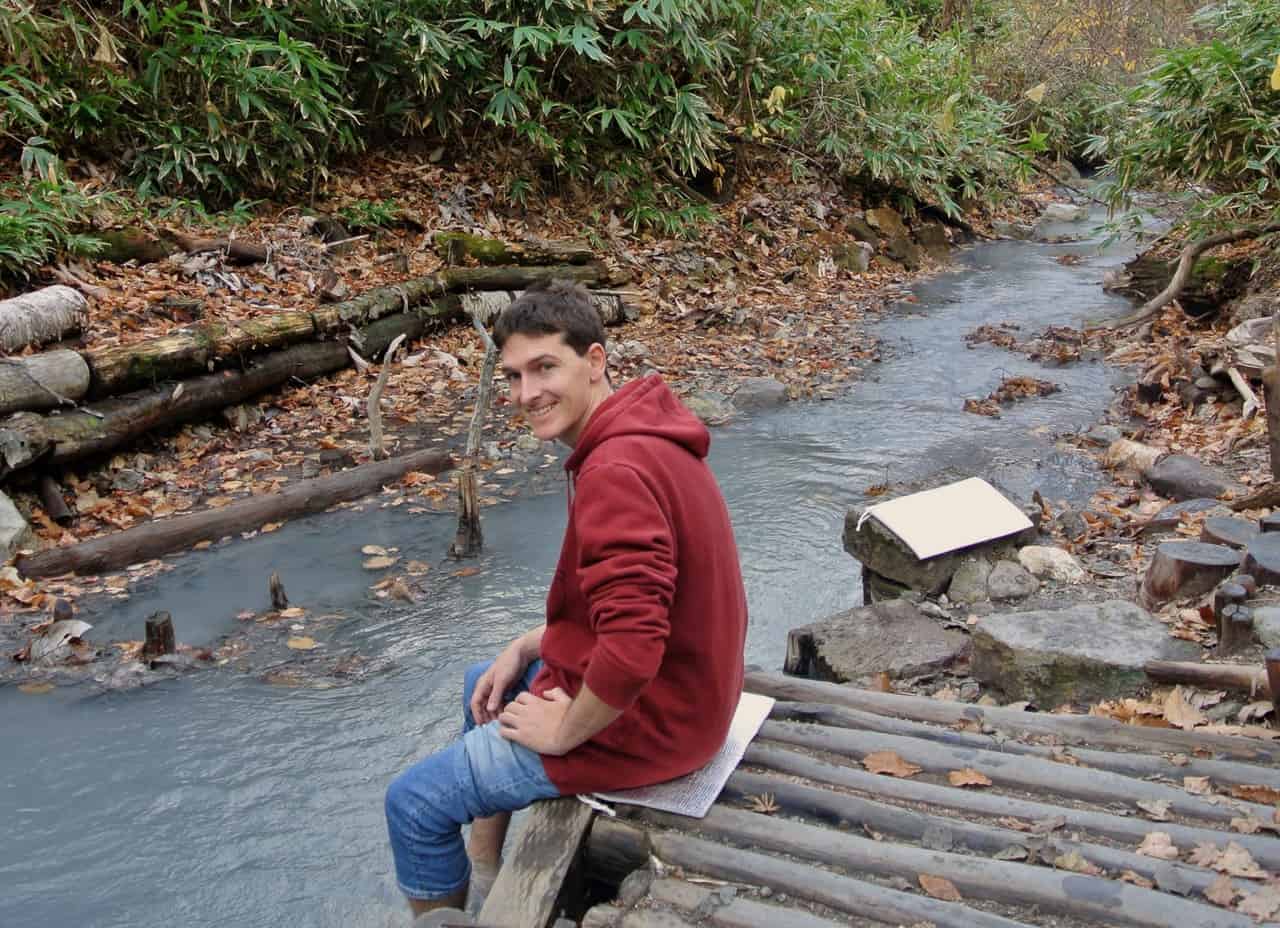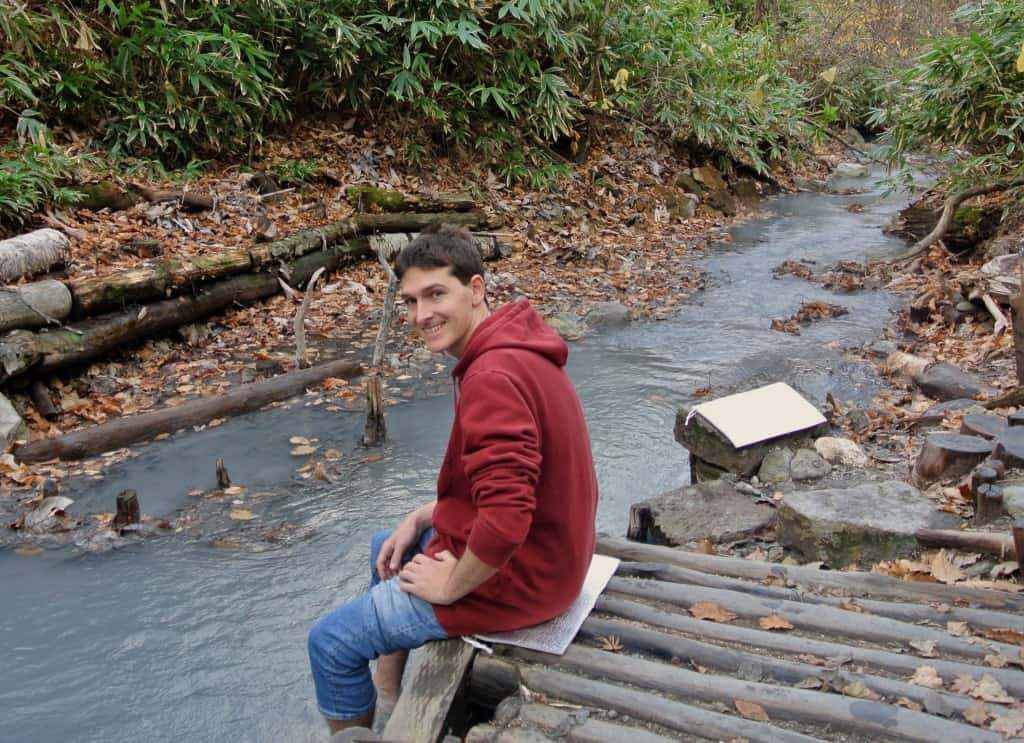 Hot Spring Options at Daiichi Takimotokan
Once you've finished hiking through the forest, it's time to head to one of the many onsens in town. If you are looking for one of the largest indoor onsen in Japan, head for Daiichi Takimotokan (第一滝本館). This was the first hot spring I ever visited, and none since have come close to the size and variety of this onsen. With five types of mineral springs and 35 separate baths across the male and female sections, it's hard to choose which one to soak in first.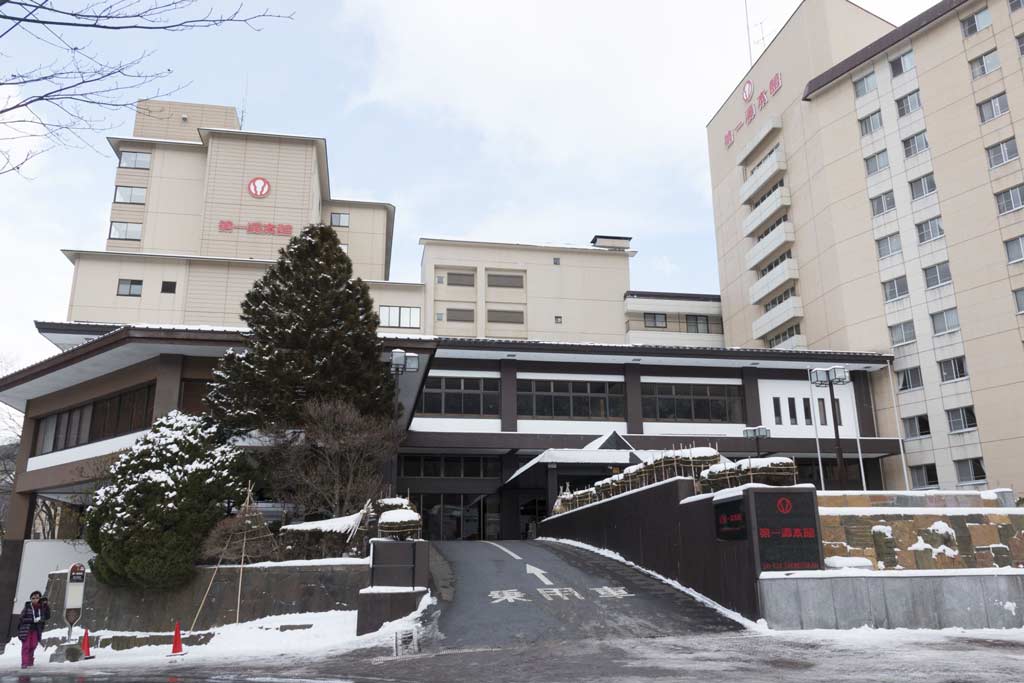 My favorite baths include the small outdoor rotenburo (露天風呂, open-air bath) that faces the forest, a cold Jacuzzi, a steam room with chairs in running cold water, and waterfall taps streaming from the wall to massage your shoulders. Daiichi Takimotokan also has a relaxing lounge area with massage chairs where you can enjoy a snack. Or put on a swimsuit and head to the indoor swimming pool, which has a water slide and an outdoor Jacuzzi that looks out over Jigokudani.
Daytime visitors can enter from 9:00 to 16:00 and costs ¥2,250 for adults and ¥1,100 for children 3 to 12 years old. The evening schedule starts from 16:00 to 18:00 and costs ¥1,700 for adults and ¥925 for children. For visitors who enter before the 18:00 cutoff can stay in the baths until 21:00. Children under three years old can enter for free, and both periods include towels and a range of amenities. If you stay at Daiichi Takimotokan Hotel or the more budget-friendly Takimoto Inn across the street, you get 24-hour access. If you want to visit a more economically-priced onsen, you will find many options throughout the town, including the Sagiriyu Public Bath located in the visitor information center.
Mechanical Demons, A Geyser and an Edo Theme Park at Noboribetsu Onsen
Noboribetsu Onsen is a very compact and walkable town. You will find many oni (demon) statues throughout the city that bring good luck for different things like love and business.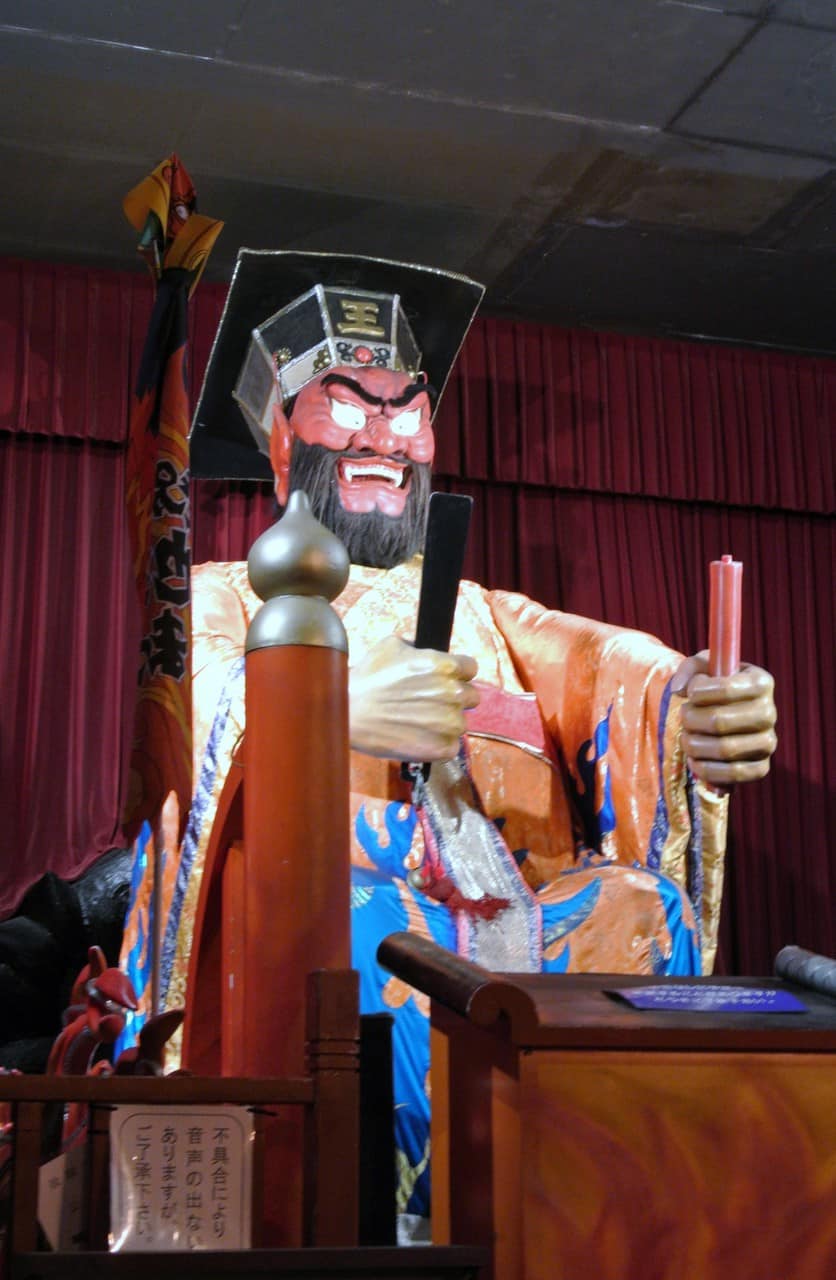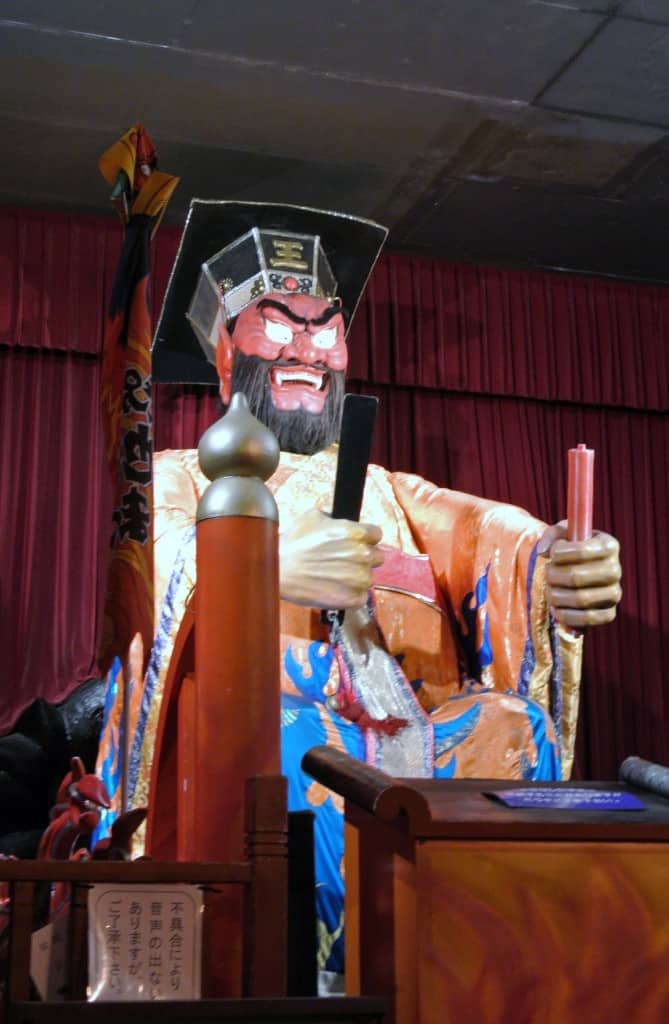 A geyser at Sengen Park goes off at various times throughout the day, and a giant mechanical demon statue all adds to the town's atmosphere.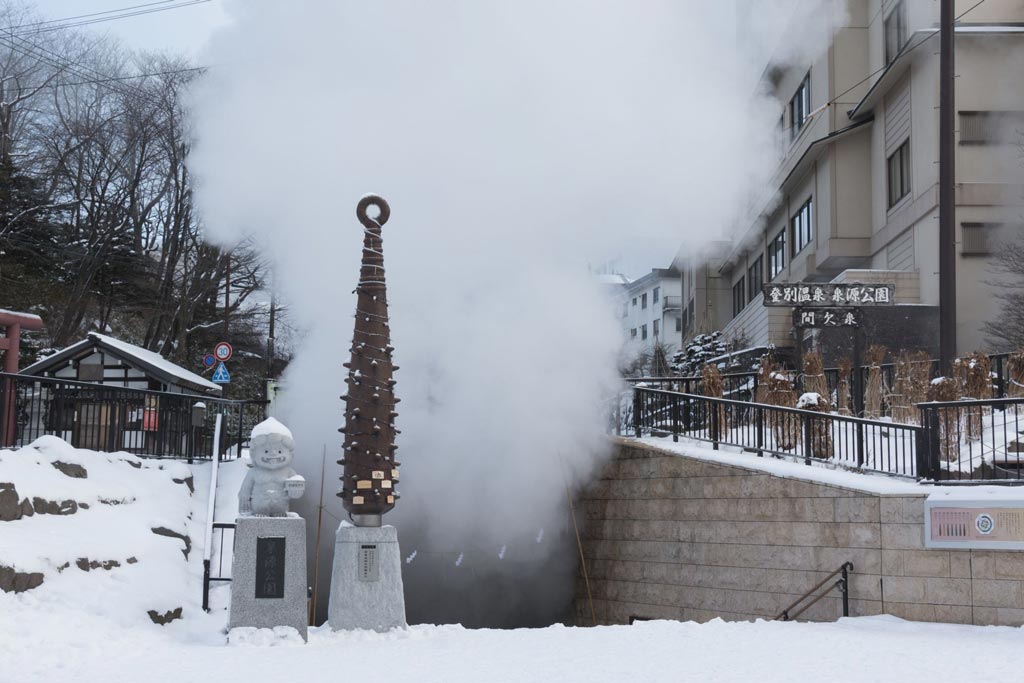 There is a range of other activities nearby, like the Noboribetsu Date Jidai Mura(登別伊達時代村). This Edo Period-themed park is a great place to see replica buildings and shops, period costumes, and to watch different performances, including Ninja and Samurai shows.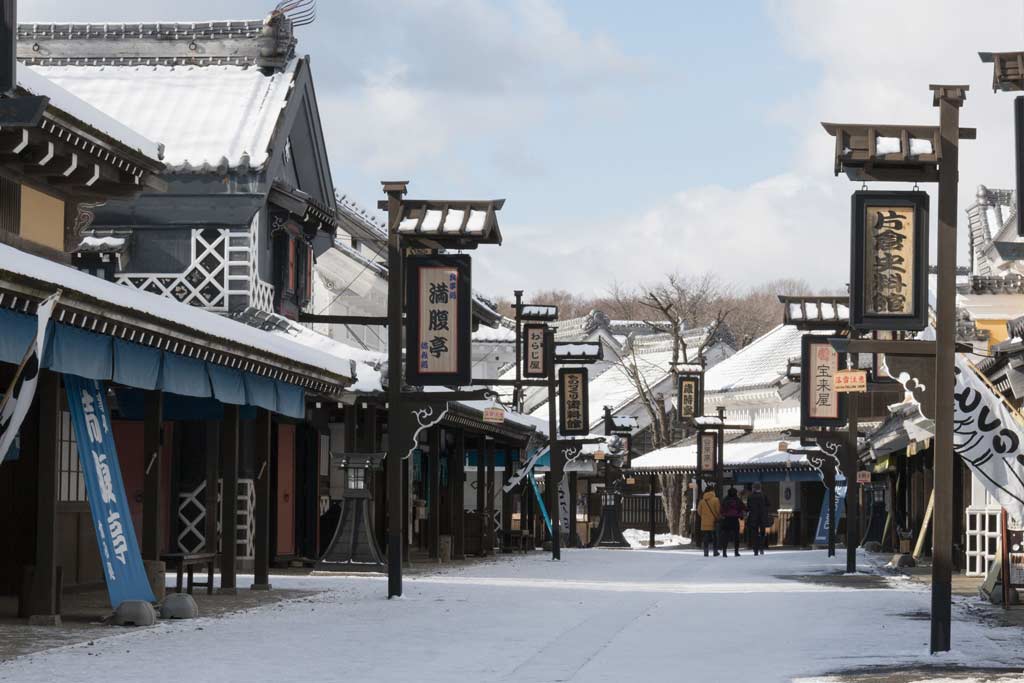 Accommodation in Noboribetsu Onsen
For accommodation, I would recommend the Takimoto Inn (滝本イン). Not only is it one of the more economical options in Noboribetsu Onsen, but it also offers you free 24-hour access to the Daiichi Takimotokan onsen mentioned above. The inn is a typical Japanese budget hotel with clean and comfortable rooms.
If you visit Hokkaido and look to see a hot spring town with some beautiful geothermal attractions, then Noboribetsu Onsen is worth a visit.
Access to Noboribestu Onsen
You can access Noboribetsu Onsen via train, bus, or car depending on where you are travelling from. It takes 1 hour and 20 minutes from JR Sapporo Station (JR札幌駅) to Noboribetsu Station (登別駅). From the station, you can catch a connecting bus to Noboribetsu Onsen. From New Chitose Airport (新千歳空港, Shin-Chitose kūkō), you can also get on a train and change trains at Minami-Chitose Station (南千歳駅), or you can catch a highway bus. Some hotels in Noboribetsu Onsen also offer their own reduced-price shuttle buses from Sapporo that you need to reserve ahead. For further information, you can visit Noboribetsu Onsen's website.